COVID-19 negatively impacted the entire travel industry, from the airline and hospitality industries to e-commerce brands that sell travel essentials — and every travel-focused business in between. In the United States alone, the drop in tourism in 2020 resulted in $147,245 million in lost revenue over a ten-month period, and a $935 billion loss in global tourism revenue worldwide.
Luckily, the devastating impact COVID-19 had on travel appears to be nearing its end, and the travel industry is preparing for forecasted growth. This is great news for Amazon sellers offering products in the travel category! Keep reading to explore current consumer sentiments and priorities regarding travel and insights on the performance of travel-related products on Amazon in Q3 2021.
U.S. travel statistics
Findings from Jungle Scout's latest Consumer Trends Report revealed that after more than a year of COVID-19 related travel restrictions, many Americans are eager to travel again and are planning their 2021 getaways. 40% of U.S. consumers have made travel plans for the remainder of 2021, with another 34% saying they haven't made plans yet. Only 26% have no interest in traveling for the remainder of 2021.

Travel has risen in priority as part of consumers' budgets in 2021: 1 in 4 plan to spend more on travel or vacations this year compared to last year. Consumers' level of comfort with travel is reflected across hotel and airline bookings in the United States. Hotel demand has nearly recovered to pre-pandemic levels: it is currently sitting at just 4% below what it was in August 2019. At present, the daily number of travelers passing through TSA checkpoints has increased by 130% from September 2020, although it is still 24% lower than the number of air travelers in September 2019.
Top-performing travel products include luggage and vaccination card protectors
As people prepare to reconnect with loved ones, explore new destinations, and escape the confinement of their homes, travel-related categories on Amazon have experienced an increase in revenue in Q3 2021 compared to Q3 2020.
Luggage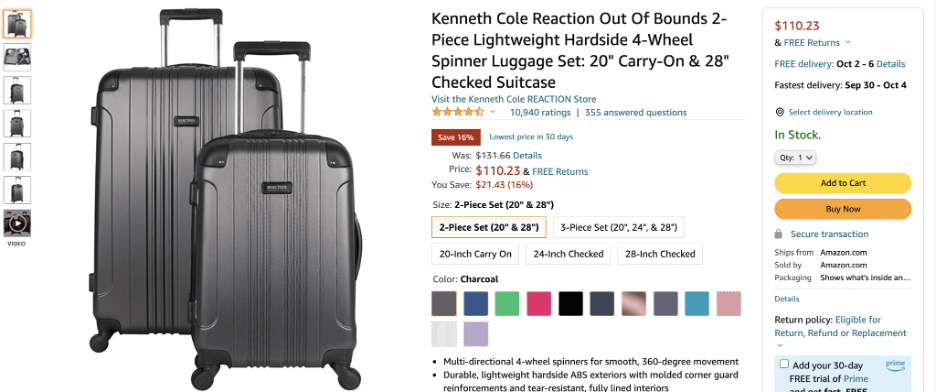 No matter where you are traveling and for how long, you will most likely need to pack a suitcase. For travelers that either don't have luggage or need a new set, Amazon is a common place to make this purchase. Revenue across the luggage category on Amazon has increased by 141%, including product listings that offer single suitcases and luggage sets that include 2-4 pieces.
Packing cubes

For travelers that like to stay organized, packing cubes are a must! Revenue across the packing cube category on Amazon has increased by 151%, so it appears that more consumers have discovered the beauty of an organized (and even color-coordinated) suitcase.
Travel toiletry bags

Toiletry bags are used by men and women alike to organize toiletries and protect their luggage and clothing from pesky personal care product explosions. Revenue across the travel toiletry bag category on Amazon has increased by 228%, including product listings with small, one-pouch toiletry bags to full-size hanging organizers (perfect for long trips).
Travel power bank

No one wants to be stranded in a new place without access to their phone and beloved digital devices, so many travelers bring portable chargers to keep their devices fully juiced until they arrive at their destination. For the travel power bank category, revenue on Amazon has increased by 76%.
Vaccination card protector

As more people receive their COVID-19 vaccines, the demand for vaccination card protectors has increased significantly on Amazon, with revenue for these products up 2,380% compared to Q3 2020.
Travel blow dryer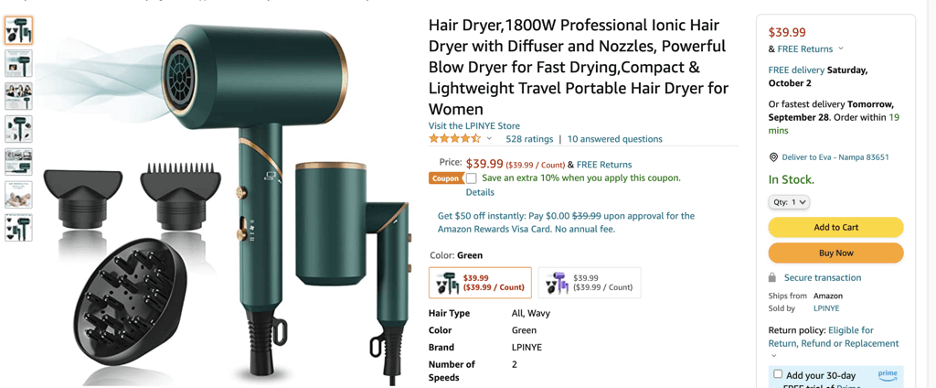 Although many hotels include a complimentary blow dryer, many travelers choose to BYOBD (bring your own blow dryer). Revenue across the travel blow dryer category on Amazon has increased by 428%, including product listings for blow dryers that fit international outlets (eliminating the need for an international power adapter).
U.S. Travelers will prioritize safety for their 2021 vacations
Safety appears to be a top travel priority among consumers and a key determinant when it comes to destination, transportation method, and accommodation.
More travelers will remain stateside than travel internationally
Among those planning travel for the remainder of 2021, 82% say they are planning to travel domestically versus 31% who will travel internationally (some will do both).

While 30% of travelers-to-be say there's no particular reason behind their choice to travel domestically rather than internationally, 29% state their main reason for domestic travel is that they feel much safer in the U.S compared to another country. Other considerations include avoiding pandemic restrictions and larger expenses associated with international trips.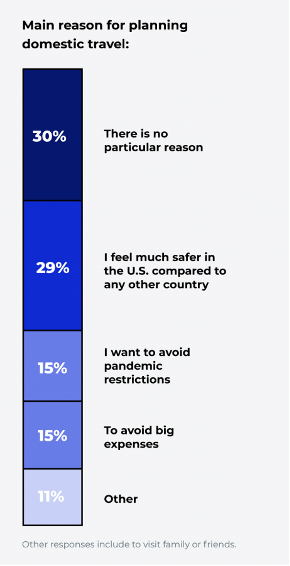 Although only 31% of consumers with travel plans will make international journeys, there has been an increase in revenue for international travel products on Amazon, such as passport accessories and international power adapters.
Passport covers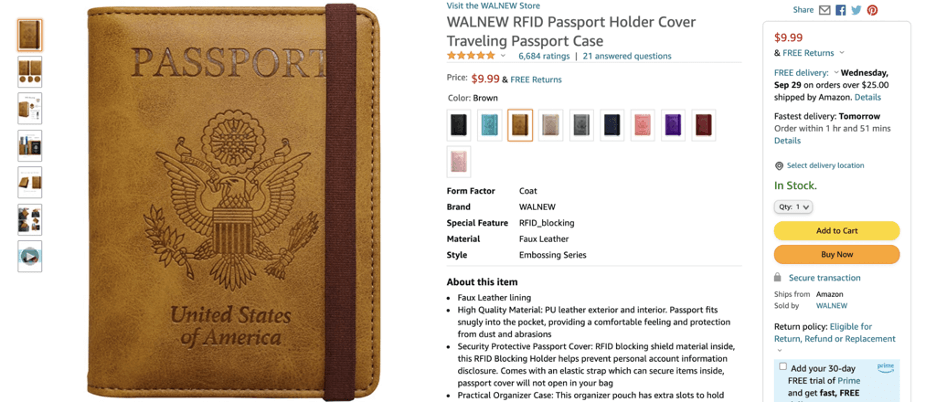 After a year of closures across many country borders, international travel is opening back up and people are digging out their passports and purchasing passport covers for their first international trip post-COVID-19. Revenue across the passport cover category on Amazon has increased by 73%.
International travel adapter

Most international trips would not be complete without the purchase of an international travel adapter to assure you can safely plug in and charge your devices. Revenue across the international travel adapter category on Amazon has increased by 174%.
More travelers will opt for road trips than public modes of transportation
It appears that many consumers are choosing to avoid large crowds at travel hubs by planning road trips instead of using other modes of transportation, such as passenger flights and trains. 60% of consumers will travel via personal vehicle, and 23% plan to rent a car for their 2021 travels. Along with the increase in road trip plans, consumers have been purchasing more road trip-related travel products on Amazon.
Travel medicine kit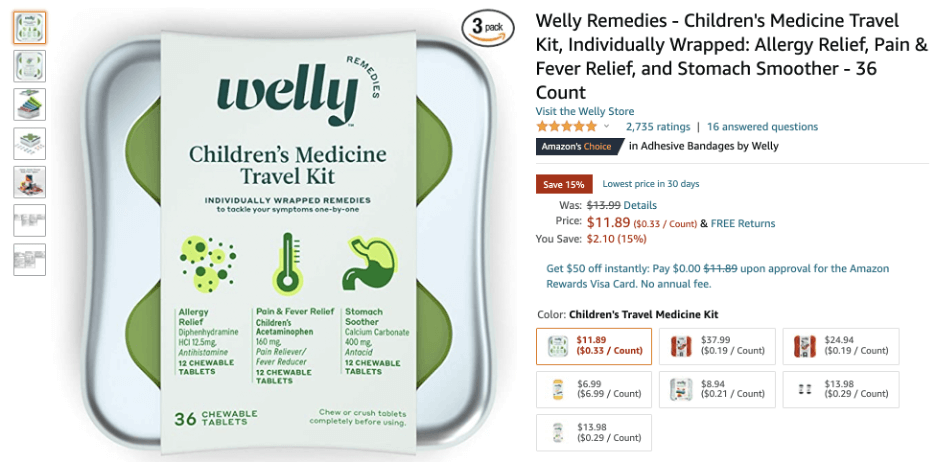 COVID-19 brought a new awareness to the importance of health and safety. It appears more consumers are prioritizing quick access to medicine, with revenue across the travel medicine kit category on Amazon seeing an 816% increase.
Emergency car kit

With safety in mind, anyone planning a road trip should be prepared for emergencies and pack a car safety kit that includes essentials such as jumper cables, flare guns, flashlights, and tools. It looks like consumers are making these considerations, with revenue across the emergency car kit category on Amazon seeing an increase of 15%.
Car phone charger

Unless you plan to navigate yourself to your destination with a paper map, then you will probably need a reliable car charger to assure constant access to the map app of your choice. Revenue across the car phone charger category on Amazon has increased by 4%, including product listings for cigarette lighter adapters and phone mounts with chargers.
Road atlas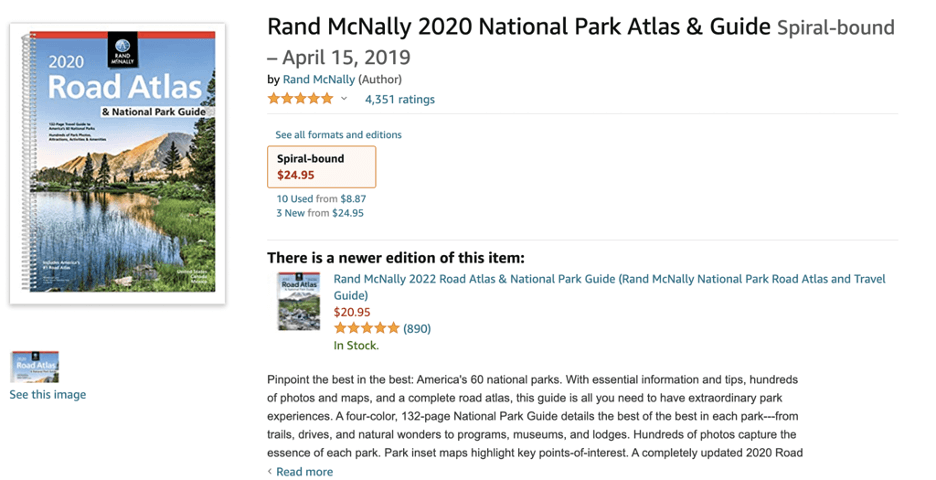 Oh wait, people still use paper maps for road trips … This may be a surprise to many, but the revenue across the road atlas category on Amazon has increased by 495% (Dad, is that you?).
Travelers feel more comfortable with air travel in 2021 than in 2020
The COVID-19 pandemic sparked significant changes to airline schedules and operations, resulting in a decreased air travel. In 2019, there were 4.5 billion airline passengers worldwide; a 60% decrease in 2020 left the airline industry with only 1.8 billion passengers. Although still down from 2019, the total number of air passengers in June 2021 is 304% higher than in June 2020.
As people begin to feel comfortable with air travel again, 52% of consumers say they plan to fly to their destinations in their upcoming vacations. Revenue for travel products commonly used for air travel, such as travel accessories and personal care products, has increased as well.
Luggage scale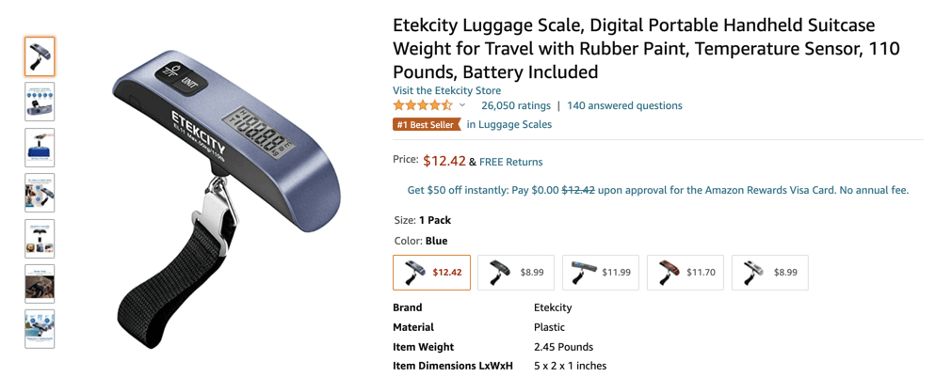 Regardless of your choice of airline, you will have to adhere to baggage weight restrictions (or pay if you don't). For those who don't have a bathroom scale handy, the luggage scale is a must for air travel. Revenue across the luggage scale category on Amazon has increased by 219%, which makes us think that air passengers have had enough of overweight baggage fees!
Luggage tags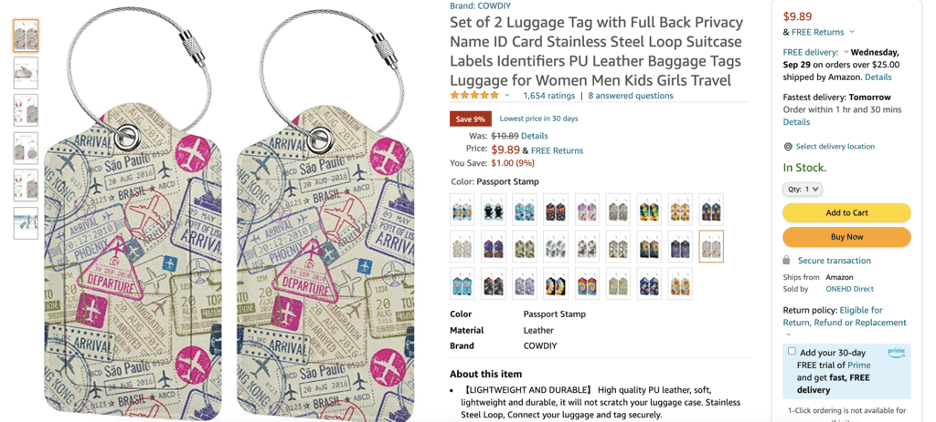 To avoid misplaced luggage or the common mistake of taking home the wrong suitcase, many travelers purchase luggage tags before their flight. Revenue across the luggage tag category on Amazon has increased by 182%.
Travel size toiletries

No one wants to get stopped at TSA and have their beauty products tossed in a trash can for being over 3.4 oz, so if you plan to fly to your next destination then travel-size toiletries are a necessity. Revenue across the travel-size toiletries category on Amazon has increased by 95%, including product listings that offer TSA-approved empty bottles (to fill with your own liquids) and toiletry sets that come prefilled with personal care products such as shampoo, conditioner, and body wash.
Some travelers will take to the sea for their next vacation
After more than a year of cruise ships being stuck at port and an estimated $32 billion revenue loss industry-wide, voyage lovers have been waiting to hit the high seas. As of July 2021, that dream became a reality. With luxury liners setting sail again, 17% of consumers say they plan to travel via boat or cruise ship for their upcoming vacations. Reflecting this shift, revenue for travel products on Amazon commonly used on boats and cruise ships has increased.
Sea sickness relief

For anyone who experiences seasickness, you probably know the importance of being prepared for the worst when taking to the high seas. Revenue across the seasickness relief category on Amazon has increased by 82%, including product listings for OTC medicines such as Dramamine and motion relief patches, and homeopathic remedies such as Sea-Bands and ginger chews.
Cruise lanyards

Cruise goers need to have their cruise ID on their person at all times to access the many amenities available on the ship, so cruise lanyards are a popular pre-voyage purchase. Revenue across the cruise lanyard category on Amazon has increased by 14%.
The majority of travelers plan to spend less on lodging for their 2021 vacations
When it comes to lodging, many travelers plan to save money by choosing lower-cost lodging options.
38% will stay at a family member or friend's house (which could cost nothing)

32% will choose mid-level budget hotels or motels, and 26% will save even more on budget or value hotels and motels

17% will choose to stay in a hostel

Fewer than one-third (31%) will spring for luxury accommodations

19% will stay in an RV or camper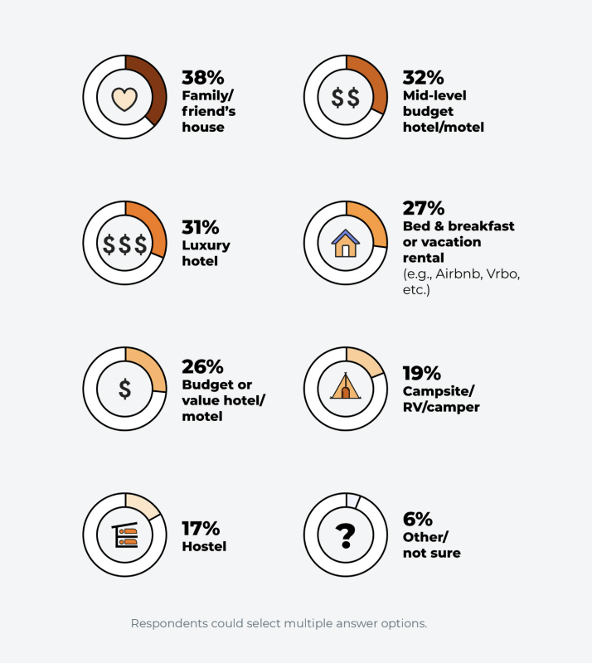 Many travelers will stay with friends and family
With a significant percentage of travelers staying with family or friends, hosts are likely stocking up on products like cleaning supplies and houseware. 28% of consumers have purchased more cleaning supplies in the last three months, 21% have purchased more beauty and personal care items, and 20% have purchased more home and kitchen products.
Other travelers will opt for public lodging
Many consumers plan to stay in public locations like hotels, bed and breakfasts, and hostels. The revenue for bulk hotel supplies sold on Amazon, such as hotel towels and hotel amenities, has increased with consumers' rising comfort levels with traveling and staying in public accommodations.
Bulk hotel toiletries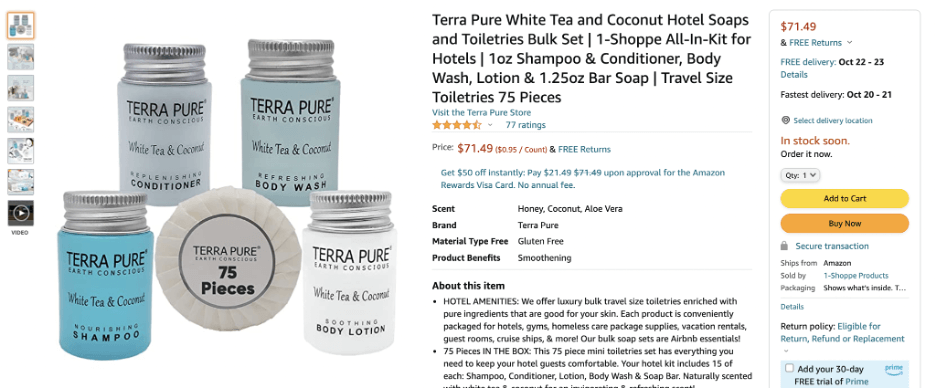 Most hotels and vacation rental owners (such as Airbnb and VRBO hosts) purchase bulk toiletries so that they always have supplies on hand for their guests. Revenue across the bulk hotel toiletries category on Amazon has increased by 142%, including product listings that offer amenities such as sewing kits, nail files, and razors.
Bulk hospitality towels

Along with hotel toiletries, most hotels and vacation rentals offer towels for their guests to use during their stay. Revenue across the bulk hospitality towels category on Amazon has increased by 59%, including product listings for pool towels and bath towels.
Some travelers will stay at campsites
Although camping tends to decrease in popularity during the colder months, 19% of consumers say they plan to stay on a campsite in either an RV or camper for their 2021 trips. There has been a slight increase in revenue for common camping and RV supplies such as sleeping bags.
RV supplies

If you choose RV travel, you'll probably find yourself in the middle of nowhere with no access to a convenience store, so it is important to stock your vehicle with essentials before you begin your journey. Revenue across the RV supplies category on Amazon has increased by 46%, including product listings for commonly used RV supplies such as organization caddies, tarps, and RV showerheads.
Camping accessories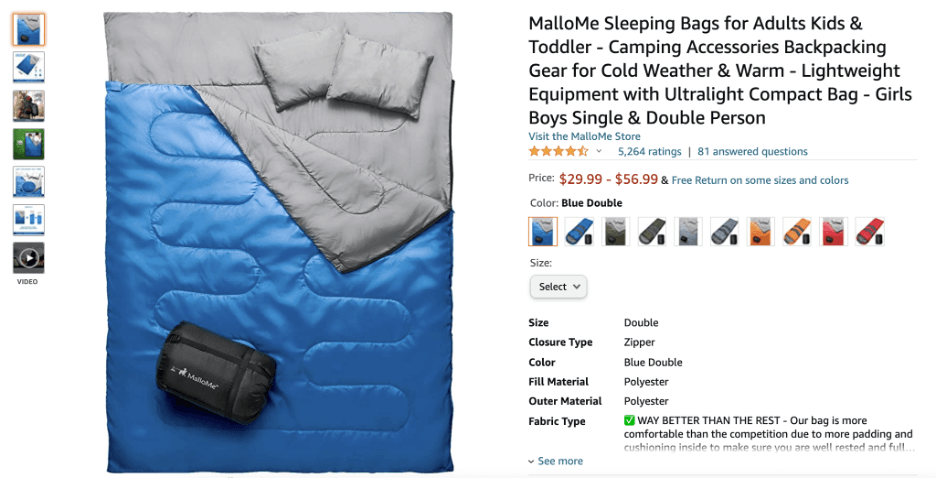 Other products that you'll commonly find in an RV or camper include camping essentials such as sleeping bags, lanterns, and folding chairs. Revenue across the camping supplies category on Amazon, which includes the products listed above, has increased by 33%.
More travel means new opportunities for ecommerce
As people grow increasingly comfortable with traveling in 2021, more flights, hotel stays, and rental cars will be booked and consumers are sure to purchase new vacation necessities. Travel-related products on Amazon have already seen a significant bump in revenue and unit sales, so if you own an e-commerce business that offers travel essentials, prepare your inventory for growth!
Methodology
Consumer sentiments towards travel in Q3 2021
Consumer data was sourced from Jungle Scout's Q3 2021 Consumer Trends Report. Between August 6-9, 2021, Jungle Scout conducted an anonymous survey among a panel of 1,100 U.S. consumers about their buying preferences and behaviors. Respondents represent every U.S. state, all genders, and ages 18 to 75+, as well as all employment types and varying income levels.
The survey asked certain questions about behaviors during the ongoing COVID-19 pandemic, which is described as having started in the U.S. in March 2020 for consistency among related responses.
Certain analysis also compares responses from this survey to the previous Consumer Trends Surveys, which have collected data on a quarterly basis starting in June 2020. Q2 refers to the months of April through June 2021. Q3 refers to the months of July through September 2021.
For more information about this report and/or Jungle Scout's data, please contact [email protected].
Trending travel products in Q3 2021 on Amazon
The product data in this report is representative of the U.S. Amazon market. Market insights on Amazon products were sourced from Jungle Scout Cobalt, an industry-leading market intelligence and product insights platform powered by more than 1 billion Amazon data points every day. Year-over-year revenue increases are comparisons of the period of July 1, 2021– September 28, 2021, to July 1, 2020 – September 28, 2020.
Contact [email protected] today to see how Jungle Scout Cobalt can help you explore sales data and provide strategic insights into consumer behavior on Amazon.