Did you know that Jungle Scout has its own affiliate program? Whether you're a seller, freelancer, guru, YouTuber, podcaster, blogger or just want to make some extra cash on the side, the Jungle Scout Affiliate Program is for you.
The program is free to join, easy to sign-up for and requires no technical knowledge. You can sign up today!
There are some affiliates making six figures every year — all through affiliate commissions. They are literally making money while they sleep, and if they can do it, so can you.
Throughout this blog post, I will walk you step by step through the process of becoming a top-selling affiliate with Jungle Scout.
What is an affiliate program?
An affiliate program is a form of internet marketing where you earn commissions for sending traffic to a website. After you join the affiliate program, you'll get an affiliate link. This link is unique to your account and will be your ticket to earning commissions. When a visitor clicks your link and makes a purchase or completes an action, you will receive a commission for referring that customer. Sometimes you can be paid for just referring traffic to another site, but the commissions tend to be much higher from affiliate programs that require a purchase from a lead.
How does the Jungle Scout Affiliate Program work?
Your first step is to sign up for a free account here. After you have registered for an account you need to get approved to join the program. Once you're approved, you'll be able to start sharing your unique affiliate link to Amazon sellers on social media, through your website, or wherever else you are generating traffic, and earn up to a 30% commission on all successful sales.
Jungle Scout Affiliate Program Tools and Benefits
1. Your referral link
Your referral link is the lifeblood of your affiliate partnership with Jungle Scout. This is a trackable, shareable link unique to your affiliate account that can be shared with anyone. Any Jungle Scout subscription purchased after clicking on your affiliate link will be attributed to you, and you will earn commissions from it.
2. Discounts for your audience
Jungle Scout affiliates have access to discounts on our most popular plans, making it easier for your audience to convert. These discounts are applied through affiliate links.
3. Affiliate's newsletter
Affiliates have access to a unique newsletter that contains the most up-to-date Jungle Scout content, exclusive contests, seller guides to share with your audience, and more.
4. Recurring commissions
Your commissions are not one-and-done payouts. Jungle Scout is a subscription software, so payouts are received again when your customers' subscriptions are renewed. Depending on your affiliate tier, you can receive for up to twelve months of a customer's subscription, or indefinitely as long as they remain with Jungle Scout.
Who can become a Jungle Scout Affiliate?
Anyone who wants to promote Jungle Scout services can become a Jungle Scout Affiliate. All you need to do is sign up for a free account here, get approved to join the program, and then start sharing your unique affiliate link to Amazon Sellers.
Affiliate Tiers
The Jungle Scout Affiliate Program works on a tiered system, with better benefits afforded to affiliates who generate more revenue. This system works as follows: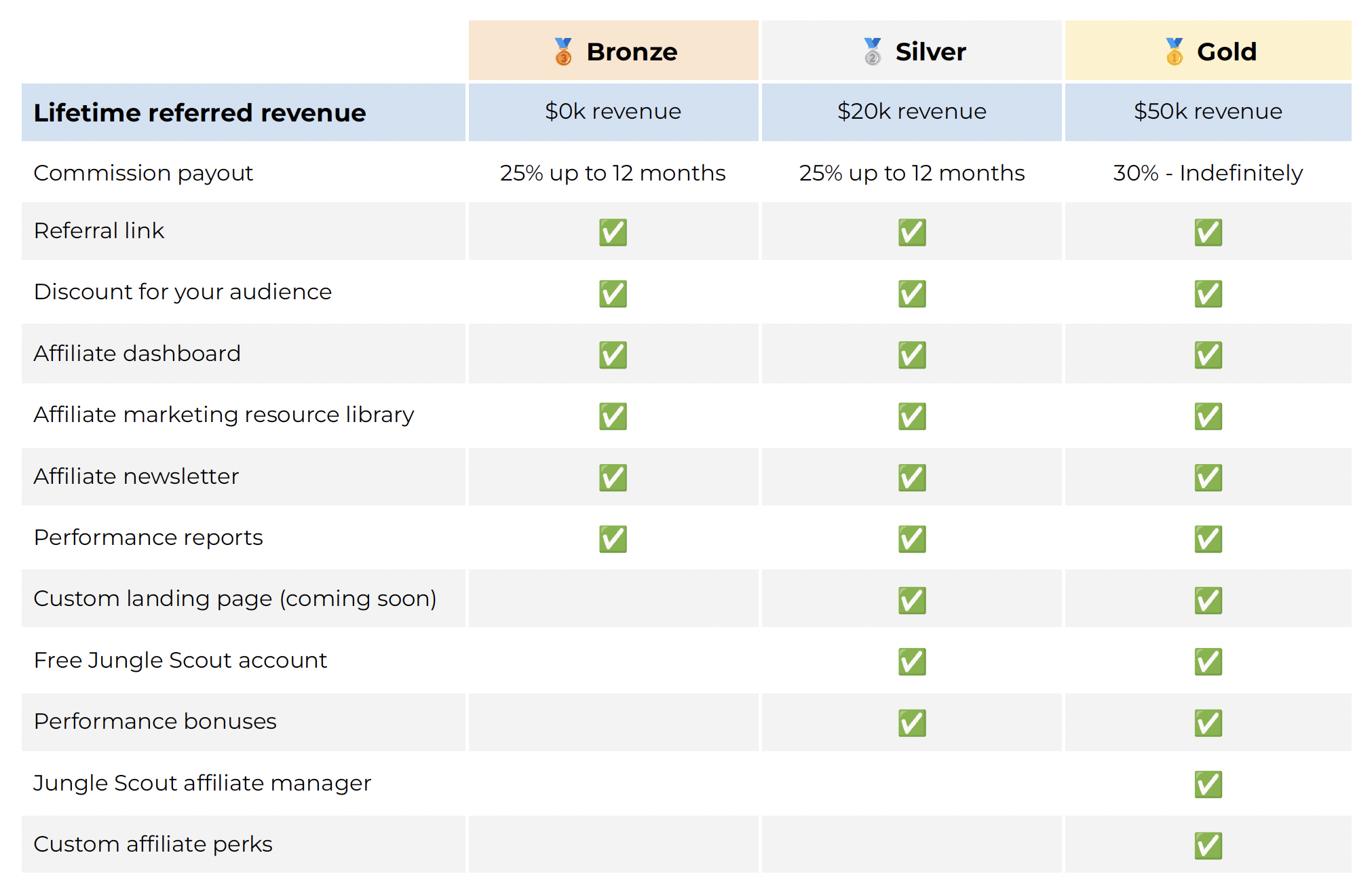 Bronze Tier. Bronze affiliates generate less than $20,000 in all-time referred revenue. At this tier, you get a unique affiliate link, discount codes for your audience, and have access to the affiliate's newsletter, dashboard, and resource library.

Bronze affiliates earn 25% recurring commission for as long as their customers continue to be Jungle Scout users, up to twelve months after they've signed up.

Silver tier. Silver affiliates generate between $20,000 and $49,999 in all-time referred revenue. In addition to the bronze benefits, silver associates get access to a free Jungle Scout account, performance bonuses, and a custom landing page (this benefit coming soon).

Silver affiliates earn 25% recurring commission for as long as their customers continue to be Jungle Scout users, up to twelve months after they've signed up.

Gold tier. Gold affiliates generate at least $50,000 in all-time referred revenue. In addition to the silver and bronze benefits, gold associates have access to a dedicated Jungle Scout affiliate manager and further custom perks.

Gold associates earn 30% recurring commission from each customer until their subscription lapses.
Note: Jungle Scout affiliates can only earn commissions on referrals to customers who have never had a Jungle Scout subscription.
Frequently Asked Questions
How can I share my affiliate link?
You can promote your link through social media, email, your website, blog, video reviews, podcast, ebooks, courses, and more. We want you to get creative so that you can share your link with as many Amazon sellers as possible. The more you share, the more potential you have to earn commissions!
How do you track conversions?
When someone clicks your unique link, cookies are added to their browser to track whether or not they make a purchase on the Jungle Scout. If that user makes a purchase within 60 days of clicking your affiliate link, your account will be credited. You can track your conversions and referral data via your personal affiliate dashboard
How often is commission paid?
Affiliates will be paid out once a month (mid month) for successful referrals sent the month prior.
Who can I contact if I need help with the Jungle Scout Affiliate Program?
If you have any questions or need help setting up your affiliate account you can reach out to [email protected] and our friendly Customer Success Team will be glad to help assist you.
Brian Connolly is an Amazon seller, ecommerce expert, and writer for Jungle Scout. He lives in the New Jersey Shore area with his wife and cat. When he isn't writing advice online for aspiring and experienced Amazon sellers for Jungle Scout, he spends his free time boating, fishing, and selling boating-themed items on his Amazon business.