Whether you're launching your first private label product, reselling wholesale products, or you own a large brand, it's imperative that you have an Amazon advertising strategy in place.
As a seller, big or small, it's important to fully understand the various advertising tools Amazon has to offer—especially as the competition continues to grow.
Amazon Advertising, formerly known as Amazon Marketing Services (AMS), is the umbrella term used to describe all of Amazon's advertising solutions.
Amazon Advertising can be broken down into two categories:
Self-Service Amazon PPC (Pay-per-click ads)

Managed-Service Amazon DSP (CPM, or cost per thousand impressions, ads)
PPC ads are for professional sellers and Brand Registered sellers on Amazon who want to reach more customers. This is the most common ad platform for Amazon sellers and includes Sponsored Products, Sponsored Brands, and Sponsored Display ads.
Sellers enrolled in Brand Registry also have access to Amazon Stores, Amazon Attribution, and Amazon Live—all of which fall under the Amazon Advertising umbrella.
Amazon DSP (demand-side platform) is a managed-service option available to advertisers and agencies, whether they sell products on Amazon or not. They typically require a large budget of at least $50,000. Unlike PPC ad campaigns, which you can set up quickly, you'll need to contact an Amazon Advertising account executive to begin using Amazon DSP.
To keep things simple, we'll showcase all of the Amazon ad programs available to brand-registered sellers, plus other advertising solutions — including one that doesn't require brand registration.
Here's a preview of what we'll cover:
How Amazon PPC works

Sponsored Products, Sponsored Brands, and Sponsored Display Ads

Amazon Stores

Amazon Attribution

Amazon Live
If you've never heard of these before, don't worry! We'll link to our step-by-step instructions for each strategy.
What is Amazon PPC?
PPC is exactly what it sounds like—you pay Amazon each time a customer clicks on your ad, whether they purchase your product or not.
Amazon provides third-party sellers with an easy-to-use advertising platform to set up various PPC ad campaigns within a few minutes. The amount you pay depends on the ad type, the keywords you target, and how competitive your niche is.
Fortunately, Amazon provides sellers with important key metrics to help measure the success of each campaign you're running:
Clicks:

this metric shows you the number of times your ads were clicked. Amazon adjusts your report for invalid clicks (clicks that were accidental or otherwise illegitimate), typically within 3 days.

Impressions:

how many times your ad was displayed to a customer on Amazon.

Spend:

how much you have spent per campaign. This equals the total amount of click charges per product ad.

Sales:

the total amount of product sales generated within one week of clicks on your ads.

Advertising Cost of Sales (ACoS):

this measures the efficiency of your ads and represents the percentage of your ad-generated sales that you spent through advertising. To

calculate your ACoS

, divide the total amount of money you spent on ads by the revenue generated by your ads.

Return On Ad Spend (ROAS): another efficiency metric, and the inverse of ACoS. To calculate it, divide the sales dollars attributed to your ads by your ad spend. For example, a ROAS of 5 means for every $1 spent on ads, you receive $5 in revenue.
These metrics can help you set goals for your advertising campaigns.
Understanding them all requires a bit of a learning curve, but after a bit of practice, you'll be able to optimize your campaigns like a pro. If numbers aren't your thing, you can always hire a professional Amazon freelancer to run and optimize your campaigns for you.
Why PPC ads are important for your Amazon business
It's no secret that competition on Amazon continues to grow year after year, in turn driving Amazon's advertising business. In the past year alone, Amazon saw 32% year-over-year growth in ad revenue from $21 billion to $31 billion.
PPC ads are immensely popular among Amazon sellers and brands of all sizes. 79% of first-party (1P) vendors and 71% of third-party (3P) sellers use at least one form of Amazon PPC.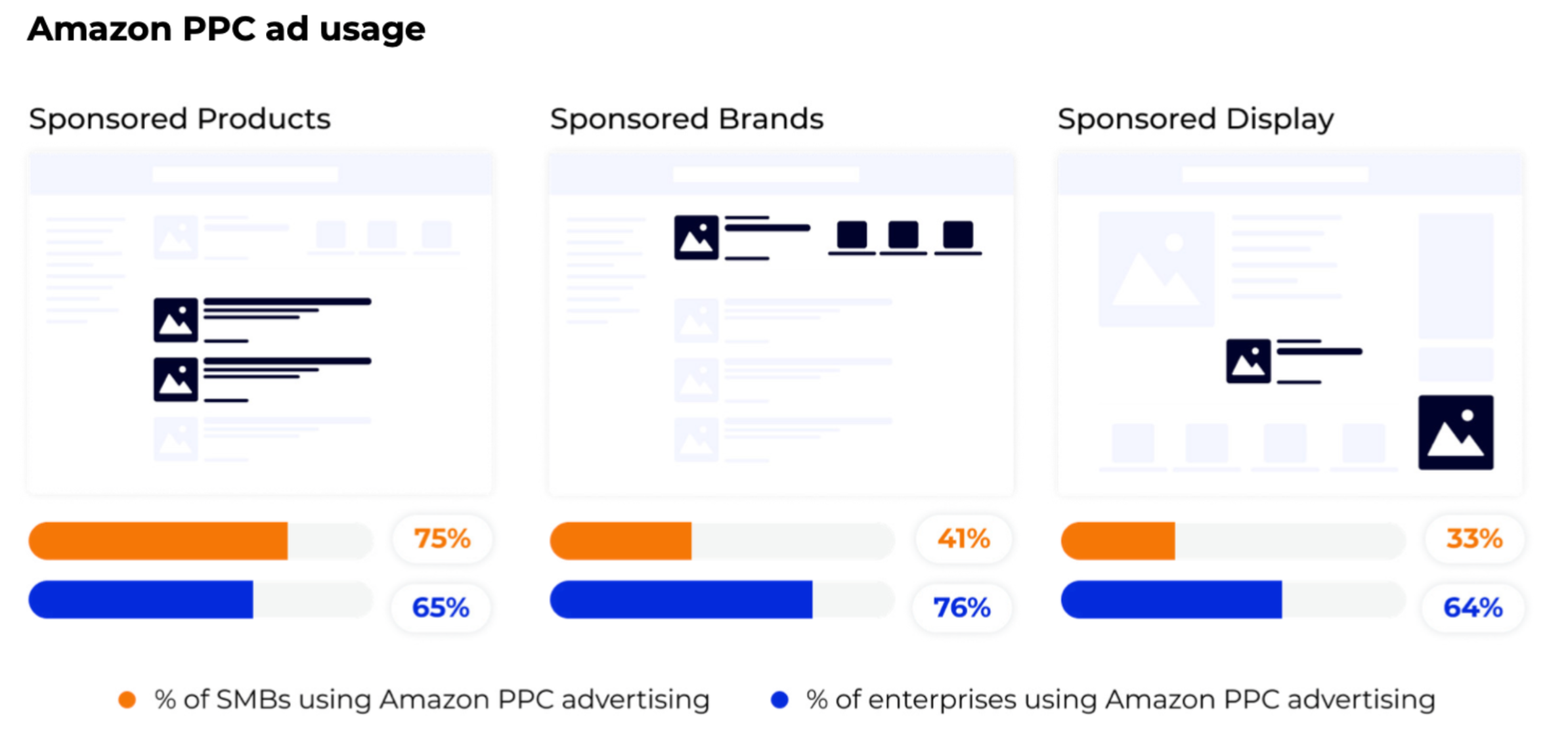 While consumers' preference for Amazon as an online retailer is obviously great for many sellers, there's also a concern about the negative effects of rapid marketplace growth.
For instance, 59% of Amazon sellers are concerned about increased competition driving prices down, and 59% are concerned about increasing ad costs on Amazon.
Despite the rise in PPC costs, it's still possible to run profitable ads on Amazon—you just need the proper strategy in place.
Using Amazon advertising is particularly important when listing new products. With a simple keyword- or product-targeting campaign, PPC ads provide the audience reach you wouldn't otherwise have, kick-starting the product's ascent to the front page of search results.
As long as you have a great product, great pictures, and a compelling, optimized listing, you shouldn't have a problem converting ad clicks into sales. Those ad sales will then help increase your organic rankings for each well-performing keyword, further driving your sales.
Not surprisingly, then, 32% of sellers believe using Amazon's PPC platform is a top factor that makes a successful Amazon seller.
Let's go over the different types of ads you can run for your products, no matter if you're a complete beginner or a seasoned seller.
Types of Amazon PPC ads
There are three types of Amazon PPC ads: Sponsored Products, Sponsored Brands, and Sponsored Display. While Sponsored Products is the oldest and most popular format among 1P and 3P sellers alike, sellers' ad spend has shifted over the years toward Sponsored Brands and Sponsored Display.

Sponsored Products
Every seller starts their Amazon advertising journey with a Sponsored Products campaign. You don't need to be brand-registered to use it, and it's the most straightforward form of PPC to set up. After conducting proper keyword research, you can launch a Sponsored Products campaign in minutes.
Sponsored Products ads appear both at the top of the Amazon search result page and throughout the organic results, as well as on competing product listing pages.
2023 update: On August 16, 2023, Amazon announced that Sponsored Products ads will now start to appear on premium apps and websites such as Pinterest, BuzzFeed, Hearst Newspapers, Raptive, Ziff Davis, Lifehacker, and Mashable. Amazon says it will start small, test the results, and expand to other websites if it is successful.
All ads shown on other apps or websites will link directly to your product detail page.
How do you turn this feature on? Amazon states, "Advertisers using Sponsored Products do not need to take any action to appear on these sites or apps. Your Sponsored Products ads will automatically show up when we think a customer is likely to be interested in your product, based on relevant page context, the campaign, and cost-per-click parameters that you have already established."
Sellers can view the performance of these campaigns by viewing the Sponsored Products placement report.
As an example, let's see what products come up in the search results when a customer shops for fishing lures on Amazon.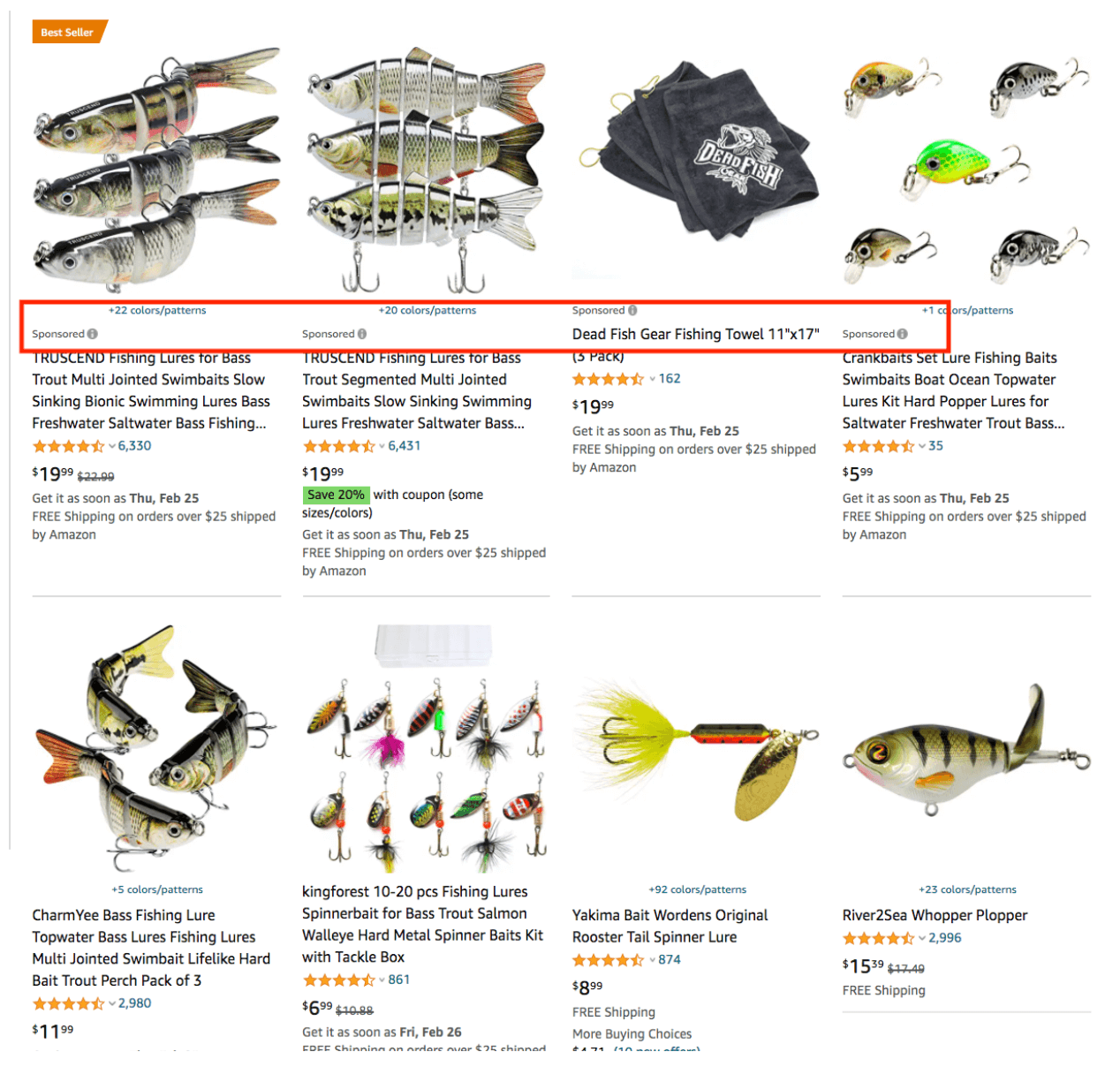 As you can see, the first four search results have a "Sponsored" tag, indicating that they're ads targeting the "fishing lure" keyword.
Another thing to point out here is the third and fourth Sponsored Ad results. You may notice that they have a much lower review count than the first two ad results, as well as the organic results underneath that.
I used Jungle Scout Extension to pull up the sales numbers for these products and saw that they're fairly new, with relatively low sales volume compared to many of the organic search results. Without being featured in Sponsored Product ads, there's no way they'd reach the very top of the search results.
Here's what Sponsored Product ads look like on a listing page:

Sponsored Products ad targeting
Within Sponsored Products, there are two types of targeting to choose from:
Automatic-targeting ads:

with this option, Amazon will decide which keywords to target based on the type of product you're selling. It's a great way to start running ads if you're unsure of which keywords to target. You'll have the opportunity to see which keywords Amazon comes up with and if they're converting into sales. The downside is the lack of optimization options that manual targeting offers.

Manual-targeting ads:

sellers decide which keywords or products to target, set custom bids for each, and set their keyword search specificity to broad match, phrase match, or exact match.

Broad match: targeted keywords can appear in any order in a search query, and additional words may be included (ie. if your target keyword is "marshmallow sticks," your ad will also appear for "marshmallow and hot dogs sticks" and "roasting stick for marshmallow").

Phrase match: targets your keyword phrase in the order in which it's entered, but may include other words before or after (e.g., "campfire marshmallow sticks" and "marshmallow sticks for roasting" are okay).

Exact match: to see your ad, customers need to enter your keywords exactly as you wrote them. So only "marshmallow sticks" will be targeted, with no words before, after, or in between.
In our How to Sell on Amazon for Beginners Guide, we recommend running both an automatic and manual campaign — once your listing is optimized, of course.
With manual targeting campaigns, you can choose from two subtypes:
Keyword targeting:

exactly how it sounds.

You choose the keywords you want to target for your campaign. For example: you are selling fishing lures, so you target keywords such as "fishing lure", "lure for fishing", "fishing accessories", etc.
Product targeting:

with this ad type, you can target your competitors' listings instead of keywords. Using fishing lures as an example again, you can target your competitors' ASINs, so your ads appear on their listing under the "Products related to this item" section, as shown above.
Note: You can run both keyword targeting and product targeting campaigns at the same time. You'll just need to set them up separately.
Requirements for Amazon Sponsored Products ads
You

do not

need to be brand-registered, but you must have a

professional Amazon seller account

or be a Vendor. You cannot advertise products with an individual seller account

Your product must be

Buy Box

eligible in order to qualify
How much does it cost to run a Sponsored Products ad?
This depends on your daily budget and the bids you set for each keyword. Remember, every time a customer clicks on your ad, you will be charged for that click. Depending on how competitive your niche is, you can expect to pay anything from $0.05 to $10 per click. Pro tip: use Jungle Scout's Keyword Scout to get an estimate on PPC costs per keyword.
To run a Sponsored Products ad, you need to have a daily budget of just $1 to start—though we recommend increasing that to $50 to $100/day if you can afford it. It's perfectly fine to start with $5 to $10/day and adjust over time.
Bidding low in an effort to save money on your campaign has its drawbacks. If your bid is low compared to other sellers in your niche, your ads will still appear, but not at the top of Amazon search results. They may appear at the bottom of the search results page, or they'll show up on search result page two or three, or just on a competitor's listing. If it's much lower than the highest bids, it may not show up at all.
Once your campaign reaches your daily budget limit, it will pause until the next day.
Each keyword you target will vary in what you pay per click. Amazon will also suggest a keyword bid for you, but winning the bid involves a bit of hedging. Here's what I mean by that: if you set your maximum bid to $0.50, you won't pay any more than that when a customer clicks your ad. But you won't necessarily pay $0.50 either—your actual cost may be much lower, as it depends on what the next-highest bidder has budgeted. So if your closest competitor is bidding $0.35 per click, you'll only pay $0.36 for a click—just enough to one-up them.
What are the benefits of Sponsored Products ads?
They're an easy and highly effective way to get your product in front of new customers, as you're targeting shoppers who are already on Amazon and ready to buy. You don't have to lure them to a retailer or inspire them to search for your product—you just have to show up in the search results.
Whether you just launched a new product and need traffic or you have a consistently-selling product, Sponsored Product ads are a great way to increase your impressions, clicks, and sales.
Keep in mind that nearly 66% of sellers are using Sponsored Product Ads for their Amazon products—which may drive up your niche's ad costs.
How to run a successful Sponsored Products ad
Check out Chapter 7 of our How to Sell on Amazon for Beginners Guide or Step 8 of our "How to Sell on Amazon FBA for Beginners" YouTube video.

Sponsored Brands
Sponsored Brands ads, previously known as Amazon Headline Search Ads, are a more advanced advertising solution available to sellers enrolled in the Brand Registry program.
These types of ads help drive brand awareness by funneling all traffic to your custom Amazon storefront or a dedicated brand-centric landing page on Amazon. The biggest advantage here is that there are no competitor listings in sight—just your products.
Sponsored Brands ads are banner ads that feature your logo, custom tag line, and thumbnails for a few products. They appear above Sponsored Product ads in Amazon search results.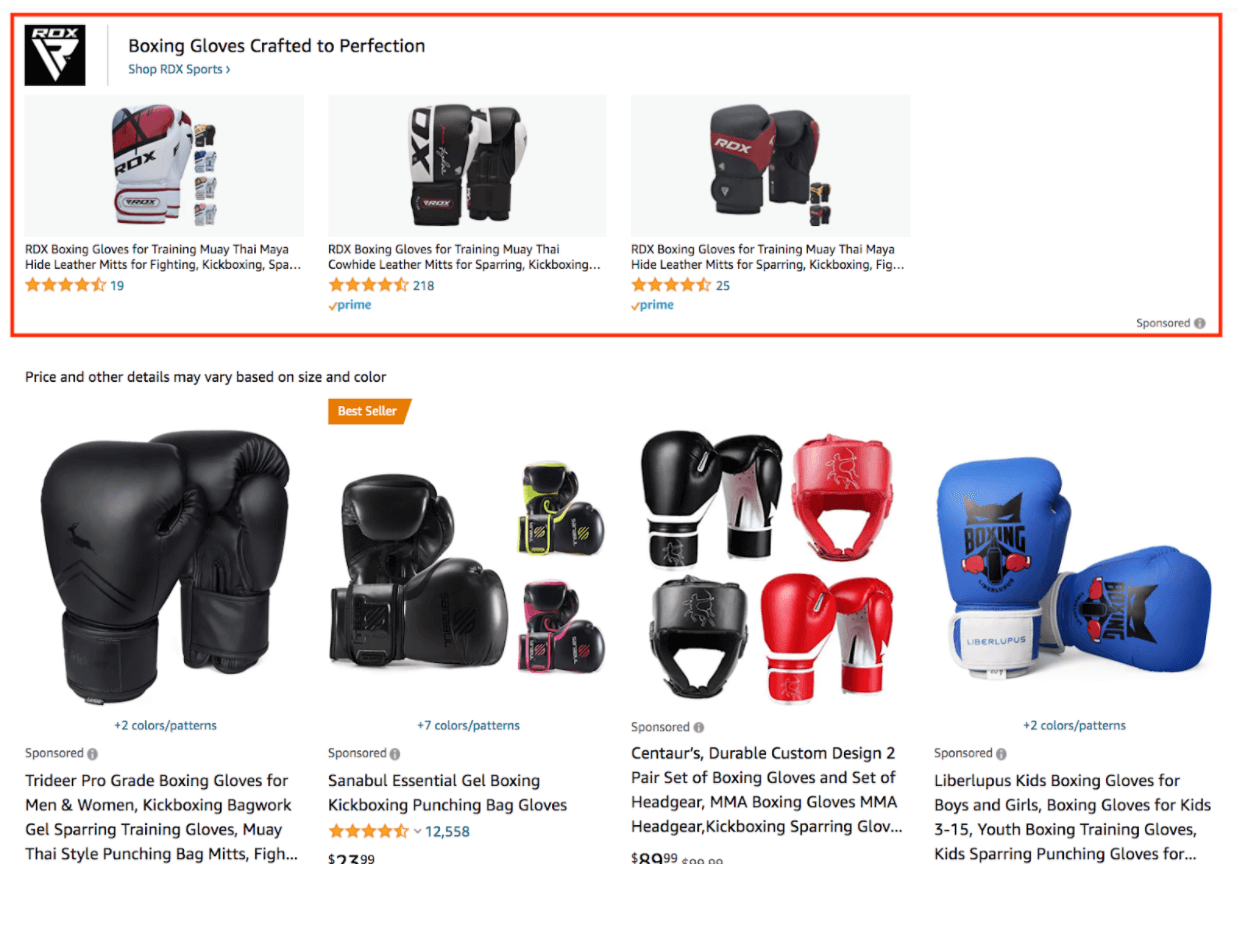 These custom banner ads allow you to advertise up to three products at a time, giving customers a broader overview of your brand—and thereby increasing brand awareness.
In the above example, if you click on one of the three products, you'll be redirected to that specific product listing. If you click on "Shop RDX Sports," you'll navigate to the brand's Amazon Storefront, which resembles a custom ecommerce website.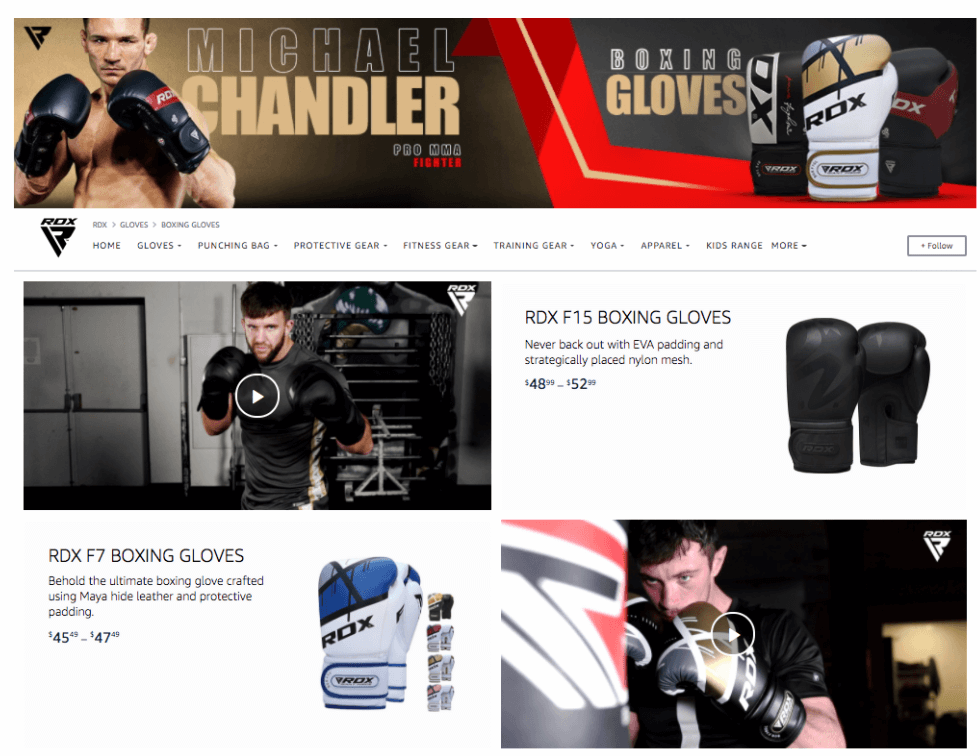 On the Amazon Storefront, there are no competitor listings or ads to distract customers from their brand.
If you don't have an Amazon Store built yet, you also have the option to send traffic to a custom Amazon landing page. See an example of that below: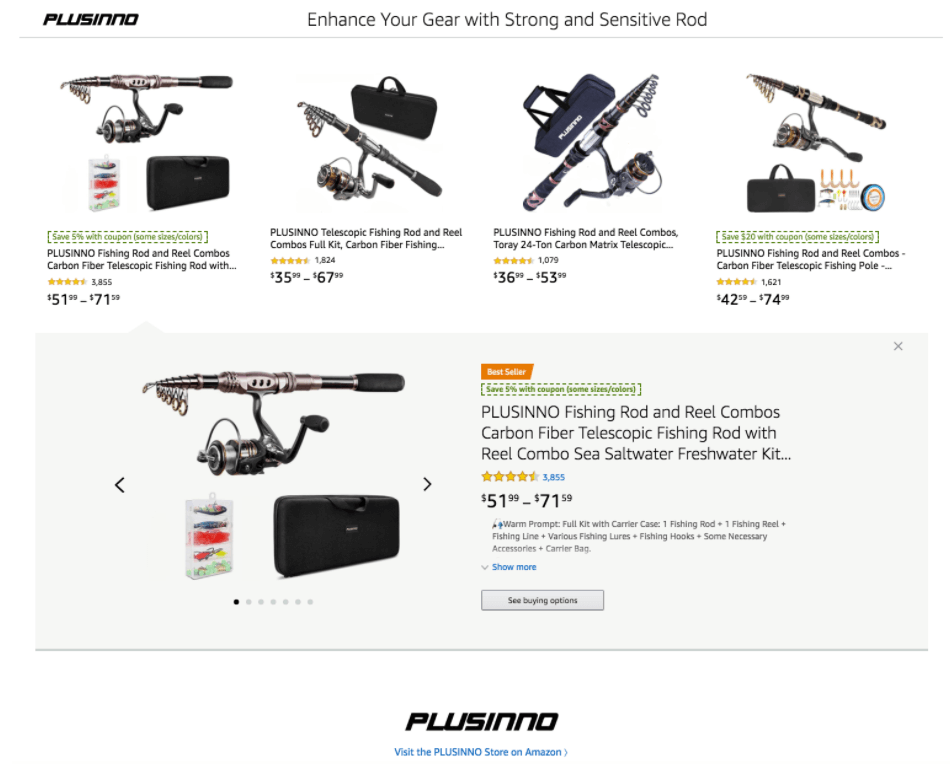 Again, no competitor ads or listings in sight.
Sponsored Brands ad types
With Sponsored Brands Ads, you can choose from three formats: Product collection, Store spotlight, or Video.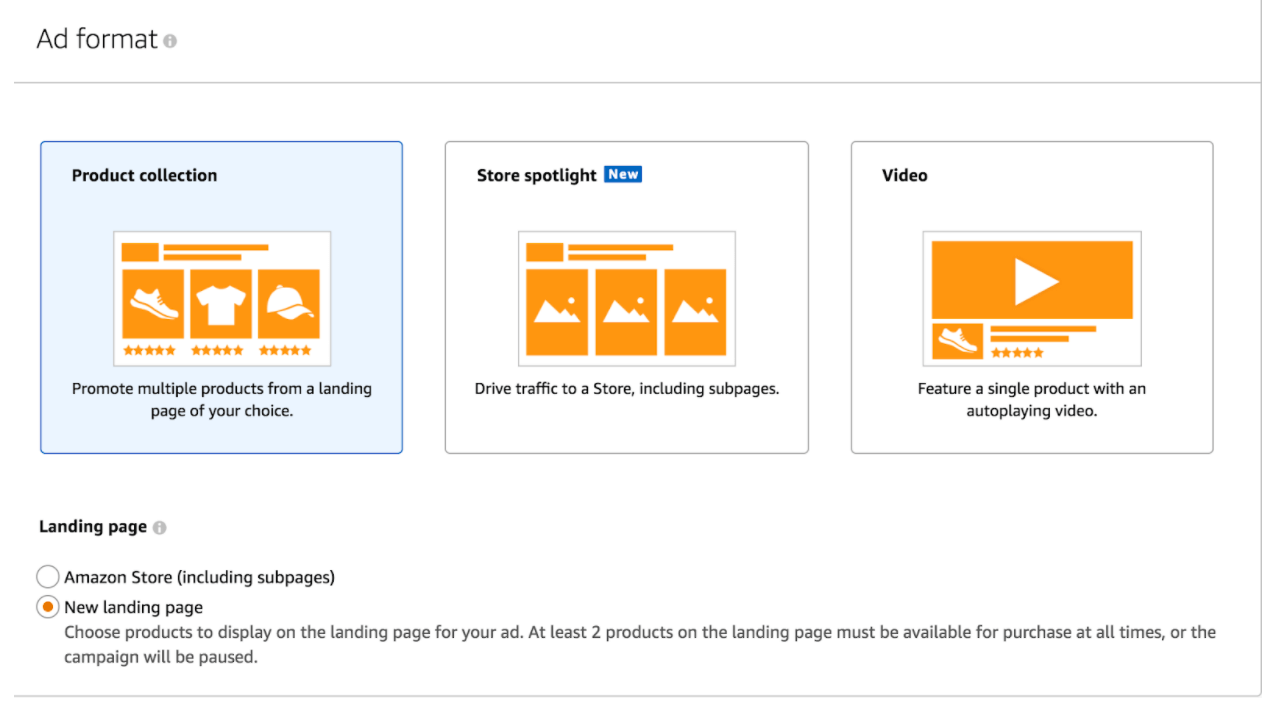 Product Collection
The Product Collection ad type allows you to advertise up to three products at once, with the option to send traffic to your Amazon Store or a dedicated landing page.
This is a great way to boost newer or lower-ranking products by advertising them alongside your high-performing products.
Here is another example of a Product Collection ad in action:

After clicking on the ad, it'll bring you to this landing page: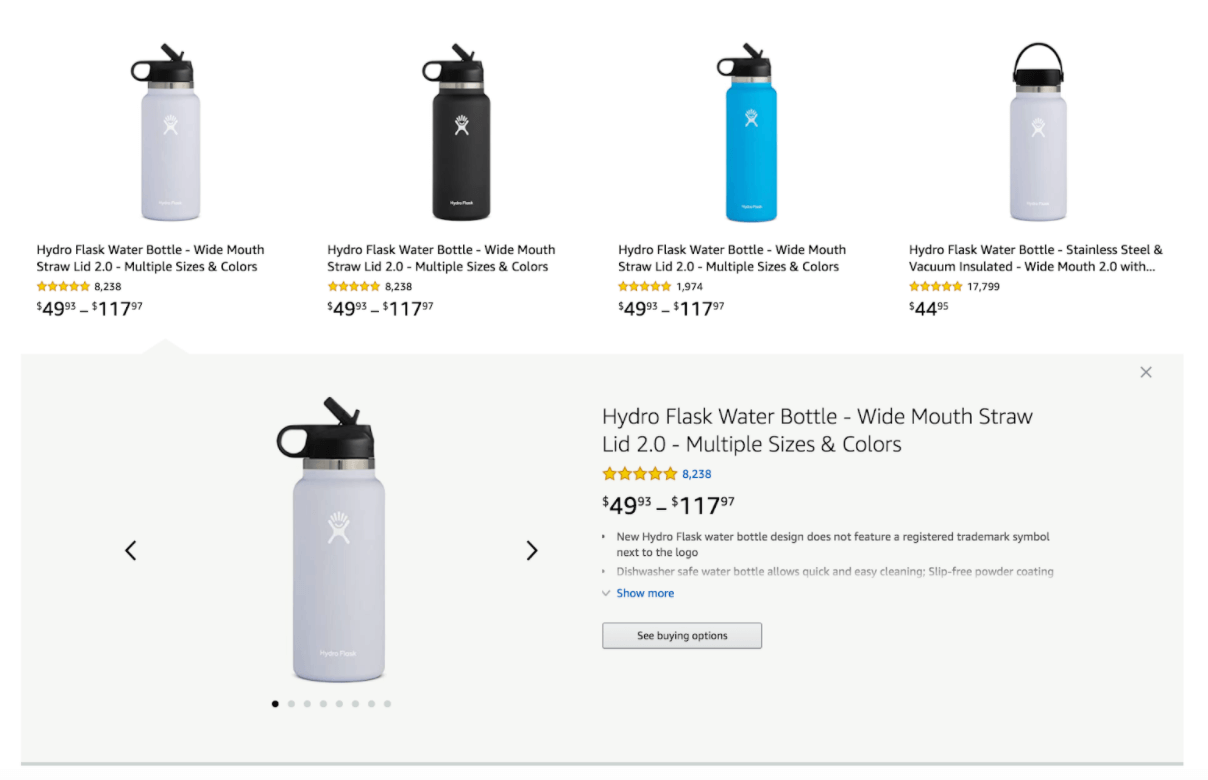 Store Spotlight
The Store Spotlight ad format is only available if you have your own Amazon Store, as that's where your traffic will go. As we mentioned above, an Amazon Store is basically your own custom ecommerce website, but on Amazon.
This is great for brands that sell multiple products across a variety of categories. Instead of just promoting three different products, you'll be able to promote three different categories of products, as well as their specific store subpages.
Here's a great example of a Store Spotlight ad:

As you can see, instead of advertising just three products, the Frigidaire brand is showcasing three different subcategories within the ad—water filters, probiotic cleaners, and air filters.
If we click on "Air filters that fit every refrigerator," we'll arrive at the air filter subpage within their Amazon Store.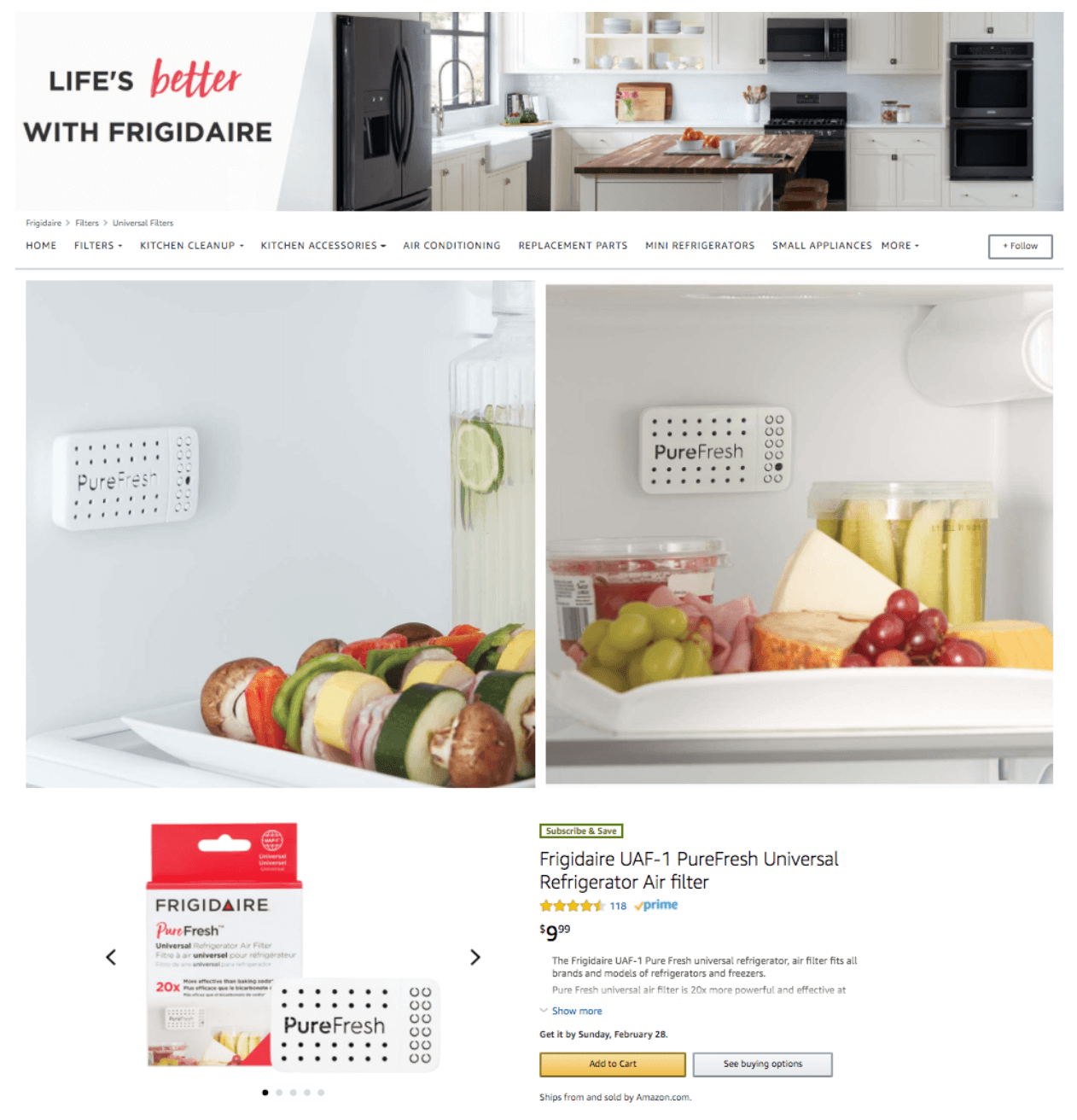 Video
The Sponsored Brands Video ad format can offer brand registered sellers a huge advantage over their competitors, as video ads tend to stand out within search results.
After searching for the keyword "boat sponge," this video popped up and stopped me in my tracks.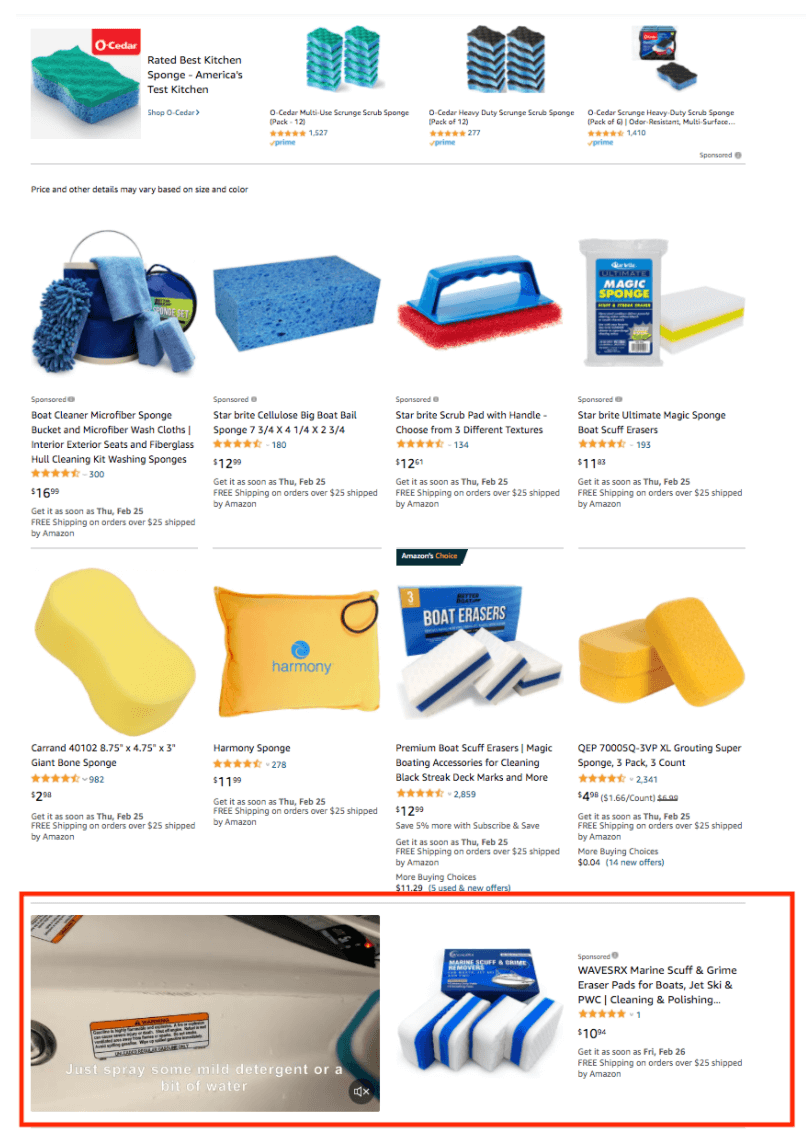 Video ads play automatically, making them eye-catching and immediately helpful to the scrolling customer.
Amazon recommends that your videos be short and informative—between 15–30 seconds. A well-done video ad tells the potential customer everything they need to know about the product within the first few seconds through effective visuals and subtitles.
Before creating your product video ad, make sure you review Amazon's guidelines on video creation—otherwise, you risk having your video rejected.
Unless you're a skilled videographer, we recommend you hire a professional to shoot and edit your video ad. You can find talented Amazon freelancers around the web to create an informative and creative product video for your brand.
Best Practices for Product Video Ads
Create a demonstrative video about your product that answers all your customers' questions

Do not include any unnecessary scenes or filler content. The video ad should be completely product-focused

Keep your videos short and to the point (15–30 seconds)

Your videos will autoplay without sound, so add informative captions. That way, customers don't need to unmute to learn about your product

The video will automatically loop, so consider making the loop seamless

Show your product immediately as the video starts. Do not use fade-in effects or begin with an intricate introduction
Sponsored Brands ad Targeting
Similar to Sponsored Products, you can choose from two targeting options for your Sponsored Brand ads:
Keyword targeting:

you choose the keywords you want your Sponsored Brand ads to show up for
Product targeting:

select the specific products, categories, brands, or other product features to target with your ads
Requirements for Amazon Sponsored Brands ads
You must be enrolled in Brand Registry or be a Vendor
How much does it cost to run a Sponsored Brands ad?
Sponsored Brands Ads are paid for the same way a Sponsored Products Ad would be—per click. The costs depend on your daily budget and the bids you set for each keyword. They also depend on the category you're selling in.
The more competitive your product is, the higher your cost per click. Again, you can use Jungle Scout's Keyword Scout to get an estimate on PPC costs for Sponsored Brands, or you can go with Amazon's suggested bid. And similarly to Sponsored Products ads, you need a daily budget of at least one dollar.
What are the benefits of Sponsored Brands ads?
The biggest benefit is that Sponsored Brands ads are currently only available to brand-registered sellers or Vendors. This means any of your competitors that are not enrolled in Brand Registry will not be able to compete with your Sponsored Brands ads.
Just 34% of Amazon sellers currently utilize Sponsored Brands ads—including 66% of sellers who've achieved over $1 million in Amazon sales.
These ads are prominent and compelling—they're a great way to stand out in the search results. The fact that you can funnel traffic to your Amazon Store or custom landing page—and away from competitors—makes them a homerun solution.
How to run a successful Sponsored Brands ad
As mentioned above, check out Chapter 7 of our How to Sell on Amazon for Beginners Guide or Step 8 of our "How to Sell on Amazon FBA for Beginners" YouTube video. While they're about Sponsored Products ads, you can utilize the same strategies to optimize your Sponsored Brands ads.
Sponsored Display
Sponsored Display is a fairly new advertising tool within Amazon's self-service advertising arsenal. What makes Sponsored Display special is the ability to reach relevant audiences on and off Amazon. That's right: you can now advertise to—and retarget—customers on third-party websites and apps.
Like Sponsored Brands, Sponsored Display is also only available to brand-registered sellers or Vendors.
The biggest difference between Sponsored Display, Sponsored Products, and Sponsored Brands is how you target customers. Instead of targeting keywords or competitors' products, you'll target potential customers based on interests, shopping behaviors, and whether they've viewed your product's detail page in the past.
Amazon defines Sponsored Display as "a self-service display advertising solution that helps you grow your business and brand on Amazon by engaging shoppers across the purchase journey, on and off Amazon."
Essentially, this means Amazon keeps track of the products a given customer views on their site, and displays them again across Amazon search results, competitor listings, and the third-party websites or apps that customer uses.
That way, you can remind customers about your product and brand, even if they've navigated away from your Amazon listing.
Here is an example of Display Ads in action:

In this example, you can see that Sponsored Display offers an added benefit: you can target listings for complementary products. The Boat Wash product (the ad at far right in the image above) is not directly related to the main product (sponges) but will complement the purchase.
Sponsored Display ad targeting
With Sponsored Display ads, there are three types of targeting to choose from: product targeting, views remarketing, and audience interests.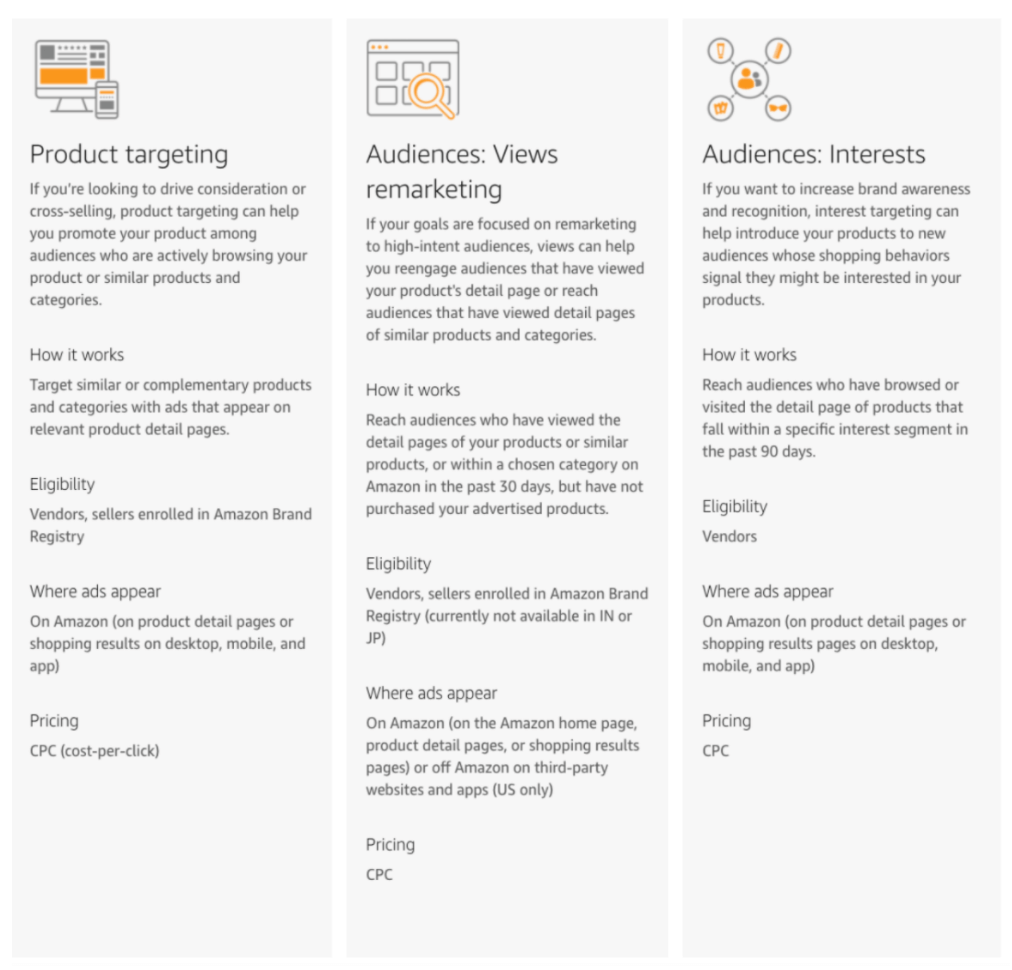 Product targeting ads
This ad type allows you to target customers who are browsing your products, your competitors' products, or related categories. You can even place an ad directly on your competitor's listing.
The Product Targeting option is eligible for Vendors and third-party sellers enrolled in Amazon Brand Registry.
Audiences: Views remarketing
With this targeting option, you can retarget customers who have previously viewed your listings. This gives potential buyers a reminder to check out your listing again and is more likely to convert over a "cold" Sponsored Product Ad.
Your Display Ads will be shown both on and off Amazon to customers who have viewed your product in the last 30 days but have not made a purchase.
The Product Targeting option is eligible for Vendors and third-party sellers enrolled in Amazon Brand Registry.
Audiences: Interests
With Interests targeting, you can increase your brand awareness by showing your products to customers browsing similar products.
In other words, Amazon will show your ads to shoppers who have viewed products related to specific interests. We saw this in our sponge example above—a listing for anti-scuff sponges for boats displayed ads for liquid boat cleanser and buffing pads.
Eligibility: Unfortunately, this targeting option is only available for Vendors at this time.
Requirements for Amazon Sponsored Display ads
You must be enrolled in Brand Registry or be a Vendor.
How much does it cost to run a Sponsored Display ad?
As with other Amazon advertising tools we've gone over, Sponsored Display is a PPC (pay-per-click) program. Every time someone clicks on your ad, you will be charged for that click. The actual amount you pay-per-click depends on your bid, which in turn determines your visibility to potential customers.
The costs, again, depend on your daily budget and the bids you set, but remember, you're not targeting keywords.
Your daily budget can be whatever you are comfortable with. You can start small and increase your budget if your ads are performing well.
What are the benefits of Sponsored Display ads?
Like Sponsored Brands, Display Ads are only available to brand-registered sellers or Vendors. Since this type of PPC advertising is still fairly new, only 25% of sellers are taking advantage of this strategy.
This advertising method is unique in that it allows sellers to both retarget customers even when they're not on Amazon's site—and this enhanced reach is reason enough to test it out.
How to run a successful Sponsored Display ad
Follow our in-depth Sponsored Display ad guide to learn more about how to properly set up and optimize your display ads.
Chapter 7 of How to Sell on Amazon for Beginners and Step 8 of the FBA beginner video (shown above) will also be helpful.
Additional advertising strategies for Brand Registered sellers
Becoming a registered brand on Amazon has many more benefits than Sponsored Brands and Sponsored Display capabilities. There are a few more features that fall under Amazon Advertising for third-party sellers enrolled in Brand Registry.
Amazon Stores
As was briefly mentioned above, an Amazon Store is basically your own dedicated ecommerce website, but on Amazon. You can create multiple pages and add subcategories, videos, and other modules that make your products nicer to look at than a cluttered collection of search results.
Not only that, you can drive traffic directly to your Storefront, where there will be no other distractions from competitor ads. Amazon defines it as a "dedicated brand destination."
Unlike years ago when this was just available to Vendors, Amazon Stores is now self-service and free to create.
Here's an example of a great-looking brand store on Amazon: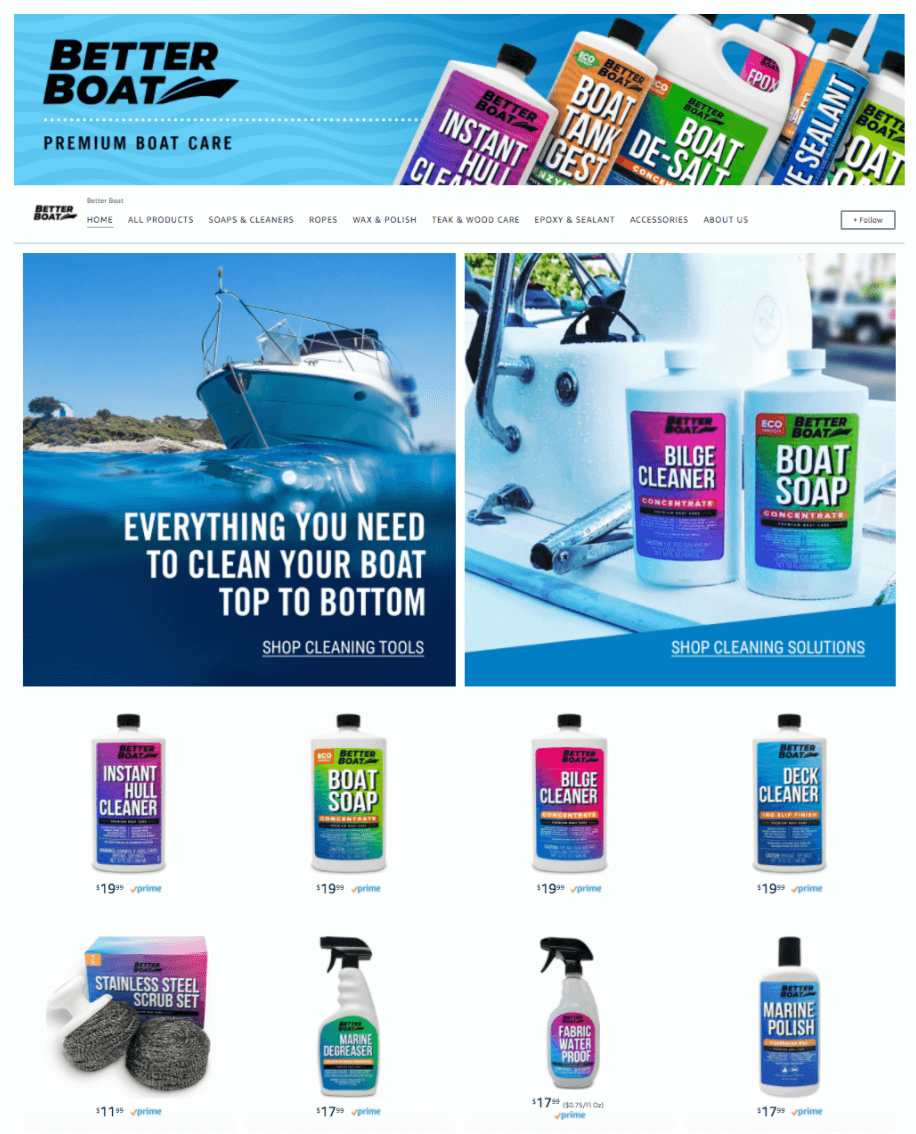 As you can see, brands can create a multi-page "website" and customize it with their own banners, images, and videos.
Customers can reach your storefront by clicking on "Visit the ____ store" underneath the product's title.

You can also send traffic to your store through a Sponsored Brands Ad, as mentioned above.
What are the benefits of an Amazon Store?
Helps brands build awareness and look more legitimate

Get your own custom "Amazon.com" URL. Ex. Amazon.com/YOURBRANDNAME

Easily design your Store with drag and drop tiles or pre-designed templates

Amazon provides Stores with an insights dashboard to view Store-related sales, visits, page views, and traffic sources both on and off Amazon.
Amazon Attribution
Amazon Attribution is a free advertising tool specifically for brand-registered sellers to measure their off-Amazon marketing efforts. Attribution gives sellers detailed analytics and insights to get a better understanding of how their non-Amazon marketing channels are performing.
For instance, without Attribution, you'd have to guess as to how well your Facebook or Google ads helped your Amazon sales. Instead of blindly throwing money at these off-Amazon campaigns, Attribution shows you key metrics to measure the effectiveness of each ad.
What are the benefits of Amazon Attribution?
Amazon Attribution allows you to measure which channels are the most effective for driving sales, optimizing your campaigns, and planning ahead for future campaigns.
With the proper metrics to look after, you'll be able to make informed decisions about your external marketing efforts.
Amazon Live
With Amazon Live, you can live stream on Amazon's homepage, as well as on your product detail page. When hosting a live stream, you have the opportunity to speak directly to customers about your products and demonstrate how they work. Pretty cool, right?
Here's an example of a live stream on a listing: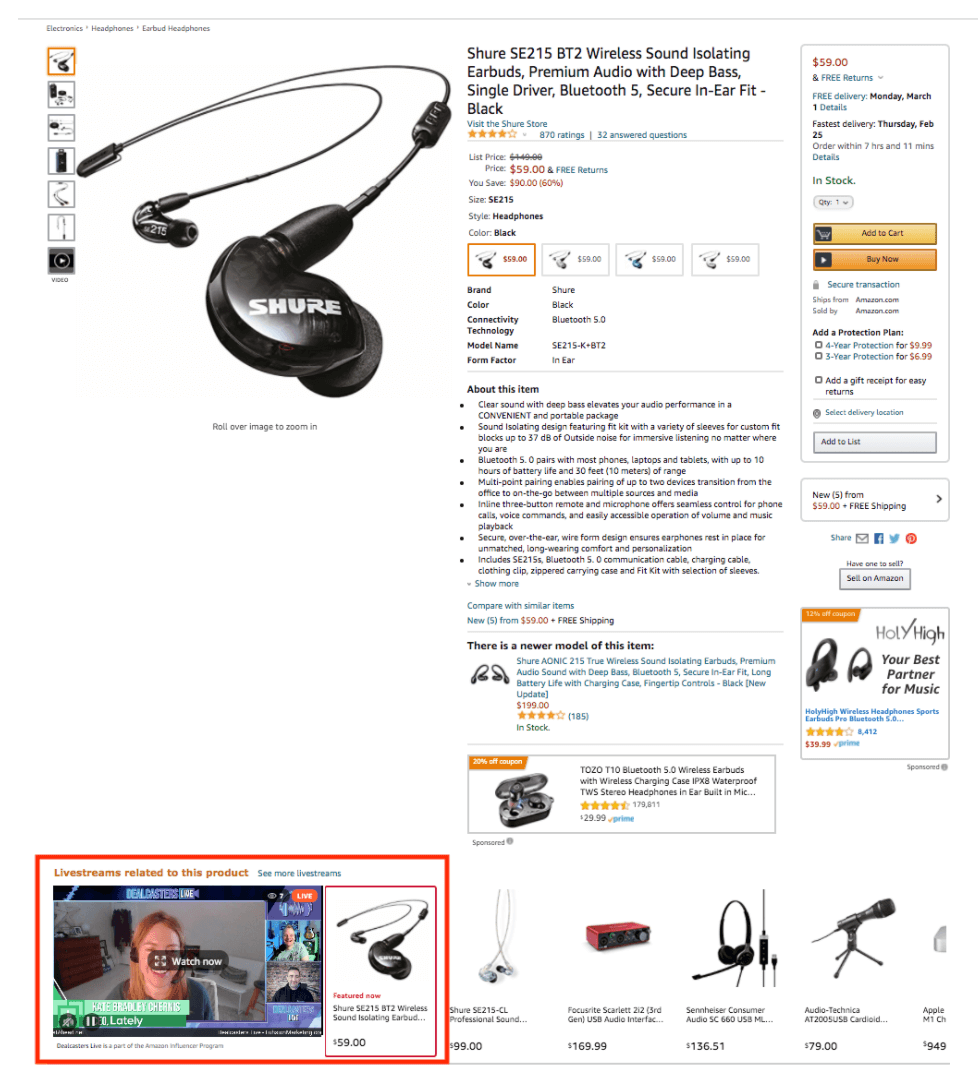 As customers come across your listing, they'll be able to tune into your stream and learn more about the product.
What are the benefits of Amazon Live?
You can provide live-only promotions that are only available to customers viewing your stream

Interact with your viewers with the live chat feature

Customers can follow your brand on Amazon and receive notifications when you begin a live stream

You can go live whenever you want using the Amazon Live app
Increase your sales and brand awareness with Amazon Advertising
Amazon wants sellers like you and me to succeed—that's why they continue to innovate and create advertising solutions to grow sales, increase impressions, and drive more brand awareness.
While it's not completely necessary to use Amazon Advertising to succeed on Amazon, it certainly helps—remember that even if you're not advertising on Amazon, you can bet your competitors are.
Amazon continues to provide more and more reasons why brands should enroll in the Brand Registry Program. With the ability to create video ads and retarget customers off of Amazon, it really is a no-brainer to get started with at least one campaign.
If you're not brand-registered yet, don't worry. Sponsored Products ads are still an incredibly effective way to reach new customers, increase your sales, and beat your competition.
We hope this in-depth Amazon Advertising guide helps you understand a little more about how you can grow your business on Amazon.
Have any more questions? Let us know in the comments below!