As fall unfolds, an exciting chill fills the air – Halloween, the spookiest shopping season of the year, is underway. According to Jungle Scout's Halloween Trends Report, consumers are spending more on Halloween this year, and Amazon is their preferred shopping haunt.
In this blog, we're using Jungle Scout Cobalt to unearth insights on which brands are leading the way in key Halloween categories like candy and costumes. Plus, we'll dig into trends around the Day of the Dead and explore some of the less-spooky fall products consumers are buying right now.
Explore Jungle Scout Cobalt with a self-guided product tour.
Amazon Sales Leaders: Halloween Candy
Amazon's digital candy aisles are bustling with activity as shoppers stock up for this year's trick-or-treaters. Among the sweets scooping up the biggest helping of sales are Hershey bars, Skittles, and Starburst.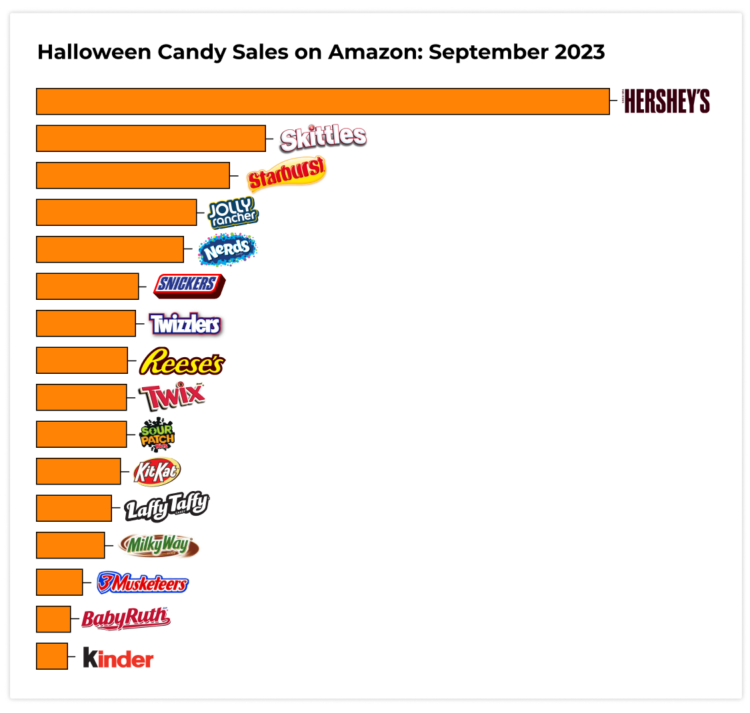 *Note: Sales are estimated at the daily level, based on actual sales data for hundreds of thousands of Amazon sellers
Popular Halloween Costume Brands on Amazon
Amazon is a popular destination for costumes, with some of the leading brick-and-mortar costume retailers also selling on the channel. In September, sales of costumes jumped 110% month-over-month (MoM). Here's how that is translating to growth for some of the top brands and retailers, from Spirit Halloween to Party City: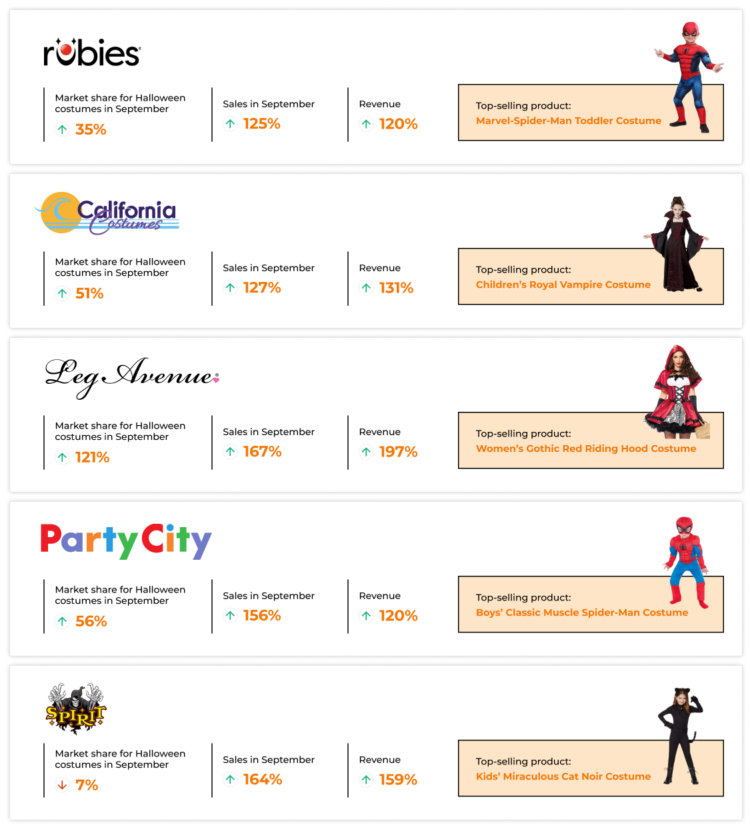 *Top-selling products are according to total estimated unit sales from Sept. 1, 2023 – Sept. 30, 2023
Book a demo to see how Jungle Scout Cobalt can give you clearer insights on your brand's Amazon markets.
Day of the Dead Amazon Trends
Día de los Muertos, or Day of the Dead, is both an increasingly popular part of Halloween celebrations and a widely observed standalone holiday. In September, sales of Day of the Dead costumes grew 163% month-over-month, and sales of other Day of the Dead products grew 46%.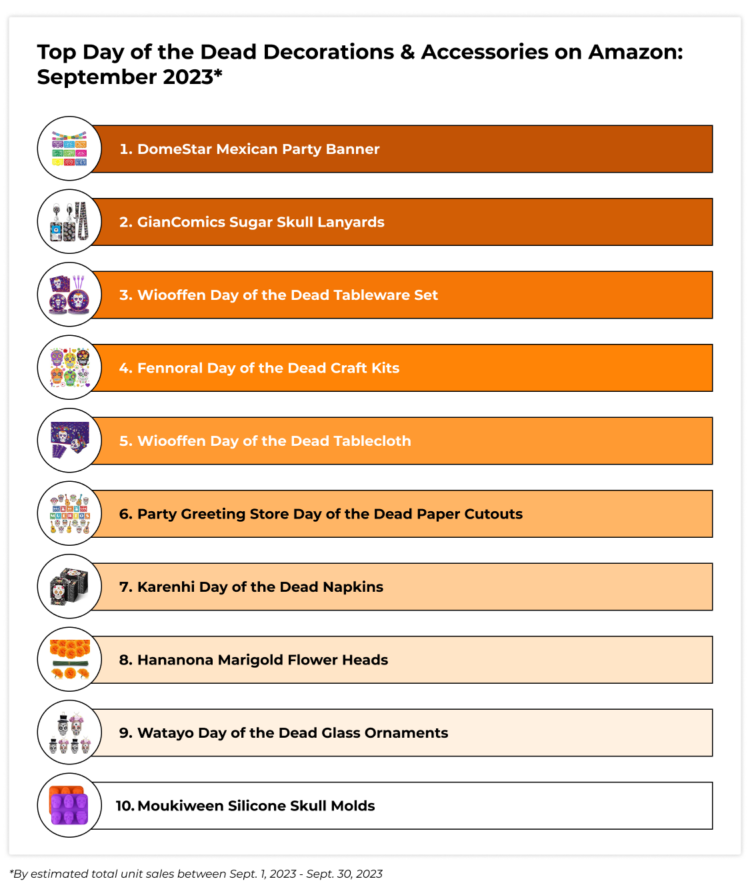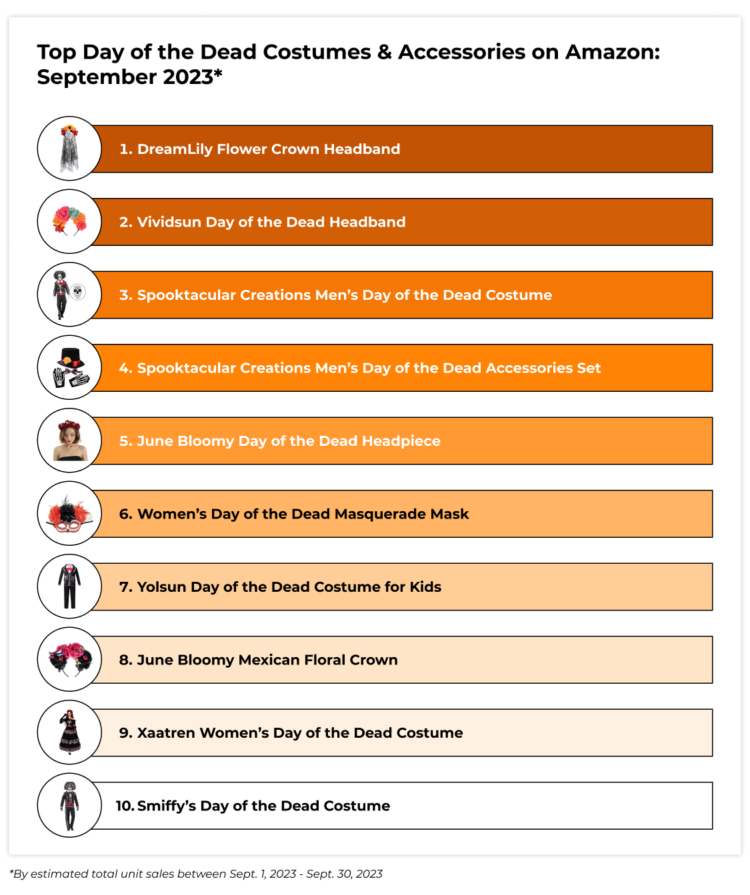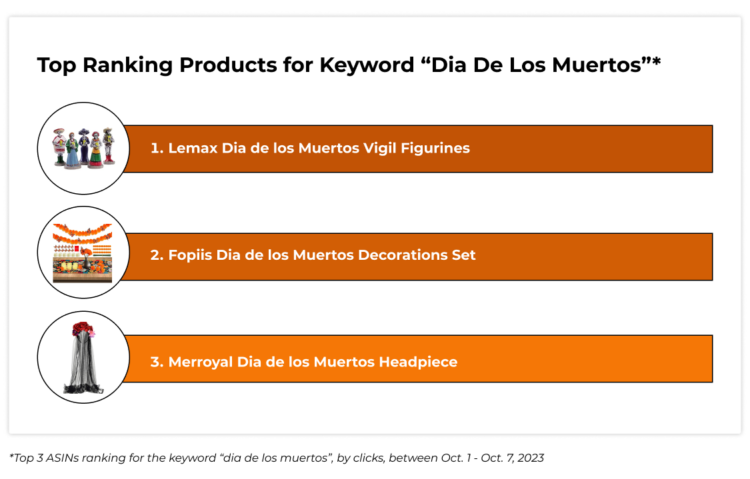 Learn how Jungle Scout Cobalt helps you track trends, demand, and competition on Amazon.
Other Fall Products
Costumes and candy aren't the only things people are shopping for on Amazon this season. They're also looking for fall favorites and essentials, from the cozy allure of autumn candles to the comforting embrace of flannel sheets.
Autumn Candles
In 2022, fall was by far the most popular season for candle-buying on Amazon: sales in this category were higher from October 1 – December 31 than at any other point in the year. During this time period, candle sales generated more than $8.5 million in revenue on Amazon.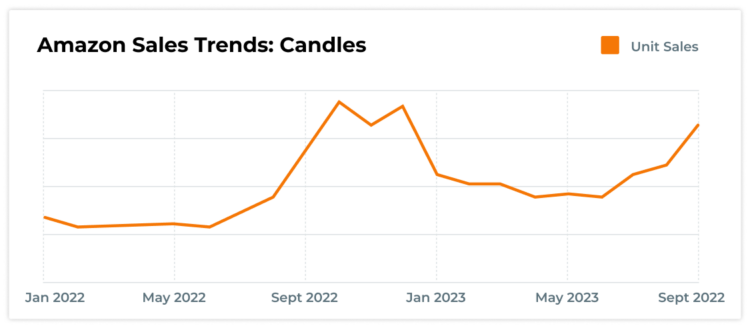 2023 is following the same seasonal trend, with sales increasing 41% month-over-month in September. Current leading brands include Yankee Candle, La Jolie Muse, and Sweet Water Decor. Of the top 25 candles by revenue for September, 16 are specifically fall-scented or Halloween-themed.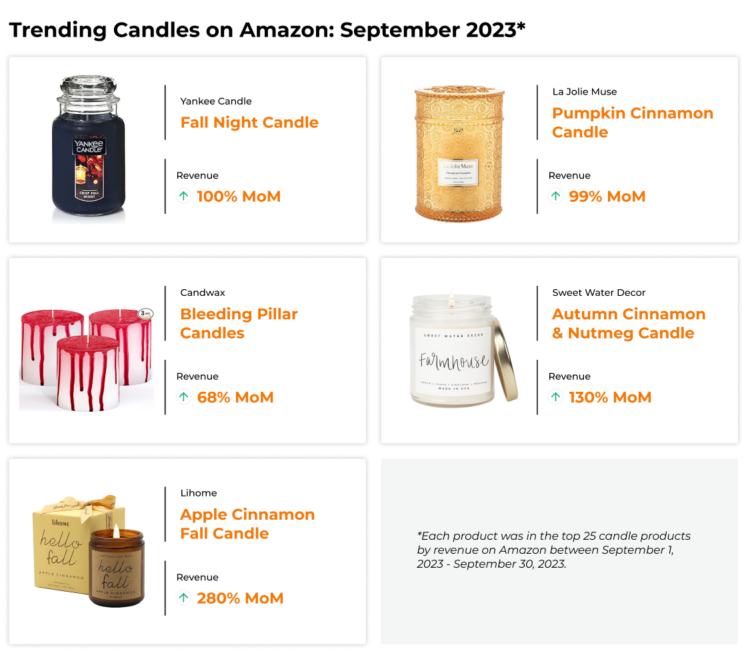 Flannel Sheets
Sales of flannel sheets were up 42% month-over-month in September. Leading brands for flannel sheets include Sweet Home Collection, Bare Home, Eddie Bauer, Comfort Spaces, and Laura Ashley, Of these, Eddie Bauer had the highest month-over-month sales increase in September, at 106% growth.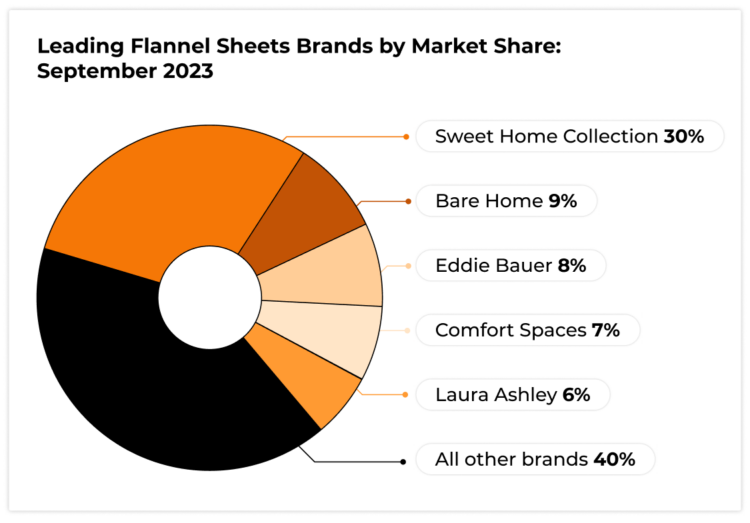 Sweaters
Sales of men's, women's, and children's sweaters were all up more than 20% MoM in September, with women's sweaters seeing more than 70% sales growth.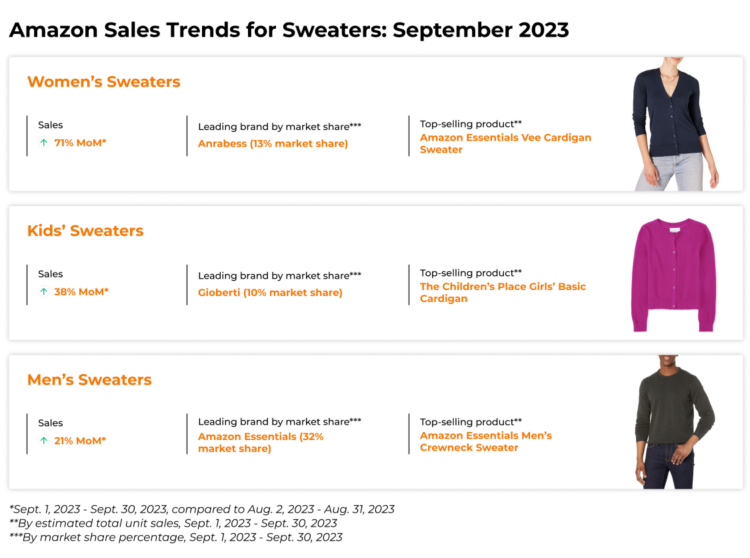 Cider & Hot Chocolate
So far, both cider and hot cocoa are more popular this year than last – though cider has seen a much larger sales surge year-over-year. From August to September 2023, both products had similar sales growth, with cider experiencing a slightly larger increase than cocoa.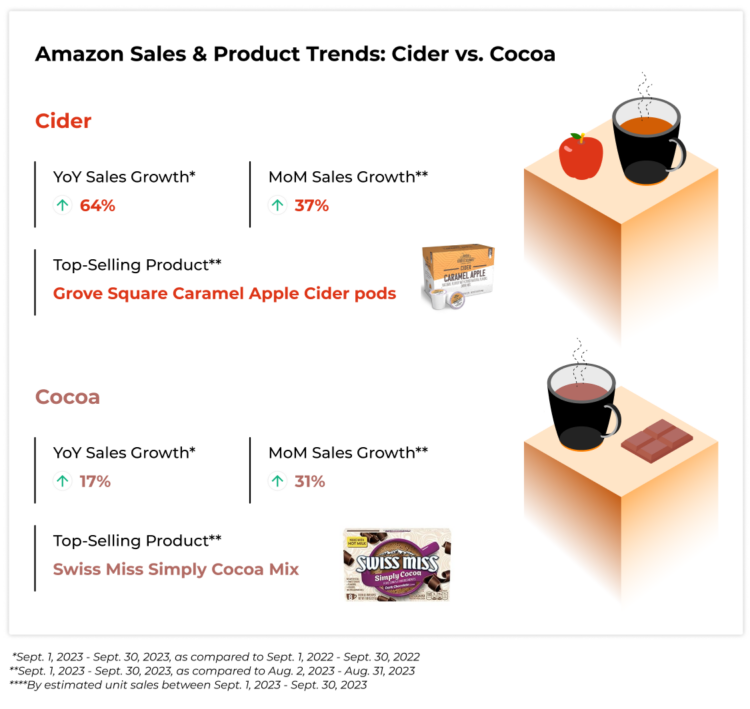 Cold & Flu Remedies
Fall isn't just pumpkin spice season; it's also the start of cold and flu season. While it's not as fun as buying fall treats and cozy sheets, more consumers are shopping for cold and flu remedies. Sales of cold and flu medicine grew 29% month-over-month in September.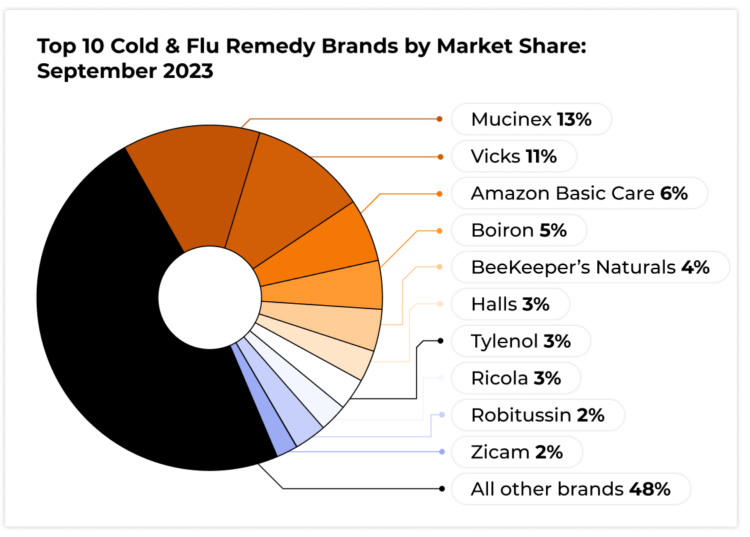 Amazon: A Top Holiday Shopping Destination
Amazon continues to hold its place as one of the most popular shopping destinations for Halloween and other holidays, as evidenced by the Jungle Scout Cobalt data shared in this report.
Request a demo to see firsthand how brands use Cobalt data to increase sales, grow market share, and improve Amazon ROI.
As we transition beyond trick-or-treat season, other fall products like cozy essentials will remain in demand. By analyzing current and historical Amazon market trends, brands and retailers can position themselves for continued success as the Halloween season fades into Thanksgiving, Christmas, and beyond.
About This Report
The product data in this report is representative of the U.S. Amazon market. Market insights on Amazon products were sourced from Jungle Scout Cobalt, an industry-leading market intelligence, advertising optimization, and ecommerce reporting platform powered by nearly 2 billion Amazon data points. 30-day trends data represents the period of September 1, 2023 – September 30, 2023. Month-over-month comparison data reflect the period of September 1, 2023 – September 30, 2023, as compared to August 2, 2023 – August 31, 2023. Year-over-year trends data represents the period of September 1, 2023 – September 30, 2023, as compared to September 1, 2022 – September 30, 2022.
We encourage you to share, reference and publish this report's findings with attribution to "Jungle Scout Cobalt" and a link to this page.
For more information, specific data requests, media assets, or to reach the report's authors, please contact us at [email protected].