Amazon regularly releases new tools and features for brand-registered sellers that support growth and create more opportunities to connect with customers.
The new Manage Your Customer Engagement tool is one such innovation that enhances the functionality of Amazon Storefronts. By allowing sellers to launch email marketing campaigns to customers who follow their brands, this new tool is a great way to build loyal relationships with Amazon shoppers while increasing the visibility of new products.
If you're not yet brand-registered, this is another great reason to join Amazon's Brand Registry.
In this article, we'll go over what exactly the Manage Your Customer Engagement tool is, how it works, who is eligible, and how to set up a campaign.
How does the Manage Your Customer Engagement tool work?
As many sellers know, Amazon has very strict guidelines for communicating with customers. One such rule is that you cannot send them any marketing or promotional messaging — until now, with the help of this new tool.
Manage Your Customer Engagement (MYCE) is a free tool that allows brands to set up email marketing campaigns for their followers on Amazon. It was created to increase customer engagement, retention, and loyalty, and is a great way to launch and highlight new products to a receptive audience.

These email campaigns are designed to showcase your product alongside your unique branding. Brands can customize their emails with a logo and product imagery so it doesn't just look like another email from Amazon. MYCE also provides helpful metrics to measure the success and performance of your email campaigns.
Currently, the feature only supports new product announcements. Amazon says that more templates are in the works, though it does not specify what they might be.
Who is eligible for the Manage Your Customer Engagement tool?
In order to be eligible for this feature you must:
Be enrolled in Brand Registry

Have an active Amazon Store

Have followers on your Amazon Store
However, we should note that even if you meet all of the above criteria, you still may not have access to the tool as it is still in beta and Amazon is slowly releasing it to sellers.

If you are enrolled in the Brand Registry but do not yet have a Brand Store, follow our step-by-step guide on How to Create an Amazon Storefront in 2021. An Amazon Store allows brands to showcase their products on a customizable, multipage storefront that resembles a real ecommerce website.
If you are brand registered and have a Store on Amazon, your next question probably is: How do I gain followers on Amazon, so I have an audience for my email campaigns?
To build a following for your brand, Amazon recommends you use another tool called Amazon Posts. Similar in look and feel to Instagram and Facebook posts, Amazon Posts allow brands to share lifestyle images and other product-related content through a "feed" that followers can scroll.
Customers can access your feed through a designated tab on your Storefront. By clicking on a Post, a customer can navigate to the pictured product's listing to make a purchase, or they can browse similar Posts to find new products and brands.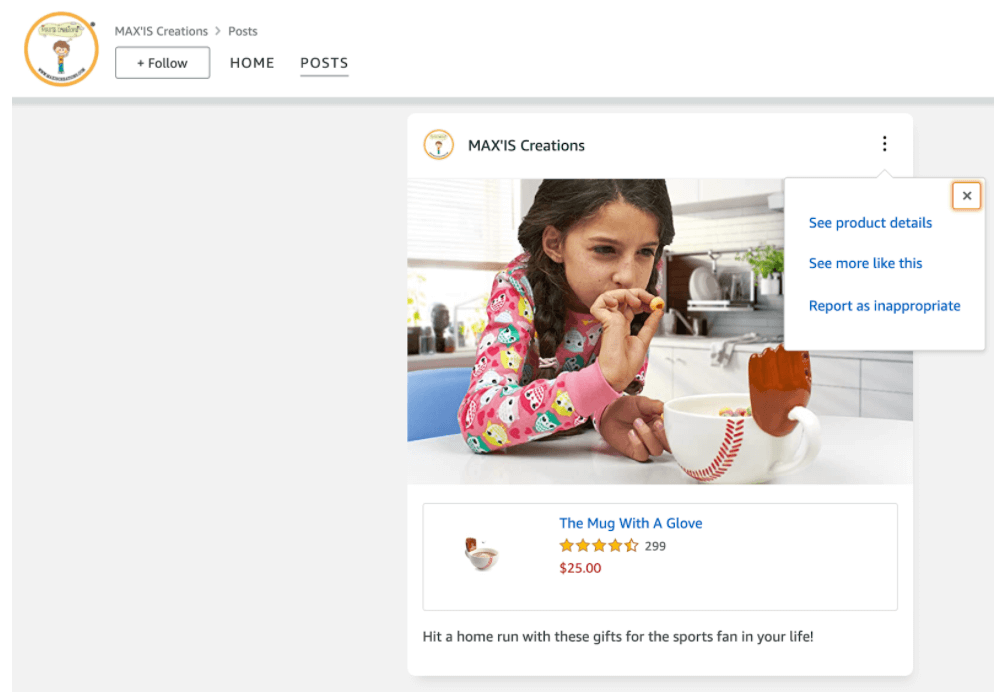 Posts help drive awareness and will encourage customers to "follow" your store on Amazon to receive frequent updates and content from your brand.
Once you have followers, you can begin creating email marketing campaigns to promote your products.
How to set up an email campaign
To set up an email campaign with the Manage Your Customer Engagement tool, you'll follow four simple steps:
Upload your brand logo:

Add your own branding to the email campaign to get customers familiar with your brand.

Add a product to promote:

This tool is designed to help promote and launch new products. In order to be eligible, your product must have been made available to purchase for the first time on Amazon within the last six months.

Select a supporting image:

Upload a unique lifestyle image that helps showcase your product and explain its benefits.

Schedule your campaign:

This is the time range you want your campaign to run. You can choose a five-day period from Monday to Friday.

Here's an email campaign example from Amazon: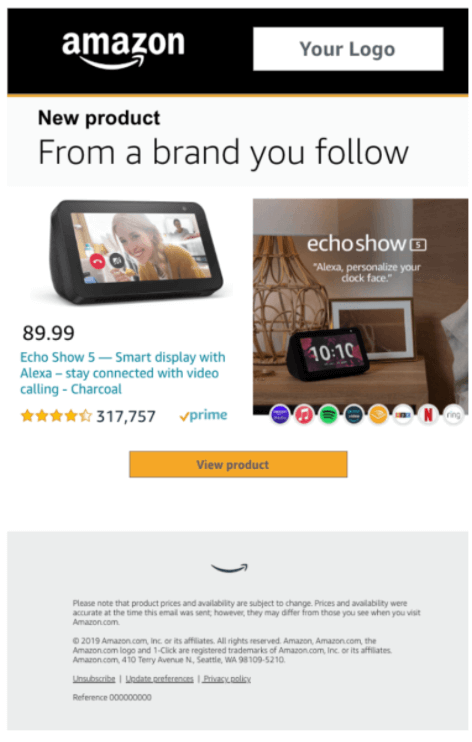 It gives followers a quick overview of the new product, including its price, review count and rating, and Prime eligibility. It also includes a lifestyle image to illustrate how the product looks and functions.
Campaign approval
Before your campaign goes live, Amazon's moderation team will review your content to determine if it meets their requirements. According to Amazon, it will take a minimum of 72 hours for your image assets to be reviewed so be sure you plan ahead and allow time for the campaign review.
How to access the tool
In your Seller Central account, go to "Brands," then "Customer Engagement." If you have access to the tool, you will be able to start creating your email campaigns.
If not, you will see the "Something cool is on the way" page. Again, even if you meet all the requirements, you still may not be able to access the tool. Keep checking back periodically to see if you have access.
Start promoting your new Amazon products with Manage Your Customer Engagement
As of now, this is all the information that Amazon gives us regarding the Manage Your Customer Engagement tool. As we get more information, we will be sure to update!
Do you have access to the new tool yet? If so, let us know how it is working out for you!