Is Amazon Posts the next big social media platform for ecommerce sellers? Well, kind of.
On popular social media platforms such as Instagram, TikTok, and Facebook, you can use unique branding to promote your entire product line within your profile, so customers can easily discover your brand all in one place. On Amazon, it's not always that simple.
A customer who purchases one of your products on Amazon may have no idea that you sell other items they may be interested in. Amazon Posts seeks to solve this issue by allowing sellers to post social media content to Amazon.
What is the Amazon Posts program?
Amazon Posts allows brand-registered sellers to share unique lifestyle images and product-related content through a "feed" that looks similar to other social media platforms. Customers will be able to scroll through your feed and click through directly to your product detail pages. In this way, the program is designed not only to show customers how to use your products, but also to encourage them to browse and discover your brand story.
By using Posts, brands can seamlessly maintain their brand identities across other social platforms — sellers can repurpose content from Instagram and Facebook posts for their Amazon feed.
As of now, customers can only view Posts while using the Amazon mobile app or while viewing Amazon's site on a mobile browser.
Who is eligible for Amazon Posts?
Currently, the tool is in beta and only available for sellers who are either registered with Amazon's Brand Registry or Vendors within the US. You also must have an Amazon Store for your brand in order to use Posts.
What are the benefits of Posts?
Consumers are increasingly responsive to social media content when shopping online. In fact, 71% of U.S. shoppers say they've bought something they first learned about on social media. When it comes to platforms, consumers start their searches on Facebook (20%), YouTube (25%) and TikTok (19%).
Social media's knack for displaying products in attractive, relatable settings resonates with customers. Posts evoke the look and feel of traditional social channels, while going a step beyond by allowing customers to view the product behind the compelling content in one click. That alone makes using Posts a no-brainer.
READ MORE | Social Media Marketing Best Practices
Here are some other great benefits.
Free to use. Brands can post as little or as much as they want. Unlike PPC or other types of advertising, there is no associated cost per click.
Drives brand awareness. With Amazon Posts, sellers can show off how their products work and share unique content that tells their brand story. This is also a great opportunity to share real-life customer photos and build social proof.
Increases product discoverability. As we mentioned above, some customers may not realize the extent of your product line — especially if they're new to your brand. As a customer scrolls through your listing detail page on the Amazon app, they can discover more about your brand through Posts picturing your other products.
Lets your product stand out from the competition. While you can't choose exactly where your Posts end up, there is a chance that they'll end up on your competitors' listings. In that case, customers can scroll down the listing detail page to a section called "Related Posts," where your brand could be featured. Similar to Sponsored Display Ads

, Posts give you the opportunity to draw customers away from your competitors.

Customers can "follow" your brand. Just like any other social media platform, users will be able to "follow" your brand

on Amazon to stay up-to-date with your content.

Measure the performance of your Posts. As with any other advertising

tool on Amazon, you can measure your content's performance. Brands will be able to review metrics tracking impressions, engagement, and engagement rates for each of your Posts.
Where do Amazon Posts appear?
Amazon makes the call on where your Posts show up, based on relevance and customer engagement. There are four places where your Posts may be displayed:
Brand feed
The brand feed is exactly what it sounds like — it's your brand's unique feed, where you can post content about your entire product line.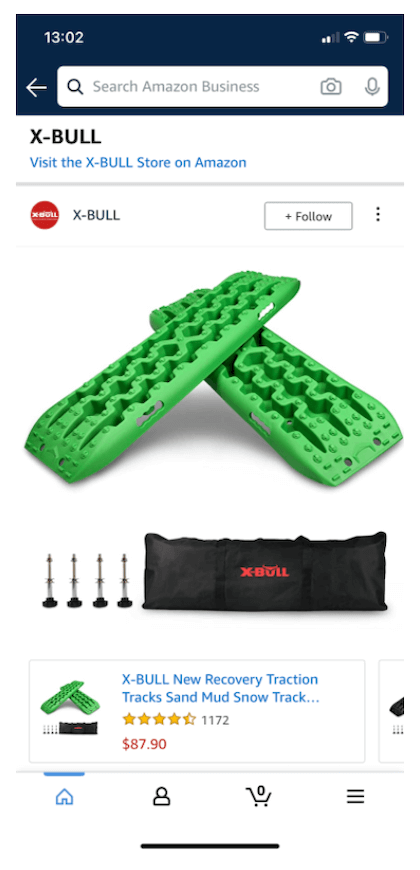 Product page carousel
A "carousel" is a series of Posts that appear on a product detail page, which customers can scroll horizontally. Carousels appear on your product detail page and may contain your competitors' Posts as well.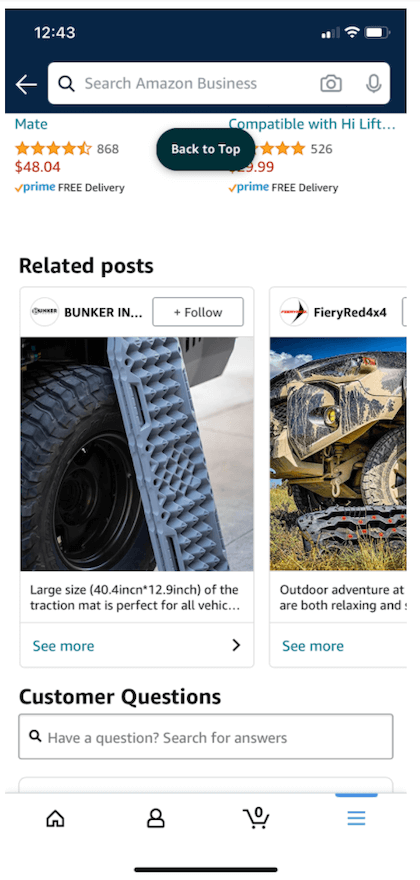 Related brands feed
Clicking on a Post within a product page carousel will bring you to the related brand feed, where customers can discover more of your products, as well as other brands.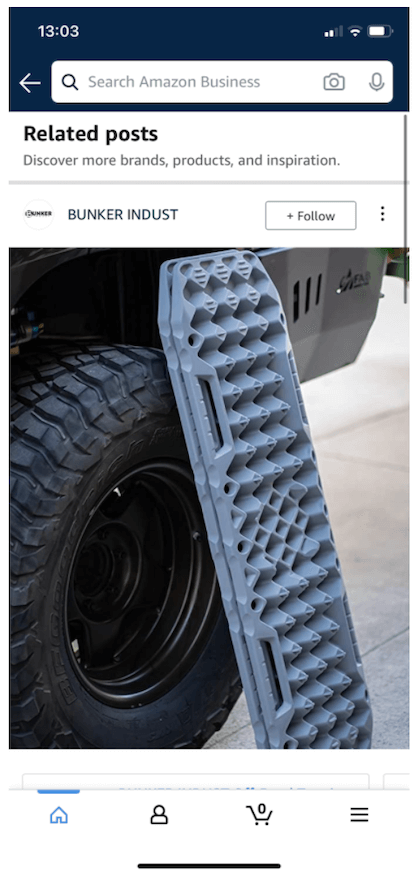 Category-based feed
Amazon assigns relevant category tags to individual Posts. That way, customers can explore content for complementary items within a specific category. For example, customers scrolling through the "Wheel & Tire Accessories" category feed may see Posts about tire traction pads next to RV covers.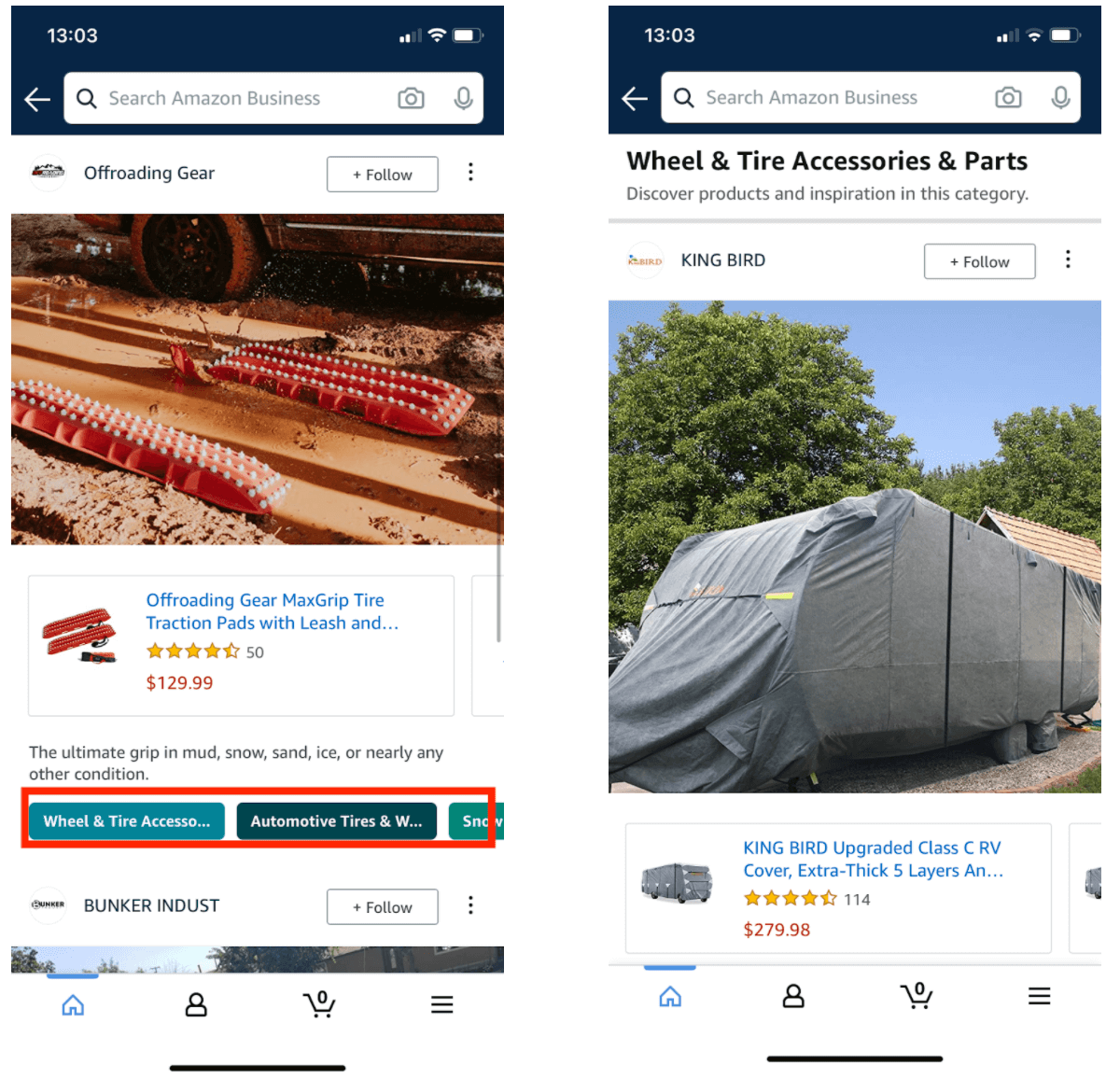 How to set up and use Amazon Posts
As we already mentioned, only brands enrolled in Brand Registry with an active Amazon store are eligible Amazon Posts. Here's how sellers with these qualifications can get started.
Step 1: Visit posts.amazon.com and sign in using your existing Amazon account credentials.
Step 2: Click on "Get Started."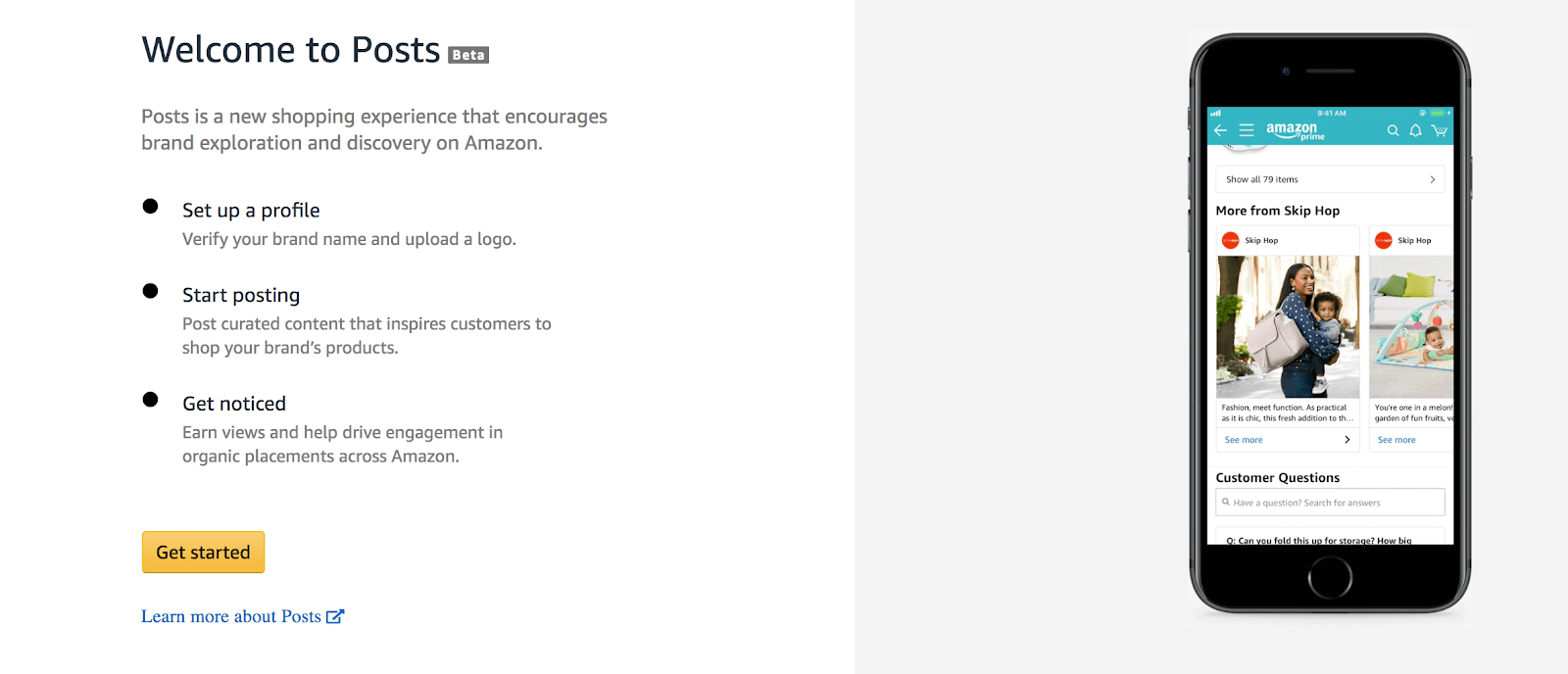 Step 3: Choose the brand you want to promote.

Step 4: Upload your brand's logo. This will appear on your Posts as a thumbnail next to your brand's name, like a profile picture on Instagram or Facebook. Once your upload is complete, choose "Submit and continue."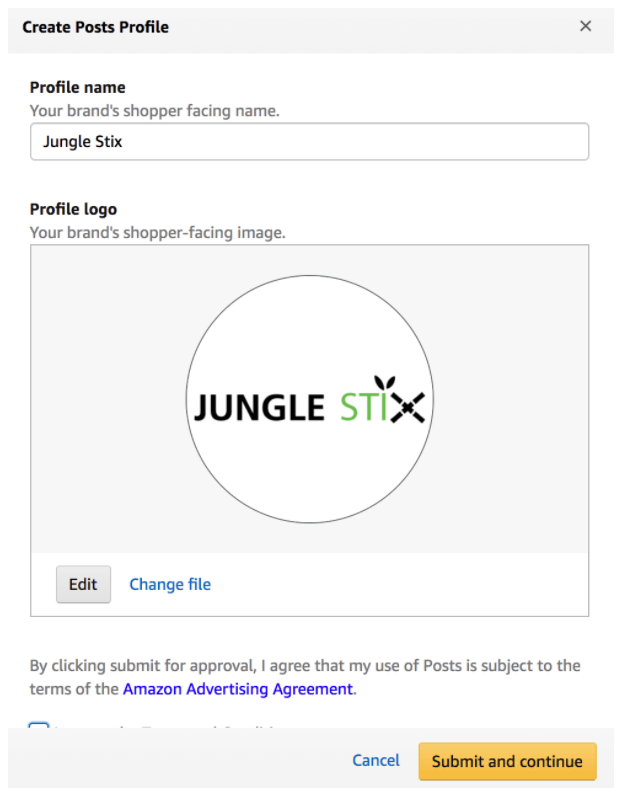 Step 5: Create a Post!
Be sure to upload a lifestyle image of your product, add an engaging caption, and list some ASINs for related products in your product line — that's how Amazon will figure out which category tags to assign your Post. You can either publish your Post immediately or schedule it for later.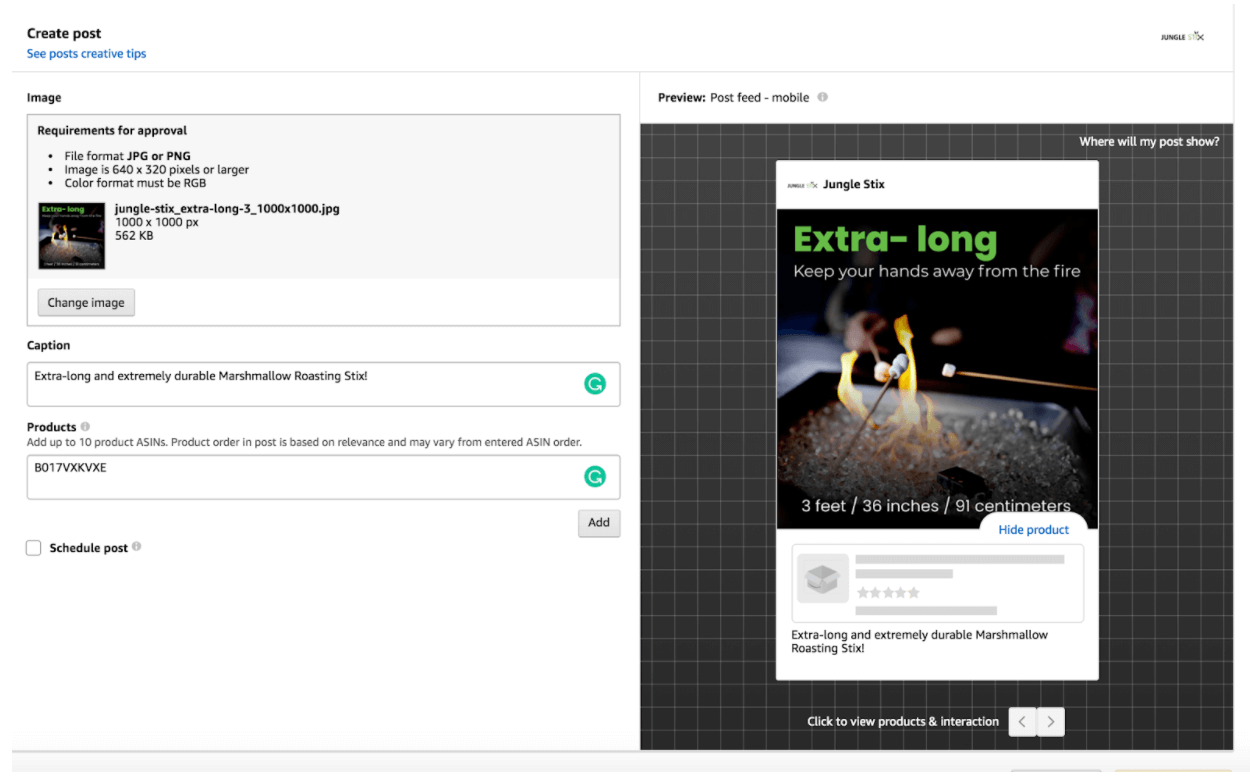 Amazon provides tips on what makes for an effective Post, summarized below:
You should aim to inspire customers with attractive, compelling imagery showing your product in action

Keep your images simple and avoid using collages or overlaid text, buttons, or icons. The more crowded or complicated your image is, the more likely it'll be ignored

Use high-quality and high-resolution images

Let your caption tell a story about why your products are valuable and unique. Avoid repeating your product description or using snippets from customer reviews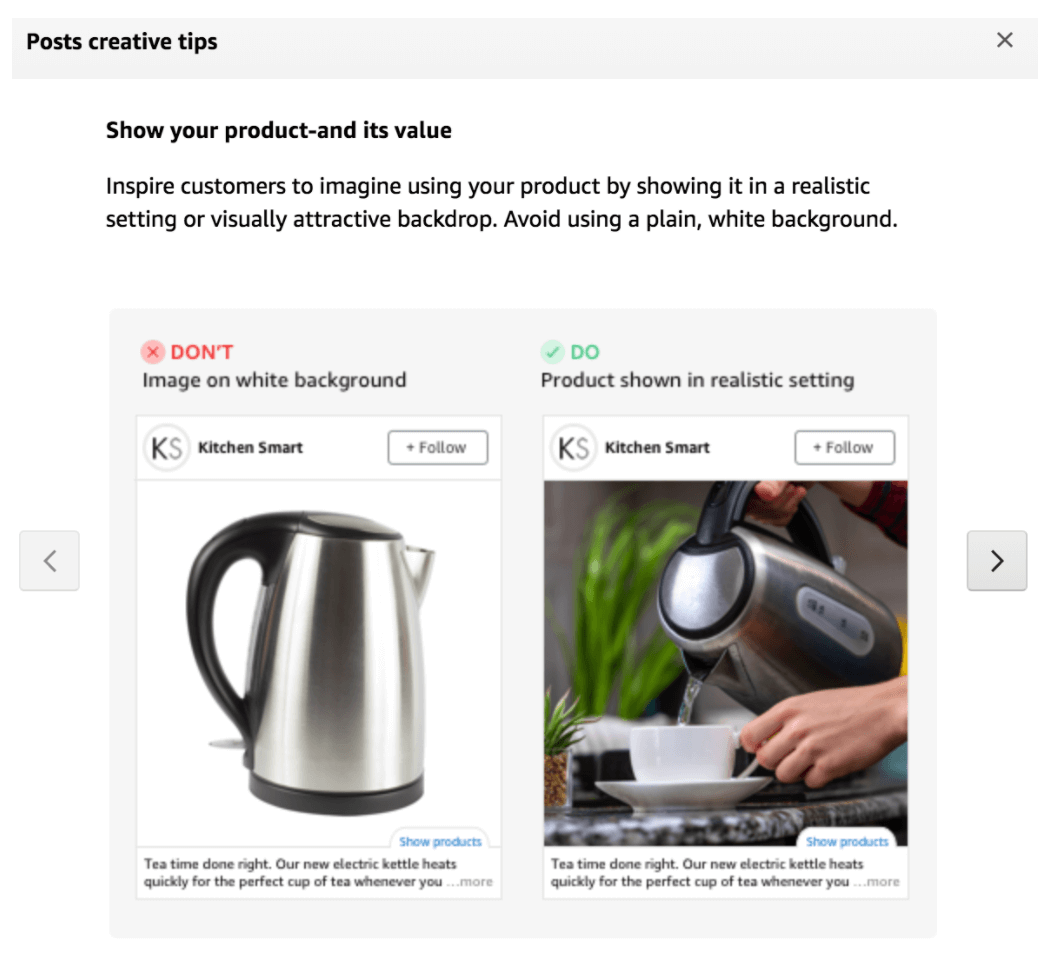 Start posting on Amazon
If you needed another reason to enroll in Brand Registry on Amazon, this is it. While Posts is still in its beta testing phase, it's a great — not to mention free — way to promote your brand and products on Amazon.
Have you used Amazon Posts yet? Let us know how it's going!
Want to learn more about how Jungle Scout can help you start, grow, and run your Amazon business? Click the "Learn More" button below.