As an Amazon seller, it's critical to track various metrics in order to understand how your business performs and make necessary adjustments to improve your results. You can't just guess or think your business is performing well!
By tracking Amazon seller metrics, you will have a solid understanding of the performance of each one of your products, your business performance as a whole, and the health of your Amazon account.
In this article, we'll explore the most important Amazon seller performance metrics you should be tracking to ensure your business is performing at the highest level.
1. Conversion rate
Your conversion is arguably one of the most important metrics to track for each of the products you sell on Amazon. Conversion rate is the percentage of visitors who purchased your product after visiting your product listing.
If you have a low conversion rate, this means that something is deterring a potential customer from making a purchase. It could be too high of a price, poor product images, missing product information through your listing copy, bad reviews, and so on.
Here's how to find your Amazon conversion rate for each product in Seller Central:
Step 1: In Seller Central, go to Reports > Business Reports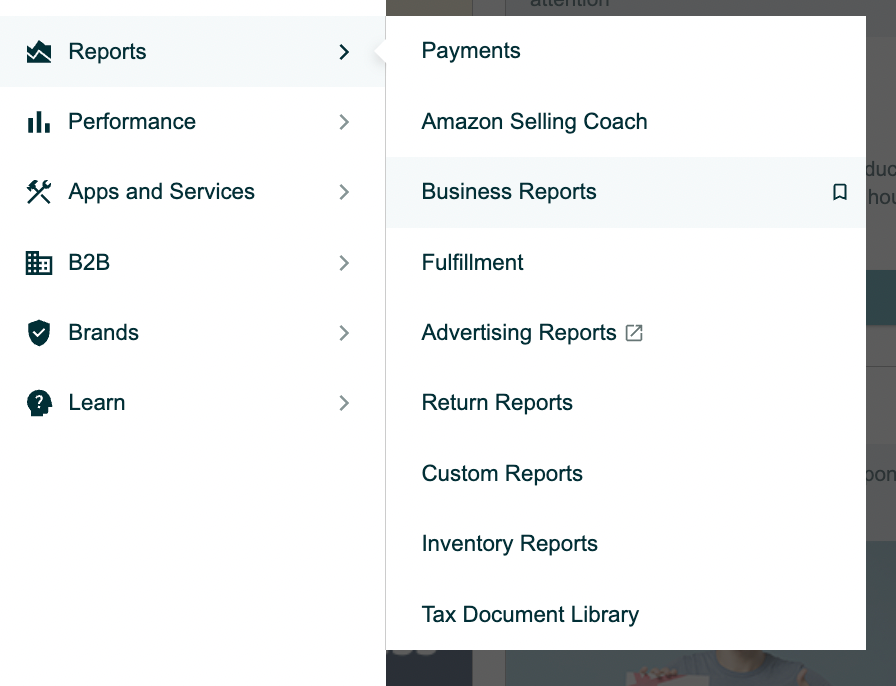 Step 2: On the left-hand side, click on "Detail Page Sales and Traffic By Child Item"

Step 3: Look for the column labeled "Unit session percentage." That's what Amazon calls the conversion rate.

It's essential as an Amazon seller to keep track of your unit session percentage to sell how well each product performs.
What is a good conversion rate?
You may wonder what a "good" conversion rate is or what you should look for in your products. A "good" conversion rate is subjective and dependent on your business goals, but there are some averages that help us determine what a good conversion rate is.
On Amazon, a good average conversion rate can be around 10% – while on an ecommerce website, such as a Shopify store, the average conversion rate is around 1-3%.
If your products are below that 10% mark, there is room for improvement. If you are above that, that is usually a good indication that your products are performing well.
To learn more about your conversion rate and how to increase it, check out our recent article: How to Increase Your Amazon Conversion Rate in 2023
2. Keyword ranking
This performance metric shows how high your products are ranked in Amazon's search results when a customer searches for a particular keyword. A high keyword ranking means that potential customers are more likely to see your products, which can lead to more sales.
In a perfect world, you'd want your product to appear high on the first page of the search for each of your main keywords. That way, no matter how customers search for your type of product, it will appear high in the search results.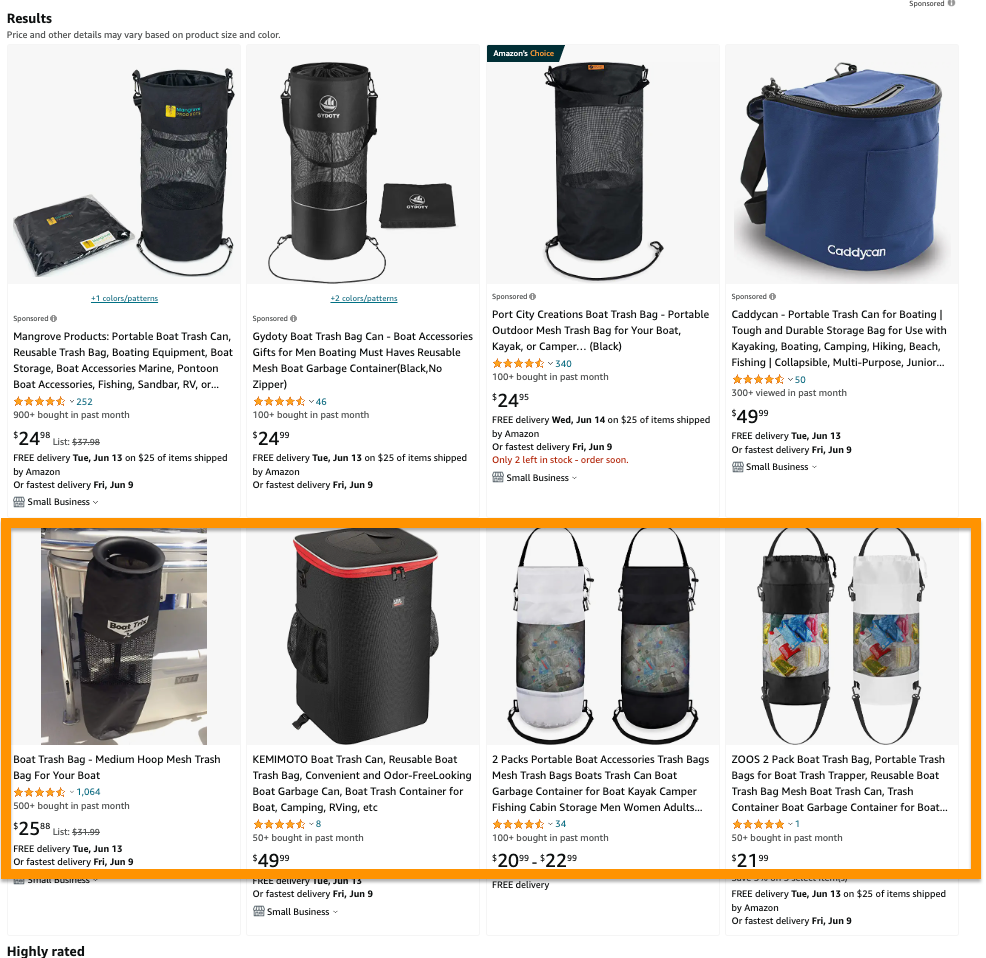 The products circled feature the top four positions for the keyword "boat trash can." The products above are Sponsored Product Ads targeting that keyword.
The majority of shoppers won't go past page one when shopping on Amazon, so your products must rank higher within the search results for each specific keyword you are targeting.
What we're talking about here is different from your Best Sellers Rank. BSR tracks the overall rank of your product within a category. Keyword ranking shows the position of your product in the search results for each search query on Amazon.
Track the rankings of each individual keyword you want to be seen for. You can do this with Jungle Scout's Rank Tracker tool.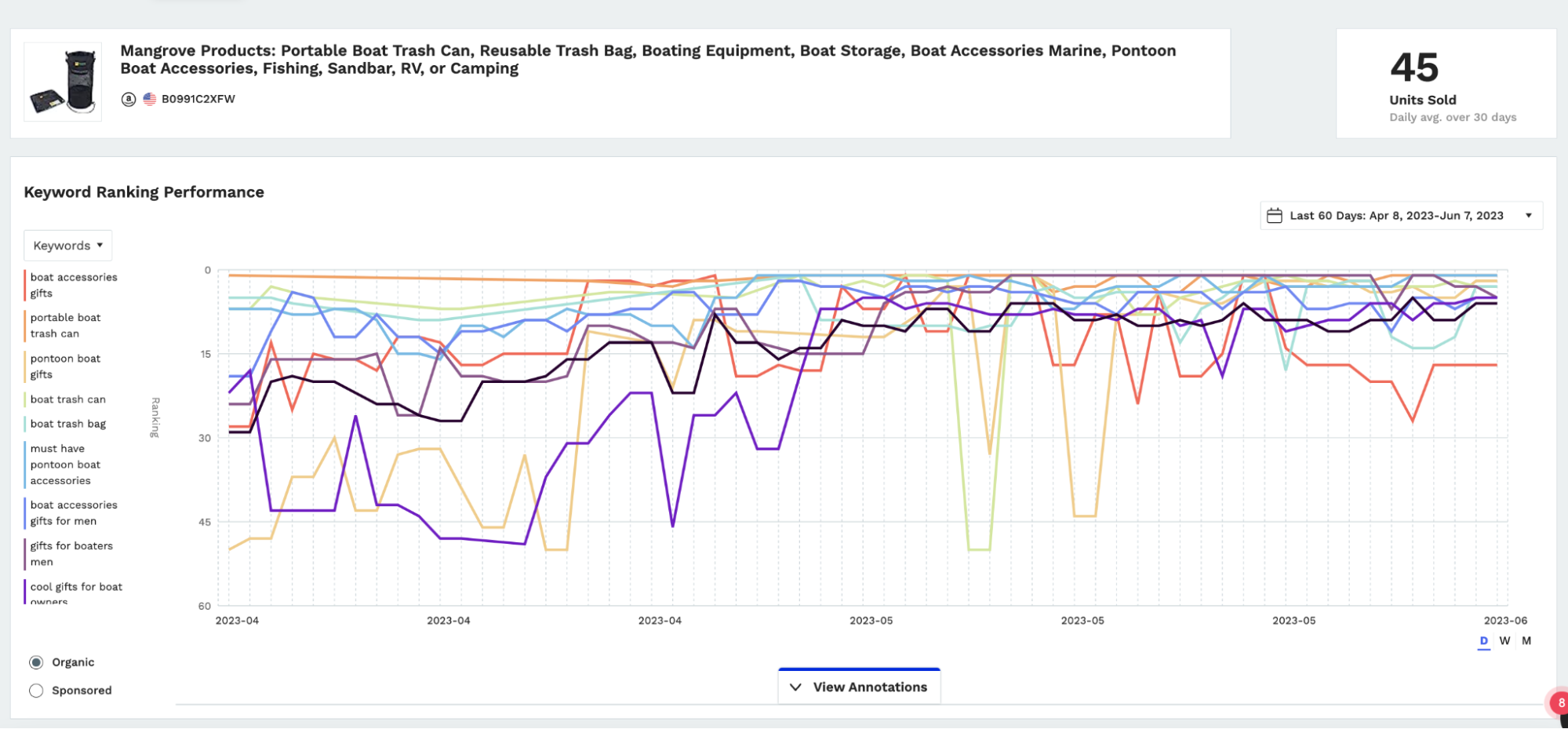 Use Rank Tracker to monitor keyword rankings over time and find out which keywords are influencing your listings — and your competitors'.
3. Inventory Performance Index (IPI)
If you are an FBA seller, you will have an IPI score. IPI score is a unique-to-Amazon seller metric that measures of how well you're managing your FBA inventory. A high IPI means that you're selling your products quickly and efficiently, while a low IPI means that you have too much inventory or that your products are not selling well.
Keeping track of your IPI score will help you understand your overall inventory performance to ensure your products are selling well and that you are not overstocked.

The top influencing factors for your IPI score are:
Excess inventory

In-stock rate

Stranded inventory
If one of those factors exceeds Amazon's healthy target rate, it will be yellow or red.
To learn more about your IPI score and how to manage your inventory properly, check out this article: Amazon Inventory Management 2023 Guide
4. TACoS
Your TACoS, or total advertising cost of sale, is an important Amazon seller metric to keep track of because it helps you fully understand the impact your advertising has on your overall Amazon business.
TACoS is a metric to measure your PPC ad spend relative to your total sales revenue, including ad sales and organic sales.
If your ad campaigns are performing well, that will likely improve the organic sales of your products – thus giving you a lower TACoS.
To learn more about TACoS, how to calculate it, and how to lower it, check out this article: What Is Amazon TACoS (Total Advertising Cost of Sale)?
Or, check out this video on the Jungle Scout YouTube channel:
5. RoAS
RoAS stands for Return on Advertising Spend and is a performance metric that measures how much revenue you've made in sales for each dollar you've spent on ads. Basically, it tells you whether or not your ad campaign is running profitably.
The higher your RoAS, the more profitable your ad campaigns are. This metric is important to track because if you're spending money on advertising for your products on Amazon, you want to be sure they're performing well.
Luckily, Amazon will show you your RoAS in your Campaign Manager in Seller Central.

To learn more about RoAS and how to improve it, check out this article: What's a Good Amazon RoAS?
6. ACoS
ACoS stands for advertising cost of sale and is similar to TACoS. However, ACoS only measures the profitability of your advertising campaigns, while TACoS measures your ad sales and organic sales.
ACoS is a key metric used exclusively by Amazon sellers to figure out how their ad campaigns are performing.
A lower ACoS generally is considered to be better, as it indicates that you are spending less money on advertising to generate the same amount of sales.
However, your ideal ACoS will vary depending on your product costs, advertising goals, and budget.
To learn more about ACoS and how to calculate it, check out this article: ACoS on Amazon: What It Is & How to Calculate
7. Amazon fees
Ah, Amazon fees. Whether you sell via FBA or FBM, you will pay some kind of fee to Amazon. Every seller on Amazon will pay a referral fee which will not change, but if you fulfill any orders through FBA, you will be responsible for FBA fees, which Amazon does change every so often.
Strictly speaking, fees aren't really Amazon seller performance metrics — but as an FBA seller, you need to keep track of your Amazon fees to ensure that you're making a profit on each sale. This is also a good way to ensure Amazon is not accidentally overcharging you for fulfillment or storage.
READ MORE | How to Reduce Amazon FBA Fees: 13 Tips for 2023
If you want to sell on Amazon, fees are just a part of selling on the platform. As long as you fully understand all of the fees you may pay, you will have no problem running a profitable Amazon business.
Want to learn more about all of Amazon's fees? Check out this article: Amazon FBA Fees: How They Work and How to Profit as a Seller
8. Account health
Your Amazon Seller account health is a very important seller metric to keep an eye on because if there is anything wrong, it could mean a potential account suspension.
Your account health consists of three primary factors:
Customer service performance and order defect rate

Product policy compliance

Shipping performance
If you are an FBM seller, you must keep an eye on your customer service performance and shipping performance as you want to be sure you are answering customer questions, shipping on time, and providing valid tracking information.
To find your account health in Seller Central, go to the Performance tab and click on Account Health.

Monitor your account for any policy violation, late shipments, or other factors that could negatively affect your account health.
To learn more about your Amazon Seller account health and how to avoid a suspended account, check out this article: How to Avoid and Appeal Suspended Seller Accounts
Are you tracking these Amazon seller metrics?
As an Amazon seller, you need to be sure you are tracking these metrics to ensure your business is running smoothly and, most importantly, profitably.
Are there other performance metrics you track that we didn't mention? Let us know in the comments!