If you follow #sidehustle activity on TikTok, you've probably heard of Morgan. Through her business account @cajunventures, the Louisianan and self-made entrepreneur shares tips with millions of viewers on how to become your own boss. But perhaps the best advice she gives is the same wisdom that helped her earn millions as an Amazon seller.
The last time the Jungle Scout team spoke with Morgan was in 2018, when she was a year and a half into her seller journey. Having clocked $750,000 in Amazon sales, she had just taken the huge leap of quitting her 9-5 corporate job to commit full-time to her FBA business. Since then, Morgan says her life "has totally changed": she has reached $4.5 million in lifetime sales on Amazon, explored new businesses, and launched a career as an entrepreneurship educator on social media.
We caught up with Morgan to talk about what she's learned since starting out as an ecommerce entrepreneur, how she channels her success to elevate others, and her tips on using Jungle Scout tools to win on Amazon. Read on to find out the details, or watch our recorded interview below.
Becoming more than a millionaire Amazon seller
Since starting her Amazon business in December of 2016, Morgan has come a long way from a past life spent living in trailer parks, clipping coupons, and waiting tables. And while she dabbled in ecommerce as a kid, she never pictured herself as an entrepreneur. She describes herself as having been "on the normal person track."
"All I ever knew was to go get a job and work for somebody else, like most people do," Morgan says.
At age 13, Morgan began selling the free spoils from local yard sales on eBay. Years later, she had a lightbulb moment after watching a YouTube video about how to earn big money on Amazon through retail arbitrage. With the help of more YouTube tutorials, other free educational resources, and the Amazon seller app, Morgan put aside some initial skepticism and taught herself how to spin reselling on Amazon into a healthy side income.
Over time, she tried out different business models on Amazon. She eventually enlisted her partner, a sugarcane farmer, to help her manage her business in his downtime. With the help of the Jungle Scout Extension tool, they honed their product research skills selling wholesale, and later launched their first private label product.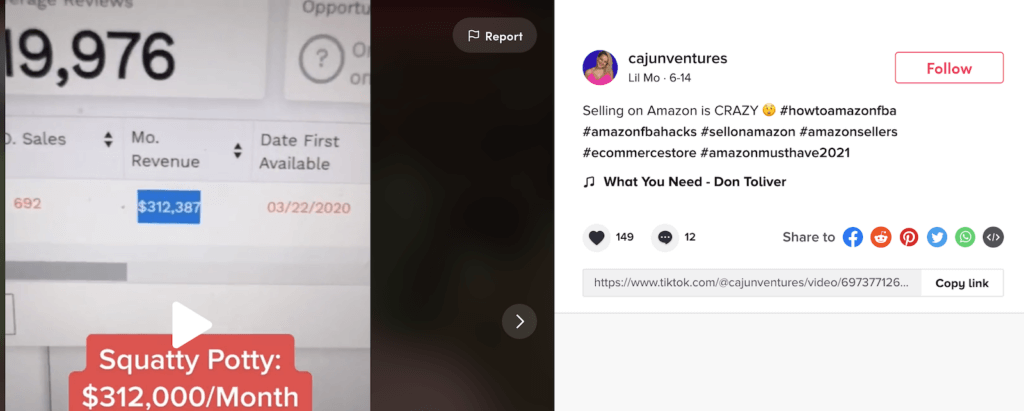 In just five years, she has achieved a lifestyle beyond her dreams. Experimenting on Amazon and navigating the COVID-19 pandemic inspired Morgan to pursue several other income streams, including affiliate marketing and brand deals. That extra income helped finance her first home and rental property.
Before Amazon, she never imagined she could one day afford to travel, let alone have time off from work. Today, she and her partner can travel with their dog whenever they please — they spent last Christmas on the beach in Tulum, Mexico.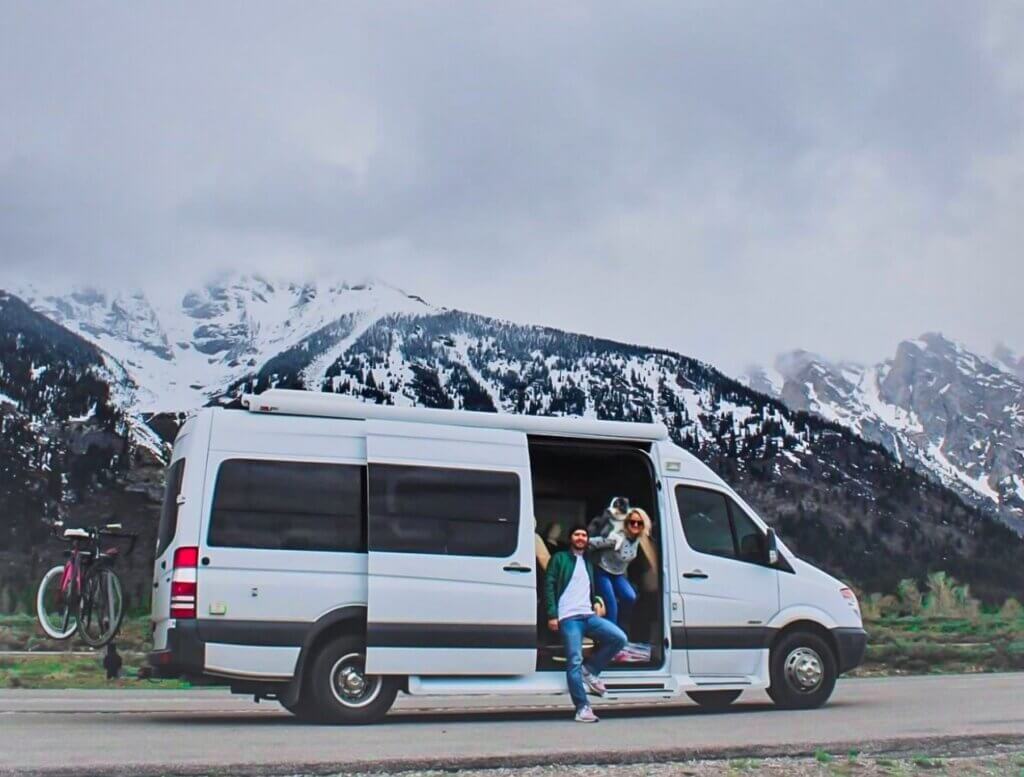 It's this sense of freedom and self-determination that Morgan cites as the best thing about being an Amazon entrepreneur. "We can spend as much time with our friends and family as we want, and that is better than any paycheck you can get," she says. "If it's 10 a.m. and we want to work out in the living room with our dog, we can do it."
That freedom wasn't won overnight — it took a lot of determination and flexibility to pull off. But rather than keep the secrets to her success, Morgan wants to empower the next wave of Amazon winners with expert advice.
In the spirit of sharing wisdom, let's take a look at how Morgan transformed her side hustle into a self-driven career and lifestyle.
She took big risks
Morgan's seller journey involved high-stakes choices, from employment to product opportunities. Having started out reselling free items, she is also living proof that you can launch a wildly successful business on Amazon with no money.
Back in late 2016, Morgan didn't have money to invest in inventory. Instead, she started out selling unwanted items she'd scored with coupons.
Over the next twelve months of selling on Amazon, her side hustle generated $234,000 in sales. But while she was able to turn a significant profit on Amazon while also holding down a corporate job, she knew she had to make a big change to feel truly fulfilled.
"When I was working full-time, I was getting up an hour earlier and I was going to bed an hour later and I was devoting lunch breaks, any time that I could to the business," says Morgan. She was stuck with a dilemma: on the one hand, quitting her job was "the scariest thing to do. No one wants to lose their health insurance. There are so many reasons not to do it." On the other, she was stressed out trying to juggle a 40-plus hour job with her side hustle.
So in the summer of 2018, she quit her job and went full-time on Amazon.
The numbers support her leap of faith. She hit $1 million in sales by the end of 2018 as a full-time seller, clocking 327% year-over-year growth. By 2019, her Amazon earnings could support both herself and her partner, so he quit his job, too. That year, they brought in $1.5 million in sales as a two-person FBA team. Their combined success is proof that "if you go all in on this, it can totally change your life," says Morgan.
Their business held steady during the COVID-19 pandemic: they finished 2020 with another $1.2 million in Amazon sales, despite hitting roadblocks with suppliers and fulfillment. They're on track to match those earnings by the end of this year.
She adapted to change
Morgan coaches her social media followers to cultivate adaptability. Her ability to quickly pivot to new solutions was an essential skill as she navigated 2020's new pandemic economy.
For Morgan, being adaptable also means turning silver linings into actionable goals as you power through challenges. She says that despite its many difficulties, COVID provided the wake-up call she needed to "put a fine-toothed comb" through her business operations and make necessary changes.
One of these changes involved a hands-on approach to order fulfillment. As COVID-related Amazon inventory restrictions came into play, Morgan's non-essential product listings suffered. To maintain their business, she and her partner switched from FBA to Fulfillment by Merchant, packing and shipping over one hundred orders each day from their home. Eventually, they were able to switch back to FBA – and all the hard work they'd put into FBM made the relief feel that much sweeter.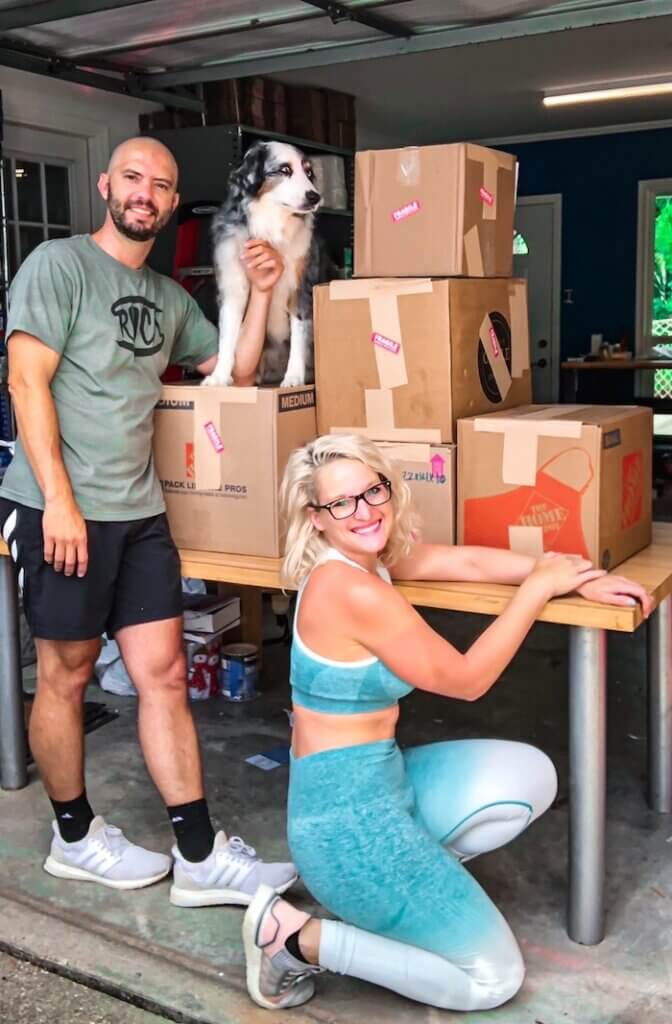 She also had to deal with supply chain issues. "Getting things from China has been harder, costs of goods have gone up. We lost some suppliers," says Morgan. But she recognized that scarcity could lead to new opportunities, so she cut down her product catalog to prioritize profit margin over sales volume. "[COVID] allowed us to focus on our business and realize a lot of the products we were selling were not as profitable as we wanted, so we ended up dropping a lot of our items."
At the end of the day, Morgan appreciates the fact that huge roadblocks can breathe new life into a business. "If the pandemic didn't have all those crazy things happen, we would never have been pushed into starting our other companies," she says. This kind of positive thinking helped sustain her as she found new ways to grow her income.
She embraced digital products
One of Morgan's next big steps is in the digital product market. "Jungle Scout has really opened our eyes to it — I feel like it's a cheat sheet," she says of the demand for digital products on Amazon.
Digital products include software, ebooks, music, recipes, and art. On Amazon, this includes products that can be printed on-demand through Amazon Merch or Kindle Direct Publishing.
Morgan offers an example, showcasing the scrappy thinking she's famous for on TikTok: "A lot of people are making print-on-demand journals," she says. To create one, she says "you don't even need a designer" — sellers can doodle their own cover art for free on Canva.com. Then, they can list their journal on Amazon, where customers can purchase physical copies through KDP.
She believes digital products are a "game-changer" because they require zero investment to launch, and zero losses if the product doesn't sell. Instead of a physical product, "you just created this idea, and if it does really well, then even better," she says.
In this way, digital products help even the playing field for aspiring entrepreneurs: "it doesn't matter where you come from, how much money you have or your family has or doesn't have" — anyone can start selling on Amazon.
Morgan's top tips for success on Amazon
Pro tip: run your business one step at a time
Morgan believes that the most important factor for success in entrepreneurship — aside from having a positive attitude — is to take things one step at a time. As a small business owner, it's easy to get overwhelmed with everything you have to manage. Giving each task your undivided attention can help make the load feel lighter.
Pro tip: go with data, not your gut
Looking back, Morgan wishes she had relied on seller software earlier in her journey. "For the longest time, I was so frugal and didn't want to invest in software," she says. "Looking at my sales numbers, I know how much money I lost by not investing in the right tools."
Using software is helpful in every phase of selling, and simplifies product research. When looking for a product, Morgan advises, "find a niche that has the basic Jungle Scout principles: you just want something with high demand and low competition, and follow the metrics."
She says a reliance on data-driven software is most important for staying on top of your inventory. Accurately forecasting demand is difficult to do without software, and storing products at home can quickly create a mess if you don't carefully keep track of your inventory. Tools like Jungle Scout can handle the busy work of inventory management for you.
What's next for Morgan: empowering new Amazon millionaires
Morgan recognizes that as an Amazon seller, there are always new challenges to tackle. For one thing, "there's always gonna be more competition in anything that is thriving," she acknowledges.
But she takes no comfort in the idea of being alone in her success — she'd rather share her knowledge and lift others out of unfulfilling jobs and paycheck-to-paycheck living.
"I think anybody that has information that could change anybody's life and chooses to keep it to themselves — I think that's awful," says Morgan. "When more people are getting access to tools like Jungle Scout and things that make it way easier to sell on Amazon than before it existed, it's awesome."
Today, much of Morgan's social media content prods viewers to take the plunge into ecommerce. As an odds-defying success story herself, she revels in busting myths about who can become an entrepreneur, posting quippy affirmations and clapback videos dedicated to her detractors.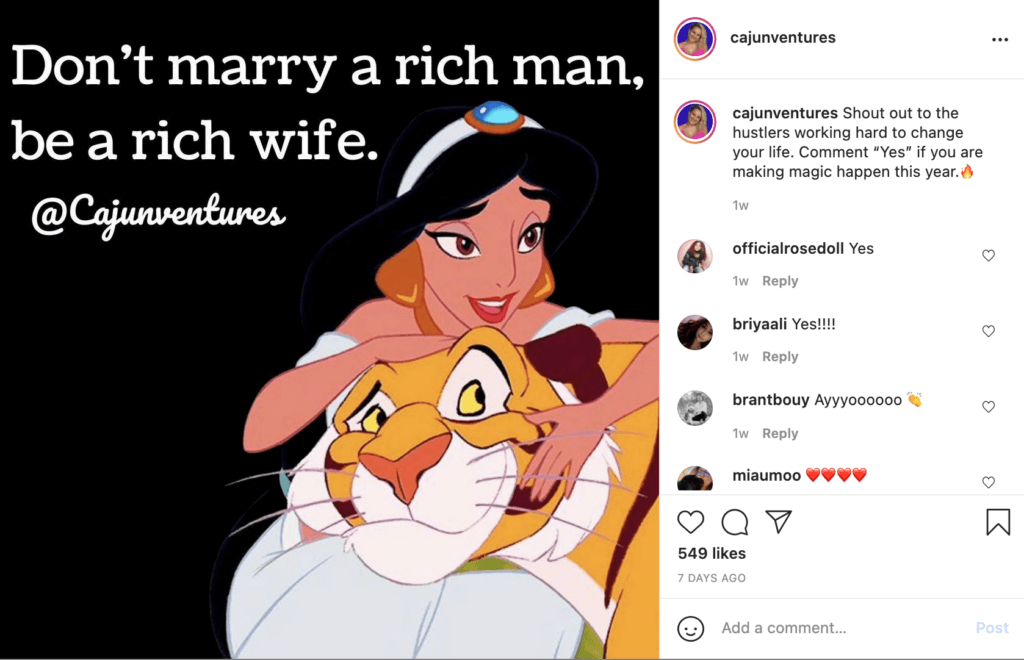 But her advice is far more than just hype: she also posts plenty of step-by-step guides for launching a vast array of side hustles. Watch a few of her TikToks, and you'll feel like you, too, can launch a million-dollar business, quit your 9-5, and stick it to your naysayers.
Where to find more of Morgan's Amazon tips
In addition to her videos on YouTube, Instagram, and TikTok, Morgan has also launched her own Amazon seller course. With the advice from her free webinars, more than one hundred sellers have gotten their start in ecommerce since her course opened.
Morgan knows the opportunity for success on Amazon is enormous, so she doesn't let the prospect of creating her own competition hold her back. "Amazon is so big that there's room for everyone," Morgan says.
You can find out more about Morgan's Amazon course on the Cajunventures website and YouTube channel.
Want to begin your own Amazon success story? Check out How to Sell on Amazon FBA, our step-by-step guide to launching a private label Amazon business.