Let's face it: not everyone has — or wants to spend — the cash to launch a private label Amazon business.
Fortunately, Amazon offers a cool way to start selling stuff on their platform without having to spend thousands to purchase inventory. Amazon Merch on Demand
(sometimes called Merch by Amazon) is a print-on-demand service offered by Amazon that lets you sell your product designs without any upfront costs.
In this article, we'll explain how Amazon Merch on Demand works, its benefits, and how to sign up and get started. We'll also include some best practices for selling Amazon merch.
How does Merch on Demand work?
Amazon Merch on Demand is easy to set up. Even if you aren't an artist, graphic designer, or have a large social media following, you can start an Amazon Merch on Demand account.
The setup process is pretty simple. Once you create an account and get approved, all you have to do is upload artwork and choose the type of product you want to sell.
Once Amazon approves your design, they create a listing for you.
Then, when your product sells, Amazon handles the printing, shipping, and customer service on your behalf. And then you earn royalties!

Amazon Merch on Demand is so popular, even big brands use it. (Yep, that Baby Yoda shirt you bought on Amazon was probably created by Amazon Merch.)
Want to learn more about selling on Amazon? Check out our complete guide.
What are the benefits of selling on Amazon Merch on Demand?
The biggest advantage that Merch on Demand has over other forms of selling on Amazon is that the barriers of entry are fairly low. You can get started with no money (or very low money) and get products listed for sale.
Here are some other benefits you get from Merch on Demand:
Earn royalties from your sales.

Similar to Amazon KDP, you will earn royalties from all the sales you make with Merch on Demand. Once you make a sale, Amazon shares a percentage of that sale with you. Below we will go over the royalty rates.

Don't need to purchase inventory upfront.

Since this is a print-on-demand model, there is no need to worry about unsold stock or purchasing any stock upfront. Amazon prints and ships your orders as they come in.
Prime shipping.

Since all of the orders are printed and shipped by Amazon, all of your orders are eligible for Prime Shipping so your customers can receive orders fast.
Sell to Amazon's massive customer base.

Since you're listing your merch on Amazon, you have the potential to reach millions of customers.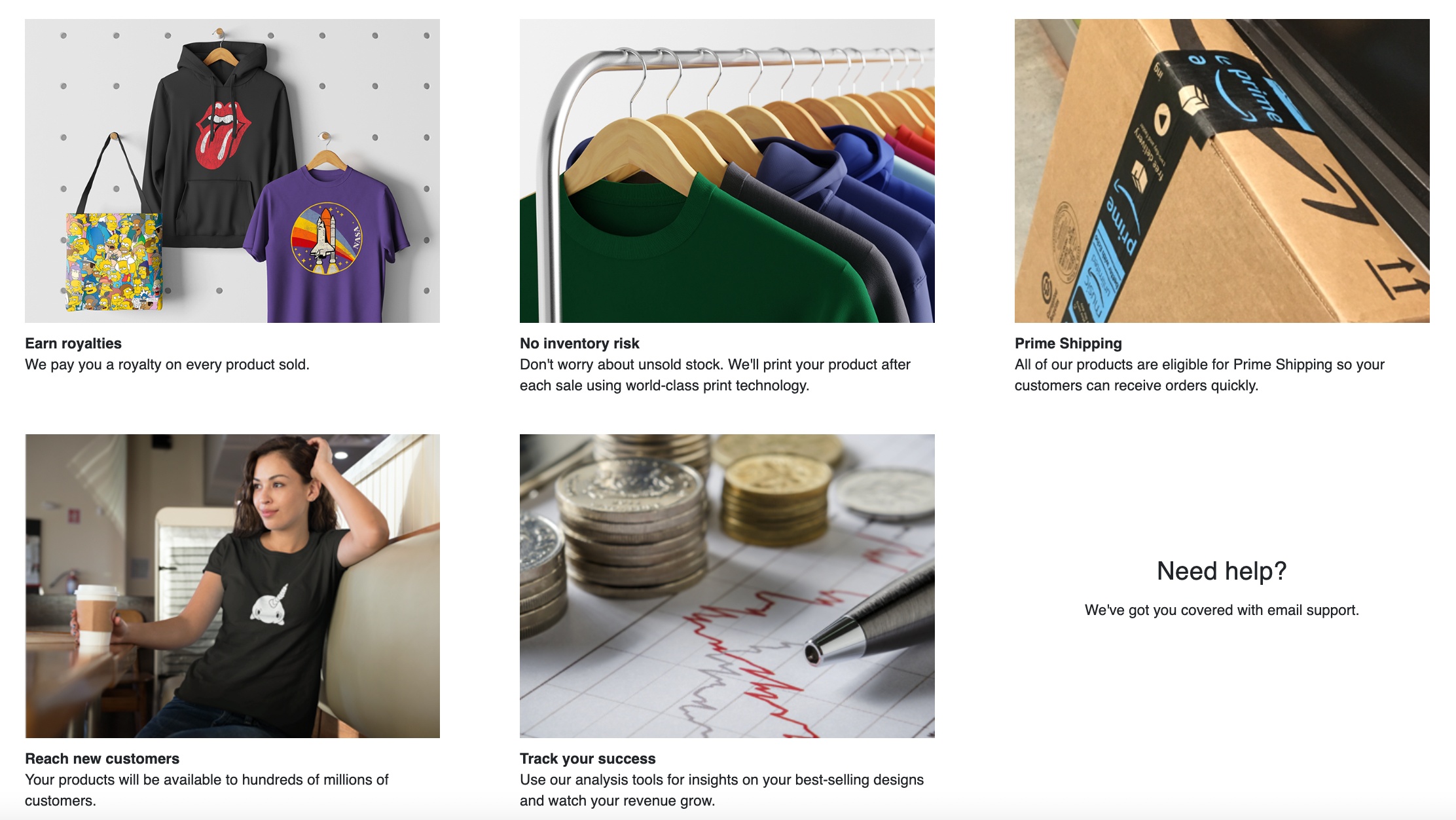 How much money can you make selling merch on Amazon?
Royalty rates can range anywhere from roughly 12% to 37% depending on the product's price. But if you want to see Amazon's full schedule of Merch on Demand royalties, you can check it out on their FAQ page.
Here are examples for both the US and UK marketplaces:

Once a sale is made and your product is sent to the customer, you earn a royalty for the sale. The amount of royalty you earn is the price of the product minus applicable taxes and Amazon's costs.
Amazon's costs include:
Materials

Production

Fulfillment

Customer service

Returns

Exchanges

Resources required to detect and prevent fraud
READ MORE | 15 Ways to Make Money on Amazon
How many Amazon Merch designs can I make?
Amazon Merch limits the number of products you can create and sell at one time. For those just starting out, you're allowed only 10 submissions. However, as you make more sales and prove the quality of your designs and products, Amazon increases how many designs you can submit, also known as your 'tier.' You're required to make 10 sales in order to move to the second tier.
Amazon increases your tiers as follows:
How to sign up for Merch on Demand
To get started with Merch on Demand, you can sign up with your existing Amazon account or create a new account if you are new to Amazon.

Here is what you need to sign up for a Merch on Demand account:

Next, fill out all of the required information to finish the account set up process.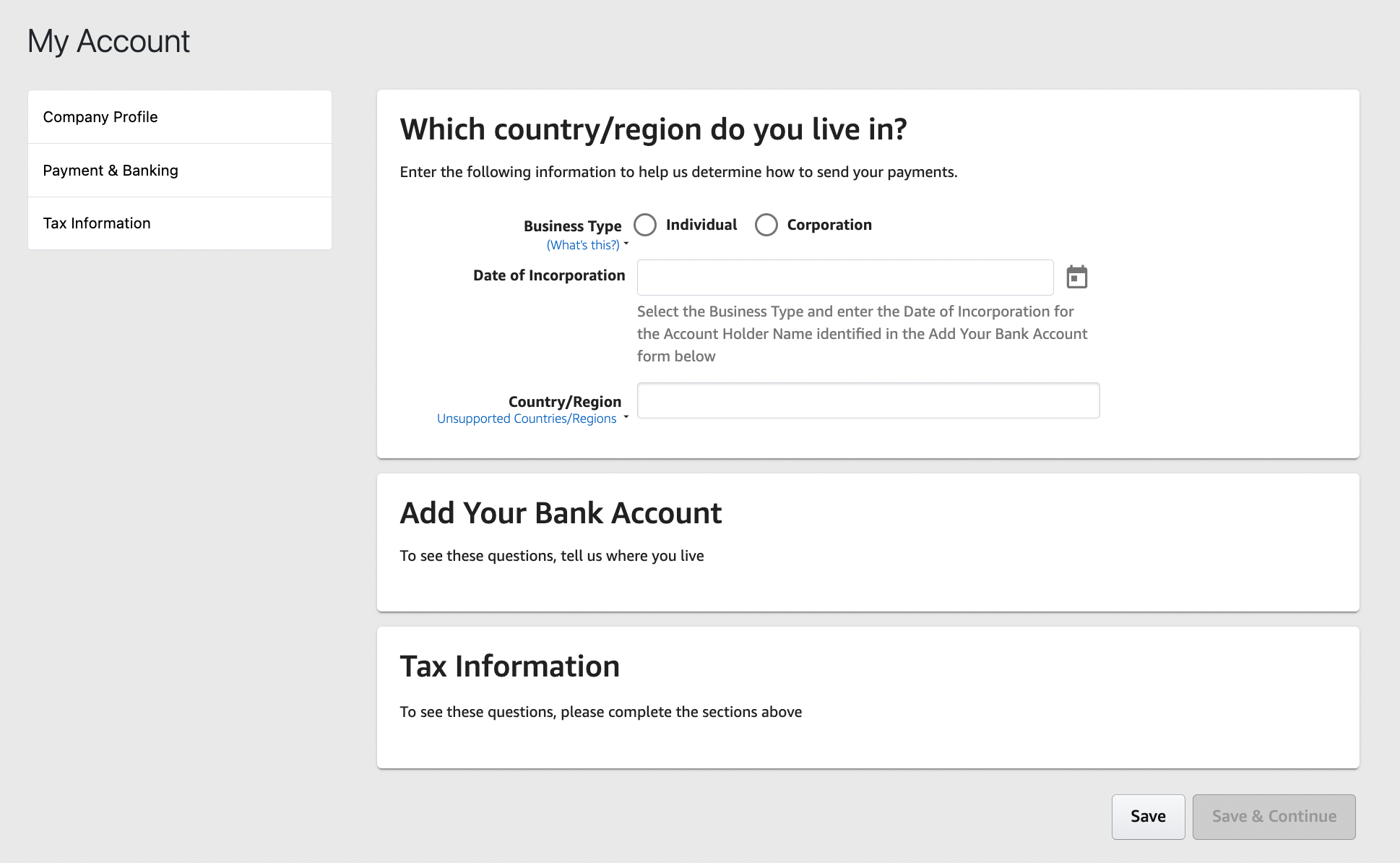 If you do not have a registered business (corporation) choose "Individual" for Business Type. After you finish signing up, Amazon still needs to approve your account before you can start uploading and selling products.
Amazon will give you an estimated timeframe on when they'll make a decision, so please do not contact Amazon asking when your account will be approved.
Once approved, you can begin creating products to sell!
How do I create a product on Amazon Merch?
Once you're approved, Amazon Merch on Demand will send you to your dashboard, which looks like this: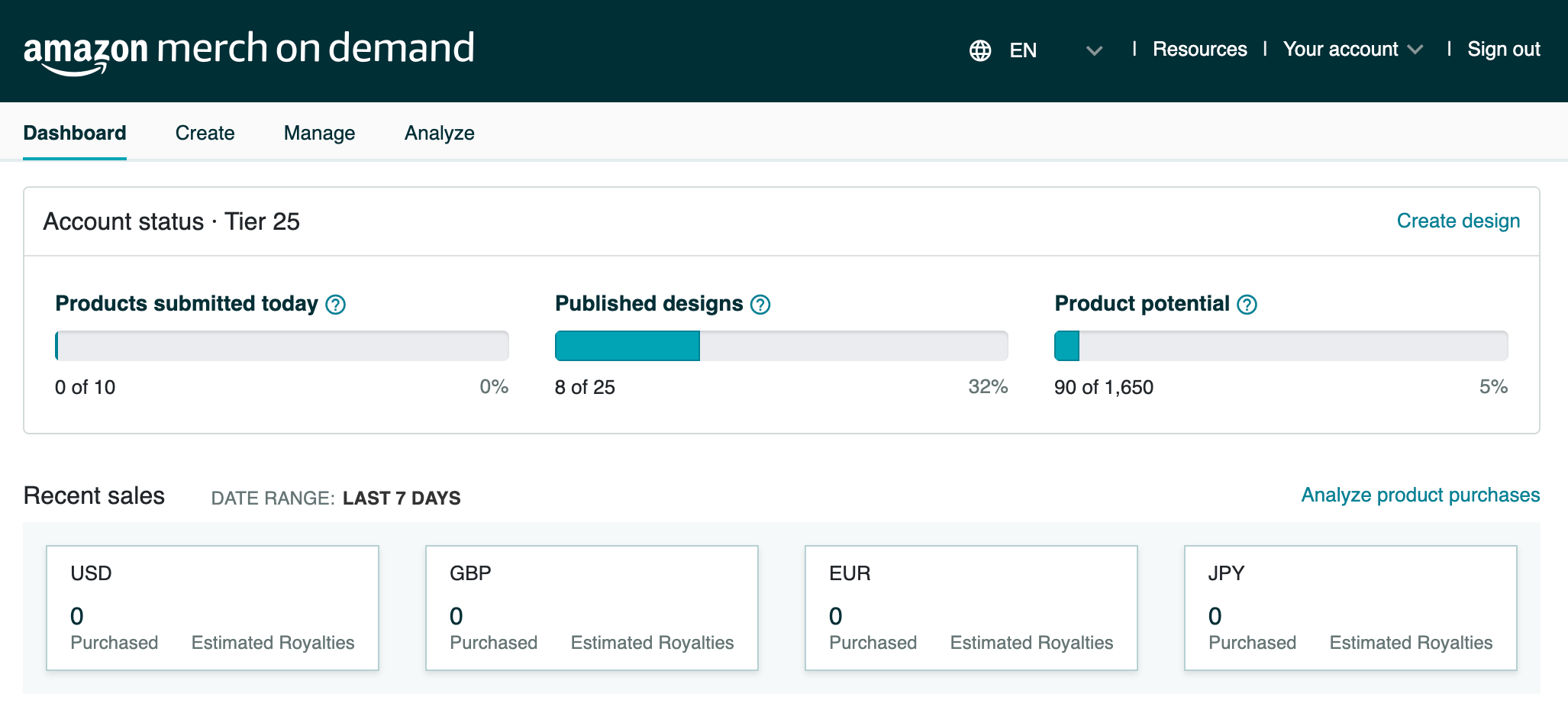 From your Amazon Merch Dashboard, you can create new designs, manage existing ones, and analyze your sales. On the dashboard itself, you can see your account status which includes:
Available submissions:

the number of designs that you can create.

Published products:

the number of live designs you have on Amazon via Amazon Merch.

Tier:

your "seller level," which dictates how many designs you can submit and how many products you can create.

Product potential:

how many products you could be selling if you added all available products to every design.
Step 1: To create your first product, click the 'Create' button from your Dashboard.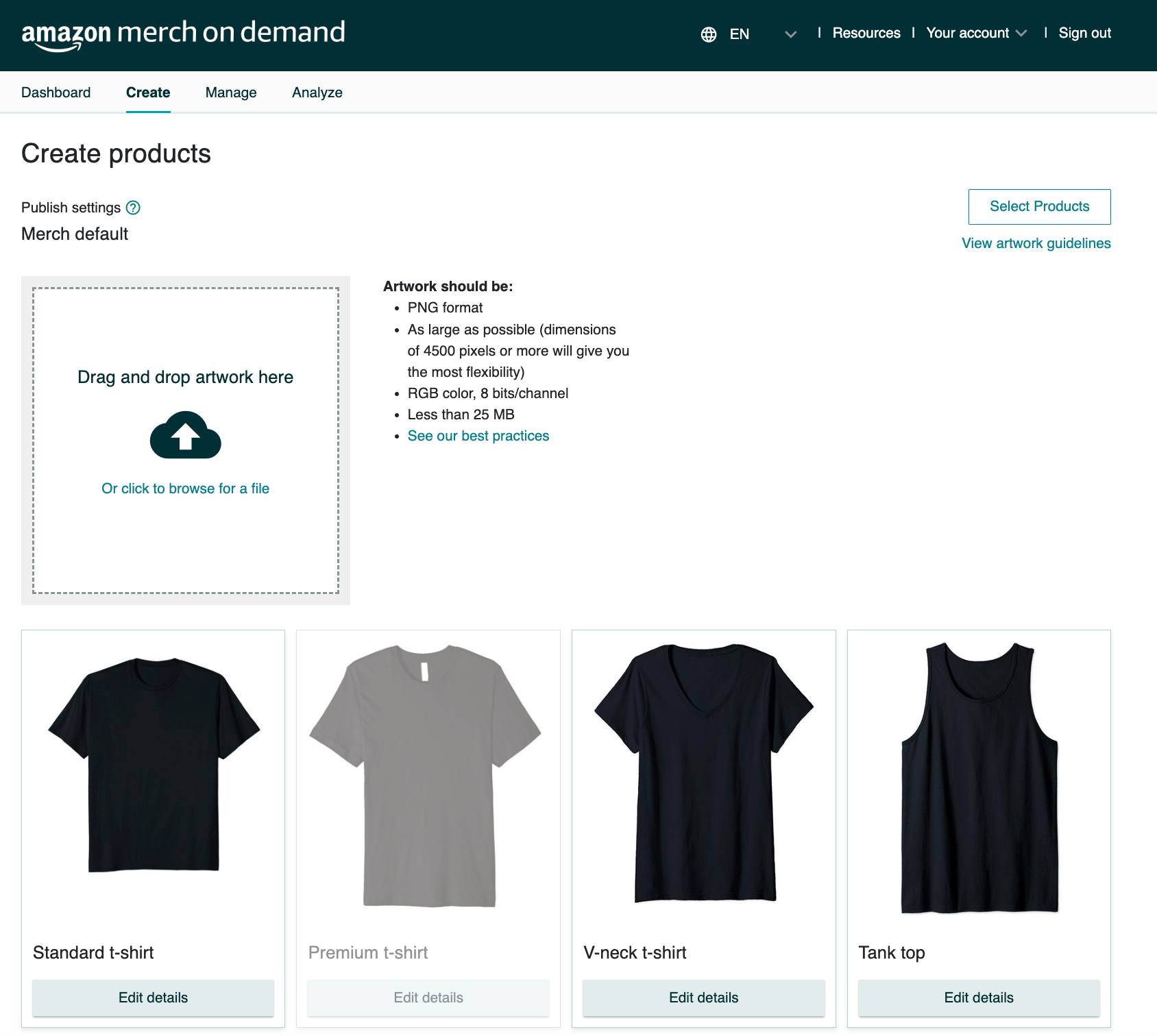 Currently, you can choose from a variety of products for displaying your graphics, including shirts, sweatshirts, pop sockets, phone cases, pillows, and tote bags.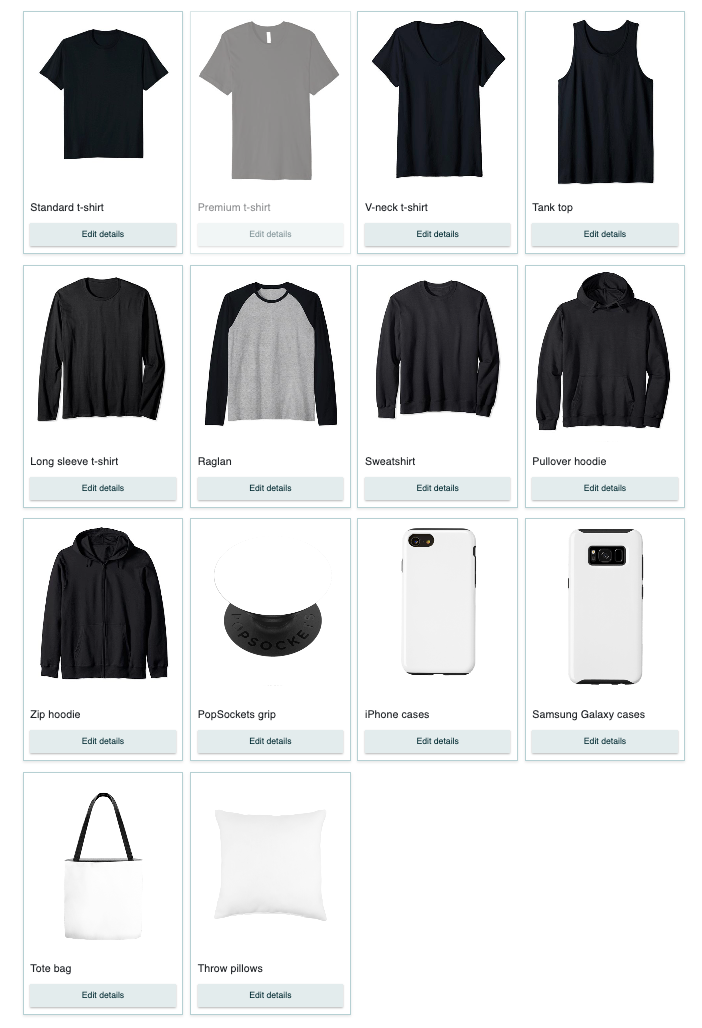 Step 2: Upload your artwork. If you're unsure of your editing skills, Amazon Merch on Demand offers downloadable templates to make the process easier.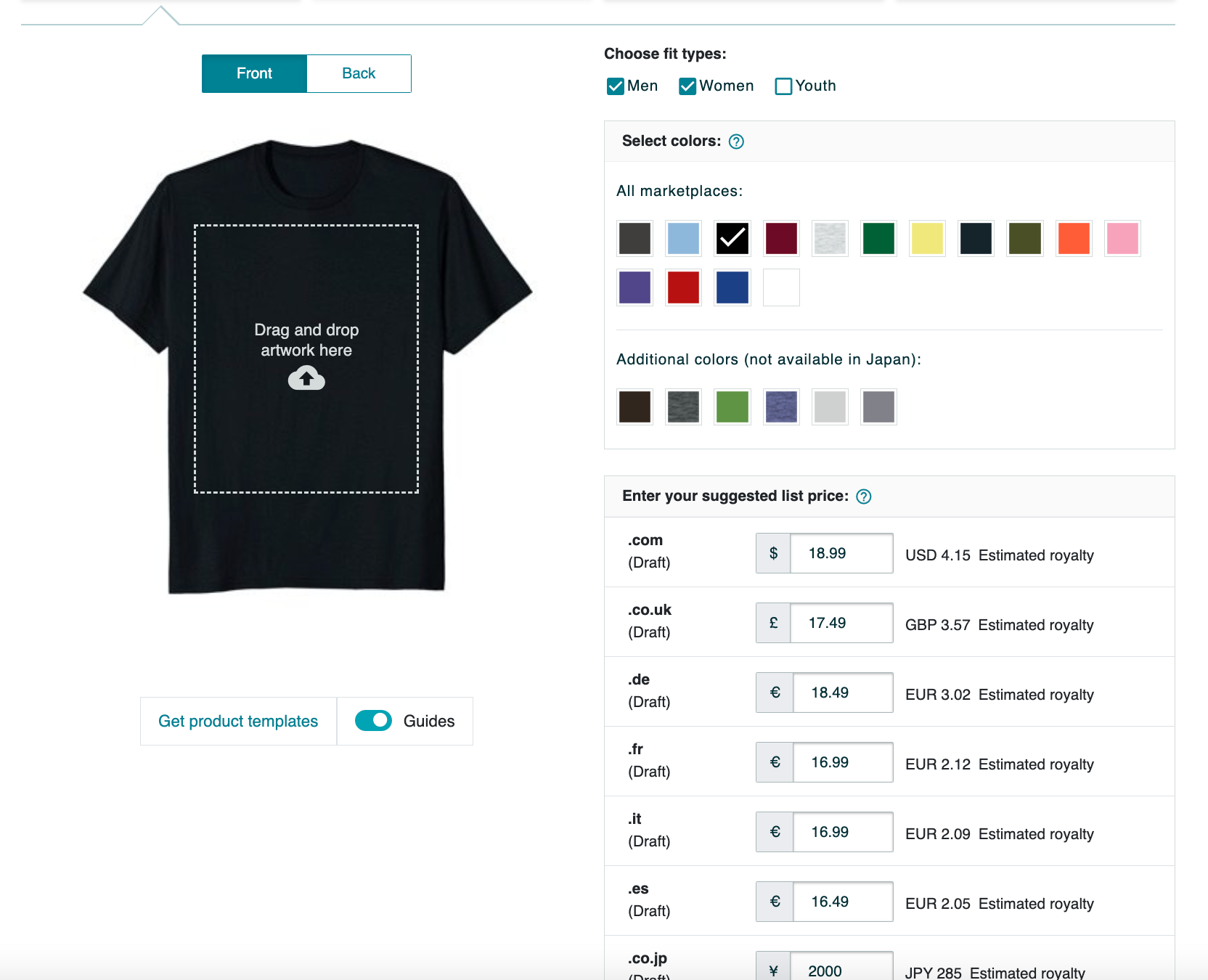 Note: Make sure that your artwork adheres to Amazon Merch's guidelines, which generally prohibit objectionable content and copyright infringement.
Amazon has specific guidelines for Merch products to ensure that the final product is high-quality and accurately reflects what customers will view in the listing.
In general, uploaded artwork files for Merch designs should be:
Here are some general tips for creating high-quality designs:
Use high-resolution images and vector files to avoid image pixelation

Format your design to suit each specific garment or product. For instance, the best artwork placement for a v-neck shirt will be different than for a crewneck

Keep in mind that typically, colors will look more vibrant on a computer screen — make sure colors pop when printed by avoiding subtle color differences between the design and the base product
Take a look at Amazon's best practices for more tips.
Amazon provides design templates for Adobe Illustrator to guide the placement and sizing of your art on the product of your choice.
Step 3: Once your design is ready, choose your colors, set prices for each marketplace, and enter your product details such as title, bullet points, and description.
READ MORE | Amazon Product Listing Optimization in 2023
Amazon will automatically list your products in all of the available marketplaces for Amazon Merch on Demand. During the listing creation process, you can choose to have Amazon translate your listings for you or provide your own translations for each language.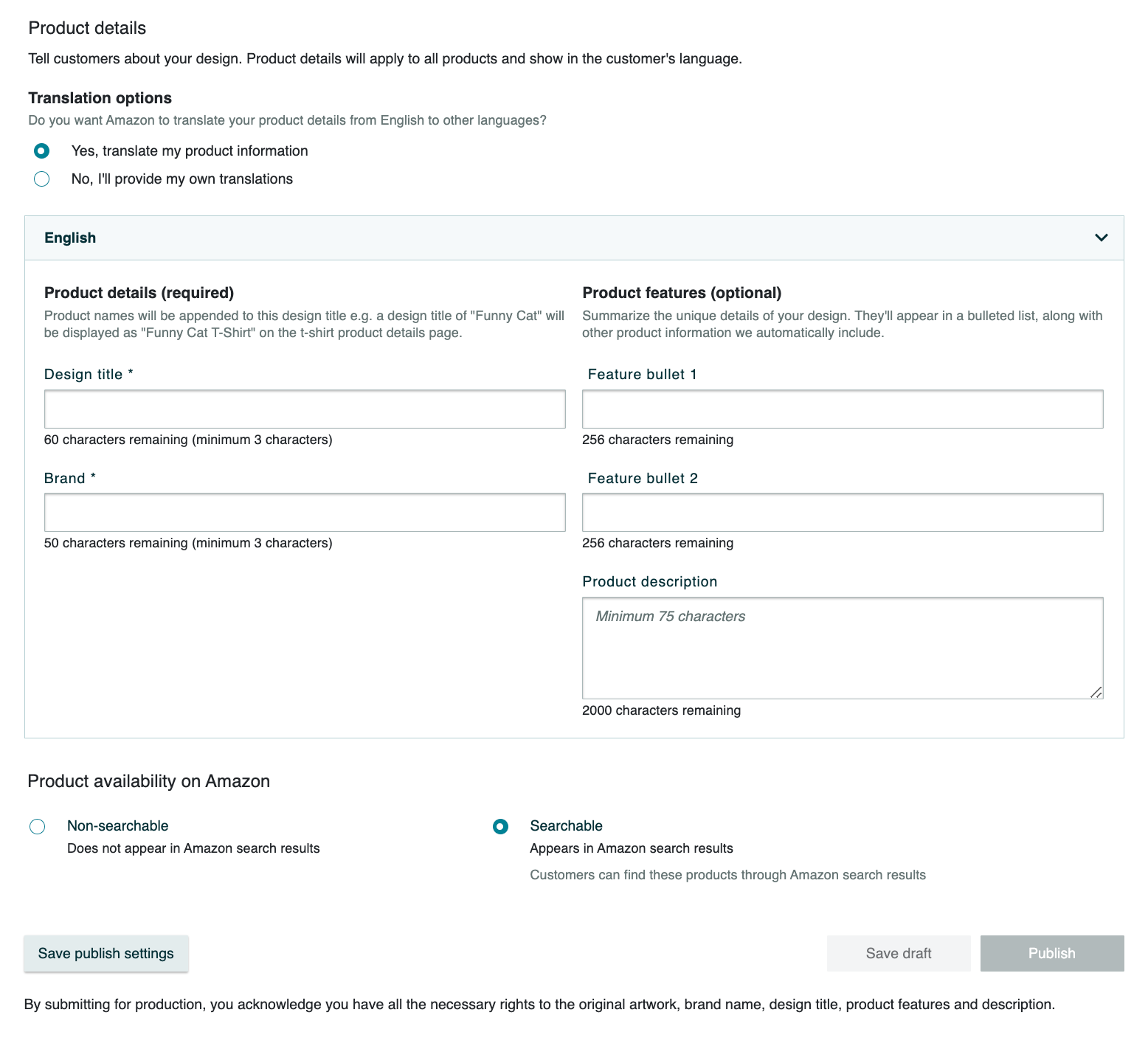 Step 4: Publish your listing! From there, your listing goes through eight different statuses as Amazon reviews your creation.
Draft:

This is the state of your design while you're working on it. It stays in draft until you submit the design.

Under Review:

After submitting your design, it goes through a review process to ensure it's not infringing on Amazon Merch's content policy.

Rejected:

If your design does not meet Amazon Merch's content policy, its status is changed to 'Rejected.'

Started Process:

If your design is approved, Amazon starts the process of adding your design to their library.

Processing:

Quickly after the process is started, your product moves to 'Processing' as Amazon starts to create your listing.

Pending Your Approval:

You also have the option to review a sample of your design. After you give Amazon "the okay" it goes from "Pending Your Approval" to "Live."

Live:

Once your listing is created, your status changes to 'Live', and you can start making sales.

Removed:

Designs that don't sell within the first 180 days of going live or that violate Amazon's Content policy are removed.
Keep in mind that if you update your Merch listing's price, title, brand, or description, it'll go back through the status process (though the previous version of the listing will stay live on Amazon).
Tips for success selling Amazon Merch designs
Here are some best practices for utilizing Amazon Merch on Demand:
Find a niche. Use your designs to

target a niche

, like pop sockets for beauty influencers or t-shirts for fishing enthusiasts.

Outsource artwork. Find freelance graphic designers on sites like

Fiverr or 99Designs for professional-quality artwork. Alternatively, u

se

public domain images

for your artwork—

you won't have to license these, and they'll still be recognizable to shoppers

Follow trends. Capitalize on

trending content

on social media — you can always find new images, memes, and concepts that people want to wear on a t-shirt

Use social media.

Build a following

for your brand on social media so you can alert large numbers of potential customers about new design releases

Advertise. Advertise your listing through Amazon's

portal promotions section

or

PPC advertisements

Consolidate. Remove low-selling designs to make room for new ideas
Are you a successful Amazon Merch on Demand seller? We'd love to hear what has helped you succeed on the platform. Share in the comments below!