In 2021, selling on Amazon is more popular than ever. With the boom of ecommerce, it's no surprise that more and more people want to get a piece of the pie. But let's face it: not everyone has the cash to start a business selling their own manufactured products (private label) or bulk discounted goods (wholesale). 
Fortunately, Amazon offers a cool way to start selling stuff on their platform without having to spend thousands to purchase inventory: Merch. 
Amazon Merch is a print-on-demand service offered by Amazon that lets you sell your product designs without any upfront costs. 
How does Amazon Merch work?
The process is pretty simple. Once you get an invitation to join Merch (see below), all you have to do is upload artwork and choose the type of product you want to sell. 
Once Amazon approves your design, they create a listing for you. 
Then, when your product sells, Amazon handles the printing, shipping, and customer service on your behalf. And then you earn royalties! 

Merch by Amazon is so popular, even big brands use it. (Yep, that Baby Yoda shirt you bought on Amazon was probably created by Amazon Merch.)
Who should do Amazon Merch?
The biggest advantage that Amazon Merch has over other forms of selling on Amazon is that the barriers of entry are fairly low.
It's easy to set up, there's no upfront cost, and even if you aren't an artist, graphic designer, or have a large social media following, you can start an Amazon Merch account.
The one major drawback to Amazon Merch is that it's an invitation-only platform.
Otherwise, all you need to be successful is a good, unique idea, and a good social media account or blog to drive customers to your designs.
How do you get invited to Amazon Merch?
To get invited to Merch, go to merch.amazon.com and click the blue "Request invitation" button. From there, fill out the application explaining why you want to be considered for Amazon Merch. 
Once that's completed, you'll be placed on a waiting list. Unfortunately, because of the high demand of sellers who wish to join the waiting list, it can sometimes take as long as six months to get accepted by Amazon.
What is the Amazon Merch Dashboard (and what can I do)?
Once approved, Amazon Merch will send you to your dashboard, which looks like this: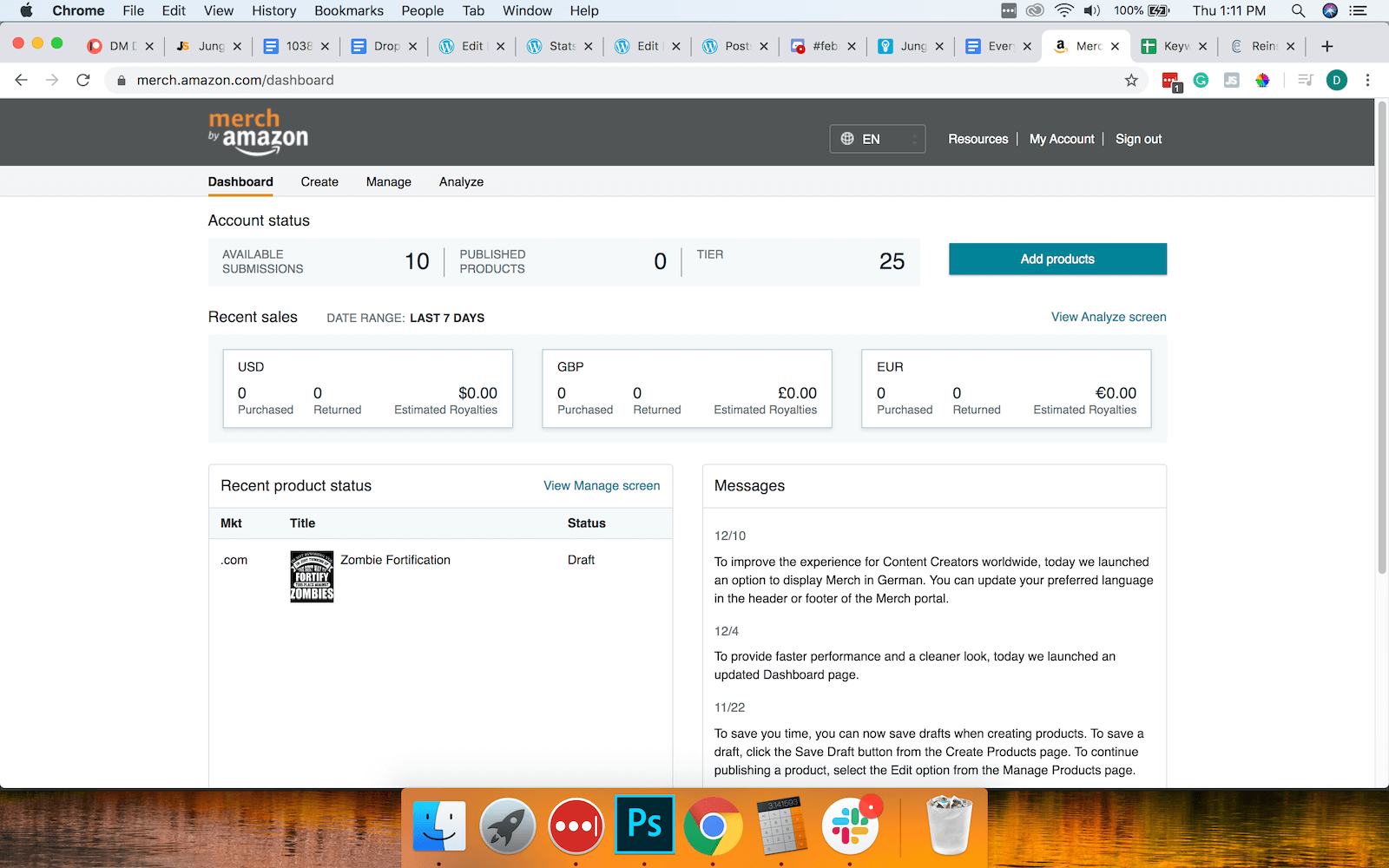 From your Amazon Merch Dashboard you can create new designs, manage existing ones, and analyze your sales. On the dashboard itself, you can see your account status which includes:
Available submissions

are the number of designs that you can create.

Published products

are the number of live designs you have on Amazon via Amazon Merch.

Tier

is your "seller level" that dictates how many designs you can submit and how many products you can create.
There's also a large button that lets you immediately "Add products." From there, you have information on recent sales in both the US and EU market (with a separate breakout for Great Britain).
How do I create a product on Amazon Merch?
To create your first product, click the 'Add Products' button from your Dashboard. That will show you the different types of Merch to which you can add your designs.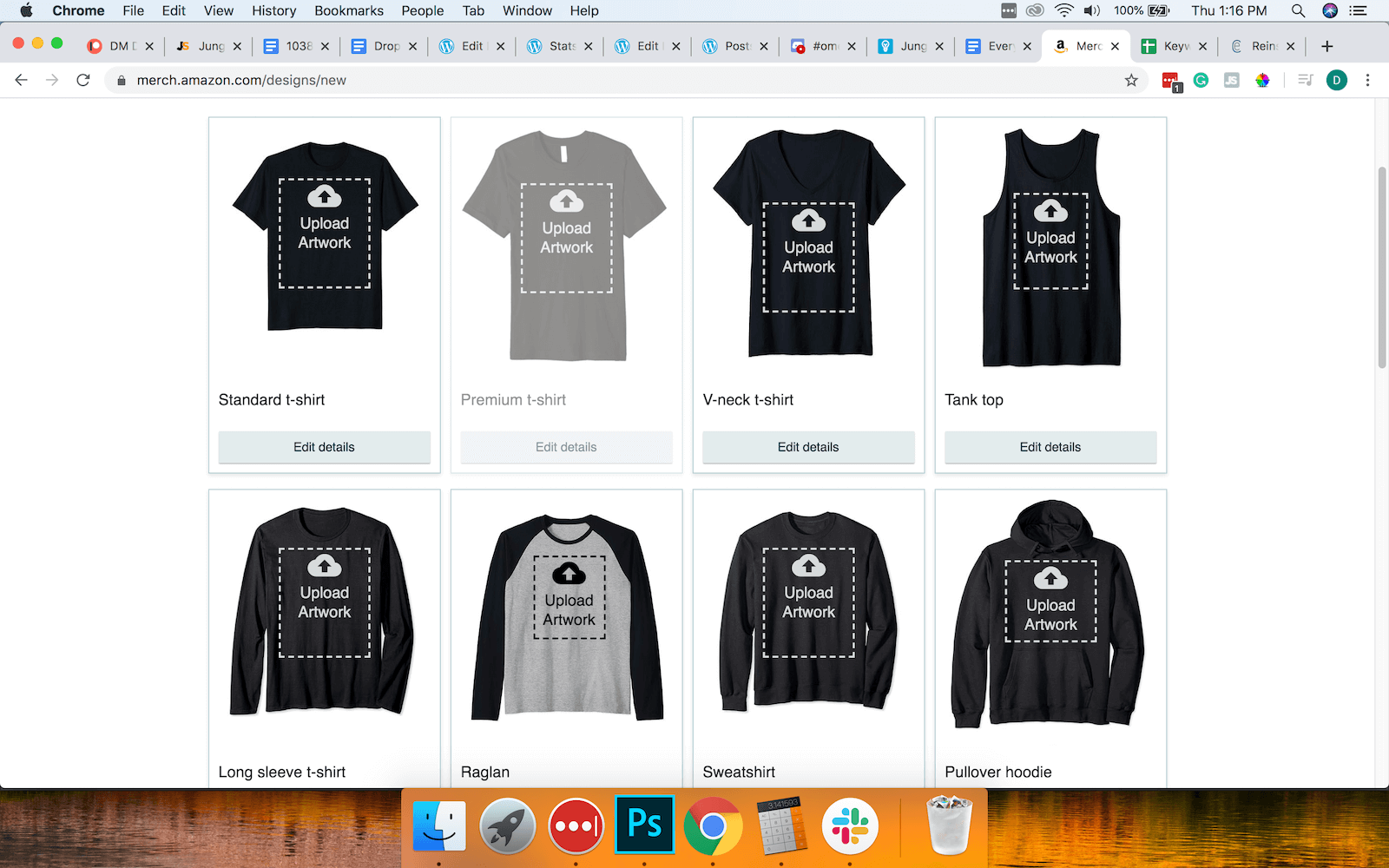 For now, Merch only offers a variety of shirts and PopSockets for displaying your graphics. 
Next, click the 'Upload Artwork' button (or 'Edit details'). But if you're unsure of your editing skills, Amazon Merch offers downloadable templates to make the process easier.
Note:  Make sure that your artwork adheres to Amazon Merch's guidelines, which include the following:
Don't create products that violate existing trademarks or copyrights.

Don't create products with objectionable content. That includes pornographic content, child exploitation, profanity, promotion of hate or intolerance, human tragedy, promotion of violence, and Nazism promotion. UK sellers may not have Merch with mental illness, either.

No blank images.

Inaccurate product metadata (ie, how you describe your product must be factual).

Solicitations for product reviews.

Contact information.
Make sure that your product is design-ready
Amazon has specific guidelines for your Merch products to ensure that it is design ready. If you aren't creating your own artwork, be sure to submit the guidelines to your designer.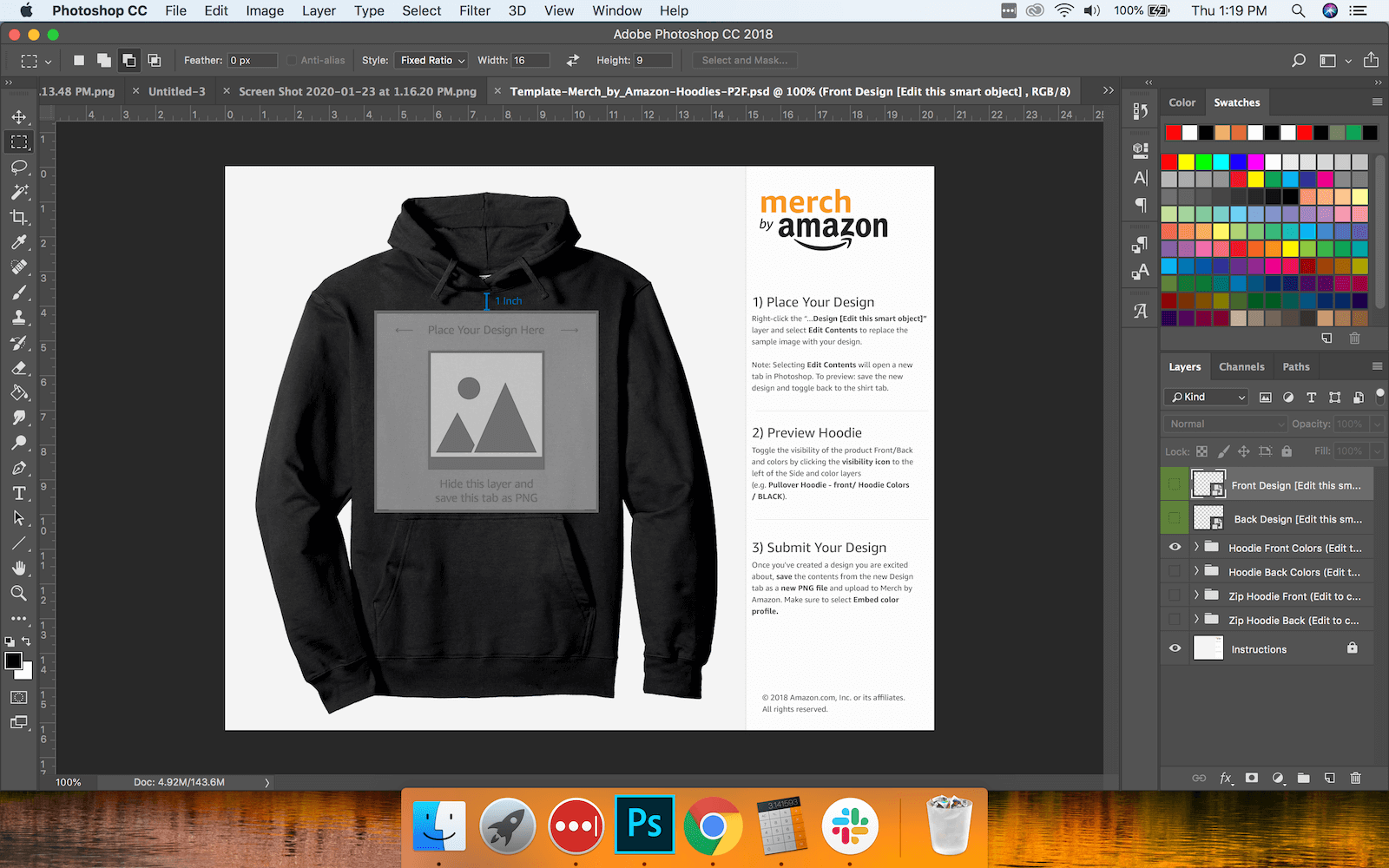 Design-ready qualifications include:
RGB colors that allow you to print a greater range of colors.

Artwork with print dimensions of 300 dpi (dots per inch).

The final file should be no larger than 25MB.
Submit your product and go live
Once your product is design-ready, set a price and go live. From there, your listing goes through eight different statuses.
Draft

: This is the state of your design while you're working on it. It stays in draft until you submit the design.

Under Review

: After submitting your design, it goes through a review process to ensure it's not infringing on Amazon Merch's content policy.

Rejected

: If your design does not meet Amazon Merch's content policy, its status is changed to 'Rejected.'

Started Process

: If your design is approved, Amazon starts the process of adding your design to their library.

Processing

: Quickly after the process is started, your product moves to 'Processing' as Amazon starts to create your listing.

Pending Your Approval:

You also have the option to review a sample of your design.  After you give Amazon "the okay" it goes from "Pending Your Approval" to "Live."

Live

: Once your listing is created, your status changes to 'Live', and you can start making sales.

Removed

: Designs that don't sell within the first 180 days of going live or that violate Amazon's Content policy are removed. 
Need help creating designs?
Not everyone is a master of Photoshop or graphic design. Thankfully, there are plenty of resources on the web to help you design cool merch. 
Sites like Fiverr.com and 99Designs have freelance designers who can help you create designs for your Amazon Merch products. You can even give them the template that Amazon gives you.
You can also search Jungle Scout Market to find designers especially familiar with the Amazon marketplace.
Of course, there is an associated cost with this option, so if you're looking to keep costs down, make sure those design-related fees are factored into your budget before hiring a freelancer.
One great way to find images to put on merch is to use public domain images. You won't have to license these images, and they'll still be recognizable to shoppers.
How much can you make selling products on Amazon Merch?
Royalty rates can range anywhere from roughly 13% to 37% depending on the product's price. But if you want to see Amazon's full schedule of Merch royalties, you can check it out on their FAQ page. 
Once a sale is made and your product is sent to the customer, you earn a royalty for the sale. The amount of royalty you earn is the price of the product minus applicable taxes and Amazon's costs. 
Amazon's costs include: 
Materials

Production

Fulfillment

Customer service

Returns

Exchanges

Resources required to detect and prevent fraud
Amazon Merch limitations and tiers
Amazon Merch limits the number of products you can create and sell. For those just starting out, you're allowed only 10 submissions. 
However, as you make more sales and prove the quality of your designs and products, Amazon increases how many designs you can submit, also known as your 'tier.' 
Your tier determines the number of products you can carry and sell at one time, and you're required to make 10 sales in order to move to the second tier.
Amazon increases your tiers as follows:
Tips for success on Amazon Merch
Now that you understand the basics of how Amazon Merch works, here are a few tips for successfully using the platform:
#1 – Capitalize on trends
Keep your "ear to the ground". Know what people are talking about and what is currently trending. 
The best way to learn about trends is to find out what people are talking about on social media platforms like Facebook, Instagram, and Pinterest. You can also go to trends.google.com to see what is popular with search trends. 
But remember! You can't infringe on trademarked or copyrighted property.
#2 – Cycle out slow sellers
When starting out, you're limited to 10 submissions, and that's valuable real estate! So, if you have a product that isn't performing well, don't be afraid to remove it.
Give a product just one or two weeks to prove its value. If it isn't making any sales within that time frame, scrap it and replace it with something else that's trending.
#3 – Target a niche
Here at Jungle Scout—thean all-in-one platform for selling on Amazon—we've extensively covered niches and how you can find niches to target with your Amazon product. And just like niches are important for private label success, they're important for Amazon Merch success, too. 
Figure out the subset of a market you want to sell in and double-down on it. 
For example, you might sell shirts and pop-sockets for people who enjoy hunting and fishing. Or you might turn popular political gaffes into t-shirts.
#4 – Build a following
Once you know your market and the types of products it likes, build a following for your brand. 
Attract followers by creating fresh, original content or advertising on social media platforms like Instagram or Pinterest. Or create newsletters or blogs that appeal to the types of people who would buy your products. 
You can even post memes and content related to your brand and niche. 
Then, when you release new products, your cost of acquisition stays low as you're increasing the lifetime value of your repeat customers.
#5 – Advertise your listing
Finally, Amazon offers two solutions of their own for getting the word out about your merchandise.
First, Merch by Amazon offers a portal promotions section that allows you to create Facebook and Twitter posts to let your friends, family, and followers know about your Merch. In addition, you can create targeted in-app promotions for iOS, Android and Fire OS.
Second, some Merch accounts are allowed to create advertisements for their Merch products. However, this advertising program is still relatively new and in the trial phase.
Similar to the Merch program, you will need to request access to the advertising program through Amazon's advertising portal. Once accepted, you can create auto-targeting campaigns for your merch. This creates a sponsored product listing of your merch product that places it higher in the search results for related terms.
Are you a successful Amazon Merch seller? We'd love to hear what has helped you succeed on the platform. Share in the comments below!