To date in 2020, the global fear of coronavirus* has led to:
Amazon selling out of medical masks January 21 and hazmat suits Feb 5

Hazmat suits sales up 353% 

8,510 medical masks sold daily

Medical masks prices up 583%

"Doomsday prep" product searches up 325%

Counterfeit masks and related products flooding the market
The outbreak of the deadly new 2019 novel coronavirus (COVID-19) — "coronavirus" — in the city of Wuhan, China has captivated and alarmed people worldwide.
And as the virus has begun to spread outside of China, panicked consumers are seeking to protect themselves by stocking up on medical masks, hazmat suits, air cleaning supplies, and anything else they think can possibly keep them healthy.
*We explored the impact of the coronavirus scare on Amazon product sales using Jungle Scout's product and market research data, revealing trending health safety products, price spikes, sold-out products, and more.
Hazmat suits sold out on Amazon on February 5
Amazon ran out of stock of its best-selling hazardous material ("hazmat") suit on February 5. 
The high demand for hazmat suits is a clear indicator of consumers' fear of the coronavirus. (The last time Amazon ran out of stock for this product was in the summer of 2018, during the Ebola outbreak.)
This popular hazmat — a disposable protective coverall called the "DuPont Tyvek 400 TY122S Individually Packed Disposable Protective Coverall with Elastic Cuffs Attached Hood and Boots for PPE Vending Machines" — sold out all units from Amazon.
Now, buyers can only purchase from its two third-party sellers, who are already hiking the prices for their remaining units (three and 42 units respectively).
Other hazmat sellers raise their prices
As soon as Amazon's stock ran out, the listing's average price increased by 13% — from $9.68 to $11.08, and has jumped as high as $23.37. 
Despite the change in price, sales are still high for the hazmat suit from other sellers.
The graph below shows the best-seller ranking for the same product (green line). The lower a product's best seller ranking, the more sales the product makes on Amazon.

According to Jungle Scout's sales estimates, the product went from an average of 810 sales per month on Amazon to 5,160 sales per month in a 90-day window, a 637% increase in sales.
20K Hazmat suits sold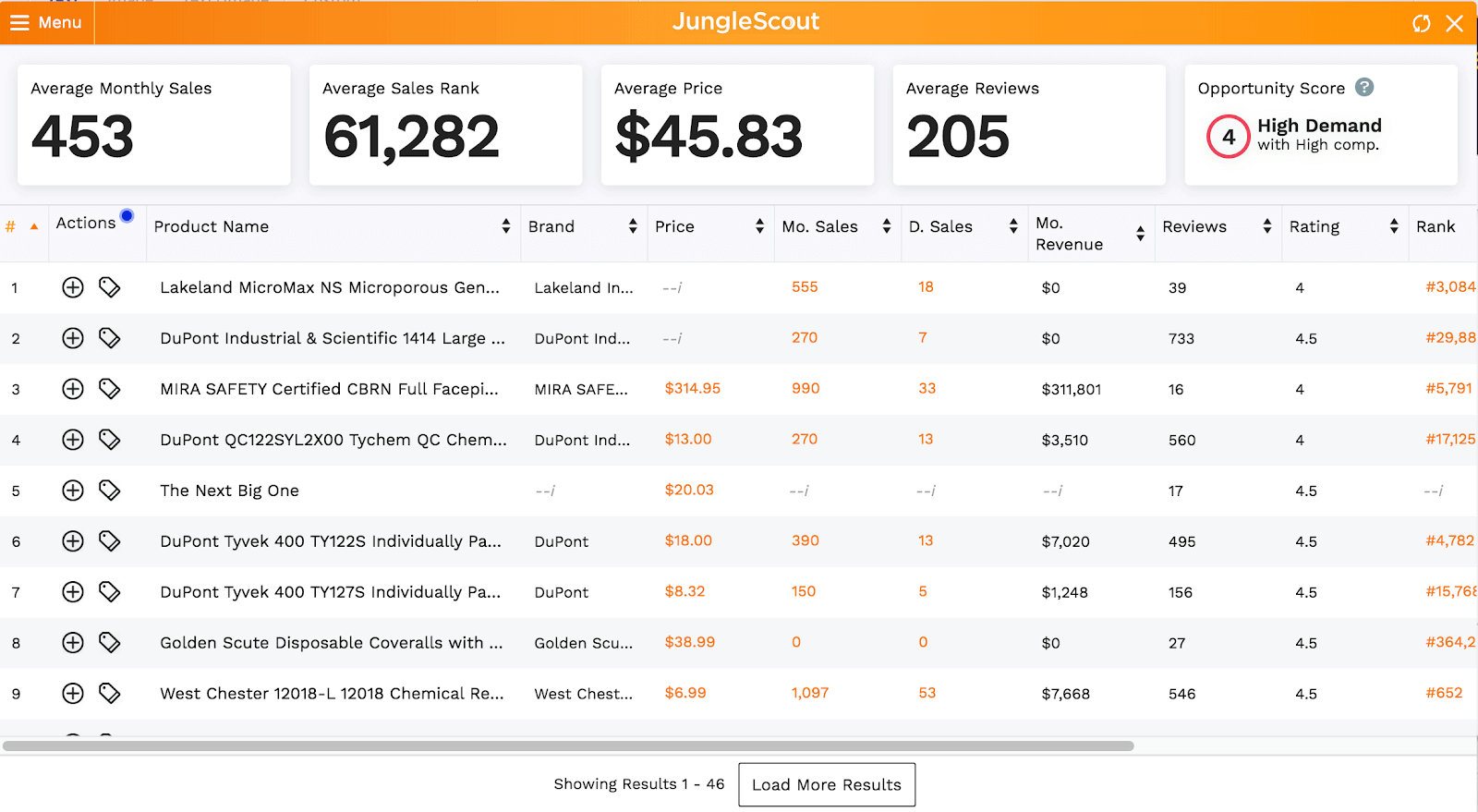 The Jungle Scout data above shows that the top 46 listings for hazmat have 453 average estimated sales over the last 30 days. That's over 20,000 hazmat suits sold in the month of January alone.
For many of the products, Amazon ran out of their own stock, allowing third-party sellers to take over the listing.
Hazmat suit searches continue to soar
These suits have seen a 310% increase in searches on Amazon in the last 30 days. The table below shows the sales for other products related to the term "hazmat suit."
Amazon searches for medical masks and respirators up 17,000%; mask sales near 24 million
Jungle Scout's Keyword Scout tool revealed a massive spike in searches and sales related to medical and surgical masks, too.
Note: An "n95 mask" is a medical mask tested and approved by the CDC to block 95% of all airborne particulates. These have been flying "off the shelves" at Amazon since the coronavirus spread was first reported.
In the past 30 days, keyword searches for the following masks reveal:
N95 mask 3m: Up 17,034%

3m 1860: Up 13,733

%

N95: Up 6,543%

N95 mask kids: Up 2,188%

Mask for germ protection: Up 1,757%

Mask for air pollution: Up 836%

Face mask 3m: Up 789%

Virus mask protection: Up 487%
Other surging searches for medical safety products include:
Emergency backpack survival kit: Up 694%

Cold medication: Up 544%

Doomsday preppers: Up 325%

Cold flu medicine: Up 271%

Prepper: Up 253% 

Emergency C: Up 205%

Doomsday: Up 183%

Immune boosters: Up 136%

Virus: Up 119%
These products are seeing outstanding surges in sales, too. 
Using Jungle Scout's data, we explored sales for "surgical masks" within the last 30 days.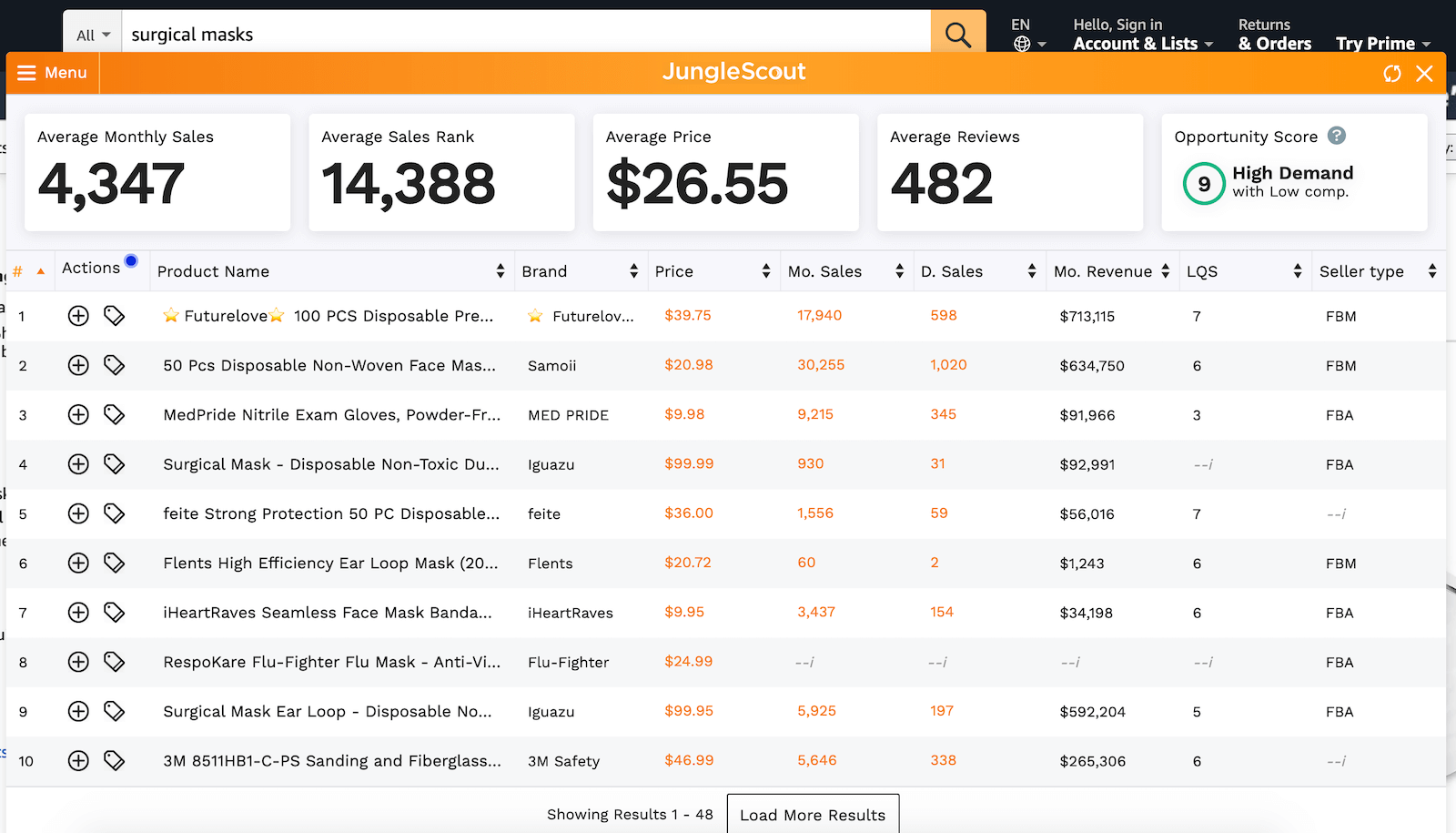 Jungle Scout's data shows that the top 48 sellers for the keyword search term "surgical masks" are averaging 4,347 monthly sales. Combined, that's more than 7,800 sales of surgical face mask box sets on Amazon every day. 
Since the majority of these products are 100-unit boxes, approximately 23.7 million surgical masks have been sold in the U.S. to date in 2020 — just for this particular search.
Medical masks and other related disease-prevention products selling out on Amazon
The chart below shows Amazon (in orange) starting to run out of stock of the 3M 8511 Respirator, N95 around January 22.
Once Amazon ran out of stock, third-party sellers started to increase prices (the purple line).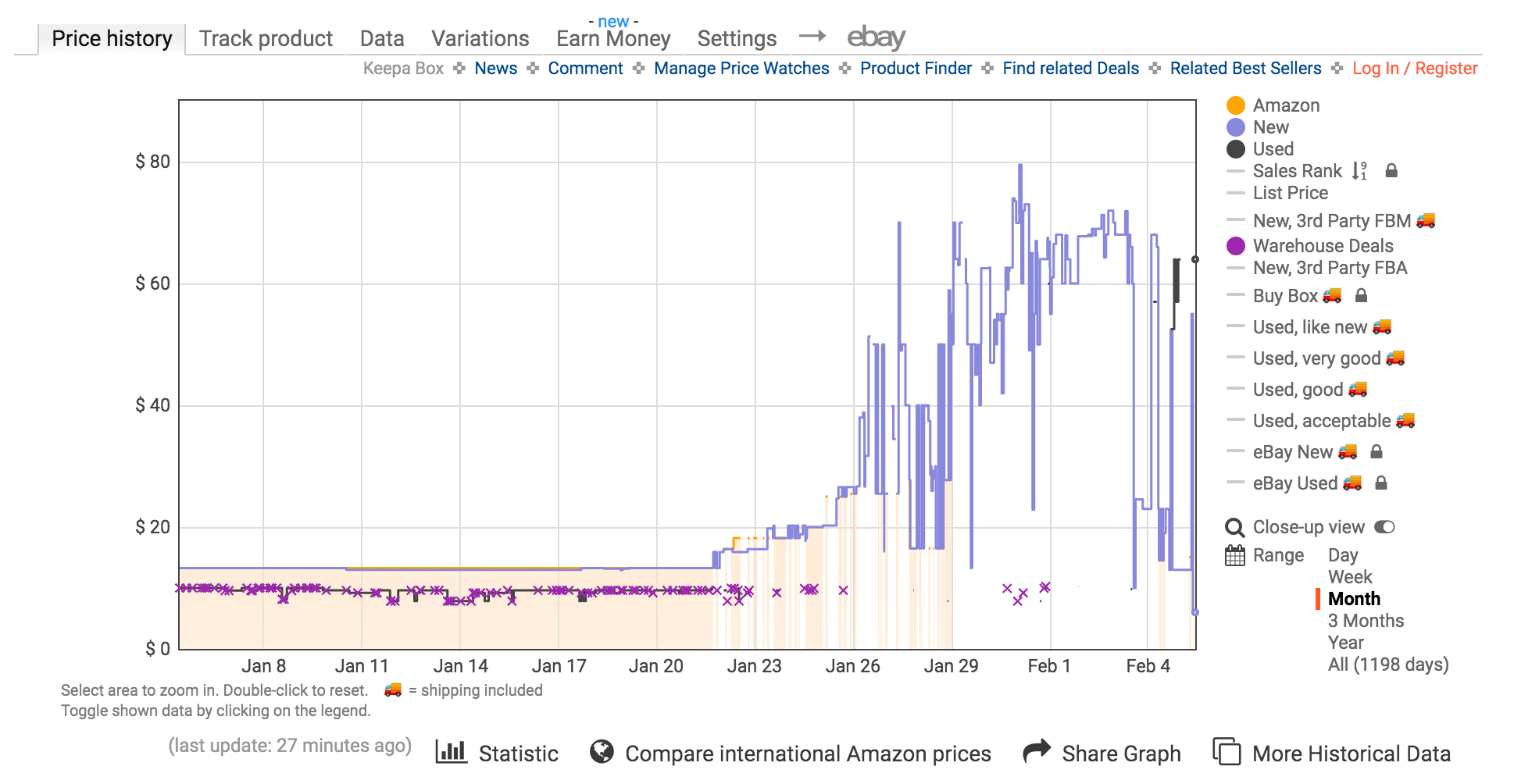 Prices spike for medical masks as supplies dwindle
Before Amazon ran out of stock, the price for an n95 mask was $13.28. 
Currently, it's $63.95 — a 582% increase.
Despite running out of stock, sales persist. The chart below shows the last month of best-seller-rankings on Amazon (the green line). 

Before this change, the product's average best-seller ranking was #110 in the 'Industrial and Scientific' category. That translates to an estimated 4,350 sales per month. 
Currently, the product is ranked #1 in the category, which nets to 25,530 sales per month for this product alone.
When Amazon runs out, counterfeit sellers appear
With the excitement surrounding COVID-19, face masks are starting to sell out on Amazon. And, due to the high demand and resulting profitability, Amazon sellers are putting up listings with misleading information in the absence of stock on legitimate listings.
But, despite their currently high placement on Amazon's search results, many of these phony listings are identifiable by a few characteristics.
How to spot a counterfeit: 
As a rule of thumb, if you decide to buy a face mask, choose products with at least 30 reviews. Typically, this indicates the product has been on the market for a while.

If and when you make a purchase, make sure you check the seller's rating if it is a seller other than Amazon. To do that, click the 'See all buying options' button and from the sellers listed, look for one with at least 100 seller ratings, and an average of 97% or better. 

When the product is delivered, make sure that the product's packaging matches the listing and that the box has not been tampered with in any way.

You can also expect to pay higher prices than normal for the masks because of the increased demand and low supply.
It's also important to know the difference between the two types of face masks: surgical masks and n95 pollution masks.
The CDC states that wearing a surgical mask "does not prevent a person from inhaling smaller airborne particles," nor are they considered to be respiratory protection (Time).
N95 respirators, on the other hand, are recommended by the CDC for medical professionals handling the coronavirus. However, these masks must be tested and approved by the CDC before they can be sold.
Currently, you can purchase 3m's approved version of the n95 mask on Amazon.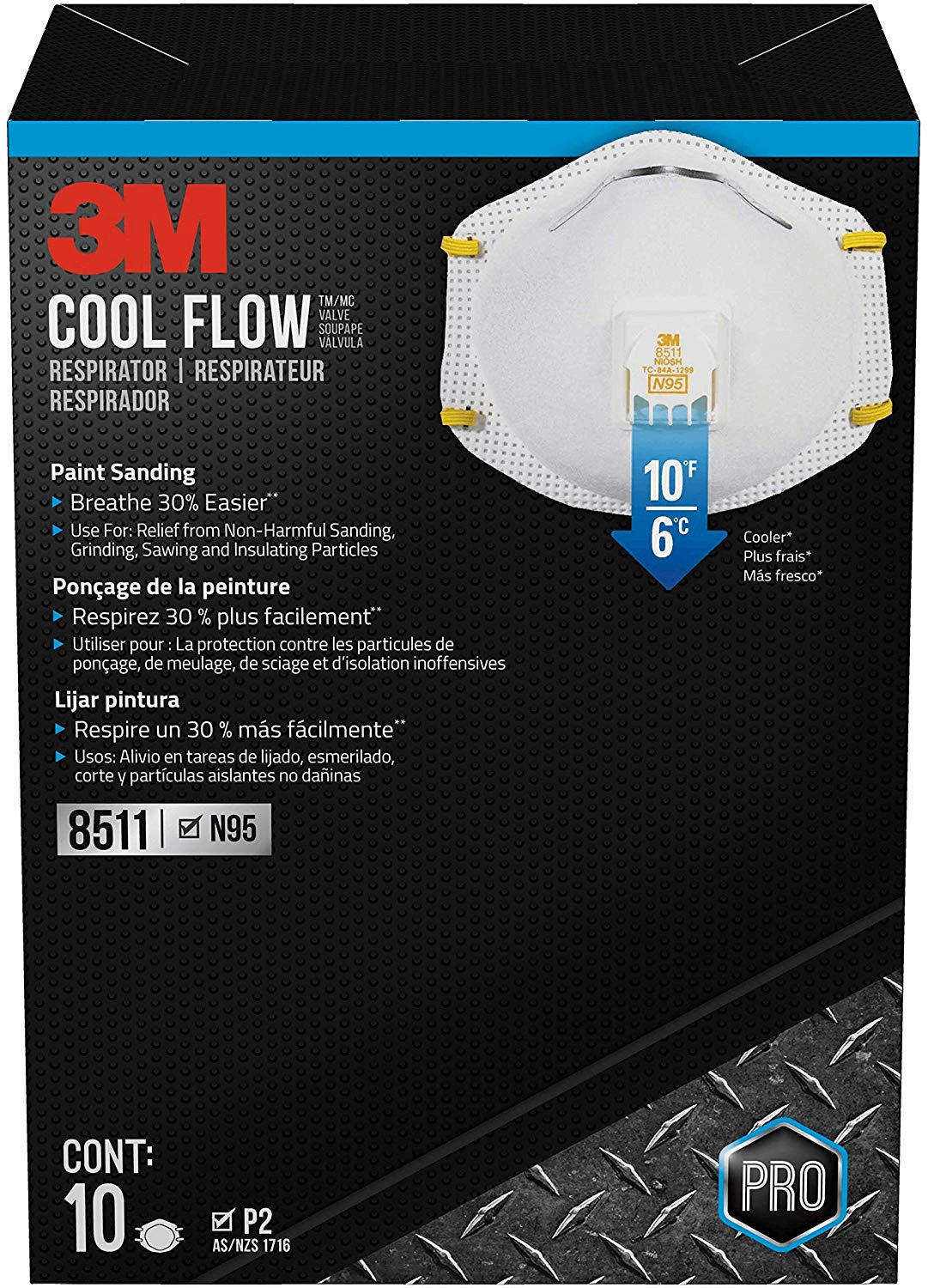 About the coronavirus: Should we be worried?
What is the COVID-19 coronavirus?
According to the World Health Organization, "Coronaviruses (CoV) are a large family of viruses that cause illness ranging from the common cold to more severe diseases…A novel coronavirus (nCoV) is a new strain that has not been previously identified in humans. " 
This common virus can affect the nose, sinuses, mouth, throat, and lungs. Most are not dangerous. However, some forms of the coronavirus are serious. 
As of this writing there are 77,263 confirmed cases and 2,250 deaths around the world.. 
Should we worry about COVID-19?
Wuhan is a large city, with a population of over 11 million people. To put that into perspective, New York City has a population of 8.6 million. This means that in Wuhan — ground zero for the coronavirus — less than 1/10th of 1% of the city's population has contracted the virus. 
This is not to diminish the severity of the threat, of course. However, it's nowhere near as severe of a threat as the seasonal flu virus which affects 5 million people per year with 650,000 deaths annually. That's a mortality rate of 13%, which is more than four times higher than COVID-19 coronavirus' 3% mortality rate.
While China has already taken swift action to contain the virus, many countries, including the U.S. are encouraging their citizens not to travel to China in the near future (Wall Street Journal).
Disclaimer: This post was updated on February 21, 2020 to reflect the most recent data available for COVID-19.