This article contains expert-led insights from a previous season of the Million Dollar Case Study.
MDCS is a free, comprehensive video series by Jungle Scout in which veteran Amazon sellers show budding entrepreneurs how to succeed on Amazon—by actually doing it. The series takes viewers step by step through the process of launching a real product on Amazon in real time—from product research to finding a supplier to advertising.
Check out our most current season here for the latest information on selling on Amazon.
How do I find the best suppliers?
What budget do I need to reserve for Alibaba suppliers?
How to calculate profits?
What is a Purchase Order Contract and how can I execute one?
Missed an episode? See them all here

.
Plus, get your FREE digital download of our Budget & Profit Calculator and our Purchase Order Contract Form!
We're covering all of this today in our sixth episode of the Million Dollar Case Study. Watch the video, keep reading and don't forget to download your FREE MDCS Workbook at the end of this blog post!
Subscribe to the Million Dollar Case Study list here, so you never miss an episode!
Before you get started, if you're not already using Jungle Scout, you will need to get a Jungle Scout subscription to follow along with us and complete your product research.
Welcome Back to the Million Dollar Case Study!
We're back for another episode of The Million Dollar Case Study. This is Episode 6 where we're publicly launching and scaling an Amazon product from scratch and giving all of the profits to Pencils of Promise.
In today's episode, I'm going to teach you how to evaluate Chinese suppliers and samples and proper budgeting so you can decide exactly what product you want to launch. I'll also go over the Purchase Order Contract I used when finalizing my deal with my supplier (which you can download for FREE at the end of this blog post).
How to vet Alibaba suppliers for Amazon FBA.
In last week's episode, we discussed how to reach out to various suppliers using Alibaba.com and how to start to vet them based on their communication skills, and if they are answering all of our questions found on the Supplier Outreach Template. Today I want to share with you the 5 Step Vetting Method I use to start weeding out suppliers.
5 Step Vetting Method
Communication
Willingness to work with you
Profile statistics
Price
Quality of suppliers
Step 1: How to communicate with Alibaba suppliers.
Of the 50+ factories that I reached out to, there were 25 responses, and 7 were worth following up with.
The good responses answered all of the questions that I asked. They were timely in their response and demonstrated a solid command of English. There were photos attached, and some initiative on their part to show why they would be a good business partner for us.
Establishing good communication from the start is key to successful and thriving communication. You should always work on improving your communication skills to ensure you are getting the most of all your business opportunities.
Step 2: Determining if Alibaba suppliers are willing to work with you.
The one who stood out the most provided me with a 3D rendering of my "poor man drawings". This showed great attention to detail and tremendous effort on their part of wanting to work with me, as well as their aptitude to build my product design in-house. A clear sign they were a manufacturer and not a trading company.
Step 3: How to see Alibaba suppliers profile statistics.
Gold Standard and Length of Time on Alibaba – the "Gold Supplier" badge can be purchased, so it's not a definitive indication that the supplier will be a good one. But it helps as a rule of thumb to go with suppliers who have a longer track record of completing transactions on Alibaba.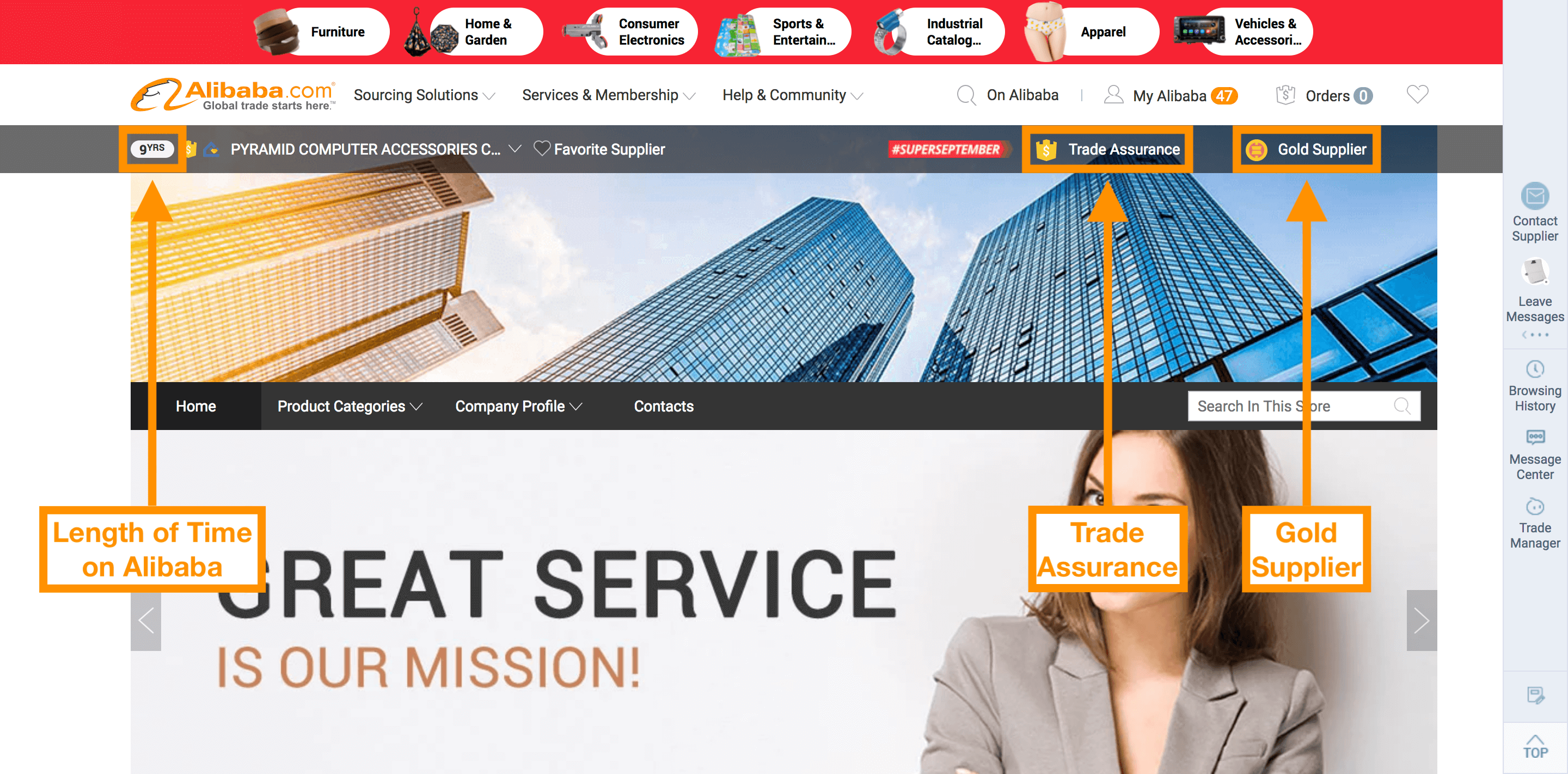 The Country Test – evaluate where a bulk of the products are exported to. There is a general assumption here that suppliers who export to North America and Western Europe have a higher quality standard to meet.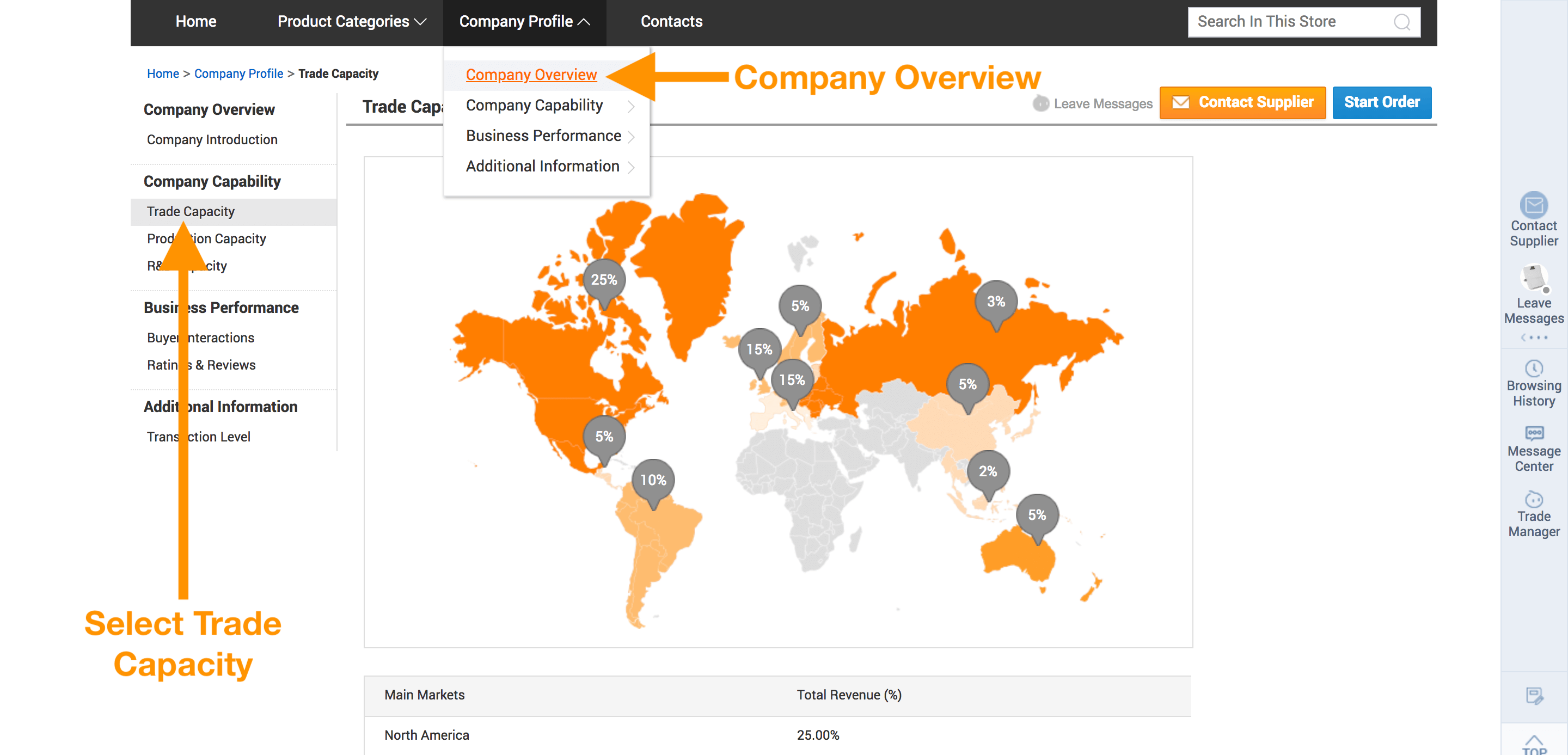 The Common Thread Test – Ensure the supplier sells only products that are within a reasonable scope of what they can actually manufacture themselves. For example, if they only produce bamboo textile products or magnetic toys for kids, it passes the Common Thread Test. Otherwise, there is a chance that the supplier is a trading company, and another middleman may mean higher costs and harder to communicate and customize on the product.
Step 4: how to get the best price from Alibaba suppliers.
Price is always negotiable. Get pricing from 5-10 different manufacturers. Find the median (range) and then use these negotiating tactics:
1. Ask for a quote at different MOQ's and/or different specifications.
Once you get an idea of what the different unit costs are depending on how many units are ordered, you have a little wiggle room and an understanding of how pricing can fluctuate with quantity. This is helpful so that we can find a cost that works for us, while also ensuring suppliers are ultimately happy with the final negotiated price.
2. Play Up A Bright Future
As any entrepreneur knows, optimism is a critical component to keep pushing through, especially when things are challenging. And we certainly want to portray that to suppliers we work with so they know we'll be a worthwhile partner for them.
3. Explore Different Packaging Options
The packaging options and various product specifications that we opt for can impact the product costs and our profit margins. It's helpful to hear the different suggestions and capabilities the suppliers have offered for our packaging and compression bag.
4. Pitch Against Competitors
Now that we are narrowing down our final choice for a supplier, we can use the pricing and information that we have gathered to leverage our own negotiations. Meaning, we can go to one supplier and see if they will price match other suppliers.
Step 5: How to judge the quality of Alibaba suppliers.
By ordering a few samples from my top 3 picks among the various suppliers, I was able to assess the quality and the overall efficiency of the factory. I was able to narrow down my search to my No. 1 pick and now I'm ready for the next steps.
How to budget and calculate Amazon FBA profits.
I like to split things up into 2 different categories. The first is Long Term Costs and the second is the one-time Startup costs as shown below: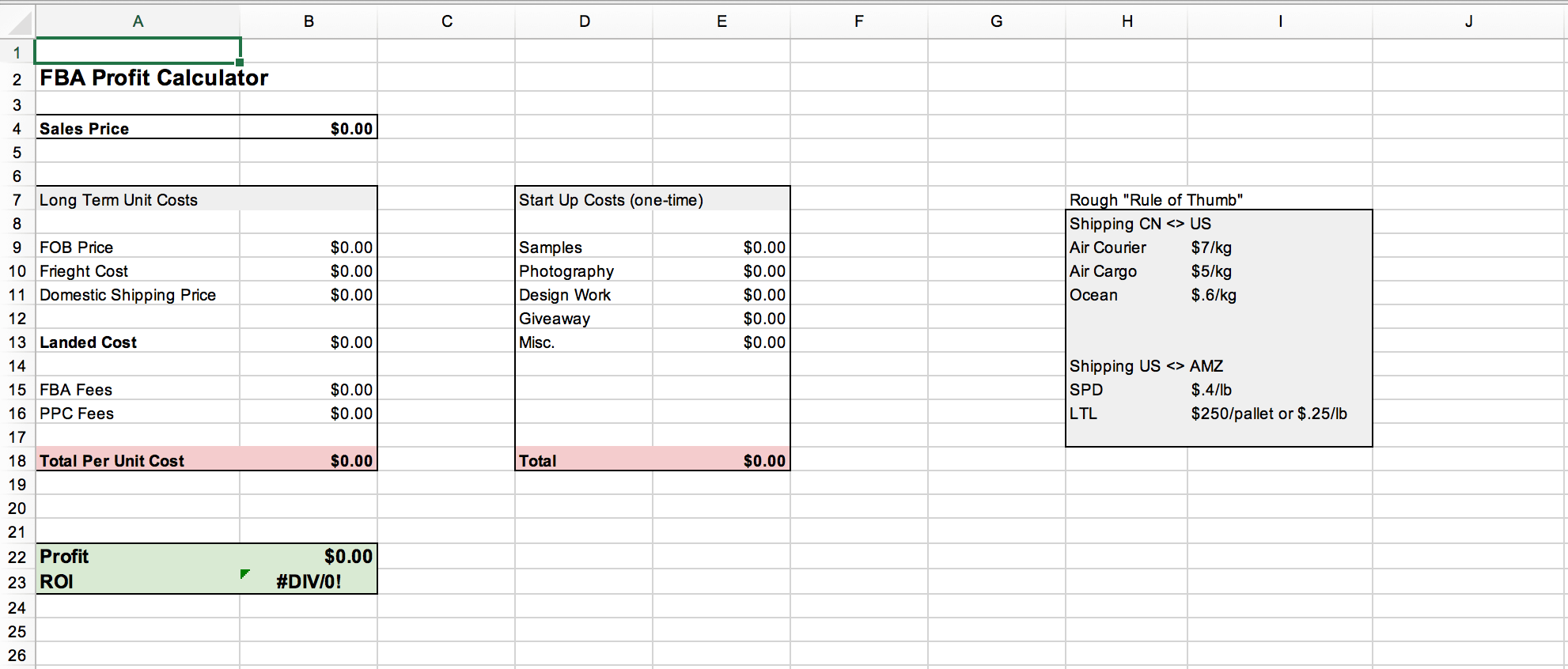 Download Your FREE Budget & Profit Calculator Here!
What are long term costs?
FOB Price – Free on Board (or Freight on Board). This basically means that the cost of delivering the goods to the nearest port is included but YOU, as the buyer, are responsible for the shipping from there and all other fees associated with getting the goods to your country/address.
Freight Cost – the cost of getting your goods from China to the port of the US (either by air courier/cargo or ocean freight)
Domestic Shipping Price – the cost of getting your goods from the US port to Amazon's Distribution Center.
These costs factor into what we would call our Landed Cost, which is the cost of the manufacturing, packaging, importing, customs, shipping, and domestic shipping all the way to Amazon's warehouse. This number is important because when you are forecasting cash flow, this would be considered money out of your pocket so it's good to know your numbers beforehand.
What are the costs that come out of revenue?
FBA Fees – fees assessed by Amazon to use their fulfillment services (fees include: Amazon Referral Fee, Monthly Storage, Fulfillment Fee).
PPC Fees – Amazon Pay Per Click campaigns (general rule of thumb: 5% of revenue).
💡PRO TIP: Use Amazon's Fee Calculator to get an estimate of Amazon's FBA Fees.
Lastly, in the Budget and Profit Calculator, we factor in what I would consider one-time Startup Costs, which we certainly would want to factor into calculations, however, these fees are not ongoing.
What are startup costs?
Samples – the cost to order a product sample from your manufacturer
Photography – any product photography you outsource
Design Work – any graphic design work you outsource
Giveaway – one of our launch strategies to help us rank organically on Amazon's platforms is to offer coupon giveaways, so we definitely want to factor in that upfront cost
Miscellaneous – here you can enter any costs that may pertain specifically to your product launch
I found a manufacturer that's great to work with, the samples look great, and I'm liking my numbers… what NEXT?
How to place an order with Alibaba suppliers.
We may be ready, but we also want to put some safeguards in place and make sure we are as detailed as possible with the manufacturer. To do this I have put together a Purchase Order Contract.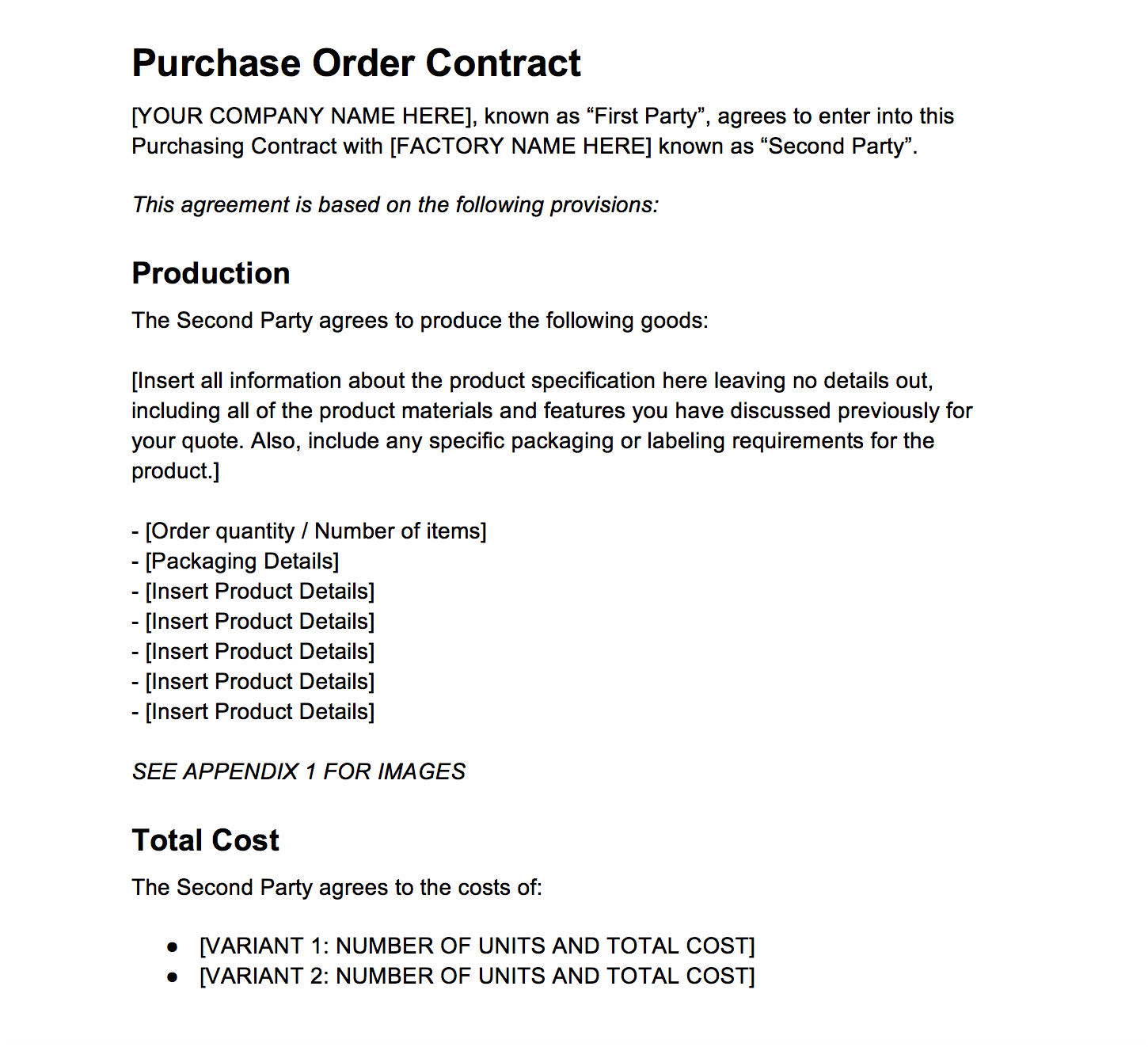 Download Your FREE Purchase Order Contract here!
The most important thing here is that you and your manufacturer are on the same page before any money is exchanged for the final purchase. Any changes that may come after this agreement can be costly, which is why I can't stress enough: details, details, details!
Your Purchase Order Contract should always include the following sections:
Production – order quantity, number of items, packaging details (e.g. where the logo goes), product details (e.g. colors, dimensions)
Total Cost – if multiple variants are involved with your purchase, ensure that each one is itemized and ultimately summed up at the end.
Inspection – here we are stating that the factory should be "self-inspecting" by sending us periodic production photos. Additionally, we are also stating we have the authority to send in a third-party inspection company.
Photography Sample – in this section we are a requesting a final product sample be shipped to us for product photography.
Shipping – a detailed description of how the products are to be shipped (we discuss the various shipping methods in Episode 8).
Confidential Information – a clause that the supplier can't/won't discuss the product, brand, or business with others.
Payment – what method of payment have you and the Alibaba supplier agreed upon?
Appendix – additional information such as images, PDF, and CSV files relevant to the order.
How to handle deposits and payment terms with Alibaba suppliers.
The first rule as far as deposits go is simple: don't pay 100% of the costs upfront. This will leave you with no leverage if you need to negotiate in the future, in case of delays or if you're not happy with the product quality.
What is more typical is either 50/50 or 30/70, as in pay 50% or 30% of the total cost as an initial down payment, then pay the balance upon successfully completing the production run and passing inspections.
As far as payment methods, T/T, also known as a wire or bank transfer, is typical.
There is also Alibaba Trade Assurance, an Alibaba escrow service that holds the money until the successful completion of the manufacturing order, at which point Alibaba pays the suppliers. Not all suppliers are associated with using this service, but it is a nice assurance for those who feel uncomfortable about sending money via wire transfer for a first transaction.
Now, it's YOUR TURN!
Start selling on Amazon today
Your Amazon success starts with Jungle Scout.
Start doing some research of your own! With every blog post, we'll be challenging you with "Action Items" to make the most of your MDCS journey.
After you've completed your Action Items, post your progress to the Million Dollar Case Study Facebook Group! You don't have to reveal all of your best ideas – just let us know you're working on them! You can also post them to Instagram with the hashtags #mdcschallenge or #freedombuilders.
They build schools in developing countries to help children get access to the education they need for a strong foundation.
We love doing the Million Dollar Case Study. It's a team-wide effort and we value every opportunity it gives us to connect with sellers like you.