This article contains expert-led insights from a previous season of the Million Dollar Case Study.
MDCS is a free, comprehensive video series by Jungle Scout in which veteran Amazon sellers show budding entrepreneurs how to succeed on Amazon—by actually doing it. The series takes viewers step by step through the process of launching a real product on Amazon in real time—from product research to finding a supplier to advertising.
Check out our most current season here for the latest information on selling on Amazon.
In this episode, we cover how to ship from China.

First, how to find suppliers for your Amazon product?

Next, how to work with Chinese suppliers?

Also, how to use Alibaba to find a factory for your product?
Missed an episode? See them all here

.
How to find suppliers? How to communicate with suppliers effectively? Ordering your first product sample.
We're covering all of this today in our fifth episode of the Million Dollar Case Study. Watch the video, keep reading and don't forget to download your FREE MDCS Workbook at the end of this blog post!
Subscribe to the Million Dollar Case Study list here, so you never miss an episode!
Before you get started, if you're not already using Jungle Scout, you will need to get a Jungle Scout subscription to follow along with us and complete your product research.
Welcome Back to the Million Dollar Case Study!
We're back for another episode of The Million Dollar Case Study. This is Episode 5. We're launching an Amazon product from scratch and giving all of the profits to Pencils of Promise.
In today's episode, I'm going to talk about how to find the best suppliers and everything you need to know to contact and communicate with them effectively.
I had the pleasure of consulting with Sharon Li from Alibaba.com to learn a little bit more about the platform and get some insider's knowledge.
FULL DISCLOSURE: I just want to mention that Jungle Scout is not affiliated with Alibaba.com in any way. Alibaba didn't pay to sponsor this episode or anything else. If you choose to do so, you can use other marketplaces. However, in my experience, Alibaba.com has been my go to resource for finding high quality suppliers.
How to Ship from China Step 1: Keyword Search
In Episode 3, we narrowed our product research to the clamp-on keyboard tray and in Episode 4 we did our due diligence to ensure that this product and any of its components were not patented. Now we're ready to find a manufacturer.
The first thing I'm going to do is head on over to Alibaba.com, and I'm going to type in "keyboard tray."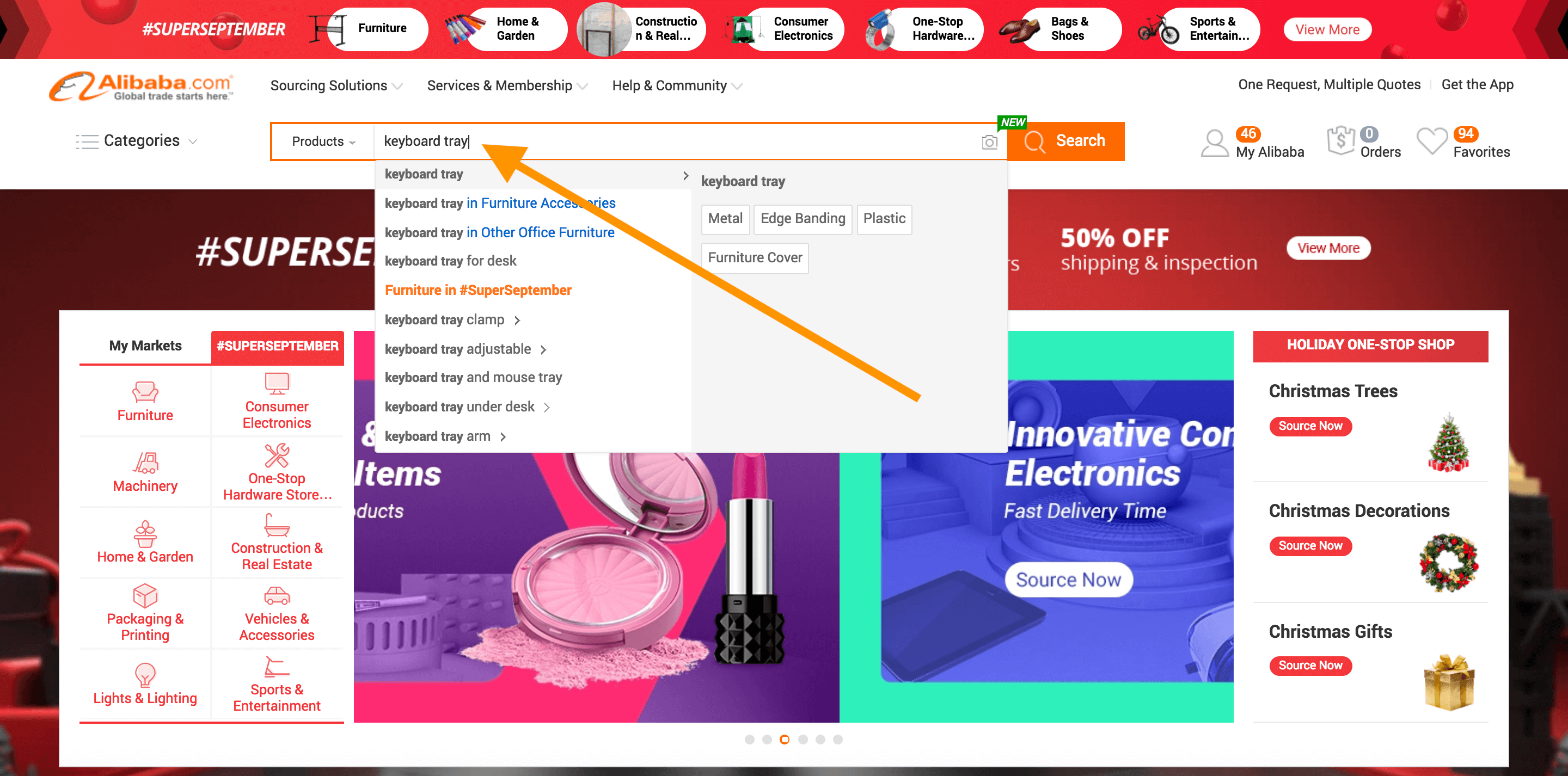 What I typically do is start with a broader keyword like "keyboard tray," and if there are too many results, or if the results don't seem similar enough to what I'm actually looking for, I use more specific keywords, like "clamp on keyboard tray."
How I like to use Alibaba.com is with a "List View" as opposed to a "Gallery View" (maybe because it more closely resembles Amazon.com with this view). I can change the default view by clicking on the icon in the top right-hand corner as pictured below.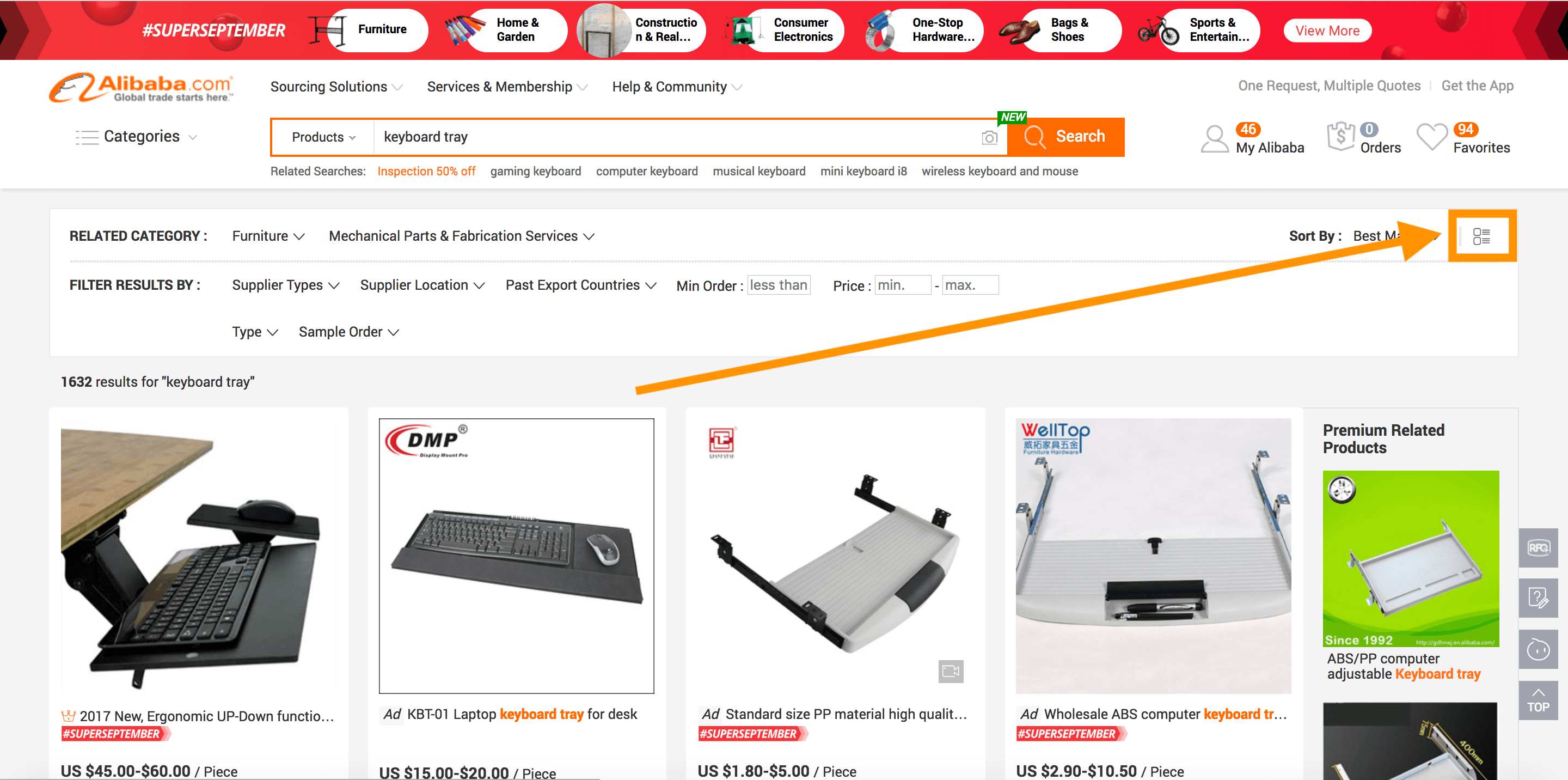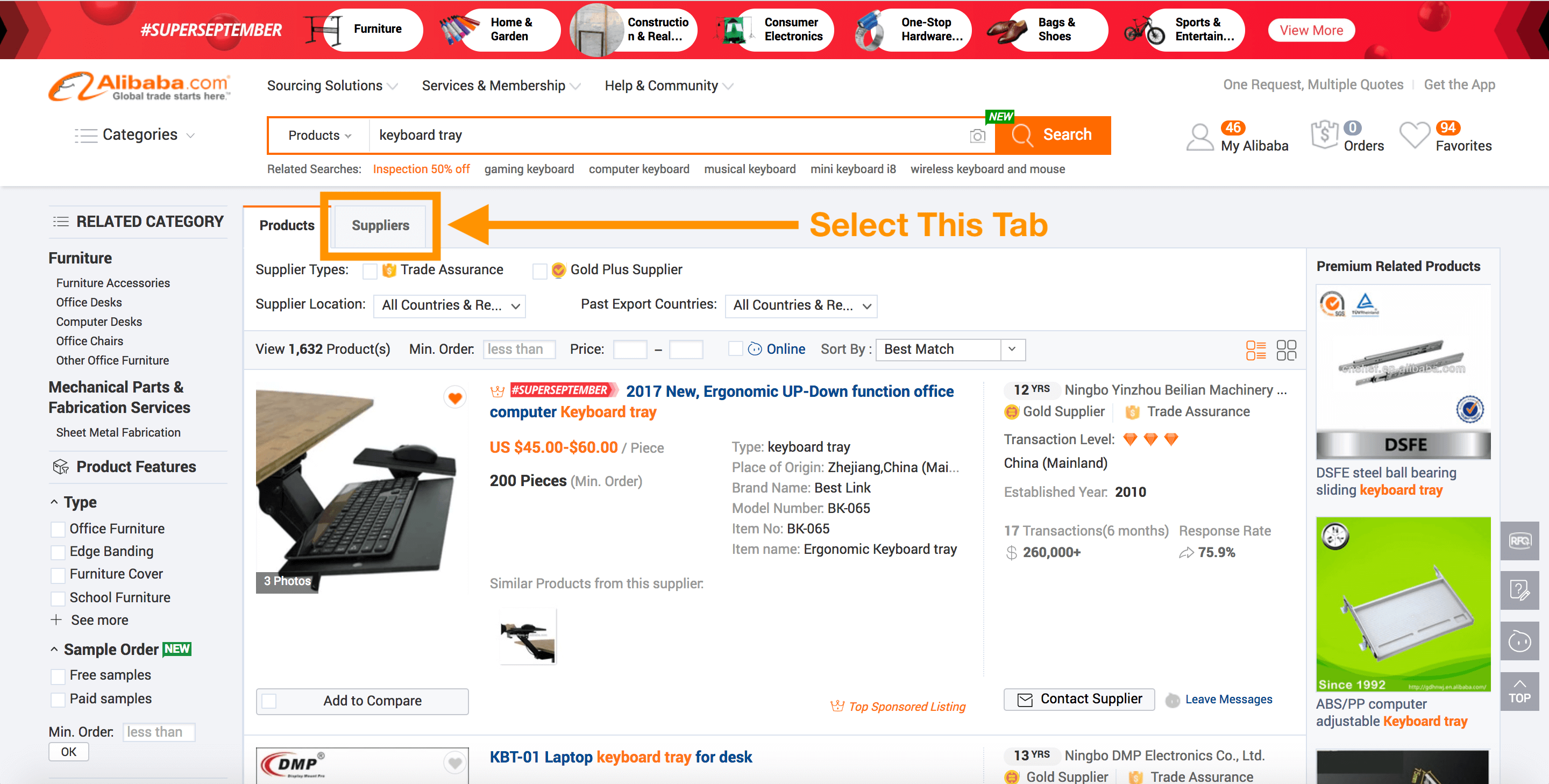 Next, I prefer to only view suppliers by selecting the suppliers tab. This eliminates a lot of repetitive information as one manufacturer can have countless products listed in the products tab.
How to Ship from China Step 2: Filter Your Results
To start, working with a Gold Supplier is a requirement I stick to. If they're not a Gold Supplier then they're probably very new to Alibaba.com and/or they're just not taking their business very seriously. I wouldn't go as far as to say they need to be a Gold Plus Supplier as that will certainly limit your options. There is no way to filter at the Gold Supplier level but the badges on each listing will identify them for you.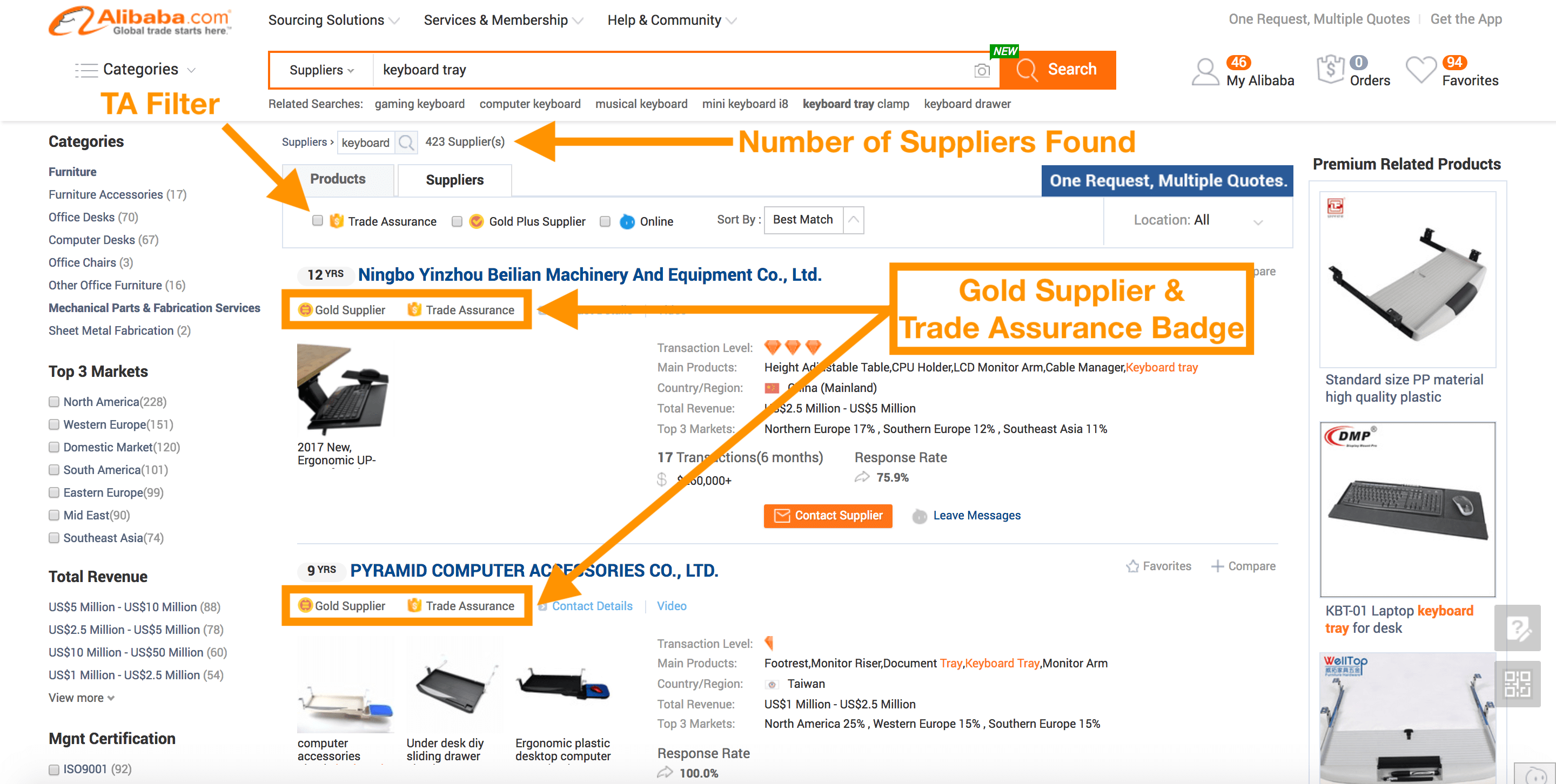 However, Since there are quite a few suppliers here, 423 to be exact, I'm going to go ahead and click on the Trade Assurance filter. I like the protections it offers me as an Amazon FBA seller.
Now, I'm down to 293 suppliers. From here, I sort by "Best Match."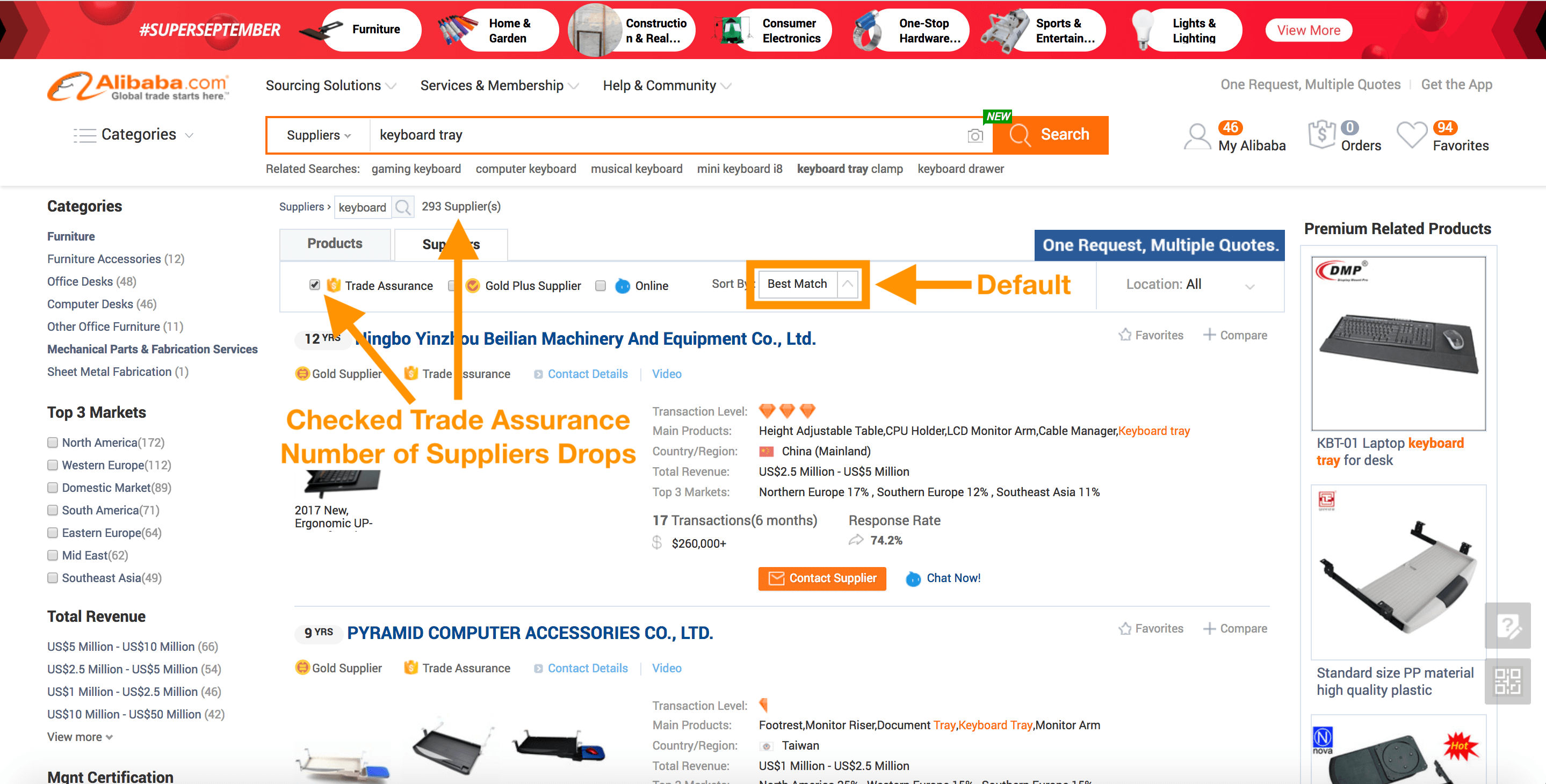 Alibaba's algorithm works to make sure the best suppliers are shown first. For example, suppliers who don't have good feedback or aren't legitimate tend to be shown near the end of results. The ones rated at the top or at least on the first page or two, are typically factories that have had a good, long-standing relationship with Alibaba. That's a good sign for us.
How to Ship from China Step 3: Message Suppliers
Next, I send a ton of messages to suppliers. What most Amazon sellers find is that a number of these factories will not even respond to you. Between 50% to 70% of the suppliers I message will respond, which is fine, because this just means the most communicative, willing suppliers are surfacing.
At this step, I'm going for quantity over quality.
Once I start getting some responses from these suppliers, that's when I can start narrowing down the ones I want to work with.
This is the template I used to message suppliers.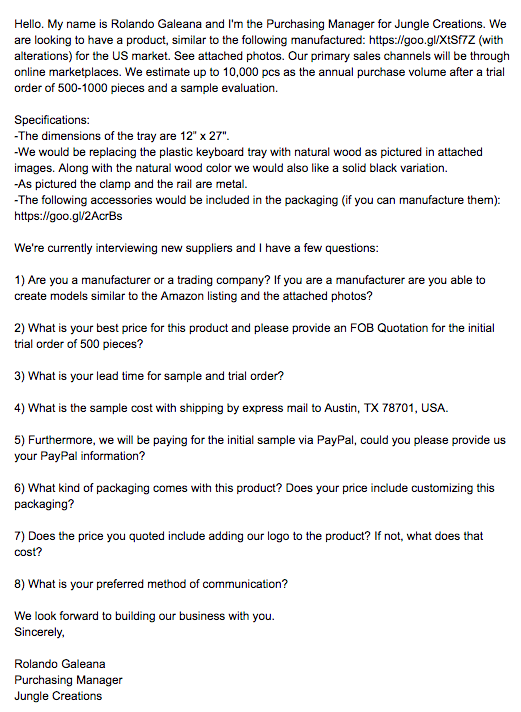 Get access to the Supplier Outreach Template here!
Your outreach template should always include the following:

Introducing yourself and your business

How you plan on distributing your product

How many units you want

Defining if they are a trading company or a manufacturer

Details on lead times and their ability to deliver on schedule

Most importantly – what you want to order and some details to determine if they can fulfill your needs
💡PRO TIP: At this stage everything is negotiable. None of the prices or MOQ's (Minimum Order Quantities) are set. The suppliers main goal, so we can understand their motivation, is to build a long-lasting relationship so that they'll be able to sell their product to you for years to come.

You need to be specific about what you're ordering to ensure they can make what you want.
We're actually trying to improve upon the clamp-on keyboard tray, but we're using a standard keyboard tray as a reference because we know they already manufacture this type of product.
Here's a few things we do when we contact a supplier on Alibaba:
The picture we give them is a similar product, but in the specifications section, we're highlighting the changes we want.

Ask lots of questions and organize them in a numbered list. This makes it easier for suppliers to respond and communicate with you.

I

f I get a response from a factory, and they've answered all eight of these questions in a neat format, they gave a good grasp of English and they've responded in a timely manner – these are all signs I might want to work with this supplier.

If they answer sparingly or after weeks of waiting, I probably don't want to work with them.
To contact suppliers, just copy and paste our template (adding your own details, of course) and use the "Contact Supplier" button.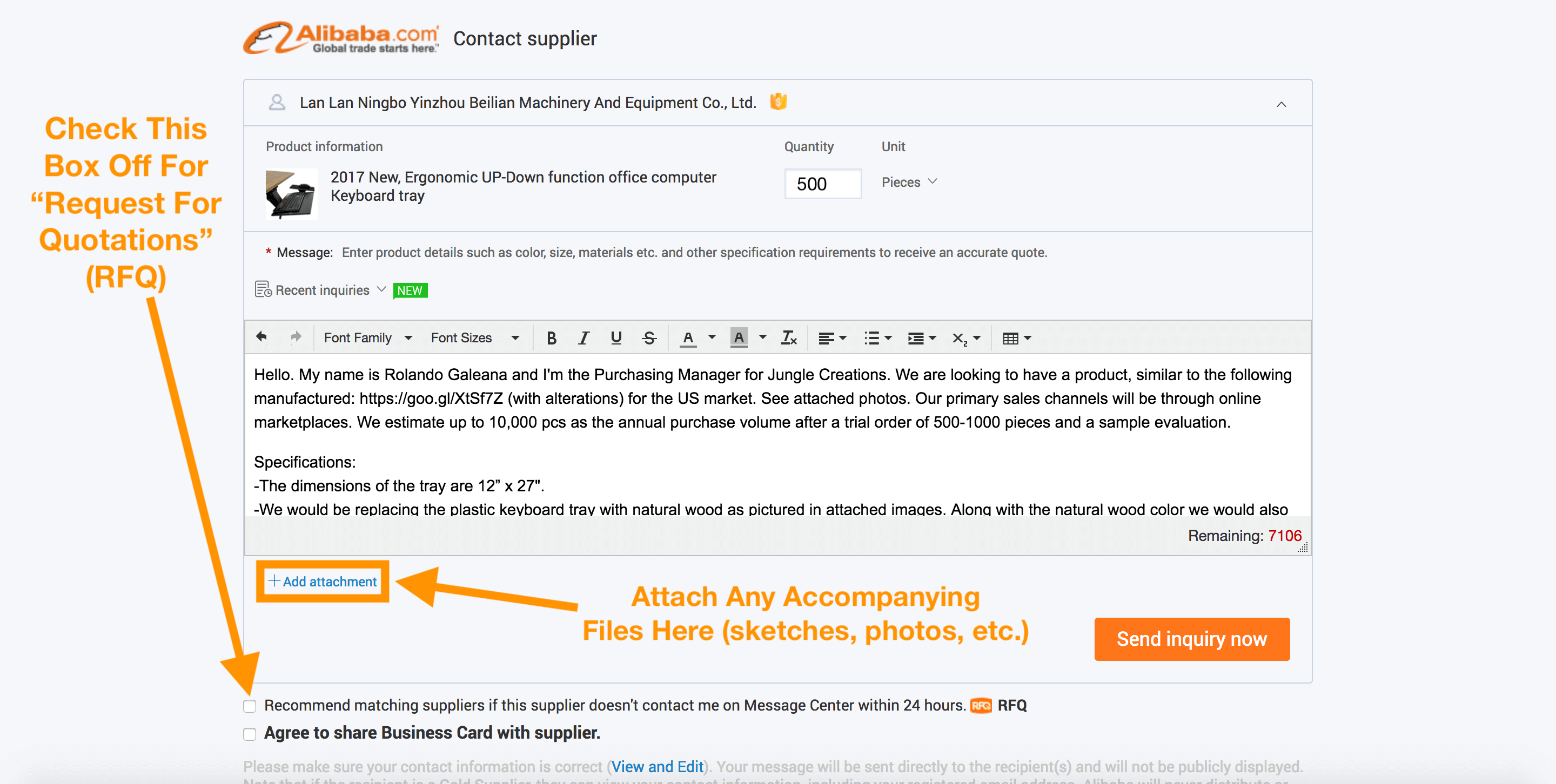 I would further recommend checking the box pictured above that says "Recommend matching suppliers if this supplier doesn't contact me on Message Center within 24 hours." This what's known as an RFQ (Request for a Quotation).
💡PRO TIP: Use the RFQ (Request for Quotation) feature to get multiple quotes from a variety of suppliers within your product category.
Lastly, add any pictures that you have. You can use those "poor man's drawings" that we spoke about in Episode 3, this would be a great place to put those in so they understand exactly what you're looking for.
How to Ship from China Step 4: Establishing Communication
Now that I've contacted a supplier through Alibaba's messaging platform, it's important to keep the discussion going through Alibaba's platform. It may come in handy in the event I need to file a claim using Alibaba's Trade Assurance.
That said, don't be alarmed if a supplier wants to take the conversation off Alibaba's messaging platform and over to another messaging platform like Skype, WhatsApp, or WeChat. Many suppliers seek to streamline their businesses communication and may request for you to transition over to their preferred communication platform (this is the most common approach). For the sake of timeliness, taking the conversation to their preferred platform is going to be your best option.
Keep in mind that suppliers are in a different timezone. I live in Florida so that means I am 12 hours behind most of the coastal cities in China. If I'm communicating with them in the early morning, I know I'm not going to hear back from them until either late at night or first thing the following day in my time zone.
Should I order from a manufacturer or a trading company?
A Manufacturer is basically the top of the supply chain. They make products, usually in specific niches. They also have a higher MOQ (Minimum Order Quantity) as they produce things in bulk. When you work with a manufacturer, you will be expected to purchase a higher volume. However, this usually means a better price per unit.
Trading Companies buy from manufacturers and sell them to customers. They offer lower MOQ's and a wider variety of products, however, you will pay more per product.
Since we are using the Customer-Driven Innovation™ method in this season of the Million Dollar Case Study, I prefer to work with a manufacturer. When you're working with a trading company, it's a middleman who has to ask for your requests from the factory. They give them a response, they get back to us, etc. It really slows things down. With the additional costs of adding in the trading company, I would really prefer just to go factory direct.
How to Ship from China Step 5: Ordering Samples
Ordering a sample a great way to let the factory know that you're serious. You're willing to pay money to purchase the initial sample. It's also a great way to have an initial transaction with the company. It establishes trust and allows you to see the quality they can offer.
Expect to pay around $50 – $120 for one of these samples. Remember, this won't be your fully customized version – just the closest thing they have.
If we're talking about a highly customized sample, like we might want before we order our keyboard tray, we'd be paying $1,000 or more.
You can pay with PayPal or a wire transfer. The PayPal option isn't favored by manufacturers because it is more expensive for them. Wire transfers are fine, though there is usually a $25-$45 fee for each.
Final Thoughts on How to Ship from China
When I think back to my first time reaching out to a manufacturer all I can remember is how scared I was. I had never ordered from a manufacturer in the United States (my home country), let alone from a manufacturer in China. One thing that I learned in this process is that there will always be another manufacturer. But, this is the make or break point for your business.
Are you ready to connect with a supplier and put money down on a product? I think you are!
Now, it's YOUR TURN!
Start selling on Amazon today
Your Amazon success starts with Jungle Scout.
Start doing some research of your own! With every blog post, we'll be challenging you with "Action Items" to make the most of your MDCS journey.
After you've completed your Action Items, post your progress to the Million Dollar Case Study Facebook Group! You don't have to reveal all of your best ideas – just let us know you're working on them! You can also post them to Instagram with the hashtags #mdcschallenge or #freedombuilders.
They build schools in developing countries to help children get access to the education they need for a strong foundation.
We love doing the Million Dollar Case Study. It's a team-wide effort and we value every opportunity it gives us to connect with sellers like you.