Amid product shortages, delivery delays, and continued social distancing protocols, 31% of U.S. consumers say they'll begin shopping for the holidays before the end of October — well before Black Friday and Cyber Monday deals launch.
Additionally, one in four consumers (24%) are planning to spend more on Christmas this year than in 2020, and at least 40% have plans to travel before the end of the year, which could further spur Q4 spending. Their purchases will likely be impacted by who they follow on social media, as well as whether and how brands address social issues.
Where will shoppers look for gifts, and how might an early start to the holiday shopping season affect ecommerce? Let's dive into the data from Jungle Scout's Q3 2021 Consumer Trends Report.
This year, holiday shopping will start early for many consumers
If you're unnerved by the idea of shopping for holiday gifts before winter sets in, you're not alone. Think pieces abound on the appropriate moment to begin playing Christmas jingles in stores (researchers say "Christmas creep" in November is actually harmful), and many shoppers make the wallet-friendly decision to delay gift purchases until Black Friday and Cyber Monday deals roll around.
And while the majority of U.S. consumers will wait to begin their holiday shopping in November or later this year, nearly a third plan to start before Hallween — right around peak pumpkin spice season.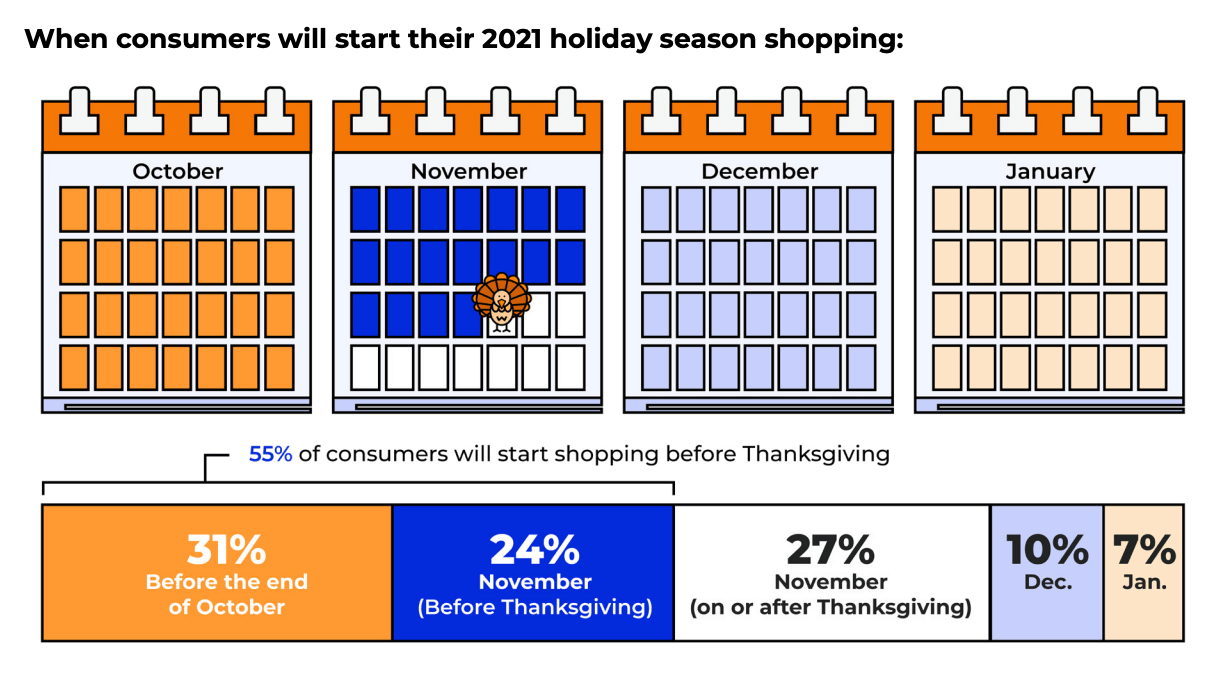 Here's what ecommerce sellers and brands can expect from early holiday shoppers this year, according to Jungle Scout consumer data.
Early holiday shoppers will shop online and on social media
Consumers who plan to start their holiday shopping early (before the end of October) primarily shop online and in-store at large retailers like Amazon, Walmart, and Target. When asked where they plan to shop for products in gift-related categories, the majority say they'll look online for everything except for fitness equipment and alcohol.
Where consumers plan to shop for products in gift categories
| | | | | | | |
| --- | --- | --- | --- | --- | --- | --- |
| Product category | Amazon.com | Walmart.com | From another online retailer | Walmart (in-store) | From another in-store retailer (excluding Walmart) | Won't purchase |
| Electronics | 25% | 22% | 9% | 18% | 7% | 19% |
| Arts, Crafts & Sewing | 24% | 18% | 10% | 19% | 10% | 20% |
| Clothing | 25% | 21% | 12% | 20% | 14% | 8% |
| Toys & Games | 24% | 18% | 11% | 19% | 8% | 21% |
| Exercise/Fitness supplies | 21% | 16% | 8% | 16% | 7% | 33% |
| Alcohol | 15% | 17% | 8% | 14% | 17% | 29% |
*Consumers could select multiple options.
Roughly twice as many shoppers will shop online versus in-store for electronics and toys and games this holiday season, many at the same large retailers they already frequent.
Shoppers will look to social media influencers for ideas
In terms of where early shoppers will browse online for products, most will head to traditional search engines like Google or Bing or directly to Amazon and Walmart.com.
Many also search for products on social media channels, where a seemingly endless array of brands and influencers can market their wares through audience engagement posts, detailed product reviews, and immersive short videos. Facebook and YouTube take the lead, though Instagram and TikTok are also popular.
Where early holiday shoppers search for products online
Platform
Percent of shoppers

Amazon

71%

Search engine (e.g., Google, Bing)

50%

Walmart.com

42%

Facebook

31%

YouTube

28%

Instagram

22%

Other brand or retailer's website

22%

TikTok

13%

Other social media platform

4%
Many early holiday shoppers are also avid followers of social media influencers in the fashion and beauty spaces:
35% of early shoppers follow fashion influencers on social media

33% follow beauty influencers

Top influencers include personalities and brands like Kylie Jenner, Nike, Emma Chamberlain, Kim Kardashian, and Ralph Lauren
Given that 60% of early holiday shoppers say they consider purchasing items recommended to them while shopping online, much of this year's holiday purchasing could be impacted by brands' and influencers' holiday content on YouTube, Instagram, and TikTok.
Brand activism may inform holiday purchasing
Early holiday shoppers' purchases could be impacted by brand activism — wherein a brand addresses social issues like racism and gender expression; nearly half (48%) view such messaging by brands in a positive light.
While 42% of early holiday shoppers say brand activism has not influenced what they think of a brand or whether they purchase its products, many do find it impactful.
30% of early holiday shoppers say brand activism has impacted their impression of a brand

19% say it has impacted both their buying behavior and their brand impression
Most early holiday shoppers are inclined to buy from brands that engage in activist projects in one way or another, whether it's eco-friendly practices and local sourcing, fair treatment of its employees, or charitable giving.
| | |
| --- | --- |
| Brand activism that positively impacts purchasing | Percent of early holiday shoppers influenced |
| The company treats its employees well | 70% |
| The company is transparent (e.g., where it sources materials, how it treats employees, etc.) | 63% |
| The brand is local or locally sourced | 61% |
| The brand is environmentally or eco-friendly | 60% |
| The brand supports and acts upon causes we have in common (e.g., social, charitable, etc.) | 56% |
| The brand connects me to others like me and gives me a sense of community | 55% |
| The brand takes a political stance on issues close to me | 49% |
With today's atmosphere of political divisiveness, accelerating climate change, and issues around gender equality, early shoppers may put their dollars toward brands who champion these and other issues. Examples include Nike's 'For Once, Just Don't Do It' campaign and Organic Basics' sustainably-made clothing and low-impact ecommerce website.
Early holiday shoppers will use contactless payment and other tech-forward ecommerce tools
Like the majority of consumers, early holiday shoppers tend to reach for their physical wallets when it's time to make a purchase, opting to pay with debit and credit cards or cash. But use of tech-forward payment options like digital wallets and even cryptocurrency are on the rise.
When asked how they purchased goods or services this year:
31% of early holiday shoppers said they used contactless payment through a mobile app or digital wallet, like Venmo, PayPal, or Apple Pay

16% used contactless payment with an NFC-enabled physical card

12% paid on their phones after scanning a QR code

11% used cryptocurrency, like Bitcoin
Early shoppers are also embracing digital shopping methods that enable savings and convenience:
Nearly half (49%) of early shoppers use deal-finding browser extensions or plug-ins when shopping online

52% prefer shopping from retailers that offer flexible payment options, like buy now, pay later or cryptocurrency

45% prefer shopping from retailers that offer subscription services, like Blue Apron, Stitch Fix, ClassPass, and Netflix
These digital solutions also offer early holiday shoppers safety in an ongoing pandemic: 62% prefer shopping from retailers that offer flexible delivery options like curbside pickup.
Early holiday shoppers will spend more money this year
Regardless of which payment method early shoppers use, many plan to increase their spending on fall and winter holidays in 2021.
These are top end-of-year events early holiday shoppers plan to spend more on this year:
Christmas (36% of early holiday shoppers plan to spend more this year)

Thanksgiving (29%)

Halloween (27%)

New Year's Eve (24%)

Hanukkah (20%)

Kwanzaa (17%)
Accordingly, we can expect to see increased consumer spending in holiday categories like gifts, decor, apparel, and food.
Early shoppers plan to spend more on travel
In addition to physical goods, many early shoppers may be treating themselves and their loved ones to the gift of travel this year: 49% have already made plans to travel before the end of 2021, and 33% plan to spend more money on travel compared to 2020.
Of the early shoppers planning to travel, most will make road trips to destinations in the U.S. But just under one-half will board planes, and as many as one-third will travel internationally.
Travel destinations of early holiday shoppers:
Domestic (U.S.): 86%

International: (32%)

Undecided: 3%
| | |
| --- | --- |
| Travel method | Percent of early holiday shoppers with travel plans |
| Personal car | 66% |
| Flight | 48% |
| Train | 21% |
| Rental car | 21% |
| Boat or cruise | 19% |
| Other | 1% |
| Not sure | 1% |
Many travelers will save on accommodations by staying at a family member or friend's house (38%), a budget motel (26%), or a hostel (17%). On the other hand, over one-third (34%) plan to splurge on a luxury hotel stay.
After a year of canceled or postponed travel plans due to COVID, a renewed travel surge could mean gift purchases of luggage, clothing, and on-the-go entertainment.
How early holiday shopping affects ecommerce
Starting your holiday shopping earlier rather than later offers several advantages in a normal year — plentiful stock, minimal crowds, and peace of mind, for instance. But during the second winter of a global pandemic, early shopping outings may actually fuel challenges that retailers have already grappled with for months.
Early shoppers may still face shipping delays
Even with global supply chains struggling to keep up with the massive demand for online shopping in the U.S., consumers still care about getting fast and free shipping for their digital purchases — and early holiday shoppers are no different.
Shopping for gifts well before the holidays arrive could help consumers avoid the shipping delays and stockouts that have plagued the retail industry since the onset of the pandemic. On the other hand, these issues might be unavoidable, given that ecommerce sellers and brands have faced difficulty keeping sufficient inventory for the past 18 months.
There may be fewer — or longer — holiday promotions this year
Another factor to consider is the potentially diminished impact of Black Friday and Cyber Monday this year. These post-Thanksgiving sales events are typically a boon for ecommerce; last year, Walmart's Q4 sales saw a 124% year-over-year increase, thanks in large part to the $76 million sales it raked in on Black Friday. But an earlier start to gift shopping could dampen shoppers' sense of urgency around the "Cyber Five."
Michael Scheschuk, Jungle Scout's Chief Marketing Officer, elaborates: "The holiday season continues to shift earlier and earlier on the calendar. Now that almost a third of shoppers are planning to start their purchases as early as October, retailers and online merchants will continue moving special deals forward on the calendar," says Scheschuk.
Scheschuk notes that retailers will have to address the fact that while Black Friday and Cyber Monday will still be important dates on shoppers' holiday calendars, they'll be "not nearly as important as they were even a decade ago." To capture early shoppers, retailers could simply extend holiday promotions by a few weeks, opting instead for a Black November. "Customers should expect special deals to begin in earnest on November 1st — the day after Halloween," says Scheschuk.
As some experts have noted, brands have less incentive to put products on sale this year, given the fact that pandemic-induced scarcity could cause stockouts earlier in the holiday season. So while retailers could hold promotional savings events for a longer period of time, there may be fewer offers made on in-demand products.
More local, in-store purchasing could occur
Considering early shoppers' interest in supporting small businesses, brands, and retailers that engage in local sourcing, more of their in-store and online purchases could go to nearby retailers, including those that offer curbside pickup.
Additionally, early shoppers also tend to be pre-owned shoppers, especially when it comes to fashion; two in five say they look for pre-owned products when shopping online, and the same number say they avoid buying new clothing. Many large online reselling platforms like Depop and Thredup have risen to widespread popularity in recent years, and eBay still enjoys a large customer base. But more pre-owned holiday purchases could also involve in-person pickups facilitated by Facebook Marketplace, or stops at local thrift shops and vintage stores.
Early holiday shoppers still have considerable obstacles to navigate this holiday season, thanks to continued social distancing efforts and product shortages. By starting before Halloween, they can at least get a head start on what could be a difficult gift shopping experience.
To learn more about consumer behavior in 2021, see the Q3 2021 Consumer Trends Report.