Compared to the tumultuous period of January to June 2020, the first half of 2021 saw 33% growth in the total volume of U.S. maritime imports.
America's major trade partners, including China, Vietnam, and India, made valiant recoveries from initial drops in trade as the COVID-19 pandemic spread early last year. Top import product categories are booming in response to high consumer demand as American shoppers increasingly turn to digital channels like Amazon and Walmart. At its current rate, the U.S. is on track to receive between 13-20% more shipments of imported goods this year than in 2020.
While this projected growth is good news for U.S. retailers and consumers alike, global supply chains are still struggling with the pandemic's lingering, disastrous effects on trade. Additionally, new threats — the emergence of dangerous coronavirus variants, shortages of raw materials and labor, and weather events, to name a few — could knock global trade further off the rails.
"New threats could knock global trade off the rails."
U.S. import growth in 2021 vs. 2020
The United States has imported hundreds of thousands more goods by sea nearly every year since 2015. By June 30 this year, the U.S. had already received 7,570,327 shipments — approximately 33% more than in the first half of 2020.
Many of the U.S.'s most prolific trading partners are likewise charting year-over-year growth in share and volume of U.S. imports.
Import growth by country
Compared to the first half of last year (H1 2021), many of the U.S.'s global trading partners are sending more goods to American ports — and expanding their relative claims on total U.S. imports.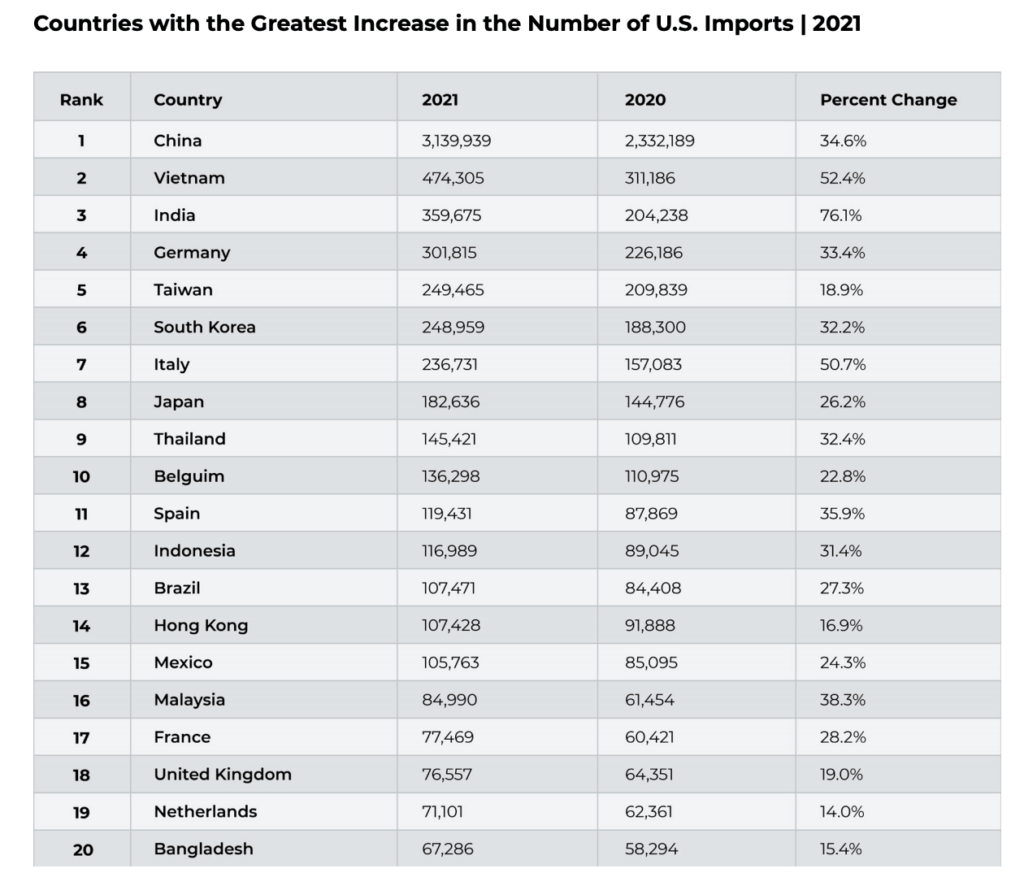 From a regional standpoint, Asia has shown a stronger comeback in both shipment volume to the U.S. and share of U.S. imports. Meanwhile, Europe and the Americas have reached year-over-year growth in volume of U.S. imports, whereas their regional shares of total U.S. imports have declined slightly.

As America's leading trade partner, China already accounts for 41.5% of total U.S. imports. This figure hasn't risen much since last year (0.9%), though its trade volume has — by 35%.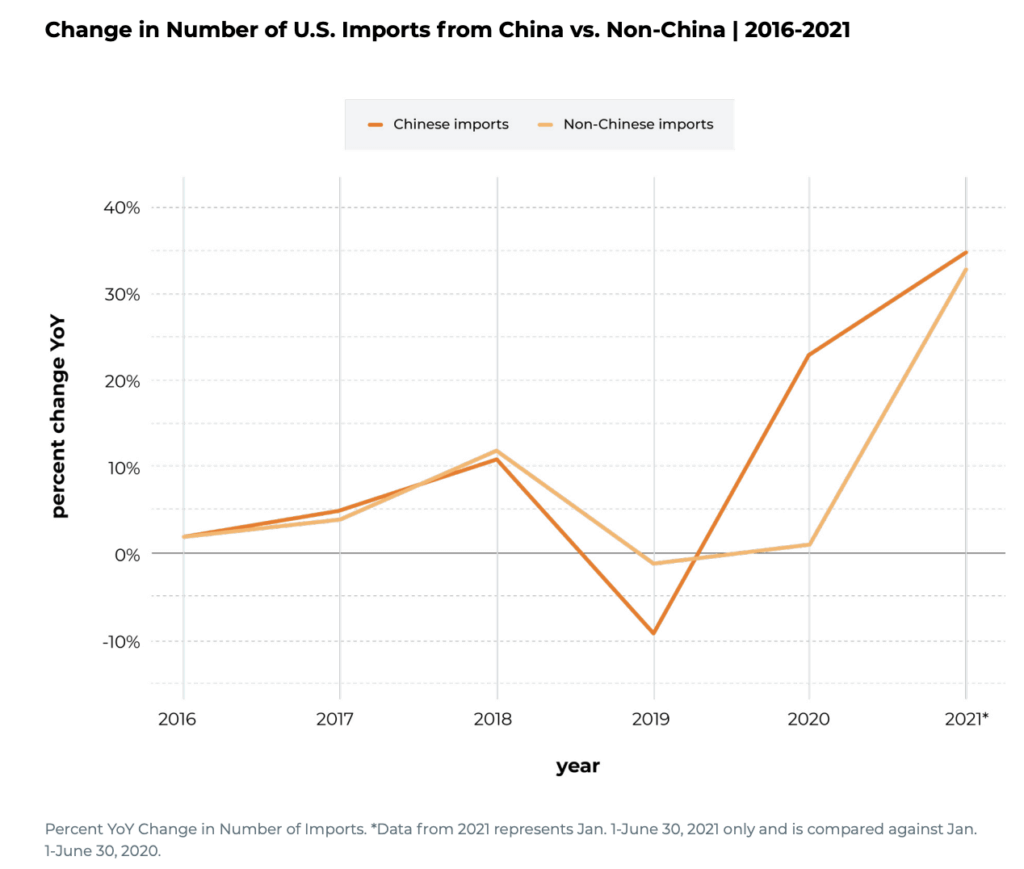 The number of goods from countries outside of China has similarly increased by 33%. The countries with the greatest relative change in U.S. import volume are India, Vietnam, and Italy.
India
India in particular has increased its share of U.S. imports significantly, charting a 31.9% increase in share in H1 2021 versus H1 2020. Each month from January to June this year, India also increased its import volume to the U.S. versus the same month the year prior, including a 395% rise in May. Overall, H1 2021 U.S. imports from India are up 76%.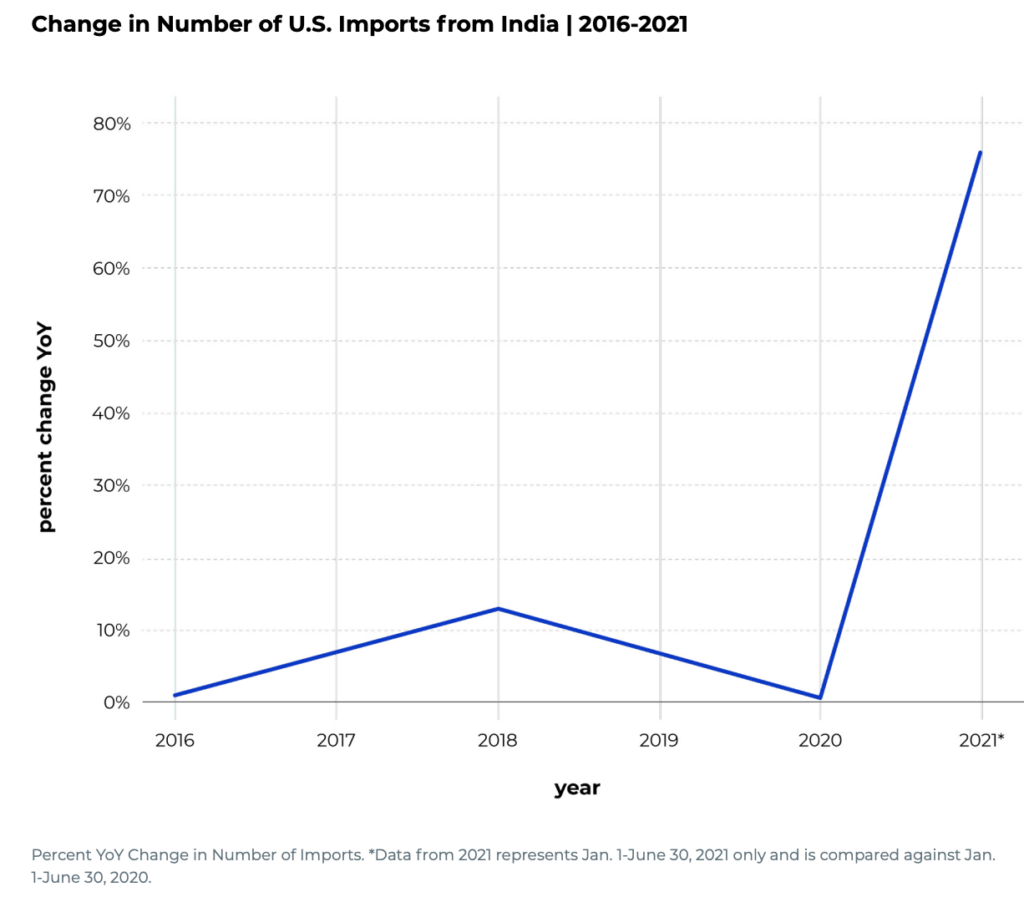 This progress follows India's catastrophic dealings with the pandemic, during which its share of U.S. imports plummeted by as much as 75% in May 2020.
Vietnam
Vietnam, the U.S.'s second-largest maritime trade partner, has also increased its share of U.S. imports by 14.2%, staying on track with its remarkable 88.3% growth in share since 2015. It is sending over half as many shipments (52%) to the U.S. in H1 2021.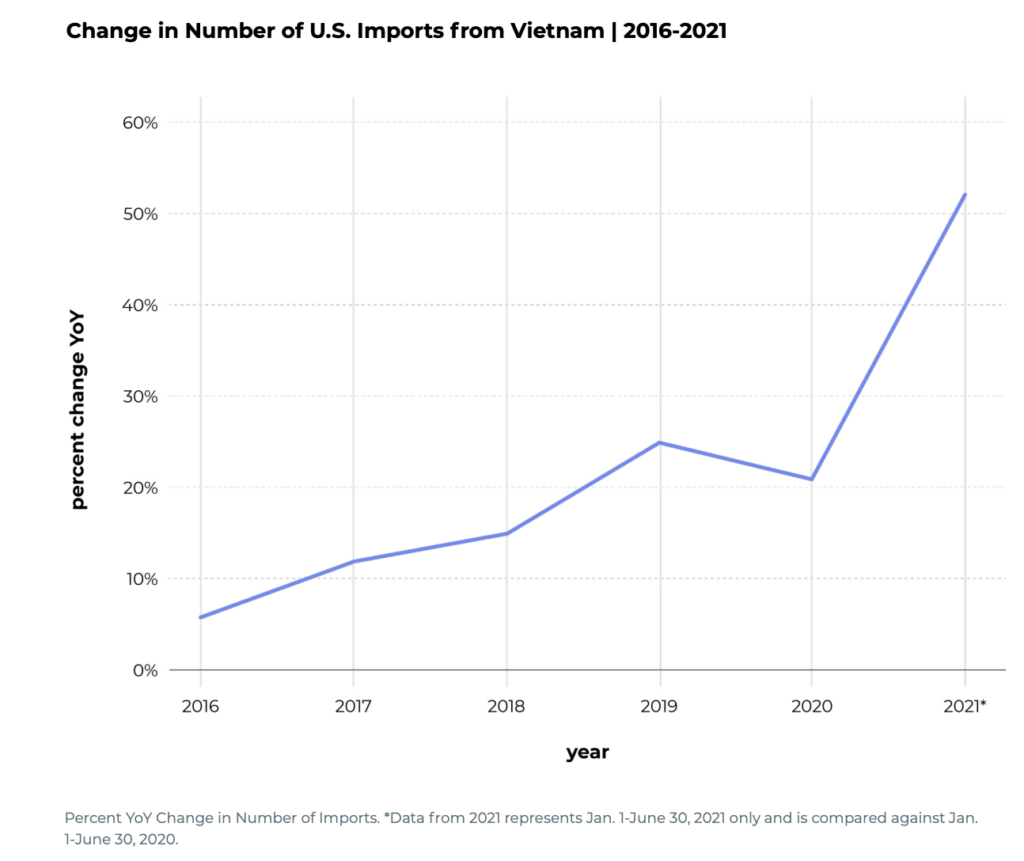 Italy
Though it accounts for just 3.1% of overall U.S. imports, Italy has increased this figure by 12.8% since 2015, and by just a touch more (12.9%) from H1 2020 to H1 2021. In H1 2021, it sent 51% more goods to the U.S. than in the same period last year.
Import growth by category
Each imported good in the U.S. falls into one of 15 categories covering every conceivable industry, from machinery to glassware to animal hides.
Each category's share of total U.S. imports has remained relatively stable over the years, with the top three (Machinery & Electrical, Miscellaneous, and Textiles) accounting for roughly 44% of all imports to the U.S. since 2015. These three categories cover an enormous swath of products consumed in the U.S. by individual consumers and businesses alike, and production is dominated by the U.S.'s top three trading partners: China, Vietnam, and India.
When it comes to year-over-year growth in trade volume, each category increased from H1 2020 to H1 2021. Most notably, both the Miscellaneous category, which includes furniture, toys and games, art, and some medical supplies, and Stone & Glass category, which includes ceramic cookware, glassware, mirrors, and cement, rose by 59%.
Here are some other notable increases in import category volume from H1 2020 to H1 2021: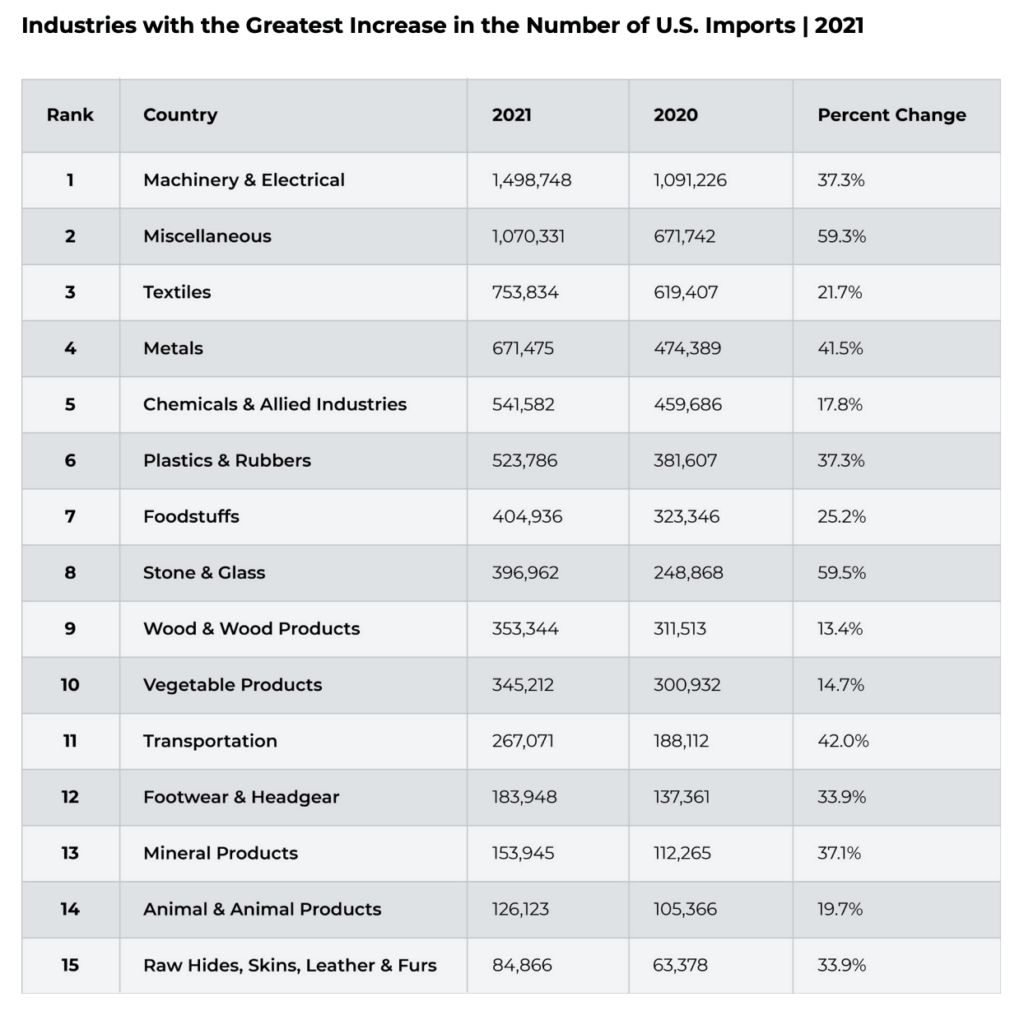 It's likely that these pan-industry increases in import volume have similar causes to the overall year-over-year increase in U.S. imports: rising demand due to last year's supply chain issues and Americans' uptake of online shopping during the pandemic.
Specifically, the Miscellaneous category's rise in H1 2021 represents a snapshot of consumer activity in the COVID-19 economy's second year.
Miscellaneous products run a wide gamut and include many of the household decor and recreational items consumers have clamored for throughout the pandemic, like furniture, clocks, artwork, fishing tackle, and table tennis equipment. As U.S. consumers continue to hunker down at home and pick up new hobbies and activities, they're spending more money on Miscellaneous goods.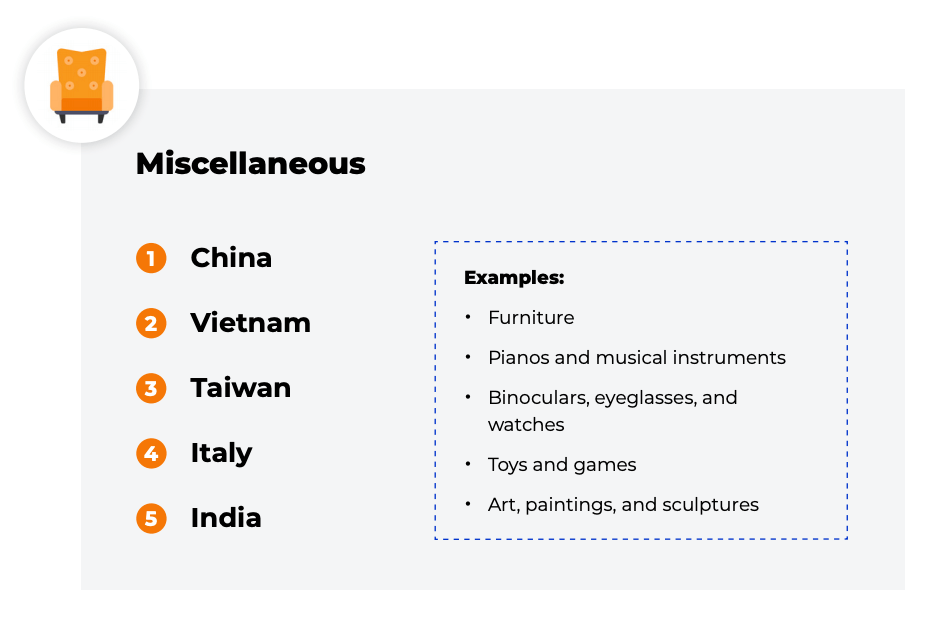 This category also includes a wide array of medical supplies. Imported microscopes, breathing appliances like respirators and ventilators, and thermometers all fall under the Miscellaneous label. The U.S. lacks the manufacturing capacity to meet the pandemic-induced need for such supplies, so demand for imported inventory has been high throughout 2021 as COVID-19 hospitalizations remain elevated.
3 major threats to 2021 trade projections
If imports in H2 2021 match those of H1, the U.S. is on track to receive 15.1 million shipments by December 31, an increase of 13% from 2020. However, the U.S. typically receives 6% more imports during the second half of the year, which would amount to 16 million shipments, or a 20% year-over-year increase. Either of these estimates, if achieved, would mark the highest year-over-year change in total U.S. imports since at least 2015.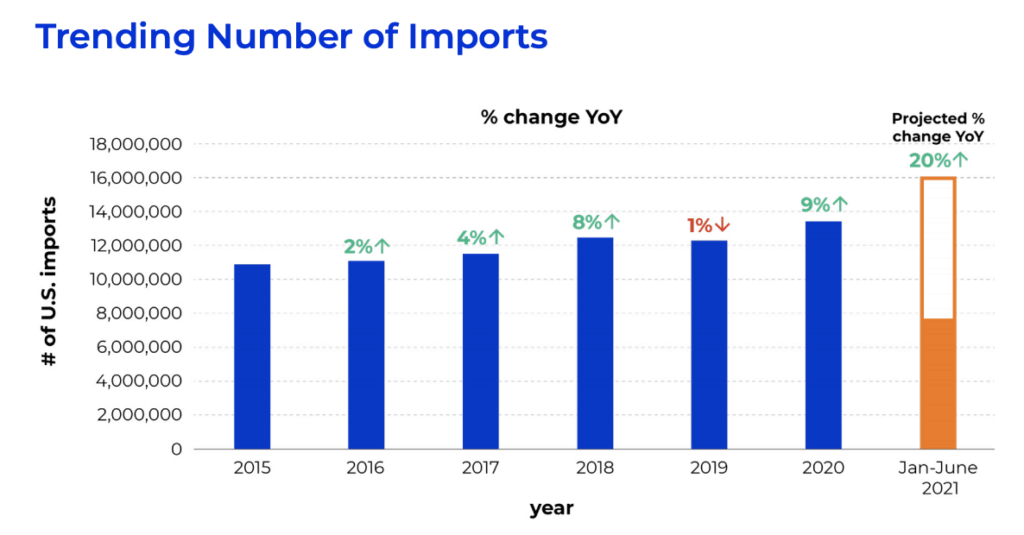 However, a number of serious obstacles stand in place of record-breaking growth in U.S. imports, many of which are beyond the immediate control of the United States. The COVID-19 pandemic, labor shortages, and climate events could limit the number of imports that make it to U.S. shores and doorsteps for the remainder of this year.
Supply chains are still backed up from earlier in the pandemic
Year-over-year growth in U.S. imports during H1 2021 notwithstanding, global trade is still reeling from the massive disruption caused at the onset of the COVID-19 pandemic.
Even as large retailers turn to air freight to bring goods to the U.S. from overseas suppliers, container ships are still piling up outside major U.S. ports, unable to offload their cargo. Experts cite increases and consumer spending and a resulting spike in imports as the cause of the backup; as Business Insider reports, the container ships docked outside Los Angeles today are "double or triple" in size compared to the past two decades and require more equipment and personnel to unload.
These backups fuel a cascade of other issues, like warehouse congestion, last mile delivery delays, and shipping container shortages. These problems, in turn, could drive up prices of imported goods, potentially leading to reduced demand.
Fresh outbreaks, dangerous variants, and low vaccination rates threaten progress
Some countries have taken aggressive measures to curb the spread of COVID-19 and its destructive new variants. China, for instance, enforces a "zero-tolerance" policy intended to prevent new COVID hotspots; most recently, the government shut down a terminal at the Ningbo-Zhoushan Port — the world's third-busiest — for two weeks in August after detecting one positive COVID test among its dock workers. Similarly, Vietnam has closed factories that supply textiles to major apparel brands selling in the U.S. According to Vox, these lockdowns and their consequent supply chain delays could continue until most of the world is vaccinated — a milestone not projected to arrive until 2022 or 2023.
Lack of vaccine access poses an immense challenge to resuming normal global trade. Much of the workforce propelling global supply chains, including factory workers and freight ship sailors, live in nations with poor vaccination rates.
So while some of the U.S.'s top trading partners have managed effective vaccine rollout campaigns, countries like India, Vietnam, and Mexico are still struggling.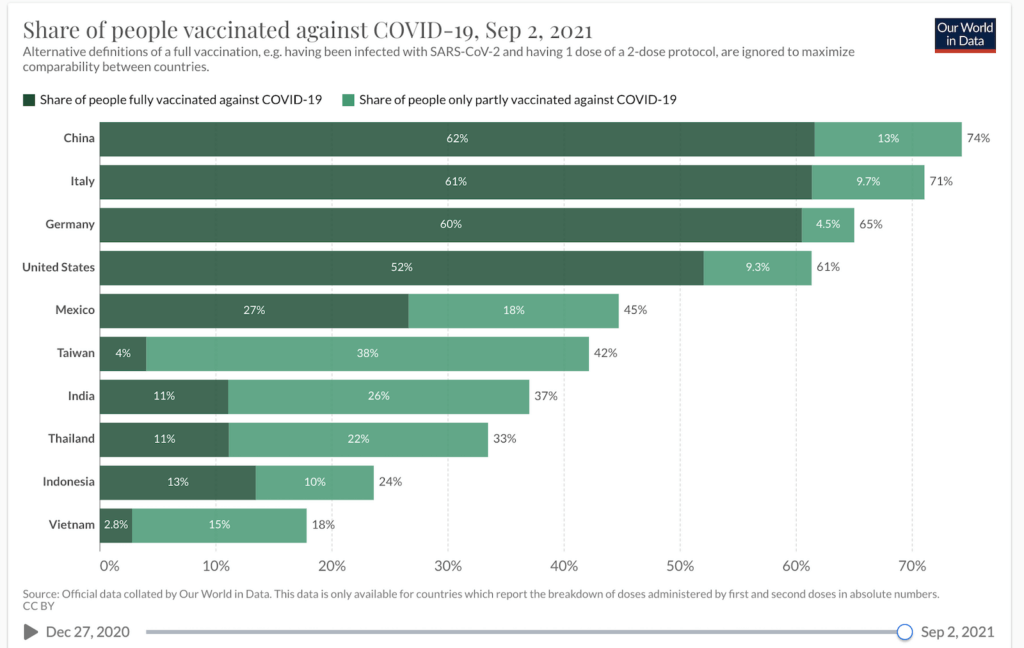 As long as insufficient global vaccinations permit COVID-19 to mutate into more transmissible — and potentially vaccine-resistant — variants, factory and port closures should be expected to continue. This could have a dampening effect on U.S. imports in H2 2021 and beyond.
Stateside, labor shortages aren't easing any of the above issues — take for example the fact that U.S. freight companies can't hire enough delivery drivers to ferry the past year's surge of online orders to their final destinations. If American consumers continue to face frustrating fulfillment delays, they could end up making fewer purchases in the near future.
Major weather events could cause further delays in 2021
Finally, climate disasters pose a separate challenge to supply chains already frayed by the pandemic — a collective threat that experts say will dwarf disruptions caused by COVID-19 in future.
Already this year, record-smashing rainfall in parts of China and Europe caused flooding that uprooted freight rail lines, while drought in South America has caused lumber and agricultural shortages. In the U.S., wildfires on the West Coast and Hurricane Ida in the Gulf Coast have interrupted domestic supply chains.
If existing disasters worsen or new crises pop up before the end of the year, U.S. imports could take a dip.
Will total U.S. imports for 2021 set a new record?
In 2021, the U.S. is on track to receive more shipments of imported goods than in any year since at least 2015. With imports from top trading partners surging over levels seen in 2020, American ports could wind up charting 20% year-over-year growth in import volume by December.
That said, numerous obstacles stand in the way, including COVID-19 variants, labor shortages, and climate issues. It remains to be seen whether countries can keep up with demand generated by online shopping, or if stockouts and shipping delays will get the best of global trade in 2021.
For more information on the state of global trade, see the full 2021 Global Imports Report.