When you imagine shopping on Amazon, what comes to mind? Many of us envision scrolling through listings from Fortune 500 brands, finding all of our favorite iconic products in one convenient place. In other words, browsing an online mall for the biggest businesses on the planet.
In reality, millions of third-party sellers run their own small- and medium-sized businesses (SMBs) through the Everything Store. Perhaps more surprising is the fact that these "mom and pop" ecommerce shops are absolutely critical to Amazon's success.
Small brands on Amazon generate a wealth of economic benefits. Here are a few examples from Amazon's SMB Impact Report:
Roughly 50%

of all items sold on Amazon are listed by SMBs

In 2020, SMBs in the U.S. Amazon marketplace account for around 1.1 million jobs—

a 133% increase from 2019

This includes jobs for delivery drivers—more than 82,000 through delivery service partners, to be exact
SMBs also help improve the quality of life for sellers and their families: while Amazon earnings sometimes finance side-hustle dreams like luxury purchases and fancy getaways, they're more often used to pay off debt or support dependents like children or aging parents.
We'll show you how small brands find success on Amazon and all the ways your Amazon purchases can support them.
How small businesses grow and scale on Amazon
While Amazon hosts listings for some of the world's best-selling products made by the largest global brands (think Adidas shoes, Apple Macbooks, and Purina puppy chow), smaller brands thrive on the platform, too. Here are some of the biggest contributors to their success.
Multiple business model options
SMBs can choose from a variety of profitable business models on Amazon—and often run more than one at a time. Here they are, listed by popularity among sellers:
Private label: 67%

Wholesale: 26%

Retail arbitrage: 19%

Online arbitrage: 17%

Dropshipping: 9%

Handmade: 6%
Whether selling their own products (handmade or sourced from a supplier) or listing items from other brands, ecommerce entrepreneurs can find success on Amazon.
Fewer business costs
For the majority of sellers, running an Amazon business is lucrative — nearly three quarters of Amazon sellers bring in more than $1,000 in monthly sales.
The majority of sellers spend $5,000 or less to launch their businesses, about half of the U.S. government's estimate for SMB startup costs. And while Amazon does charge fees to sell on its platform—typically a 15% commission on each unit sold—Fulfillment by Amazon (FBA) or Fulfillment by Merchant (FBM) business cut down their day-to-day operations dramatically, as Amazon will store, pack, and ship items to customers. Overall, most sellers use FBA and consider themselves profitable.
Time-saving, ready-made marketing and automated operations
Selling on Amazon saves SMBs time and money in several key ways:
As a result, 60% of third-party sellers devote 20 hours or less each week to their Amazon businesses—while still making money that could eclipse their primary income.
Enhanced financial support
Financing options for Amazon businesses are expanding,
SMBs can now choose from a slew of financing options for their ecommerce businesses, from microloans to million-dollar lines of credit—some from Amazon itself. With more funding options tailored for online businesses, it's easier than ever to fund an SMB on Amazon.
Selling on Amazon presents a viable shot at being your own boss—even for entrepreneurial newcomers. For nearly two-thirds of third-party sellers, running an Amazon business is their first experience as web entrepreneurs. For many, it has more than paid off: 37% of sellers can rely on their Amazon businesses as their sole form of income.
The top 5 ways to support small businesses on Amazon
Shoppers interested in supporting SMBs can still do so on Amazon. All it takes is a little due diligence.
1. Use small business search options
Start your product search on Amazon's "Support Small" page (you can find it by entering "small business" in the Amazon search bar). Here you can find top products listed by SMBs, read about Amazon businesses owned by women, families, or Black entrepreneurs.
From the "Support Small" page, you can shop from small brands in Amazon's top product categories, including Home & Kitchen, Toys & Games, and Beauty & Personal Care.
2. Shop Amazon Handmade
You can also browse Amazon's artisan-only platform, Amazon Handmade. There, you'll find hand-crafted, hand-altered, or hand-assembled products in a variety of different categories—no mass-manufactured items allowed.
3. Shop locally on Amazon
You can make your shopping experience more sustainable by shopping locally or regionally on Amazon.com and Handmade. Amazon makes it easy to find small business owners nearby with a couple of new programs and search filter options.
Support Small
On the same Support Small page noted above, you can explore products by 6 U.S. regions — Pacific, Rocky Mountains, Northeast, Southwest, Midwest, and Southeast. You can also read about sellers with unique brands or stories in each region.
Support Local Makers
The Support Local Makers page contains a curated selection of Amazon Handmade products made by artisans from around the United States. You can shop by region or filter search results by U.S. state. Makers fulfill their own orders, so you're supporting small enterprise operations at multiple steps along the purchase process.
4. Check the Buy Box before you purchase
If you're browsing products more generally, you'll need to check the Buy Box on a specific listing to determine whether it's made by a small brand. The Buy Box is the widget that allows customers to make purchases; the "Ships from" and "Sold by" lines tell you who sells the item and who handles fulfillment.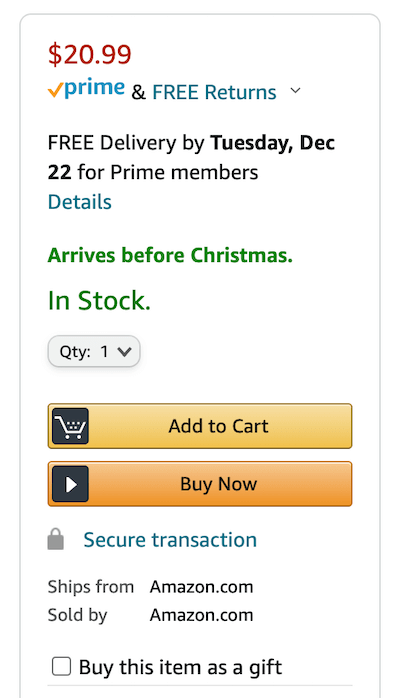 If the Buy Box says the product is sold by Amazon, your dollars won't directly support a small business. But if "Sold by" lists a different brand (and isn't recognizable to you), there's a good chance that it's a small business run by a third-party seller. This is true even if the product "Ships from" Amazon—after all, the majority of sellers use FBA. You can always visit the brand's page on Amazon or Google them to make sure they are, in fact, a small or local business.
For example, a quick look at this listing for a plush toy shows that it's made by an independent company called nerdbugs that ships through FBA.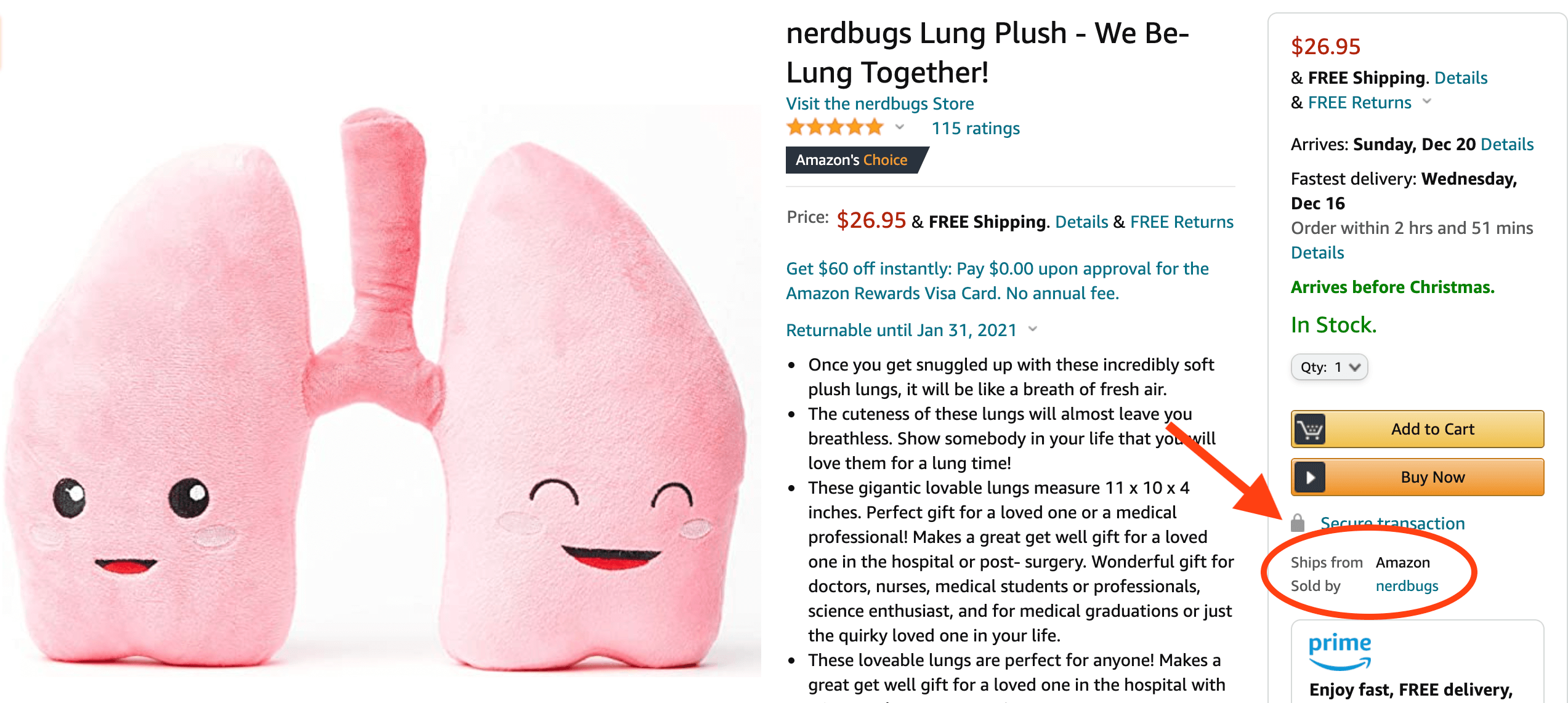 If you click on "nerdbugs" in the Buy Box, you'll find the brand's Amazon storefront, where you can view its reviews, return policy, and other listings.
Here's evidence of an FBM business: this handmade spoon rest ships straight from the small brand that makes it.

By contrast, if you purchased this whimsical mug, you'd be paying Amazon instead of the business that made it. The product description says it's from Karma Gifts, but according to the Buy Box, it is actually sold and shipped by Amazon.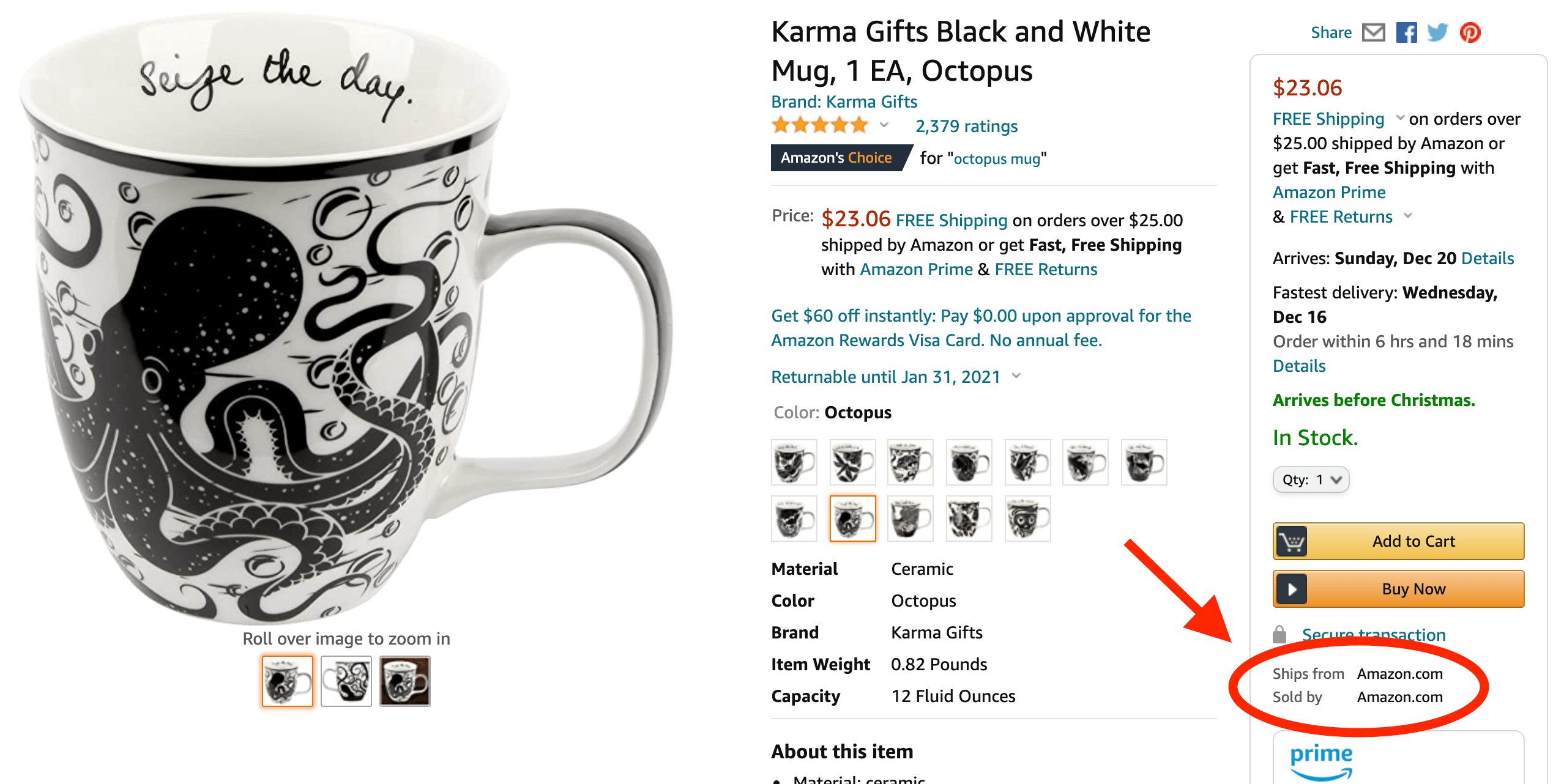 Checking the Buy Box takes just a few seconds that can make a world of difference for small brands competing with retail giants on Amazon.
5. Leave a review
The best way to offer a small business your support—besides buying from them, of course—is to leave a review of their product. Reviews are crucial to helping brands understand how well their product meets customer needs and how it can improve.
Ratings and reviews can also make or break a brand's ranking on Amazon, and are especially important in the first few months of launching. If a small business owner wants to succeed on Amazon, they need all the reviews they can get.
A positive review also provides social proof of a product's quality, which boosts a small brand's credibility on Amazon.
Support a small business today
Millions of entrepreneurs and logistics workers now depend on ecommerce to grow and support their small brands and livelihoods. Fortunately, with SMB-friendly search options, an artisan-only marketplace, and a quick scan of the Buy Box, it's easy to support them by shopping on Amazon.
Have you had a great experience purchasing from a small brand on Amazon? Let us know in the comments!