Want to know how to make a killing on Amazon during the last couple months of 2020? No matter if you're a complete beginner or a seasoned veteran, selling arbitrage can work for you.
Retail arbitrage is an Amazon sales model that involves buying products at discounted prices and reselling them on Amazon.
What we recommend for a holiday sales boon is a more focused and precise type of retail arbitrage. Instead of stopping by a retail store and scanning a bunch of different products for potential profitability (our usual strategy for retail arbitrage product research), you'll be able to visit stores or websites and know exactly what to look for.
We'll show you how to take advantage of popular seasonal items as well as sought-after holiday gifts that become hard to find as we draw closer to the end of the year.
Selling popular seasonal items through arbitrage
As the seasons change, are there certain products or activities that you love to spend money on? Once the weather gets warm, maybe you purchase new bathing suits or pool rafts. As fall rolls around, you buy a new jacket or wait in a long drive-thru for a ….pumpkin spice latte.
Let's use the pumpkin spice latte as an example. As soon as the summer comes to an end, certain coffee shops begin to advertise this drink that so many people love. You'll hear plenty of complaints that it's way too early, but there are pumpkin spice enthusiasts that simply cannot wait any longer for their favorite drink.
Obviously you can't buy and resell a coffee, but the idea is to think of products that have high demand during certain time periods and to hop on those trends as soon as possible. That means buying seasonal products at low, off-season prices and then selling the inventory when it's most popular and in-demand.
Think about how retail stores place holiday or seasonal items on sale months before the actual holiday (ahem, Christmas in September). That's the signal for you to start doing research.
Some examples of popular seasonal items in the U.S.:
January/February: Superbowl, Valentine's Day items

March: Spring and St. Patrick's Day items

April: Easter candy, baskets, decorations

May: Mother's Day items, warm weather clothing, Memorial Day decorations

June: Father's Day gifts, July 4th decorations, vacations items such as luggage or toiletries, pool tubes, inflatable pools

July: Pool tubes, pool items, rafts, kayaks, beach gear, sunglasses

August: Back-to-school items, football/tailgating items

September: Fall items, cold weather clothing, pumpkin spice

everything

, Halloween

October: Halloween costumes, Halloween candy

November: Thanksgiving decorations, holiday shopping, toys, electronics

December: Everything and anything! Toys, clothes, electronics, shoes, jewelry, etc.
…and many more! There are so many opportunities during each time of year to resell popular items for a profit.
If you can figure what is trending during each time of the year, you'll be successful at reselling.
How to find and resell popular holiday items
One of the biggest categories during this time of year will always be Toys and Games. If you are approved in the toy category on Amazon, this should be your main focus. If you aren't approved on Amazon, eBay is a great alternative platform for this category.
How do you find out which items will be popular during the holidays? Do a simple Google search.
This seems like an obvious method, but people tend to overlook it. Use keywords like "hot toys for holidays 2020" or "popular toys 2020." A great way to see what others are searching is to let Google autofill the results. Ex.: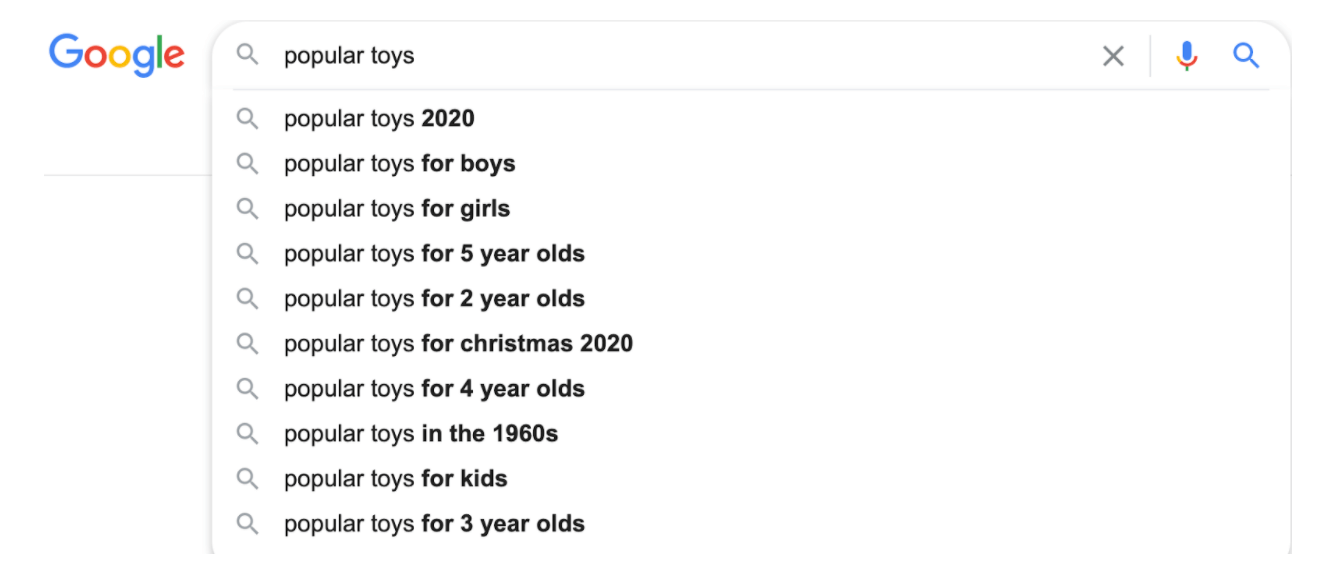 Going through some of these lists will give you an idea of what is likely to sell well toward the end of the year.
But how do you know if it'll sell for a profit on Amazon?
Using a tool like Keepa along with Jungle Scout Extension will help you determine whether or not a product is worth reselling.
After looking at some of the toy lists I found on Google, I found a great example: the Cocomelon Musical Yellow School Bus.
Now, some resellers may be mad at me for showing you this, but here's a real life example of a product you should be on the lookout for right now! It's an ultra-popular child's toy that frequently goes out of stock in retail stores as well as on Amazon's own listing.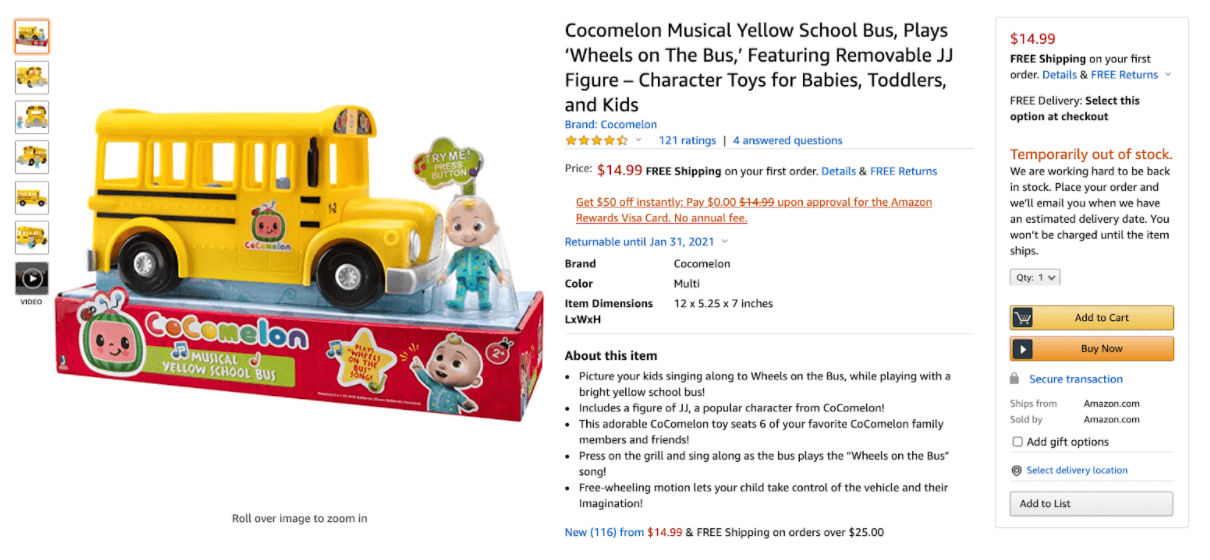 At first glance, it doesn't seem like a good opportunity because Amazon is in the Buy Box (even though it's out of stock).
But if you look below the bullet points in the product description, you'll see "New (116) from $14.99…" This means there are 116 sellers also selling this item!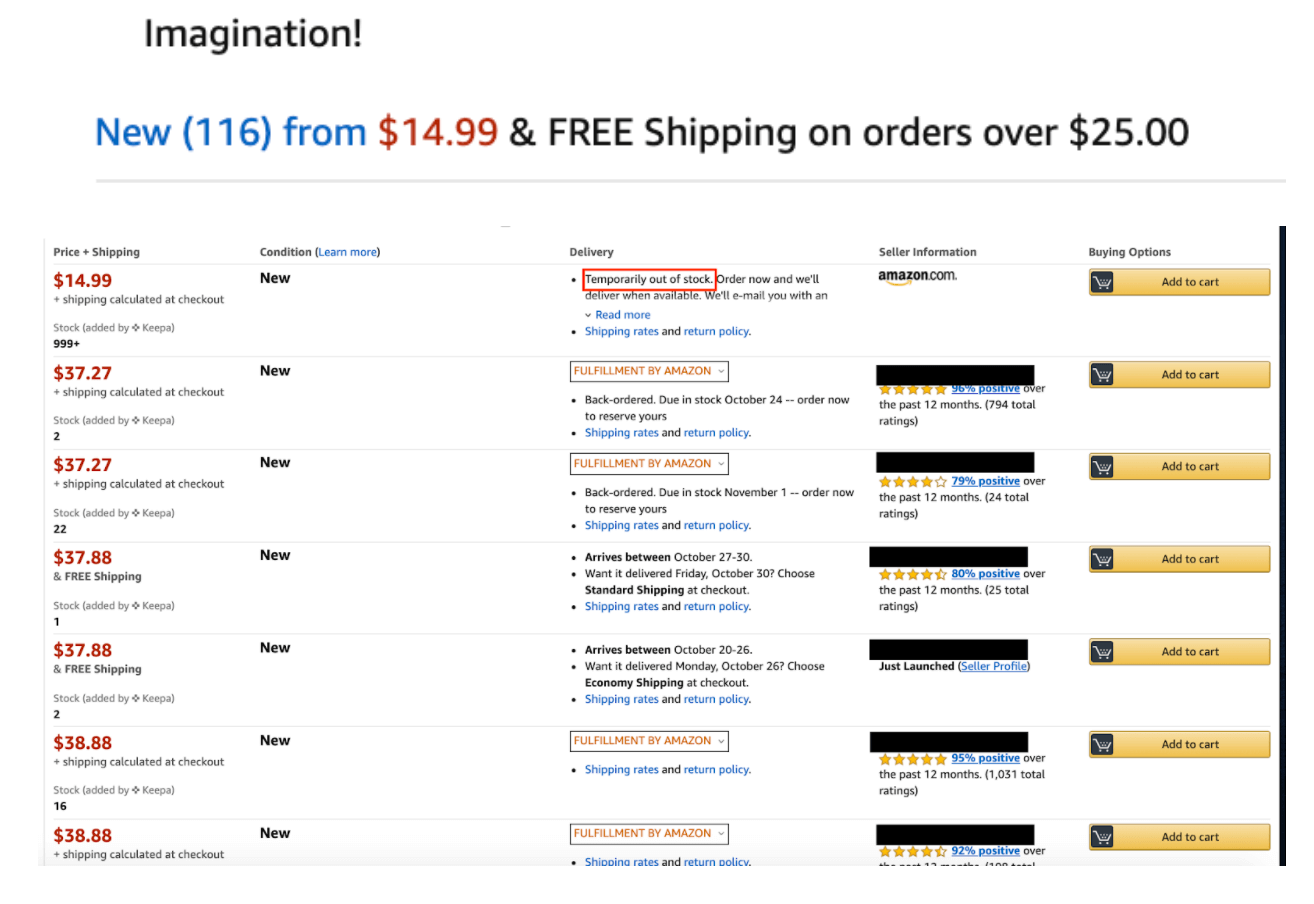 If you look at the other sellers, you can see that all of them are priced close to $40! That's a big difference from $14.99. This means that sellers are purchasing this toy at a retail store for $14.99 (or even from Amazon itself) and reselling it at a premium.
Now, are customers willing to pay $40 for it? Let's look at Keepa to find out.

According to Keepa, yes, it is selling well and holding steady in price—just around $40 for FBA and FBM within the past month.
Every spike on the green line indicates a sale, and the orange triangles indicate a new FBA offer. You can also see light orange bars that indicate that Amazon itself had that product in stock, but very sporadically — a good sign for sellers.
Amazon isn't giving up the Buy Box, probably because the product is listed at a much lower price on Walmart.com. But that clearly doesn't matter in this case—customers are still willing to buy it from third-party sellers.
Now that you're armed with popular toy knowledge, start going to different retail stores in your area and scan every toy you can! Repeat the process with other popular holiday gift items such as electronics, tech, kitchen appliances, etc.
This process works exactly the same when doing online arbitrage. You just need to check frequently and move fast, because there are tons of other resellers just like you waiting for an item to be restocked online.
If you use the Jungle Scout Extension, you can also view a Historical Trend data chart located in the embedded section on a product detail page. This chart will show you historical data points such as Buy Box price, New lowest price, BSR, Amazon's price, and more.
A popular toy from 2019 to get you thinking
Mini Brands capsules were a massive hit in 2019 and nearly impossible to find in retail stores. These collectible surprise toys held mystery items—you had no idea what was inside one until you opened it. They went for around $5 in-store and sold for over $15-$20 on Amazon, and at an incredible volume.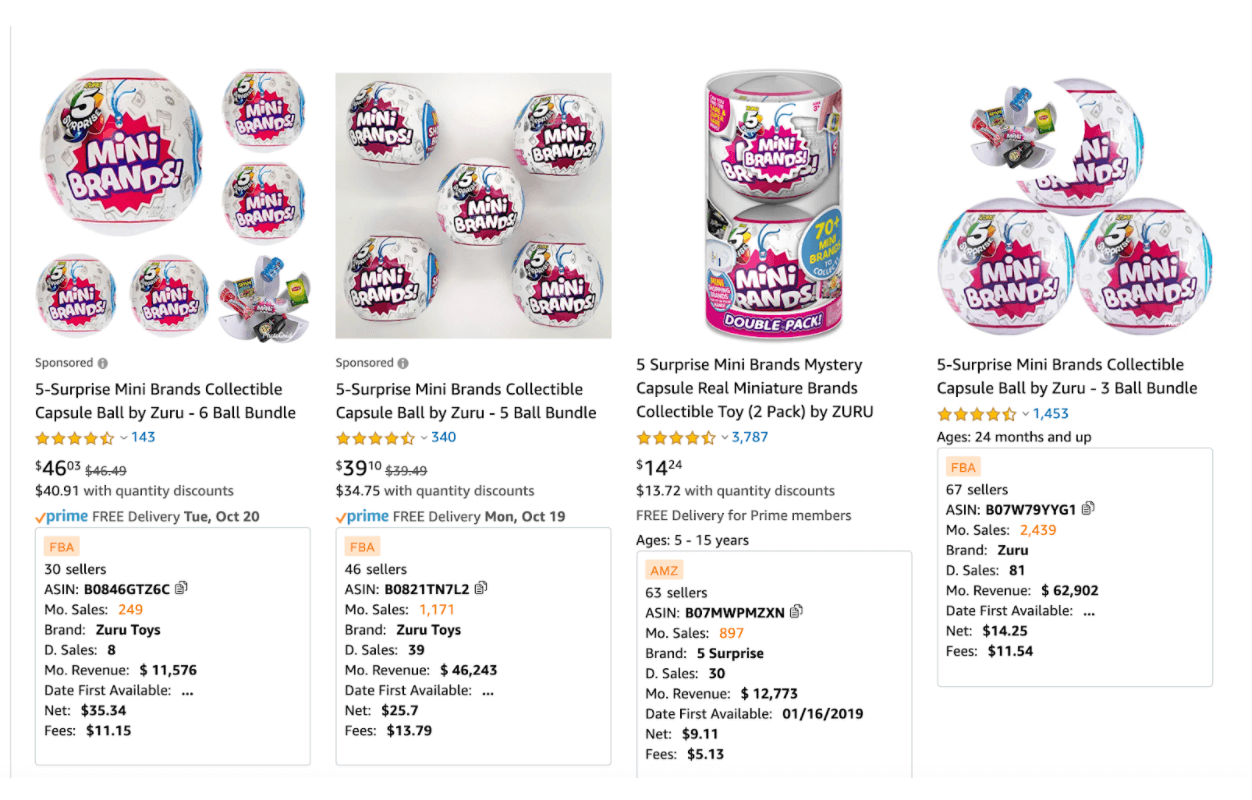 HINT: Mini Brands Series 2 was released this year…interesting!
Using social media and reselling communities to find leads
Need help figuring out which items to target? Leverage the power of social media as well as some hidden "reselling communities" to help guide you into making the right purchasing decisions.
Let's start with social media—specifically Instagram. Name a topic or hobby, and there's most likely an Instagram account or two devoted to it—the same goes for reselling.
In the Instagram app, search for hashtags related to reselling and you'll find a ton of relevant posts and accounts to follow.
Look at this…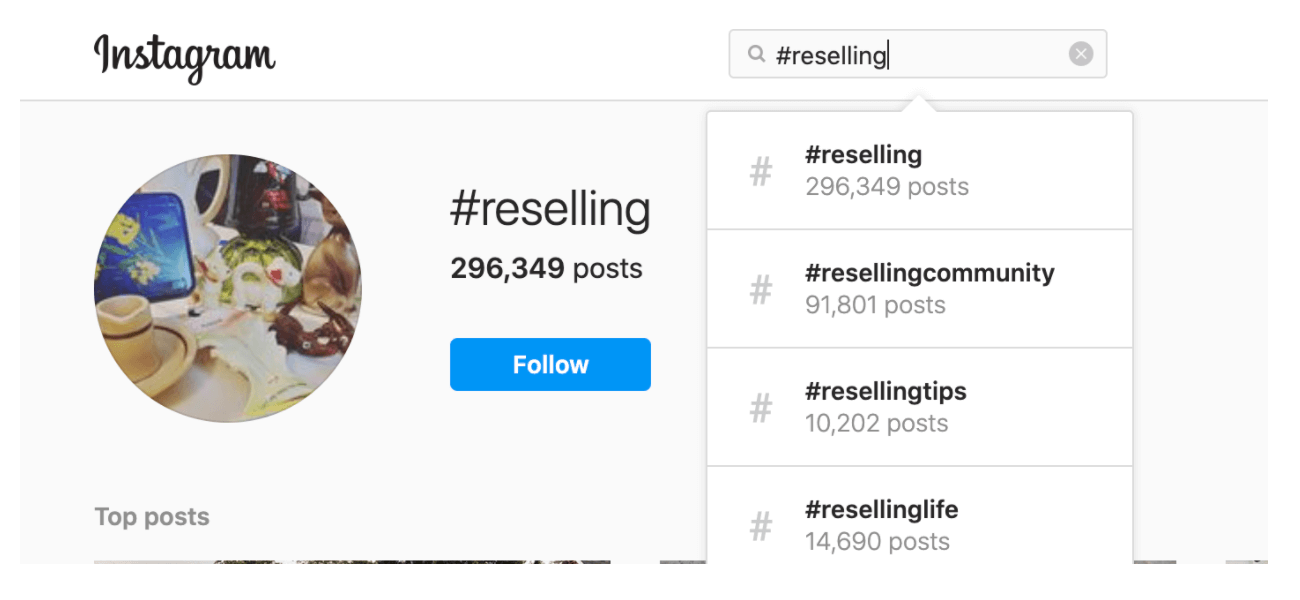 #reselling with almost 300,000 posts
#resellingcommunity with over 91,000 posts
And so on.
As you go through some of these hashtags, you will begin to find tons of resources and ideas of what you can sell, especially during the holidays.
As you go through some of these posts and reselling accounts, you may come across "product lead groups" for which you have to pay to access. The point of joining these memberships is to get the scoop on what products are hot and selling right now so you can go out and find them. The leads shared in these groups will be from stores such as Walmart, Target, etc.
The insights shared through these memberships can be extremely helpful, especially if you're brand new to reselling items on Amazon or eBay. But in the name of due diligence, we recommend that you still conduct your own research before purchasing any product shared in these groups.
The best part about selling on Amazon is that you don't have to go at it alone. No matter what business model you're following, you'll always have a community to lean on and learn from, like Jungle Scout's FBA Competitive Edge Facebook group.
Listing products on Amazon FBM during the holidays
This is the busiest time of year for Amazon and third-party sellers alike, so you can only imagine how busy FBA warehouses are right now. As we near the end of the season, it takes longer and longer for FBA shipments to be checked in.
Your best bet for selling popular items in late November/early December will be to list them as Fulfilled by Merchant, or FBM, in which you list your products on Amazon and handle the packing and shipping to customers yourself.
You don't want to risk your FBA shipments arriving late. If you list as FBM, you can have your listings up in a matter of minutes instead of weeks.
If the items you're selling are extremely popular, then there most likely won't be many FBA offers to begin with, which is a great opportunity for you to sell as FBM.
Using the Cocomelon School Bus toy again as an example, there are many sellers listed as FBM right now (the listing won't say 'Fulfillment by Amazon') who are practically guaranteed to make sales, especially since the FBA offers are back-ordered.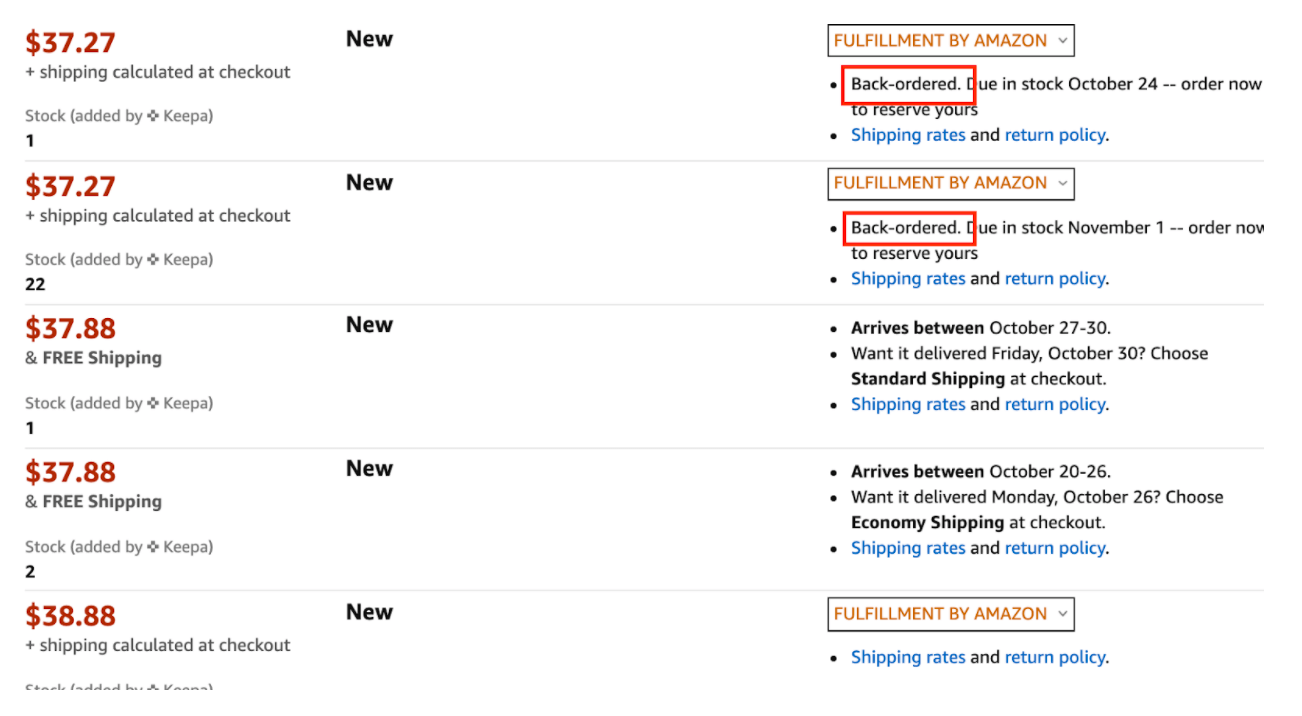 Get out there and start selling!
Selling popular items during the holiday season may require some research, but think of it as a data-driven treasure hunt that could earn you big sales!
If you have any other questions regarding reselling or selling on Amazon during Q4, drop us a comment.