In order to provide all the information sellers need to succeed with their Amazon ventures—from launch to the first sale, to growth and scaling—we've updated our content for 2023.
Interested in starting an ecommerce business? Our guides for selling on Amazon and eBay will teach you everything you need to know.
Nowadays, ecommerce sellers have many choices as to where they can sell their products online. Shopify, Walmart, Etsy; all offer sellers the opportunity to get their products in front of consumers.
Yet there are two platforms that have been around longer than the rest: Amazon and eBay. And as the oldest online marketplaces (as well as the #1 and #3 top-performing e-commerce sites respectively) you may want to consider selling on one or the other.
Amazon and eBay are both well-established and have been around since the mid-1990s. Amazon originally launched in July 1994 under the name Cadabra (it changed its trade name to Amazon in 1995), with eBay following suit shortly thereafter, in September 1995.
But how do you know which will work better for you?
There are good arguments for both, so we're reviewing the differences between the two marketplaces to determine which store is — overall — the best option for your type of business.
Do consumers trust Amazon or eBay?
When it comes to consumer trust, Amazon tends to edge out its competition. In fact, Amazon is so focused on gaining and maintaining the trust of its customers that it's included in the company's vision, mission, and values.
Amazon returns policy vs. eBay returns policy
Another reason Amazon is often seen as the go-to for online shoppers is the ease with which products can be returned. Their A-Z Guarantee ensures that shoppers can receive a full refund if they are dissatisfied with the quality of their purchase, or its delivery time.
In contrast, eBay's policy is much more complicated when it comes to returning items and receiving full refunds. Not to mention, sellers can even tick eBay's 'No Returns' box, leaving buyers with no recourse if they are unhappy with the product.
As a seller, you may think that's a good thing. But, in actuality, it can be extremely detrimental to your business.
By setting your listing to 'No Returns', you're sending signals to potential buyers that they can't trust what you're selling. And, as a consumer, which types of businesses do you buy from? Those who continue to support you post-purchase, or those who take your money and run?
So, in ensuring support post-purchase, Amazon is building brand loyalty and giving buyers the security they need to feel comfortable taking a chance on a product they might not otherwise purchase.
And, as a seller on their platform, you reap the benefits of that trust.
READ MORE | How Amazon's Return Policy Affects Sellers
Fulfillment methods on Amazon vs. eBay
When selling on eBay, you have one choice when it comes to fulfillment: pack and ship orders yourself (or hire a third-party fulfillment center to help you).
Amazon, on the other hand, offers you two options: fulfill orders yourself (Fulfillment by Merchant; FBM) or have Amazon fulfill your orders for you (Fulfillment by Amazon; FBA).
And that second option — Amazon FBA — is really what sets Amazon apart.
While eBay requires sellers to run every aspect of their business themselves, Amazon offers to cover a significant portion.
By storing, picking, packing, and shipping your products for you (and don't forget, they also handle returns and refunds!), Amazon is giving you time to work on other areas of your business.
Also, in addition to saving you time, Amazon FBA can also save you money.
Yes, Amazon's fees are higher when you use their FBA program to fulfill your orders. But, when you calculate the cost to store, package, and ship your products, the cost differential goes down significantly.
Ultimately, though, how you fulfill your products is entirely up to you. It's just nice to have a choice, which is something you don't have when you opt to sell on eBay.
Want to learn more about fulfillment methods? Check out our Amazon FBA vs FBM Comparison Guide
What is the cost of selling on eBay vs Amazon?
In general, eBay's fees are lower than those incurred when selling on Amazon.
eBay's fees
When it comes to selling on eBay, these are the fees you will have to pay:
Insertion fees

: This is the fee a seller is charged when they create a listing on the site. According to eBay, sellers are given "

250 zero (free) insertion fee listings

" per month. And, if you run a store on the site, there is a possibility for more.

Final value fees

: Once your product sells, eBay takes a percentage based on the item's final sale price. This includes shipping and handling, but not the sales tax.
This is the basic 'Final value' fee schedule for most items, along with the corresponding 'Insertion fees':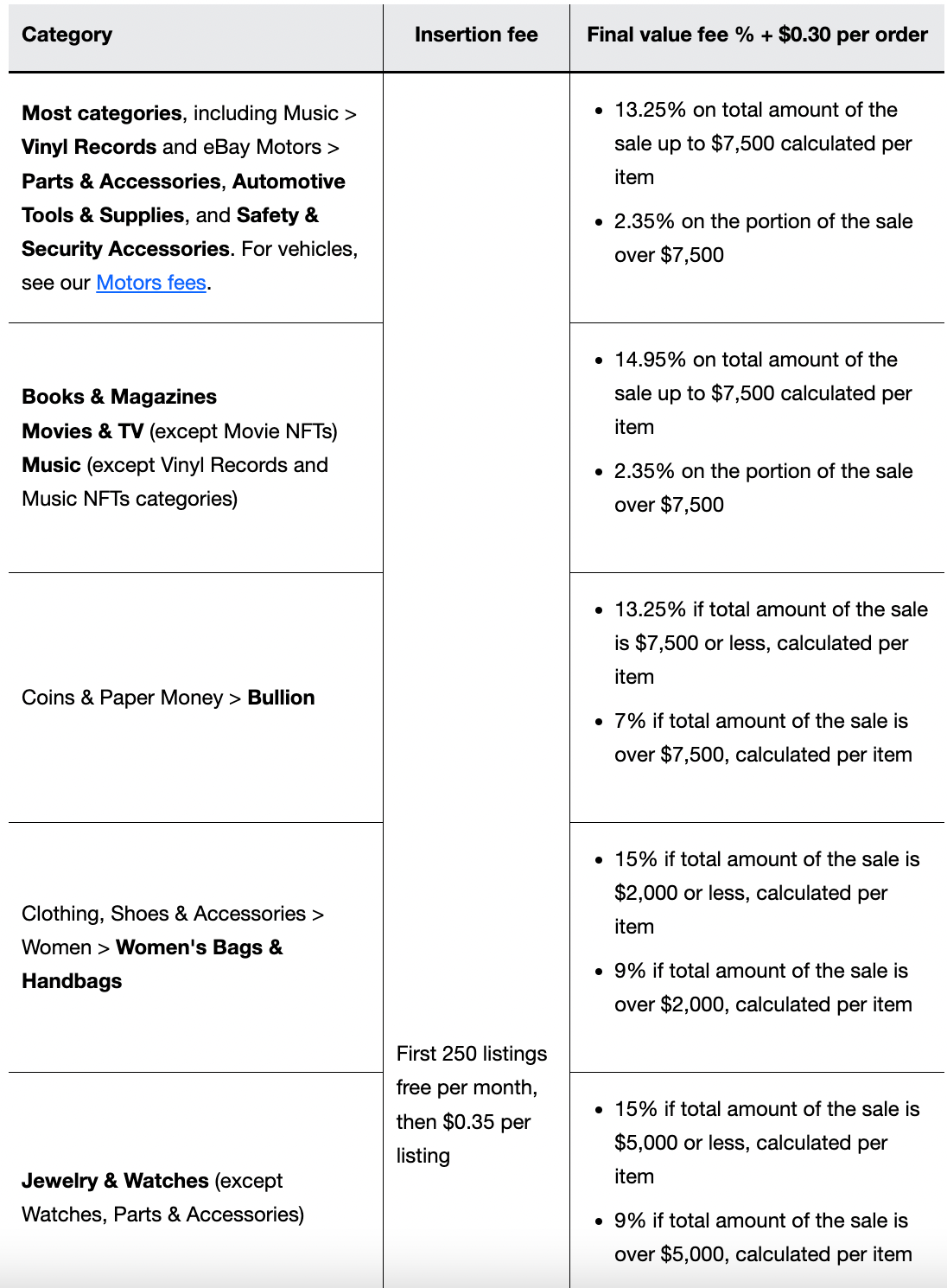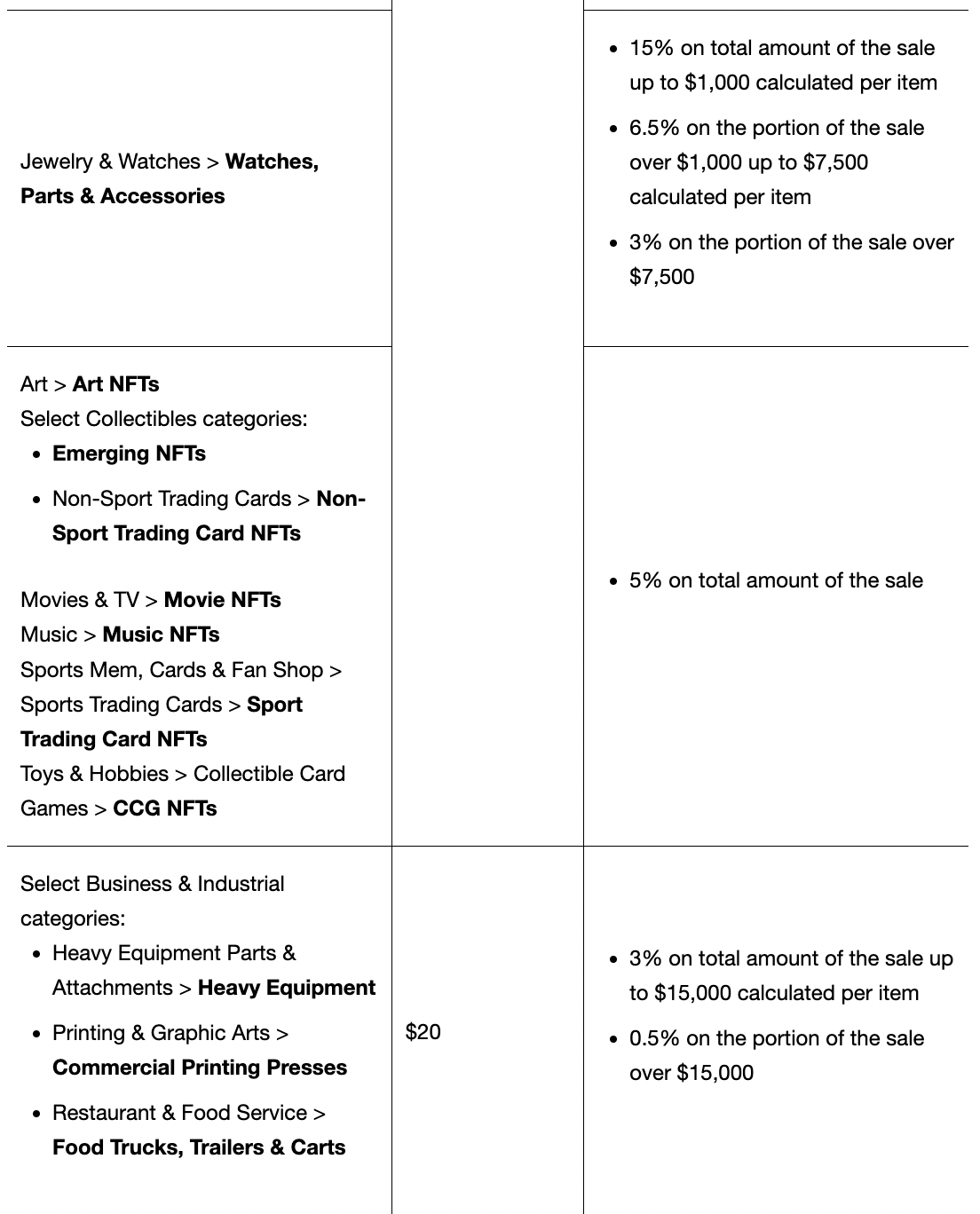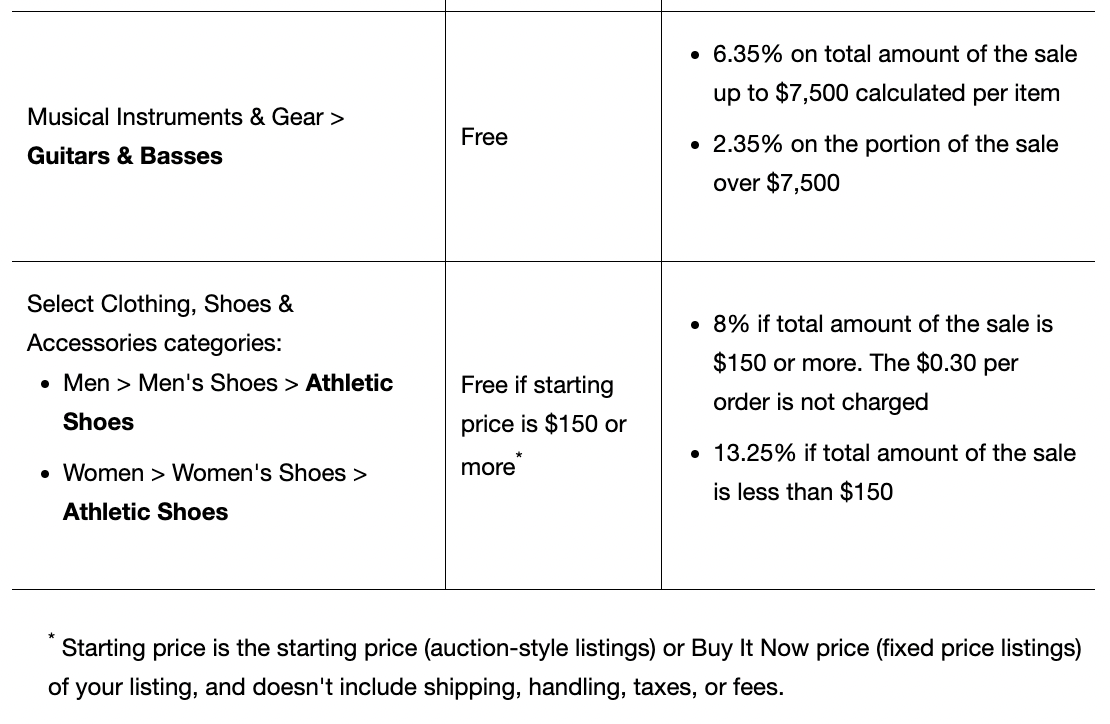 Payments processing fees: Since eBay now requires sellers to use their managed payments system,

this fee is included in the 'Final value' fee.

Optional listing upgrade fees

: These fees only come into play if you want to create a specialized, standout listing. Optional upgrades include: adding bold font, adding a subtitle, and setting a minimum/reserve price for your product.
If you use any of eBay's listing upgrades, their fees quickly start to add up. However, you can use eBay's fee calculator to determine how much you'll be required to pay before you list your product.
For example, for a fixed-price product selling at $22.95 in the Baby category, eBay's fees come to $3.26. On top of that, if you planned on offering free shipping, you would have to absorb that cost.
Nevertheless, eBay's fees are less than Amazon's overall.
Amazon's fees
With Amazon, fees vary depending on the product being sold, and its fulfillment method; either FBA or FBM.
To get an idea of the fees associated with a product being sold FBA, let's take a look at one of Jungle Scout's Million Dollar Case Study (MDCS) products: Washable Pee Pads.
Currently, Washable Dog Pee Pads sell for $30.99. Using Amazon's FBA calculator (for the U.S. store) and entering that price point into the 'Item Price' fields, we can get a good idea of the fees we'd be charged if we were selling the pee pad FBA versus FBM.
Note: The total cost for 'Your Fulfillment' (FBM) does not include shipping. If you choose to sell FBM, you will have to factor in shipping expenses when determining your profit margin.
Selling FBM, the only fees you would incur product-wise are the 'Selling on Amazon fees', which include:
Amazon Referral Fee:

For every product sold, Amazon takes a referral fee percentage calculated on the total sales price. The fee depends on the category of the product sold, though on average, you can expect to pay a 15% referral fee per sale.

Fixed closing fee:

This fee only applies if you have an individual selling plan, versus the professional selling plan. If you are an individual seller, you will pay an extra $0.99 per item sold.
READ MORE | Amazon Individual vs. Professional Seller Plans
But, in addition to the 'Selling on Amazon fees', FBA sellers are also required to pay:
FBA fulfillment fees:

The FBA fees is what Amazon charges to fulfill the order of your product based on the products weight and size.

Monthly storage fees:

Amazon charges monthly inventory storage fees for the space your inventory occupies in fulfillment centers and are calculated by your daily average volume in cubic feet.
So, if you offer a product on Amazon for $30.99 and are an FBA seller, you will have to pay a minimum of $13.40 in fees. And if you offer the same product, at the same price, as an FBM seller, you will have to pay a minimum of $5.64 in fees before shipping costs.
Those aren't the only fees you'll have to pay as an Amazon seller, though. Regardless of your fulfillment method, all Amazon sellers have to pay the following feesl:
Individual per-item fees or subscription fees

: When you sell on Amazon, you can choose between two different seller accounts:

individual or professional

. If you sell as an individual, you will be required to pay a $0.99 fee per unit sold. Professional sellers, on the other hand, pay a monthly subscription fee of $39.99.

Refund administration fees:

While these fees only come into play if a customer asks for a refund, it's still important to know that Amazon does charge you for processing that reimbursement. The fee for this will either be $5.00, or 20% of the refunded charge; whichever is less.
Read more about Amazon's fees here.
Amazon Prime subscription
One key edge that Amazon has over eBay is Amazon Prime. And while this may seem like something that solely benefits shoppers (much like Amazon's return policy), it is one of the primary reasons why Amazon has such a large, dedicated customer base.
Because shoppers pay a monthly fee to ensure speedy delivery, they're more likely to purchase from Amazon, rather than let their Prime subscription go to waste.
Moreover, loyal Prime members don't just go to Amazon first before trying other online stores; they also spend money on the site during major holidays like Black Friday and Prime Day.
And considering there are over 168 million Prime users in the U.S. alone (and over 200 million worldwide), that means sellers on the platform have immediate access to a massive audience that shops on the site regularly.
What types of products can you sell on Amazon vs. eBay?
Since its launch in 1995, eBay has remained a marketplace for others to conduct their businesses. Amazon has not. Instead, it has morphed into a retailer, in addition to being a marketplace for third-party sellers.
Plus, unlike Amazon, eBay doesn't restrict what can be sold on the site based on a product's quality. From brand new products to threadbare used items, eBay sellers can sell virtually anything. (Obviously, illegal items are prohibited.)
And this is where eBay really comes into its own.
Compared to Amazon (and even though you can buy used items on both), people prefer eBay when shopping for second-hand goods. Also, its auction model lends itself perfectly to selling used items, offering buyers a chance to purchase them at competitive prices.
The only real exception is selling used books. For the most part, Amazon is the better marketplace for vendors looking to sell second-hand books (which makes sense, considering Amazon began as an online bookstore).
While eBay has been known as the platform to buy and sell used and unique items, nearly 80% of eBay's inventory is brand new – so if you sell your own brand of products on Amazon, eBay is another opportunity to reach even more buyers.
But, when looking for an item that is brand new, or in pristine condition, most shoppers gravitate towards Amazon. In fact, a whopping 63% of consumers use Amazon as a search engine when looking for new products.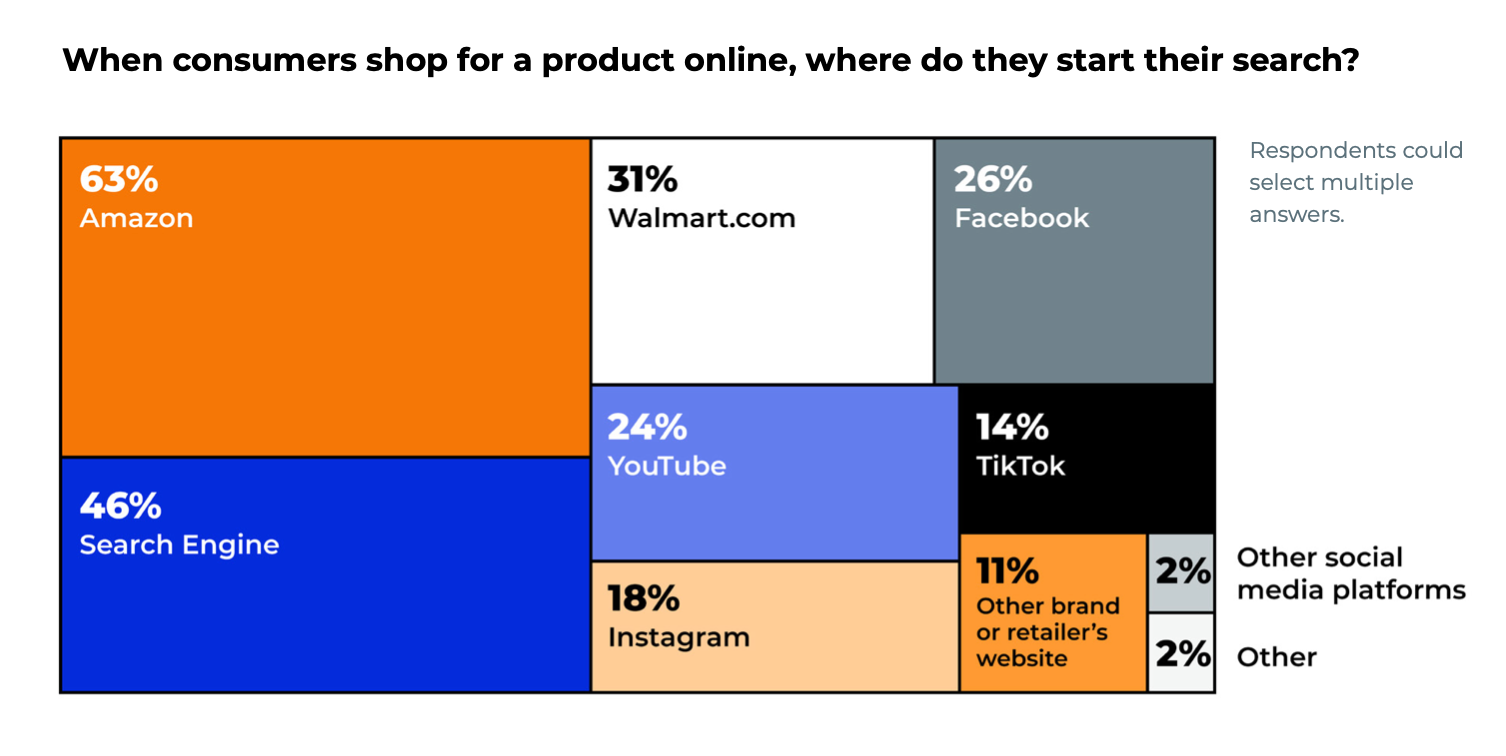 Still, both Amazon and eBay are viable options for selling new and used products in today's world of ecommerce. In fact, all business models will work well on both:
Private Label:

Private label

is when you brand and launch your own product on Amazon.
Retail Arbitrage:

Retail arbitrage

is when you purchase other brands products from retail stores and resell them on Amazon for a profit.
Online Arbitrage:

Online arbitrage

is when you purchase other brands products from online retail stores and resell them on Amazon for a profit.
Wholesale:

Wholesale

is when you purchase other brands products at a wholesale cost and resell them on Amazon for a profit.

Handmade: Handmade

is when you hand craft your own products versus having them manufactured by another company or supplier.
If you do your product research, find the right supplier, and create a listing that attracts buyers, you can generate profits that enable you to grow and expand your ecommerce business year after year on both platforms.
Is it better to sell on eBay or Amazon? Your choice
Now that you know the differences between the two platforms and, hopefully, have a better understanding of how each could benefit your business, it's time to decide. Amazon or eBay? Or both!
But, no matter what you choose — eBay or Amazon — there's never been a better time to launch your business online.
If you'd like to learn more about how Jungle Scout can help you get started on your seller journey, check out our subscription options (which all include access to Academy training content reserved for Jungle Scout members):