One of the most common questions asked by new Amazon sellers is "where can I buy products to sell on Amazon?" While there are a few different answers to this question, an experienced seller's answer will most likely be "on Alibaba."
Alibaba is a great place for sellers of all experience levels to source millions of different products that you can private-label and brand. Many businesses rely on getting profitable products from Alibaba to Amazon FBA.
If you are unfamiliar with Alibaba and how it works, it can be overwhelming. In this guide, we're going to go over everything you need to know about Alibaba, so you can successfully source quality products for your private label Amazon FBA business.
Here's what you will learn:
READ MORE | How to Make Money on Amazon in 2023 – 15 Top Methods
Want to learn more about selling on Amazon? Check out our complete guide.

What is Alibaba?
Alibaba is a global business-to-business ecommerce platform that connects sellers and brands with manufacturers and suppliers for millions of products. If you want to create custom products for your brand, this is where you go.
Unlike traditional ecommerce websites like Amazon, where consumers make one-off purchases, Alibaba is a platform where businesses purchase products in bulk to resell online or in a brick-and-mortar store.
Alibaba connects you with different suppliers around the world so you can find quality products at extremely low prices — even if you don't have a big brand! Whether you are the CEO of a large corporation or are running an Amazon business on your own, you can sign up and source products from Alibaba.
Why do Amazon sellers use Alibaba?
Many Amazon sellers use Alibaba to source products because of the simplicity of its user-friendly site and, well, the low prices. Most manufacturers that you come across on the platform will be based in China, where they can produce quality goods at a much more affordable price than, say, in the United States or Canada.
Any seller can go to Alibaba right now and search for the type of product they're interested in selling and come across thousands of potential suppliers. Finding a manufacturer for your product has never been easier.
What types of products is Alibaba good for?
Use Alibaba if you are looking to create a private label product that is unique to your brand. If you have your own custom logo and/or design specs for a product, Alibaba is a great venue to find suppliers that can make your ideas become a reality.
DO NOT use Alibaba to purchase branded products. While there are many reputable suppliers on Alibaba, there are some who try to sell counterfeit products of big brands such as Disney or Nike. Some products could look tempting to sell, but you should refrain from pursuing this option. Selling counterfeit goods on Amazon is strictly prohibited; you'll become permanently banned from selling on the platform if you ignore their anti-counterfeiting policy.
Is Alibaba safe?
In short — yes! For the most part, Alibaba is very safe for sellers to use. But there are things you need to be aware of when using Alibaba such as counterfeits, payment scams, and suppliers who send high-quality samples but low-quality bulk orders. When ordering products from a supplier, it is likely that it will be a large order, so you want to be sure that the company you're doing business with is legit.
Just like Amazon, Alibaba consists of sellers that will try to earn your business. This is why it is very important that you contact multiple suppliers and order samples to evaluate before placing a larger order.
Alibaba offers a secure payment portal for all transactions so you are assured that your payment or credit card information is safe. They also offer an order protection service called Trade Assurance which will get you your money back if the product quality is different from what you and your supplier discussed, as well as if your order was not shipped on time.
As long as you make payments through Alibaba's payment system, your money will be safe and secure.
How to decide what to sell on Amazon
Before you can find suppliers on Alibaba, you need to figure out what you want to sell on Amazon! If you are a beginner seller, you typically want to focus on products that have high demand and low competition. This will give you the best chance of competing with already established brands in your niche.
Product research is a very important step in your Amazon seller journey, so make sure you take the time to properly analyze the products you'd like to sell. Having said that, don't get stuck with "analysis paralysis." Many aspiring sellers get caught up in so much information that they end up overwhelmed with what to sell and can't make a decision. If you have a couple of ideas you think would work well, just pick one and get started!
When analyzing products to sell on Amazon, you need to consider three things: profitability, demand, and competition.
Profitability:

To ensure that the product you're selling is profitable, you need to be able to source it for much less than you would sell it for. The 3X rule is a good strategy for new sellers to determine the profitability of a product:

1/3 of your sale goes towards product costs, 1/3 goes towards Amazon fees, and 1/3 is your profit, which goes to you.

For example: If you purchase an item for $10, you should be able to sell it for $30.

$10 pays for Amazon fees, and your expected profit should also be $10. You should aim for higher profitability to account for advertising costs but use this rule as a minimum.

Demand:

Are customers actively searching for and purchasing this product on Amazon? When you're able to determine the demand for your niche, you can feel confident about investing in a particular product. Without proper demand, you may end up with a product that no one wants to purchase.

Competition:

The demand may be there, but what is the competition like? You need to find the right balance of demand and competition when selling products on Amazon. If there is too much competition, it will be more difficult to gain the rank needed to be in front of customers. If the competition is low with decent demand, you may have found yourself a winner!
READ MORE | Amazon FBA Fees and How to Profit as a Seller
Ok, so how do you actually find a good product to sell? The best way to conduct product research for Amazon is to use powerful tools backed by accurate data.
Jungle Scout offers a few different tools you can use to find and analyze products to sell on Amazon:
READ MORE | How to Sell on Amazon for Beginners – 2023 Guide (see chapter 4)
Or, check out our How to Sell on Amazon video!
How to find suppliers on Alibaba
After you know what product you'd like to sell, find suppliers for it! If you searched for products on Amazon, Alibaba pretty much works the same way. Simply conduct a keyword search and see what comes up.
Let's go over an example of a product search on Alibaba. I am going to search for "blackout curtains."
Similar to Amazon, the results appear based on my keyword search. I can now scroll and see which products pique my interest. But before we go through the current results, let's take a look at the filters on the left-hand side of the page.
You can see different filters to choose from, such as supplier type, product type, price, supplier country, and certifications. A common misconception about Alibaba is that the suppliers are only from China, but this is not the case. The Supplier Country/Region filter allows you to choose from many different countries to source from for this type of product.
Out of all the filters available, the most important to me is "Supplier Types." I suggest checking off "Trade Assurance" and "Verified Supplier" so you can have an extra layer of security, and deal only with professional and legitimate suppliers.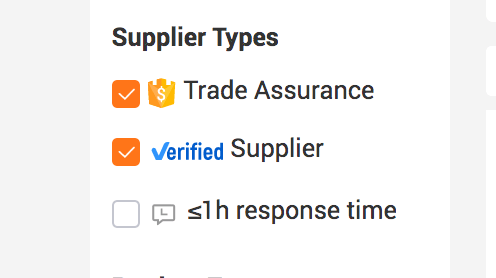 After checking off these two filters, the search results changed a little bit, but now I can feel more confident choosing from the suppliers within the results.
Go through the results and keep track of the products that look interesting. You will also see pricing information but that may not always be accurate at this point in the process. The price per unit will depend on the product specifications and number of units purchased so you will need to contact the supplier to get a product's true pricing.
Analyzing suppliers
Let's look at a listing for one of the "blackout curtains." Once on the listing, you can find more information about the product and the supplier.
Towards the bottom of the page, you will see "Company Profile." This is where you can learn more about the supplier company, their sales, employees, quality control, and process for manufacturing.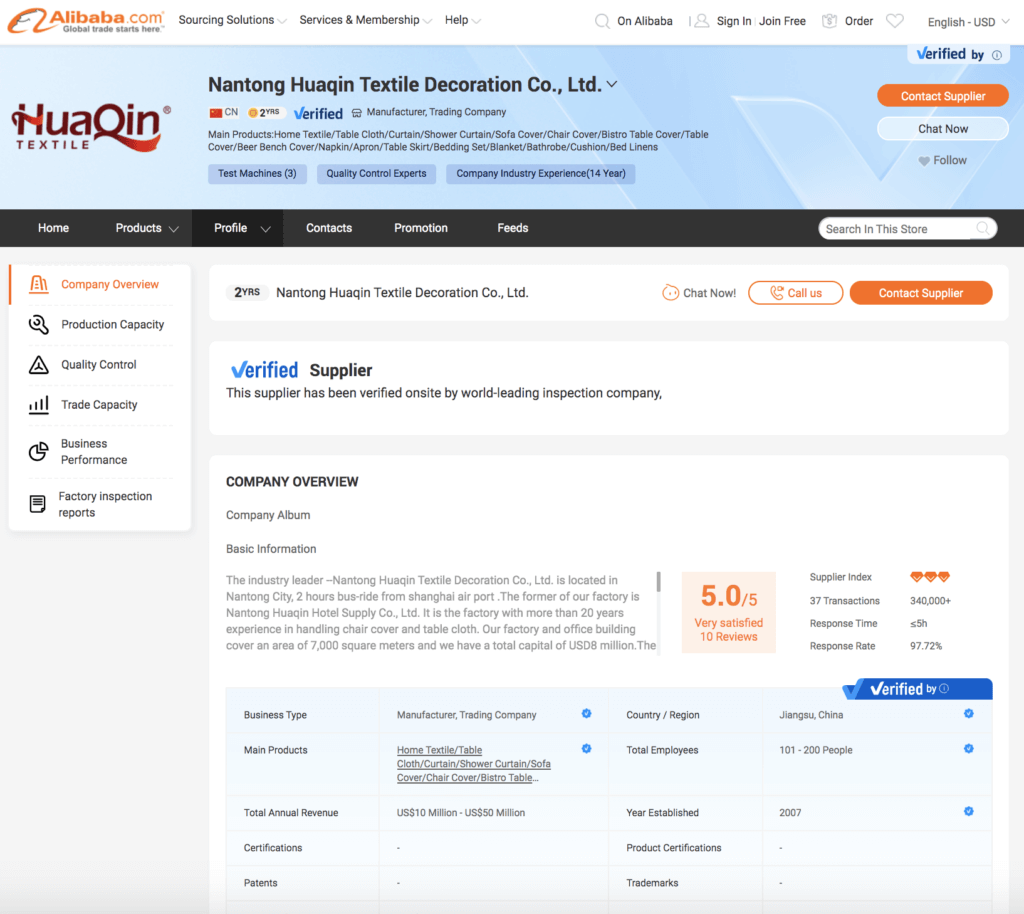 How to contact suppliers on Alibaba
Before you make any decisions, contact a few different suppliers for your product so you can choose the right one for your business. Here are a few things to consider when contacting suppliers:
Product quality:

High-quality products lead to happy customers, and happy customers lead to positive reviews! Aim to find good quality products that meet your standards. You can test the quality by ordering product samples from each supplier you're interested in working with. This allows you to see and feel the product in person, test it with family or friends, and make a more informed decision.

Communication:

Does the supplier get back to you in a timely manner or does it take days to get a response? While a slow response time may not be a deal-breaker for some, it may be for you.

Don't forget to evaluate

how

they respond to your inquiries. Was the information clear and thorough? Does it look like they have a good system in place for communicating with potential buyers? If you have to constantly go back and forth to get an answer, try contacting another supplier.

Industry experience:

How long has this supplier or manufacturer been in business? Can they customize a product based on your specs? Do they have product certifications? What other products can they produce? You can find all this information on the company's Alibaba profile.

Many suppliers will have their own Alibaba storefront or minisite, similar to an Amazon Storefront. The storefront will typically include an about us section, the types of products they offer, certificates, quality control process, and contact information.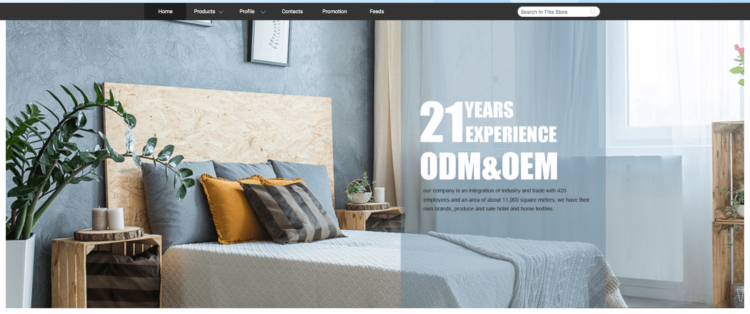 Price:

Pricing is one of the main reasons sellers source products overseas. There's a wider range of price points to choose from, and many opportunities to save money on your product. With that said, a product that is priced much lower than what other suppliers offer may be a sign of poor quality, while products that are priced too high may leave you with little-to-no profit margin.
Contact multiple suppliers
Once you click-through to a listing, you'll see a "Contact Supplier" button or maybe even an option to have a live chat. Here are some tips for contacting suppliers on Alibaba:
Cast a wide net. We suggest contacting at least 5-10 suppliers so you can explore a cross-section of companies, and weed out those who are less than ideal.
Be detailed. Your first communication should be detailed and clear. Use bullet points with the exact product specs you're looking for.
Be polite and respectful. Give some information about yourself and your company. You don't need to have a registered company to do business with an Alibaba supplier, but you do need to conduct business professionally.
Ask questions. Include questions you may have for suppliers about key specifics such as pricing, minimum order quantity, lead times, and sample costs.
Be clear. English may not be a supplier's first language, so make sure that you are clear in your communication. Many will have an English-speaking rep to make communication much easier.
Do your research. Vet each supplier based on the response time and how they communicate with you. If you are not able to get all the answers you need from one, you can cross them off of your list.
Ask about shipping. Ask for estimated express shipping costs to your location.
Here's an example of how to word your email:
For more information on contacting, vetting, and negotiating with suppliers, check out Chapter 3 of our How to Sell on Amazon for Beginners guide.
The risks of sourcing from Alibaba
Sourcing and purchasing products from Alibaba is very safe and secure. But just like in any marketplace, there are ways you can get scammed. Here are some measures to mitigate risks on Alibaba:
Vet suppliers. Always look for Alibaba Verified Suppliers and Trade Assurance suppliers on the platform. These protective measures are set in place so you can avoid theft and purchasing poor-quality products.
Beware of counterfeit products. If you come across a branded product, there is a 100% chance that it is counterfeit. Your account will be banned if you're caught selling counterfeit goods on Amazon. To sell branded products, follow the

wholesale

or

arbitrage

business models for Amazon.

Purchase samples first. Always purchase samples to evaluate before placing a bulk order with a supplier. The last thing you want is to receive hundreds of poor-quality products that you can't sell. You can also have an inspection done during the manufacturing process to ensure your products are in good condition.
Placing an order
Now that you've received samples, chosen your supplier, and negotiated on price, it is now time to place your order! We recommend that you send a purchase order agreement to your supplier so you're both clear on the units ordered, pricing, and shipping terms. In Jungle Scout's Supplier Database, we have purchase order samples and helpful templates you can use to send to your supplier.
Once everything is agreed upon, the supplier will draft an order for you and send over an invoice. Through Trade Assurance, you can place an order via bank transfer, credit card, as well as a few other options.
NEW U.S. SALES TAX REQUIREMENTS
Alibaba is now charging U.S. sellers sales tax depending on the jurisdiction you order from. In order to be exempt from paying sales tax when placing an order on Alibaba, you must apply for the Alibaba US Sales Tax Exemption Program.
If you have a resale certificate with your state or a federal EIN number for you business, you can be exempt from paying US sales tax on Alibaba.
Shipping your products from your supplier to Amazon FBA
Next, get your products from your supplier into an Amazon FBA fulfillment center. Beginner sellers can usually go through a supplier to arrange shipping since the first shipment will likely be small enough for air freight vs. sea shipment.
Most suppliers on Alibaba are familiar with selling on Amazon and can help you get your products into FBA or to your location. They will arrange to ship with an express carrier such as FedEx or DHL and will typically include the shipping costs in your invoice.
If your shipment will be over 200 kg or 440 lbs, we recommend using a freight forwarding company. They will help arrange sea shipments, customs clearance, packaging, and more. Sea shipments can be complicated so it is best to work with a forwarder if going this route.
For more information on getting your product from China or any other foreign country to Amazon, check out Chapter 3 of our How to Sell on Amazon for Beginners guide.
How to sell products from Alibaba on Amazon
Before your products arrive at Amazon, you will need to have a listing. Assuming you already have your Amazon account set up, let's create your listing! You will need to have your listing done before shipping directly from China or another country to FBA.
In Seller Central, go to Catalog > Add products.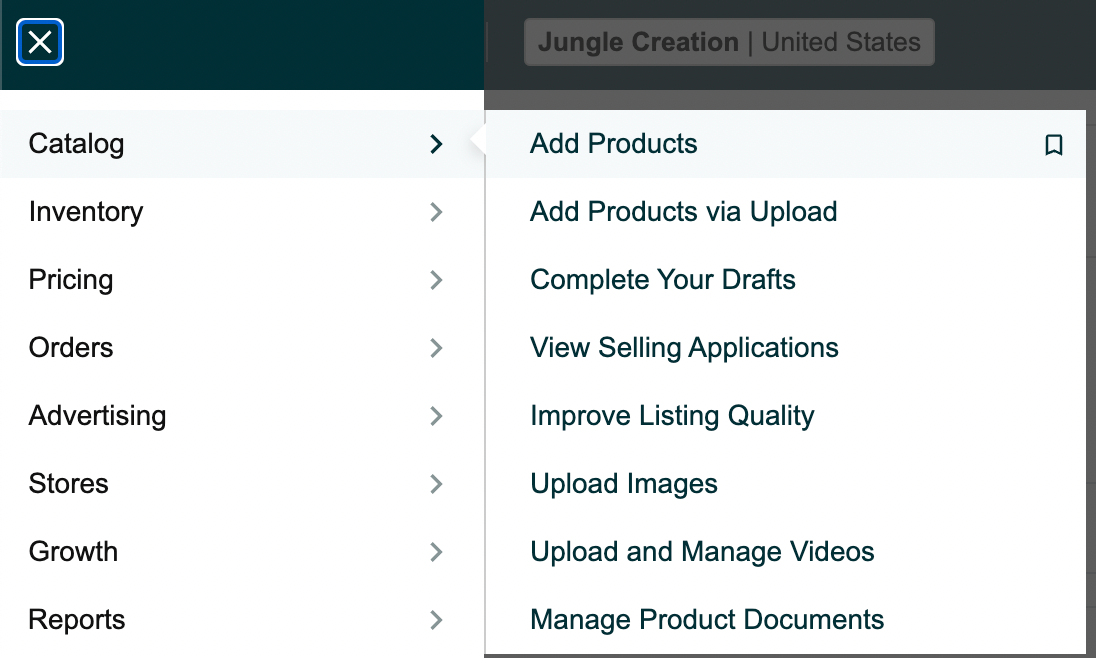 Choose "I'm adding a product not sold on Amazon" then choose your product category.
Enter your product information, including its UPC, brand name, images, product features, description, and so on.
Note: if you do not have a UPC for your product, you can apply for a GTIN exemption to list your product.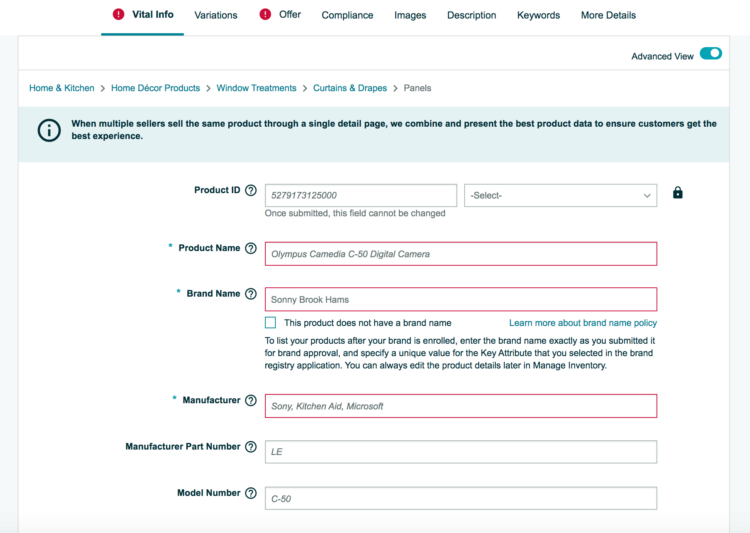 After you fill in all of the required information, your listing will be ready to go live once your inventory arrives!
If you need more information about how to sell on Amazon from Alibaba, download our full in-depth, step-by-step guide on How to Sell on Amazon for Beginners to learn everything you need to know.
READ MORE | How to Create an Amazon Seller Account in 2023
Launch your brand using Alibaba
Starting your own private label business doesn't have to be difficult! With the right resources, knowledge, and commitment, you can be on your way to creating your very own branded product.
We hope this article on using Alibaba helps and inspires you to move forward in your ecommerce journey. Have you used Alibaba to source products before? Share your experience with us or ask us your questions in the comments below!
Want to learn more about how you can use Jungle Scout to launch, grow, and run your Amazon business? Click the Learn More button below!