Online shopping is here to stay — and for good reason. The convenience of tech-enabled shopping has become an essential mainstay in the age of COVID-19.
Ecommerce is continuing to dominate the consumer playing field as spending preferences and comfort levels radically shift with our new normal. And with the many perks of online shopping, it's no surprise that consumers have turned to screens instead of stores.
In fact, 43% of consumers say they would be fine if they never shopped in a physical store again, and nearly three-quarters of consumers (73%) believe the majority of consumer shopping will happen online in the future.
Jungle Scout surveyed more than 1,000 U.S. consumers to learn about motivations for shopping online and how the financial stressors of the pandemic economy are changing spending habits. Since Q4 of 2020, consumer priorities have centered heavily on how to cut costs — whether that's favoring a cheaper product, selecting an item with free shipping, or comparing several products for the best deal.
Here are the reasons consumers opt to shop online, ranked by popularity.
The Top Reasons Consumers Prefer to Shop Online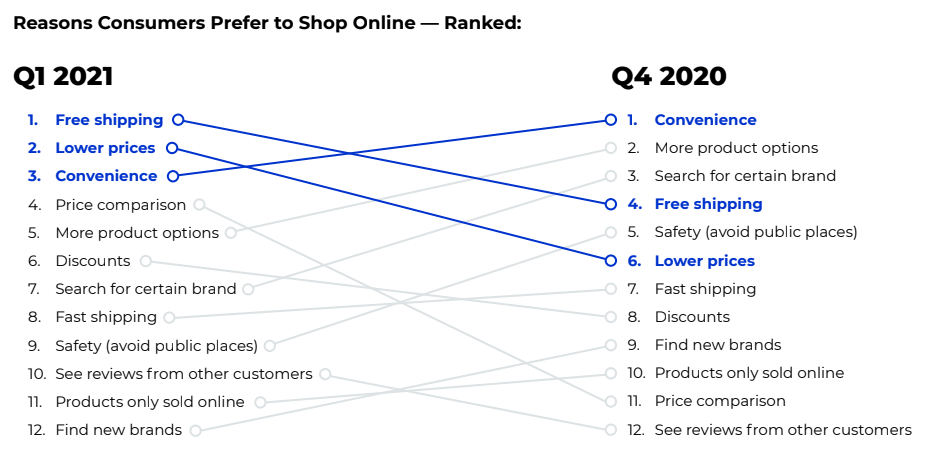 1. Free shipping
The simple luxury of free shipping may be the difference between purchasing online or grabbing an in-store equivalent. From a retailer's point of view, providing free shipping can also nudge shoppers to buy more and "balance out" the delivery costs. It can also incentivize conversion and avert cart abandonment — a habit of 46% of consumers.
2. Lower prices
Price is one of the strongest factors influencing a consumer's decision to purchase: when shopping online, 70% of consumers are shopping for less expensive products. Coupled with the fact that more than half of U.S. consumers (56%) say they are living "paycheck to paycheck," it makes sense that shoppers are looking online to explore the most affordable options.
3. Convenience
In 2021, convenience continues to be the gold standard. 37% of consumers say their online spending has increased over the last three months of 2020 — even while overall spending dropped. Consumers favor shopping online for ease alone. In a few minutes, you can order a product, confirm payment, and see its shipping status from the comfort of your home or in the palm of your hand.
Online Spending Q4 2020 (October through December)

4. Price comparison
Nearly 3 out of 4 consumers are becoming more conscientious of where they spend their money (offline and online). They can whittle down wishlists by assessing the competition and easily navigate from one product page to another to find the best price in a few clicks.
5. More product options
Consumers want to easily compare products by price, reviews, and features and have become more discerning in the product selection process. For almost all product categories, consumers prefer to shop online for greater variety. The only exceptions are essential products like groceries, cleaning products, and over-the-counter medicines and other items like beauty and personal care and alcohol.
6. Discounts
With online shopping, it's easy for consumers to search for deals, join rewards programs, and get promotions sent right to their inboxes. Shoppers have also turned to tech-forward solutions for more savings; 45% of consumers also use deal-finding browser extensions or plug-ins like Honey, Pricescout, and Amazon Assistant.
7. Search for a certain brand
54% of consumers would describe themselves as brand loyal. So what's the top reason that consumers buy from a specific brand? Tied for first is consistently lower prices than competitors and superior quality over competitors, followed closely by good customer service.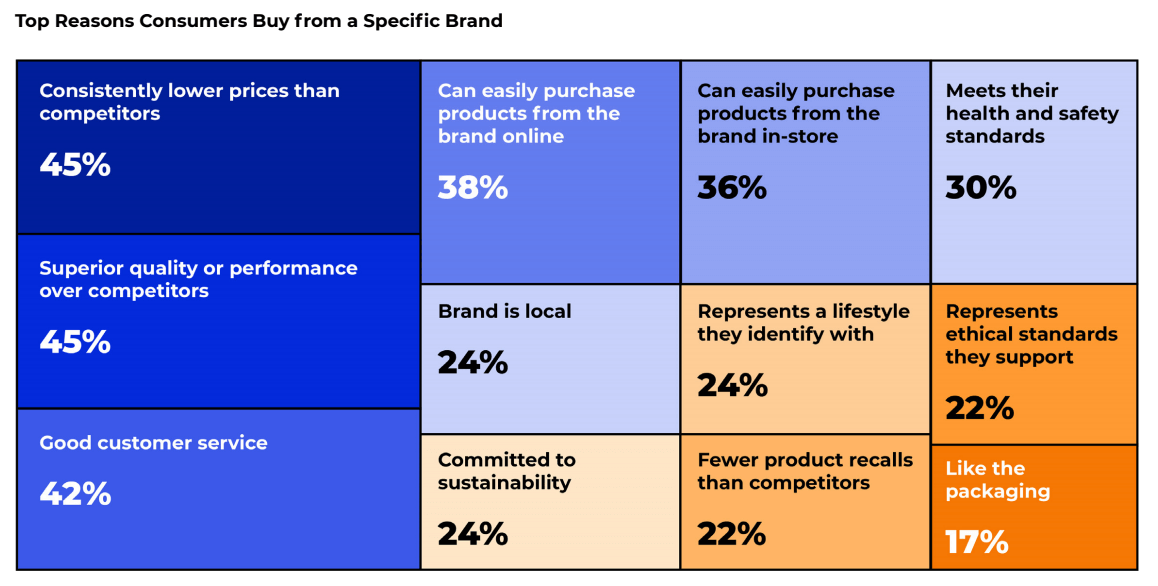 8. Fast shipping
Consumers want their products delivered as soon as possible. 48% of online shoppers are willing to pay extra money for faster shipping, and 55% of Amazon shoppers would do the same. Amazon has solidified its position as the most reliable retailer in terms of speed: 64% of consumers say when they need to get a product fast, they look for it on Amazon.
9. Safety (avoiding public stores)
Despite decreased COVID-19 cases and strides in vaccine rollouts, more consumers are shopping online to minimize potential exposure by avoiding physical stores. 60% of consumers have a greater appreciation for Amazon now than they did before the COVID-19 pandemic; 60% of consumers say they are shopping on Amazon more frequently than they did before the pandemic, too.
10. See reviews
Social proof heavily sways consumer decision-making, too. 71% of shoppers are influenced by the product with the best ratings and reviews, and 68% of shoppers are influenced by reviews that contain photos or videos. The act of crowdsourcing opinions gives online retailers a big credibility boost by establishing trust between other consumers and the product.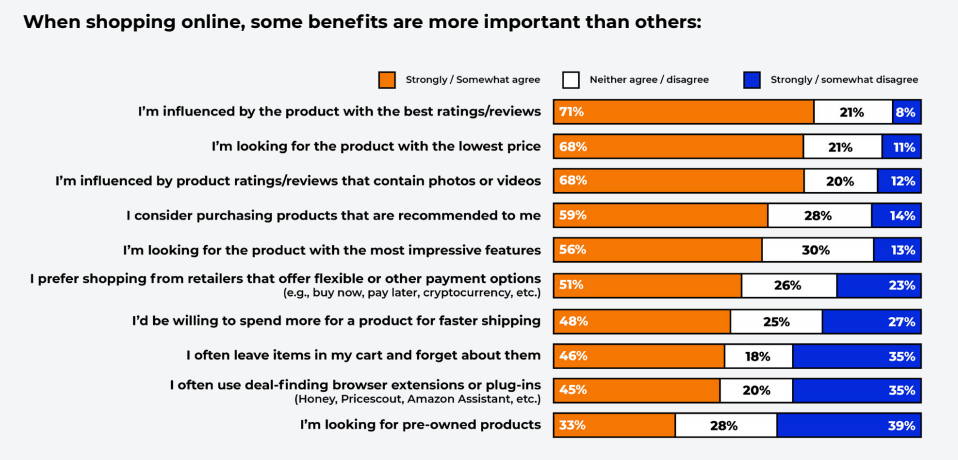 11. Products only sold online
Some specialty, limited-edition, or branded products are exclusively available online. In that case, online shopping is the only avenue for purchase. Some direct-to-consumer brands like Warby Parker, Casper, and Allbirds built huge businesses entirely online and have since expanded to physical stores.
12. Find new brands
Consumers have turned to online retailers to explore their options. Only 12% of consumers never look for brand names, while 19% of consumers always look for a specific brand. By exploring their product options, shoppers can find new brands and create relationships with them more quickly.
Even with tighter budgets, consumers don't want to sacrifice on the particulars — and they don't have to. Whether it's to cut costs, validate purchases with social proof, or have something delivered (or often all the above), online shopping is advantageous in more ways than one.