If you've looked into selling on Amazon, you've heard about software designed to help ecommerce entrepreneurs launch and grow their businesses. Successful Amazon sellers don't operate based on hunches as to what products will entice online shoppers; they rely on powerful tools to guide data-driven decisions on what to sell, where to source their products, and how to market them.
In fact, over a third of Amazon sellers say that having the right tools and information is essential to becoming profitable in ecommerce.
Jungle Scout and AMZScout are two examples of Amazon seller software. Both platforms offer useful features and support resources, but which one do sellers prefer overall? More specifically, we want to know which platform offers more accurate data and a better user experience, for the best price.
We'll walk through the main features, benefits, and pricing plans for both Jungle Scout and AMZScout and provide transparent, side-by-side comparisons so you can choose the right platform for your business.
Data Accuracy: Jungle Scout or AMZScout
In order to best serve sellers, tools like Jungle Scout and AMZScout need to use accurate data when offering insights on profitability. Otherwise, sellers risk launching products that won't sell, thereby wasting their valuable investments — on both their software subscription and their unsold inventory.
Jungle Scout leads all other Amazon business management platforms in data accuracy. It has the longest-running history of data aggregation and analysis among its competitors, and its talented staff work hard to ensure that every decision a seller makes is informed by real-time Amazon marketplace behavior and industry-leading ecommerce insights.
Don't just take our word for it — check out our regular case studies that show Jungle Scout consistently leading other tools in measures of data accuracy.
The chart below compares Jungle Scout's data accuracy to that of other seller software.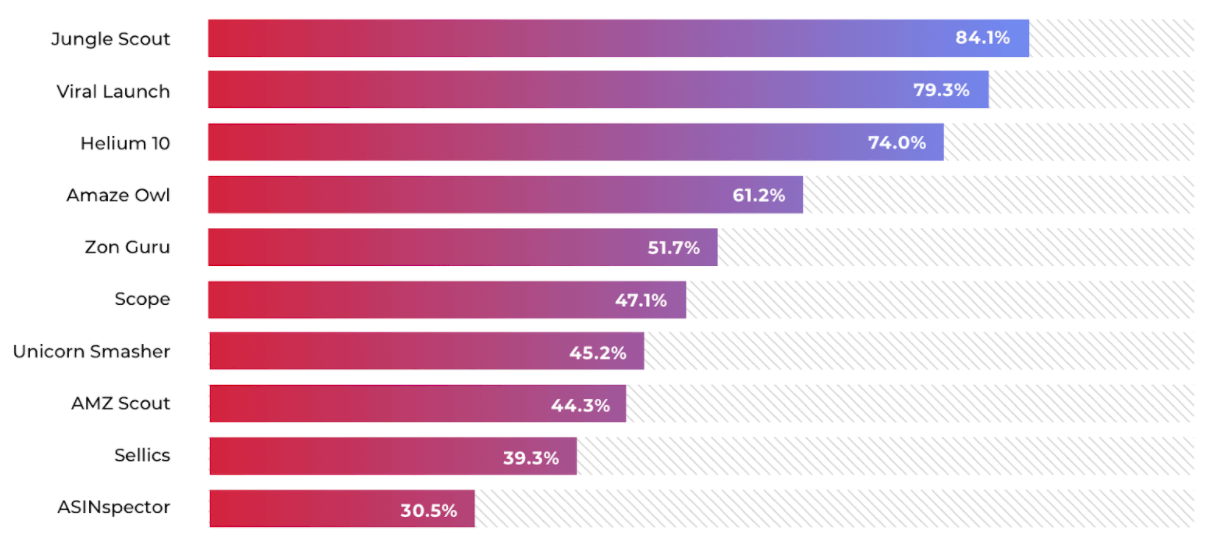 As you can see, Jungle Scout has the most accurate data—far and beyond that of AMZScout. In fact, Jungle Scout is 47% more accurate than AMZScout.
How do these results relate to real-life financial risk? Let's consider an example of how data accuracy should factor into product research.
Jungle Scout's accuracy:
Consider this hypothetical situation: we've just come up with a great product to sell. But before we jump the gun and order inventory, we want to run the numbers to make sure it'll be profitable on Amazon.
To determine our risk in investing in this new product, we'll need to consider the chances that it won't sell at all, and how much money we stand to lose.
Let's say our product is estimated to sell about 500 units per month. We locate a reliable supplier in China who offers us a great manufacturing price of $5 a unit. To avoid an initial stockout, we'll plan ahead and order three month's worth of inventory, bringing us to a $7,500 bill from our supplier.
That's a significant investment, so we want to make sure we're using software that offers us the best estimate of success with our new product. 84.1% accuracy sounds pretty good — but how does that relate to a potential failure in the marketplace? To get an answer, let's consider the margin of error, or the percent chance that the data is not accurate, which can lead to over or underestimating potential product sales.
In an ideal world, we could pick a product backed by a 100% accurate estimate of its complete success — a zero percent margin of error. Since Jungle Scout has an 84.1% accuracy rate, its margin of error is 15.9% (100% minus 84.1%).
That's a roughly 16% chance that we'll end up investing $7,500 in a product that underperforms on some level — or doesn't sell at all. In the latter scenario, we lose that entire $7,500, plus all the time and money spent arranging with the supplier, optimizing the listing, and advertising it on and off Amazon.
Listing any product on Amazon carries a risk of failure. But there's considerably higher risk if we rely on AMZScout's data than if we use Jungle Scout, as we'll see below.
AMZScout's accuracy:
AMZScout's data accuracy is dramatically lower than Jungle Scout's —44.3% — so its margin of error is in turn much higher. Using the same example as above, we're now at a 55.7% chance of investing based on inaccurate sales estimates (100% – 44.3%), which puts us at a much greater risk of launching a product destined to fail.
Advantage: Jungle Scout
Jungle Scout runs on significantly more accurate data than AMZScout, and its estimates continue to improve. That means it's ultimately safer to use Jungle Scout when deciding to sell a new product on Amazon.
Features: Jungle Scout or AMZScout
While data accuracy is extremely important, so is having tools powerful enough to streamline and simplify your business operations. Let's compare Jungle Scout's features to AMZScout in terms of both quantity and quality.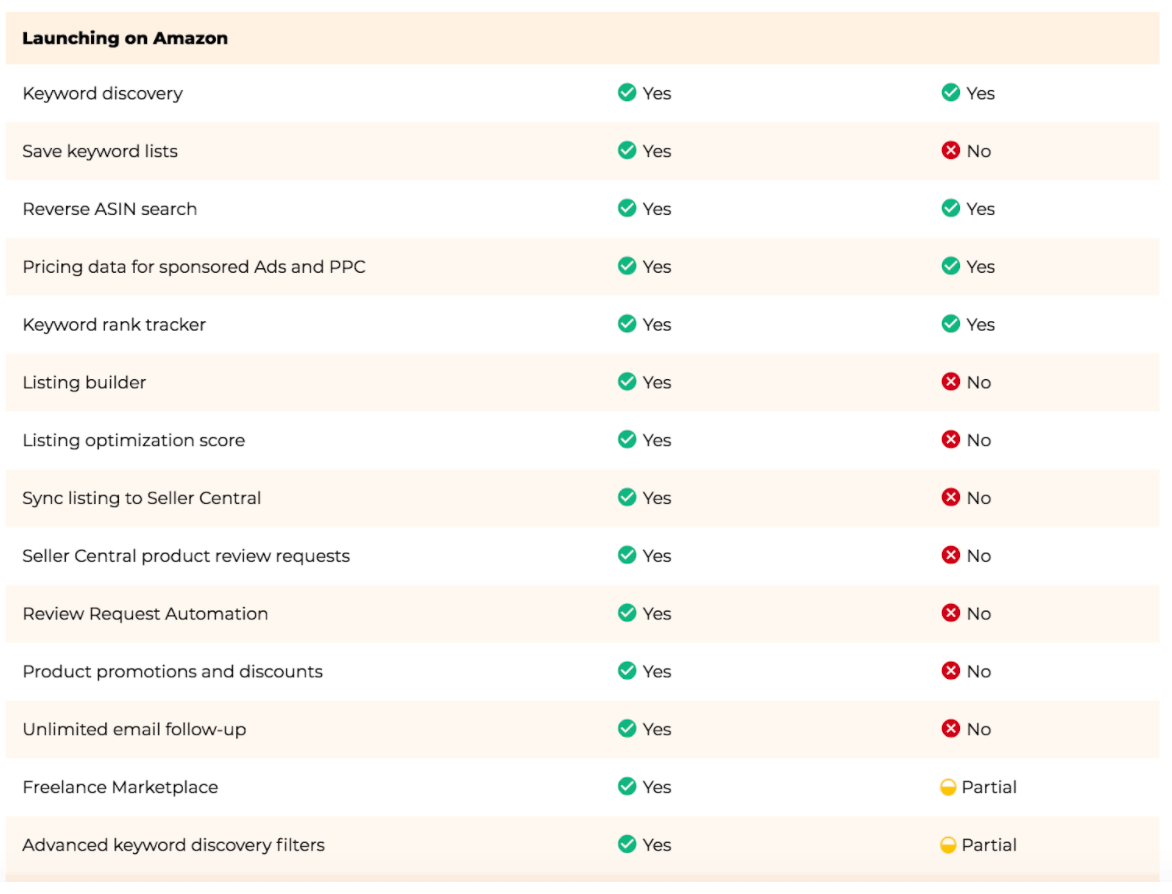 Advantage: Jungle Scout
Clearly, Jungle Scout offers more features and is better equipped to support sellers beyond the initial product research phase. So while AMZScout may help sellers find products to sell, it falls short in connecting sellers with suppliers, streamlining review requests, and running discount promotions — as well as virtually any task related to managing a growing business over time. Jungle Scout, on the other hand, offers more comprehensive capabilities that can power an Amazon business through every phase of development and maintenance.
And while both platforms offer education and training, Jungle Scout's is more extensive, as we'll see in a later section.
User Experience: Jungle Scout or AMZScout
Now let's take a peek at what sellers see when using Jungle Scout or AMZScout. Evaluating each platform's interface isn't just about looks — a better user experience means greater ease of use. Let's compare Jungle Scout and AMZScout's most similar feature: each offers a product database for product research.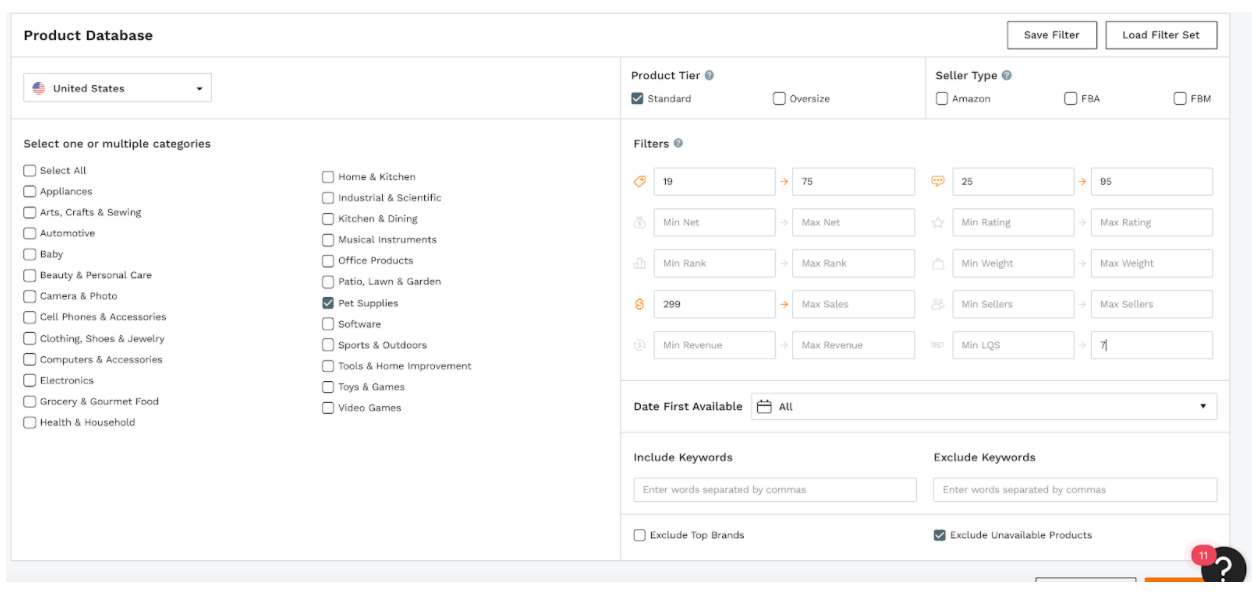 Within Jungle Scout's Product Database, users can apply a variety of filters to view potential products within a specific category, fulfillment method, price, or other criteria. As the user scrolls through the search results, the tool displays potential products' net prices, Amazon fees, reviews, and other decision-making metrics.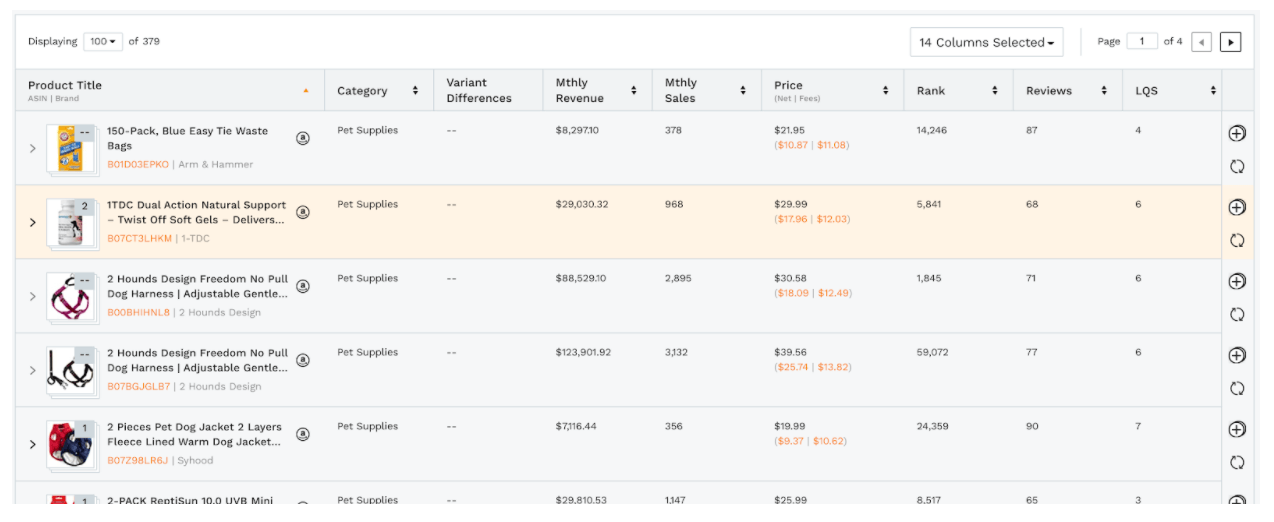 This feature also indicates a product's seasonal sales trends, so users can ensure they invest in a product that sells well year-round, not just seasonally.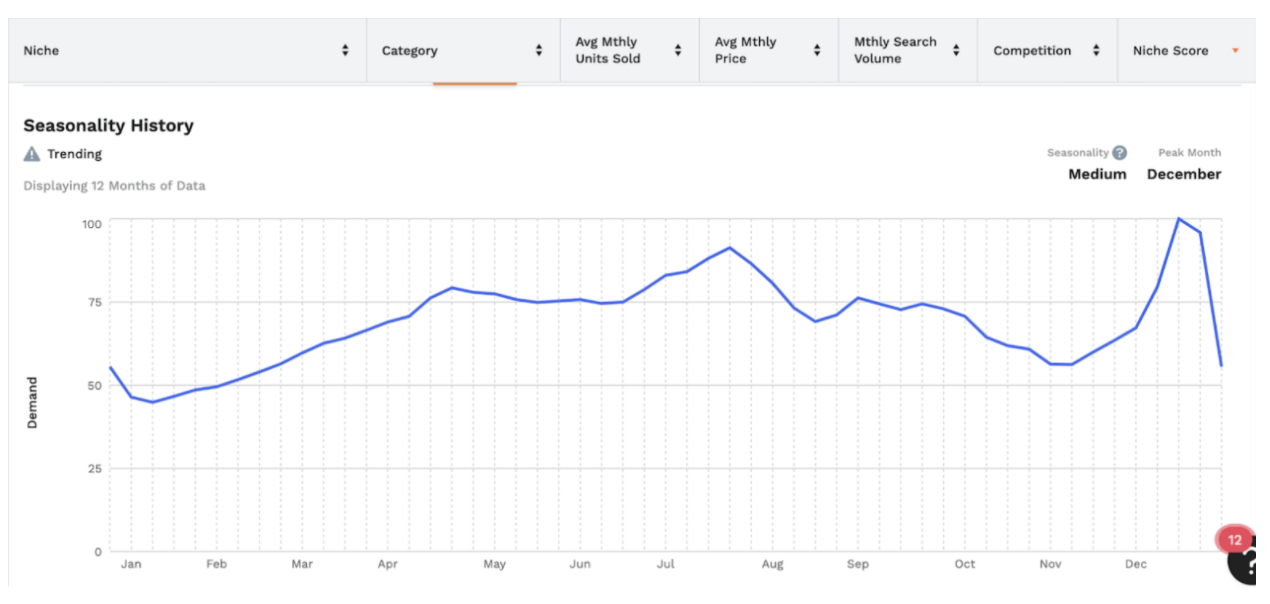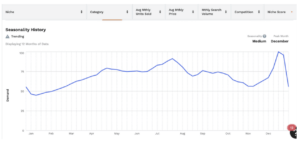 From the Product Database, users can send product ideas to Product Tracker to monitor their performance over time. That way, sellers can distinguish viable product opportunities from those that fizzle out.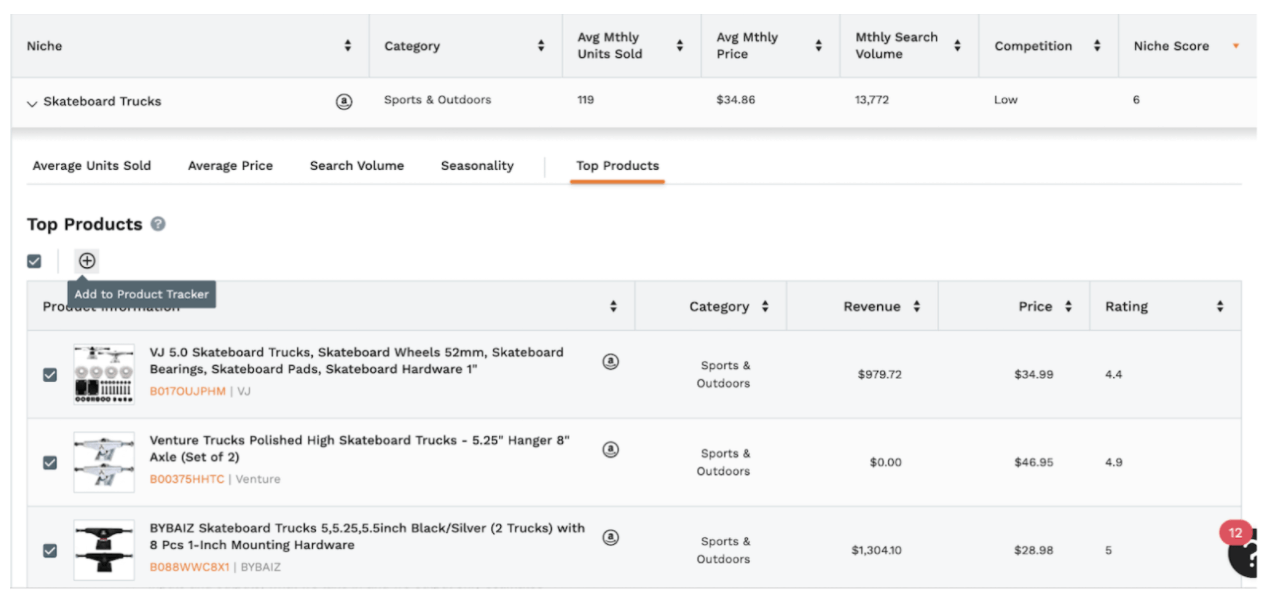 AMZScout Product Database


AMZScout's Product Database has nearly identical features and filters available. Users can select for desired product categories, keywords, price range, and other metrics.


As with Jungle Scout, users can send potential product ideas into Product Tracker to view sales performance over time.
Advantage: Both
The winner here is your choice. Both Jungle Scout and AMZScout offer robust search filters, historical sales performance insights, and a straightforward interface.
Expertise & Experience: Jungle Scout or AMZScout
Jungle Scout
Jungle Scout is the first Amazon seller solution to market. It was developed by Greg Mercer, who by 2015 had become a successful Amazon seller, to give other entrepreneurs the tools and insights needed to grow their ecommerce businesses.
Having achieved 8-figure sales on Amazon and built Jungle Scout into a thriving platform in its own right, Greg has gained recognition on the business awards circuit. To date, he has earned the titles of Best Amazon Expert (2017), Ernst & Young's Entrepreneur of the Year (2019, 2020), and Top 50 SaaS CEO by The Software Report (2019, 2020).
Greg isn't the only Jungle Scouter with years of Amazon seller experience — many of Jungle Scout's engineers, customer success specialists, and marketing experts run profitable Amazon businesses, too (including yours truly).
The Jungle Scout team regularly flexes their seller skills in the Million Dollar Case Study, in which they research, source, and launch a new product to a live YouTube audience. Through the Million Dollar Case Study, comprehensive guides to selling on Amazon, and a wealth of other seller resource content, the Amazon experts at Jungle Scout share everything sellers need to know to grow and expand their businesses.
AMZScout
AMZScout launched in 2017 with a desire to help sellers launch and grow a sustainable Amazon business. Its CEO, Paul Ryskov, has a background in sales and digital marketing with a passion for growth in early-stage IT companies.
AMZScout is a multinational company with remote employees all over the world, as does Jungle Scout. Their core values include growth, teamwork, commitment to the quality of our tools, and customer value.
Similar to Jungle Scout, AMZScout regularly hosts webinars to a live audience about growing your Amazon business.
Advantage: Both
Both companies have a passion for helping experienced and aspiring Amazon sellers succeed on the marketplace. For this point, we'll respectfully call it a tie.
Support & Resources: Jungle Scout or AMZScout
Amazon sellers can expect robust support from Jungle Scout, whether from the Customer Support team or its plentiful online resources.
Jungle Scout's top-reviewed Customer Support team includes expert Amazon sellers and is available 24 hours a day, every day to answer any seller-related questions, from software updates to Amazon's policies.
In addition to Help Center resources, Jungle Scout offers its users access to the Academy, an extensive library of training materials that take sellers through every step of launching and maintaining an Amazon business. Within Academy, sellers can find informative videos and other educational content on getting the most out of Jungle Scout tools and navigating other Amazon-related challenges.
Jungle Scout also regularly updates its seller guides, notifies sellers of Amazon-related news, and publishes data reports on consumer behavior, global trade, and Amazon seller trends. Other resources include the following:
AMZScout offers a free, 7-lesson course to teach you the basics about selling on Amazon. They also have a more extensive Amazon Seller Masterclass that is included with a monthly subscription. It is taught by multiple ecommerce experts and covers advanced tips on finding profitable products, sourcing and marketing. As mentioned before, they also offer regular webinars on various Amazon selling topics.
While we can't speak on the quality of all of their content, any resource that offers tips on running an Amazon business is a big plus. The notable difference here is that Jungle Scout offers much more free educational content than AMZScout.
Advantage: Jungle Scout
Jungle Scout offers more in-depth Amazon training than AMZScout, along with the regularly rebooted Million Dollar Case Study series and frequently-published seller guides and Amazon-related news. Most of this is completely free to access too!
Customer Ratings: Jungle Scout or AMZScout
To see what real customers are saying about each tool, we'll take a look at the ratings and reviews of each on Trustpilot. This trusted third-party review platform hosts testimonials from real customers of both Jungle Scout and AMZScout.
Trustpilot rating and reviews
4.7 rating
2,845 Reviews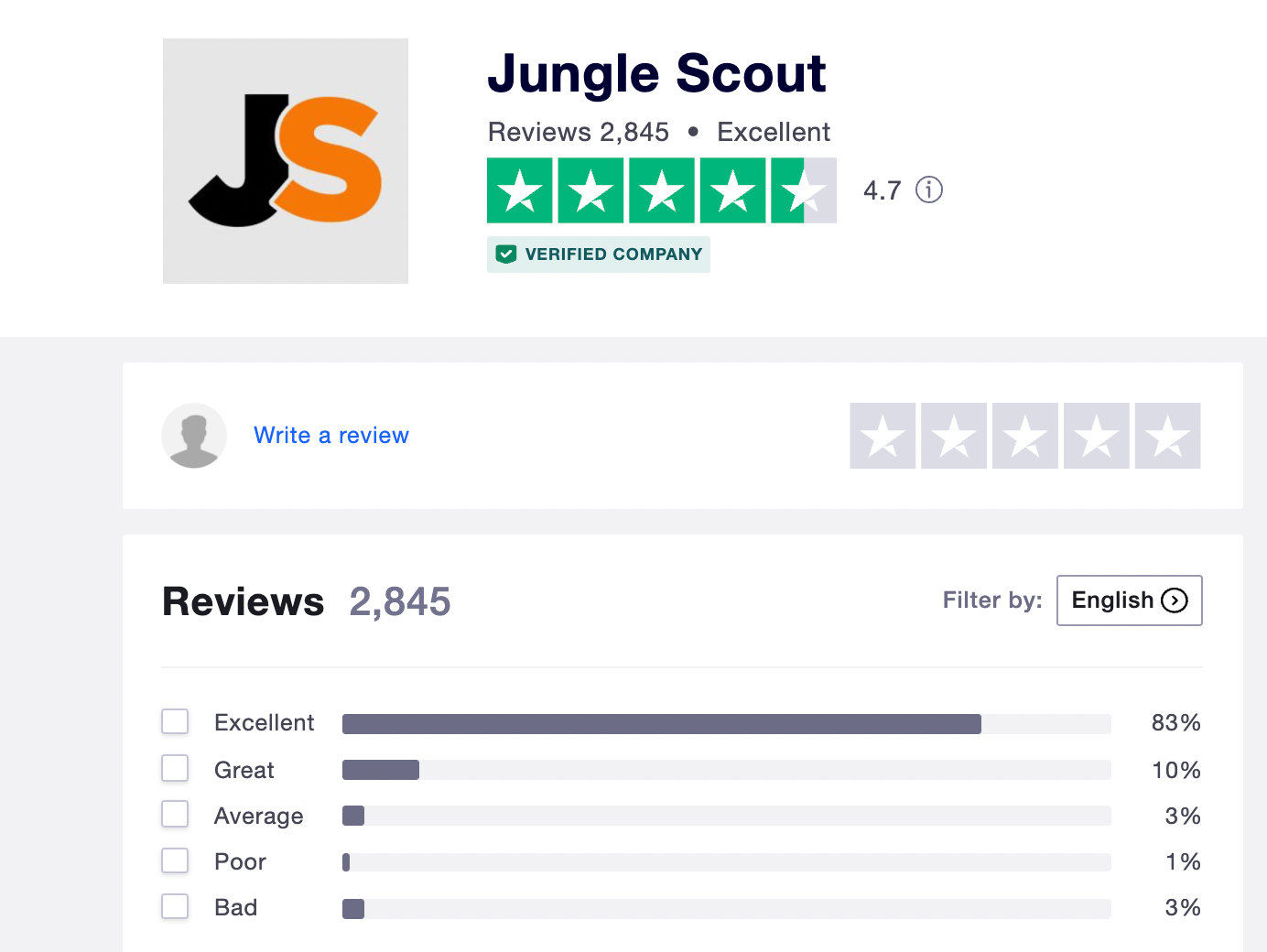 4.5 Rating
456 reviews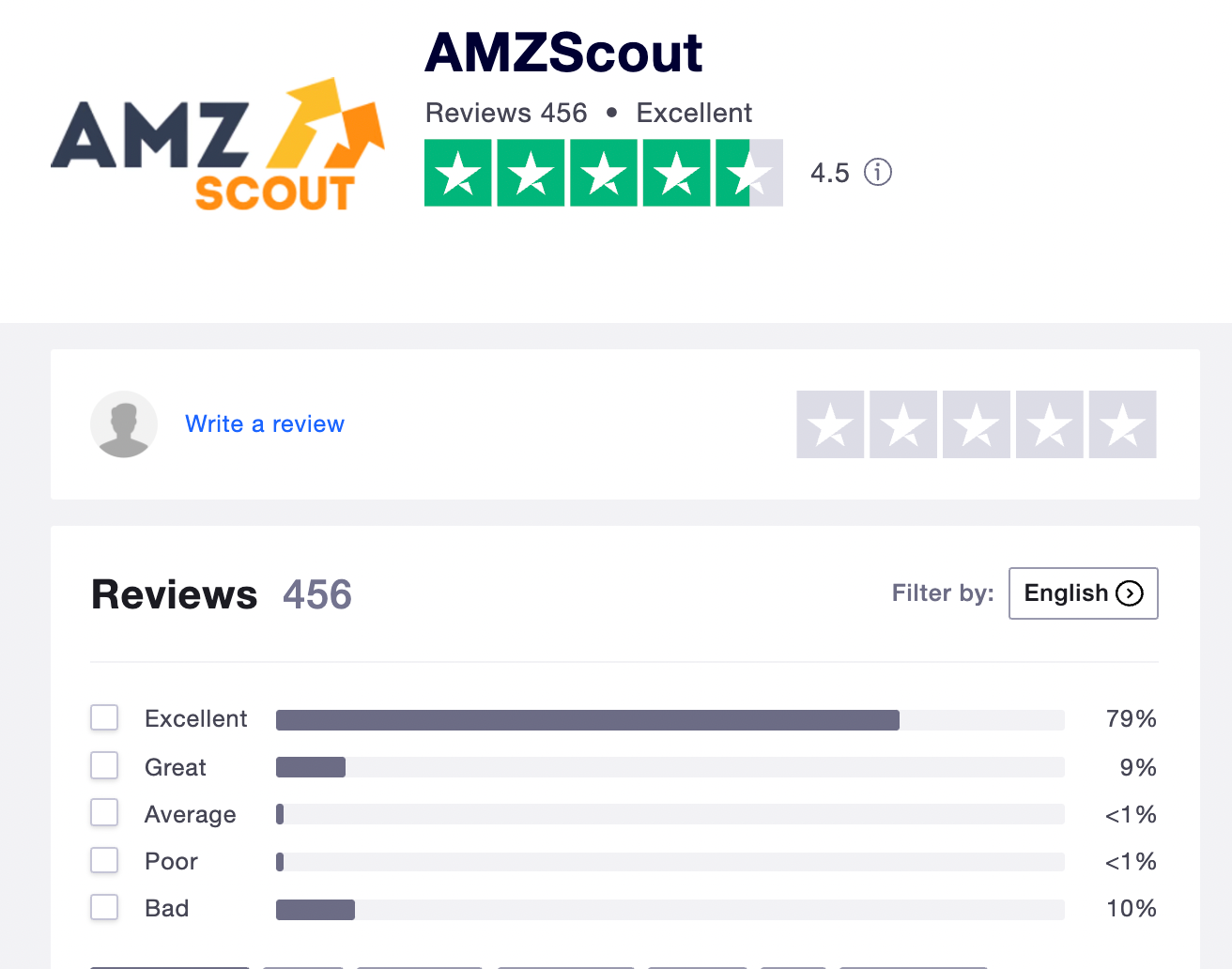 Advantage: Jungle Scout
The ratings of both Jungle Scout and AMZScout are close, but Jungle Scout has the edge. Jungle Scout also has over six times as many reviews than AMZScout.
Here are among the most recent comments for each platform:
Jungle Scout comments:
"Great app for starters. I have just recently started using this tool and WHAT A CHANGE. It's amazing when you learn how to use it. It is also super easy to follow and there are lots of videos explaining how everything work. 100% would recommend."

— G.B.

"Good experience with customer support 👏 ." — Ramakrishna C.

"The only way to successfully sell on Amazon. I came across Jungle Scout by chance, and once I got in touch with them, I knew they were the lifeline I had been searching for. They have provided so much information on their website and their training academy, and when I have a need to contact their customer service, they are very friendly and always helpful. They go beyond my expectations every time." — Hayley
AMZScout comments:
"I like this tool. It helps me a lot in my Amazon work. Try it, it is very useful" — Valentin

"SO EXPENSIVE" — Payman

"Bad experience price change badly!!!! I bought a lifetime-use type last year around Middle August, but now it appears i can't use it anymore. Please explain the meaning of "lifetime use". Why I need to purchase again. Why your policy often change? Your guys are not trustworthy!! I need your feedback soon." — Lyla
Affordability: Jungle Scout or AMZScout
Basic- $49/month – Extension & limited access to Product Research tools, Product Tracker (3 ASINs) Historical Product Tracking (1 month), Historical Keyword Tracking (1 month), Unlimited access to Review Requests, 24/7 Customer support.
Suite – $69/month – Basic Plan + Product Tracker (150 ASINs), Historical Product Tracking (3 months), Historical Keyword Tracking (1 year), access to Advanced Seller tools (3,500 Keywords in Rank Tracker & 15k emails/month).
Professional – $129/month – Suite Plan + Product Tracker (1,000 ASINS), Historical Product Tracking (6 months), Historical Keyword Tracking (2 years), access to Advanced Seller tools (5,000 Keywords in Rank Tracker & 100k emails/month).
AMZScout Pricing
PRO Extension- $45.99/month – Includes access to the Chrome Extension tool and the AMZScout Seller's Course.
Amazon Seller's Bundle- $49.99/month – Includes all of their tools. AMZScout Seller's Course, PRO Extension, Exclusive Amazon Insights (annual subscription only), Product Database & Product Tracker, Amazon Keyword Search & Reverse ASIN Lookup, Keyword Tracker, Quick View.
Advantage: Jungle Scout
The cost of any seller software should factor into a seller's budget. Accordingly, sellers should consider which tool will best serve them, as well as which offers a greater return on investment. Jungle Scout offers more tools and resources, backed by higher data accuracy.
So while AMZScout's plan may be cheaper than Jungle Scout's more comprehensive Suite or Professional packages, Jungle Scout provides sellers with more bang for their buck, regardless of which plan they choose.
Other stuff?
Both Jungle Scout and AMZScout offer its users benefits above and beyond their software solutions and support materials.
Jungle Scout
Philanthropy: All proceeds from Jungle Scout's Million Dollar Case Study go to charity. To date, Jungle Scout has generated over $1 million in sales, with profits going to Doctors without Borders and Pencils of Promise.
Both Jungle Scout and AMZScout
Seller communities: Both Jungle Scout and AMZScout host exclusive seller communities on Facebook, where members at every experience level can ask questions, share their expertise, and celebrate their success. With over 57,000 members, Jungle Scout's group is larger than AMZScout's 1,100-member group.
Youtube: Both Jungle Scout and AMZScout host popular Youtube channels full of educational videos. Jungle Scout also hosts its monthly webinars through Youtube.
In conclusion…
The decision is up to you!
Whether you prioritize price, features, or customer support, the choice of which platform to work with is entirely yours. You can weigh the benefits to see which one will work best for you, or try both — Jungle Scout offers a money-back guarantee.
We certainly hope you follow the 400,000 (and counting!) Amazon sellers who use Jungle Scout to launch and grow their businesses. If not, be sure to check out our helpful guides, videos, and online communities for everything you need to know to be successful in ecommerce.