Two software applications enter the arena. Only one can take the title.
Jungle Scout vs Helium 10: the battle of the ages?
Possibly!
All things considered, Helium 10 does some pretty cool things. And their founder/CEO, Manny Coates, is an awesome dude (and tall as heck!).
Should Jungle Scout be nervous? Should we pack up our three global offices and call it quits?
In this article, I take a look at the Jungle Scout vs Helium 10 debate. And while there will be some bias (obviously–after all, this is Jungle Scout's blog, and I've been a Jungle Scout user since 2015), I'm mainly going to be laying out the cold, hard facts.
If you use Helium 10, or if you're not sure whether to use Jungle Scout over Helium 10, then hopefully this article will give you some insight into the differences between the two tools.
Jungle Scout vs Helium 10 – Which is more popular?
When Jungle Scout started, in 2015, there were very few applications on the market. Back then, you had to do all of your product research using an Excel spreadsheet.
But Greg Mercer, my boss and Jungle Scout's founder, knew there had to be a better way. He wanted to make product research easier.
And voila! Jungle Scout's very first tool–the Chrome extension–was invented.
Five short years later, and we have over 400,000 users. Pretty cool, right?!
Of course, when you create a groundbreaking application like Jungle Scout (which has helped Amazon sellers all over the world find financial freedom), you're going to have copycats.
In other words, we may have been the first in the field, but Jungle Scout has plenty of competitors now: Unicorn Smasher, Viral Launch, AmazeOwl, ZonGuru, Scope, and (of course) Helium 10.
However, despite the growth of the space, we're still the biggest and best site around. In fact, we get more traffic than a majority of our competitors combined.
The only one that comes close to receiving the amount of traffic we receive is Helium 10. So yes, Helium 10 is popular.
But Jungle Scout is still the better choice.
Here are a few of our biggest bragging points:
One, Jungle Scout has over 1,000 reviews on Trust Pilot, with an Excellent five-star rating.

Two, we've been featured in Forbes, Wall Street Journal, Bloomberg, and Inc. (just to name a few), as the go-to application for Amazon Sellers.
Three, and as I mentioned earlier, we've helped 400,000+ entrepreneurs track over 175 billion products.
Four, we are big-time into philanthropy:
We've raised money for Doctors Without Borders.
We help budding entrepreneurs pay for college with our scholarship program.
Veterans worldwide get a leg up with our special military discounts.
We've partnered with Pencils for Promise of build schools internationally, where needed.
And finally, Jungle Scout's sales estimates have the lowest margin of error out of all of the major providers in the Amazon product research space.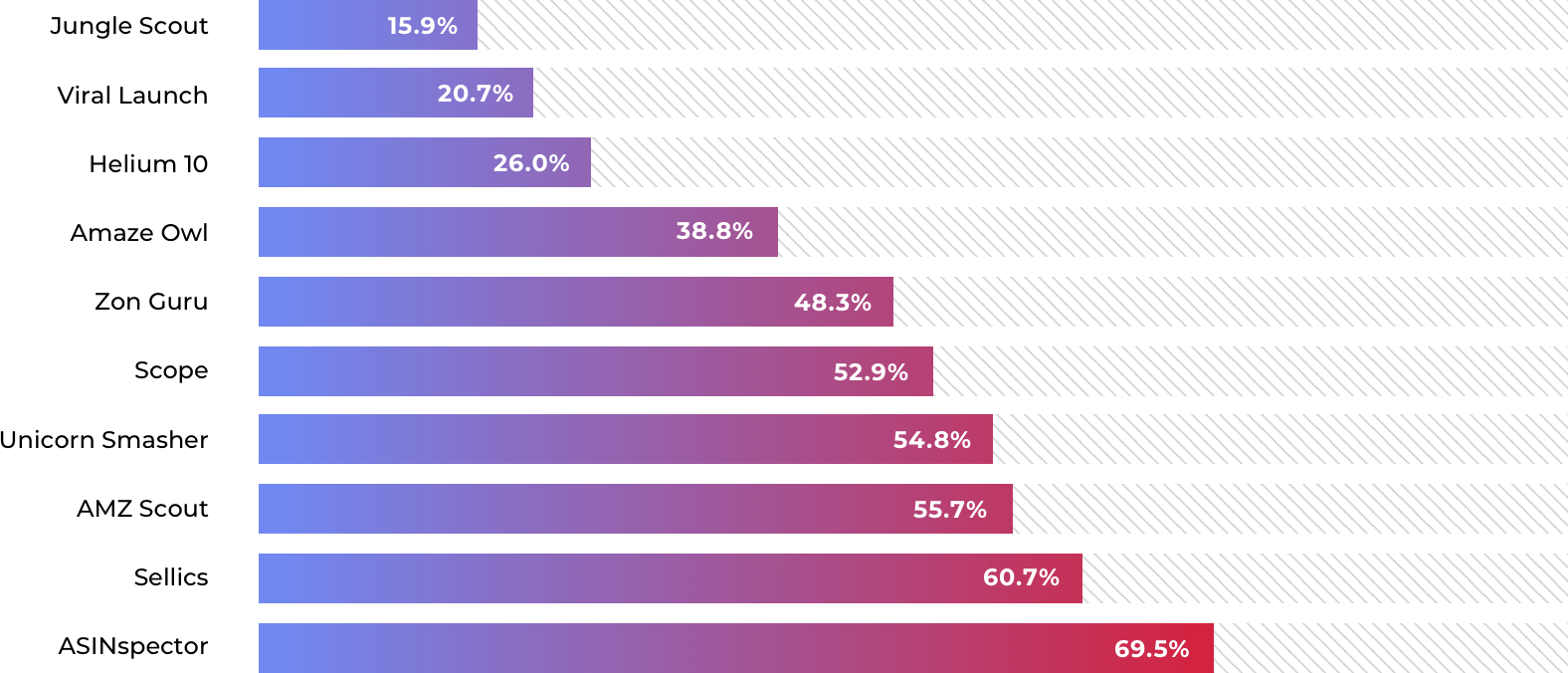 What does this mean? Here's an example.
Why accuracy is the

single most important part

of selling on Amazon.
Jungle Scout's accuracy:
Let's say we found a product to sell on Amazon using Jungle Scout.
Our data says that the product is moving an estimated 500 units per month, so we find a supplier in China that can make the item for $5 each and spend $4500 on three months of inventory.
Considering Jungle Scout's 15.9% margin of error regarding the sales estimate for the product, that means there's a 5.3% chance that the product will fail, a 5.3% chance that the product will sell half of the estimated 500 units, and a 5.3% chance that the product will sell just three quarters of the 500 items.
At first glance, selling on Amazon seems like a risky proposition.
But that's because we're focusing on that 15.9% chance of failure.
Looking past that, though, and suddenly we can see that there's a whopping 84.1% chance that our product will be a success!
Helium 10's accuracy:
Now let's go over the same data using Helium 10.
We find a product that Helium 10 says will sell 500 units per month. And, just as before, we find a manufacturer that will make it for $5 per unit and buy three months of stock for $4500.
However, this is where the similarities of these two examples end.
This time, because Helium 10 has a margin of error of 26%, there's an 8.67% chance that the product will fail, an 8.67% chance the product only sells half of what Helium 10 says it will, and an 8.67% chance that it sells three quarters of the 500-unit estimation.
Therefore, we have a 74% chance of selling the estimated 500 products.
And while you may be thinking that that's only a 10% difference, that variation between the two margins of error means you're risking money each time you rely on Helium 10's data over Jungle Scout's.
I don't know about you, but as a business owner, I try to keep my risk-taking to a minimum!
Jungle Scout vs Helium 10: who's got more tools?
Back in April, I went to an Amazon Mastermind meeting.
For transparency's sake, I let everyone know that I was the senior content creator for Jungle Scout. Shockingly, everyone there said that they use Helium 10.
It was NOT what I was expecting!
Aghast, I asked them why they would use a product like Helium 10 over industry-leader Jungle Scout. The number one answer: everything is all in one package. 🙄
Granted, that used to be a valid reason to choose Helium 10, if you disregard their high margin of error when it comes to their data.
But Jungle Scout is quickly heading towards becoming an all-in-one tool as well, and we've already incorporated our Launch features (formerly Jump Send) into our seller plans.
Plus, we have a lot of fantastic tools that Helium 10 does not.
Supplier Database
Did you know that you can source suppliers directly through Jungle Scout?
That's right! No more having to tab over to Alibaba.
Our supplier database helps you source hundreds of thousands of global vendors–not just Chinese!–offering up accurate data of the sellers' customs and shipping information.
Does Helium 10 have a supplier database? Nope!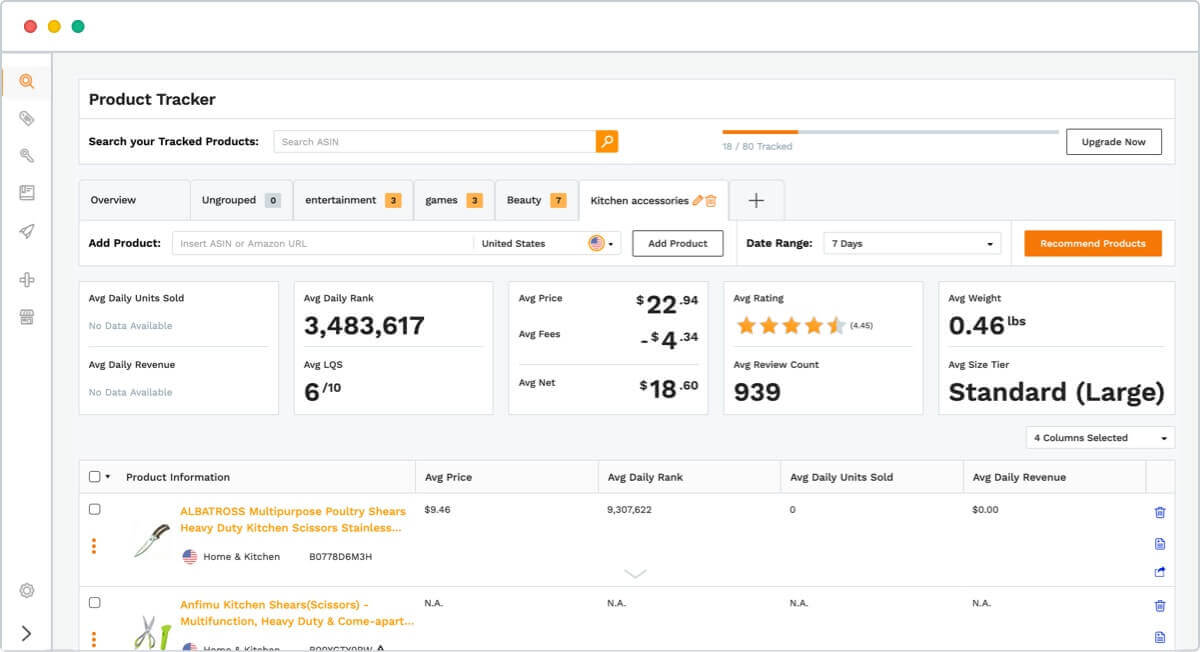 Product Tracking
Also, with Jungle Scout, you can track and monitor products over time. So even if our margin of error concerns you, you can see your competitors' real sales data.
This ensures that you're getting an accurate picture of how the item is selling, outside of any estimates that may have been inflated by promotions or lightning deals.
Does Helium 10 have a product tracker? Nope!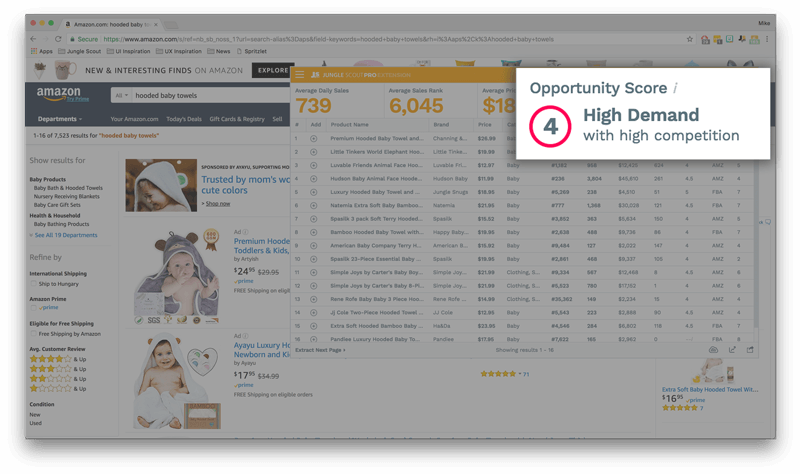 Opportunity Score
Greg, Jungle Scout's founder and multi-million dollar Amazon seller since 2013, has developed a system for finding profitable products on Amazon.
Normally, a successful Amazon seller would be crazy to give away his or her trade secrets. But Greg isn't about cornering the market for himself. He truly wants everyone to succeed.
In fact, he wants that so much that he used his research method to inform our algorithm.
Now, when you search for a product using Jungle Scout it gives each item an opportunity score using Greg's system. A one means the product is a fail, and a 10 means you found the holy grail of Amazon products.
Does Helium 10 have an opportunity score? Nope!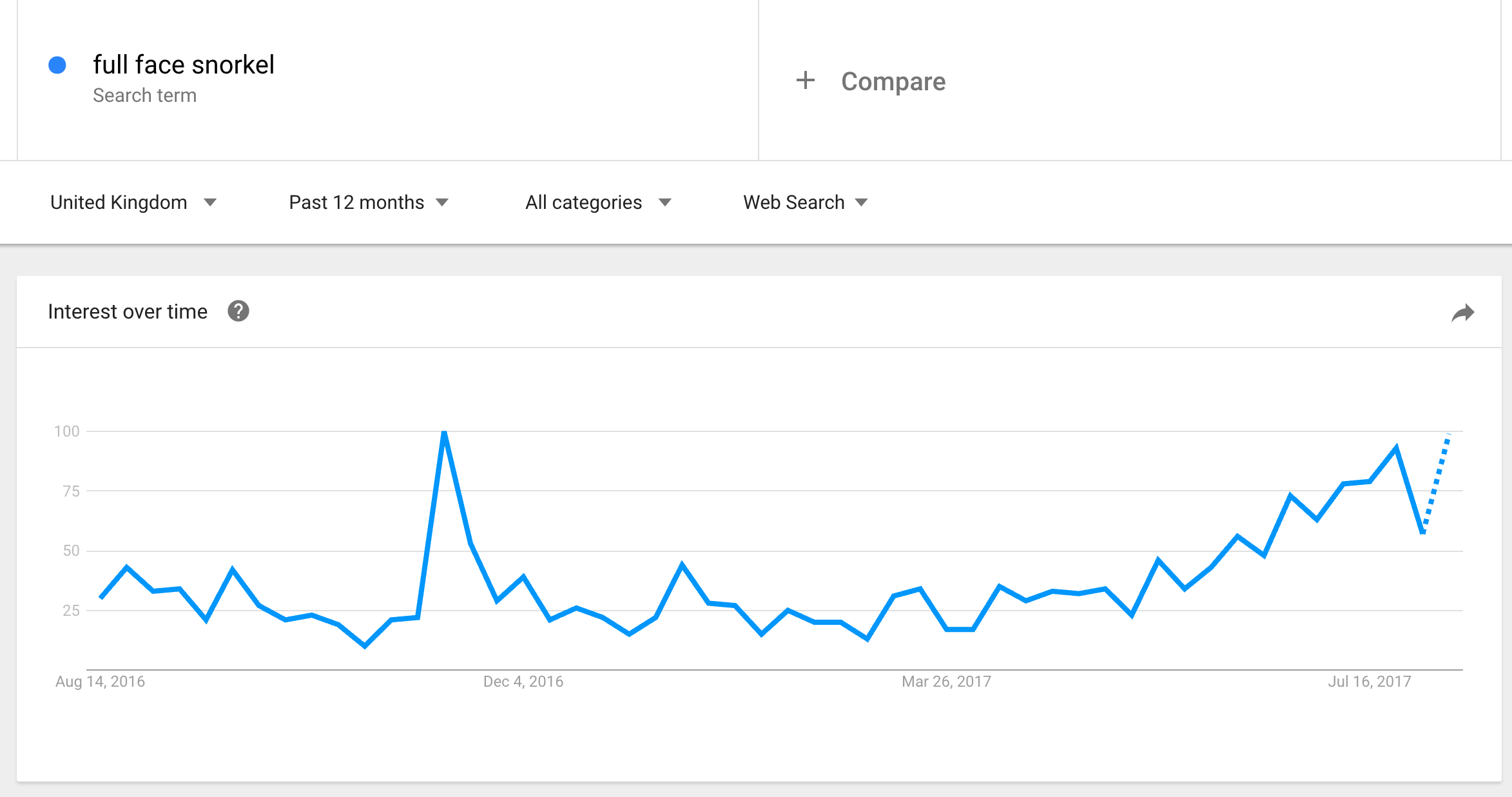 Google Trend Analysis
Worried that your product might experience seasonal fluctuations? No worries!
Jungle Scout's Extension has a built-in Google Trend Analysis feature that lets you see just how popular a product is over the course of a year.
Steady interest and your product is likely season-proof. Spikes in interest at specific times of the year and the item is likely seasonal.
Does Helium 10 have a google trend analysis tool? Nope!
Jungle Scout vs Helium 10: The Verdict?
Ultimately, only you can make the decision with respect to your choice in Amazon seller software.
And though the 'Jungle Scout vs Helium 10' debate will probably continue for a while, we like to look at it like this:
If having an all-in-one package is important to you (with sales estimate accuracy and extra features a distant second), then pick Helium 10. 🤔
Otherwise, if you want the most accurate Amazon sales estimates in the world, a legitimate supplier database to rival Alibaba's, Google Trends Analysis, competitor tracking, and individual Opportunity scores, we recommend Jungle Scout. 😁
Thanks for reading! Hopefully this helped make your decision easier, but if you have any questions, please feel free to drop them in the comments below.
We definitely want to help you get up and running, getting you closer to your dreams.