One of the greatest benefits Amazon offers independent entrepreneurs, businesses, and brands is its Fulfillment by Amazon (FBA) program. With FBA, Amazon takes care of product storage, packing, shipping, and other fulfillment needs for sellers and makes the sellers' products Prime-eligible.
It's convenient, accessible, and enormously popular — but it's not always the right fit for Amazon sellers. Sometimes, alternate options are needed.
In this post, we will review the drawbacks of utilizing FBA, the benefits of using an alternative, what a few of those FBA alternatives are, and what information you should consider before switching.
Amazon fulfillment concerns
Over the years, Amazon has changed its FBA storage limits a few times, causing sellers to adapt quickly to the changes. One of the most recent changes (March 2023) is their new FBA capacity limits.
FBA capacity limits are monthly limits that determine how much inventory sellers can send and store in Amazon's fulfillment centers. While sellers are still "limited", the capacity limits will give most sellers more inventory capacity and control than other FBA inventory storage and restock limits in the past.
The capacity limits limit sellers to storing up to three months of inventory at a time, based on your IPI score.
While this sounds like a good thing, the problem is, if sellers need more room for current products or to launch a new product, you either have to wait for your current inventory to sell-through, or to request additional capacity based on a "reservation fee."
While the new FBA capacity limits offer more flexibility for sellers, some Amazon sellers may still need to seek alternative fulfillment or storage options.
2023 Holiday Peak FBA Fulfillment Fee Update: Amazon announced in Seller Central that there will be a Holiday Peak Fulfillment Fee for Fulfillment by Amazon orders from October 15, 2023, to January 14, 2024. Please check out our FBA fees article to learn more about the fee increase.
Why use Amazon's fulfillment alternatives?
In addition to addressing Amazon's storage limitations, there are other reasons why you, as a seller, may want to utilize a third-party logistics (3PL) service to fulfill your products.
Fees. You're looking for lower inventory storage fees, especially during the holidays, when

Amazon's storage fees

increase almost four times.

Customization. You're looking for additional customization services such as product inserts, custom packaging, etc. 3PLs can help deliver your products in your own unique branding instead of Amazon's.
Account support. You want the support of a dedicated account manager to handle any issues or concerns, instead of having to open tickets with Amazon Seller Support.
Shipping rates. You may find reduced shipping rates with some 3PLs that are much lower than you could find on your own, helping ensure that you maintain the highest profit margin possible.
Shipping times. Most 3PL's offer 1-day or 2-day shipping options that can compete with Amazon's Prime shipping.
So, if your FBA warehouse storage or ASINs are limited, what are your options?
Amazon's fulfillment alternatives to FBA
If you don't have enough storage capacity available at Amazon, how can you ensure all of your products are in stock and ready to be fulfilled?
Let's go over some other ways that you, as a seller, can fulfill your Amazon orders.
1. Fulfillment by Merchant
The number one alternative to using FBA is by fulfilling your Amazon orders from your own location or warehouse. This is known as FBM or Fulfillment by Merchant.
FBM is where you store inventory at your location and ship your own orders vs. storing your inventory in an FBA warehouse and having Amazon handle the picking, packing, and shipping.
On Amazon, popular items will sell regardless if the orders are fulfilled by Amazon or a seller. If you have room to store extra inventory at your house, or warehouse, and are able and willing to pack and ship your orders, then creating an FBM offer on your ASINs would be your best (and cheapest) option.
For your products, you are allowed to create an FBA SKU and an FBM SKU. This means you can have two active offers under one ASIN. That way, if your FBA inventory goes out of stock, there is no downtime and your listing will remain live.
However, if you choose this option then when your FBA offer is out of stock, your FBM offer will be in the Buy Box.
We suggest offering free shipping on any items you fulfill yourself to ensure there isn't a significant drop in conversions (which would likely happen if you were to charge extra for shipping).
2. Seller-Fulfilled Prime
Seller-Fulfilled Prime (SFP) is basically FBM except with one major difference: the Prime badge. SFP allows sellers to offer 2-day Prime shipping to customers without having to store inventory in Amazon's warehouses (or pay FBA fees).
To be eligible for SFP, you must first go through a trial period to prove that you can meet Amazon's standards. During this trial period, your products will not have the Prime badge but you will still be required to deliver these items within two days.
Luckily, Amazon is reopening new seller enrollment for the Seller-Fulfilled Prime (SFP) program on October 1, 2023. If you are interested in this fulfillment method, join the waitlist.
Third-party storage & fulfillment
What if you're experiencing storage or ASIN limits for Amazon FBA and don't have your own warehouse or location to ship from? A third-party fulfillment company will provide you with a secure place to store your inventory and a service to handle shipping out your orders, just like FBA.
On Amazon, your products will be listed as FBM, except you will be having a third-party ship the orders for you, instead of fulfilling the orders yourself. Essentially, Amazon doesn't know — or care — who is fulfilling the products if it's not FBA, as long as they are being fulfilled.
Besides wanting to avoid FBA storage limitations, there are many other reasons to use a 3PL.
Lower storage costs
When using a 3PL, the fees involved are typically pretty straightforward. In contrast, Amazon's FBA fees can become expensive and also vary depending on the season.
For example, from October to December, Amazon's storage fees increase almost 4x compared to the rest of the year.
More control over your inventory
As you learned above, Amazon will penalize you for storing excessive amounts of inventory in their warehouses. Some 3PLs will allow you to store as much or as little inventory as you need without charging you long-term storage fees.
Quality control
If you have products that you want to make sure arrive in the condition you intend, using a 3PL can help. On occasion, Amazon may accidentally ship out the incorrect product to your customer causing further issues.
Dedicated account managers
As an Amazon seller, you're probably aware of how frustrating it can be to get in contact with an Amazon support representative. Most 3PLs will provide you with a dedicated account manager to handle any issues or concerns, instead of having to open tickets with Amazon Seller Support.
Reduced shipping rates
If you are fulfilling your own orders or using Seller-Fulfilled Prime, you likely won't get the same discount shipping rates as Amazon or a large fulfillment company would.
Shipping costs, especially 2-day shipping, can eat into your margins. So, by taking advantage of third-party fulfillment centers' rates, you will save a lot of money on shipping.
Ship with your branding
If you've ever purchased a Prime item on Amazon, you know exactly when your order has arrived because of the large Amazon branding on each package they ship. By shipping yourself or using a 3PL, you can ship your orders in your own custom branded packaging.
This helps create a better brand experience with your customers.
Multi-channel fulfillment
Not only can you use a third-party fulfillment center to ship out your Amazon orders but you can also use them for any other marketplace or platform you sell on. These companies will get your product to your customers, whether they're buying from your Shopify store, Walmart marketplace, eBay, etc.
Plus, utilizing a 3PL this holiday season will provide you with more flexibility and control over your inventory.
Third-party fulfillment centers for your Amazon sales
Luckily, there are many FBA alternatives to choose from today, but each will offer varying services and pricing structures. Therefore, it's important to do your due diligence and choose a provider that is best suited to your business.
To make this research a little easier on you, we've found a few FBA alternatives you can use to take care of your inventory storage and fulfillment needs.
All the companies that I list below will be experienced in shipping orders for Amazon.
1. A2b fulfillment
A2b Fulfillment supports companies working with Amazon via Vendor Central and Seller Central, all with an excellent track record of compliance and program success.
Best for:
Fulfilled by Merchant or Seller-Fulfilled Prime orders

Small- to medium-sized e-commerce businesses

Storage
Benefits:
Specializes in Amazon and other e-commerce platforms

Bi-coastal locations that are able to reach 94% of U.S. households in 1-2 days via ground shipping

Same-day shipping to meet the strict demands of shipping Seller Fulfilled Prime orders

Offers bundling services
Contact them directly for a quote.
2. ShipBob
ShipBob is a tech-enabled 3PL that uses proprietary software across its fulfillment network for a cohesive experience. Orders are automatically sent to its warehouses, where inventory is picked, packed, and shipped to your customers.
ShipBob's fulfillment services help you optimize for time and cost, use the delivery experience to beat customer expectations, and own more of the customer relationship.
Best for:
Benefits:
Will not restrict storage capabilities during Q4 and storage fees will not increase

Offers on-site customer success reps at each location to help troubleshoot any issues that may arise

Software integration with Amazon

Offers affordable 2-day express shipping
Contact them here for an accurate quote.
3. Red Stag Fulfillment
Red Stag Fulfillment's packing and shipping services meet the requirements for Seller-Fulfilled Prime and for your merchant fulfilled listings.
Best for:
Fast direct-to-consumer fulfillment

Small- to medium-sized e-commerce businesses

Fulfilled by Merchant or Seller-Fulfilled Prime orders
Benefits:
Offers a 30-day free trial

Does not restrict storage space during the holidays or increase storage fees at busy times

Fulfillment centers on the east and west coasts

2-day delivery to 97% of U.S. addresses
Contact them here to receive an accurate quote.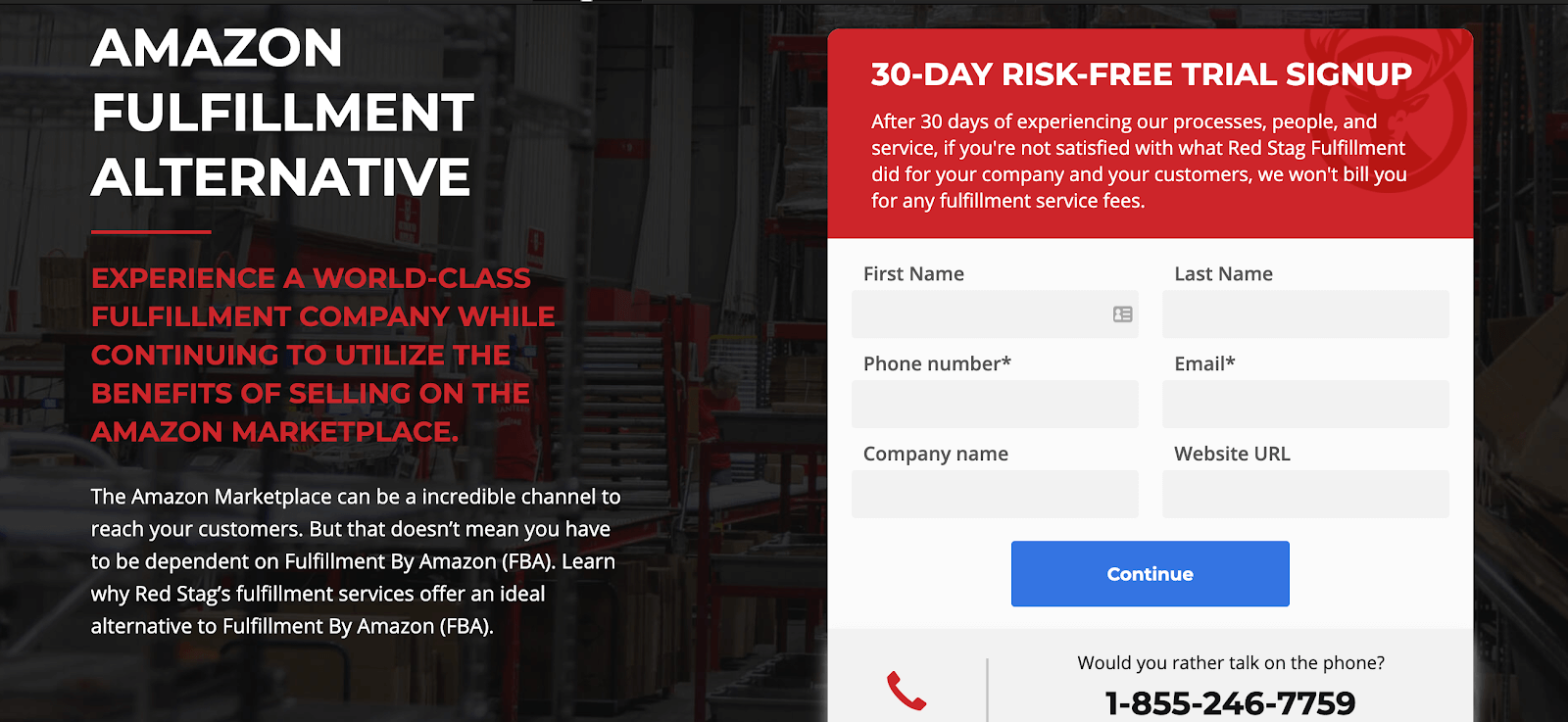 4. ShipMonk
ShipMonk integrates with your sales channels to make shipping and fulfillment stress-free, so you can focus on scalable growth.
Best for:
Multi-channel e-commerce fulfillment

FBA prep services

Seller-Fulfilled Prime

Subscription box fulfillment

Retail fulfillment
Benefits:
They offer custom packing prep and bundling services.

Dedicated account manager to handle any issues that may arise.

Easy to use software.

They have the ability to ship 1 up to 10,000 orders a day for you.

Lower shipping costs for SFP orders to increase profits.

No long-term storage fees.
They offer a variety of services for e-commerce sellers. Contact them on their website to get accurate pricing.

To wrap things up…
There are plenty of great options available today for fast, simple, and affordable fulfillment for Amazon sellers. In some cases, using a third-party fulfillment company may end up being a better option than using FBA, especially if you are eligible for seller-fulfilled prime.
The point is, if you are experiencing some of the inventory or storage issues listed above, don't panic. You still have time to figure out what you are going to do.
Contact the companies above or do your own research to figure out what the best solution for your business is.
Let us know in the comments if you have any other questions regarding FBA alternatives!