As your Amazon sales continue to grow over time, you may start to consider financing options to help take your business to the next level.
Outside financing can be an advantageous option for experienced Amazon sellers looking to increase inventory levels, launch new products, expand to new marketplaces, and reach new customers.
If you've thought about taking out a loan to give your business a boost, you're not alone — while most Amazon sellers fund their businesses with their own cash, 22% of sellers have borrowed money from banks and other lenders to launch or grow their business. Amazon's Lending Program may be an excellent option for you as your business grows.
Continue reading to learn more about Amazon Lending — including eligibility, loan terms, and making payments — and find out if the program is for you.
What is the Amazon Lending Program?
Amazon Lending is a loan program offered by Amazon to provide eligible sellers with short-term financing to help grow their businesses. Amazon evaluates sellers' ability to increase sales and provide a high level of customer satisfaction to determine who qualifies for a 3, 6, 9, or 12-month term business loan.
In Amazon's words:
"Amazon Lending is built on the simple idea that business lending doesn't have to be complicated. We provide business financing solutions through Amazon Lending and third-party partners to eligible small and medium-sized businesses without the paperwork and long wait times."

How to get funding from the Amazon Lending Progam
Currently, Amazon Lending is by invitation only. If you are eligible for a loan, an Amazon Lending widget will show up on the homepage of your Seller Central account, through which you can apply.
Eligibility
You must have a proven track record of

growing your sales

. Amazon wants to be confident in your ability to pay back the loan.

Your seller account must be in good standing with a high level of customer satisfaction. You likely won't receive an invite if you have poor customer service metrics or policy violations.
Terms for an Amazon Lending loan
Minimum Loan Amount: $1,000

Maximum Loan Amount: $750,000

Term Loan Length: 3-, 6-, 9-, or 12-month term loans with fixed monthly payments

Interest Rates: Amazon does not disclose this information
Every seller will have different terms offered to them. Amazon does not provide much information about the loan terms until you become eligible.
Why use Amazon Lending?
There are many reasons why a seller would want to consider Amazon Lending:
To purchase inventory
One of the most significant issues Amazon sellers face is their inventory management. You can use Amazon Lending to purchase enough inventory for your business so you can stay in stock. Keeping your inventory healthy ensures that your products are always available for sale.
To launch new products
If you want to grow your existing product line but don't have the cash flow, the use of funding can help take your brand to the next level. An Amazon Lending loan is an excellent way to expand your offerings, especially if there is a demand from your existing audience.
You have an established business with growing sales
If you are a brand new Amazon seller, getting a business loan may not be the best decision at this time. If you're an established brand owner with a loyal customer base, however, outside funding can help bolster your business.
Disclaimer: This is not financial advice. Please do your own research, and consult a financial advisor before you take out any type of personal or business loan.
How to apply for Amazon Lending
If Amazon identifies you as a loan candidate, you will see an invitation within your Amazon Seller Central account. You cannot apply for a loan without an invitation.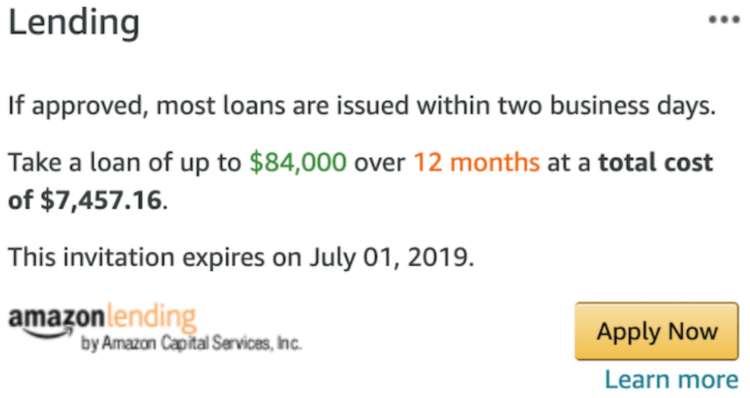 Common questions about the Amazon Lending Program
How long does it take to process an application?
According to Amazon, once your application is submitted, they average five business days to review and make a decision. Amazon may also require additional information and documentation for your business loan application.
How do I make payments for loans issued by Amazon Lending?
Amazon will automatically deduct your loan payment from your account balance in Seller Central. You may also schedule a manual ACH loan payment from the bank account you have on file. Please visit the Amazon Lending payment FAQ page for more information.
What is the interest rate on an Amazon Lending loan?
Amazon does not provide this information until it offers you a loan. It will depend on each seller account and the information provided about your business. For more information on Amazon Lending interest rates, please visit the Interest rate FAQ page.
If I pre-qualify for an Amazon Lending loan, will I automatically be approved?
No. Amazon sends out invitations if you pre-qualify as a seller, and not when you are approved for a loan. Your application goes through a more profound review process, and if Amazon decides that your business doesn't qualify, you will not receive approval for a loan.
Does your account qualify?
Check your Amazon Seller Central account today to see if you qualify to apply for an Amazon Lending loan. We hope this article gave your helpful information and answered some of your questions about the program.
Do you have any more questions about Amazon Lending? Leave us a comment below!
If you'd like some more funding options for your Amazon business, check out our article on "How to Finance Your Amazon Business."