If you are a seller through Amazon's Fulfillment by Amazon program (FBA), you are subject to Amazon quantity limits. This means that Amazon may limit the number of units you can ship to their fulfillment centers.
In the summer of 2020, Amazon made a significant inventory storage update that affected many FBA sellers. The ASIN-level quantity was limited to just 200 units, making it difficult to launch new products on Amazon.
Then, in April 2021, Amazon removed the ASIN-level limits and introduced storage-type level inventory limitations. Each storage type (standard-size, oversize) had a maximum amount of inventory storage space available.
While this was good news for most Amazon FBA sellers, it caused some to lose storage space. As an FBA seller, understanding your inventory storage limits and exactly how it affects your business is incredibly important to your success.
In this article, we'll go over the following:
What is an Amazon FBA quantity limit?

What is Amazon's current inventory quantity limit?

Where to find your FBA quantity limits

How to handle Amazon restock limits

Commons questions about Amazon FBA inventory
What is an Amazon FBA quantity limit?
This is the seller storage limit put into place by Amazon, to ensure that products sent to Amazon's fulfillment centers will sell. FBA is not meant for long-term storage — that's why the facilities are called fulfillment centers and not warehouses.
While Amazon has dozens of fulfillment centers worldwide, they do not have unlimited storage space for your products.
If you're sending products with a high sell-through rate, Amazon will likely allow you to send more and more products because you have proven sales.
If you send products that don't sell well or that overstock, your Inventory Performance Index score will take a hit, causing Amazon to decrease your restock limits.
What is Amazon's current inventory quantity limit?
As of February 2022, Amazon has restock limits for each storage-level type: standard-size storage, oversize storage, and so on. Sellers are not limited per ASIN.
While some sellers were excited about no longer having ASIN-level inventory restrictions, the storage-level type restock limits may have caused some issues.
Let's use an example:
Say you offer a couple of popular private label products that collectively sell about 3,000 times per month. These products fall under the standard-size product type, and your restock limit for standard-size products is 4,000 units.
If you want to launch more standard-sized products in the future (using FBA), it will be challenging, as your current products take up most of the space allowed. Plus, it might be difficult to keep extra products in stock during the holiday season if you want to account for an increase in demand.
The restock limit also applies to the inventory you have available in FBA and the inventory on its way to FBA. If you have 1,000 units available for sale and 1,000 in transit to a fulfillment center, Amazon counts that as 2,000 units towards the restock limit.
If your available inventory and in-transit inventory go over your restock limit, you will not be able to create a new shipment in Seller Central for that storage type. The fulfillment center may also refuse inventory.
See how that can cause some difficulty?
Where to find your Amazon FBA quantity limits
To find out what your restock limits are, go to your Shipping Queue in Seller Central.
Go to "Manage Inventory," then click on "Manage FBA Shipments."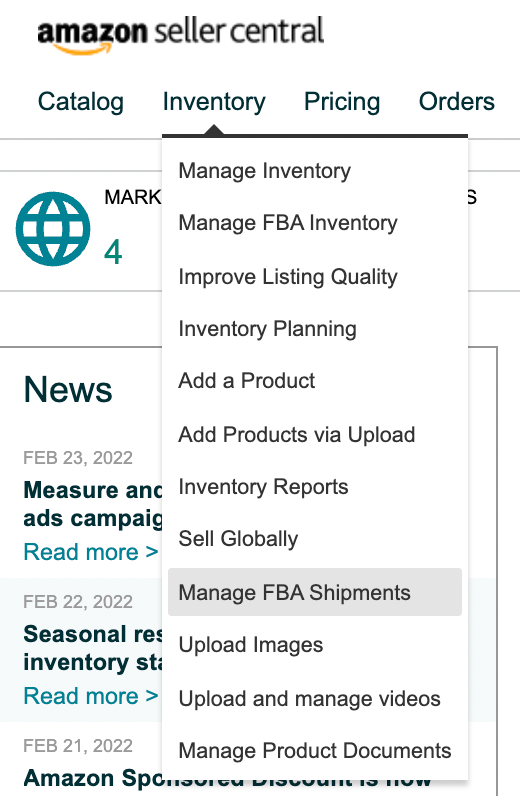 If you look at the bottom of the page, you'll see two tabs: "Restock Limits" and "Storage Volume." The one we're going to be looking at is "Restock Limits."

Here, you can see how much storage space you have available for each storage type.
How to handle Amazon restock limits
Improve your IPI score
The best way to handle restock limits is to improve your IPI score. This score is based on excess inventory, sell-through rate, stranded inventory, and in-stock inventory.
Amazon states, "Sellers with consistently higher IPI scores will receive higher storage limits, adjusted for sales volume and available capacity. When setting limits for an upcoming quarter, Amazon considers both your recent sales volume and seasonal volume from the last year."
Your IPI score is updated weekly, but Amazon calculates it every three months and adjusts storage limits based on sales volume, historical IPI scores, and available fulfillment center capacity.

You can find your IPI score by going to your Inventory Dashboard in Seller Central.
Third-party fulfillment
Another way to handle restrictive Amazon FBA inventory limits is to use your own warehouse if you have access to one, or hire a third-party fulfillment center (3PL.) A 3PL can store your inventory and fulfill FBM orders until you are ready to send more products into FBA.
Automate your inventory planning
Inventory planning can be challenging to handle when selling multiple products on Amazon. You don't want to underestimate the inventory needed, and you certainly don't want to overestimate.
Using Jungle Scout's Inventory Manager tool will help automate your inventory planning so you can accurately predict how much inventory you need to order.
Using a proper inventory management tool will help keep your IPI score in line with Amazon's requirements, so you don't get stuck with minimal storage capacity when you need it most.
Common questions about quantity limits
What is the minimum quantity for Amazon FBA?
There is no minimum requirement of inventory when using FBA. You can send in just one unit if you want to. Keep an eye on your restock limits as there is a maximum.
How can I increase my storage limits?
You can increase your storage limit by improving your IPI score. Amazon wants to ensure the inventory you're sending is selling and not sitting idly in the fulfillment center. Keep an eye on your IPI score in the Inventory Dashboard and look at Amazon's recommendations for improving your inventory performance.
Check out "How to INCREASE Restock Storage Limits & IPI Score (2022)" on our YouTube channel.
How does Amazon determine my storage limits?
Amazon calculates your storage limits by your sales volume (including your sales' seasonality periods), your historical IPI scores, and your available fulfillment center capacity. Please review Amazon's FBA inventory storage limits help page for more information.
Will Amazon change the inventory quantity limits again?
Amazon's restock limits are subject to change at any time. We're not sure when or if Amazon will change inventory quantity limits. I suggest keeping an eye on the News section in your Seller Central account for any significant updates.
How do I get around Amazon quantity limits?
The only way to "get around" Amazon's quantity limits is to use a third-party fulfillment center or to store the inventory at your location until you're ready to restock FBA. If you send more than your restock limit allows, Amazon may refuse the shipment or charge you an overstock fee.
When do Amazon quantity limits reset?
There is no telling when Amazon will make changes to its inventory limitations. Still, Amazon calculates your IPI score every three months and will make adjustments based on your sales volume, excess inventory, stranded inventory, and sell-through.
How are you handling Amazon's quantity limits?
We know correctly managing inventory can be difficult for an Amazon seller, so we hope this article helps you better understand the limits Amazon has in place.
To improve your IPI score and overall inventory performance, check out our article, How to Improve Your Amazon Inventory Performance Index Score, and our Amazon Inventory Management guide.
If you're ready to use an inventory management tool, learn about Jungle Scout's Inventory Manager and see what it can do for your IPI score — and your business.
Do you have more questions about Amazon quantity limits? Let us know down in the comments!