When it comes to customer feedback, there are three types collected for each purchase (for those customers interested and willing to leave feedback):
Amazon Seller Feedback,
Package Feedback,
Product Review.
The options look like this:

And in this post, we're going to focus on Amazon Seller Feedback.
Amazon Seller Feedback: what it is and why it matters.
For wholesalers and resellers who are essentially selling the same product, it's helpful for customers to make their final purchase decision based on the quality of the seller.
This is exactly what Seller Feedback does. It evaluates the speed and quality of the seller's fulfillment, and evaluates how the product description on the listing matches the actual product.
To leave Amazon Seller Feedback, a customer would go to the 'view their previous orders' section of their account to post their Seller Feedback. The form looks like this: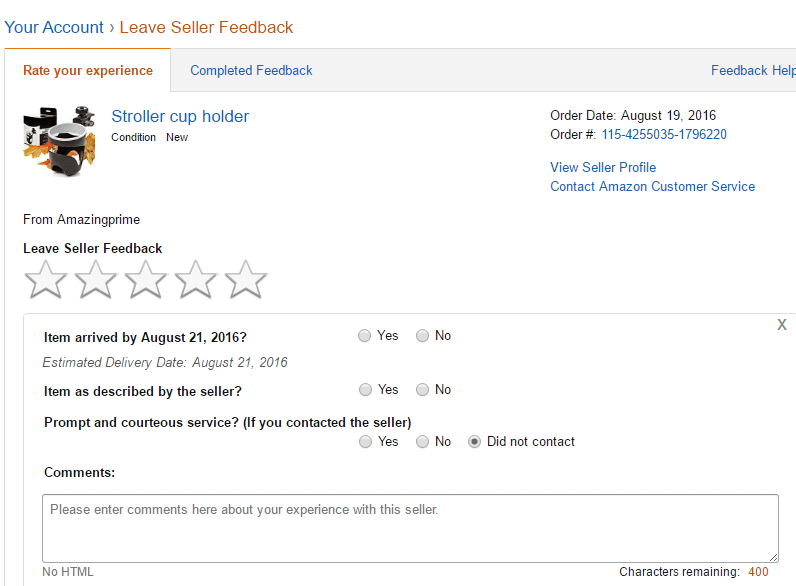 What is Amazon Seller Feedback?
Amazon focuses on Seller Feedback in order to determine which sellers are falling short on their end of the e-commerce exchange.
Remember, Amazon's top priority is creating a perfect customer experience. Therefore, they need to measure the performance of third-party sellers. This ensures that all sellers are providing customers with an encounter that meets Amazon's high expectations.
To measure a seller's performance, Amazon uses their Feedback Manager tool. The best sellers on Amazon have close to a zero percent Negative Feedback Rate. However, anything under five percent is generally acceptable.
If you have a negative rate above five percent, Amazon recommends that you "review your business practices and adjust to the demands of your customers."
In order to see what your Seller Feedback is, log in to your Seller Central Account, and go to Performance -> Customer Satisfaction – > Customer Feedback Tab. It will look like this: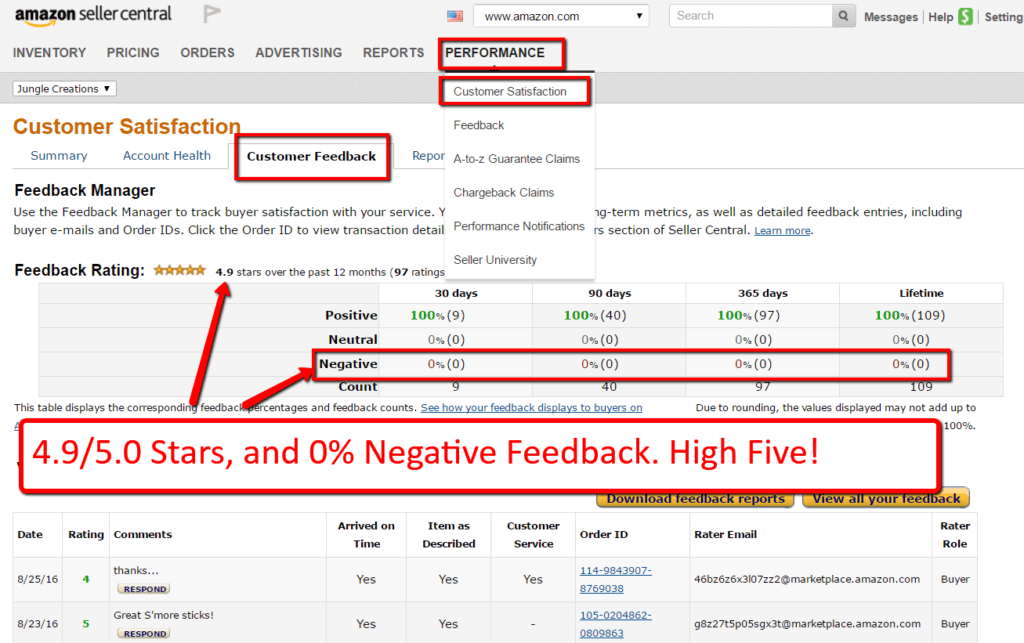 As you can see, Seller Feedback is focused on three main metrics:
Did the order arrive on time?
Is the product as it was described?
How was the customer service?
The customer only needs to answer a Yes/No response to these questions, and has 90 days to leave feedback, and 60 days to remove it.
*Please note that these answers can be very helpful when completing your own evaluation of your product.
What should I do when I receive negative Amazon Seller Feedback?
When it comes to selling on Amazon, it's almost inevitable that you will one day receive negative Amazon Seller Feedback. But, there are steps you can take to resolve the customer's issue and get the negative feedback removed.
Step #1 – Contact Amazon.
Unlike trying to get Amazon to remove product reviews, they will remove feedback in these instances:
Non-seller issue. If there is an issue that is clearly outside of the scope of a seller's responsibility (eg. the package was lost by UPS);
Amazon FBA issue. If the order was fulfilled by Amazon and it arrived late or was an incorrect order;
Product review (instead of seller review). If the buyer has left a product review instead of feedback for the seller.
The last scenario mentioned above is the most common and works out nicely for sellers as you can choose which feedback you ask Amazon to remove. If you got a poor rating and it's a product review, you can open a ticket with Amazon and have them remove it. If you got a 5-star rating and it's a product review, most sellers choose to leave those alone.
You can contact Seller Support by clicking the "Contact Us" button on the right side of this page:

Step #2 – Contact the buyer.
When you're looking at your Feedback Manager dashboard, you can view your Current Feedback. You can see pertinent information like your rating, the comments, and customer feedback regarding 'Arrived on Time', 'Item as Described', and 'Customer Service'.
Most importantly, however, is that you have your customer's contact information. This is what the 'View Current Feedback' dashboard looks like: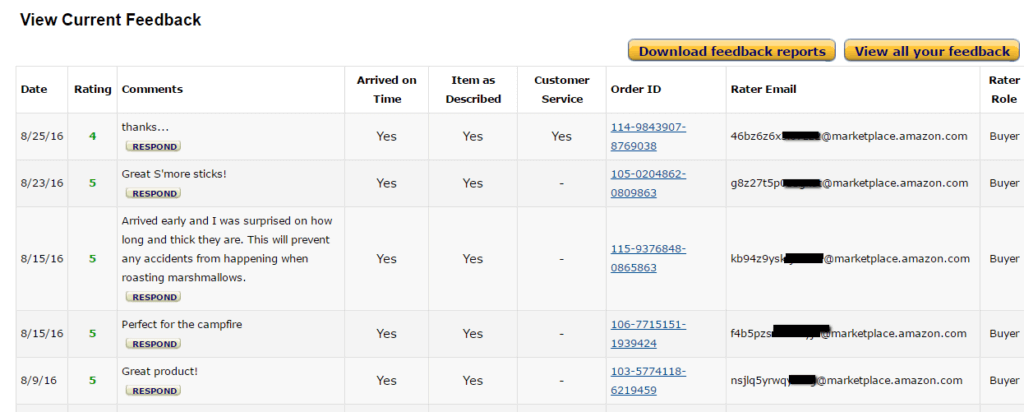 You can respond immediately by clicking the 'Respond' button, or you can use the 'Rater Email', which is an anonymized Amazon email.
We recommend that you address your buyers' concerns directly, though it's extremely important to maintain a civil tone and do not coerce or pressure the customer to remove feedback, as that is a violation of Amazon's Terms of Service.
Step #3 – Instruct the buyer on how to remove feedback.
If a buyer agrees to remove their feedback, you can provide them with these step-by-step instructions, as per Amazon:
Under 'Personalization' in the 'Community' column, click 'Seller Feedback Submitted By You.'
Amazon lists all the feedback, so click the 'Remove' link next to the feedback that needs to be removed.
In conclusion: keep your Amazon Seller Feedback score up!
Of course no one wants to receive negative feedback. It's frustrating to say the least, especially if it's unwarranted. But it's more important for your overall conversion rate and sales to focus on gathering as many Product Reviews as possible, as customers are less influenced by Seller Feedback, especially since Amazon fulfills most products.
Regardless, it is still important to follow up on any negative seller feedback. And remember, try to resolve it with the buyer in a prompt and civil manner.
So, take every opportunity you can to build your brand, starting with Amazon Seller Feedback.
The #1 way to follow up with your customers.
Did you know that Jungle Scout offers a way for you to automatically contact your customers, which could reduce bad Amazon Seller Feedback by as much as 20%?
When you use Jungle Scout's seller tools, you get unlimited automated emails. Learn more by clicking the link below.