In this article on "How Much Does it Cost to Sell on Amazon in 2018?" I cover:
A preview of the new Million Dollar Case Study where I'll show you the exact details to sell on Amazon plus breakdown the cost to sell on Amazon.
The costs to sell on Amazon in 2018 (keep scrolling for graphics and detailed content).
A breakdown of what you will spend those costs on.
Plus, what you will need to start your Amazon FBA business.
When I first published this article back in July 2016, I wanted to share an honest overview of how much it really costs to take advantage of the greatest opportunity of the decade: Selling on Amazon. Since then, this article received a lot of views and comments. In fact, it still continues to be one of the most popular articles on our blog. So, with that in mind, I wanted to give it a little 2018 update. Nothing hugely significant has changed, but I wanted to make this information the most up-to-date as possible.
Keep reading to see our breakdown of the cost to sell on Amazon.
But first, if you really want to learn the nuts and bolts of the cost to sell on Amazon, you should consider signing up for our Million Dollar Case Study.
The Million Dollar Case Study Returns
And if you're looking for an even more up-to-date take on how to sell on Amazon, we've started up the Million Dollar Case Study again!
I'm at it again, showing sellers how a five-year/million-dollar seller like myself finds a product, sources it, and launches it.  And this I'm  joined with one of my most favorite people (and also a 2-year Amazon seller) Rolando Galeana.
GO! SIGN UP! NOW!
Make sure you tune in!
After all, once we get to the nuts and bolts of what is needed to sell on Amazon, the most pressing and common question arises: how much money do I need to get started? Absolutely, a fair question. But my equally fair, yet unsatisfying answer is: it depends. Fear not though, in this post we will review all of the different upfront services and costs you need to prepare for in order to start selling on Amazon.
The future is bright!
Let's start with some positive news about the future of selling on Amazon, taken from our recent survey of over 2500+ real sellers!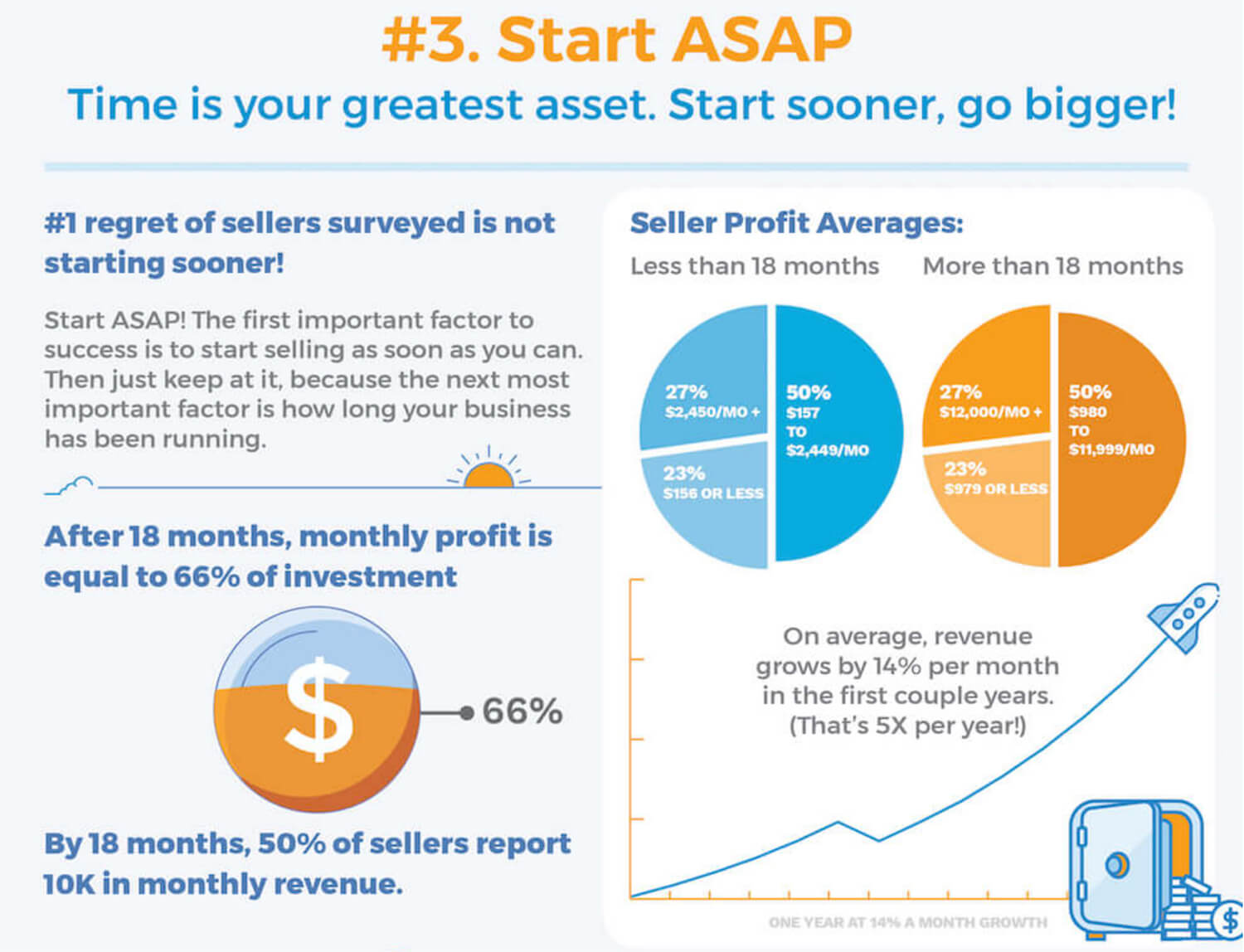 So in direct relation to startup investment, many sellers report that they are making 66% of their original investment each month within 18 months. And, if you launch successfully, Amazon sellers report seeing average revenue growth by up to 5X per year for the first few years.
Whilst some of the investment figures we are about to explore might seem daunting, these promising insights show us how it can all be worth it if you play your cards right!
First, the assumptions that we are making
I want to make this universally applicable, so I need to make some broad assumptions. Every seller will have a slightly different situation with differing goals and requirements. But I hope you can tailor this broad guide to your specific needs.
Prerequisites for this investment guide:
We will sell on the Amazon US store (and we are based in the US).
The retail cost of the product (i.e. the amount that we will sell it for on Amazon) will be $20.
The landed cost of our item (product manufacturing, including packaging, plus shipping all the way to Amazon warehouses) is $4.
The product will be standard size—it can fit in a shoebox.
The product will be light enough to ship by air.
We will purchase with 500 units to sell.
We plan to give away 50 units for promotions.
We aim for 100% Return on Investment.
We will sell our product as a private label product, using the FBA (fulfillment by Amazon) model. This allows for greater scalability in the future.

Note: If you are not in the US, or looking to launch in a different marketplace, then you should be able to use this list of investment costs to research how much it would cost in your country/currency!
Can you guess what the product is? I listed the above points without any particular product in mind, but let's make this a concrete example and suppose we want to sell jump ropes.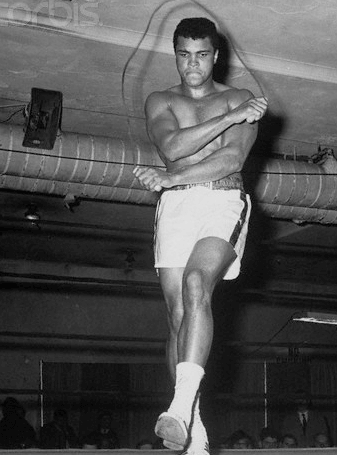 Of course I have skipped right over the product research process here. The crux of any successful launch. Make sure you do your homework on this stage if you haven't already found your product with high demand, opportunity and low competition. I would highly recommend catching up on Sessions #1 and #2 of our latest project, The Million Dollar Case Study. There you can see the most up to date blueprint for minimizing risk and finding that killer product.
The Must Have Items To Launch:
When determining how much it will cost us to start, I am breaking down the costs into three categories: the "must have", the "nice to have", and the "luxury item" costs. The most important first, "must have"…
Samples:
When sourcing a private label product to sell using Amazon FBA, samples are imperative. There can sometimes be a significant difference in the quality of the product and the specifications you see on Alibaba or other manufacturing source online. The best way to verify quality and move forward with the best supplier is to order samples.
Quality is just one consideration, although it is a priority. You also want to find a supplier who can provide you a good cost, has good communication and is willing to meet your needs and build a partnership.
So once you find potential suppliers, (again, Alibaba is great for this) I recommend getting a sample from the top three to keep costs low. Obviously, there is an associated cost. Sometimes, the supplier that you choose will reimburse you for these costs if you decide to order with them, worth checking beforehand.
A rule of thumb here is that each sample will cost you $100 all in. That's from the supplier to your doorstep in 5 days.
---
COST
So that is $100/per sample, for 3 samples = $300
Inventory:
Once you choose your supplier, it's time to put down some money to purchase your product!
Suppliers that you find on Alibaba will generally have a Minimum Order Quantity (MOQ), so this is something to consider too. We decided earlier that we wanted to purchase 500 units.
Note: If the thought of purchasing and maintaining proper inventory levels is intimidating to you, consider dropshipping as your first step into the world of selling on Amazon.
For the purposes of this example, we will assume that our product will cost $4 per unit, including the product cost and shipping. You could order a lower quantity, if you can negotiate this with a supplier, but generally that means they will charge you more per item, so it may not be worth it. 500 units is a good number to get started with in my experience, based on what suppliers are willing to produce and keeping costs low.
Additionally, a lower-cost product, that you sell at a lower price point, will also result in lower startup costs. But again, this is all relative, so you need to make sure that it's still going to be profitable.
---
COST
This amounts to $4/per unit, for 500 units = $2000
Promotional Giveaway:
In our earlier assumptions, we have allocated 50 products that we will give away at a reduced sales price, in order to get some much needed early sales. You can use Jungle Scout's Launch features to run promotions, while staying safely within Amazon's Terms of Service. One thing that has changed in the past year is that incentivized reviews are no longer within Amazon's TOS. However, we still find that this tactic of running an early promotion helps to improve sales velocity and organic rankings. This is super important for any new product launch, and you may still get some organic reviews in this process too.
---
COST
A Jungle Scout subscription, and access to Launch, starts at $49.
Amazon Professional Sellers Account:
Whether you have an Individual Sellers Account, or a Professional Sellers Account, you will have to pay Amazon to list your product on their platform. The Individual Account is basically $1 per item sold, and the Professional Sellers Account is $40 per month. Let's plan, and hope, that we sell more than 40 units per month, in which case a Professional Account makes more economical sense.
Furthermore, you will need a Professional Sellers Account in order to do things like generate promotional codes, which you'll need for your Promotional Giveaways. This is a cost you need to consider, but you will not need to spend this capital upfront, as it will be deducted directly from your Seller's account (not your bank account).
A UPC Code:
In order to start selling your product on Amazon, you will need a recognized barcode in order to generate an "FNSKU" which is Amazon's proprietary barcodes that need to be printed on the packaging of all of your products.
In order to get your FNSKU, Amazon's TOS requires you to get a GTIN (Global Trade Identification Number), usually in the form of a UPC code.
Around a year ago, Amazon changed their TOS to state that your barcodes must be from GS1, the leading global provider. The costs to do this are significantly higher, with a $250 initial registration fee and a $50 annual renewal fee for up to 10 barcodes.
You  used to be able to purchase UPC's from third parties at a fraction of the cost. But with Amazon cracking down on this, we do not recommend going this route.
Read more about barcodes in this article!
---
COST
The monthly cost of being a seller on Amazon is therefore $40 per month.
---
COST
UPC's from GS1 (initial fee) $250
Nice-To-Have Items:
Next up, let's look at some nice-to-haves. These aren't required but what they will do is help you to launch faster, with more success.
Sponsored Ads Budget:
As you generate more sales (and get more reviews with follow up email campaigns), you will also see an increased organic ranking for your main keywords. Another successful tactic for product launches is to run sponsored ads (also known as Amazon PPC). This can be helpful to get your sales improving quickly, but I also like to run well-oiled Amazon Sponsored Ad's throughout the lifetime of a product.
But what will this cost? Well, let's assume that you are running campaigns with a lower-end budget of $10 per day.
This should generate a few sales, plus it's not a "cost" per-se but moreso an "investment". Regardless, if you want to take advantage of this "nice to have" then you need the capital upfront.
It is surprisingly attainable to run profitable paid campaigns with Amazon's platform. If this is totally new to you, here's some excellent resources on setting up and managing your Amazon PPC campaigns:
Registered Trademark:
A recent update in the world of Amazon private labelling is that Amazon closed it's doors on the old Brand Registry and launched a new version of it in May, 2017.
The key changes are that private label brand owners are now required to have a Registered Trademark in order to be in the Brand Registry. This means you need to apply for a Trademark and wait for it to be approved before being able to access to additional features of Brand Registry.
I won't go into too much detail here about whether to get a trademark or not, but you can read more here.
If you are just starting out you have two options:
Launch your product without a trademark or brand registry and see how it goes and work towards this once the sales start coming in
Invest early and get the trademark process underway (you have to wait up to 10 weeks for approval), so that you are able to get your brand registered as soon as possible
Personally, I wouldn't hold back from launching, but I would seek to apply for a Trademark as soon as possible. Just make sure you do your research when you create your brand, to ensure you will be able to apply for a Trademark without infringing on any existing trademarks or brand names in the future.

How much does it cost? Set aside $350 to apply for a Trademark. I paid a total of £349 to apply for a Trademark for Jungle Snugs, using trademarkengine.com.
Read more about the new Brand Registry and Trademarks in this blog post!
---
COST
$10 per day for 30 days is $300.
---
COST
Approx $350 per trademark registration application
Luxury Items (Not Necessary In Order to Launch)
These are items that you definitely do not need, but could use if you want to have a thoroughly polished product launch, with a quicker rate to success!
Design work:
A graphic designer is a tremendous asset in adding legitimacy to your brand. They can help you with a multitude of things such as logos, packaging design, product inserts, photography touchups and infographics for your product listing.
It's difficult to put a price on good design, the sky is the limit. But for an early product launch, you can find decent rates from talented designers on the Jungle Scout Market where everyone is Amazon experienced. From experience, you can get the work you need done for as little as $50.
For the purposes of this article, let's say we are going to commission a designer $200, to do some design work to make our skipping rope product look the part.
Cutting corners is not advised, but sometimes there is no correlation between price and quality. Here's some examples of design work we have had done for our Jungle Snugs product which we are launching as part of the Million Dollar Case Study: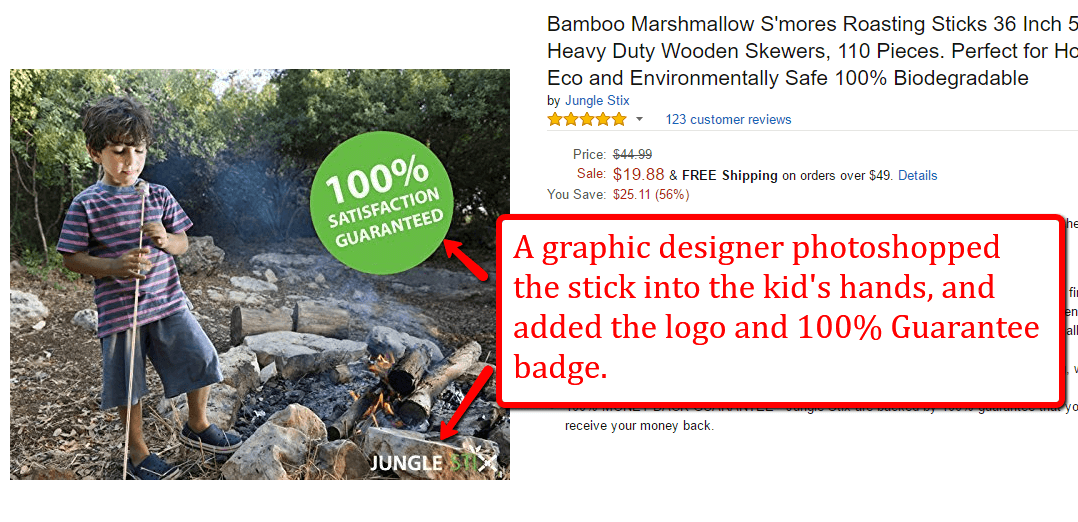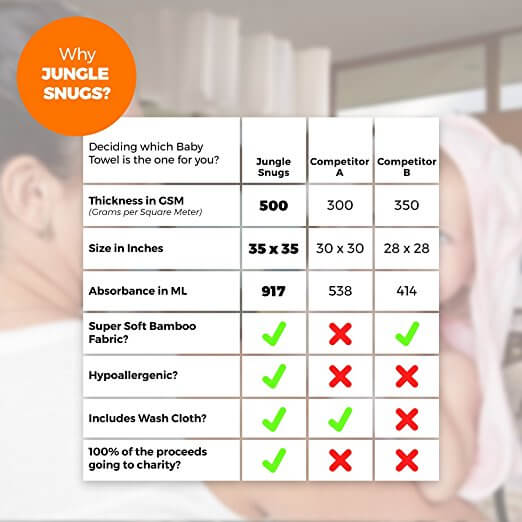 This is a neat competitive matrix we use on the Jungle Snugs listing to help shoppers in their buying decisions. You could actually do this on your own with free sites like Canva, which is a superb resource for when you need to make designs up that look the part, without spending a cent!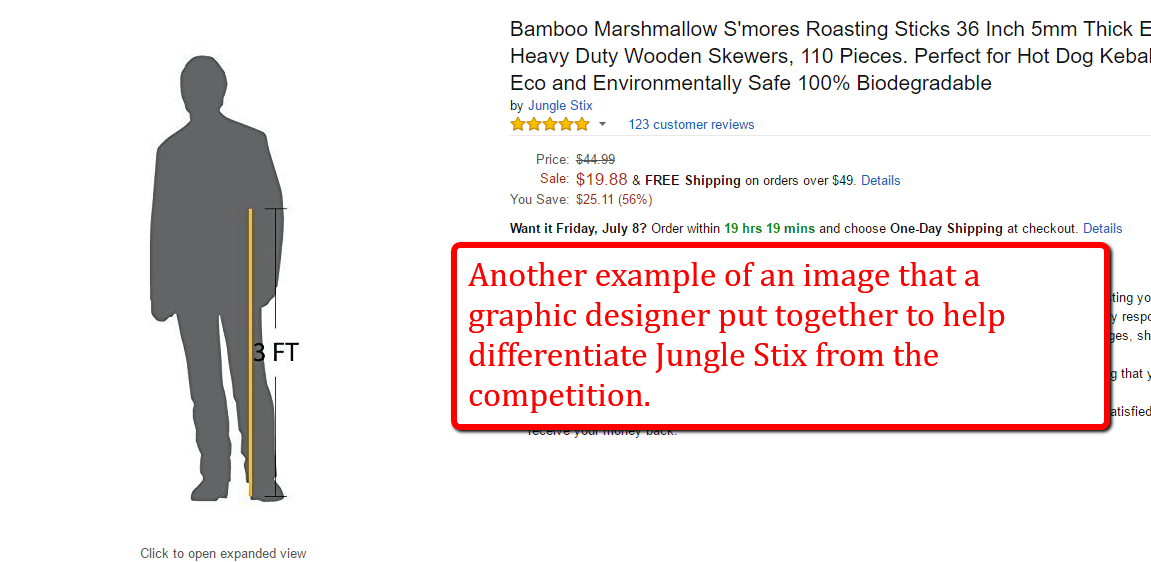 Here's some nice packaging design for Jungle Snugs, giving it a high-end feel and making it suitable to sell at a higher price point.
---
COST
$200 for design on logo, packaging, and photoshop services.
Product Photography:
I can not overstate the importance of high resolution and high quality product photographs. When you are competing against other sellers who may have similar products, it is so critical to have your product stand out from the crowd. Remember, in order to get a visitor to your Product Page, they are going to have to be enticed to click on your product listing. In the fast-paced, purchase-oriented mind of the shopper, they are scanning for visual cues.
Your photography is your "shop window". It's the closest thing your potential customers get to the real deal. So although we are putting photography in the "luxury" section, if you are going to go with just one luxury, go with this one.
Having said that, if you are on a budget or need photos fast, here's a pretty in-depth guide on how you could take photos using a smartphone and some household items.
Here's the key attributes to get right:
The best lighting possible
A white background for the main image
At least 1000 pixels wide on the longest side of the image in order to meet Amazon's minimum requirements
Some photos of the product in use, or lifestyle shots to add a point of difference
Think about conveying the size or quality of an item with closeups and comparisons
If you think you need professional help for this, you can get high quality product photographs from $25-$50 per image. If we assume you need 8 images and use the power of negotiation, we can cost $300.
---
COST
$300 for 8 professional quality product images.
Let's total up our cost to sell on Amazon:
Must Have:
$2580
TOTAL
Product Samples: $300
Inventory: $2000
Promotional Giveaway Software: $30
UPC barcode: $250
Nice to Have:
$650
TOTAL
Sponsored Ads: $300
Trademark: $350
Luxury Items:
$500
TOTAL
Graphic Design:
$200
Photography:
$300
How Can You Reduce Your Cost to Sell on Amazon?
Purchase less inventory
You can reduce your startup cost to sell on Amazon significantly if you source your product on Aliexpress instead of Alibaba. Aliexpress will allow you to order smaller quantities and test the waters before investing in a bulk order. The downside to this though is that you are paying a higher per-unit cost. It also means you are less likely to get customizations and specifications. If you can, I would advise going with Alibaba and spending a little more on your inventory. After all, you are building your own private label brand and it's important to get this part right.
Find a product with a low cost-per-item
When people ask how much it would cost to sell on Amazon and product costs I think many people are ultimately interested this question: "what is the minimum necessary investment in order to sell on Amazon?".
If we keep the calculations the same, I think one of the variables that could be altered in order to reduce startup costs is the product you choose to sell.
In our example, we chose a product that is $4 fully landed, and we chose to purchase 500 to start. There are legitimate products with high potential that you can purchase on Alibaba for $0.50.  Assuming a $0.25 shipping fee per unit, that could cut your starting inventory costs to $325 (500 units multiplied by $0.75). Add in the samples ($300, assuming you opt to get samples), Amazon sellers fee ($40), and launch service ($50), and you are looking at $715 in upfront investment.
Do it yourself!
Another key variable is time. If you are strapped for time and resources and unable to do tasks like product research, design, photography and product listing setup yourself, then it will cost more to get started. Particularly for new sellers, or even existing sellers launching a new product, it's best to keep this as close to the chest as possible. Once the product has launched and is flying off the shelves, that's the time to start outsourcing.
Remember, this is a passive income because you are utilizing Amazon FBA and not managing your own warehouse and shipping, NOT because there is no time or effort involved in launching.
Things I would not spend money on:
Legal Fees: Just to be clear, you do not need to incorporate anything in order to sell on Amazon. I am not a lawyer and not qualified to give legal advice, however, I know a lot of Amazon sellers choose to start without any legal structure like an LLC. Most successful sellers do this down the road, when it becomes necessary and financially viable.
Your own website: This may be an unnecessary distraction if you are just starting. It takes time, money and resources that you could be funneling into driving traffic to your Amazon listing by optimizing your product listing and using Amazon PPC Sponsored ads. A standalone site may be useful in the future, and indeed important for when applying for Brand Registry. But if you are just starting out, keep this one on the backburner, for now!
Final Thoughts
I wanted to give you an honest and up-to-date view of what investment is required to get started selling on Amazon. I hope this has helped to answer some of your questions with regards to the financial aspect of building your own ecommerce business with FBA.
As I mentioned before, there are other things to consider and one of the key processes in the early days is doing your product research. You certainly can find product ideas without using a research tool, but if you did want to minimize the risk and find profitable products to launch fast, then that is where the Jungle Scout tools come into play.
If you need in-depth advice, over the shoulder tutorials or any questions answered then check out our free resources:
It's totally free to view this content and it's just as good (if not better 😉) than a lot of paid courses you can find today.
As this article outlines, you will need to spend upwards of $2000 dollars on building your Amazon business, so it's really important to make sure you find and validate the right product.
In closing, I think that we have quantified what it takes to start a business on Amazon: roughly $2000 to $3000, depending on your product, quantity purchased and how much you want to do in the early stages.
Don't forget, when it comes to photography, design, marketing, trademarks and building your own website: you don't need to do all of this at once. My advice? Launch. Get started. Keep working hard. The rest will follow!
My goal with every product that I source is to make a 100% Return on Investment. So taking this example, if I were to invest $2000, I would expect to make $2000 after selling all of the products. I posted an FBA Profit Calculator in a recent post to help calculate Return On Investment after accounting for various FBA fees, you can see the post here.
If you have any recommendations on how to reduce this upfront investment, please share it in the comments! Good luck to you, you can most certainly make your own success with the right formula of work ethic, strategy, and determination. 🤘