Sellers who fulfill their Amazon orders with FBA (Fulfillment by Amazon) don't have to worry about packing and shipping out orders, as Amazon handles all of that for them. So if you are away from your business for a few days or on vacation, your orders are still being fulfilled in the background.
For FBM sellers, though, you're handling the fulfillment yourself (unless you're working with a 3PL). But what happens if you decide to take a vacation? Unless you have a big team running your business, you'll need to turn on something called vacation mode in Seller Central.
In this article, we'll go over what Amazon Seller vacation mode is, how to turn it on, who it is for, and what you need to do before turning on vacation mode.
What is Amazon Seller Vacation Mode?
Amazon Seller vacation mode allows sellers to make their merchant-fulfilled inventory inactive so it does not appear in Amazon's search results and prevents buyers from purchasing those products.
Once you turn vacation mode on, all your FBM offers will be inactive within one hour. Any FBA offers you have will still remain active.
If you are going on vacation, can't ship due to inclement weather, have a family emergency, or simply need a break from your Amazon business, you can turn this mode on and off as you wish.
Keep in mind that even if your account is on vacation mode, Amazon still requires you to answer buyer-seller messages within 24 hours.
Things to do before activating Amazon Seller Vacation Mode
Before you go ahead and shut down all of your seller-fulfilled listings, go through this checklist first.
1. Fulfill all pending orders
If you have pending orders, make sure you take care of all of them before changing the status of your listings. Also, making your listings inactive will not cancel any pending orders in your account. Make sure you fulfill those orders to avoid any issues.
2. Turn on vacation mode before you go away
Since some pending orders take some time to resolve, Amazon suggests turning on vacation mode prior to you going away. That way, you can ensure all orders are fulfilled without any new ones coming in when you leave.
3. Make sure someone can answer any customer questions
Just because your listings are inactive does not mean you do not need to answer customer questions promptly. Whether your listings are active or not, Amazon requires sellers to answer any buyer-seller messages within 24 hours. Make sure you or someone on your team can respond to any messages that may come in.
If you don't have the Amazon Seller app on your phone, download it, as it will make answering questions on the go much easier.
Other things to know about Amazon vacation settings
Here are some additional considerations if you're thinking about turning on vacation mode:
You must process return requests.

Even if your listings are set to inactive, you still need to process

return requests

, just as you need to respond to customer questions. You can update your settings to receive return request emails with links to Authorize, Close, or Reply, and you can even have Amazon automatically authorize return requests.

You will still be charged subscription fees.

If you have a professional seller account, you will still be charged the monthly subscription fee. If you will be gone for a while and do not want to pay that fee while away, downgrade your subscription to an individual account.

The listing status can only be changed by some users.

If you have multiple users on your seller account, only those with the proper permissions are able to edit your listing status, so be sure whoever is responsible for doing so has access.
READ MORE | Amazon Individual vs. Professional Seller Plans: The Complete 2023 Guide
How to turn on vacation mode in Seller Central
Follow these simple steps to turn on vacation mode in your Amazon Seller Central account.
Step 1: Once logged into Seller Central, in the top right, hover over settings and click on Account Info.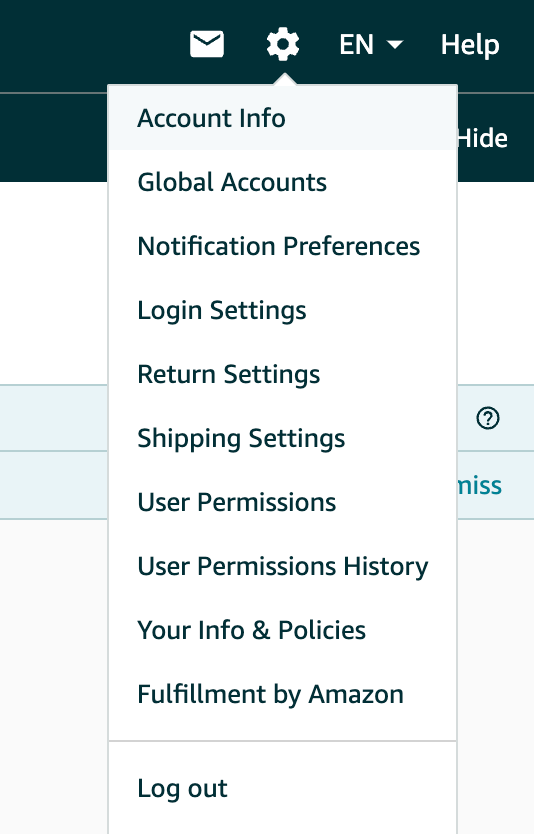 Step 2: Go to Listing Status and click "Going on a vacation?"

Step 3: Change each marketplace you don't want to be on to "inactive."

And that's it! Within an hour, your FBM offers will be inactive. Once you are back, go to the same section to reactivate your listings.
Go on vacation with peace of mind!
Whether you are going on vacation or need to shut down your listings for any other reason, Amazon makes it easy to remove self-fulfilled offers with vacation.
Instead of making each listing inactive manually, do it all at once in your account settings.
We hope this article answered your questions about Amazon Seller Vacation Mode! Do you have any more questions? Let us know in the comments.