Amazon Smile used to be a way for customers to make a small donation toward their favorite charities when purchasing products on Amazon. Amazon decided to close the Amazon Smile program as of February 2023.
According to Amazon, "We will continue to pursue and invest in other areas where we've seen we can make meaningful change—from building affordable housing to providing access to computer science education for students in underserved communities to using our logistics infrastructure and technology to assist broad communities impacted by natural disasters."
So, how can Amazon sellers make a positive impact through their businesses? Continue reading to learn more about ways sellers can help support charitable causes, make donations, or make meaningful social change.
What was Amazon Smile?
Amazon Smile was a program launched in 2013 that allowed Amazon customers to support their favorite charities when they made purchases on Amazon.com. When customers shopped on Amazon Smile, Amazon would donate 0.5% of the purchase price to the customer's chosen charity.
Amazon decided to close Amazon Smile because "the program has not grown to create the impact that (it) had originally hoped." With over 1 million eligible organizations globally, Amazon's ability to have an impact on all was spread too thin.
All in all, Amazon has donated over $400 million through the Amazon Smile program – and Amazon provided all charities a one-time donation equivalent to three months of what they earned in 2022 as a result of the program closing.
Amazon sellers were able to attach their product listings to the Amazon Smile platform, further helping the cause to encourage customers to donate to various charities. Though, now, that is not the case.
3 ways Amazon sellers can give back
Now that the Amazon Smile program has closed, how can Amazon sellers support various charities or drive positive social impact? Let's go over some ways sellers can make a difference.
1. Amazon FBA Donations Program
The Amazon FBA Donations Program allows sellers to donate their excess or unsold inventory to Amazon's partnered non-profit charity. Amazon will handle the shipping and processing of the donations, and sellers will only pay a small removal fee. This is a great way to reduce waste, save money, and support a good cause.
Amazon partners with the non-profit organization Good360 to give products a second life and provide those products to people in need.
This is a simple way for Amazon sellers to give back to those who are less fortunate. Instead of disposing of or returning unwanted items to your location, you can give your products a second chance.
FBA sellers are automatically enrolled in the FBA Donations Program, and any product that is returned and unsellable may be eligible for donation.
Amazon provides a donation certificate to each seller at the end of the year, which reports the inventory you donated in the previous year. For making a donation, you may be entitled to tax benefits, but we strongly encourage consulting your tax advisor.
Amazon says, "To get the most benefit out of the FBA Donations program, you have to manually elect to donate additional product that may otherwise sit in fulfillment and accrue fees."
2. Direct donations to charities
Businesses and Amazon sellers, of course, have the ability to donate a portion of their profits to a charity that aligns with their brand. Sellers can mention this within their product copy, product images, and product packaging or inserts.
For instance, if you sell products that are meant to reduce plastic waste, such as a reusable stainless steel tumbler, you can dedicate a portion of your profits to a charity that benefits the ocean and marine life.
This can be done through a variety of methods, such as setting up a recurring donation or making a one-time gift. Direct donations can give sellers more control over where their money goes and how it is used.
Make it known on your Amazon listing, website, packaging, and social media accounts that your brand donates X amount of money to charities every year. This not only helps make a difference but also becomes a big selling point for your brand.

At Jungle Scout, we created a product during our first Million Dollar Case Study where we pledged to donate 100% of the profits to Pencils of Promise.
Now, you don't need to donate nearly as much (or you wouldn't be profitable!) but even if it is just 5-10% of your profits, that amount can make a difference.
3. Amazon Climate Pledge Friendly program
Amazon created a program called Climate Pledge Friendly that highlights certain brands and products for meeting sustainability standards, such as energy efficiency, waste reduction, and carbon footprint reduction.
If your products qualify for the program, your product listings will receive a badge that helps customers identify sustainable products on Amazon. This badge shows to potential customers that your brand is doing what it can to better the environment and reduce unnecessary waste.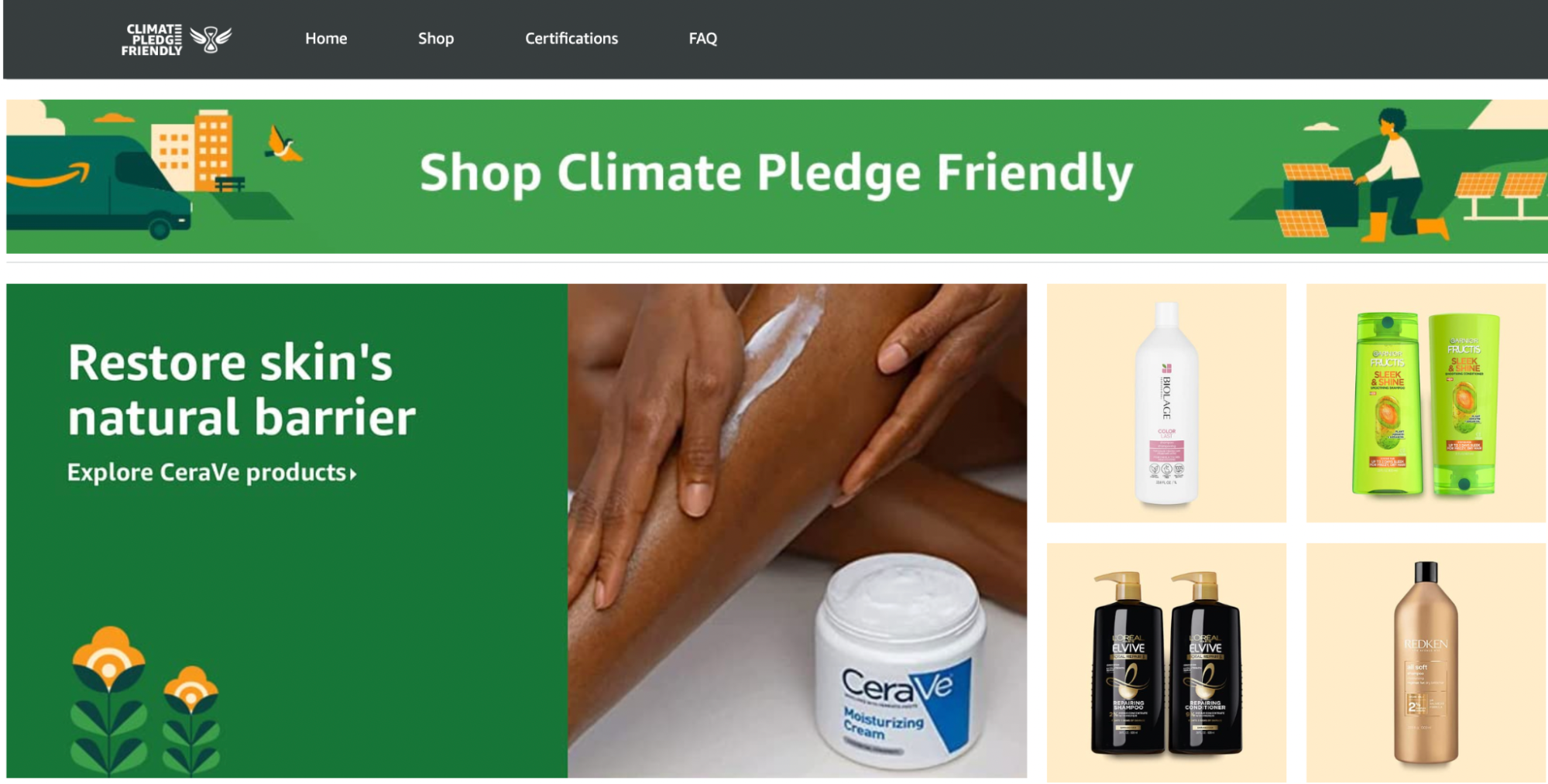 Believe it or not, this is important to some consumers. According to the Jungle Scout Consumer Trends Report, 26% of consumers shop from brands that are committed to sustainability.
Being sustainable in your business not only is better for the environment but can also lead to a boost in sales.
How does your Amazon business give back?
Amazon Smile may be gone but that does not mean you can't do things to give back to communities or help the environment.
We hoped this article helped you figure out some ways to support charitable causes, make donations, or make meaningful social change.
Do you have any more questions? Let us know in the comments.
Want to learn more about selling on Amazon? Check out our complete guide.