As a brand-registered seller on Amazon, you have access to advanced marketing and advertising tools that other sellers do not. One such advertising tool is Sponsored Brands ads.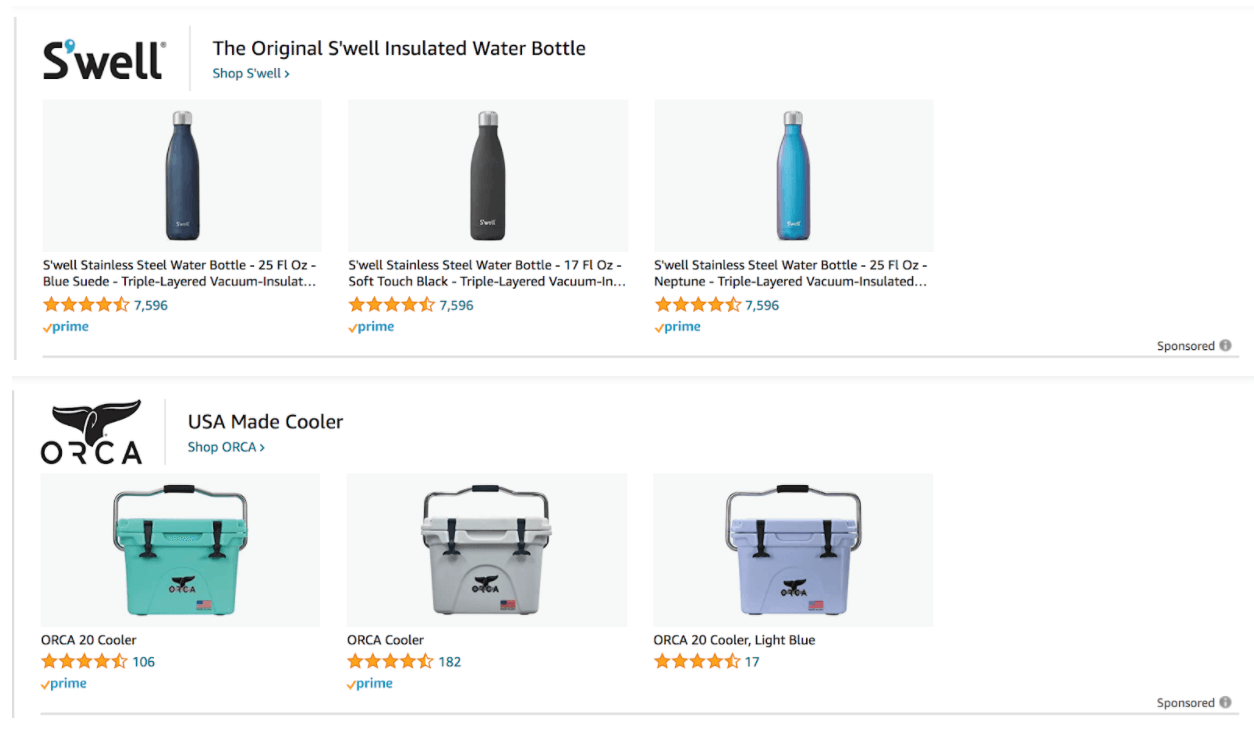 Sponsored Brands ads help drive brand awareness, as traffic is funneled directly from the ad to your Amazon Storefront or custom Amazon landing page. Once a customer clicks, it's all about your brand—no competitor listings in sight.
Let's dive deeper into what exactly Sponsored Brand ads are, how they work, and how to set them up.
What is an Amazon Sponsored Brands ad?
Amazon Sponsored Brands, previously known as Amazon Headline Search Ads, are banner ads that display your brand logo, custom tag line, and multiple products, typically at the top of Amazon search results. In early 2020, Amazon released a new feature that allows brands to create video ads that will appear in the search results.
Sponsored Brands ads have grown in popularity over the years — today, 38% of third-party Amazon sellers use them, including 66% of sellers who've hit $1 million in lifetime sales. In 2018, only around 10% of Amazon's advertising revenue came from Sponsored Brands ads. That figure has since doubled.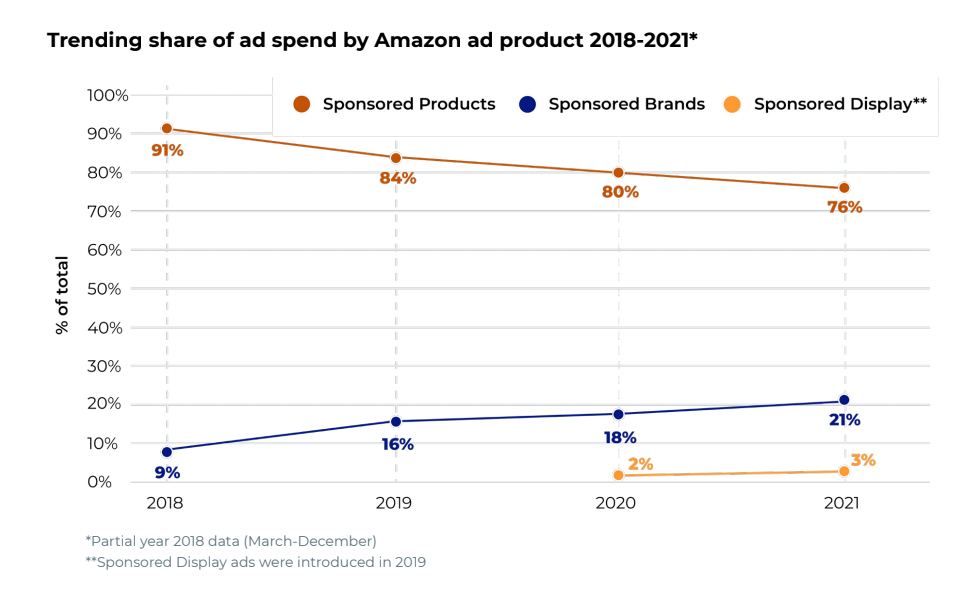 Once clicked, Sponsored Brands ads will send customers to your storefront or landing page, where they'll view your products and your products only. Alternatively, you can funnel this traffic to one of your product listings. For instance, if you use a video ad, traffic will be sent directly to the relevant product listing instead of your storefront or landing page.
For customers, there are a lot of distractions on Amazon—countless product options in the search results and competitors' ads littered all over your own product listing, to name a few.
Amazon Sponsored Brands gives you an opportunity to create a custom branded shopping experience for your customers—one that cancels all the noise on the search results page.
Similar to Sponsored Product ads, Sponsored Brands ads are PPC (pay-per-click) ads that target keyword searches. A customer enters a targeted keyword into the search bar, and boom—your ad appears among the results, ready to be clicked. You pay Amazon when someone clicks on your ad. And just like Sponsored Products, you can control your keyword bids and daily spend to make sure you stay within your overall marketing budget.
If you shop on Amazon, you've definitely encountered Sponsored Brands ads while searching for a product. They typically feature two to three of a brand's products and appear on top of the search results, above the Sponsored Product ads — though Amazon may also place your ad alongside or within the search results.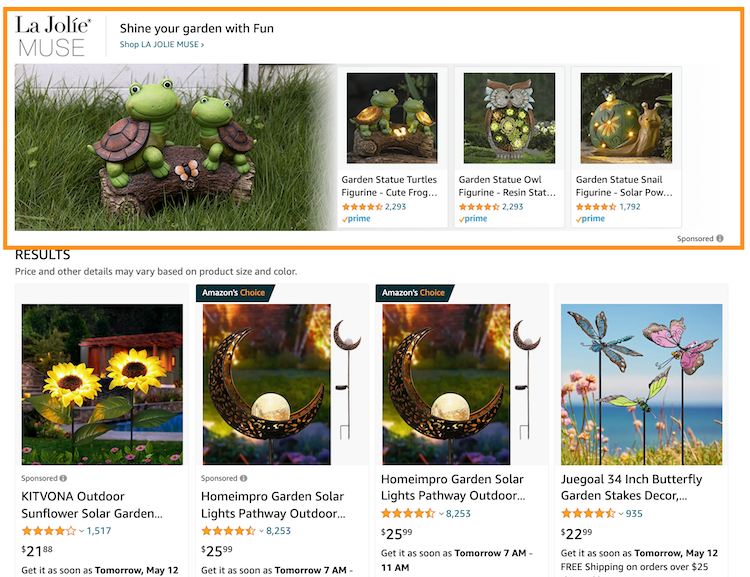 Amazon continues to improve its advertising features and metrics to help sellers and brands run profitable and effective campaigns. Sponsored Brands Ads offers a unique reporting tool called New-to-Brand metrics, which tell you if a sale came from a new customer or an existing one.
These metrics allow brands to make more informed decisions about their advertising efforts.
How do Sponsored Brands ads work?
Just like Sponsored Products and Sponsored Display ads, Sponsored Brands ads are a PPC advertising method, so you'll bid against other sellers on various keywords to gain impressions on your potential customers. You, as the seller, have control over your bids for each keyword, as well as the daily budget for each of your campaigns.
With Sponsored Brands, you have three types of ad formats to choose from: Product collection, Store spotlight, or Video.

Product Collection
The Product Collection ad type allows you to target up to three products in your brand from a landing page of your choice. By that, Amazon means you can either send traffic directly to your own custom branded Amazon storefront or a dedicated landing page that only features the products in your ad.
Product collection is a great option if you want to boost products in your brand that have low organic or sponsored ad visibility. You can add a product that performs well in the mix to help increase the chances of someone clicking through your ad.
Below is an example of a Product collection ad in action.

If you click on the Toshiba logo, "Storage Made Simple," or the blue "Shop Toshiba" text beneath that, it'll take you to a landing page with just the three products displayed in the ad.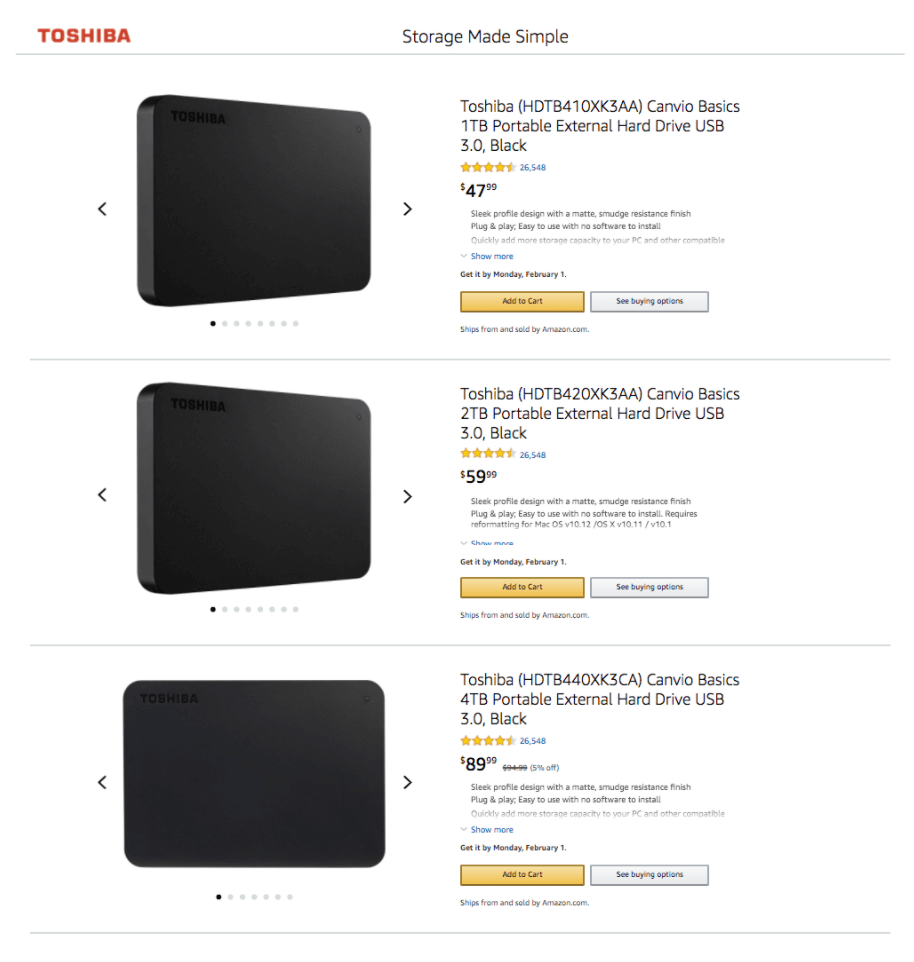 Notice how there are no other distractions on this page? This is a huge win and highly valuable for your brand, as there will be no competitor ads to click on. Plus, the customer browses a collection of your products in one place to find exactly what they're looking for.
Store Spotlight
This next ad type is only available if you have created your own Amazon storefront, which only brand-registered sellers can do. With Store spotlight, you can drive traffic to what is basically your own ecommerce website, but on Amazon. There won't be any ads placed on your storefront, either—the customer just sees your brand.
Store Spotlight is great for brands that sell multiple products across a variety of categories or subcategories. Instead of promoting three specific products, you can promote three entire product categories and their store pages—all with just one ad.

This Sponsored Brands ad by OXO showcases the following categories: "Holiday Must-Haves," "Cooking Must-Haves," and "Entertaining Must-Haves." If you click on any of these, you'll go to the corresponding category page, where you can view multiple products.
For this example, we'll explore "Entertaining Must-Haves."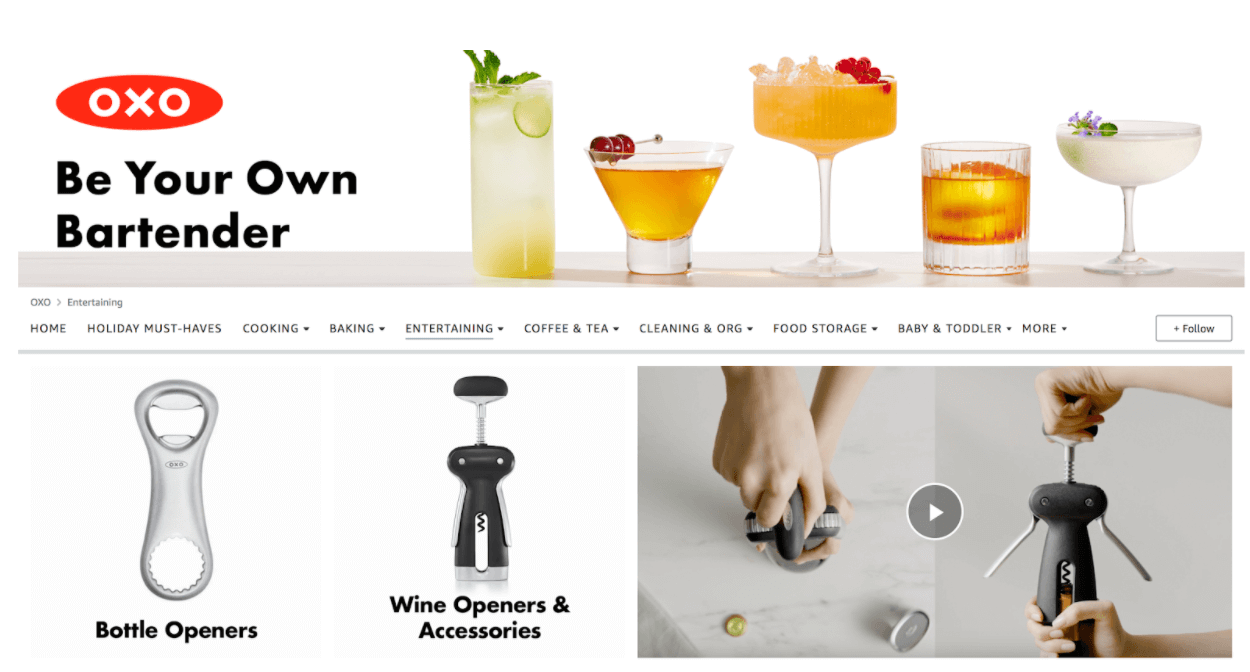 As you can see, it navigated me to the "Entertaining" page of OXO's Amazon store, where I can explore many different products. OXO has added content showing the product in use, providing an appealing, more specialized brand experience.
Video
Sponsored Brands Video ads are unique and can offer a big advantage over your competitors, as video content helps your product stand out in the search results.
In this example, I searched Amazon for "blender." As I scrolled through the results on the first page, I encountered a big video ad — and it definitely caught my attention, even though it was muted (video ads autoplay without sound).

These videos should be short—Amazon recommends a video length between 15–30 seconds—but informative. A well-done video ad tells the potential customer everything they need to know about the product within the first few seconds.
Before creating your video, please make sure to review Amazon's guidelines on video creation. Unless you are a skilled videographer, you should hire a professional to shoot your product videos—especially someone who is familiar with Amazon.
Best Practices for Product Videos
Educate your customers with a demonstrative video about your product

The video should be completely product-focused, without any unnecessary filler content

Keep your videos short and to the point (15–30 seconds)

Your videos will autoplay without sound, so add informative text or captions

The video will automatically loop; consider making the loop seamless to keep customers hooked

Show your product immediately as the video starts. Don't use fade-in effects or begin with an intricate introduction
Use AI to improve your Amazon ads
Amazon is making it easier for brands to create lifestyle imagery that helps improve their ads' performance with AI-powered image generation.
Instead of spending time creating (or paying for) a unique lifestyle image for your ads or using your product image with a plain white background, you can enter a prompt for what you want as the background for your product, and the AI-powered tool will generate an eye-catching image to use in your Sponsored Brands Ads.
As stated by Amazon, "For example, an advertiser may have standalone images of their product against a white background, like a toaster. When that same toaster is placed in a lifestyle context—on a kitchen counter, next to a croissant—in a mobile Sponsored Brands ad, click-through rates can be 40% higher compared to ads with standard product images."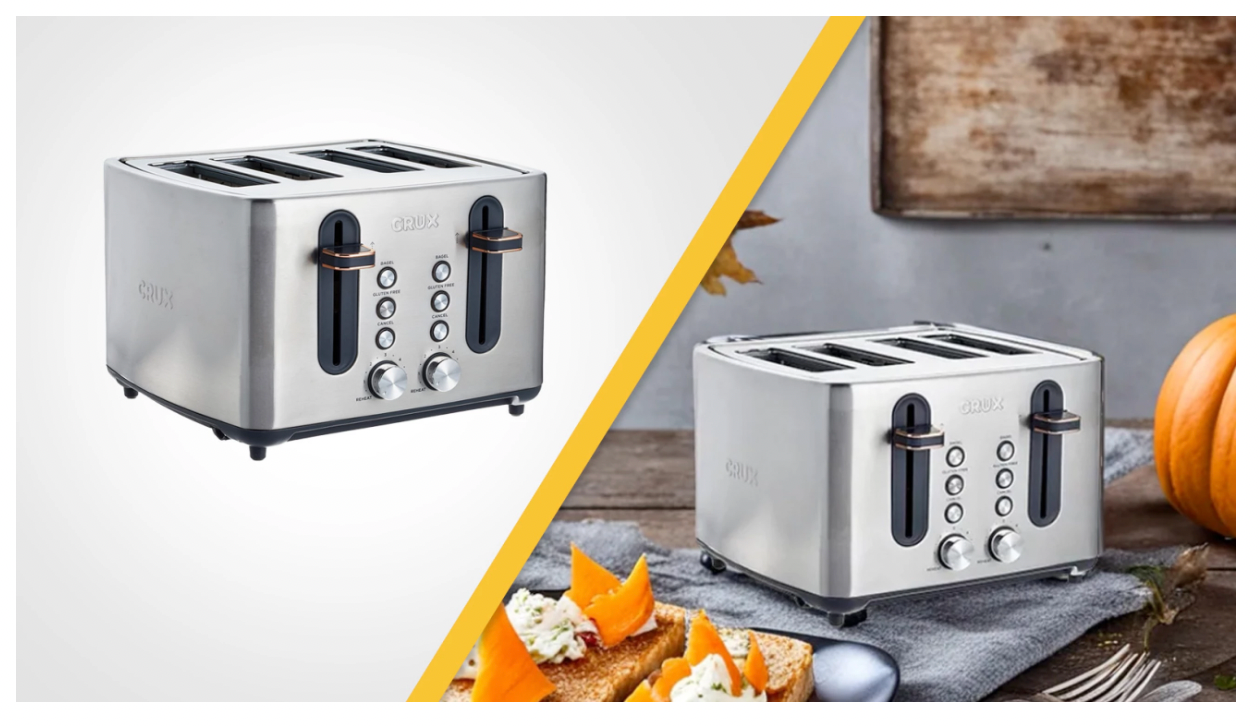 Using generative AI for your Amazon ads is an easier way to spice up your ads in hopes of increasing your CTR. Amazon has started rolling out this feature to select advertisers, so make sure to check if you have access.
How to set up a Sponsored Brands ad
Getting your Sponsored Brands ad up and running is simple. Like the other advertising solutions on Amazon, you don't need a large budget to start promoting your brand. You just need to be a brand-registered seller, and in a few clicks, you can have your ads up and running.
In Seller Central, go to the "Advertising" tab, then click "Campaign Manager," and then "Create campaign."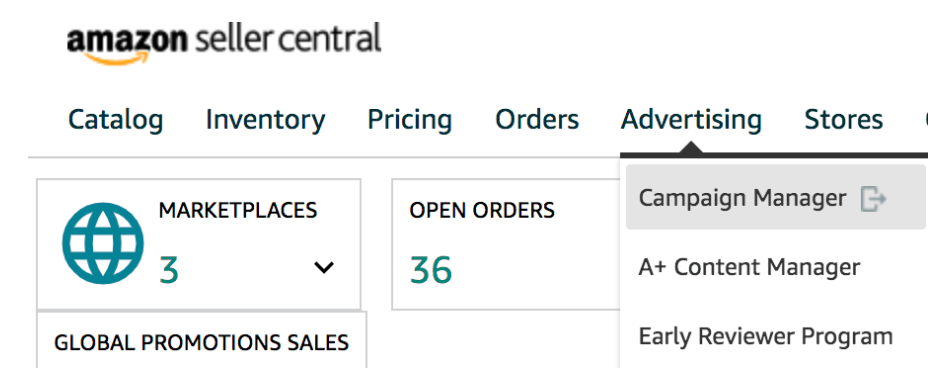 Next, click on "Sponsored Brands" under "Choose your campaign type."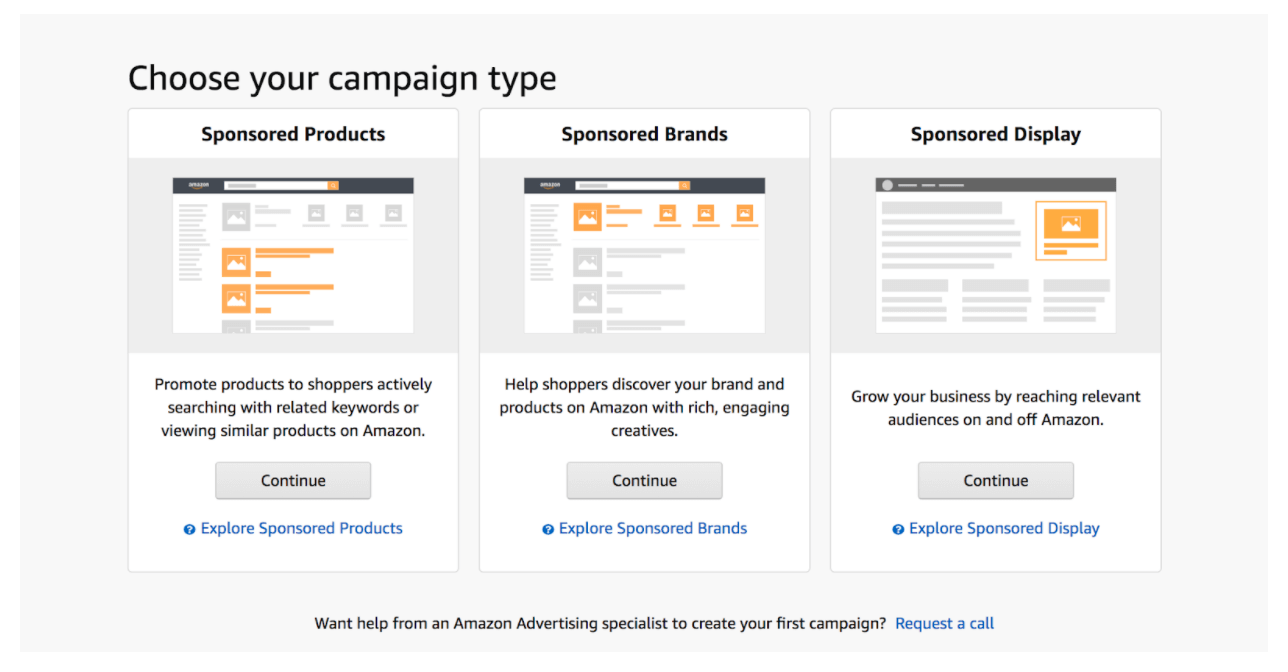 Under "Settings," enter your campaign name, the date range during which you want your ad to run, a daily budget, and the brand you're going to advertise.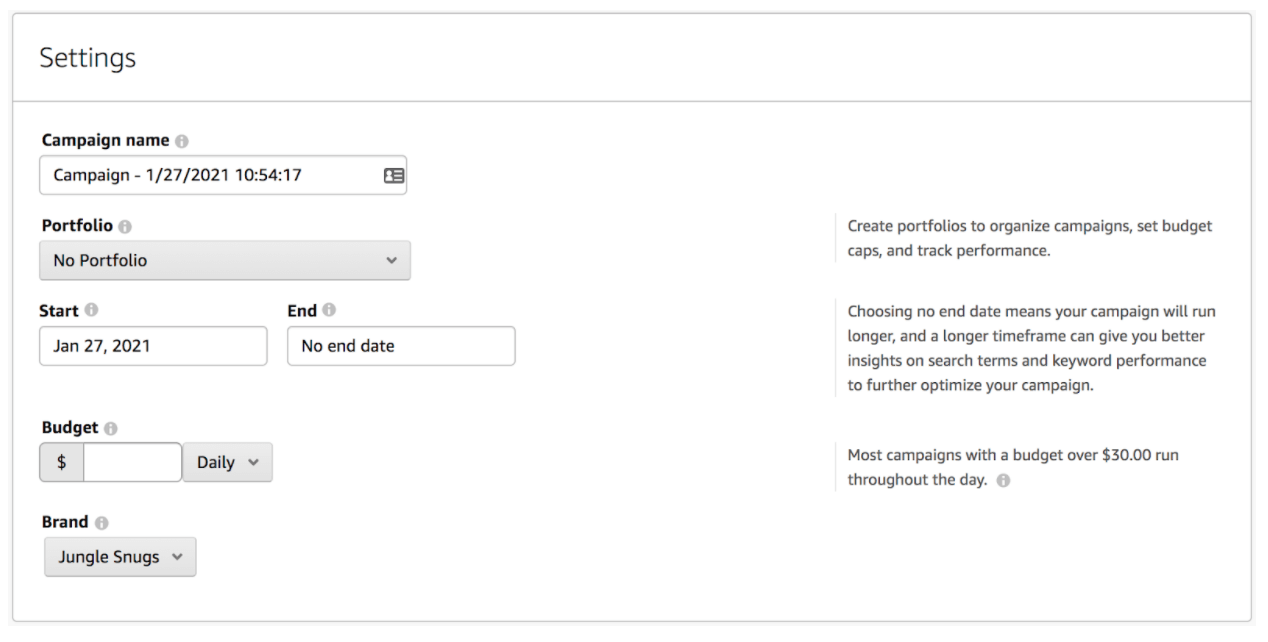 Next, you will choose your Ad format.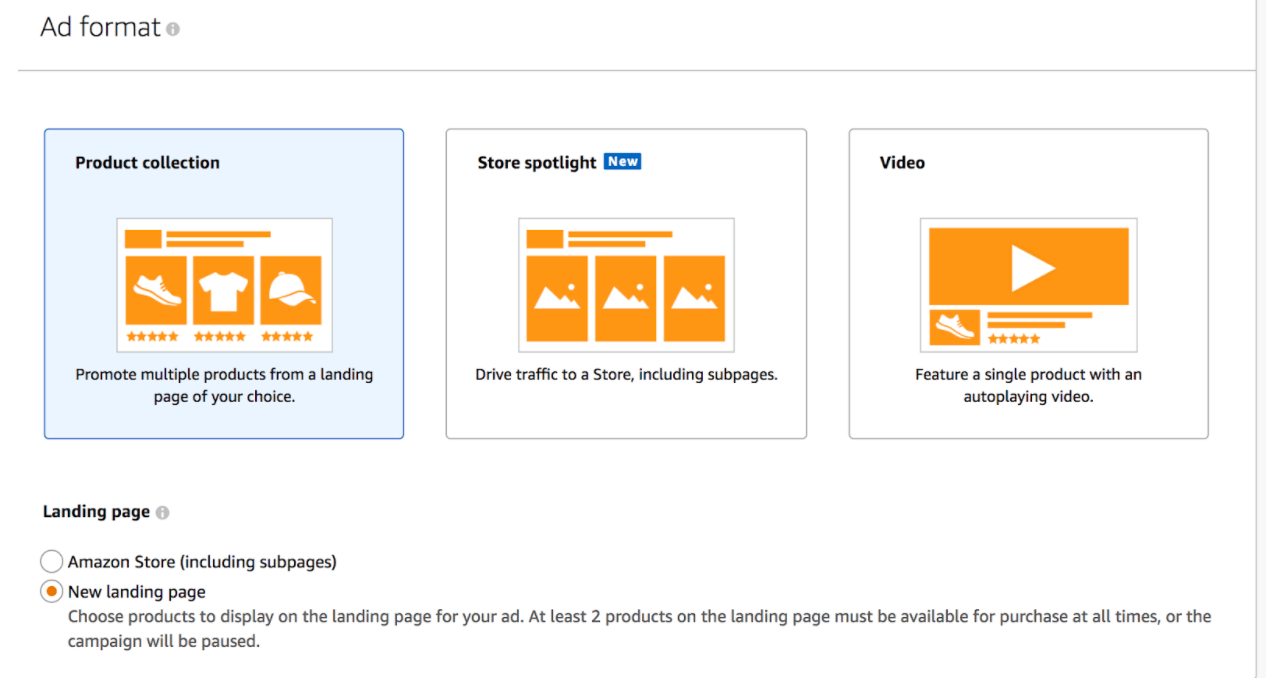 As we mentioned earlier, you can choose from "Product collection, Store spotlight, or a Video ad. For this example, I will choose Product collection.
To run a Product collection ad, you need to choose at least three products in your brand to feature.
After you choose which three products you want in your Sponsored Brands ad, the next step is to add your creative content. You have a lot of options here—you can create a custom headline, choose the order of your products, and add your logo, as well as a custom image.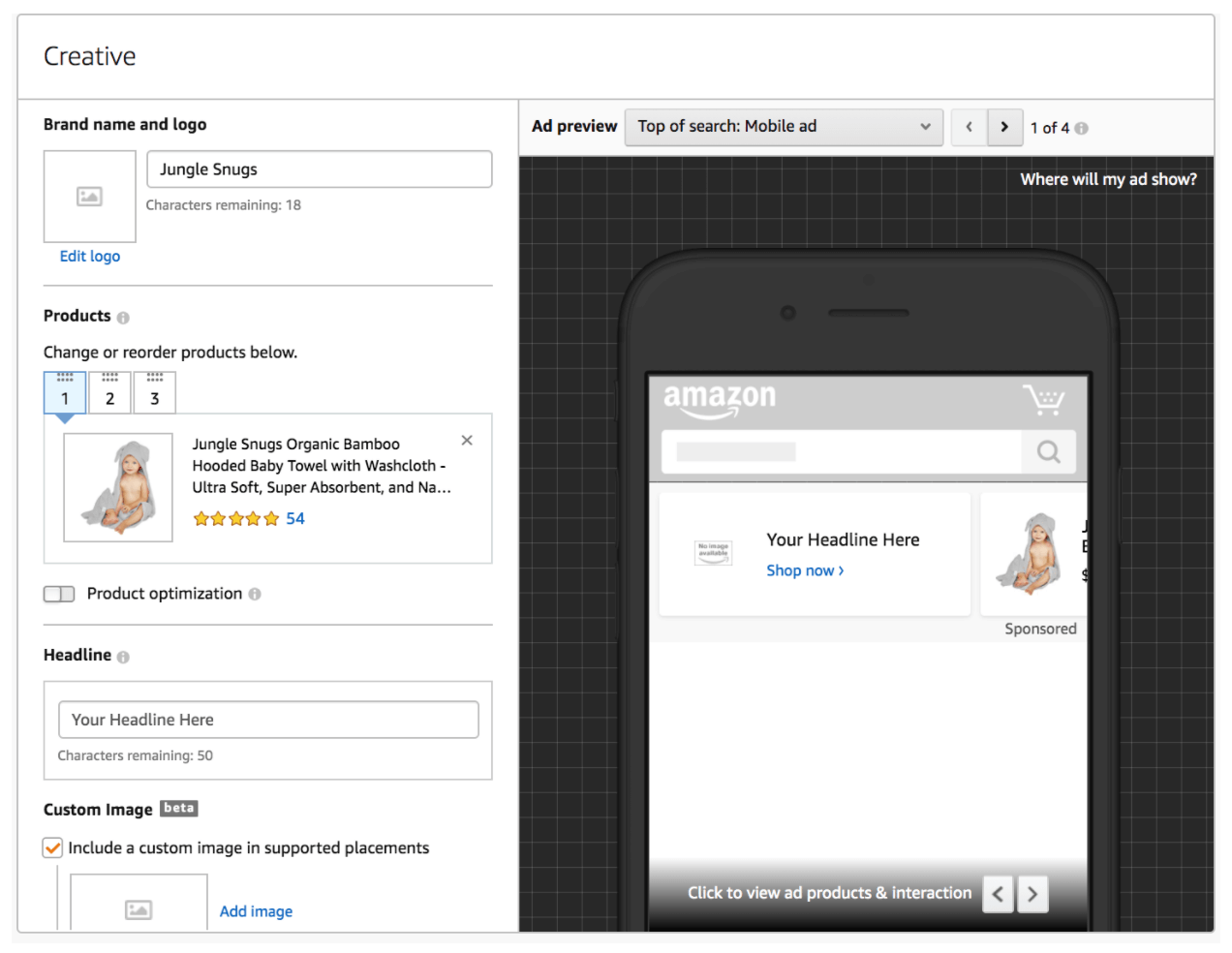 The last step is to choose your targeting, enter your target keywords, and set your bid for each keyword.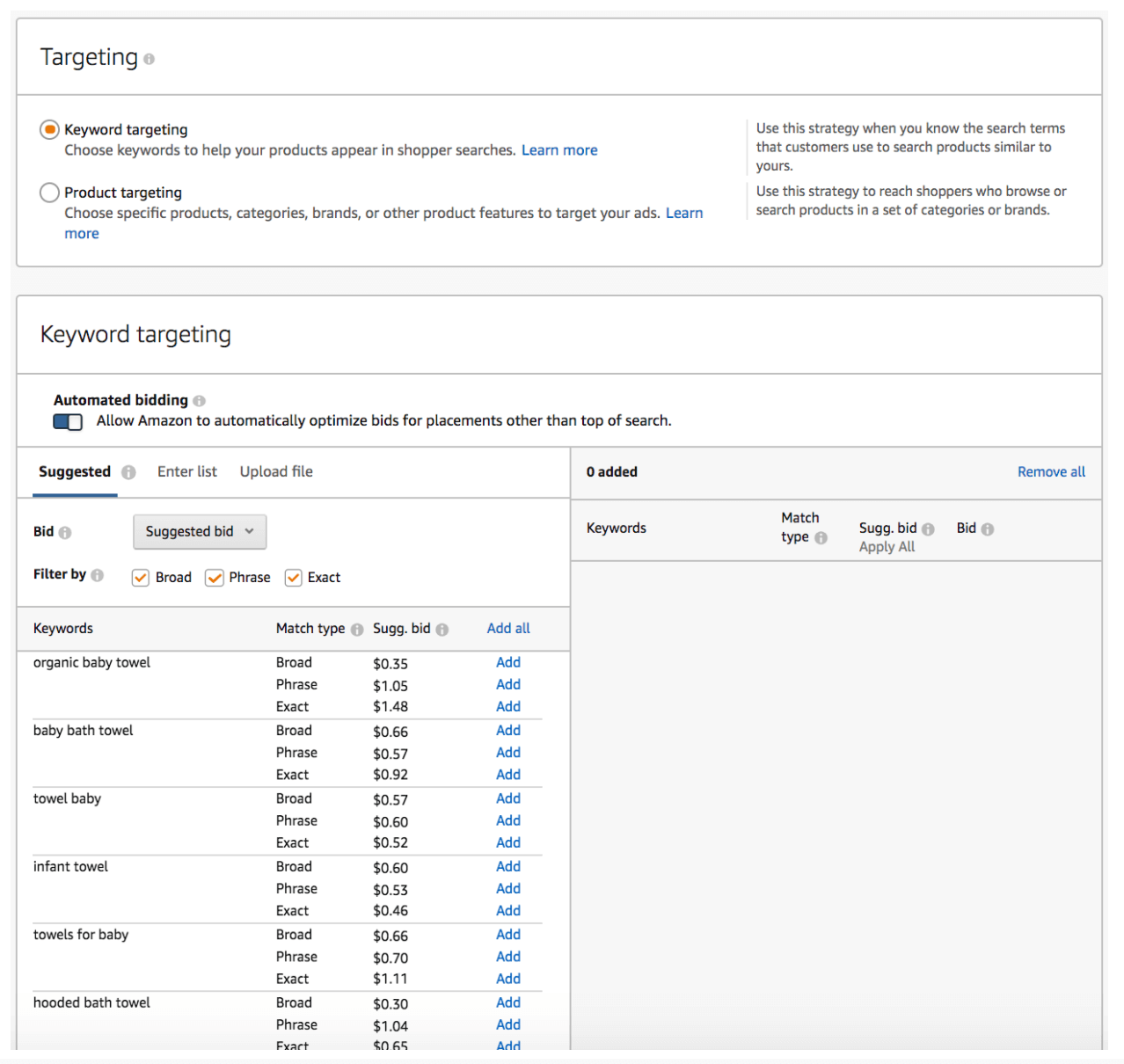 After you choose the keywords you want to target, hit "Submit for review." Amazon will review your ad within 72 hours. That's it! Your ad should be up and running shortly after Amazon approves it.
Are Sponsored Brands ads worth it?
Sponsored Brands ads allow sellers to curate a brand experience for customers while diverting them from competitors' listings. They're prominent and enticing—they make it easy for customers to click through to view your unique brand.
Having another advertising strategy in your arsenal is a great way to stay on top of your competition, especially if you are able to create video ads. Data shows that online shoppers respond to visual cues about a product: 79% of consumers who shop on Amazon say they're influenced by product ratings or reviews that contain photos or videos.
Return on ad spend
Another benefit of using Sponsored Brands ads is that they offer the highest return on ad spend (RoAS) of any type of Amazon PPC.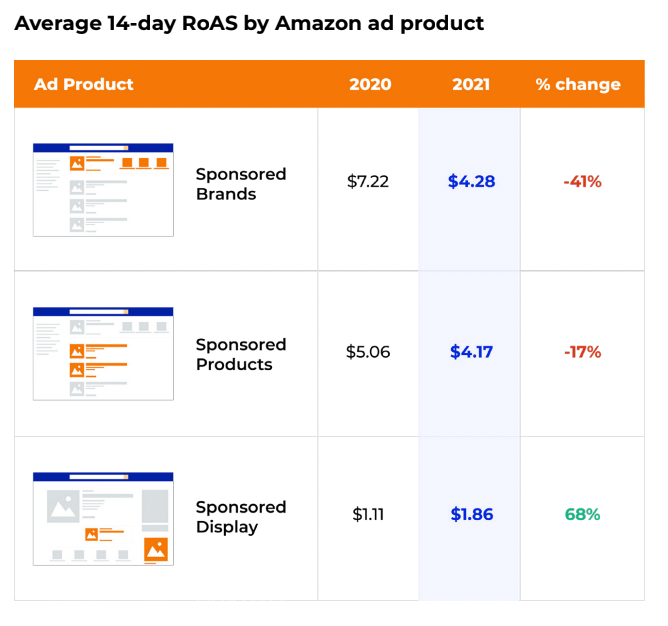 So for every cent you invest in Sponsored Brands ads, you'll earn more revenue than if you'd instead paid for Sponsored Products or Sponsored Display ads.
That said, if you are enrolled in Amazon Brand Registry, test out Sponsored Brands ads and see how they work for your Amazon business! Try each of the formats, testing out different products and creative content to see what resonates with customers.
Have you run these types of ads before or have additional questions regarding Sponsored Brands ads? Let us know in the comments!
To find the best keywords to target for your Sponsored Brands ads, check out Jungle Scout, the all-in-one ecommerce solution.