As many of us know, ecommerce took a turn for the better in 2020. As retail stores closed, consumers took to online retailers like Amazon, Walmart, eBay to shop for essential items—and some not-so-essential items, too.
While retail stores are beginning to open back up to eager in-store shoppers (great news for local small businesses), nearly half of consumers say they would be fine if they never shopped in a physical store again. This, of course, is great news for ecommerce sellers.
Two ecommerce platforms in particular will continue to take off in popularity in 2021 and beyond: Amazon and Walmart Marketplace. 39% of Amazon sellers are considering selling on Walmart in 2021—should you?
In this article, we will review both the differences and similarities between selling on Amazon and selling on Walmart to determine which is the best option for your business.
Differences between Selling on Amazon & Selling on Walmart
Difference #1: Seller competition
It is much easier to register for an Amazon seller account than for a Walmart seller account.
With Amazon, anyone can register to sell and have a product listed within a few days. By contrast, you need to apply and be approved before you can sell on Walmart.com.
Also, Walmart's requirements to sell are much stricter than Amazon's. To apply for a Walmart seller account, you must have a registered business in your state, as well as a US Business Tax ID (your SSN will not be accepted as it would be on Amazon.)
Because of the extra hurdles you have to jump through to sell on Walmart, there are fewer sellers to compete with. Walmart.com currently has around 33,000 sellers, versus Amazon's 2 million sellers.
According to Walmart, because Walmart Marketplace is less saturated, their sellers receive roughly 13 times more monthly visitors than Amazon sellers.
Winner: Walmart
Difference #2: Monthly subscription fees
Amazon has two different selling plans to choose from when registering for an account—individual or professional. While the individual account is free to maintain, you are still charged $0.99 per product sale, and you can't run PPC advertisements or compete for the Buy Box.
We recommend Amazon sellers sign up for the professional account, as it offers more features than the individual plan, and more opportunities for success. The catch is that professional accounts come with $39.99 monthly fees. This may sound like a lot at first, but it's worth it considering the benefits.
Walmart Marketplace, on the other hand, does not charge sellers a monthly subscription fee.
Walmart charges sellers just a fixed referral fee per sale (typically 15% of the product's sale price), plus fulfillment fees if you are using Walmart Fulfillment Services (WFS).
Winner: Walmart
Difference #3: Selling fees
Compared to Amazon and even eBay, Walmart's selling fees are much more straightforward.
Walmart Fees:
As we mentioned above, Walmart does not charge a monthly subscription fee to sell on their platform. On top of that, they have a simple referral fee structure.
In most categories, you can expect to pay 15% of the sale price on each product sold through the marketplace. If you are fulfilling the orders yourself, then you'll only have to worry about paying the referral fee (you'll handle your own shipping costs.) No other hidden or complicated fees to understand.
Now, if you are using WFS (Walmart's equivalent to Fulfillment by Amazon), you will be on the hook for additional fees associated with this service. Walmart claims WFS is a competitive and cost-effective solution that will save sellers on fulfillment costs.
While Walmart does not share their fulfillment fee structure, they state that the storage and fulfillment fees are based on the weight and dimensions of your product alone.
Amazon Fees:
Similar to Walmart, Amazon charges a referral fee for each item sold. That fee also comes out to 15% for most categories on Amazon.
Amazon also allows sellers to choose between fulfilling orders themselves or paying Amazon to handle fulfillment (FBM and FBA, respectively). The major difference between Walmart's fees and Amazon's fees comes down to whether sellers choose FBA. While you'll also have to pay storage and fulfillment fees, they're structured a bit differently.
Let's take a look at one of Jungle Scout's Million Dollar Case Study products, Jungle Stix, to get a better understanding of how Amazon's fees differ for FBM and FBA.
Currently, Jungle Stix are listed for $29.95 on Amazon. Using Amazon's FBA Revenue Calculator, I can enter that price to see how the fees are broken down for both Fulfillment by Merchant and Fulfillment by Amazon.
Note: The total cost for 'Your Fulfillment' (FBM) does not include shipping. If you choose to sell FBM, you will have to factor in shipping expenses when determining your profit margin.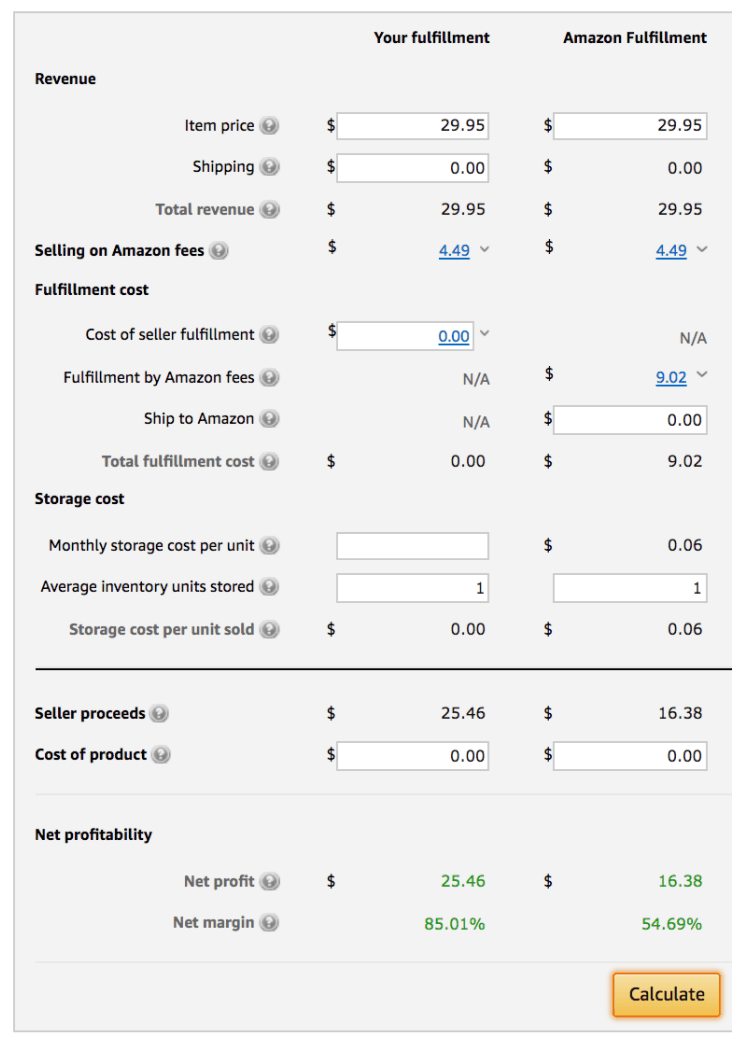 Selling via FBM, the only fees you would be responsible for are the "Selling on Amazon fees", which includes 'Amazon Referral Fee' and the 'Variable Closing Fee.'
FBA sellers are also responsible for these two fees.
On top of the Selling on Amazon fees, FBA sellers are also required to pay a 'Fulfillment by Amazon fee' that is calculated based on the weight and dimensions of your product. This fee covers 'Monthly Storage' and 'Fulfillment.'
To sell Jungle Stix with FBA, Amazon charges us $9.02 per sale (not including monthly storage fees.) If we sold this product through FBM, we would pay Amazon just $4.49 (not including shipping costs to the customer.)
Additional fees:
Monthly storage fee: Amazon will charge sellers at the end of each month based on the amount of inventory in an Amazon warehouse.
Long-term storage fee: Amazon conducts inventory clean-ups on the 15th day of each month. During the clean-up, Amazon records any products that have sat in their fulfillment centers for 180 days or longer, and then charges sellers $6.90 per cubic foot of storage used. Products that have been in Amazon's warehouses for longer than 365 days incur a charge of $0.15 per unit.
Refund administration fee: If you refund a shopper for a product for which you have already been paid, Amazon will refund you the amount of the referral fee you paid, minus the refund administration fee, which is either $5.00 or 20% of the applicable referral fee, whichever is less.
Winner: Walmart
Difference #4: Business requirements
As we mentioned above, the competition amongst sellers is a lot steeper on Amazon than on Walmart. Registration eligibility requirements have a lot to do with that discrepancy.
Walmart is not a beginner-friendly marketplace. You must be an established business in order to apply. Here are the qualifications and documents you'll need to register:
US Business Tax ID (SSN not accepted)

W9 or W8 and EIN Verification Letter from the Department of Treasury that verifies your US business address or place of physical operations

Address or place of physical operations

US Business address

Planned integration method for your product catalog (bulk upload, API, solution provider)

Primary product categories, catalog size, and related information (e.g. total SKUs you will be selling on Walmart.com initially with verified UPC information and used vs. refurbished etc.)
As of now, Walmart will only allow businesses registered in the US to apply to sell on the marketplace. We are not sure when or if Walmart plans on changing this in the future.
Walmart also has strict product requirements when using WFS:
Products must ship to Walmart fulfillment centers from within the United States

No perishable or regulated products

Maximum product weight is 30 lb

Maximum product dimensions: 25″x20″x14″
It is much easier for brand new, inexperienced sellers to get set up and begin selling products on Amazon. You don't even need to know what you're going to sell before opening the account.
In order to complete your registration, make sure you have access to the following:
Bank account number and bank routing number

Chargeable credit card

Government-issued national ID

Tax information (you may use your SSN here)

Phone number
Unlike Walmart, international sellers (from select countries) are allowed to register to sell on Amazon.
According to Amazon, you need to be resident in one of these countries to be eligible to sell. International sellers also must have a valid phone number and an internationally chargeable credit card.
Winner: Amazon
Difference #5: Personalized account management
A huge benefit to selling on Walmart and using WFS is that Walmart provides sellers with personalized support and a WFS fulfillment expert for recommendations on business optimization and growth.
If you want that kind of dedicated support from Amazon, you'll need to fork over a hefty monthly fee ($1,600/month), plus a percentage of your sales.
Winner: Walmart
Difference #6: Customer base
Amazon has a firmer grip on consumers and a wider reach than Walmart.com—at least for now.
In 2021, 65% of U.S. consumers currently shop on Amazon, which is nearly double the 37% of consumers who currently shop on Walmart.com. Amazon has amassed over 200 million visitors per month just in the US, which of course is a big reason why it is the largest online marketplace for sellers.
That said, Walmart's online customer base continues to grow every year. Its customer reach increased 13% in just the past three months, up from 35% of Americans in Q4 of 2020 to 40% in Q1 of 2021.
Walmart states that its online marketplace receives up to 100 million unique visitors a month, so you can be sure there's no shortage of shoppers.
For shoppers, it comes down to preference—some would rather order from Amazon, others from Walmart. And Walmart.com shoppers are willing to spend about as much money on a single item as Amazon shoppers (not including Walmart in-store shoppers, who generally look for low prices).
It's also worth noting that Amazon shoppers and Walmart shoppers (both online and in-store) shop for the same categories on Amazon: clothing, grocery, and beauty, and personal care products.
Amazon Customer Profile:
59% of consumers are Amazon Prime members

71% of online spending is on Amazon

62% of consumers shop on Amazon when they need something fast

65% of consumers begin their product search on Amazon

Consumers prefer to purchase products on Amazon vs. Walmart.com for most categories

72% of Amazon customers are influenced by faster shipping
Walmart Customer Profile:
74% of Walmart+ consumers have a Prime account

35

% of consumers are Walmart+ members

59% of Walmart consumers find returning items easier than Amazon

57% of consumers search on Walmart when shopping for a specific brand

One of the top reasons 41% of customers shop on Walmart.com is for the low prices
Winner: Both
Similarities between Selling on Amazon & Selling on Walmart
Similarity #1: Fulfillment services
With both Amazon and Walmart.com, sellers have the option to fulfill the orders themselves or through their respective fulfillment centers.
While Amazon has offered FBA since 2006, WFS was introduced by Walmart in February 2020 as a way to compete with Amazon's wildly popular and effective fulfillment services. WFS charges simple and straightforward fulfillment fees and provides sellers with many of the same money- and time-saving benefits as FBA. These include increased site visibility, higher search rankings, and Walmart TwoDay tags (which are similar to the Amazon Prime badge).
The only difference here is that Amazon allows sellers to ship products to their FBA warehouses from other countries, while Walmart only allows you to ship products to their fulfillment centers from the US.
Similarity #2: Guaranteed 2-day free shipping
Both Amazon and Walmart.com sellers are able to provide their customers with fast, 2-day shipping when through their fulfillment services.
Before 2020, Walmart Marketplace sellers only had the option to seller-fulfill each order. But now, Walmart's state-of-the-art supply chain logistics will pick, pack, ship, and deliver orders to your customers within two days—even if the customer does not have a Walmart+ membership (with a minimum $35 order.)
Walmart+ is Walmart's delivery subscription service that is meant to directly compete with Amazon Prime. The benefits include free next-day and two-day delivery with no minimum order, free delivery from your local Walmart store, and more (Walmart sellers fulfilling their own orders, will not have the Walmart TwoDay tags).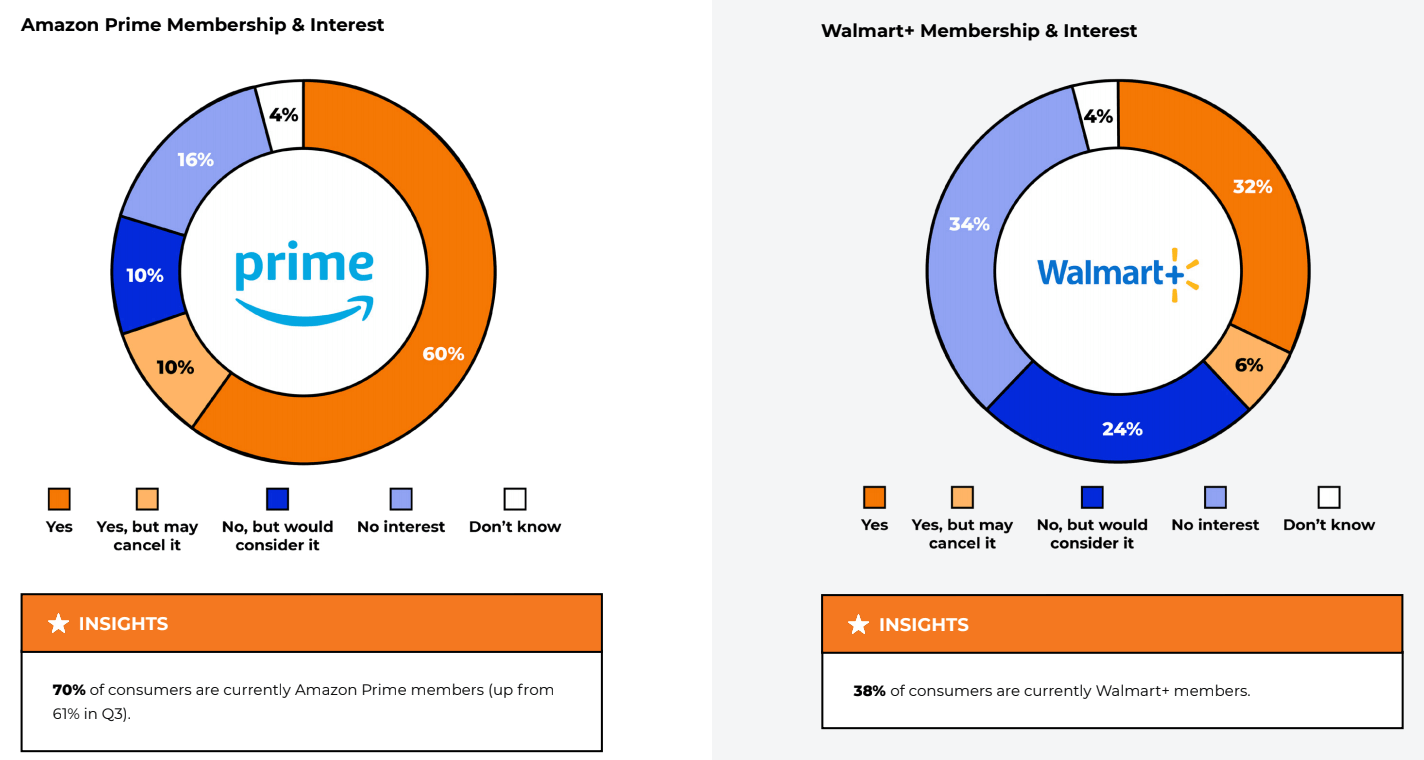 Currently, there are more Prime members than Walmart+ members. But fast, free shipping options will drive more shoppers to Walmart.com, just as it has for Amazon.
Similarity #3: Advanced listing content
On Amazon, brand registered sellers are able to create large, beautifully designed product descriptions called A+ Content that feature images, infographics, logos, and unique modules.
On Walmart.com, sellers using WFS can create what's called "Item Page Content." This feature seems to be very similar to Amazon's A+ Content, minus a brand registry requirement—the only requirement to use Item Page Content is to also use WFS.
This is a huge advantage for Amazon sellers who are not yet brand-registered.
Similarity #4: Listing optimization
If you are an Amazon seller or own an ecommerce store, you know how important it is to optimize your listings. A properly optimized listing helps increase discoverability within search, turning browsers into shoppers to increase organic ranking, and even helps minimize returns by providing quality content.
The same principle applies to selling on Walmart. Your keyword research, product research, and listing optimization are all very important factors for your success on Walmart.
You can of course use Jungle Scout to help with keyword research, product research, and listing optimization for your Amazon business. While Jungle Scout's tools are specific to the Amazon marketplace, you can still use the data-driven insights they provide to get an idea of what's selling well on Walmart.com. They may be different marketplaces, but their customers are interested in similar products, and those items typically perform well on both.
What Walmart marketplace offers that Amazon lacks is their Listing Quality Dashboard tool. It provides powerful insights into metrics like discoverability, ratings, and post-purchase quality so you can make impactful improvements to drive more traffic and increase conversions. They also provide sellers with a comprehensive product listing guide.
On top of that, Walmart also has a tool within their version of Seller Center called "Growth Opportunities" that allows sellers to discover new, in-demand products.
Similarity #5: Categories shopped
We've discovered that consumers who shop on Amazon and Walmart (online and in-store) shop for the same categories, especially in: clothing, grocery, beauty & personal care.
As a seller, it's important to know where your customers are. In this case, no matter the category you sell in, you can expect to find an ample customer base on either platform.
One category growing in popularity for both marketplaces is grocery. Now that both Amazon and Walmart offer online grocery delivery services, customers don't need to leave their homes to buy food. In fact, consumers are purchasing grocery products online 49% more frequently since the COVID-19 pandemic began.
Who are the Amazon sellers considering selling on Walmart?
Comparisons aside, sellers don't need to choose between Amazon or Walmart—they can sell on both platforms! In fact, 12% of existing Amazon sellers are considering expanding their ecommerce business to Walmart in 2021.
While selling on Walmart represents an exciting opportunity for ecommerce experts and newcomers alike, those looking to expand tend to be established FBA entrepreneurs. Over half have three or more years of experience under their belts, and 87% consider themselves at either "intermediate" or "advanced" level of expertise as Amazon sellers.
Their profitability metrics speak to their success: 84% bring in monthly sales of $1,000 or more, and 52% have achieved lifetime sales over $100,000. Over half of these sellers (56%) say their sales increased year-over-year in 2020.
Sellers interested in Walmart tend to list products in the top-selling categories on Amazon, like Home & Kitchen, Toys & Games, and Sports & Outdoors, reflecting the two platforms' similarities in customer base.
They also tend to have relatively large product ranges—54% have ten or more active product listings on Amazon, and 23% have 100 or more. These sellers find success across a range of business models, though private label and wholesale come out on top (68% and 39% of sellers, respectively).
What factors into an Amazon seller's decision to jump to Walmart? Time and experience may play a role. When asked about contributors to their success on Amazon, these sellers report the following:
I have the time to commit to the business (56%)

I am passionate about my product/brand/industry (47%)

I innovated/differentiated my product/made improvements to competitor offerings (41%)
We should note that 47% attribute their Amazon success to having the tools they need to run their businesses—and 62% use Jungle Scout.
Amazon or Walmart? Or both? You decide
While there are obviously some pros and cons to both selling platforms, the truth is that they both present incredible opportunities to reach thousands of customers.
Amazon is a little more beginner-friendly than Walmart, but once you have a registered US business, there's no reason why you shouldn't be selling on Walmart.com. As the saying goes, don't put all your eggs in one basket!
Do you have any more questions about selling on Amazon or on Walmart? Let us know in the comments below!