With many seller tools to choose from, we are glad you discovered Jungle Scout! Jungle Scout is the leading all-in-one platform for finding, launching, and selling products on Amazon and beyond.
We provide sellers with advanced, up-to-date tools, features, and accurate data so you can make informed decisions about your Amazon business.
If you're just starting your Amazon selling journey and not sure where to begin, you've come to the right place. I'm sure the main question you have right now is, "How do I use Jungle Scout?"
With the many features and functionalities of Jungle Scout, it can look a bit overwhelming to learn. But no matter where you are in your Amazon selling journey, Jungle Scout can support you and your business, every step of the way. From product research to managing your inventory, we've got a tool for everything, and we'll teach you all you need to know about how to use them.
Follow along and you'll have a perfect understanding of how our tools work, and how they can help you find a profitable product to sell on Amazon.
Here's what this article will cover:
Let's get to it!
Get a snapshot of your business performance
Jungle Scout's Home Dashboard now gives sellers a quick status update on the performance of their business over the past week. With new sales widgets, sellers can see high-level metrics from the moment they're logged in such as total sales, total profit, units sold, ROI, net margin, and average sales price. They can even track the performance of PPC campaigns.
Without having to navigate Sales Analytics or Seller Central, sellers can quickly see the performance of their business in real time.
The Home Dashboard also features many resources on how to use each of Jungle Scout's tools, stay on top of Amazon news, sign up for webinars, and much more.
Use Jungle Scout to find your first product
Product research is what Jungle Scout was originally built to tackle, and we continue to be the best at it to this day. Use Jungle Scout's advanced product research tools to guide you to your first private label product — or your next bestseller.
Most users who come to Jungle Scout for the first time are looking for a worthwhile product to sell on Amazon FBA. Let's go over how to use our Product Database tool so you can begin your research as soon as possible!
How to use Jungle Scout's Product Database tool for product research
Product Database is a searchable catalog of 475 million products pulled directly from Amazon. This allows sellers to discover products that match specific search criteria. Using Product Database is a great starting point when searching for profitable products to sell on Amazon FBA.
When signed into Jungle Scout on a desktop, you will see the navigation menu on the left-hand side of your screen. This is where you can access all of Jungle Scout's features.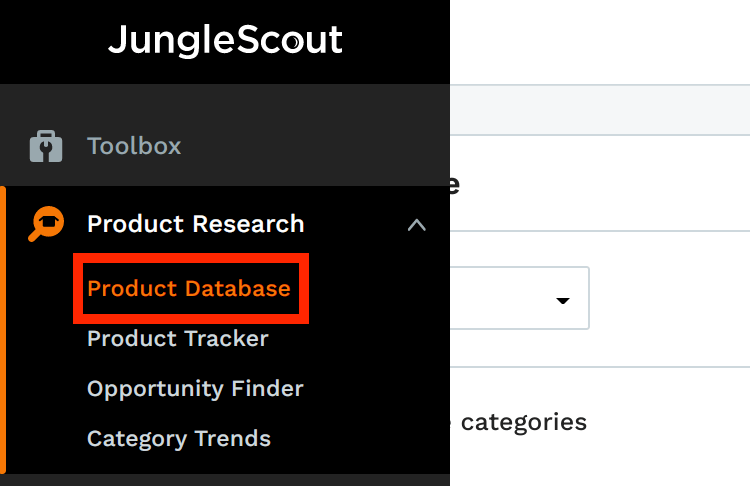 Go to the "Product Research" drop-down menu and click "Product Database."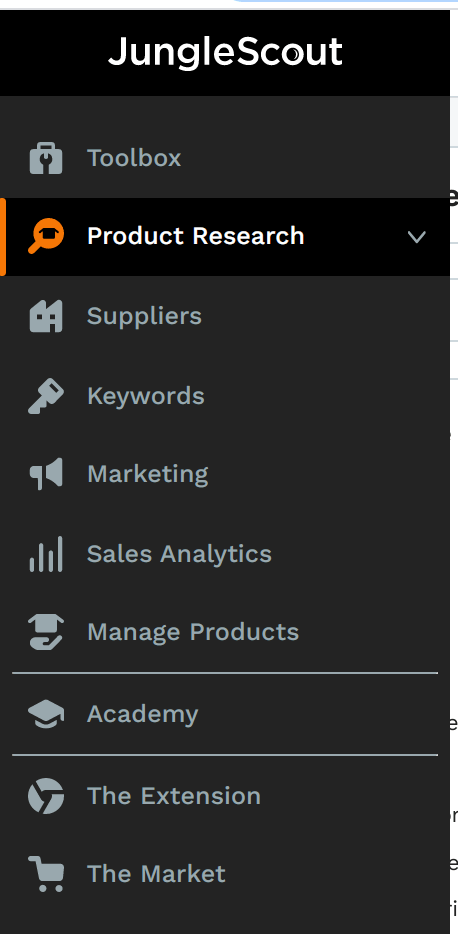 Now you're in the Product Database tool. Here, you can begin searching for product opportunities. Customize your search by selecting the product categories you're interested in, and filter for factors such as price range, net price, sales rank, revenue, reviews, and rating.
These filters allow you to narrow down your product search to find the type of products you're most interested in selling — as well as those most likely to turn a profit.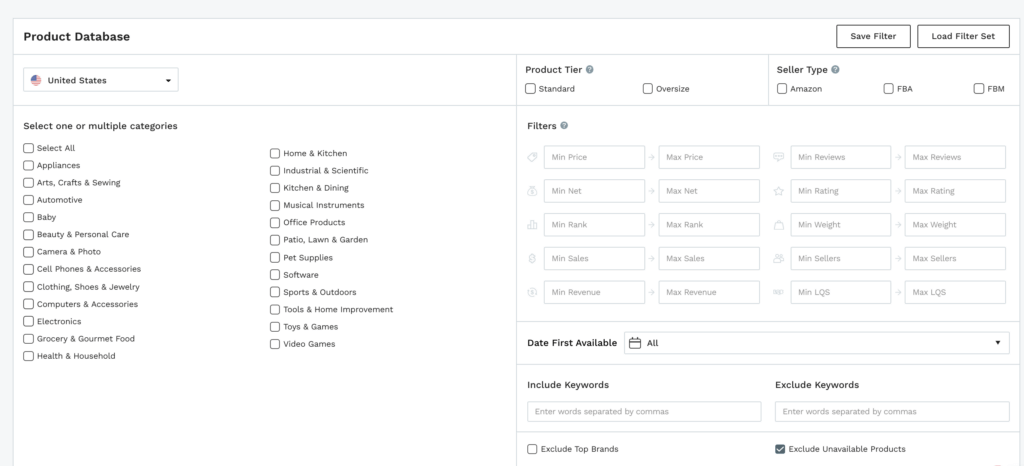 Using Product Database category filters
Let's break this down:
The category filter lets you select one or multiple product categories to reveal the kinds of related products that are listed on Amazon. You can select as many as you wish! For this example, let's choose "Sports & Outdoors" and "Toys and Games."
Keep in mind that your search may bring up hundreds of results that could be overwhelming to sort through. To make this manageable, search through one to two categories at a time.
The following are additional filters available to you on the page. Don't hesitate to try them out:
Product Tier: This filter gives you the option to sort by Standard or Oversize products. Typically, new sellers search for Standard–size products as they're easier to source and ship, and cheaper to fulfill and store.
Seller Type: What type of competition do you want to face with your new product? If you check "Amazon," you'll see products that Amazon itself sells. If you choose "FBA" or "FBM," you'll see products from third-party sellers. We suggest staying away from products that Amazon sells and finding opportunities elsewhere.
Min & Max Sales Price: Set the price range you want to sell in. If you don't use this filter, your search results will contain products of all price points. For a beginner, we recommend selling products in the $20-$50 range. If you sell products at a lower price, Amazon fees will eat into much of your profit.
Min & Max Net Price: This will show you products that fall within your Net Price range. "Net" means what a seller gets paid from Amazon after Amazon fees. Make sure you factor in all of your costs (unit cost, Amazon fees, shipping, advertising, etc.) to fully understand what your net price will be before investing in a product.
Min & Max Rank: Set the minimum and/or maximum sales rank of products you want to see. The lower the number, the better the Best Seller rank –– and the higher the sales on Amazon. If you want to filter out slow-moving products, add a maximum sales rank. To learn what a sales rank in a particular category means for sales, use our free Sales Estimator.
Min & Max Monthly Sales: This filter refers to the number of sales a particular product makes per month. Example: Type in "55" as the minimum to see products that sell at least 55 times per month. Without this filter, you'll see products that sell zero times a month to thousands per day.
Min & Max Revenue: Set the minimum and/or maximum estimated monthly revenue in dollars. Example: Set 3000 as the Min Revenue and 5000 as the Max revenue to see products that make between $3,000 and $5,000 per month. In that range example, you may have less competition as other sellers typically search for products with higher monthly revenue potential.
Min & Max Reviews: Set the minimum and/or maximum number of product reviews. Example: Type in "100" for Max Review if you only want to see products that have a maximum of 100 reviews. This helps you to find less competitive products. Without setting a maximum, you may see products with thousands of reviews and more — these will be harder to compete with.
Min & Max Star Rating: Set the minimum and/or maximum star rating for products. Example: Type in "4" for Max Rating if you only want to see products with a maximum of 4 stars. This helps you find products that sell well but may have room for improvement — all information you can take advantage of.
Min & Max Weight: Set the minimum and/or maximum weight of the product you want to sell. This filter can help you eliminate heavier products that are more costly to ship. Understand how Amazon's FBA fees work for different weight classes, to help you determine the cost of your product ideas and your potential profits. If you sell a product that is very heavy, for example, it may eat into your profits if you don't understand the fees involved.
Min & Max Sellers: Set the minimum and/or maximum number of sellers on a listing. This filter works well if you are selling arbitrage or wholesale to see how many other sellers are competing on that one listing. For example, if you set the maximum sellers to 1, you'll only see private label products and branded products that no one else sells.
Min & Max Listing Quality Score: The LQS is a grade that is determined by our in-house algorithm, factoring in the quality of a listing's title, bullet points, photos, and description. It is graded on a scale of 1-10, with 10 being the highest score. This filter will help you find products that need listing improvements — good insight on what your competitors are doing wrong, and how you can do it better on your listing.
Date First Available: Set a date for listings based on when they were launched on Amazon. Established products, such as from five years ago, will be harder to compete with than a product that just launched last year.
Include Keywords: If you are looking for a specific type of product or niche, enter in those keywords here. Example: You want to sell pool toys. Enter the keywords "pool" and "toys" to see relevant results.
Exclude Keywords: If you want to exclude specific products from your search, enter the keywords for those here. Example: You want to sell pool toys but don't want to see goggles. Enter "goggles" into the box.
Exclude Top Brands: You can check or uncheck this filter. This will remove any big brands from your search results, such as Nike or Disney.
Exclude Unavailable Products: You can check or uncheck this filter. This will remove any products that are currently out of stock from your search results.
These filters are optional (except the category filter) so don't feel like you need to fill all of them out. We provide these options in case you want to narrow down your search even further. Keep in mind that the more filters you use, the more specific the search results will be.
Let's do a sample search and say you are interested in selling products in the Sports & Outdoors category, as well as the Toys & Games category.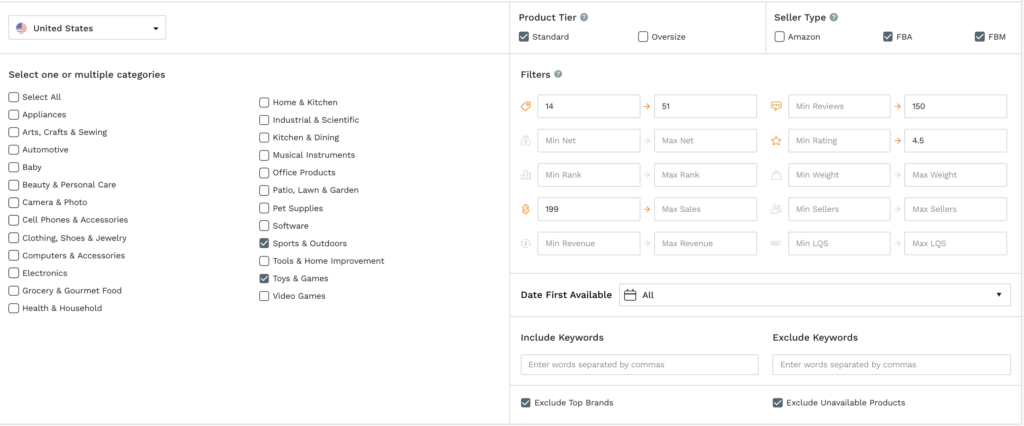 After setting the filters by clicking on Sports & Outdoors and Toys & Games, hit search.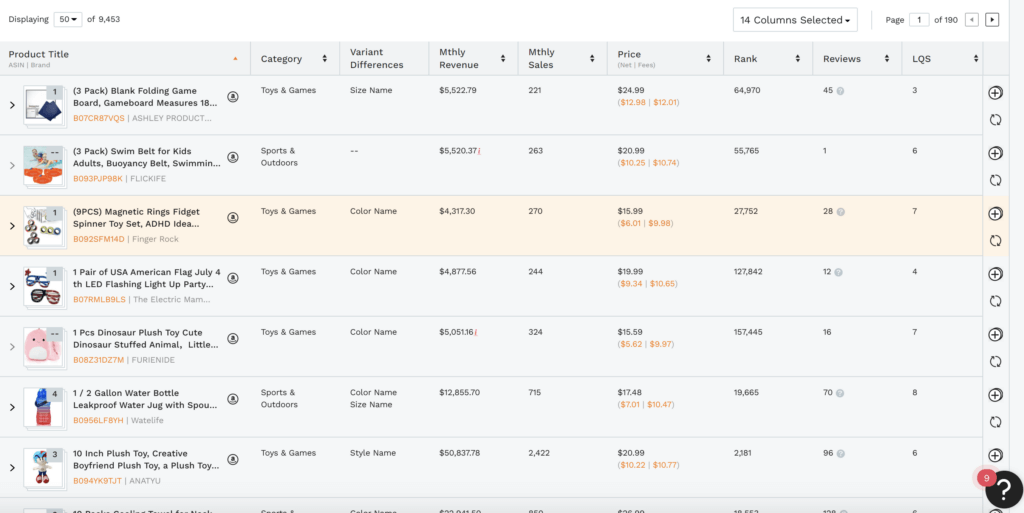 With these filters, the search yielded over 9,000 products! This will give you plenty of interesting products to discover and consider selling for your business. If there are too many to sift through, simply adjust the filters to refine your results.
It may be overwhelming at first but take your time and go through them. As you do, you may start to identify which products you'd rather not consider selling. Start adding keywords for those products to your "Exclude Keywords" filter to narrow down your search even further.
If you come across something interesting that you want to look further into, you can add those products to the Product Tracker tool. On the right-hand side, click the small plus sign to add products to the tracker.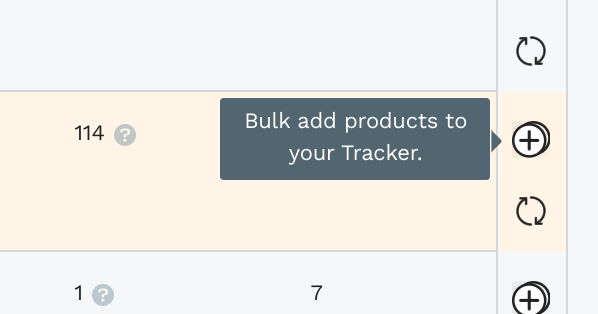 Product Tracker will begin tracking real-time sales and other key metrics so you can better understand each product's competitive landscape.
Play around with the filters as much as you want to find new and interesting product ideas. If you have a filter setting that works well for you, you can save the filter and use it for another search.
Above the Seller Type filter you will see "Save Filter," and "Load Filter Set." Click "Save Filter" and give it a name.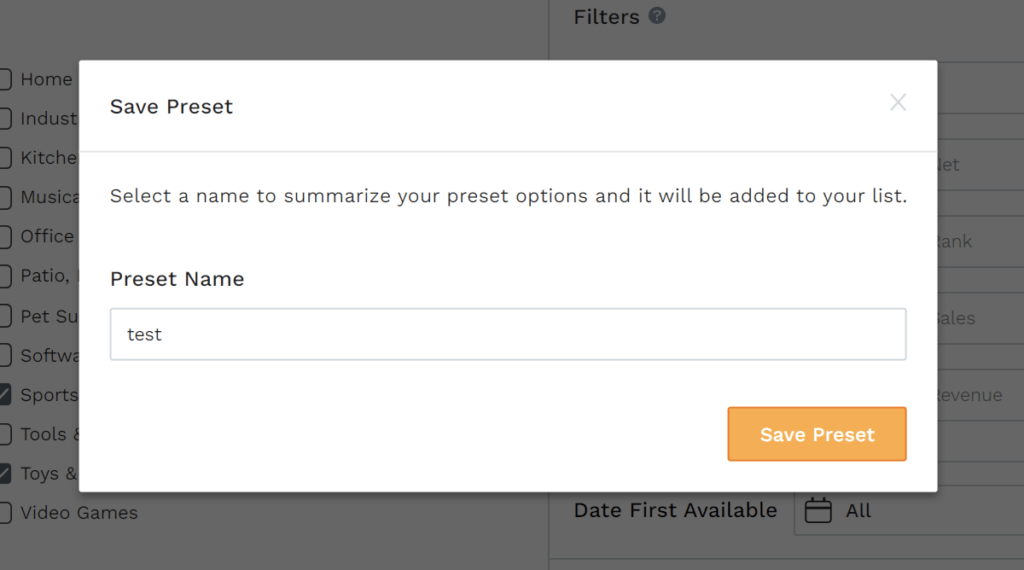 If you want to use a saved filter, simply click "Load Filter Set." Jungle Scout also provides you with some curated filters you can use, under "Jungle Scout Presets".
What other ways can you use Jungle Scout to research product ideas?
While Product Database is an incredibly useful tool for product research, Jungle Scout also offers a couple of other tools you can use to find and evaluate your product ideas.
Opportunity Finder helps you look into emerging trends and keywords with high demand and low competition, so you can easily find profitable products. Use the preset categories and filters to guide you to a successful product that you can invest in.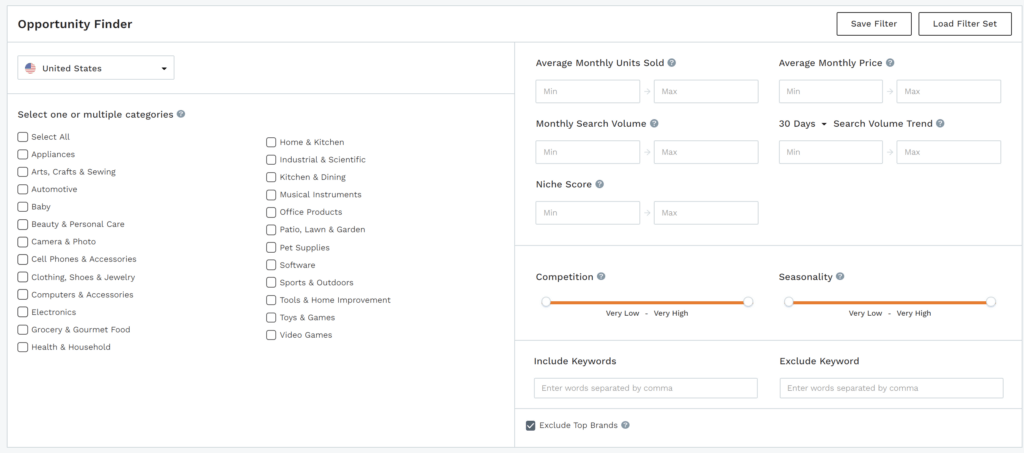 Extension is the most robust browser extension for Amazon sellers and is available for Chrome and Firefox browsers. This tool allows you to evaluate new opportunities, forecast product sales, and even request reviews from customers. Extension also helps you validate your product ideas by providing an opportunity score.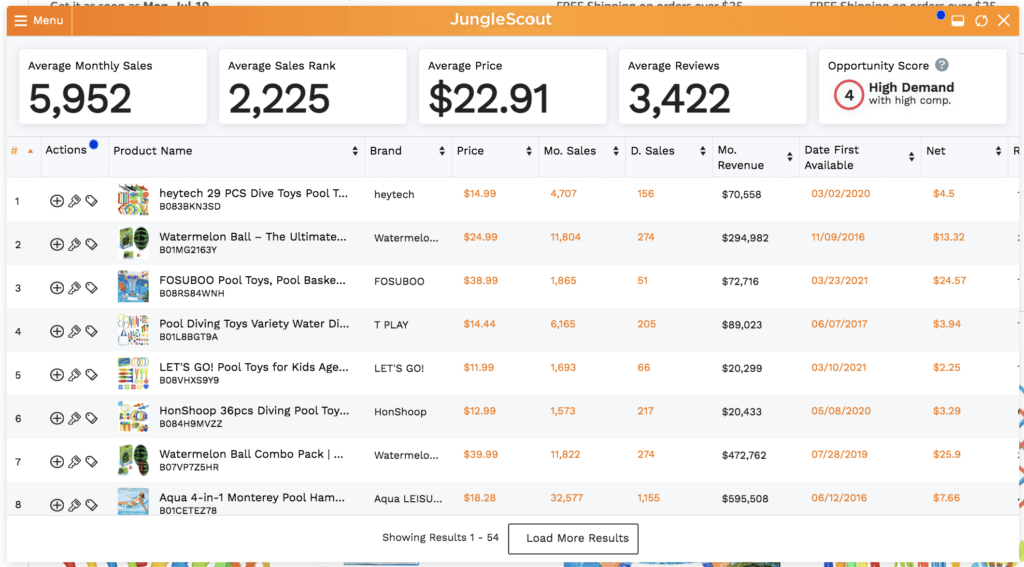 What else can you do with Jungle Scout tools?
On top of helping you find high demand, low competition products to sell, Jungle Scout has many other features to help you run and grow your Amazon business. You won't need some of these tools right away but as you get going, you'll find them to be very beneficial.
Keyword research with Keyword Scout and Rank Tracker
Keyword Scout
In order for customers to find your products on Amazon, you need to include relevant keywords throughout your listings. You also need to be sure that customers are actually searching for those specific keywords. Keyword Scout allows you to instantly discover relevant, high-volume keywords to include in your listing and to target in your PPC campaigns.
Simply enter a broad keyword into Keyword Scout, set your advanced filters, and the tool does the work for you. You'll see relevant results to help you understand what consumers are searching for on Amazon, and how often.
You can take your search one step further: see the keywords your competitor's ASINs are ranking for by copy-pasting their product ASINs into Keyword Scout. With this information, you can find the keywords your competitors are spending money on, discover which ones you could be ranking for, and learn to target them better.
Rank Tracker
Once you find relevant keywords for your product using Keyword Scout, add them to Rank Tracker to track their performance and ranking over time. This tool gives you powerful insights on which keywords to focus on and which ones to scrap.
Similar to Keyword Scout, you can also do a reverse-ASIN search in Rank Tracker to discover keywords that influence your competitor's sales the most. This tool presents the organic and sponsored rank of your competitor's keywords in an easy-to-view graph, so you can quickly identify weak spots in your competitor's page rank.
This is an important step in the product research process, so make sure you take advantage of this powerful tool to fully understand what you may be up against when launching your product.
Find a supplier with Supplier Database
After conducting your product and keyword research, your next step is to find a reliable supplier for your product. Instead of sifting through thousands of potential suppliers online, the Supplier Database makes it easy for Amazon sellers to find reputable suppliers across the globe. This one-of-a-kind tool also reveals exactly where your competitors source their products.
Once you are in the tool, you can organize supplier quotes, samples, purchase orders, and contact information.
Optimize your listing with Listing Builder
You have your product and the keywords you want to target, but how do you build an optimized listing? Having a strong SEO strategy for Amazon is very important — without it, your product may be difficult for customers to find.
Enter Listing Builder, which helps you craft a keyword-rich listing to improve your product rankings in Amazon search results.
You can import the keyword lists you generated with Keyword Scout, create new lists, or use our advanced filters to discover easy-to-rank keywords. Once you have your keywords ready to go, Listing Builder provides a template to ensure your listing copy stays within Amazon's character limits.
As you write your title, bullet points, and description, the tool will show you which keywords have been used and which ones are left to add to your listing. As you work on your listing, you'll get an instant "listing rating" that will let you know if you need to make improvements.
Boost your rankings with Review Automation
Building up your review count is one of the hardest things about selling on Amazon — especially on a newly launched product. Review Automation automatically sends review requests to all of your customers, so you can both save time on manual requests and increase your chances of earning more reviews — without having to think about it. The best part is, it's all Amazon ToS-approved.
All you have to do is connect your Seller Central account to Jungle Scout, and turn the feature on. It's a set-it-and-forget-it feature.
Track your performance with Sales Analytics
Making sales on Amazon is great — but knowing that you're turning a profit is better. Between Amazon fees, advertising expenses, and product costs, it can be hard to keep track of all these numbers. Sales Analytics organizes all of your sales data so you can truly understand the financial health of your Amazon business.
This tool will factor in everything that affects your business's bottom line, from PPC expenses, to refunds, reimbursements, FBA fees, and more. You can also keep track of additional business expenses such as photography, copywriting, and package design. Based on this information, you can make adjustments to your price point, advertising spend, and other inputs to ensure you're running a profitable business.
Stay in stock with Inventory Manager
Nobody wants to run out of inventory. Not only will you miss out on sales, staying out of stock for too long could ruin your product ranking. On the other hand, if you order too much inventory that doesn't sell, you can get hit with Amazon's long-term storage fees.
Inventory Manager addresses these problems by accurately predicting how much inventory you will need to avoid stockouts and storage fees. Its demand forecasting technology also analyzes inventory metrics such as revenue, average daily sales, and average profit per unit to keep you on track.
Offer deals with Promotions
When you first launch a product on Amazon, it can be difficult to get the ball rolling with those first sales and reviews. With Promotions, you can jumpstart the process by creating targeted promotional campaigns on Amazon. While reviews aren't guaranteed, early sales will help increase your Best Seller Rank early on in the life of your new product.
Stay up to date with Alerts
Alerts keeps you informed about your Amazon business as well as your competitor's. You can receive notifications for critical changes such as shifts in BSR or new sellers added to your listing, even if you're not logged into Jungle Scout. That way, you can take action, fast.
Set custom thresholds to track your products and your competitor's, so you always know what is going on within your market.
Get historical product sales data with Category Trends
Category Trends tracks the top 100 products of any category or subcategory on Amazon to help you identify which are the most lucrative. You can follow historical trend data to see how both market demand and specific products have performed over time.
Category Trends is integrated with all of our other tools, so you can quickly track product ideas or jump right into keyword research once you've identified an opportunity.
Back to Top
The all-in-one platform for selling on Amazon
Once you know how to properly use our tools, you'll be finding products in no time! We suggest spending at least 30-60 minutes a day researching products until you find something you want to pursue.
Once you add some products to your Product Tracker, monitor the sales for at least one week so you can be sure a product you have your eye on sells consistently.
With a Jungle Scout subscription, you also get access to our in-depth academy training videos so you can learn more about How to Sell on Amazon.
Do you want to know more about how to use Jungle Scout for your Amazon business? Let us know in the comments!