Our Customer Support team is the liaison between Jungle Scout and our customers. From guiding you through the first steps of starting a business to a new seller feature, Customer Support is well-versed in all things Amazon.
The team is devoted to helping you find solutions beyond Jungle Scout, too. Customer Support fields many Seller Central questions. And for good reason — you can't have a thriving Amazon business without understanding the ins and outs of Seller Central.
Our teams function with one important mantra in mind: customer first. This is the backbone of everything we do and a core value of Jungle Scout.
How Customer Support helps sellers
Our goal is simple: to ensure our customers are successful. Whether they are just starting or are seasoned sellers, our job is to anticipate their needs and help them along their path to ecommerce victory.
Ultimately, we are dedicated to knowing our product so we can keep up with the ever-changing Amazon landscape. We're in the business of making seller businesses run smoothly. Our sellers are not just another ticket — they are one of us.
Take it from Jungle Scout customers:
"…The most important aspect of fixing technical issues is that there are Techs that ACTUALLY understand their platform and know likely courses of action to fix said issue… Unfortunately, this isn't the case across a lot of companies. Thanks, Jungle Scout team. I appreciate the help!"
"I'm very happy with Jungle Scout and their team. After being with you guys for two and a half years, I wouldn't think of leaving you guys for anything. I don't just stay with someone for more than a couple of years paying good money every year…"
"Your apps and programs are top-notch and second to none. Your seller support is great…"
What makes Jungle Scout Customer Support stand out?
For starters, we're a team of Amazon experts. Customer Support offers expertise, tips, and empathy for the obstacles of building and scaling a business. We strive to be exceptional and embrace an intrapreneurial spirit.
Some of the team has been with Jungle Scout since the very beginning and many members go on to evolve their skillset and transfer to a role within Jungle Scout. They offer a unique perspective — understanding customer-facing challenges and iterating with a growing company. What's more, some Customer Support team members are sellers themselves.
Our global reach and team reflect the diversity of Jungle Scout sellers. Hailing from Costa Rica to the Philippines, our team collectively provides customer support in Spanish, English, and Polish. Our Jungle Scout China team supports our China marketplace.
Our team is available round-the-clock, 24/7. We know that a business on Amazon runs all hours of the day, so we're prepared to help whenever you need it — and with quick service to boot.
Jungle Scout offers enterprise brand support. The team has recently extended its services to Jungle Scout Cobalt clients with support for large brands and agencies. We know that getting answers is not a one-size-fits-all approach, and that's why we have dedicated team members that specialize in enterprise issues.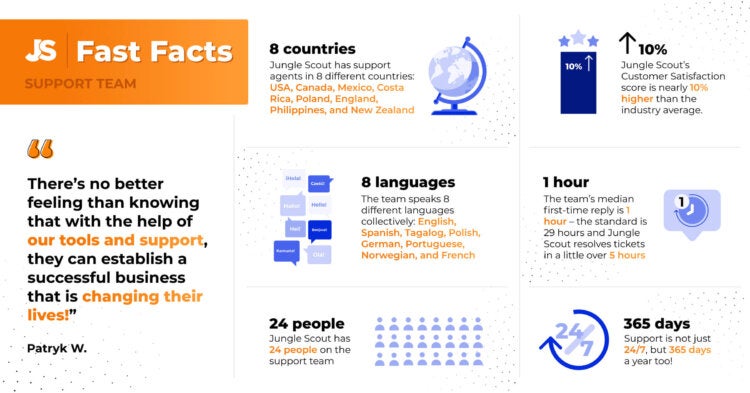 Seller topics and inquiries
Everyone wants to know how to make money and build a profitable business, and that's where we come in. We tackle everything from helping our customers select the right plan, researching what to sell, and interpreting data; to learning about imports and customs, advertising strategies, and more.
We receive and resolve questions about drafting and optimizing listings, improving keyword rank, managing supplier relationships, and creating shipping plans. We're with our customers every step of the way.
Most common Customer Support questions
Aside from questions about our feature functionality, many center around starting the Amazon journey and if it's still worth it (we think yes!).
Here are some of our most common support questions from aspiring sellers:
I'd love to sell online, but I don't know where to begin. Can you help me?

Can I still make money online if I start now?
Once sellers start, they seek our help getting their businesses up and running.
Below are some common queries:
How do I know which

keywords

I should add to my listing?

Could you help me find a reliable supplier?

Where can I download an FNSKU code?
Contacting Customer Support
The best way to contact support is to email [email protected]. Or check out our live chat options on our landing and pricing pages.
Tips and tricks for submitting tickets
Submitting a "ticket" or inquiry is the first step to connecting with Customer Support and resolving your issue. Want to know how your ticket can get the most mileage? Read these tips and tricks:
Provide screenshots. Seeing what our customers see helps the team contextualize the issue.
Offer details. Context is everything. There's never too much detail when it comes to resolving a ticket. Some examples of helpful details to include are:
Filters used

Features used

Your browser type
Timestamp your situation. Knowing the time you experienced an issue also helps our team understand the problem at large, whether it's a Seller Central snag or a hiccup on our end.
Share your history. Is this a persistent issue? This allows us to diagnose if the problem is specific to a seller or a more far-reaching challenge to address.
Behind the scenes (and the screen)
We're peeling back the curtain. Here are some Customer Support fun facts:
Satisfaction

:

Jungle Scout's Customer Satisfaction score is nearly 10% higher than the industry average.

Speed

:

The team's median first-time reply is 1 hour

—

the standard is 29 hours.

Solutions

:

Jungle Scout resolves tickets in a little over 5 hours; our counterparts take an average of 77 hours.
Impressive, right?
Hear from the superstars themselves:

"We can't wait to investigate a new case and make sure our customers have the best experience with our tools — we're always ready to dig deep and solve problems! The best part of our day is hearing feedback from our customers — the good, the bad, it makes us better!"
–Annika S., Customer Support Specialist
"We always say that we want our customers to succeed, and that is the most rewarding part of helping sellers — seeing them grow on Amazon! There's no better feeling than knowing that with the help of our tools and support, sellers can establish a successful business that is changing their lives!"
–Patryk W., Customer Support Specialist
Get the support you need for ecommerce success with Jungle Scout
Above all, we appreciate our customers! We want them to know how special they are — they make Jungle Scout go round, of course.
Looking for a community and more support? Join Jungle Scout's FBA Facebook group, a cohort of over 50,000 aspiring and current Amazon sellers.
We are grateful to serve the bright minds and entrepreneurs that fuel the creativity, grit, and innovation of Amazon and ecommerce.
Do you have any questions about Jungle Scout Customer Support? Let us know in the comments below!