In the world of ecommerce, change is inevitable. It's a realm of constant evolution, where Amazon sellers must stay updated with the tools and data to master the marketplace.
Jungle Scout — the industry's all-in-one platform for selling on Amazon and beyond — can help you start, manage, and grow a profitable business With features to support product research, acquire reviews, and streamline finances and inventory, Jungle Scout is the perfect companion for success on Amazon. Plus, you'll get the best customer support around.
Even if you're new to entrepreneurship and selling on Amazon, Jungle Scout provides the resources you need to make building a business a reality.
Jungle Scout pricing and subscription plans
As selling online becomes more and more popular, our plans allow people to take advantage of the ecommerce boom with affordable tools to help them succeed — without sacrificing quality or data accuracy.
Here are Jungle Scout's current plans (we'll get into the details in a bit):
1. Basic
The Basic plan allows you to start product research and validate your ideas with Jungle Scout's browser extension.
COST: $49 per month (or $349 billed annually)
Includes:
2. Suite
The Suite plan offers everything you need to find new products and expertly manage your Amazon business.
COST: $69 per month (or $589 billed annually)
Includes all Basic features plus:
The ability to add more users

1 year of historical keyword data

3 months of historical product tracking data

Full access to Opportunity Finder, Product Database, Keyword Scout, Supplier Database, and greater access to Product Tracker and Review Automation

Advanced seller features, including

Rank Tracker

,

Advertising Analytics

,

Listing Builder with AI Assist

,

Inventory Manager

,

Alerts

, and

Supplier Tracker

Limited access to the new AI Assist Beta (50 uses per month)
3. Professional
The Professional plan gives you even more historical data and more users. It's the best option for ambitious and enterprising sellers.
COST: $129 per month (or $999 billed annually)
Includes all Suite features plus:
6 users included

6 months of historical tracking data in Product Tracker

2 years of historical keyword data

Priority onboarding

AI Assist Beta (300 uses per month)
To learn more about our subscriptions, check out our pricing page.
Which Jungle Scout plan should you get?
Knowing what software is a must for your Amazon business (versus what is a "nice-to-have") can be confusing — particularly if you're new to selling online. Jungle Scout's subscription options make it easier for you to decide what tools are right for you right now.
Experience sellers – Professional.

If you're an experienced seller with a team of three or more working with you, the Professional plan is your best bet. Though you can add additional users/seats to the Suite plan, it's significantly less expensive to get those extra seats by opting for a Professional plan. Plus, you can set different permissions for each seat. That way, your employees can only access what you want them to.
New sellers – Suite.

If you're new to Amazon — and want all the tools to build a profitable business — go for a Suite plan.
What every plan includes
Regardless of whether you go for Basic or Professional, you will always have access to the most accurate data in the industry. Every plan also includes Jungle Scout's browser extension for Chrome and Firefox. Let's break down our features:
Industry-leading data
AccuSales™

. Our estimates are generated using our

customized algorithm

, which delivers the industry's most accurate forecasts for Amazon sales.

Historical product tracking data

. You can make sure a product performs well over time by tracking its performance. (*

Access level dependent on plan

)

Historical keyword data.

Ensure you have the best possible keywords for your product by tracking them to see if their performance remains steady over time. (*

Access level dependent on plan

)

Marketplaces.

No matter the plan, Jungle Scout is fully compatible with 10 of

Amazon's global marketplaces

supporting third-party sellers, with partial compatibility for select marketplaces.
Product research features
Browser extension.

Research products on Amazon using our browser extension for Chrome and Firefox.

Opportunity Score.

Quickly view a product's profitability and competitive potential.
Business management features
Support and training
Academy

. From resources to help you learn how to sell on Amazon (with step-by-step tutorials from Amazon pros) to advanced techniques for established sellers, Academy has training materials for beginners and seasoned sellers alike.

Customer support

. We have the best support team around! It doesn't matter if you want help with our software or have questions about your Amazon business. Our team will get you the answers you're seeking. Our customer support experts are available 24/7.
New home dashboard
Jungle Scout's home dashboard got a makeover. Now when you log into Jungle Scout, you'll see a high-level view of all your metrics in one place.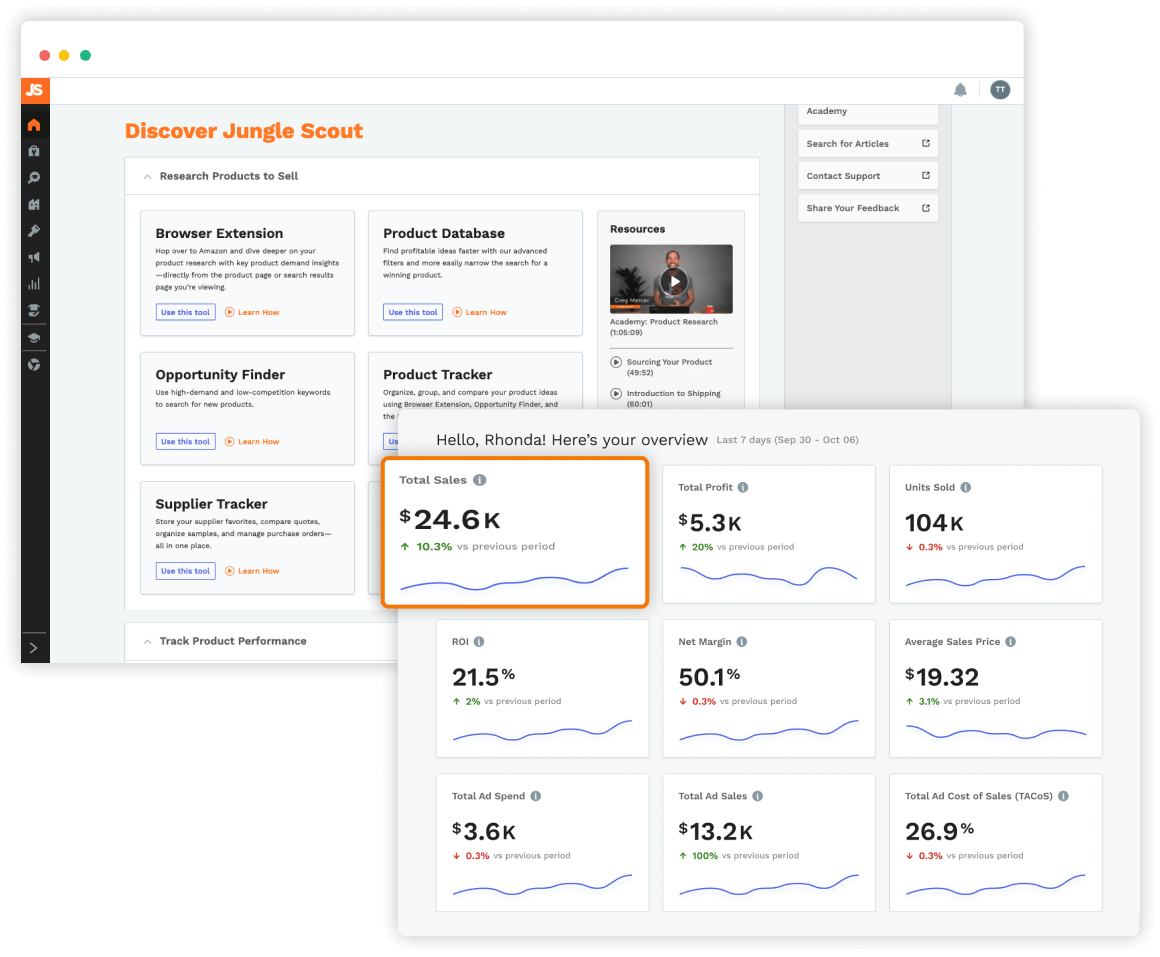 You can also browse Jungle Scout features by business objective and get links to Jungle Scout resources, including our popular

Free Resources page

.
Additionally, each plan includes varying levels of access to the following product research features:
Product Tracker. Organize a group of product ideas and compare their sales performance over time.
Opportunity Finder. Uncover profitable opportunities by searching for high-demand and low-competition keywords.
Product Database. Conduct product research using the industry's most comprehensive Amazon catalog.
Keyword Scout. Discover high-converting keywords using advanced filters and reverse-search ASINs to compare their keywords.
Supplier Database. Find and verify suppliers to source your products.
Review Automation.

Maximize product reviews with automated review requests.
What Suite and Professional plans include
If you are looking for more functionality beyond the basics, our Suite and Professional plans give you greater access to the features above, plus additional seller features:
Business management features
AI Assist.

Jungle Scout's powerful artificial intelligence integration

that automates important tasks and delivers critical insights and recommendations for Amazon sellers.
Rank Tracker.

Monitor keyword rank history

for multiple keywords simultaneously, all on one graph.
Listing Builder.

Build data-driven listings

with a proven keyword strategy. (Now with AI Assist to automatically generate an optimized product listing.)
Inventory Manager.

Accurately predict

how much stock you should order and when with Jungle Scout's powerful demand forecasting technology. (Now with AI Assist to quickly analyze sales data and build you a comprehensive financial report.)
Alerts.

Customize notifications

for product changes like price, hijacks, and Buy Box ownership.
Promotions.

Promote

your launch with coupons and offers to boost sales and earn reviews.
Supplier Tracker. Manage supplier communications, compare quotes, and generate purchase orders.
The extra perks of going Professional
Priority onboarding. We are committed to helping our customers succeed, which is why we introduced priority onboarding. This is ideal for new sellers who want to get up and running as quickly as possible or for advanced sellers who want to speed up their growth on Jungle Scout.
More historical data. From keywords to sales data, you get access to the most historical data with the Professional plan. And having that breadth of information will give you a distinct advantage over your competition.
More users. Our Professional plan includes six users. When it comes to selling on Amazon, the more, the merrier!
Want to level up? Try Freedom Builder Bootcamp
For sellers who are ready to hit the ground running with Amazon FBA, Jungle Scout offers one-of-a-kind training: Freedom Builder Bootcamp (FBB). FBB teaches you the ins and outs of selling and provides the most comprehensive course for winning on Amazon.
In addition to an annual Professional plan with one user seat, you'll get the following:
Lifetime access to the Freedom Builder Bootcamp course and all future updates, including:

Advanced seller video lessons

JungleCon

video library

VIP customer support

Weekly live video coaching sessions

Exclusive Freedom Builder Community access

Feedback on one Amazon listing
And as a bonus, you'll get the following resources:
Month-by-Month Seller Guide

Product Research Checklist

How to Sell on Amazon 2023 PDF Guide
At $999, it's the same cost as an annual Professional plan. For an enthusiastic seller, FBB has all the bases covered.
Join Jungle Scout today
In 2023, ecommerce will have more momentum than ever before. Now is the perfect time to join Amazon's selling community.
Regardless of where you are in your seller journey, Jungle Scout has all the tools you need to take your business to the next level. View all of the details on our pricing page and get started today!
Do you have any questions or comments about Jungle Scout? Let us know in the comments below!