As an Amazon seller, you have many different options for selling tools and software—but how do you choose the right one? Successful sellers make data-driven decisions and never rely on hunches when it comes to researching products to sell on Amazon.
With the right tools, you can be on your way to finding your next bestseller. In fact, at least two-thirds of Amazon sellers have used seller software to run their businesses, and 21% plan to invest in a software solution in 2021.
Jungle Scout and Unicorn Smasher are two examples of Amazon seller software. Both tools offer useful features to help sellers research new product ideas, but which do sellers actually prefer to use? More specifically, we want to know which platform offers more accurate data and a better user experience, for the best price.
We'll walk through the main features, benefits, and pricing plans for both Jungle Scout and Unicorn Smasher and provide transparent, side-by-side comparisons so you can choose the right platform for your business.
Data Accuracy: Jungle Scout or Unicorn Smasher
In order for sellers to make informed decisions, they need to be sure the data they're relying on is as accurate as possible. Otherwise, sellers risk launching products that won't sell, thus losing their investment in both the inventory and software subscription.
Jungle Scout is the leader among Amazon business management platforms in data accuracy. It has the longest-running history of data aggregation and analysis among its competitors, and its talented staff works hard to ensure that every decision a seller makes is informed by real-time Amazon marketplace behavior and industry-leading ecommerce insights.
We're not just saying that because we're Jungle Scout, we have proof! Check out our regular case studies that show Jungle Scout consistently leading other tools in measures of data accuracy.
The chart below compares Jungle Scout's data accuracy to competitors' seller software.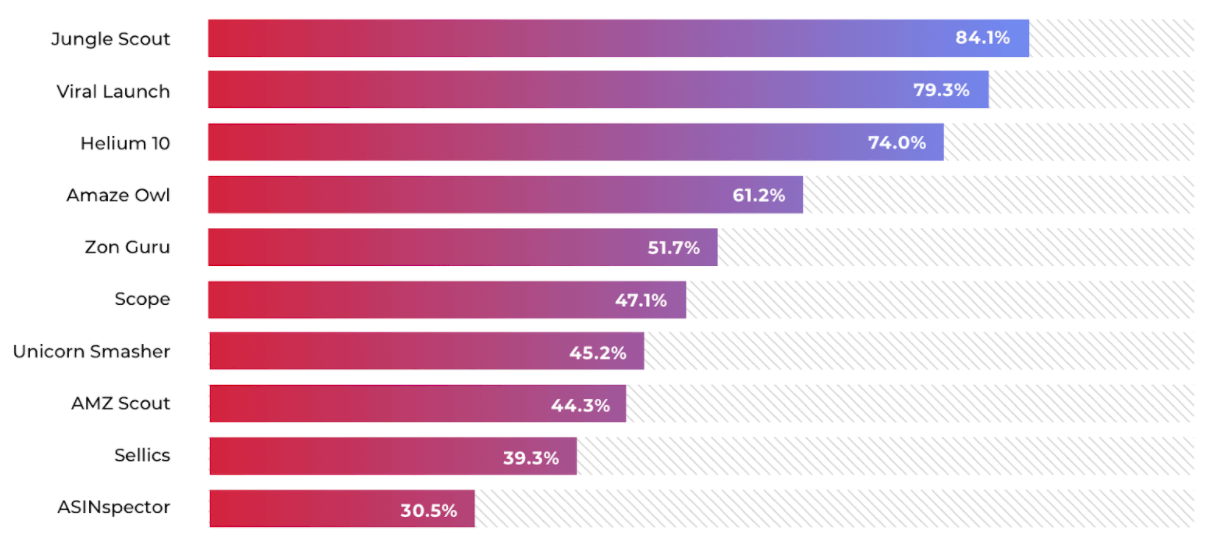 As you can see, Jungle Scout has the most accurate data of them all—far and beyond that of Unicorn Smasher. In fact, Jungle Scout is 46% more accurate than Unicorn Smasher.
How do the accuracy percentages of both tools relate to real-life financial risk? Let's consider an example of how data accuracy should factor into product research.
Jungle Scout's accuracy:
In our example, say we've just thought of a great product to sell on Amazon, and we're willing to shell out $5,000 on inventory. Before we jump in and place an order with our supplier, let's run the numbers to make sure it's a safe bet that this product will be profitable.
Jungle Scout's data is 84.1% accurate. So there's an 84% chance that we correctly estimated the profitability of the product, and we'll make a return on our $5,000 investment in inventory. But that's not the full picture.
Let's now consider Jungle Scout's margin of error—the percent chance that the data is not accurate, and has caused us to under-estimate potential product sales. In other words, how likely are we to lose our $5,000 because we guessed wrong about the product's likeliness to sell on Amazon, and nobody bites?
Since Jungle Scout's margin of error is 15.9% (100% minus 84.1%), that means there's roughly a 16% chance our product could underperform. In this scenario, we'd only make a return on some of our investment—or the product could simply not sell at all, in which case we'd lose $5,000, plus the time and energy we put into product research and sourcing.
Obviously, we want our margin of error to be as small as possible. But as our case study indicates, there's considerably less risk in investing in a product if we rely on Jungle Scout's data instead of Unicorn Smasher's.
Unicorn Smasher's Data Accuracy
Unicorn Smasher's data accuracy is dramatically lower than Jungle Scout's, so its margin of error is much higher. Using the same example as above, we're now at a 54.8% chance of investing based on inaccurate sales estimates (100% – 45.2%)—which puts us at a much greater risk of launching a product destined to fail.
Advantage: Jungle Scout
Jungle Scout runs on significantly more accurate data than Unicorn Smasher—and its estimates continue to improve. That means it's ultimately safer to use Jungle Scout when deciding to sell a new product on Amazon.
Features: Jungle Scout or Unicorn Smasher
While having accurate data is extremely important, Amazon sellers also rely on other powerful tools to grow and manage their business. Let's compare Jungle Scout's features to Unicorn Smasher in terms of both quantity and quality.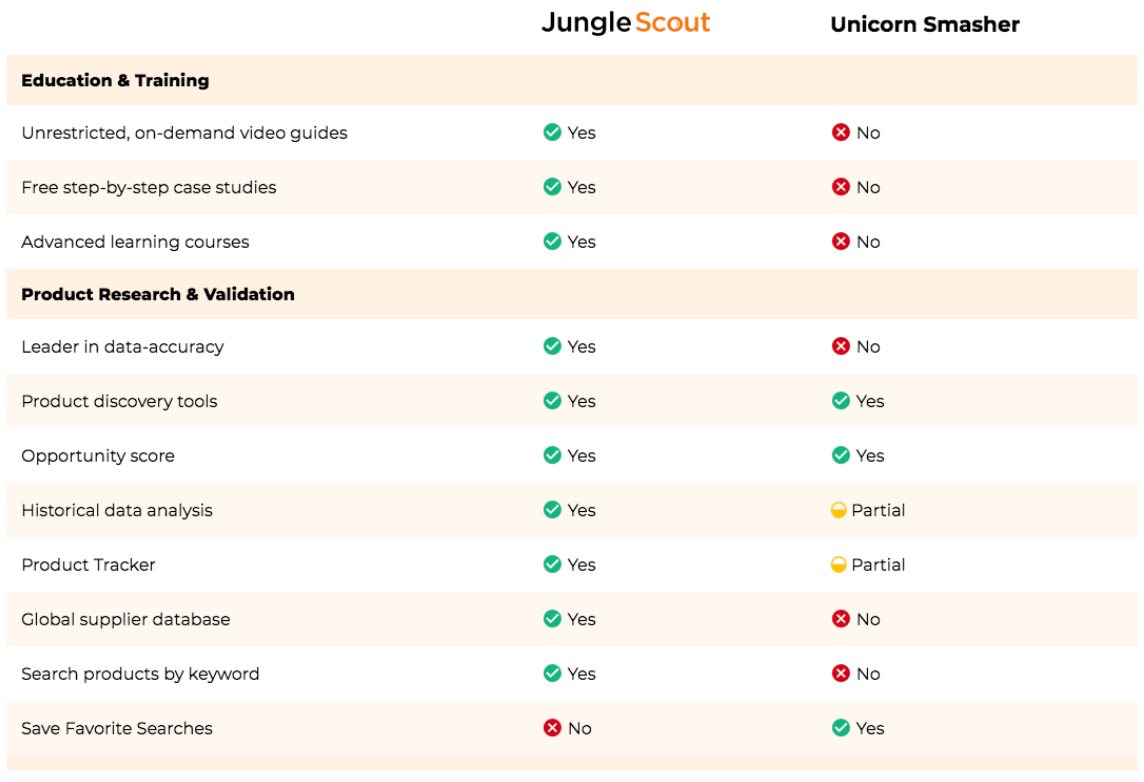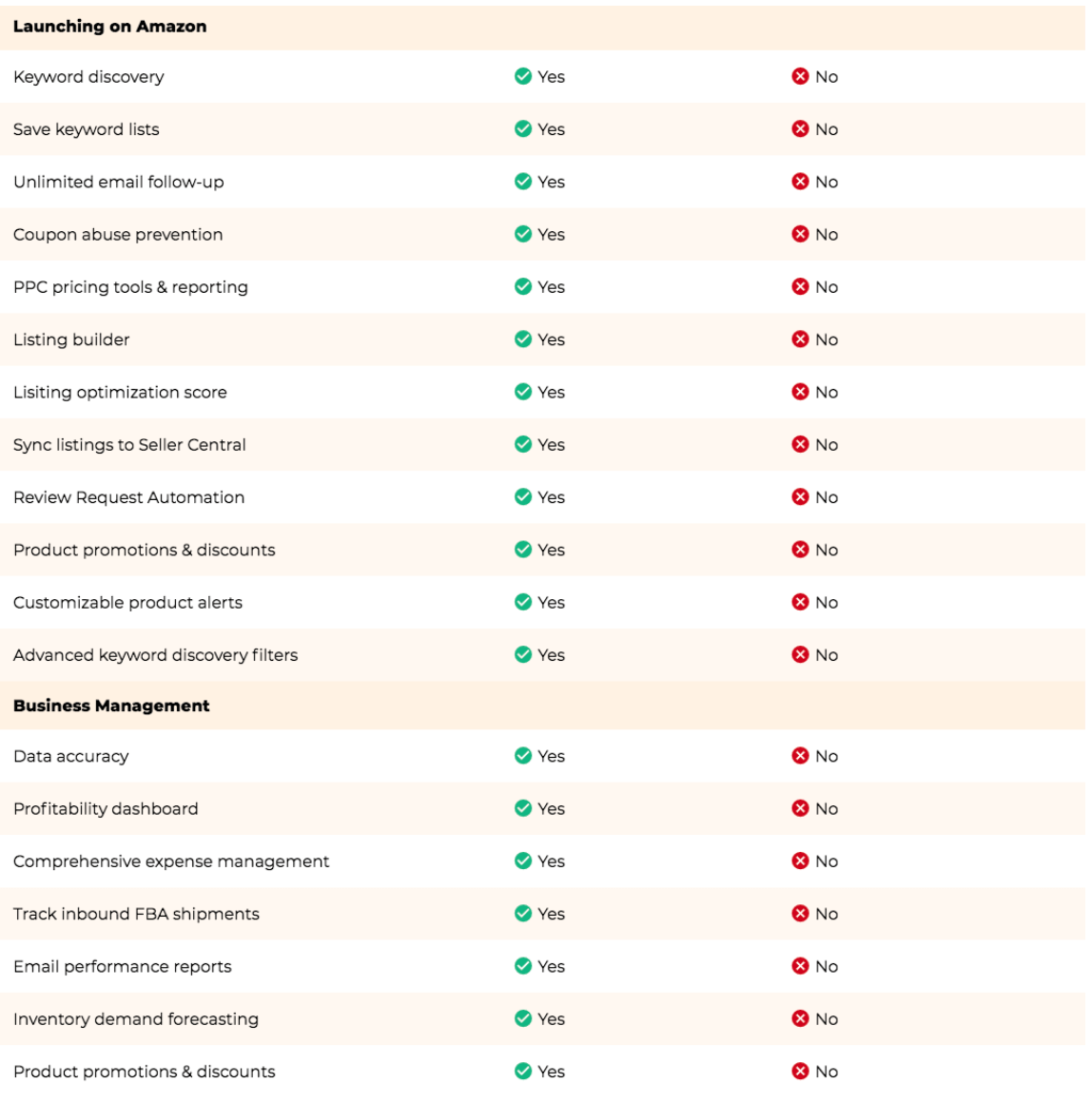 Advantage: Jungle Scout
As you can clearly see from this chart, Jungle Scout blows Unicorn Smasher out of the water when it comes to features. Jungle Scout is a fully-equipped, all-in-one seller solution, while Unicorn Smasher only offers a couple of specific tools.
While Unicorn Smasher can help sellers discover product opportunities and allows for limited data analysis, it falls short of supporting many key aspects of running a successful ecommerce business, like finding suppliers, building listings, tracking inventory, collecting reviews—the list goes on.
User Experience: Jungle Scout or Unicorn Smasher
Now let's evaluate the user experience of each tool. Unicorn Smasher is just a Chrome extension, whereas Jungle Scout offers a suite of software tools in addition to its Extension feature. So we'll run a direct comparison between the two extension tools. First up is Jungle Scout Extension.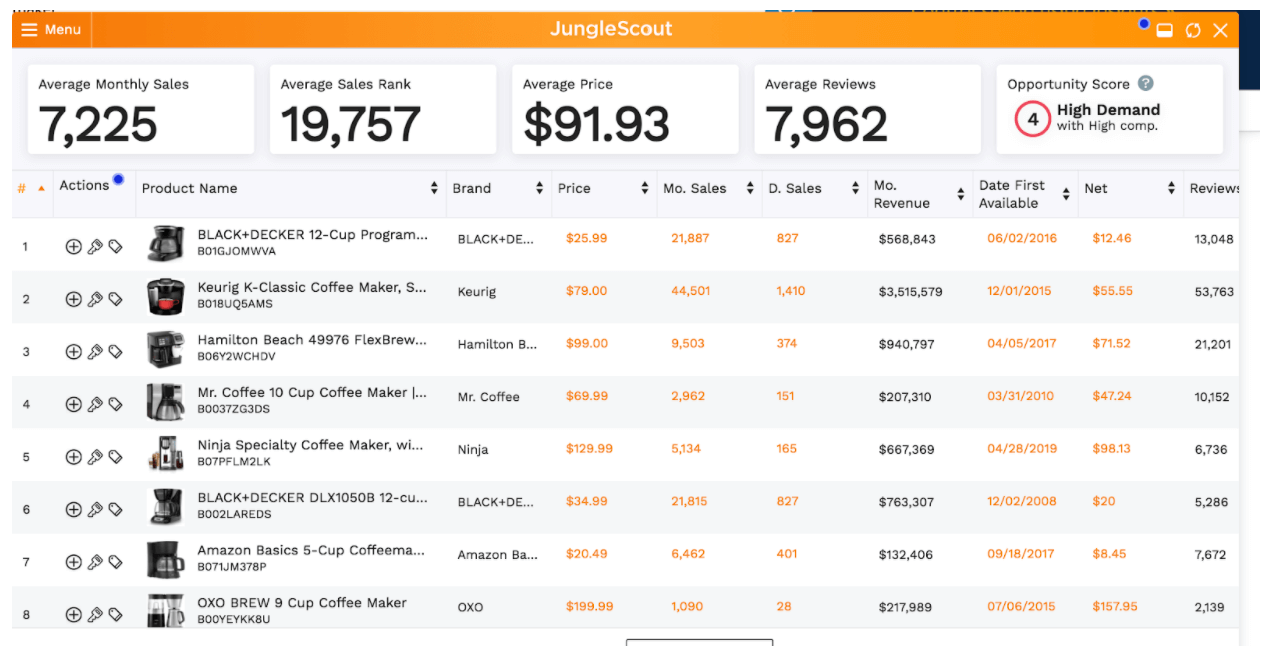 To test user experience, let's see how Jungle Scout and Unicorn Smasher help sellers find profitable niches on Amazon using a keyword search. In this example, I searched for "coffee maker" on Amazon. In the search results, I launched Extension by clicking the small JS icon in the top right corner of Google Chrome.
Just like that, the Extension overlay pops up at the bottom of my screen, displaying useful search metrics—in tidy columns—for all the products that show up in the search results, such as estimated monthly and daily sales, revenue, review count, and fulfillment method, among others. At the top of the display, Extension also reports the niche's average monthly sales, sales rank, price, review count, and Opportunity Score (the rating of the niche's demand and competition).
So, at a glance, Jungle Scout Extension shows me exactly which products within the "coffee maker" niche are selling well, and estimates the opportunity I have to succeed in this niche—without leaving the Amazon search results page.
On the left hand side of the Extension is a column labeled "Actions," with three clickable icons: a plus sign, a key, and a price tag. These actions allow you to seamlessly send a product to the Product Tracker, launch a related keyword search in Keyword Scout, or find its supplier in Supplier Database—all within the Extension!
Let's try this out: by clicking the price tag icon for a Black + Decker coffee maker, we arrive at Jungle Scout's Supplier Database tool, prefilled with the product's ASIN.

We can now view all the manufacturers for this coffee maker—and contact them to create our own private label product.
Back in Extension, let's click on the "Menu" button in the top left corner of the overlay. Here, we can customize the metrics Extensions shows us, filter our results for price, rating, review count, and other metrics, download this data into a CSV file, view product search trends, and more.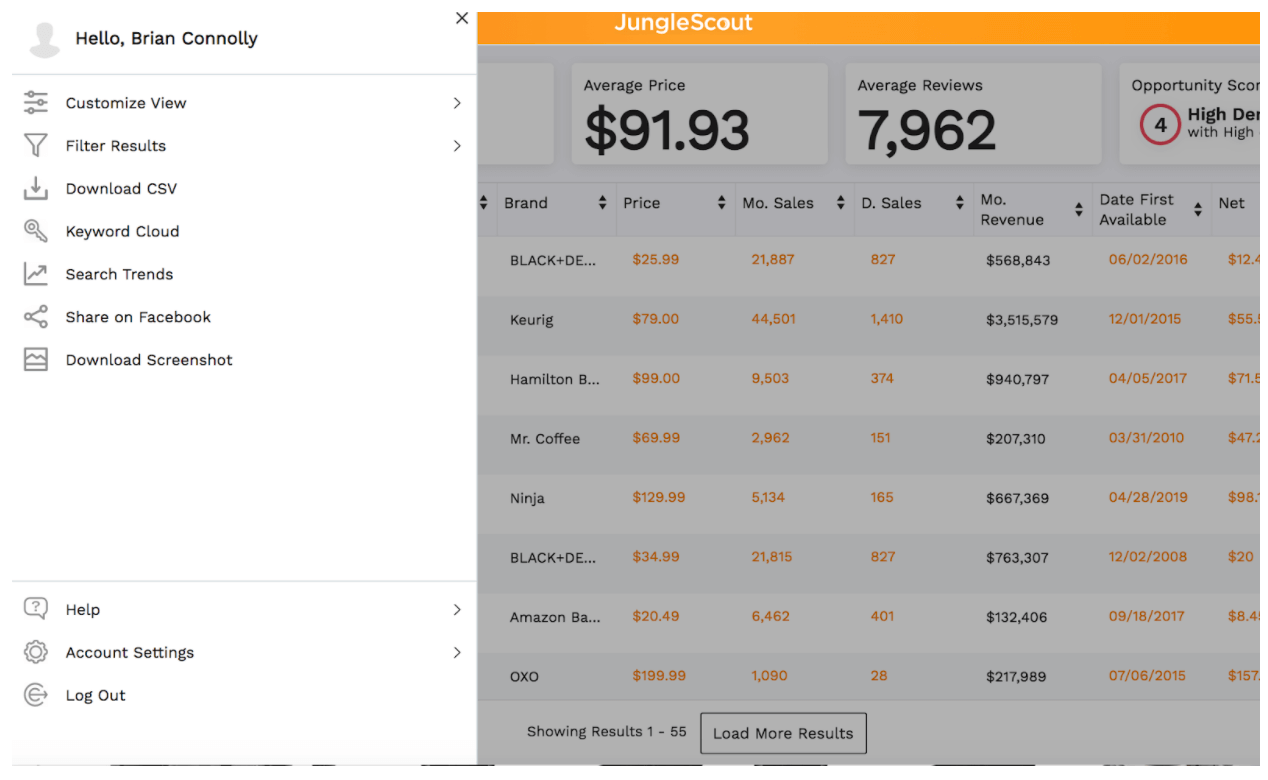 The tool is intuitive, easy to use, and provides sellers with tons of useful data to continue their research—not to mention handy links to other Jungle Scout features.
Unicorn Smasher Extension
Unfortunately, I was not able to download the Unicorn Smasher Extension Pro, as it is labeled as "No Longer Available" in the Google Chrome Extension store. Instead, I downloaded the original Unicorn Smasher Extension.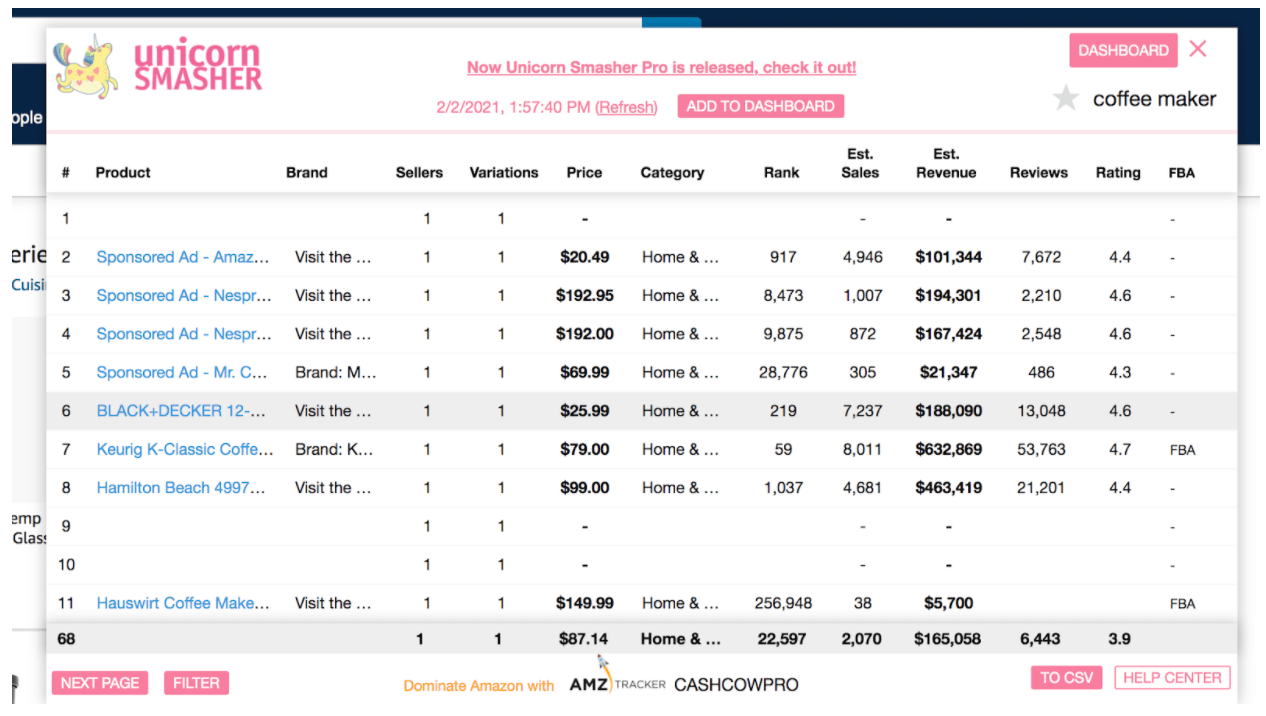 From the start, the display feels outdated and a little clunky. It displays similar metrics to Jungle Scout Extension, such as price, category, rank, estimated sales, and reviews. However, it's missing a very important piece of data: the opportunity score. This one-stop metric allows sellers to quickly analyze the entire niche to instantly determine if they should move forward with selling a product.
Unicorn Smasher allows users the option to add a product to their "Dashboard," though after I clicked that button, the dashboard it brought me to remained unpopulated. The extension also states that Unicorn Smasher Pro is released, but again, you can't download it from the Chrome Extension store.

Advantage: Jungle Scout
Normally, we would call this section a tie and leave it to user preference. But the Jungle Scout Extension is the clear winner for overall user experience, functionality, and connection to other features.
Expertise & Experience: Jungle Scout or Unicorn Smasher
Jungle Scout
Greg Mercer developed Jungle Scout in 2015 as the first Amazon seller solution to market. Having become a successful Amazon seller, Greg wanted to give other ecommerce entrepreneurs the tools and insights necessary to grow their businesses.
Greg has since gained recognition on the business awards circuit for his 8-figure Amazon sales and development of Jungle Scout into a thriving platform. He has been named Best Amazon Expert (2017), was announced as Ernst & Young's Entrepreneur of the Year (2019, 2020) and earned a spot among The Software Report's Top 50 SaaS CEOs (2019, 2020).
As far as successful Amazon sellers go, Greg is in good company at Jungle Scout—many of its engineers, customer support specialists, and resource content creators run profitable Amazon businesses, too (including yours truly).
In fact, you can catch the Jungle Scout team flexing its seller skills in the Million Dollar Case Study. In this live-streamed YouTube series, Jungle Scout's expert sellers take viewers through the process of researching, sourcing, and launching a real product on Amazon using Jungle Scout tools. In addition to MDCS, aspiring and experienced sellers can hone their knowledge through Jungle Scout's wealth of free, expert-led educational content.
Unicorn Smasher
Unicorn Smasher was also released in 2015 as a free research tool from the seller software company AMZ Tracker. Similar to Jungle Scout and other Amazon seller tools, Unicorn Smasher started out as a solution to help its founder, Travis Jamison, manage his own Amazon business.
Unlike Jungle Scout, Unicorn Smasher itself does not offer educational resources—you'll have to head over to AMZ Tracker for that.
Advantage: Both
Both companies have a passion for helping experienced and aspiring Amazon sellers succeed on the marketplace. Though Jungle Scout's expert-developed resources are more readily accessible, for this point, we'll respectfully call it a tie.
Support & Resources: Jungle Scout or Unicorn Smasher
Jungle Scout
In addition to the aforementioned plentiful educational resources available on its website, Jungle Scout's 24/7 Customer Support team is (literally) always there for its users.
This top-reviewed team includes seasoned Amazon sellers and is available all day, every day to answer any seller-related questions, from software updates to changes to Amazon's policies. The Help Center also offers its own free troubleshooting guides and educational materials.
Jungle Scout also offers users an exclusive resource library known as the Academy. Here, users can find training materials to guide them every step of the way in launching and growing an Amazon business.
Jungle Scout also keeps a finger on the pulse of Amazon news, consumer behavior, seller trends, and global trade. Its resources include the following:
Unicorn Smasher
Since Unicorn Smasher is a part of AMZ Tracker, you will need to go through AMZ Tracker's customer service to receive support.
In terms of educational resources, Unicorn Smasher's offerings are sparse compared to Jungle Scout. AMZ Tracker does have a Youtube channel, but they have not posted any videos in over 3 years.
Advantage: Jungle Scout
Even if you are not a paying customer of Jungle Scout, you still have access to tons of free content, such as weekly articles, frequently-published seller guides, monthly webinars, and frequent Youtube videos. Sellers will definitely find more support with Jungle Scout versus Unicorn Smasher.
Customer Ratings: Jungle Scout or Unicorn Smasher
Next, let's take a look at what real customers are saying about each tool. For Jungle Scout, we will use reviews posted on TrustPilot, a trusted third-party review platform. Since Unicorn Smasher is not listed on TrustPilot, we will be using their reviews from the Chrome Web Store.
4.5 Rating
1,978 Reviews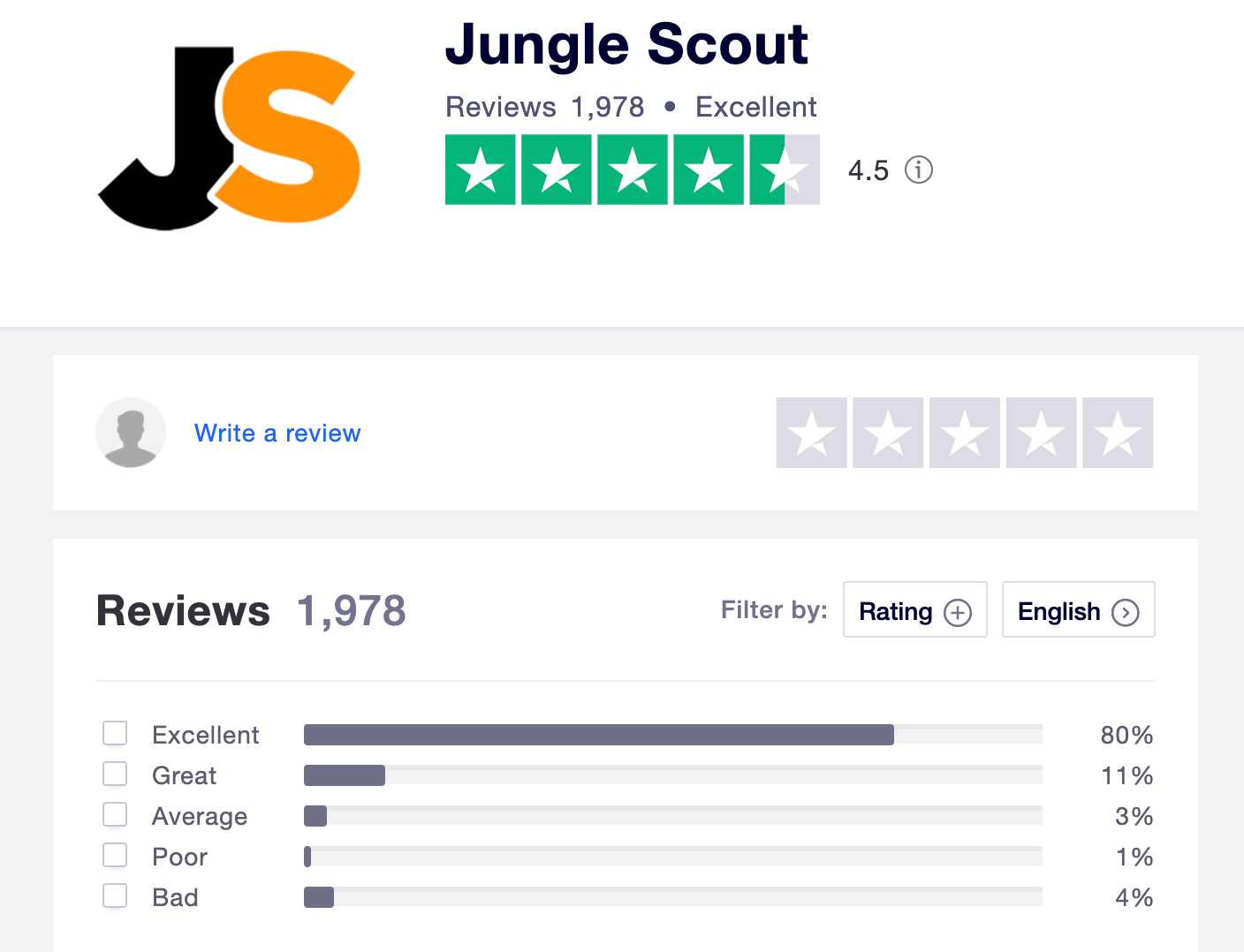 2 Rating
16 Reviews

Advantage: Jungle Scout
While we cannot compare TrustPilot ratings, you can see that Jungle Scout is a highly rated tool with nearly 2,000 reviews!
Unicorn Smasher's reviews on the Chrome Web Store amount to 2 out of 5 stars, and it seems as though they have many unhappy customers. It is worth noting that at the time of this writing, their Pro extension is no longer available to download.
Here are some of the most recent comments for each platform:
Jungle Scout comments:
"I can easily give them 5 stars because they are the best , they can help you with everything" — Adas V.

"We are a company that is new to selling to Amazon. Using Jungle Scout has been an incredible resource to speed up our learning curve. We ran into some obstacles, inquired about it with Jungle Scout, and got answers back the same day we inquired." — Steve F.

"Jungle Scout's customer service is lightning fast and extremely friendly and helpful!" — Debbi A.
Unicorn Smasher comments:
"I started out with the free version. The interface was a bit quirky (hard to scroll down thru pages) but I was impressed with the data. I paid for the Pro version and I have been very disappointed! The estimated sales data that was in the free version didn't show up in the Pro version using the same search terms. I tried to contact support as they had been helpful with the free version. I have emailed them twice and never gotten a response. I would use the $49 somewhere else!" — W. Morgan

"The data is wrong. waist money" — A Google user

"i downloaded the free version and all the data came up except for the number of reviews, i payed for the Unicorn smasher pro and no data is coming up. (customer service) can you please help, nobody likes to get ripped off." — Esai A.
Affordability: Jungle Scout or Unicorn Smasher
Jungle Scout
Jungle Scout
Basic- $49/month – Extension & limited access to Product Research tools, Product Tracker (3 ASINs) Historical Product Tracking (1 month), Historical Keyword Tracking (1 month), Unlimited access to Review Requests, 24/7 Customer support.
Suite – $69/month – Basic Plan + Product Tracker (150 ASINs), Historical Product Tracking (3 months), Historical Keyword Tracking (1 year), access to Advanced Seller tools (3500 Keywords in Rank Tracker & 15k emails/month).
Professional – $129/month – Suite Plan + Product Tracker (1000 ASINS), Historical Product Tracking (6 months), Historical Keyword Tracking (2 years), access to Advanced Seller tools (5000 Keywords in Rank Tracker & 100k emails/month).
Unicorn Smasher
Unicorn Smasher- Free – Very basic extension that shows sales, revenue, rank, reviews, etc. The data is not as accurate as the paid version and does not include any customer service, nor does it display niche opportunity scores.
Unicorn Smasher Pro- $49 – This is the cost for a lifetime subscription of the Pro extension. Provides more accurate data than the free version, more user-friendly, and opportunity score. (As of February 2, 2021, the Pro version is not available on the Chrome Web Store.
Advantage: Jungle Scout
While Unicorn Smasher's basic product is free, its data accuracy is extremely low—and therefore may not even be worth using.
On the other hand, Jungle Scout's data accuracy, comprehensive feature offerings, and robust customer support make it a compelling choice for sellers.
Other stuff?
On top of accurate software and educational content, Jungle Scout also offers its users additional benefits.
Jungle Scout Market: For sellers who would rather outsource their least favorite business tasks, Jungle Scout offers a freelancer database called Jungle Scout Market. There, sellers can find and hire professionals to handle product photography, listing optimization, and more. The Market is similar to Upwork, but tailored to the needs of Amazon sellers.
Philanthropy: All proceeds from Jungle Scout's Million Dollar Case Study go to charity. To date, Jungle Scout's MDCS products have generated over $1 million in sales, with profits going to Doctors without Borders and Pencils of Promise.
In conclusion…
There's a clear winner for sellers looking for an all-inclusive seller software solution.
Jungle Scout offers more features, support, and more accurate data than Unicorn Smasher. While the latter is free to use, serious sellers should consider investing in tools that go above and beyond the basics.
That said, the choice of which software to use is ultimately up to you. You can weigh the benefits to see which one will work best for your business, or try both—Jungle Scout offers a money-back guarantee.
We'd love for every reader of this article to join the 400,000 (and counting) Amazon sellers who use Jungle Scout to launch successful businesses. If not, be sure to check out our helpful guides, videos, and online communities for everything you need to know to win in ecommerce.