For years, environmental activists have advocated for sustainability as an "all-way street": a shared planet means shared responsibility for protecting it. With the release of the latest IPCC Climate Report earlier this month, everyone from UN officials to educators is sounding the call more emphatically than ever: climate change is urgent, and we all have a role in addressing it.
My message in the face of the recent IPCC report? Whether we are driven by rage or by theory, by creativity or by education, whether we are doctors, activists, authors, musicians, lawyers or mothers, there is a role for everyone in the climate movement.

— CLIMATE IN COLOUR ( aka Joycelyn Longdon) (@climateincolour) April 5, 2022
With Earth Day just around the corner, it's the perfect time to explore consumers' growing focus on the environment — and how they expect brands to prioritize sustainability before buying their products.
Sustainability or cost: what's more important?
One of the most impactful ways consumers have taken action on climate change in recent years is through buying power. Many are willing to spend more money for sustainability, and 78% say they expect brands to be doing their part for the environment. Right now, however, inflation has consumers highly concerned with cost as well (a staggering 72% say inflation has affected their family's spending). So when it comes to the decision to click that buy button, which is more important: eco-friendliness or low price?
The answer is that competitive prices and commitment to sustainability both rank among consumers' top 5 reasons for choosing to buy from a specific brand. On top of that, the secondhand market has found a spotlight amid shoppers' desire to prioritize saving the planet and saving money.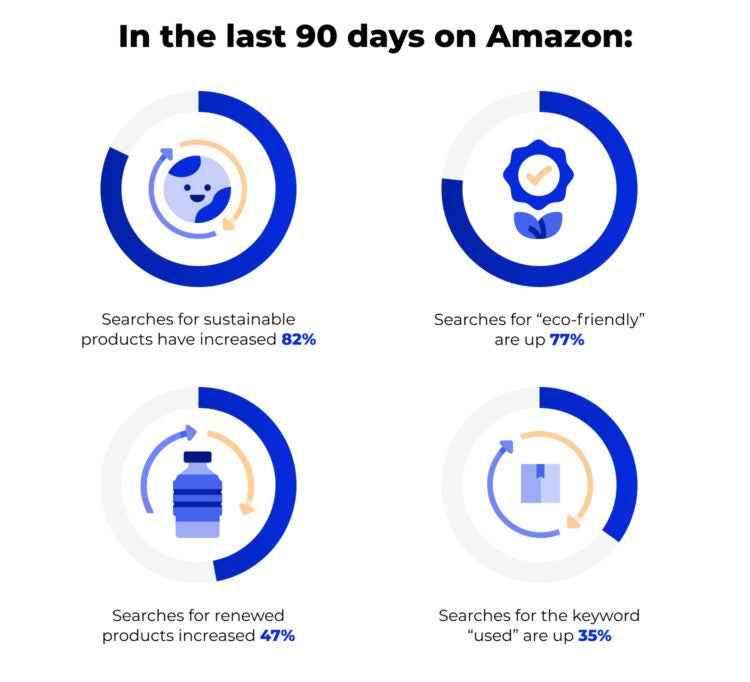 Sustainable Product Trends
In 2019, Amazon made it easier for consumers to find eco-friendly products with the Climate Pledge Friendly program, which incentivizes sellers to offer eco-friendly items by offering 31 badges that can be added to qualifying products. Badges are given for sustainable practices, including responsible manufacturing, carbon neutrality, animal welfare, energy efficiency, compact design, and more.

Read on to see which sustainable products consumers are shopping for and how they're balancing environmental friendliness with cost.
Eco-friendly beauty
For many shoppers, sustainability is clearly part of the ongoing self-care trend initially sparked by the pandemic. Even as they reduce extraneous spending in other areas, 62% of consumers still say they have a greater interest in self-care than before the pandemic. On Amazon, it shows: revenue for eco-friendly beauty care products is up 325% in the last 90 days, and unit sales are up 317%.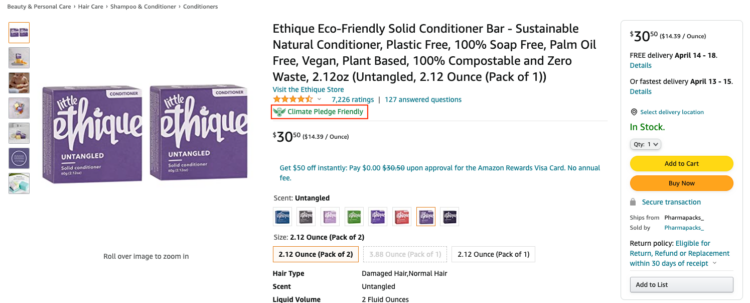 Revenue for this Ethique eco-friendly solid conditioner bar, which bears the Climate Pledge Friendly badge, has skyrocketed over 14,000% in six months. For one reviewer, the eco-friendly packaging alone was enough to compel them to purchase.

Natural, sustainable, and cruelty-free cosmetics continue to be in high demand with Amazon shoppers.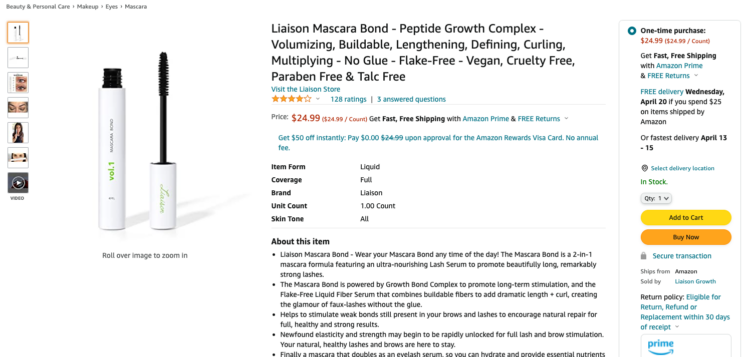 Revenue for this vegan, cruelty-free, paraben-free, and talc-free Liaison Mascara Bond is up 1,465% year-over-year, and unit sales are up nearly 700%.
There's no question that natural cosmetics and responsible beauty brands are in. PÜR Beauty, a brand specializing in clean beauty products, has seen overall revenue growth of nearly 170% year-over-year.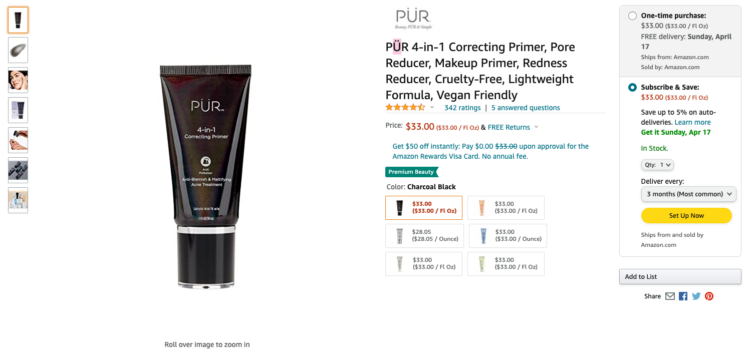 Revenue for this cruelty-free, vegan-friendly PÜR Correcting Primer has grown 2,418% year-over-year, and unit sales are up 2,426%.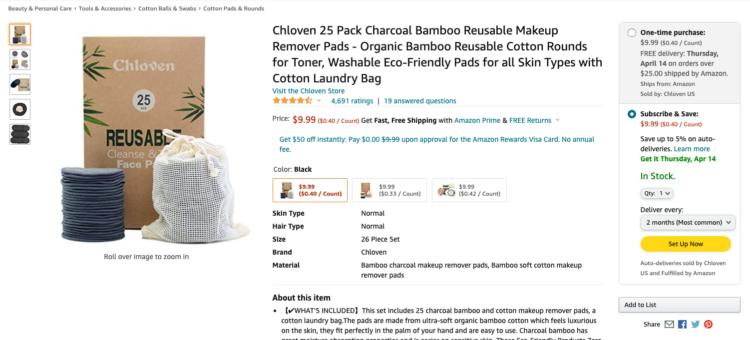 Eco-friendliness is a part of many consumers' daily beauty routines from start to finish. Revenue for these reusable makeup remover pads is up 4,395% in the last six months.
Reusable home and health goods
Eco-friendliness is a family effort: revenue for this 6-pack of Greenzla kids' bamboo toothbrushes has grown 758% in 6 months.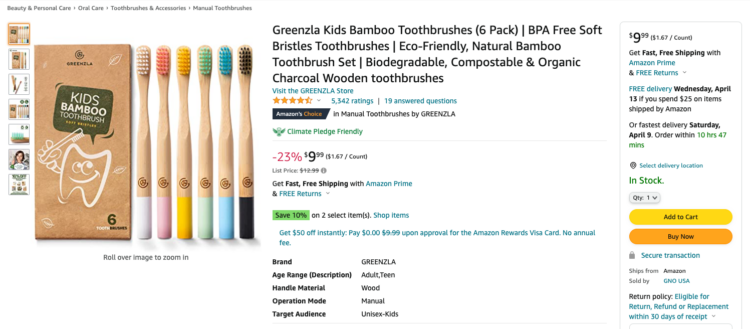 This revenue jump may also indicate the impact discounts have on current consumer shopping behavior. Despite having more reviews and owning the Buy Box four times more often than the Greenzla toothbrush set, revenue for this set of Nuduku bamboo toothbrushes has declined by 7% over the same 6-month period. During that time, the Greenzla set offered a Lightning Deal discount over 40% more often than Nuduku.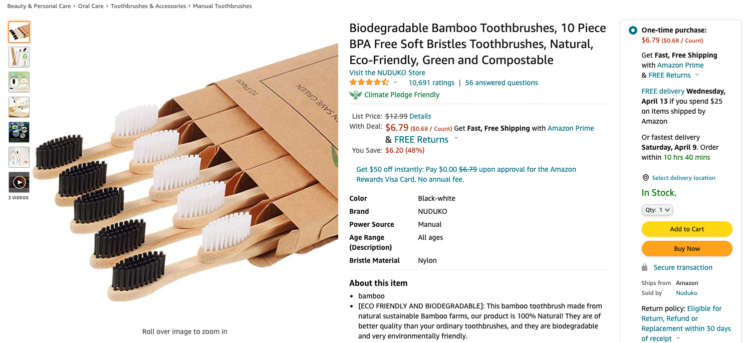 Another way consumers are adjusting their spending towards sustainability is by opting for more environmentally friendly cleaning supplies.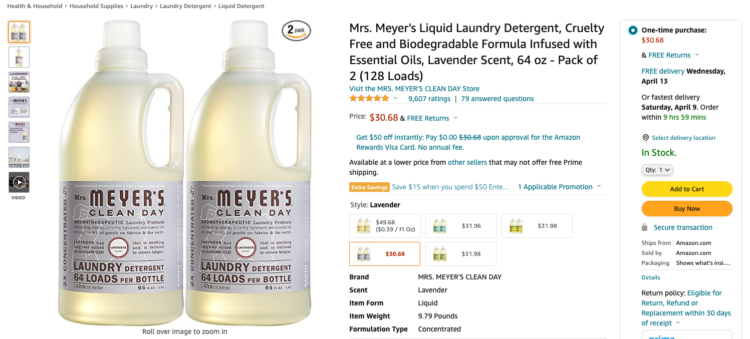 Revenue for this Mrs. Meyer's cruelty-free and biodegradable liquid laundry detergent has grown 780% in three months.
Reusable Kitchen Products
Reusable kitchen products are also seeing a lot of demand: search volume for "reusable snack bags" has increased 321% over the last 90 days, and searches for "reusable paper towels" are up 136%.
It seems like many people want more than the OG reusable paper towel (the kitchen rag). Revenue for these KitchLife reusable bamboo paper towels is up over 46,000% in the last three months.
As the demand for both personal and corporate social responsibility has grown, consumer shopping trends reflect more widespread efforts to reduce plastic usage. Many companies and consumers are doing their part by eliminating the use of disposable straws at home and in restaurants. In the past few years, some countries and states have formally restricted the use of plastic drinking straws, and big names like Starbucks and Disney have built company-wide policies to reduce plastic waste. The efforts are clearly catching on, as unit sales of reusable drinking straws are up 297% overall since January.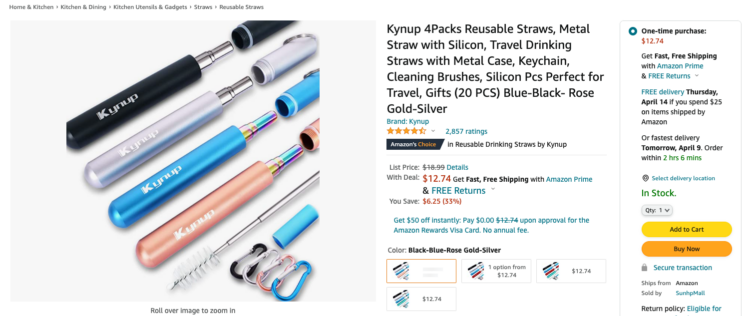 In the last six months, revenue for this set of Kynup reusable straws has jumped 1,492%.
Secondhand Products
However, for cost-conscious consumers, shopping for new eco-friendly and all-natural products may not fit into tightening budgets. Pre-owned products give shoppers a chance to reduce waste and save money at the same time.
Over one-third of consumers shop secondhand, and the resale industry is now growing 11 times faster than traditional retail. Thanks to the Amazon Renewed program, which since 2017 has enabled sellers to list certified pre-owned and refurbished items, shoppers can save money and reduce waste by opting for used over new in many cases. According to Jungle Scout Cobalt data, many are doing just that across multiple categories.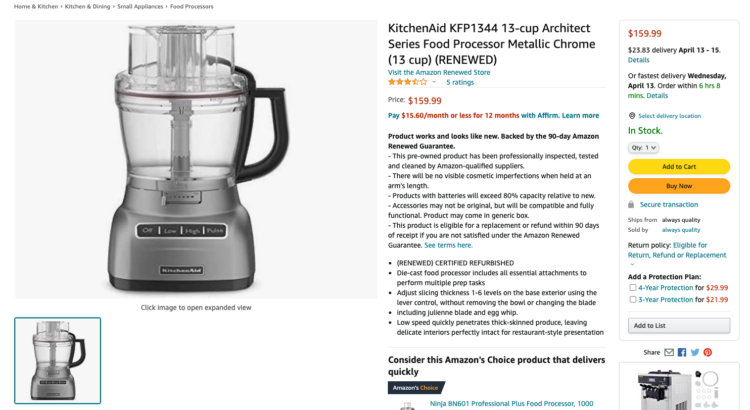 Why pay full price when Amazon renewed products come with an inspection guarantee? That's exactly what many shoppers are asking themselves. Unit sales and revenue for this renewed KitchenAid food processor are up over 2,500% in the last 30 days.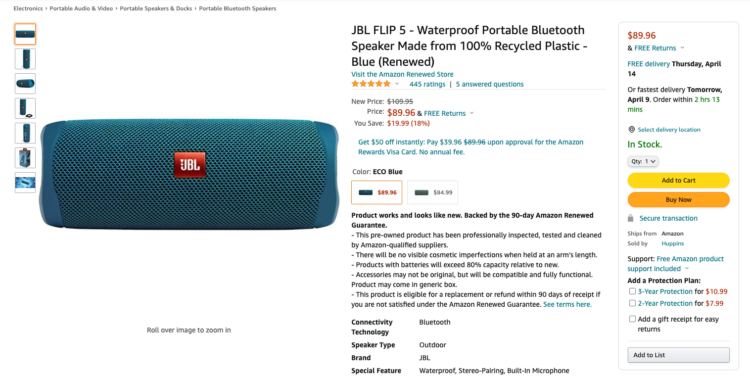 Some pre-owned products are a win-win: this Bluetooth speaker, which has seen unit sales and revenue jump nearly 400% in the last 30 days, is both renewed and made from 100% recycled plastic.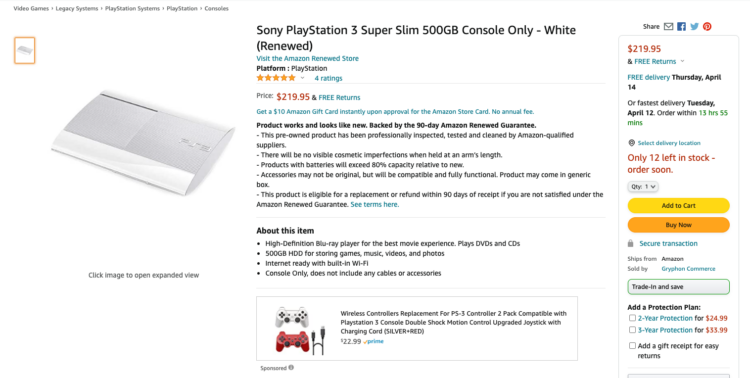 Revenue and unit sales for this renewed PlayStation 3 are up nearly 300% in the last 30 days.
7 ways to address sustainability and savings
It's essential to recognize the impact that climate change will continue to have on consumers' purchase decisions: nearly 60% say they're more likely to buy an environmentally friendly product. Even as consumers wrestle with concerns over rising costs and look for ways to save money, few are relenting in their commitment to sustainability. Here are a few key ways that your brand can address both sustainability and savings, including tips from expert Amazon sellers:
1. Earn Climate Pledge Friendly badges
Amazon shoppers can filter search results to include only Climate Pledge Friendly certified products, so they could bypass your brand entirely if you're not taking advantage of the program.
"We were so excited when we found out Amazon was launching the Climate Pledge Friendly Program. We applied immediately to get the badge on our listings. My advice to Amazon brands that offer sustainable products is to apply for the badge because shoppers are looking for that, and it will help increase your conversion." – Stephen Rolle, Owner of 1-Shoppe and Terra Pure, an Amazon brand offering sustainable and eco-friendly hotel and Airbnb amenities.
2. Use sustainable product packaging
Consider ways to reduce unnecessary plastics and excess materials in your packaging — like eliminating twist-ties, replacing plastic bags with paper, and developing packaging that meets Amazon's Compact by Design certification standards.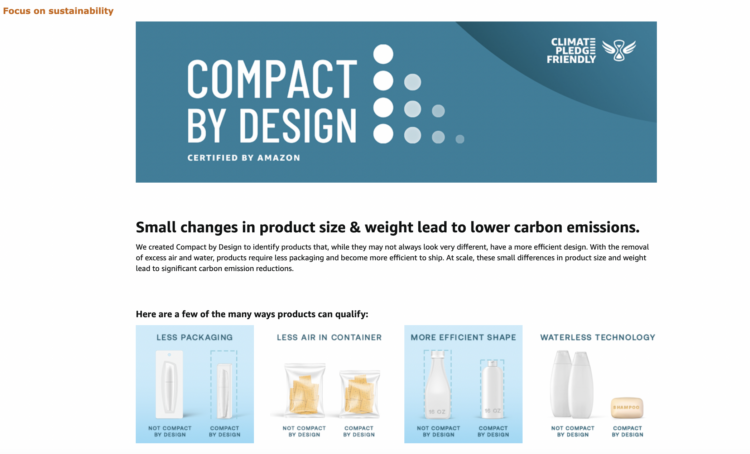 "Don't sell eco-friendly products that don't come in eco-friendly packaging! This is a huge mistake that a ton of brands make. If you use any paper, plastic, or styrofoam in your packaging, make sure it's either compostable or recyclable. If you can, communicate this on your packaging and in the listing itself." – Jake Zaratsian, Owner of Natural Events, an Amazon brand specializing in natural, eco-friendly disposable dinnerware
3. Emphasize environmental friendliness in your listings
Sustainability encompasses a wide range of characteristics, including reusability, recycled materials, natural ingredients, cruelty-free formulas, and more. Eco-conscious consumers will not only be on the lookout for these details in your listings, they will also be using them to search for products.
"Our customers love that we offer beauty products that are all-natural and eco-friendly, so they are good for their skin and good for the environment. Our job is to make sure we properly communicate that in the listing — and that should be top of mind for every brand owner who prides themselves on sustainability." – Stephen Rolle
4. Communicate eco-friendliness in the right way
To ensure the accuracy of environmental-friendliness claims, Amazon requires product listings to follow specific guidelines on the use of terms like "eco-friendly," "biodegradable," and more. Make sure you're familiar with Amazon's policies as well as state, local, and federal guidelines for your market.
"You'll need to be careful with the language in your A+ Content because you will get flagged for terms like 'eco-friendly.' One way we get around this is to use phrases such as 'positive for the planet,' 'great for the environment,' and 'zero waste.' – Stephen Rolle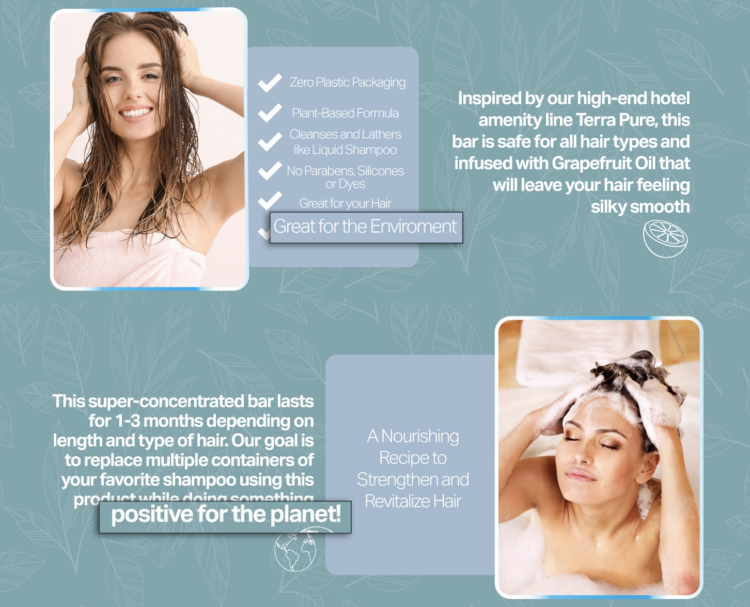 5. Validate climate-friendly claims from suppliers
Sustainability is as much about the supply chain and manufacturing process as the final product, so another way to ensure the accuracy of your product claims is to find, vet, and work with eco-friendly suppliers.
"Before finding a supplier, land on the product you want to sell. Once you do, each supplier you contact will inherently offer eco-friendly products! Just make sure you ask for climate-friendly certifications or documents to help support their claims. If they can't present you with proof, move on to one that will." – Jake Zaratsian
6. Sell new and renewed products
The Amazon Renewed Guarantee makes Amazon a trusted platform for shopping secondhand, so selling on Amazon Renewed is practically a no-brainer if your brand has refurbished products.
Plus, your brand does not need to specialize in eco-friendly products to begin offering them:
"To discover eco-friendly product ideas, my best tip is to look around and ask how you can improve your local environment. For example, if your city has a littering problem, one way you can help is to create a brand that sells compostable grocery bags. You can then use a grassroots marketing strategy by sharing your brand's mission with your local community!" – Jake Zaratsian
7. Offer competitive pricing and discounts
Lower pricing than competitors is the top reason shoppers stay loyal to their favorite brands. On top of that, nearly half of consumers say they only purchase products that are on sale or discounted. Revisit your pricing strategy and consider using a repricer tool to keep up with competitors. Also, be sure to leverage discounts and deals to incentivize customers to choose your products.
For a growing number of consumers, brand loyalty is inextricably linked with environmental responsibility. At the same time, today's shoppers are adjusting to higher consumer goods costs by taking every opportunity to save money. By making your products both eco-friendly and affordable, you can help customers connect with your brand in a way that drives loyalty by aligning with the values and priorities that matter most to them.
Methodology
The product data in this report is representative of the U.S. Amazon market. Market insights on Amazon products were sourced from Jungle Scout Cobalt, an industry-leading market intelligence and product insights platform powered by more than 1.8 billion Amazon data points that are monitored every day. Year-over-year revenue and unit sales increases/decreases are comparisons of the period April 8, 2021 – April 8, 2022, and April 7, 2020 – April 7, 2021. Revenue and unit sales changes over the last six months are based on data from the period of October 10, 2021 – April 8, 2022. Revenue and unit sales changes over the last three months are based on data from the period January 8, 2022 – April 8, 2022.
Contact [email protected] today to see how Jungle Scout Cobalt can help you explore sales data and provide strategic insights into consumer behavior on Amazon.