GO
Welcome to the first season of Go Pitch Win!   Each week Greg is joined by a guest judge to hear 2 entrepreneurs pitch their business or product.  After hearing the two pitches they will pick the weekly winner to move on to the final 6.  At the end of the 6 weeks, Greg will select the top 3 and then we need you to help us pick the winner!  Once the 3 finalists are announced we will open the voting for you #FreedomBuilders to choose our $10,000 winner!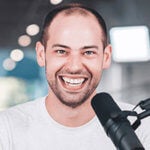 Host
Greg Mercer, Jungle Scout Founder
Greg is the founder and CEO of Jungle Scout, a suite of tools that empowers freedom builders. As a successful entrepreneur, Greg leads a team of 65+ employees. He is also an influential educator, offering free and inspirational content that has helped thousands of people build their own businesses and freedom.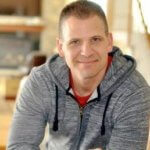 Guest Judge
Scott Voelker, from The Amazing Seller
Scott is the founder and host of the Amazing Seller Podcast, a top ranked business show, where he helps regular, everyday people start selling products that make money on Amazon.com in their own e-commerce stores. Scott has built and helped others build six and seven figure brands selling physical products and has now taught and inspired thousands of new entrepreneurs through his take action approach.
Nurtra Baby is a brand of baby accessories sold on Amazon.  They currently have 2 products on their way to the 4 product mark.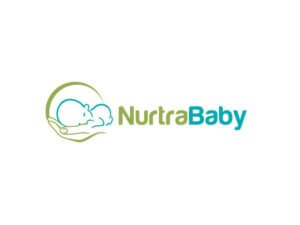 Robert: First, I want to say a thank you to you guys because, whether you know it or not, Greg, Scott, you guys have been a really big part of our brand and helping us with this. Because if it wasn't for you guys, we never really would have had the confidence to go do this. We've spent countless hours watching the million dollar case study videos, and using jungle scout to get our first couple ideas. You guys have been a really big part of this, so thank you to both.
This is our logo. Our brand is Nurtra Baby. What we're basically trying to do on Amazon, to give you an idea, is basically what Great Value did with the local supermarket or your local Walmart. Right? When you go into the local Walmart or the local supermarket, you go down aisles. There's usually on every aisle. If there was a high demand product, a profitable product, there was usually always a product there from Great Value competing with the other name brand products there.
The only difference is, we're trying to not compete with the name brand products. I want to do products that people aren't buying based on brand name. I want to create a higher quality product. I'm not really trying to be at the lowest price, or compete for the lowest price and having price wars to keep lowering the price. That's not what, really, we wanted to do. We wanted to make the products better. Use higher quality material. We're trying to make the products safer.
I think that's a big trend that's going on in the baby market. People are being more aware of what kind of materials are going into the products. What kind of ingredients they have. They want them to be safe for their children. I think that's a big trend that we're witnessing.
We aren't really going to concentrate on just one product. We're going to be making different types of products. I'm not going to just concentrate on diaper bags, for example. We want to create a lot of different products in the baby category.
Basically- Here's just a photo, for example, this is our diaper clutch bag. This is, basically, the only other diaper clutch bags on the market that look something like this. We really wanted to make it better.
We have vegan faux leather. We tried to make it more trendy looking, so we have vegan faux leather handle. We have vegan faux leather closures. Instead of this strap closures that look like something you might use to tie down something in the back of your pickup truck, or to tow a car with. We tried to make it way more trendy and fashionable.
We decided if we were going to have a leather handle like this, we really didn't need another handle to carry the bag. One of them was going to be unnecessary.
We went with an embossed leather logo, here, for our brand.
We really are just trying to improve upon every product. That's a question I ask myself whenever I decide to do something, is how can make this better, or how can I add value.
The diaper pad that folds out is BPA free, so it's safe. It's PVA polyester lining.
Ivanna: It's detachable.
Robert: It is removable.
It has the front pocket.
The buttons, we actually used magnetic buttons because one of my concerns was, since it's not an adjustable strap, like all these other clutch bags are using, is it going to be able to close when full? I had the factory test the length of it with full of diapers and full of things in the pocket, and full of wipes. It holds a twenty count wipes, a travel wipes case. I had them test the length of the closure, and we had magnetic buttons instead of regular buttons to keep it held closed.
Here is the oval cut out. The inside pocket with the wipes case. It holds a twenty count wipes case that you can find, like Wet Ones makes a lot of them. You can find these, pretty much, in the travel section of any Walmart or CVS or Walgreens.
Ivanna: The regular baby wipes will fit too.
Robert: Regular baby wipes, yes. If you have any kind of small travel case.
The mesh pocket is stretchable. It holds about three to four diapers or outfits.
Ivanna: Baby powder.
Robert: Baby powders. Hand sanitizer. Essential oils.
The strap does have a button, so it's able to open and close and put on, say, a stroller. To strap on a stroller, to carry it.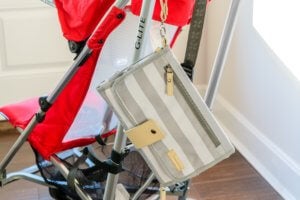 This weekend, we're really working on making some infographics pictures. I got a free software that's a lot like Photoshop. It's called Gimp. I'm going to be using that to create some good infographics this weekend.
This product, we launched on the sixteenth. It's been two weeks. The first thing that I got really excited about, and thank you, Scott and Greg- You guys did a webinar on listing optimization, not too long ago, for the million dollar case study. The first thing I got really excited about, the day it landed, was the URL that we got. Which was something like, amazon.com/portable-diaper-changing-pad-clutch-bag, which was all our main key words. It was awesome. That was a huge tip. Thank you for that.
Next product- And where we're at, right now, is we're averaging about four sales a day. We have two reviews, so far, in our two weeks. We're still running our jump send promotion. We've sold about thirty units so far. So that's where we're at with this.
We're still kind of in the red. We just started our PBC campaign, so we're a little bit in the red until we get some more reviews, and, I think, some better pictures, and they start converting a little better. I'm happy to be getting some data from our PBC campaign, and adding the key words, the actual customer search terms.
Okay, the next product that- This is, I literally got an email yesterday, that these are just ready to ship, now, from the factory. These are going to be shipping right after Easter Break. This product is a baby amber teething necklace. I was really excited about this product, because this baby amber teething necklace has a huge demand. Huge search volume. We knew right away that, we were like, it's a little bit more of a riskier product to do, because these products have a lot of reviews. They sell a ton of volume.
I knew going into it, it was a little bit riskier, but I was really- I knew I had to make it better in order to be able to compete. I went with a premium packaging. It looks like a gift box. I'm going to market it as a gift set. I added- I tried to think about how can I improve upon the product, but it's like, what can you do to improve a hundred percent amber stone, you know? It's a hundred percent amber. It can't, you know.
It was more, okay, how can I add value to it. What we decided to do, was pair it with a silicone teething necklace and sell it as an amber teething necklace with a bonus silicon necklace.
Ivanna: For moms.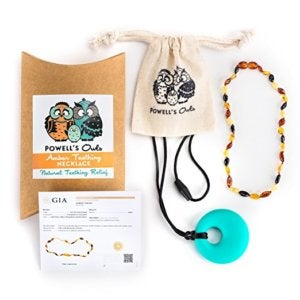 Robert: Right, for the mom to wear. Because, they're not supposed to chew the amber necklace. The babies aren't supposed to chew it, so if they really want to put something in their mouth, they have the silicon teething necklace.
The amber teething necklace just works for them, just having it in contact with the skin. It releases succinic acid into the skin, which is a very natural healing, natural pain relief, natural anti-inflammatory. It comes from the amber stone.
Ivanna: It started in Lithuania. So, no China.
Robert: I sourced it from Lithuania. That's where the stones come from, in the Baltic Sea.
Ivanna: Yes.
Robert: This was not- The packaging was made in China, but the amber stone comes from Lithuania.
I originally thought we could put the country of origin on the master cartons, but if you're shipping it DDP, you have to have the country of origin on the product. I think, next time we order them, we're going to have that in the actual package, printed. That was what the freight forwarder told me, is that they really need to- If you're going to ship it DDP, delivery duties paid, you have to have it on the product, and not just on the master carton.
That's a picture of the stickers. Holding- It holds the case closed, which is nice.
I took a picture out of your book, Greg. We also have the cut out, which is less than one inch, one inch, so that they can see through to the amber.
Here's a couple different photos of it. This is basically what it looks like. You can see the amber through the cut out.
We got a nice baby sketch done from somebody on Fiverr.
On the back, this is a photo of the dye line. On the back, it has a lot of safety information and more information on the product, right on the back. I really wanted to be clear that it's not supposed to-
Ivanna: How to use it.
Robert: Yes, how to use it, because most people think that the babies have to chew on it, but they don't. I wanted that to be very clear and put out there. They could also wear it, like wrap it around as a bracelet on the wrist or on the ankle as an anklet.
This is what the insert looks like. Once they open the top of the box, they have a nice insert with the amber necklace displayed. Underneath the insert is the teething silicone necklace bonus. You have a carrying pouch. And you have a certificate of authenticity that tells a little more about the product, and where the stones came from.
Here's the carrying pouch with our logo. Very natural cotton. We're trying to really do a natural brand. A lot of natural healing. Safe products. I thought, hundred percent cotton would go well with that.
Here's a lifestyle photo of a baby wearing an amber necklace. There's a lot of these on Shutterstock, so I don't know if I'm going to get a baby model. I think we're going to pull some of the nicer pictures that we found off of Shutterstock for our photos.
Here's a picture of the certificate of authenticity that we made. These are hand made in Lithuania. They are hundred percent authentic amber stones, which we did test. You have to test them by seeing if the float in salt water, and they sink in regular water. Also, UV light has to see how they glow under the UV light to make sure that it's really a hundred percent amber.
The silicon necklace is food grade. Is BPA free. Is non toxic. It's really natural healing- Here's another picture of the silicon necklace.
I really love this product because it was, I think, a huge, like I said, increase in the trend of people that are just looking for natural healing products as opposed to using things like oral pain relievers, or things that-
Ivanna: Chemicals.
Robert: Yes, chemicals. Things that you might find in a local pharmacy, to help deal with real problems, like teething babies. That's what we're trying to do with our products. I'm trying to help solve the problems that new mothers deal with on a day to day basis, like finding a clean place to change their baby. You know what I mean? I wanted to do a changing pad. I really feel like that's a must have.
That's what I'm trying to focus on. I'm trying not to do the items that are, maybe, considered a luxury. I want to focus on the essentials. You're going to need a crib. You're going to need crib sheets. You're going to need places to- You're going to need burp cloths. You're going to need changing pads. You're going to need a place to put the baby to change it on. Those are the kind of products that I'm looking to come out with.
This is a photo of my competitor's product. This is probably my closest competitor. Powell's Owls, which I watched go from nothing. When they just launched, they had no reviews. To probably the top listing for amber teething necklaces. The reason why they did that, I think, is because they were able to add value by adding a silicone teething necklace with the amber teething necklace to package it.
This one, I really think our silicone teething necklace is a lot better. This is maybe a twenty-five cent teething necklace for the silicon. Ours is more like a dollar, and just a nicer design. I thought we did a better job with the packaging. I really think we can really compete with them.
That's the amber teething necklace. That's set to launch in maybe a week or two.
Those are the two products that we currently have. I want to talk a little about- These are the products we're asking for the ten thousand dollars in funding for. What I wanted to show you, was the baby burp cloths that was the top of the list. I'm going to show you a bit of our research that we did. Then, I'll show you the pictures.
Using a couple different tools, between Jungle Scout, we used Merchant Words. I had a Google Adwords account, as well, so I had some Google keyword tool data, here. I used Scope, too. I used a couple different tools to compile this. We basically went through about seventy different keywords and products in the baby category, because we're really trying to focus on that one niche and that one target market.
When we analyzed everything, we were looking at the estimated key word search. How many sales are in the top ten listings in Amazon added up total. Whether or not those sales are evenly distributed rather than one or two products that are just killing it and the rest are just mediocre. We were looking at the average sale price, because we're really trying to keep all our products at around the nineteen ninety-nine mark. We are looking at the amount of reviews are in the top ten. How many are under a hundred. The estimated price per piece. The shipping size. We wanted to make sure everything we do, for now, fits in a shoebox and that it was going to be under a pound.
When we did this, what came to the top of the list, and it was so surprising, Greg, it was the baby burp cloths. We decided we want to do a five pack to get it up to that price range that we want to be. At the nineteen ninety-nine mark. We thought we would have to do about five pieces to be at that range. This got an estimated keyword search of about two hundred and three thousand just for burp cloths. The estimated sales in the top ten listings were about fourteen thousand sales, just from the top ten. There were four of them that were under a hundred reviews. This is something we never would have thought of on our own, if it wasn't for Jungle Scout. Jungle Scout has really made our business easier. Before that, it was pretty challenging to find the profitable products, or the products that would be worth launching.
The other thing that we wanted to do, which we tried to do before, was a car seat cover. A baby car seat cover. The ones that we tried to do before, we got samples and they were just extremely low quality. There were a lot of loose hanging threads. The zippers were really hard to pull up and down. The buttons were hard to get on and off. We felt like we were struggling with it so much, that we were ripping the fabric. We just didn't decide to move forward with that product. Now, I do have a different supplier and a different sample that I think is going to work much better.
With the baby burp cloths, we wanted to start off with a contour design that would go around the neck. It would look something like this. They're going to be about twenty-two inches by ten inches. We want to do a three layer. It's going to be bamboo cotton on the outside, and a fleece on the inside. That would make it absorbable? Absorbative. Right? Highly absorbative. Fleece on the inside. Bamboo cotton on the outside to make it safe.
We wanted to do- A lot of people seem to be- Do they want a square design or they want a contour design, so we decided to do something like both. Right? You get a contoured on one side to go around the neck, and rest of it's square so that there's not space missing on the shoulder that the baby could get. That's that.
Let me show you the car seat cover. It has a built in mosquito net. It has the peek-a-boo window, this way you can see the baby. I think I'm going to do the magnetic buttons again. The same magnetic buttons we used for the clutch bag. Has a stretchable ninety-seven percent cotton, three percent spandex material. It does fold into a carrying pouch. It has a nice stitching design. It's a little thicker than, maybe what our main competitor has. This might be better for all seasons. Good in the winter, good in the summer, with the mosquito net and the window. It's breathable, but it's a little bit thicker.
One of the skills, or one of the things we realized when we did a Shopify store, we were drop shipping from AliExpress, which I think is kind of dead. Nobody wants to wait twelve to twenty-five days for their product to come from China. We did get a lot of experience on how to push traffic to a site using things like Instagram and Facebook. We knew that for our next market, we really wanted something that would be easily targetable on those channels. Which is why we wanted to go with babies, because one, we're dealing with a population explosion. The population is exploding exponentially, so there's more and more babies every year.
Ivanna: We're now in our thirties, so when you go on Facebook, all you see is babies and babies.
Robert: All our friends.
Ivanna: Yes. I thought that's a good niche.
Robert: We got some great feedback from them, yes?
Ivanna: Yes. A lot.
Robert: When somebody on Facebook is having a baby and they post that, Facebook knows. Facebook knows who has newborns, who has a one year old, who's an expecting mother. It seemed like a very easily targetable niche.
We plan on growing our brand beyond Amazon. We really want to open up our shop, a store on NurtraBaby.com. We want to connect it with Etsy and Ebay. We're building a brand and building a business. Something that's going to be sellable and growable.
A little bit about our background. I'm working, right now, at a medical school. I'm an admissions representative. Ivanna is a full time student.
Ivanna: Yes. I study web development. At this point, it's just to work online, because, as we said, we want to travel. We bought a travel trailer. My family is back in Europe, so I really can't have just two weeks vacation like most of the Americans have. I need to be able to go there and spend, maybe the whole summer.
Judge Questions
Greg: Yes. I think it's pretty cool that you're going into a market, into a niche. I think it's a great idea. I think you're off to a really good start.
My question was, and I was writing some notes here, is- This is a very competitive space, as you know, which is a lot of opportunity, as well. Is there anything else that you're thinking of other than just launching this- I know you said Shopify, and you said all that stuff. Do you have a plan in place to actually grow this, but also spread a mission or a story of some kind?
I think this right here- I recently watched a Shark Tank episode where this couple was actually launching, I think it was a wrap of some kind. They created it for their own child and then they shared that story, their Instagram blew up and, you know, voila, they've got a brand and a story.
My question is, where do you weave a mission and story into this that can help you grow? Is that going to be part of it? Are you going to have a face to the brand? Those are just some questions that I had right away.
Robert: Good question.
Yes, we do. We really want to grow it beyond Shopify. Sorry, beyond Amazon. I'm really just using Amazon as a launching pad.
Greg: Sure.
Robert: It was just good to put the listing up and get some original sales and reviews. We're, right now, since we only have two product, we haven't started that yet. Right now, I just feel like I have a product, and not a brand, yet. We're waiting until we have more of a product line. That's why we really want this help to get to the four product mark, where we can start building on other channels.
We're going to use ShipMonk.com, or a company like that, which works a lot like FBA. They, basically, will be your warehouse. They will handle all your orders. You can easily connect it with Shopify, with the software. There's a lot of other companies that do similar things.
Yes, we really want to grow onto other channels and get into retail stores, if possible.
Our mission is really just to make products that make mothers' lives easier and solve problems.
Scott: I guess the other question, real quick, Greg, is- I'm kind of listening to- You've already launched that one product and you've got four sales a day with, I think you said, four reviews, something around there. Thirty units, so far. You're doing some type of giveaway. Why do you think that's- To me, that's kind of low. Why do you think that's such a- It's two weeks. Why haven't you reached out to influencers and stuff in that space, and try to get a hundred out the door. I'm just wondering what's, why? Why are you stuck right there?
The reason why I'm asking that is because I'm looking at all of these other products that you're- I don't want you to go in this one direction, where you want to launch all the products and then everything doesn't get the attention that it deserves. I think every product needs to have a ton of push to get it out of the gate. That way, there you get sales and you get that momentum.
Like I said, in this space, you're going to need that bump.
Ivanna: Yes. We still don't have the very professional photos. I think that's a little downside to it.
Scott: Okay.
Ivanna: Live pictures, outside with the babies. I think that's what we're working on this weekend. Also, we had a little problem with the [inaudible 00:24:08]. We had a problem with the code. So we had a lot of customers that emailed us back, like, hey, the code didn't work. So we're working on that. I think that was a real problem, because when someone is ready to buy, they want to buy now. They don't want to wait until you sort some kind of problem.
I think we lost some sales over that.
Robert: I think we fixed it now, though. I haven't had an email that the codes weren't working in a little bit. Also, yes, the photos. It's been challenging to find a photographer that get baby models. Now, we're just going to, I don't want to say settle, but we're going to just try to Photoshop the baby, because it's been hard to find photographers that can work with baby models, or even find baby models.
Greg: How much money have you guys invested in this business, so far?
Robert: Nine thousand.
Ivanna: At first it was five, and then four.
Robert: The way that we funded it, we funded the first, the diaper clutch bag with one of Ivana's credit cards. When my mother passed away, in October, we had a small annuity from her life insurance. That's how we funded the amber teething necklace. I think, she was always very supportive of me as a entrepreneur, and all my endeavors. I think she would be happy to be a part of it.
Greg: How much time are you guys spending on the business, right now? It sounds like Rob, you're working a full time job. Ivana's a full time student. Is this kind of like, every night you're working on this? You feel like you don't have enough time? Give me a little more insight there.
Robert: I never feel like I have enough time.
I spend most of my time at my job waiting for someone to pick up the phone. I'm typically doing my product research. I'm doing a lot of different things.
Ivanna: It's a great job, he has.
Robert: We joke about it on the Jungle Scout videos, right. We will be typing, whose at work right now, watching Jungle Scout? We're like, oh yeah, me, me, me, me.
Ivanna: Yes, and I have a lot of time, now. I'm graduating in May. I'm going to have way more time. Yes, I'm home all day. I'm online student. I really have a lot of time for the work and the school.
Greg: What's more like, your long term vision? Is the vision to grow this business to the point that you guys could both focus on this full time? Or is this always more of a side hustle type vision? Or give a little more insight there.
Ivanna: Definitely full time. As we buy this trailer, we really want to take off and be able to make enough money to support all this lifestyle that we don't really have to work, and we can enjoy the travel. That's the reason that I came into this country, to travel. I really want that to happen before we settle down and have a baby.
Robert: We really went all in. We really felt like this was going to provide us that freedom that we were craving to see the things that we want to see and be able to still work.
Ivanna: It was a scary movie, but we were like, if we're going to push it away, it's never going to happen. We just went all in. And now we're in a trailer.
Robert: A long term vision, I didn't even think, I don't know if I'd maybe to want to sell it in the future. I really want to build a brand. I really want to be behind something. I want to feel like I have a purpose. I want to stand by my mission statement. I want to keep developing products that- I'd like to be the next, I don't know. I'd like to be as well known as Gerber. I would.
Greg: For those listening, I know a little bit about you guys' background because I saw it in the application video. I think this is a pretty fascinating thing. Give the listeners a little insight about how, you know, your background. How you ended up in the RV, or travel trailer.
Ivanna: I came to the US, what, five years ago, six, as a Au pair, just to travel. I just finished my bachelor degree, so I was like, before I settle down and really jump into working full time forever, I really want to enjoy a year of vacation and go travel. I came to the United States, and I met my husband. That's kind of my traveling end up. We started working. I never gave up on that idea, that one day we would actually be able to travel and go to see my family. Maybe go to Thailand. Do all that kind of stuff.
Then we started these ideas of buying in bulk and selling on Ebay. Which I was not a fan of when a big huge box arrived in the middle of your living room. It's just not a good situation to have. It didn't work well, because it took us a year to sell that one box.
Robert: On Ebay, yes.
Ivanna: Pretty quick, we find out that's not going to work. Then, we came up with the idea of Shopify. Which also wasn't a great thing. We didn't really convert a lot-
Robert: Shipping would take forever.
Ivanna: Yes. That's where you came into our lives. He was like, I found this great video. We start binging on it. Then, I was like, we're spending so much money on rent, and I really want to buy a trailer and go see all the country right here. There's so much beauty just in here. We don't have to go to Thailand, first, right.
Our lease was up-
Robert: That's what we were thinking. Bali, Thailand, Costa Rica. We looked into all that.
Ivanna: Now we have two dogs. It's a little tough.
Robert: Flying was a little out of the question.
Ivanna: Yes.
Our lease was up, and we were like, okay, now we get some cash, and we should just do it. We buy the trailer.
Robert: This is fun. We have little camp fires every night. We got on Jungle Scout's jungle sticks. We've been roasting kielbasas and hot dogs and stuff. It's actually been really fun.
You know, we're thinking about, once we get Nurtra Baby running and growing, really. Being able to add to the product line, we might start a different brand that revolves around this lifestyle. We might actually be our best models.
Ivanna: Yes. There was a lot people who stopped full timing everyday. I see it on Facebook.
So, yes.
Robert: We've had our mini house, which we've had for a month. Yes.
Ivanna: I just feel that when we do the first step, the other steps will come. If we don't do it, then it might never happen.
Greg: Okay, cool.
Scott, any more questions?
Scott: No, I mean, I'm just- The only thing that I'm listening to is what they've done so far. What you guys have done. Which I think is awesome. That you guys have gotten this far. That you've learned a ton through that process.
I guess the question that just keeps coming to me is, kind of like, you've had that time. You're doing the product research. You're doing all that stuff, and you got your product. You're waiting for your product. I'm just trying to think why you weren't planning and preparing more for your launch. Just because I think that's so important.
It seemed like you were focusing so much on the one thing, but not thinking of the other. Maybe just relying on something like jumped in. Which is great, but I think that in your head, you've got to be thinking about, how do I launch this thing with a bang. You know what I mean?
That's the only thing that I'm questioning. I'm also thinking, you going to have four products going. How are you going to be able to maintain all that? That's the only thing that I'm struggling with a little bit.
I think you guys are awesome. I think what you guys are doing is great. I think you guys will win, here. I just think you need to prioritize some of that stuff a little bit better, and get focused on really getting those things ramped up. If you don't, you're going to have four products that you're dabbling here, dabbling here, dabbling here. Get that mission for that audience, and to me, run with it. Share that story. Try to get some-
What I would have thought of, right away, go to someone on Instagram or on a YouTube channel that is already doing it and say, 'I need pictures taken. I'm going to ship this stuff to you. Take pictures, yada, yada, yada.' Then get that stuff and they're going to review it. That's what I would be doing.
That's the only thing I'm struggling with a little bit, Greg.
Robert: It's kind of one of those things, where it's your first time, and you don't know what you don't know yet. Right?
We're finding out more every day. I think we expected just the give away to work better than it did. Now we're saying, that didn't, maybe have the kind of momentum that we thought we were going to get.
Scott: Right.
Robert: We've got to start thinking about other stuff, like that. Looking for influencers. Also, the pictures, I think will help. The PPC. We're getting a lot of clicks, but they're not converting.
Scott: Yes.
Robert: I think that has to do with the pictures aren't really salesy. They're just kind of photos of the product.
Ivanna: Yes.
Robert: Really, I'm spending my whole entire weekend to devoting to making some infographics, photos. Highlighting- Non of the photos highlight the real benefits of the product.
Greg: Right.
Robert: They look great. It looks fashionable. It looks trendy. They don't- [crosstalk 00:32:44]
Ivanna: Once you see the baby.
Robert: Unless they read the description, which sometimes people don't do. They just look at the pictures, and the pictures don't really say, hey we got vegan faux leather. We got magnetic buttons. We got travel wipes holder. I think the pictures need to be really- Do a lot better this weekend on getting those infographics and really highlighting the benefits.
Scott: Absolutely. That's the closest thing they're going to be able to touch that thing, is that picture. I think that's a really important thing.
Yes, Greg, that's all I got, right now.
Greg: Rob and Ivanna, thank you very much for coming on, giving us your pitch. I love what you guys are doing. I love that you guys got rid of all your stuff and hopped in an RV, and are traveling around the US. That's pretty epic. It sounds like you have big plans ahead, which is very exciting.
If I could give one piece of advice to you, I would actually mimic what Scott's saying here. Typically, in a niche like this, that is fairly competitive, you have to be pretty aggressive with your launches, just like Scott's saying. My advice to you, is I think, when people enter niches like this and don't do well, it's usually because they're not willing to give away enough units up front. Or do a big enough launch up front. It is a little bit of a scary thing for first time people launching products on Amazon. It's like, man, I'm still losing money because I'm still giving away these things really cheap. How much do I have to go in the hole before it starts doing well?
What I've found, it always just works out better to do bigger up front. Just know that maybe on the first shipment you're not going to make any money. You don't make any money until the second shipment. As a result, you'll have a listing that starts getting ranked well organically and is getting those organic sales. That's something I would be thinking about if I was you guys.
Yes. Thank you very much. Best of luck with Nurtra Baby. Best of luck just traveling around and enjoying life.
Get the latest episodes...
Don't forget to subscribe on iTunes, Google Play or Stitcher. If you prefer video, visit our YouTube channel.
Do you have a new business that needs seed money? Or a new project that you're ready to get up and going?
There is a $10k prize for the winning pitch, plus some other goodies that will help you out along the way. Greg and our guest judge will select the weekly winners and YOU will vote on the winner from the 3 finalists.
Get your pitching skills at the ready!
I want to apply