Amazon "dupes" have taken social media by storm in 2023 and emerged as a fascinating ecommerce niche for both buyers and sellers. Budget-conscious consumers look for more affordable near-replicas of popular, upscale items.
For sellers, delving into the realm of Amazon dupes can be a promising venture as consumers search for more budget-friendly products.
In this article, we'll explore what Amazon dupes are, distinguish them from private label products, address their legality, and provide a strategic guide on how to sell them effectively.
What are Amazon dupes?
Dupes (a.k.a. duplicates) are products that mimic the design, functionality, or aesthetics of popular and often high-end items. Many users on social media refer to these products as "Amazon dupes" as, well, you can often find them on Amazon.
These dupes are typically sold at a much lower price point, making them an attractive option for budget-conscious consumers looking for a similar experience without the hefty price tag.
Lululemon dupes
For example, Lululemon is known for making very high-quality and comfortable clothing for men and women — but is also known for being more expensive than competing brands.
While many consumers love Lululemon products, some cannot justify paying upwards of $100+ for a pair of leggings and will go to Amazon to find a similar product at a fraction of the price.
Take a look at the search volume of keywords related to "Lululemon dupes" using Jungle Scout's Keyword Scout tool.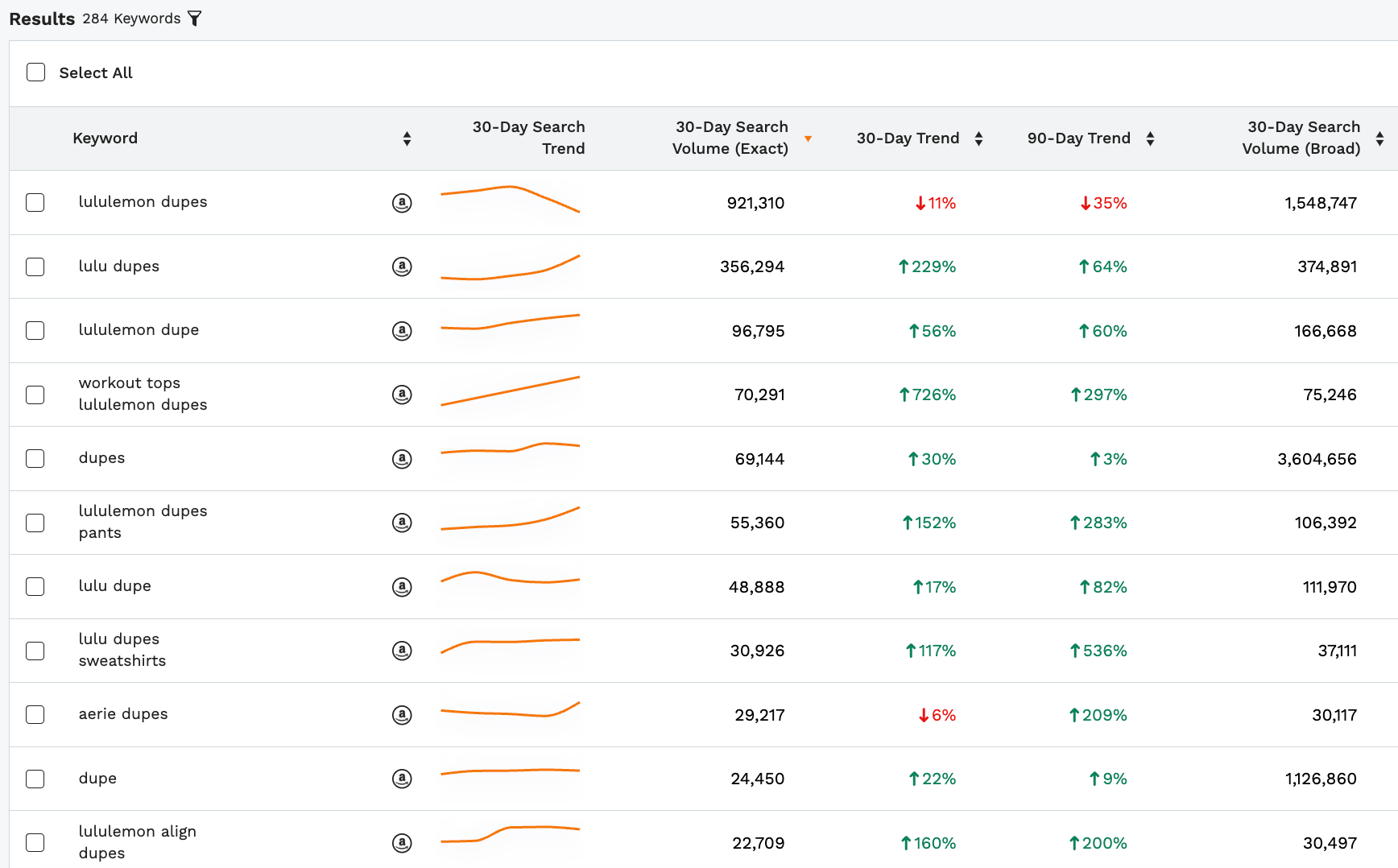 As you can see, there are tons of keyword variations and high search volume related to finding Lululemon dupes. This is likely the case with many other high-end, well-known brands as well.
Skims dupes
Another popular brand that makes high-quality clothing and accessories for women is Skims. While the quality is there, some of their items are a bit pricey. For example, look at the Skims Mid Thigh Bodysuit is listed at $72 on their website. On Amazon, consumers can find a Skims bodysuit "dupe" for around $50.
And the dupe sells roughly 79 units per day, according to the Jungle Scout Extension.
Looking at Keyword Scout again, we can see the search volume for "Skims dupe" is currently trending upwards and has a very high monthly search volume.

Capitalizing on the demand for Amazon dupes can be lucrative for sellers. However, it's essential to navigate this market carefully, considering legalities and ethical concerns.
More Amazon dupe examples
Here are some more examples of Amazon dupe products, compared to their originals, plus how well those dupes have been performing over the last six months.
Amazon dupes vs private label products
While both Amazon dupes and private label products involve selling items under your own brand name, they differ in their origin and marketing strategy.
Amazon dupes
Amazon dupes are generic products that are similar to existing designs, often of well-known brands or popular items, without infringing on copyright. These products are manufactured by various suppliers, and sellers typically don't have control over the design or production process.
Sellers of Amazon dupes rely on the appeal of familiar designs to attract customers, offering them at a lower price point compared to the original products.
Sellers can typically find dupes on sites like Alibaba or Aliexpress, but you need to be careful when selling products that are too close in design to the original, as you can run into some legal issues, such as copyright infringement or patent infringement.
Private label products
Private label products are items that are manufactured specifically for a particular seller or brand. The seller works with a manufacturer and controls the product's design, specifications, and branding.
Private label sellers often focus on creating unique products that are differentiated from the competition, meet specific customer needs, or solve a particular problem. They build their brand identity around these unique offerings.
Building a private label brand vs. selling generic "dupes"
You can say that dupes and private label products are basically the same things, and you'd be right, kind of, as both ways compete with the "original" name brand. Dupes are basically just selling a generic product that is offered by an overseas supplier without doing any design or customization.
Private label is when you take an existing product but focus on creating a slightly different, more improved version while focusing on branding — that's what helps your products stand out. Private label products are able to better compete with larger brands by offering a lower price point or leveling up marketing and listing optimization.
We suggest going the private label route and focus heavily on branding and differentiation. Doing so will set you apart from the competition, even the larger, more well-known brands.
The beauty of selling private label products on Amazon is that there is a fair opportunity for small-to-medium sized businesses to compete against the big guys.
READ MORE | 2023 Guide to Amazon FBA Private Label
Are Amazon dupes legal?
Selling Amazon dupes is generally legal if the product design is not protected by intellectual property rights, selling an Amazon dupe is generally legal.
The legality of selling Amazon dupes hinges on a crucial distinction: trademark infringement. If a seller creates or sells a product that infringes on a trademark or patent, it is illegal. This includes copying logos, designs, or any other distinctive features that are protected by intellectual property laws.
It's important for sellers to conduct thorough research to ensure they are not violating any trademarks or copyrights.
To search for active trademarks or patents, visit the USPTO.gov website, which is the United States Patent and Trademark Office.
Do not mess with copyrights or patents of existing products, especially of large brands. They will do everything possible to shut your business down, and Amazon will suspend your account if you're caught selling counterfeit items.
Amazon prohibits the use of wording such as "dupe," "fake," or "faux" in connection with a brand or products that infringe on intellectual property rights of others. Do not use the word "dupe" in your product listings to describe your product.
How to sell Amazon dupes
Selling Amazon dupes can be a profitable venture when done correctly. Here are some steps to get started:
Market research. Identify popular products or designs that have a significant demand but come with a high price tag. Look for items that aren't protected by trademarks or patents. If you do find trademarks or patents, work with a manufacturer to differentiate the product so it does not violate any copyright.
Source reliable suppliers. Find reputable manufacturers or wholesalers who produce or sell the types of products you want to offer. Ensure they can meet your quality standards and deliver the products in a timely manner. You can find suppliers using Alibaba.
READ MORE | How to Buy on Alibaba and Sell on Amazon in 2023
Quality control. Implement rigorous quality control measures to ensure that the dupes meet or exceed customer expectations. This is crucial for building trust with buyers. Consider ordering a sample of the original product that you are competing with to ensure the quality is up to par.
Create a compelling listing. Craft a compelling Amazon product listing highlighting your dupe's features and benefits. Ensure to use high-volume keywords found with Keyword Scout and use our Listing Builder with AI Assist to help you write your optimized listing in a fraction of the time. Remember, do not use the word "dupe" or the original brand name to describe your product.
Competitive pricing. Price your dupes competitively to attract budget-conscious shoppers. Keep in mind that your profit margins should still allow for a sustainable business.
Stay compliant. Ensure your products don't infringe on any trademarks or patents, and make sure to comply with Amazon's policies and guidelines.
LEARN MORE | How to Sell on Amazon
Grow your Amazon business selling dupes
We hope this article gives you a better understanding of what Amazon dupes are and how sellers can take advantage of this new trend.
Remember, selling dupes is different from selling counterfeit products — please make sure you check that a product you want to sell does not infringe on any trademarks or patents, or that could spell trouble for your business.
Do you have more questions about Amazon dupes? Let us know in the comments. And if you want to leverage Jungle Scout to help identify some of the most popular Amazon dupes, check out the link below.
Brian Connolly is an Amazon seller, ecommerce expert, and writer for Jungle Scout. He lives in the New Jersey Shore area with his wife and cat. When he isn't writing advice online for aspiring and experienced Amazon sellers for Jungle Scout, he spends his free time boating, fishing, and selling boating-themed items on his Amazon business.