This article was written by Jungle Scout ecommerce experts with some assistance from artificial intelligence.
We all know Amazon as the biggest online marketplace in the world for buyers and sellers.
But there's another ecommerce store that has quietly risen in popularity lately thanks to its extremely low prices and a large catalog of products – that marketplace is called Temu.
What is Temu to Amazon sellers? Should sellers be worried about this marketplace potentially offering the same products at much lower prices? We'll discuss these questions and more in this article.
What is Temu?
Temu is an online marketplace that offers various products at heavily discounted prices.
Temu is known for its aggressive pricing, often offering products at a fraction of the cost of other online retailers. This is due in part to Temu's focus on Chinese suppliers, who can often offer products at a lower cost than American manufacturers.
Temu also offers a number of features that are not available on other online marketplaces, such as:
Group buying: Temu allows users to group together to buy products at a discounted price.
Referral program: Temu users can earn credits by referring friends to the platform.
Gamification: Temu uses gamification to encourage users to shop on the platform, such as offering prizes for completing certain tasks.
Temu has been growing rapidly since its launch in 2022 and has become one of the most popular online marketplaces in the United States. However, it has also been criticized for the quality of its products.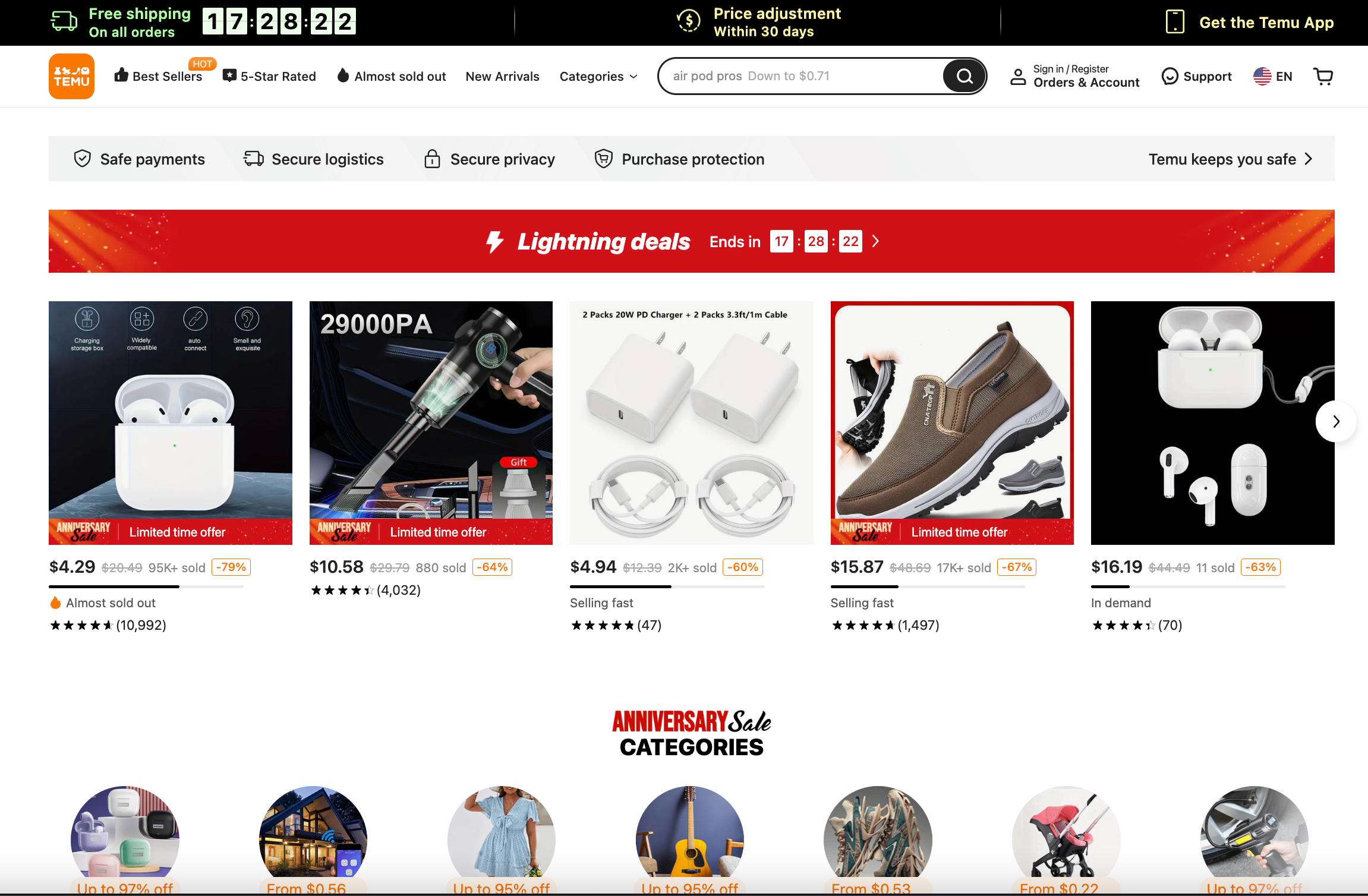 Pros and cons of Temu
Pros:
Low prices compared to Amazon and other marketplaces due to Temu's focus on Chinese suppliers

Wide selection of products

Group buying and referral programs

Free returns with 90 days of purchase

Gamification features to receive bonuses, discounts, and shopping credits
Cons:
The quality of products can vary

Customer service can be slow

Shipping times can be long since many products ship from China
Temu vs. Amazon
Temu is a competitor to Amazon, where consumers can purchase millions of different products for very low prices. Still, you are not sure what the quality will be like until you receive the product.
Sure, Temu may have better pricing than many products that are also listed on Amazon, but when shopping on Amazon, you have more peace of mind when making a purchase.
Temu: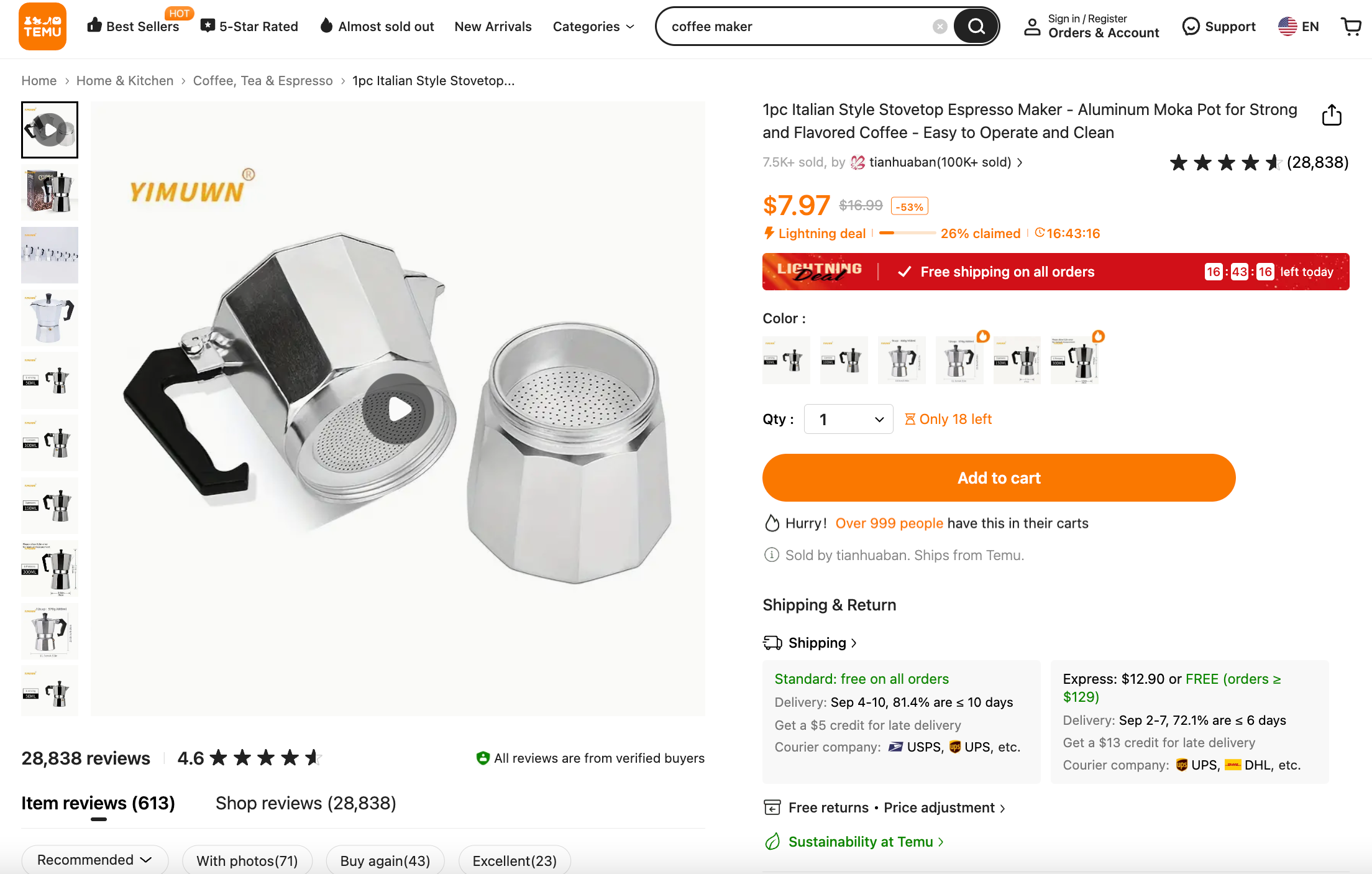 Amazon: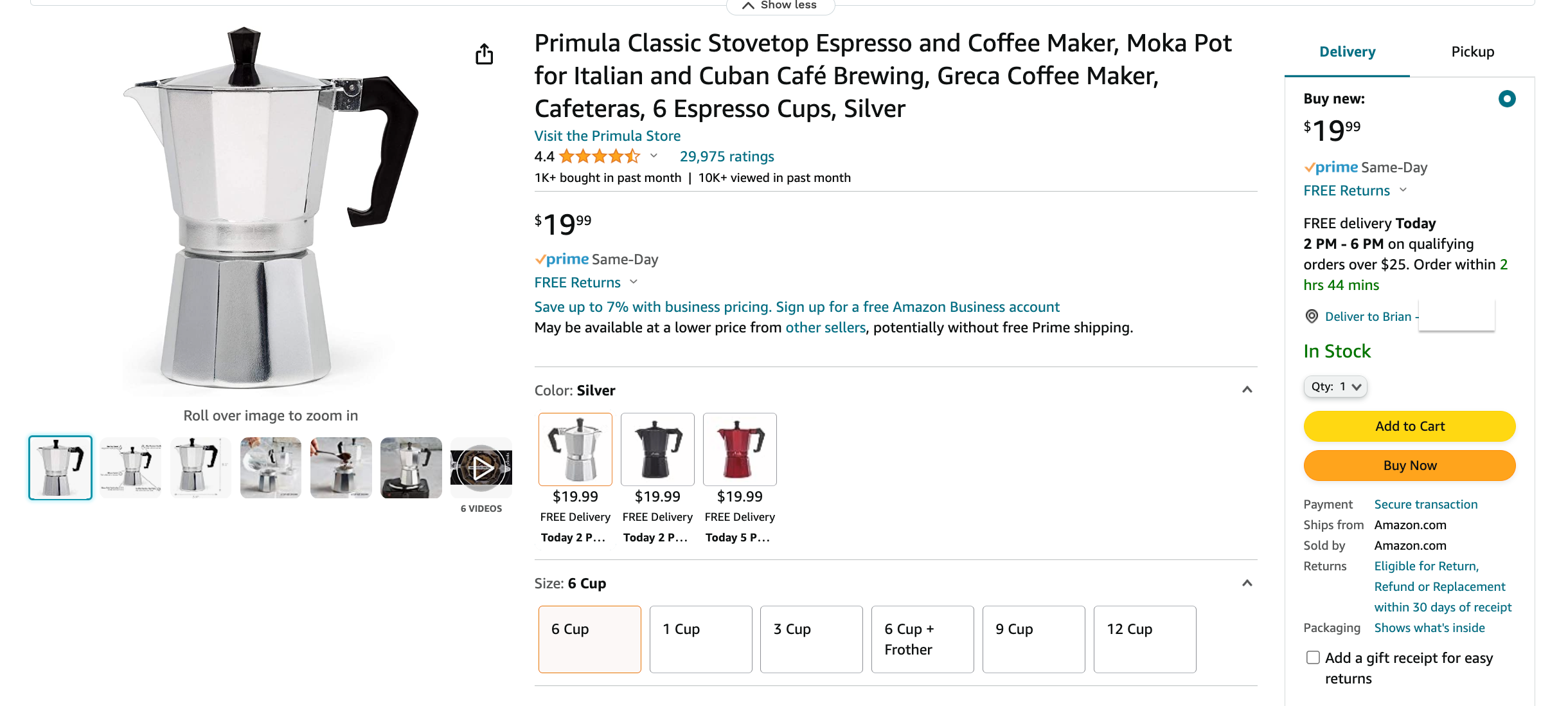 As you can see, the same product is listed on Temu for a much lower price but I think I would still order from Amazon. Both marketplaces have reviews you can read to help buyers make a decision.
On Amazon, Prime members can checkout with ease and have confidence that the product will arrive on time. I can receive the product the same day when ordered on Amazon and have peace of mind that I can easily return if needed. Though Temu also has a good return policy if you are unhappy with your purchase.
Amazon has a much larger selection of products than Temu, and the quality of products is generally higher. Amazon also offers a wider range of features and services, such as fast Prime shipping and fast customer service.
As we'll discuss a bit later, Temu is not used as a B2B site like Alibaba, where sellers can purchase inventory in bulk to sell online.
Why is Temu so much cheaper than Amazon?
One of the main reasons why products on Temu are much cheaper than Amazon is because of its focus on Chinese suppliers. Suppliers and manufacturers are cutting out the middleman and selling products at very low prices.
Typically, when suppliers sell their products in bulk to, say, Amazon sellers, they offer them wholesale pricing, and the Amazon seller then marks up their price on Amazon to make a profit.
On Temu, the supplier is now selling directly to consumers instead of in bulk to business buyers.
Should Amazon sellers be worried about Temu?
Temu has gained popularity and market share over the past year, but as an Amazon seller, I wouldn't be worried at all. Consumers who shop on Temu are looking for an incredible deal and don't care too much about the quality or shipping times. Still, the 57% of shoppers start their product search on Amazon.
While consumers are looking for ways to save money, they also want to receive quality products and experience fast shipping times along with excellent customer service, which Amazon offers.
Plus, Amazon has a level of trust that not many other marketplaces have with their buyers because of their brand-name recognition, customer service, and lenient return policy. Consumers shopping on Temu may be skeptical about who they are shopping with or where the products are coming from.
Temu vs. Alibaba
There are some major differences between these two platforms. Simply put, Temu is for consumers, and Alibaba is for businesses.
Alibaba is a global ecommerce platform tailored for business-to-business exchanges, linking sellers and brands with an extensive network of manufacturers and suppliers.
Unlike traditional ecommerce websites like Amazon (or Temu), where customers make one-off purchases, Alibaba is a platform where businesses purchase products in bulk to resell as their own brand, otherwise known as private labeling.
Temu is much more similar to Aliexpress, as Aliexpress is more consumer-based than business-based.
Alibaba is a great place to find high-quality products and manufacturers for your private label products to sell on Amazon.
How to Sell on Temu
As an ecommerce seller, getting your products in front of as many customers as possible is important. If Temu seems like a good place for your brand to sell products, create an account.
Currently, there isn't a formal seller account creation process; you need to contact Temu if you want to become a seller.
To do so, go to Temu.com and scroll down. In the footer, you will see "Sell on Temu."

Once you click on that link, you will be brought to this page: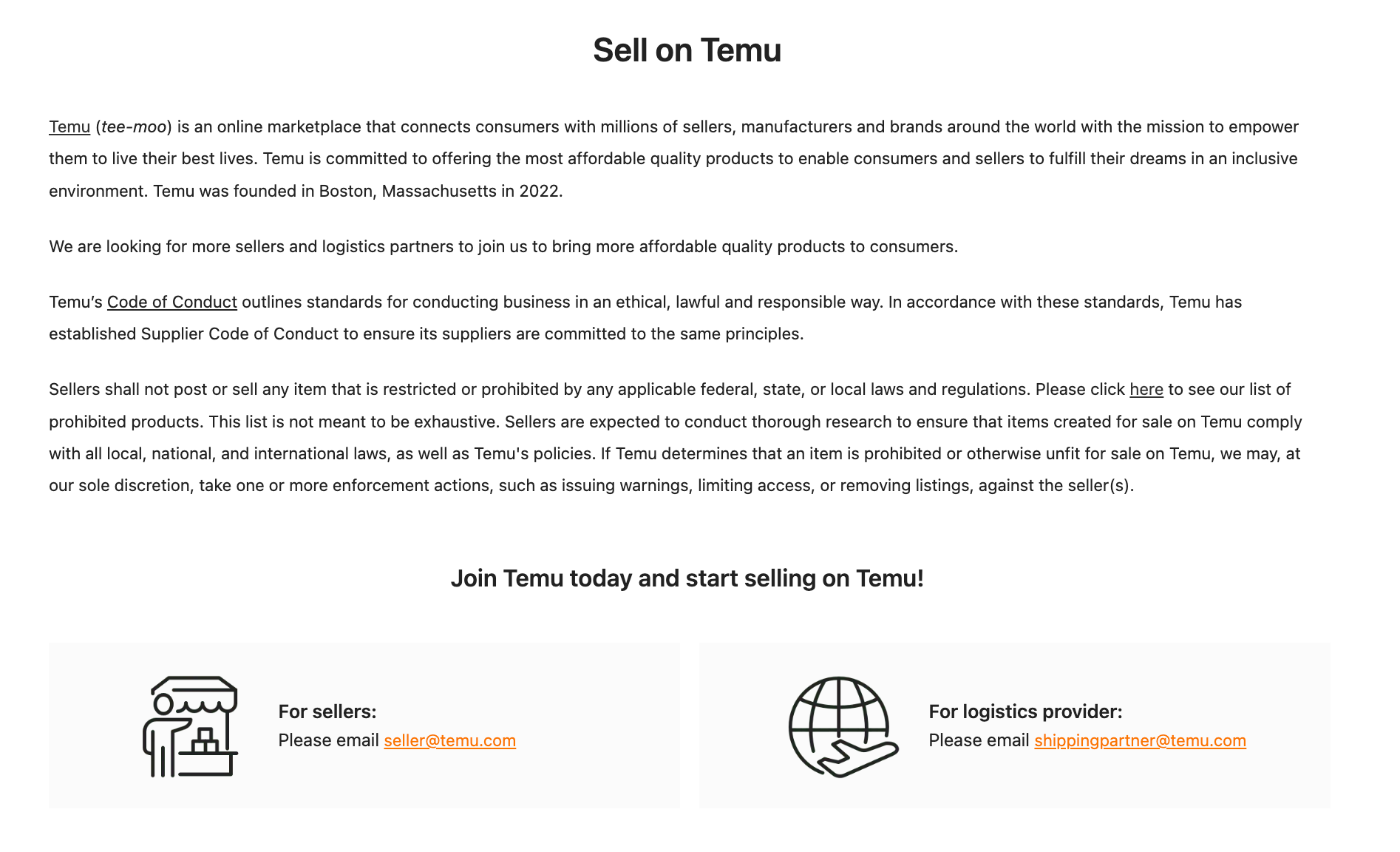 If you want to sell on Temu, they ask you to contact [email protected].
Would you buy or sell on Temu?
Temu is a very new marketplace but has grown in popularity over the last year. It is a place where consumers can look for unique products and cheap prices.
We hope this article helped clarify what Temu is and what it is for Amazon sellers.
Do you have any more questions about Temu? Let us know in the comments!
Brian Connolly is an Amazon seller, ecommerce expert, and writer for Jungle Scout. He lives in the New Jersey Shore area with his wife and cat. When he isn't writing advice online for aspiring and experienced Amazon sellers for Jungle Scout, he spends his free time boating, fishing, and selling boating-themed items on his Amazon business.