Grow your Amazon business
Get all the seller features you need to manage and scale your business.
Enhance your keyword strategy
Optimize your listings
Manage your inventory with ease
Gain insight into your finances
Get started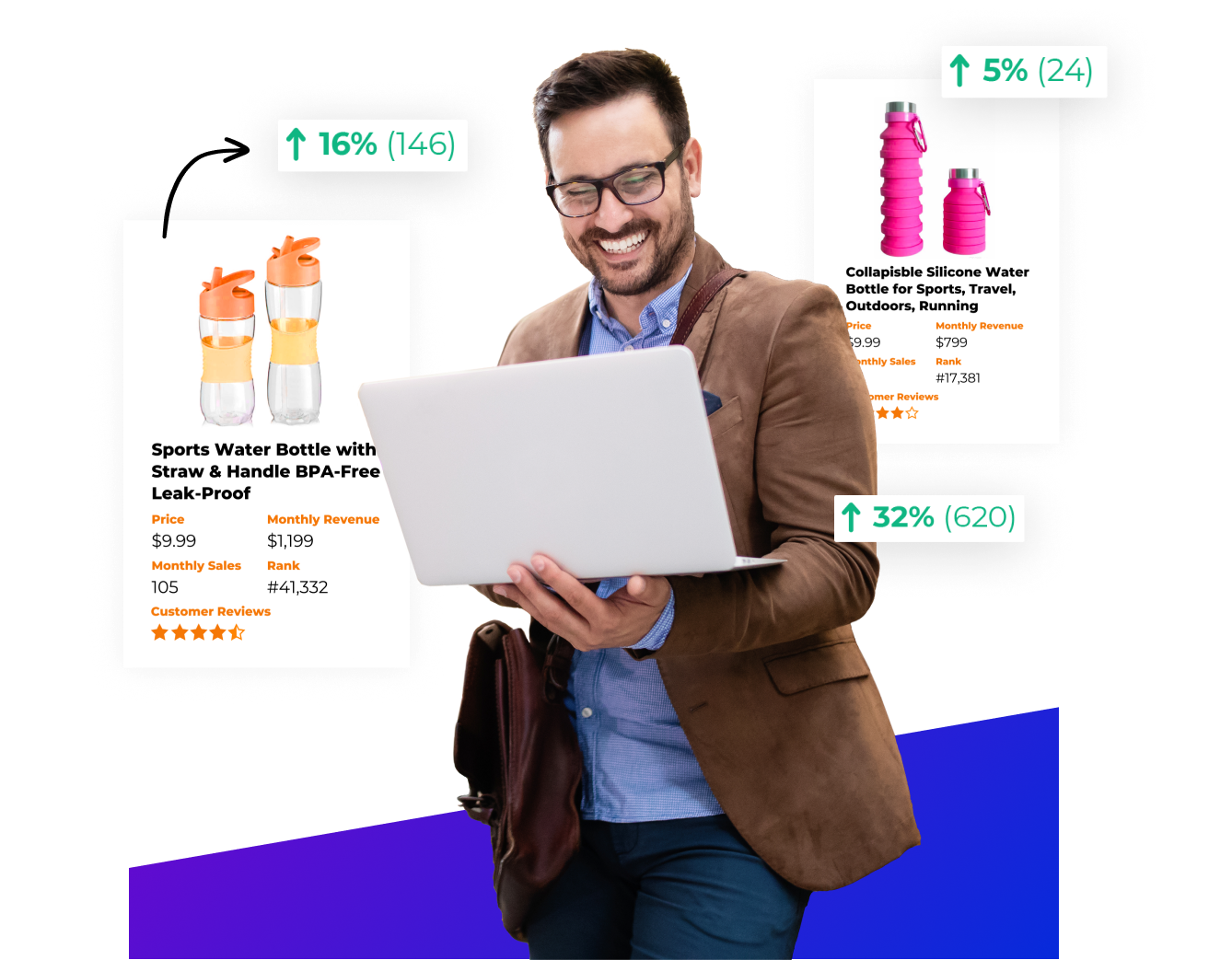 Connect your Amazon seller account to Jungle Scout to view your sales, calculate your true profits, and track your inventory.
Get started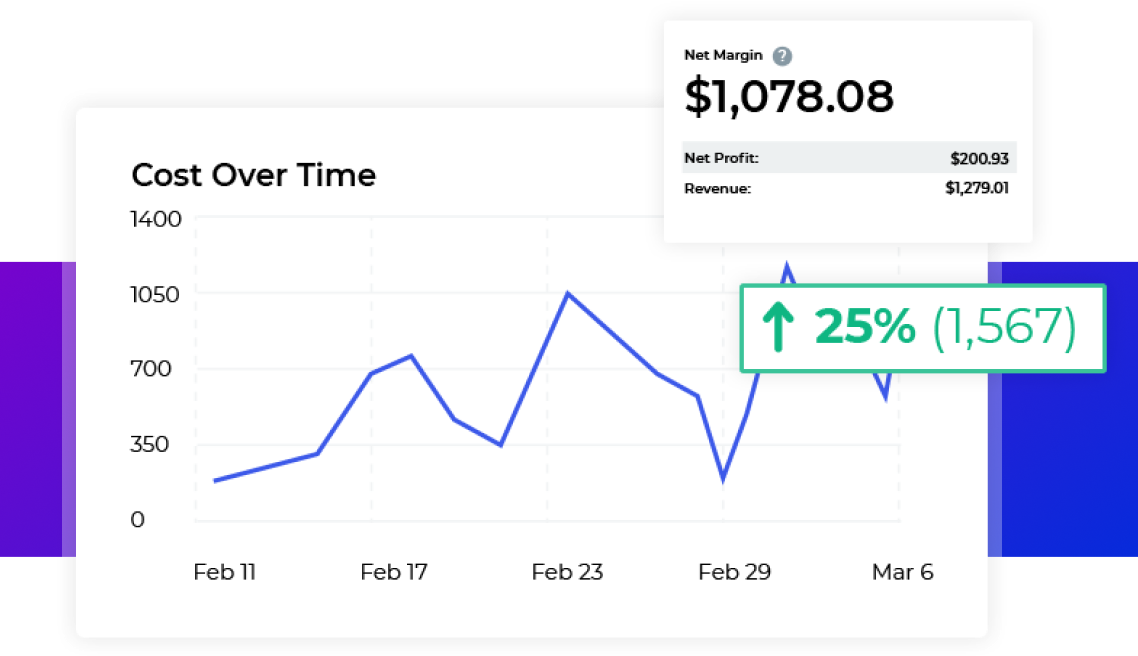 Intelligently manage your inventory
Eliminate the stress of inventory planning and prevent stockouts. Jungle Scout's demand forecasting tools harness data to predict market trends and seasonality. Our AI-powered inventory dashboard suggests optimal stocking levels, re-order dates, and re-order quantities.
Automate inventory planning with Inventory Manager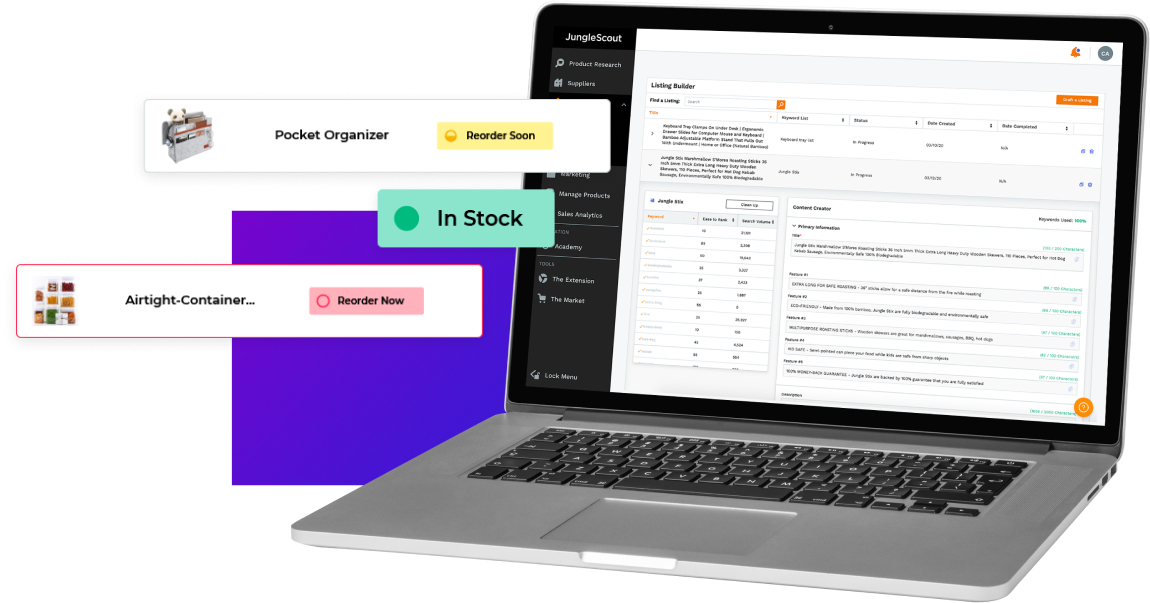 Evaluate your finances
Analyze the health of your Amazon business and see profits in real time. Create profit and loss statements, dive into PPC campaign analysis, and track hidden fees. View your finances quickly and easily, so you can feel confident in your product investment.
Get a full financial picture with Sales Analytics
NEW
Analyze your ad spend
Extract key insights for your Amazon ads and grow your business with meaningful insights for your PPC strategy. Centralize your ad and financial metrics to understand the performance of your PPC campaigns and how they impact your overall profitability at a company, ASIN, and campaign level.
Analyze your ad spend with Advertising Analytics

More resources to help your business
Opportunity Finder
Expand your product portfolio with opportunities based on high-demand and low-competition keywords.
Business Alerts
Keep a watchful eye on your product's performance and competition with customized product alerts — like changes in listing details, reviews, and price.
Promotions
Earn more reviews and boost your early product sales with promotional campaigns.
Our most popular content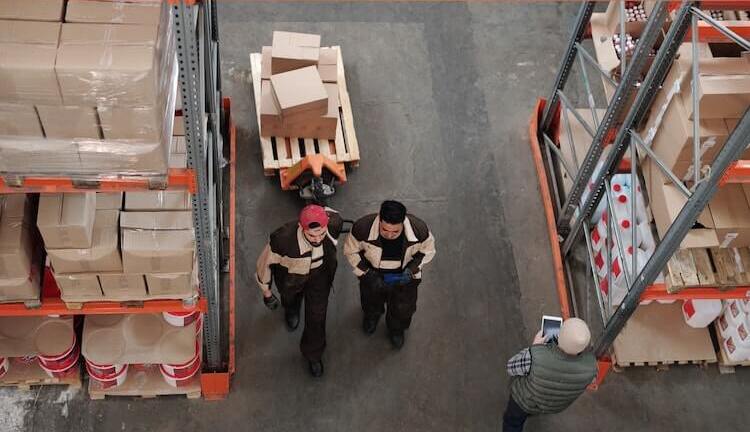 BLOG
Amazon Inventory Management Guide
Learn essential inventory management skills and stay on top of Amazon's storage and restock limits.
Read more keyboard_arrow_right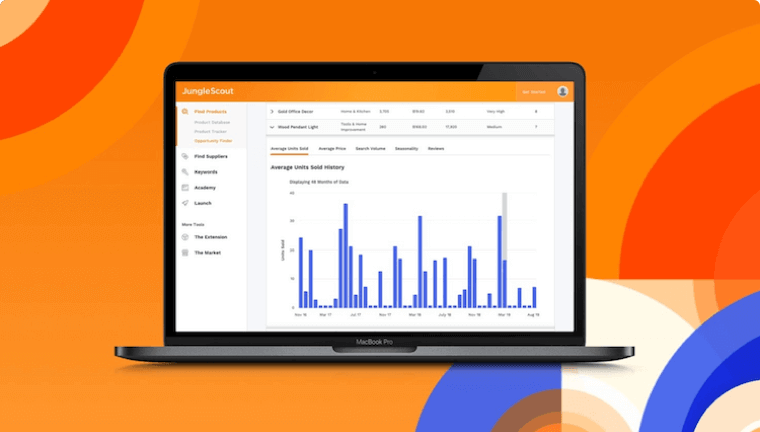 BLOG
Find Profitable Amazon Product Niches (Without Overthinking It)
Uncover profitable product niches fast with our data-driven insights
Read more keyboard_arrow_right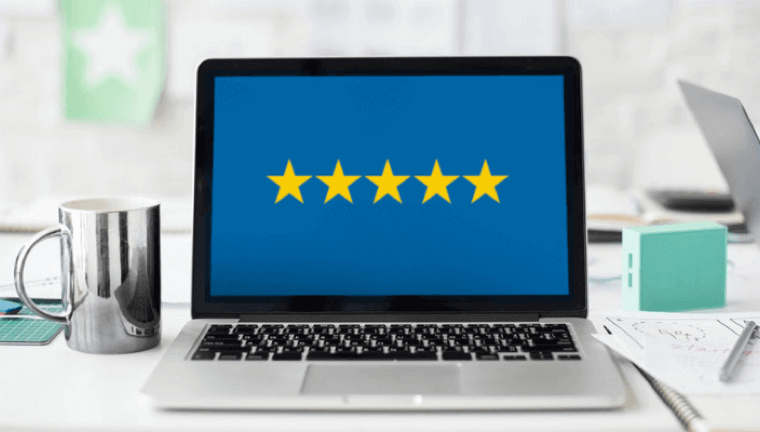 BLOG
How to Get Reviews on Amazon – 8 Proven Methods
Learn ten strategies to earn more Amazon reviews for your business
Read more keyboard_arrow_right
80% of Amazon sellers wish they started sooner
Try Jungle Scout risk-free for 7 days with our money-back guarantee.
Start today
*Based on a survey of 1,046 active Amazon Sellers