When selling on Amazon, you can follow a few different business models: private label, retail arbitrage, dropshipping, and wholesale.
The wholesale business model consists of purchasing products in bulk at a wholesale cost and reselling them at a retail price. This is the same business model many brick-and-mortar stores follow, and you can do the same on Amazon!
Reselling wholesale-priced products on Amazon is a great way to get into ecommerce, as you don't need to reinvent the wheel or launch new products. You simply resell other established brands for a profit.
But the number one question sellers ask is: where can I purchase products at a wholesale price?
We're going to answer that question and more, so keep reading!
Why purchase products at wholesale to resell on Amazon
Besides creating your own branded products through private label, reselling wholesale products on Amazon is one of the best ways to profit as a seller — 26% of Amazon sellers follow the wholesale method.
As we mentioned above, buying products in bulk at a wholesale cost is what most businesses you shop at are doing.
Think of Walmart, Target, or even your local grocery store. They're not branding or producing those products; they purchase from another brand (or distributor), mark up the price, and offer the products to their customers.
Wholesale is one of the best strategies for Amazon sellers because you can replenish your inventory month after month from a legitimate source without having to order from China or shop at local retailers.
What are some other reasons why you should purchase wholesale products in bulk to sell on Amazon?
You can buy from a reputable wholesale source
With this method, you will purchase products directly from the brand/manufacturer or distributor and receive a purchase invoice when doing so. This is important because Amazon may ask you for an invoice before selling a particular brand, and a receipt from a retail store will not work.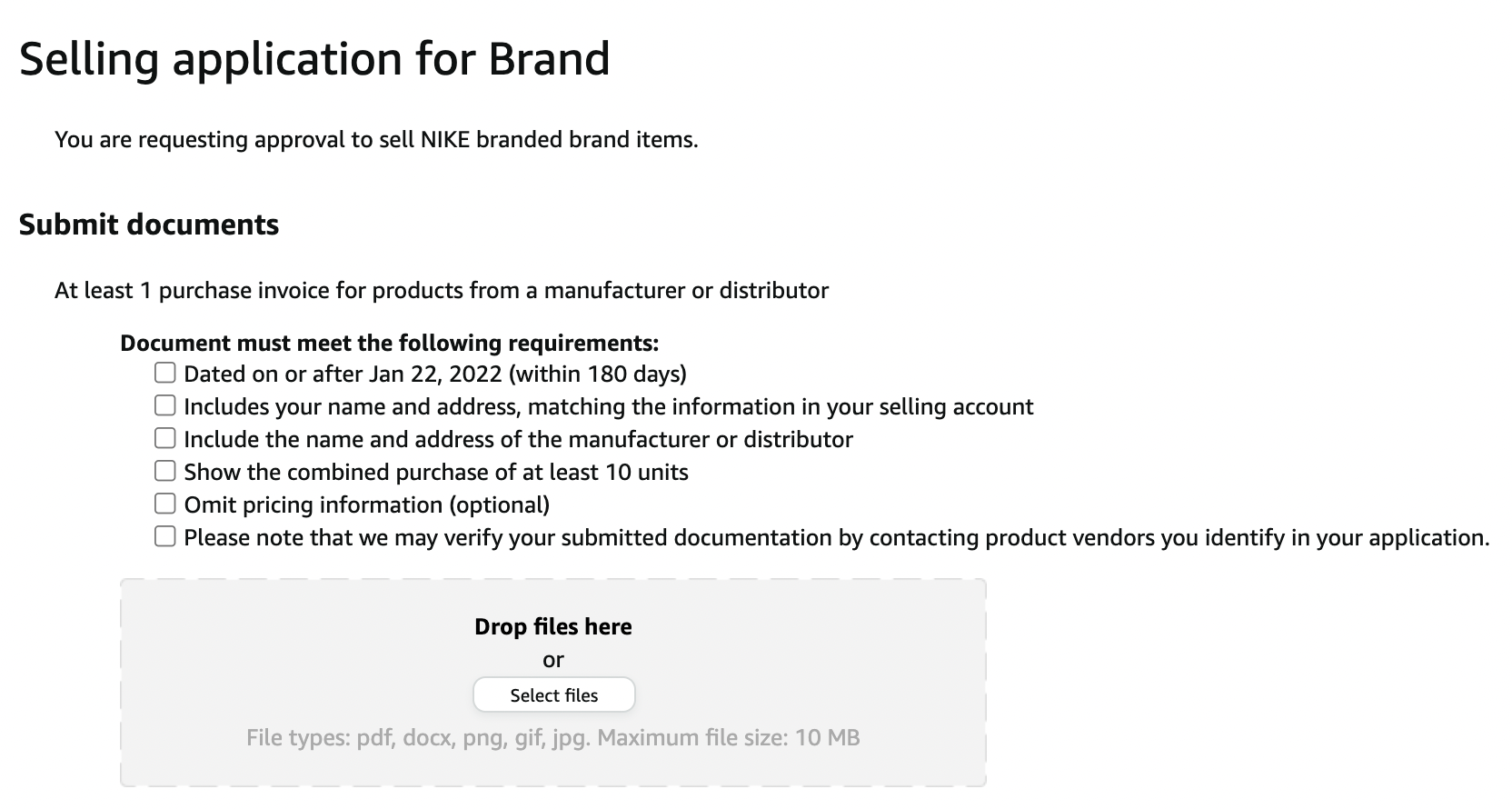 You don't need to order products from China or overseas
A huge benefit to selling wholesale products is that you can purchase from sources within your own country without going through the import process. For example, if you are in the U.S., there are thousands of distributors you can easily purchase products from and have them shipped directly to your location.

Have a replenishable source for products
Retail or online arbitrage is a great way to sell and make money on Amazon, but you may have difficulty finding the same products repeatedly. Retailers may run out of stock quickly in-store and online.
Distributors or brands likely have plenty of units in stock at all times, making it easier to re-up on inventory.
You don't need to launch a new product
You don't need to launch or create a brand new product with wholesale reselling. You are simply reselling other brands' products with their approval on Amazon or other ecommerce marketplaces.
Where to find wholesale suppliers for your Amazon business
When finding wholesale suppliers for your Amazon business, there are a few places you can start. Let's go over them now.
The best way, in my opinion, to source wholesale products, is by going directly to the brand themselves. Don't try this with large brands such as Nike or Apple but rather small to medium-sized brands that sell well on Amazon.
By contacting a brand directly, you will receive the best possible pricing on a product as you're going to the source, not a middle-man such as a wholesaler, distributor, or retailer.
The best brands to contact may be a small brand you've never heard of but have decent sales volume on Amazon.
Search for that brand on Google, find their website and contact information, and reach out to see the requirements to set up a wholesale account.
A great way to search for potential products you can purchase at a wholesale price is by using the Jungle Scout Product Database tool.
Check out this article on How to Sell Wholesale on Amazon to learn more about search criteria and how to contact the brands.
A wholesale directory can be a valuable resource for finding companies that sell products in bulk to ecommerce sellers. One resource that comes to mind is WholesaleCentral.com.
On this particular website, you can search by category and find companies that sell discounted products you can sell for a profit online.
Many wholesale directories now also feature companies that will sell directly to Amazon and ecommerce sellers, making it easy to find products you can offer.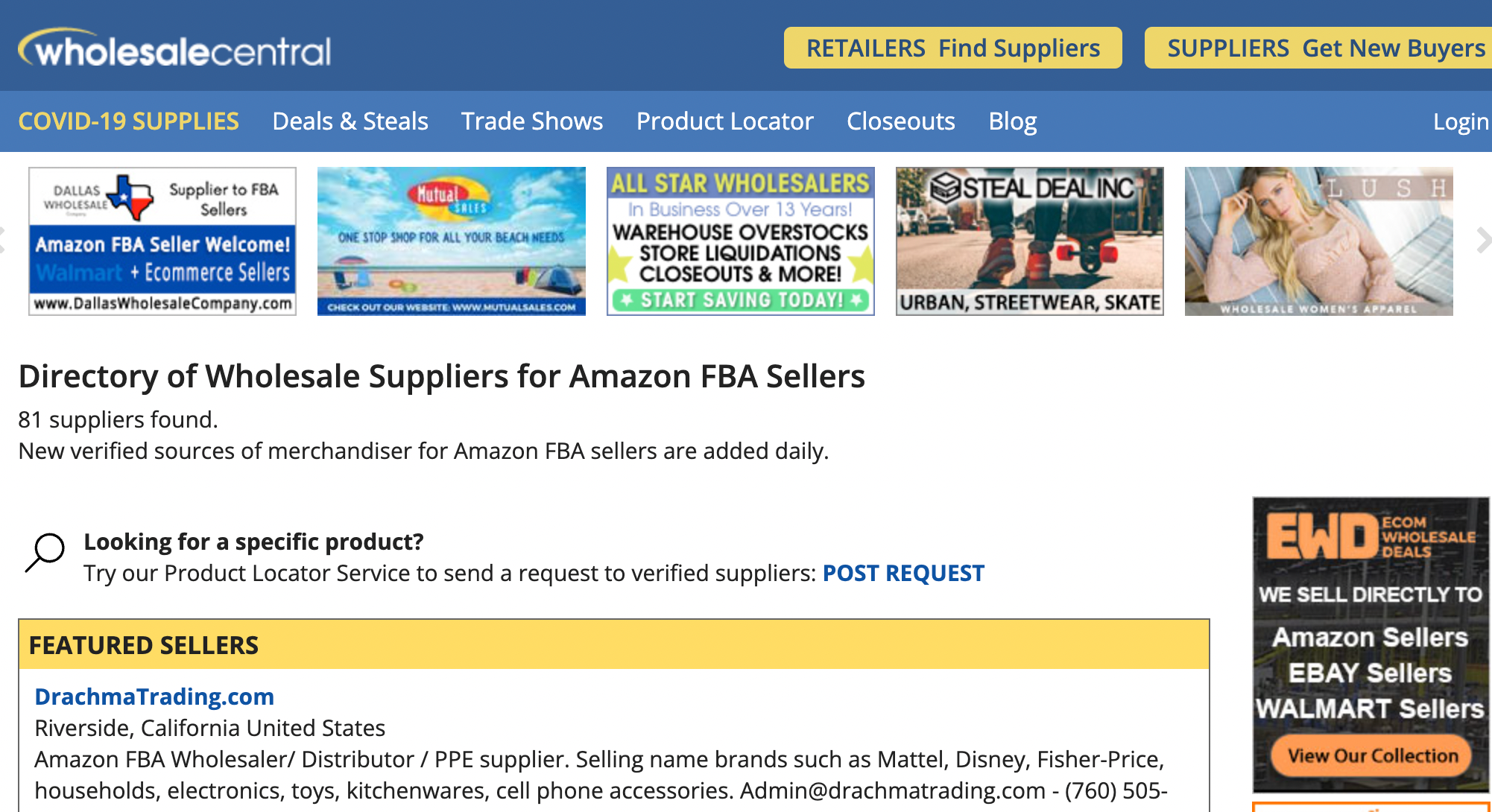 Meeting suppliers and distributors in person at a trade show is an incredible way to find unique wholesale products to sell online. By attending trade shows, you have the upper hand on 1,000s of other sellers who are also trying to source and sell the same products.
Meeting and speaking with a representative of a wholesale supplier will be much more effective than emailing or even calling asking to open a wholesale account.
With trade shows, you also see products in person and can learn more about the vendors selling the products than you could online.
Another significant benefit is the ability to build relationships with vendors so you can continue working with them in the future.
A big trade show that happens every year is ASD Market Week in Las Vegas. 2022 dates for the event are August 21st – 24th.

There is likely a distributor for each industry or niche for specific types of products. Distributors carry thousands of products from manufacturers and brands and offer those products to retailers such as yourself.
Some brands don't offer wholesale pricing directly. Instead, they'll use distributors to sell their products at a wholesale price to other retailers. So if you contact some brands asking to open a wholesale account, some may refer you to their distributors.
You can find distributors in all industries by searching for them on Google. If you are interested in selling toys, for instance, a great toy distributor is called EEDistribution.com.
This may sound obvious, but Google is a great way to find suppliers for your wholesale business. It may take some digging, but it is still possible.
Search for wholesalers or distributors in the niche that you are interested in.
How to evaluate wholesale suppliers
Now that you know how to find suppliers for your business, how do you evaluate them?
How well do they communicate?
Proper communication is crucial for a successful business partnership. If the supplier or distributor you want to work with has poor communication or takes forever to respond to inquiries, they may not be a good option for you.
What is their reputation?
For a wholesaler or distributor, it's important to determine the reputation of each business you want to purchase products from. Try to find reviews, testimonials, or current customers you can contact to ask about their experience.
Do they have inventory in stock?
Obviously, you want to be sure that the business you purchase from has the items you want in stock. For some wholesalers, you may find that they are frequently out of stock of items you may be interested in. If you find this to be the case, start looking for more reliable sources.
By this I mean minimum order quantities, lead time, and so on. Many brands you contact may have a small minimum order quantity requirement of $100, while larger distributors may have MOQs closer to $5,000. You'll also want to learn about shipping terms — how fast can they ship your items? Is there an additional shipping charge?
The most obvious point here is: what is the cost per unit of the items you're interested in purchasing? You must evaluate the company's pricing before making a large bulk purchase. Use Amazon's free revenue calculator to determine your profit and margin based on the supplier's pricing.
Start selling wholesale products on Amazon!
We hope this article gives you a better understanding of what a wholesale supplier is and how to find them to grow your Amazon business. Reselling wholesale products on Amazon is one of the best ways to sell products online.
Do you have any more questions about wholesale suppliers? Let us know in the comments?
Want to learn more about how you can use Jungle Scout to launch, grow, and run your Amazon business? Click the "Learn More" button below!