This article was written by Jungle Scout ecommerce experts with some assistance from artificial intelligence.
As an Amazon seller, you're always strategizing ways to reach new customers and increase your sales – whether by improving your listings, using Amazon Advertising, or utilizing promotions.
Running a deal or offering a discount is a great way to boost your sales and increase your conversion rate, because who doesn't love a good deal?! In fact, 53% of consumers look for on-sale items to cut back their spending.
In Seller Central, Amazon sellers have access to many advanced seller tools to help reach more customers and to sell more products. One of those tools is Lightning Deals.
Lightning deals on Amazon are a great way to increase your conversions. We'll cover them in this article, including:
What is an Amazon Lightning Deal?
​​Amazon Lightning Deals are limited-time promotions sellers can set up that offer customers significant discounts on their products sold on Amazon.
These time-sensitive deals typically last 4-12 hours (determined by Amazon), or until all of the available inventory is claimed – making them an attractive proposition for shoppers looking to snag a bargain.
Setting up a deal is easy and a great way to increase your brand awareness, as the deal will be shown on the Today's Deals page and the Prime Day page (if your deal is set up during Prime Day).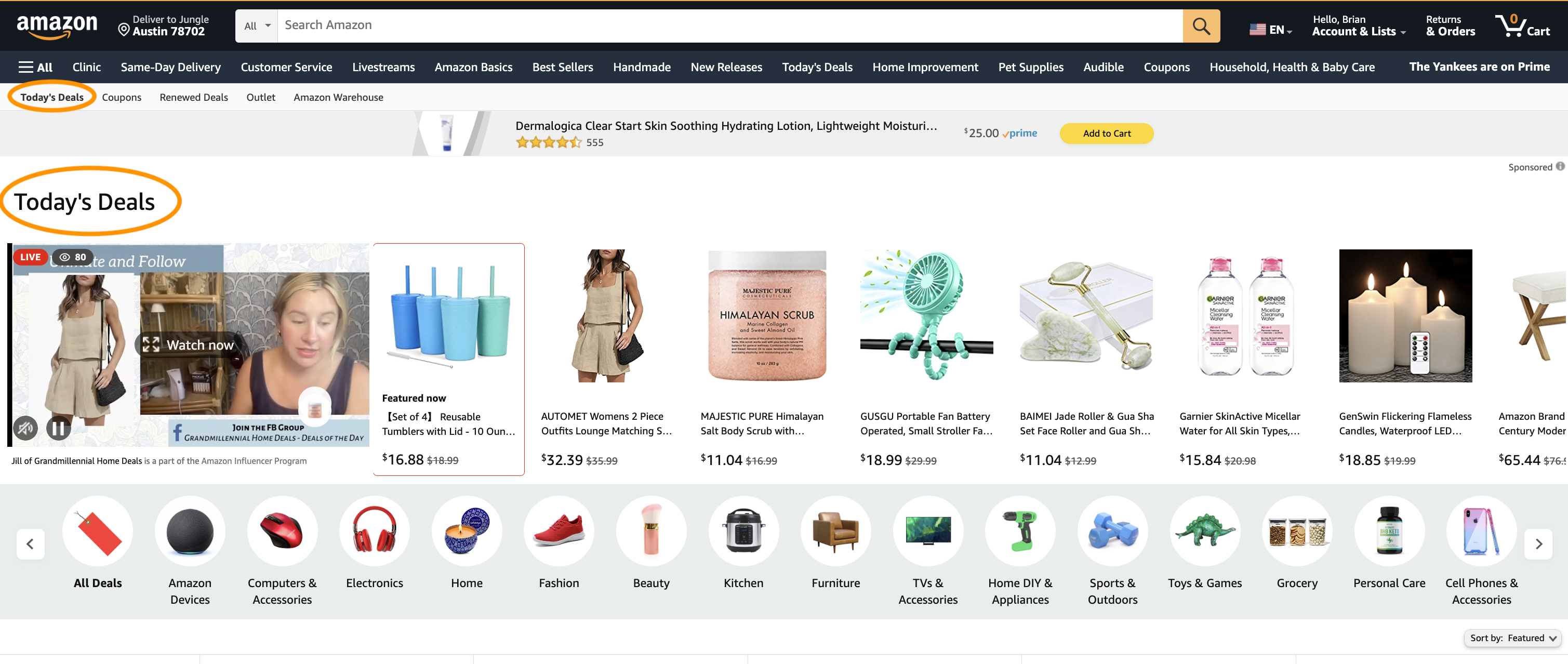 As an Amazon seller, it is important to understand how Lightning Deals work and how they can be used to your advantage.
READ MORE | How to Prepare for Amazon Prime Day 2023
What are the pros and cons of Lightning Deals on Amazon?
With any selling strategy, you must weigh the pros and cons before determining if it is right for your business. While Lightning Deals may work very well for some sellers, they may not necessarily work for all sellers. Let's go over the pros and cons of an Amazon Lightning Deal.
The Pros of Using Amazon Lightning Deals for Sellers
Increased sales.

Lightning Deals can be an effective way to drive sales and increase visibility for your products. The limited-time nature of the deal creates a sense of urgency among buyers, which can result in higher sales volumes during the promotion period.

Improved visibility.

When a product is featured as a Lightning Deal, it is prominently displayed on Amazon's Deals page and in search results, which can increase its visibility to shoppers who may not have otherwise discovered it.

Boosted reviews

. A surge in sales generated through a Lightning Deal can increase

product reviews

, which can help boost the product's overall ranking and visibility on Amazon.

Increased brand awareness.

By featuring your products as Lightning Deals, you can help to build brand awareness among potential customers. If they have a positive experience with your product during the promotion period, they may be more likely to purchase from your brand in the future.

Competitive advantage.

Running a Lightning Deal can give your product a competitive edge over similar products, especially if the deal offers a more significant discount than your competitors.

Liquidating inventory.

If you have a ton of inventory you need to unload, a Lightning Deal can help you do that. Even if you lose money in fees, removing your inventory this way is still better than liquidating it through Amazon's liquidation program (which can pay as little as $0.05 per unit).
READ MORE | Amazon Inventory Management 2023 Guide
The Cons of Using Amazon Lightning Deals for Sellers
Reduced profit margins.

Offering a steep discount on your product through a Lightning Deal can result in lower profit margins. It is important to weigh the potential sales increase against the potential profit loss before deciding to run a Lightning Deal.

Inventory management

. Lightning Deals require sellers to have sufficient inventory on hand to meet the number of committed units. If you run out of stock before the promotion period, your deal will not run, and you will lose the deal fee.

Increased competition.

With thousands of sellers on Amazon, Lightning Deals can be a competitive space, with sellers vying for shoppers' attention. If your product does not stand out somehow, generating significant sales during the promotion period may be difficult.



High deal fees.

To run a Lightning Deal, sellers must pay a non-refundable

deal fee

. Typically, Lightning Deals cost $150 per deal, but during big sales events or holidays (such as Prime Day), the deal fee could cost anywhere from $300-$500 per deal.

Potential unideal time slot.

While you can choose a date range for the deal, sellers have no control over the exact date and time the deal runs. Your deal may be scheduled during peak shopping hours

Potential poor sales.

Running a Lightning Deal does not automatically mean your product will receive a big boost in sales. If your deal performs poorly, you still pay the deal fee that Amazon sets.
Despite the potential drawbacks, Amazon sellers should consider using Lightning Deals as part of their overall marketing strategy. By carefully managing inventory levels and pricing, sellers can take advantage of the increased visibility and sales generated by these promotions.
To maximize the benefits of a Lightning Deal, we suggest promoting the deal through email marketing and social media to ensure that your previous customers or followers know about the promotion.
How to Create an Amazon Lightning Deal
Now that you know what a Lightning Deal is and the pros and cons, let's go over how to set one up in Seller Central.
1. Check your Amazon Lightning Deal eligibility
What is the minimum eligible rating for a lighting deal?
To be eligible for a Lightning Deal as an Amazon seller, you must have a Professional Seller account, and have a minimum 3.5-star Seller rating overall.
Your product must also:
READ MORE | Amazon Individual vs. Professional Seller Plans: The Complete 2023 Guide
2. Go to the Deals page in Seller Central
Even if your products and account are eligible to set up a Lightning Deal, does not mean they will be available to set up right away in Seller Central. To check, navigate to the Deals page and click on "Create a new deal."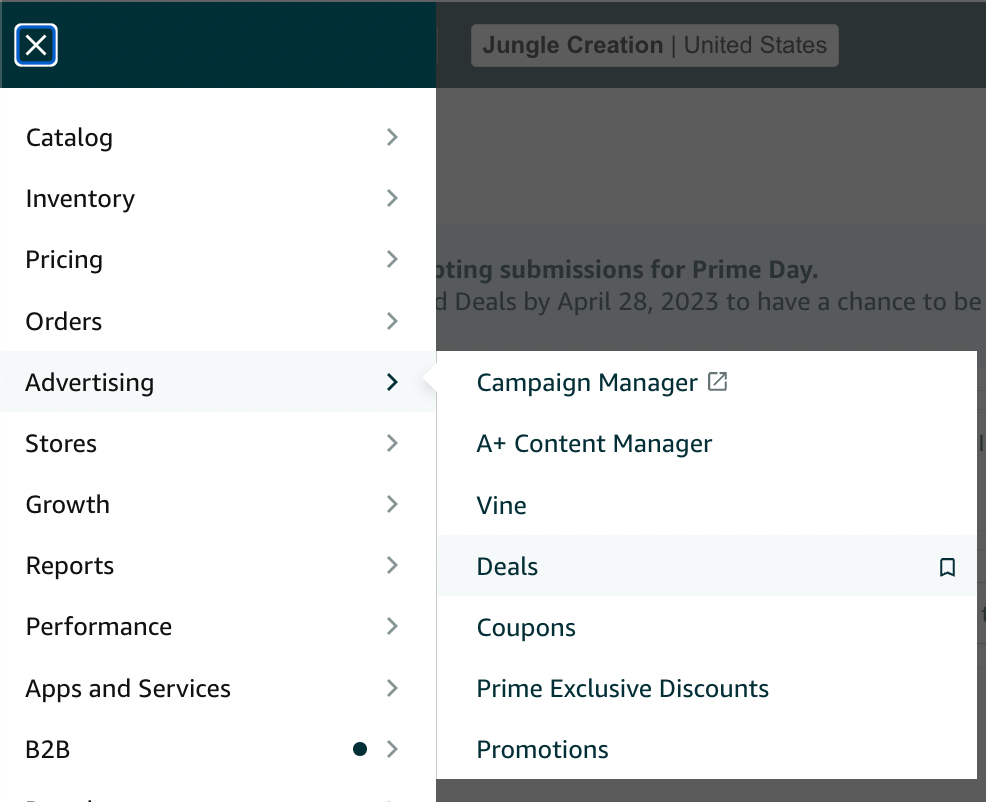 3. Choose an eligible product
If you have an eligible product, it will appear on this screen where you can move on to set up your deal.

4. Schedule your Amazon Lightning Deal
After you choose the product you want to set up an Amazon Lightning Deal for, you'll need to pick a date range for the promotion. Amazon doesn't allow you to pick the actual day and time that your Lightning Deal will appear.
Once your deal is approved, you can see the scheduled date and time in the Deals dashboard one week before the deal is scheduled to run.
5. Configure your Lightning Deal
Once you have the time period set, you'll need to enter the deal's pricing and the number of units available.
Amazon requires that you give at least a 15% discount and will tell you the maximum deal price, the minimum discount you need to provide, and the minimum amount of units you commit to the deal.
If your product has variations, you can offer some or all of the variations.

6. Review and submit
If everything looks good, submit your Lightning Deal for approval! You cannot influence the actual date and time of the deal, so your deal may be set up for a random time when not many of your buyers are online.

Regarding Lightning Deals, Amazon states that, "By submitting this deal, you agree to pay the listed fee if it runs on the Amazon Deals page. Amazon does not guarantee sales from this deal, nor provides fee refunds."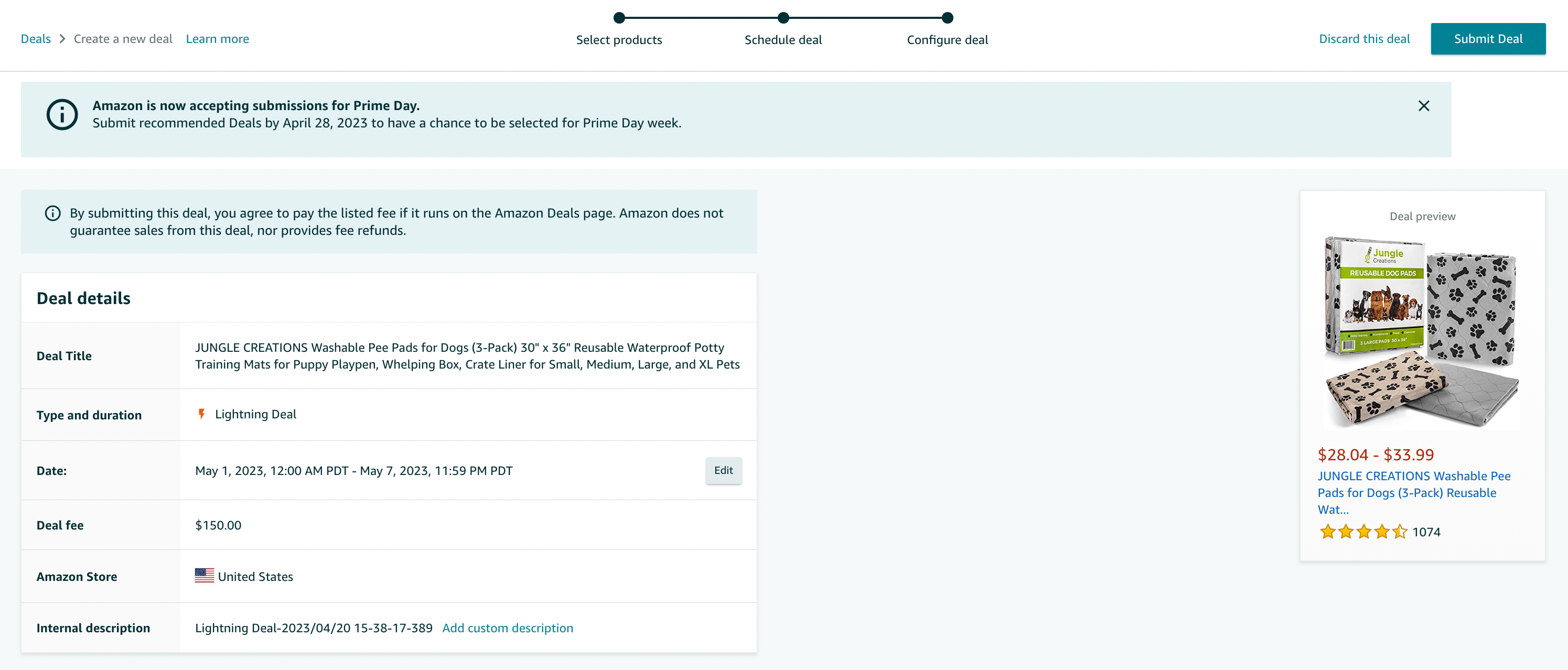 Are Amazon Lightning Deals worth it for sellers?
Deciding whether Amazon Lightning Deals are worth it for sellers depends on several factors, including the seller's overall marketing strategy, the type of product being offered, and the seller's profit margins.
While Lightning Deals can be a powerful marketing tool, they aren't suitable for every seller or every product.
Here's how to assess whether Amazon Lightning Deals are worth it:
Check your profit margin
One important consideration for sellers is whether their profit margins can support offering a significant discount. Lightning Deals require sellers to offer products at a steep discount, a minimum of 15% off the regular price.
This may not be financially feasible for some sellers, especially if they are already operating on thin profit margins. Do the math with Amazon's free FBA Revenue Calculator to determine if you can profit after each sale.
Let me show you can example using a variation of the Million Dollar Case Study product, Jungle Creations Washable Pee Pads. For our 18" x 24" variation, the original price is $30.99. If we run a Lightning Deal, the maximum price we set is $28.04. Let's see if we would still be profitable.
For this example, let's assume our landed cost the each unit is $10.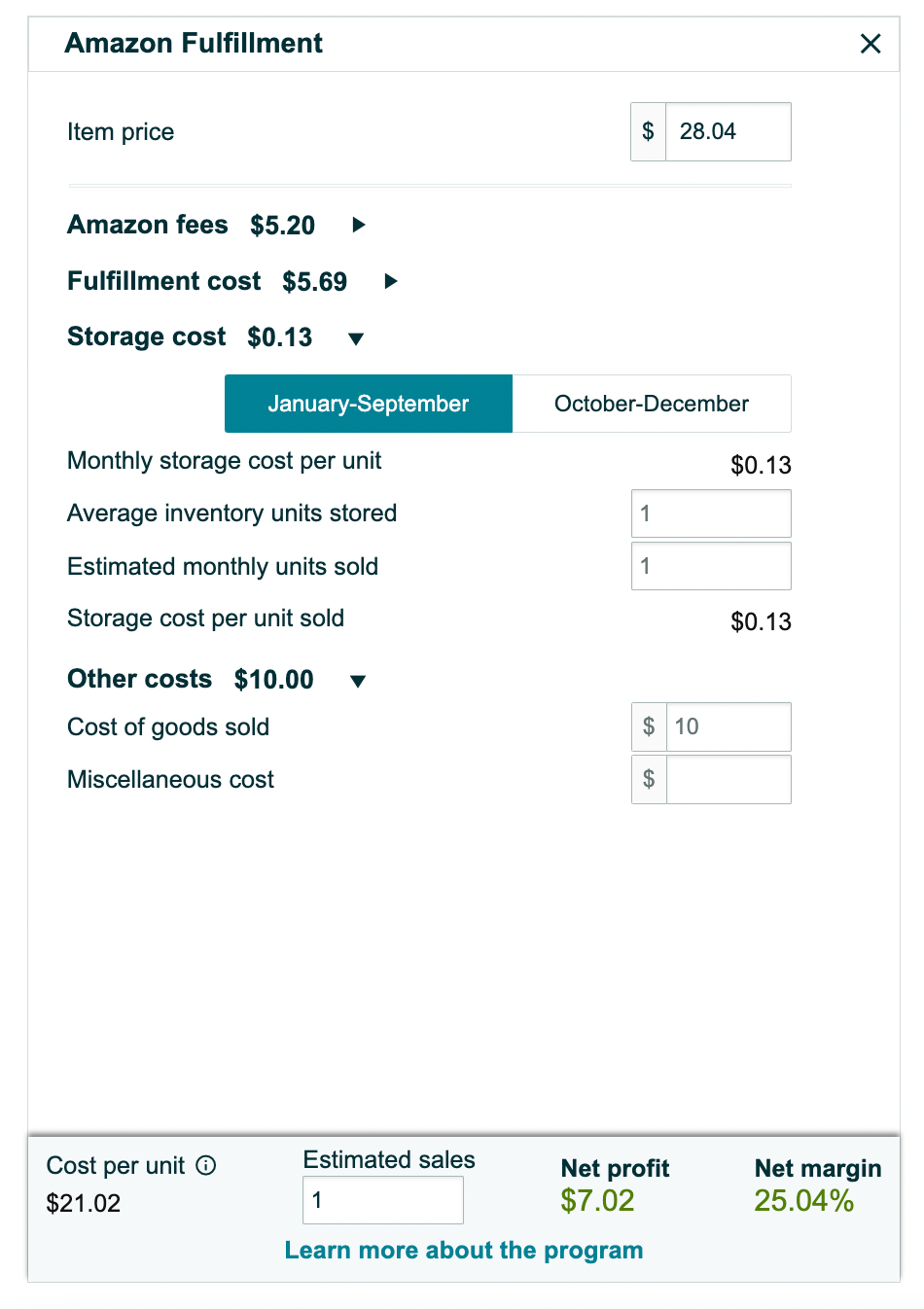 After plugging in our Lightning Deal selling price and cost of goods sold, we can see that we will still be profitable per sale after all Amazon fees.
Since we have some room in our margin, we can offer a greater discount to increase our chances of selling more units during this sale.
You should also determine your break-even point to see how many units you need to sell in order to cover the Lightning Deal fee.
For example, if your net profit after landed costs and Amazon fees is $10, and the Lightning Deal is $150, you must sell at least 15 units to cover that fee. All units sold after that point will be profitable.
In this example, if you sell an average of 20 units per day at your regular price, running a Lightning Deal may be worth it.
What type of product are you selling?
Another factor to consider is the type of product being offered. Certain products, such as seasonal items or products with a short shelf life, may be more suited to Lightning Deals than others.
For example, a seller offering holiday-themed products may find that running a Lightning Deal during the holiday season generates significant sales and improves product visibility.
Marketing strategy
Sellers should also consider how a Lightning Deal fits into their overall marketing strategy. While Lightning Deals can generate a surge in sales, ensuring that the deal aligns with the seller's overall branding and marketing goals is important.
A seller who offers premium products may find that offering steep discounts through Lightning Deals undermines the perceived value of their brand.
Have you run a Lightning Deal on Amazon?
Amazon Lightning Deals can be an effective way for sellers to increase sales, boost brand awareness, and improve product visibility on Amazon.
However, it is important to weigh the benefits against the drawbacks before deciding to run a Lightning Deal. We hope this article helped answer your questions surrounding Amazon Lightning Deals!
Do you have any more questions? Please let us know in the comments.
Want to get started doing keyword research and launch your own products on Amazon? Jungle Scout's essential data and suite of tools will help you win on Amazon.