Shipping to the Amazon warehouses can be confusing for FBA sellers. There are multiple options to choose from and regulations to consider.
And if you're shipping your product from China or any other foreign country, you'll also be navigating customs and any tariffs related to your product type.
The good news is there is a short checklist of decisions you, the seller, will need to make. The complex logistics and paperwork can be handled for you, depending on how hands-off you'd like to be.
This preparation will not only help you determine the details of your first shipment but all shipments thereafter.
Note: Make sure you don't forget extremely important shipping dates (like the last day to send inventory to Amazon before the Q4 holidays) by downloading our Amazon Seller Holiday Calendar.
FBA Shipping Checklist
No matter where you're at in the selling process, you can use this breakdown as a guide. But when you're ready to ship you'll need:
The following steps can be completed in any order you see fit, as long as you consider each one for your Amazon shipping plan!
1. Negotiate with your supplier
The first and most important step comes at the very beginning of your supplier search to source your product. When you begin discussions with potential suppliers, now is the time to confirm shipping plans.
Generally, the cost per unit for your order quantity is an all-inclusive landed cost.
A lot of times when we are discussing the cost of selling on Amazon, we refer to a product's landed cost.
Landed Cost = Cost Per Unit + Freight Cost + Customs Charges
This means when you're finding a supplier for your product, your negotiations will tend to include all shipping and import charges to roll into the cost per unit to manufacture.
Alternatively, you can choose a third-party freight forwarder to handle the entire shipping process.
What is a freight forwarder?
A third-party shipping service that will communicate with your supplier to coordinate all of the shipping details. They will know exactly what to do each step of the way and the kind of paperwork that is needed to clear customs.
If you go this route, you'll discuss your needs with them to receive a quote that is separate from the manufacturing cost with your supplier.
2. Choose your incoterms
Incoterms are standard freight terms that are used in international shipping agreements.
To put it simply, they describe who is responsible and liable for moving your products from point A to point B.
It is important that you establish incoterms with your supplier BEFORE they begin manufacturing your product. It will affect the total cost of your order, and you can decide if you want your supplier to handle all shipping or if you need to hire a freight forwarder to take over.
There are 11 different types, but the most common incoterms you should be familiar with are:
FOB (Free On Board)
The supplier is responsible for getting your goods from the factory to the port. This cost is added to the manufacturing cost.
EXW (Ex Works)
The seller is responsible and liable for the entire shipment from door to door. (This is when you would use a freight forwarder to step in).
DDP (Delivered Duty Paid)
The supplier is responsible for arranging carriage and delivering the goods at the named place, cleared for import and all applicable tariffs and duties paid. This is the opposite of EXW!
FCA (Free To Carrier)
The seller is responsible and liable once the shipment is handed over to the carrier, typically near the port in the country of origin.
Most suppliers will have a preferred incoterm and you will discuss this during your negotiation process. As long as you have a grasp on the most common methods above, you'll have enough knowledge to negotiate.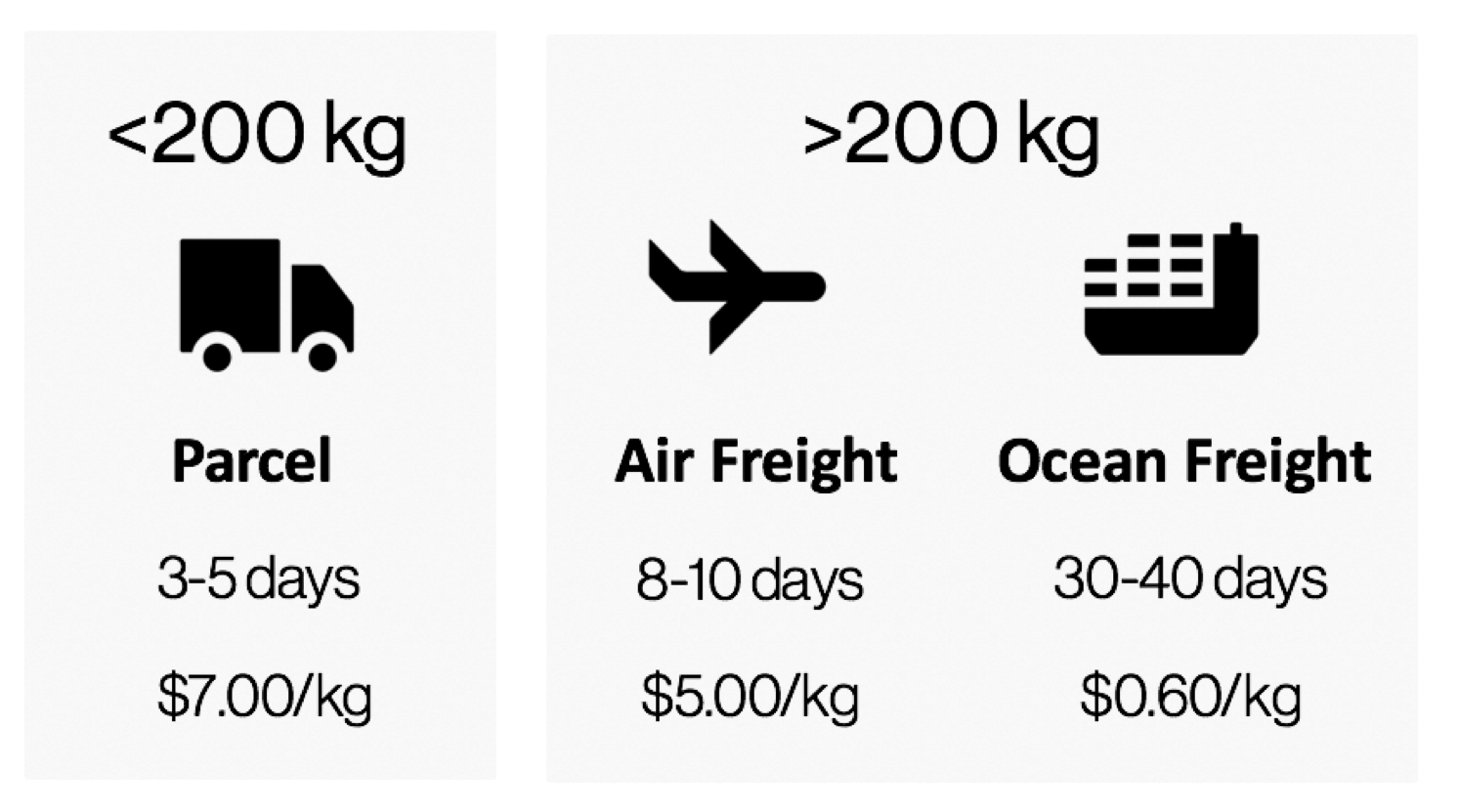 3. Choose by air or by ocean
This decision and cost comes down to the weight of your shipment.
Shipping by ocean is generally the cheapest option, but also the slowest. At Jungle Scout, we stick to these guidelines:
For ocean shipments, always use a freight forwarder
For air shipments, use a freight forwarder if your cargo weighs more than 200 kg
If your cargo is less than 200 kg, then you can go through your supplier, who will leverage DHL Air Express
We find freight forwarders are too expensive for shipments of less than 200 kg.
For your first shipment, we go with air to get our products up and running ASAP. For future and/or larger shipments, we can always consider shipping via ocean if our timing is right.
The size of your product and order quantity will determine whether it's boxed, palletized, or shipped in a container (full or partial).

You, the seller, do not need to make this decision. Your supplier or freight forwarder can confirm these details.
4. Create a shipping plan in Seller Central
This is a multi-step process that we laid out during an episode of the Million Dollar Case Study.
Once you're on the Manage Inventory screen and filling in the information, keep these helpful tips in mind:
a. Name your shipment.
Make sure this is easy to identify and track on your end, whatever makes sense for you.
b. Enter the address you are shipping from.
This is the location from which your shipment will be picked up for final delivery to an Amazon fulfillment center. It is not your supplier's address.

Use the final destination your product will land at before going to Amazon. This ensures that your shipment is routed to the closest Amazon warehouse facility, so make sure the address is precise and confirmed by your supplier or freight forwarder – whoever is handling the shipment!
c. Specify the packing type.
You will select either individual products (usually for large, oversized products) or case-packed products.
d. Specify the units per case and the number of cases.
This information is readily available from your supplier and can be confirmed with each shipment plan in case anything changes.

e. Choose who is prepping the packages.
Amazon wants to know if they are handling the packaging of each product (i.e. bagging or bubble wrapping) or if your supplier will be (select "Merchant").
Typically this is more affordable to have your supplier handle, and you can write it into your manufacturer agreement and cost per unit.
f. Choose who is labeling the packages.
Again, you need to determine if Amazon or your supplier ("Merchant") will handle this part to apply the FNSKU barcode to each product.
Before you leave this screen, you can print and save the PDF to send to your supplier so they can label each product.
g. Create and approve the shipment.
It's important to note that you MUST follow through on this shipment! Failure to do so may result in the suspension of your rights to deliver goods to Amazon and even suspension of your Amazon account. So triple-check your info before hitting approve!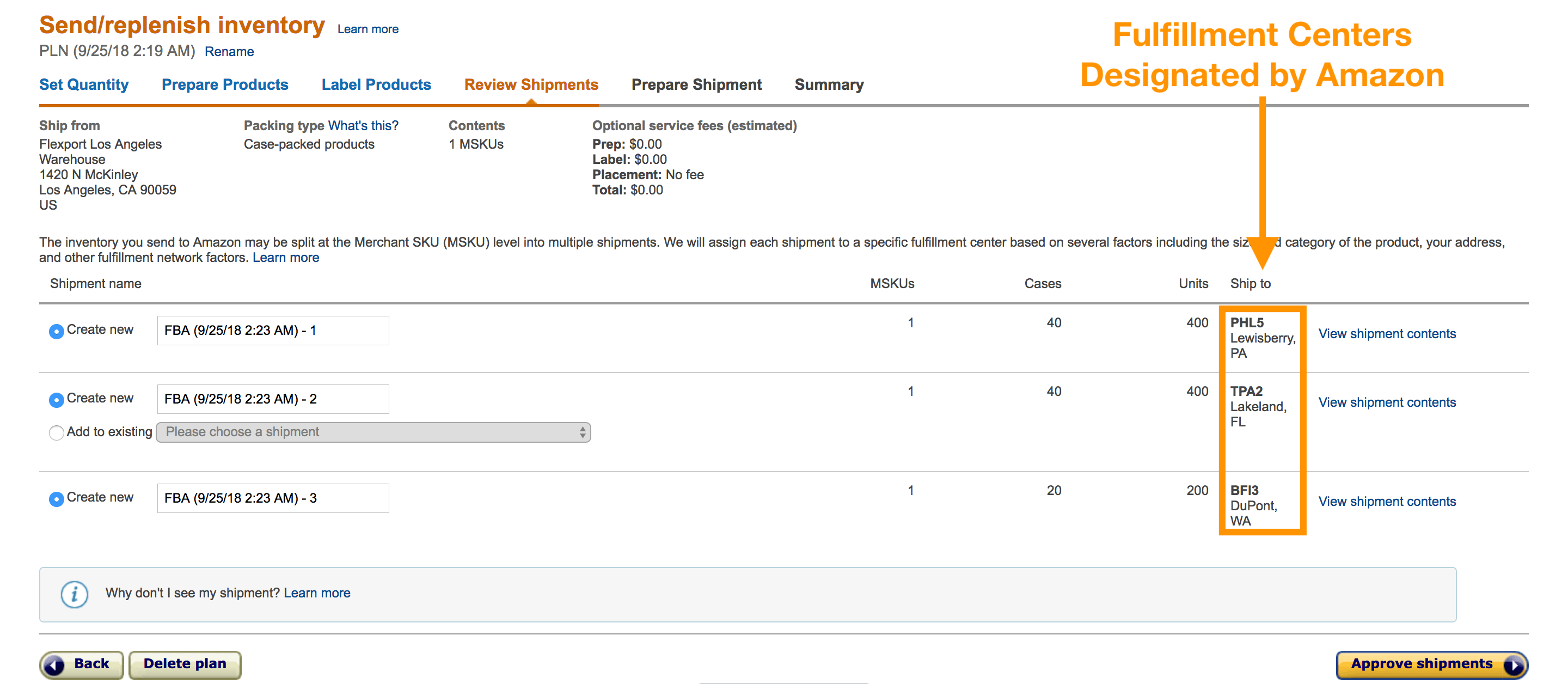 5. Send address and shipping labels
Amazon will automatically select the fulfillment center location(s) to ship your products to. You will see this on your shipment plan screen before you hit the final approval button.
This information will need to be sent over to your supplier or freight forwarder to coordinate the shipping details on their end.
6. Select the final delivery method
This is the final leg in your FBA shipping journey to get your products into an Amazon warehouse!
This step is also known as the last-mile delivery and you can choose to ship less-than-truckload (LTL) or small parcel delivery (SPD).
After you've approved the shipment in Seller Central, you can work on each shipping location individually. On the "Center Replenish Inventory" page you will select LTL or SPD and the carrier.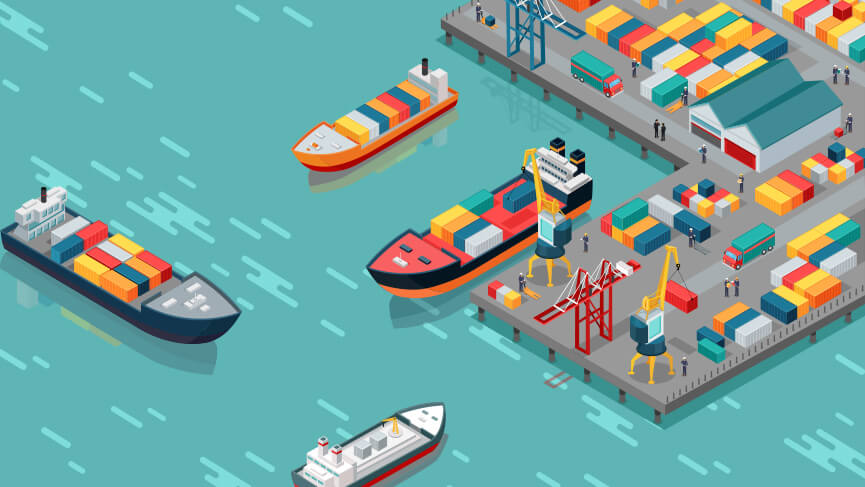 Things to consider
You can involve yourself in the shipping process as much as you're comfortable with.
There are always extra services and add-on fees for your convenience. The question is, do you want to pay for them?
Since each seller has their own budget and end goals, the following considerations are not always for everyone.
Purchase product insurance
The most common incoterms typically do not include any type of insurance for your shipment. For added protection of your goods, you should discuss this during negotiations with your supplier or freight forwarder.
It is crucial to include this specifically in your supplier agreement and the terms of sale. By purchasing cargo insurance, the value of your products is covered throughout transit.
Amazon Inventory Placement Service
This service allows FBA sellers to send shipments to just one warehouse, instead of splitting them up and sending them to several fulfillment center locations.
This method is quicker, and fewer shipments mean less room for error.
Third-party warehouse
This option is potentially a big cost-saver. Amazon FBA always comes with storage fees, depending on the size of your product and how much space it takes up in their warehouses.
By using a third-party warehouse, you cand find a significantly cheaper storage option. However, if you're still planning to have Amazon take care of all of the shipping to your customers, you will still need to send shipment from your third-party warehouse to an Amazon warehouse.
If you choose this route, you should be well-versed in the flow of your inventory to make sure you're never out of stock! I'd reserve this option for more experienced sellers.
Protect your IP
Take extra precaution to ensure that your supplier won't sell your product to other clients, or sell the product themselves. You will need to have them sign a non-disclosure agreement that falls under Chinese legal jurisdiction, and may be an added cost.
Although contracts like these tend to have high minimum order quantities and long-term commitments, if your product sells well, you can plan to do this down the road as your business grows.
Unplanned Prep Service fees
You should note that you will be charged for any units requiring labels that are received with barcode label missing.
All things considered, each step of your FBA shipping checklist will be unique to your specific needs. Some sellers are more hands-on than others, while many would rather pay a higher price to have someone take care of every single detail.
What concerns do you have with shipping? Let us know your specific issues in the comments below.