Selling on Amazon is lucrative, flexible, and a major source of income for Amazon's 6 million sellers. In fact, anyone can sell on Amazon if they have the right resources and time.
And while the majority of Amazon sellers use Amazon's Fulfillment by Amazon (FBA) method to store and ship products from Amazon's warehouses, there is another option.
With Amazon's FBA inventory restock limits affecting many sellers, some have opted for FBM, or Fulfillment by Merchant, to handle the process themselves for the 2022 holiday season and into 2023.
We'll tell you what you need to know about getting started selling on Amazon and how to fulfill products via FBM.
You'll also learn:
How to sell on Amazon
Selling on Amazon is a great way to earn extra income or to expand a business you already have, and it's something you can start building today.
64% of Amazon sellers are profitable within a year

14% of Amazon sellers have lifetime profits over $100,000

64% of sellers spend

fewer than 20 hours per week

working on their Amazon businesses
Everyone's experience selling on Amazon is unique, so your first step is to consider what kind of business you want to create.
We'll review the main decisions you'll have to make and provide an introduction to the basics of how to sell on Amazon. If you'd like to learn more, be sure to read our free in-depth guide: "How to Sell on Amazon FBA."
Step 1. Select your marketplace
Amazon has 20 global marketplaces:
Australia

Belgium

Brazil

France

Germany

India

Italy

Japan

Mexico

Netherlands

Poland

Saudi Arabia

Singapore

Spain

Sweden
Turkey
United Arab Emirates

United States
While you are free to sell in any marketplace you like, we recommend the following guidelines:
If you are a US seller

,

sell in the US marketplace

. The US is not only the largest of the Amazon marketplaces, but it is also the easiest place to get started.

If you are a seller living in the EU or the UK, sell in the EU marketplace

. The second largest Amazon marketplace in the world is the EU marketplace. It encompasses the UK, Germany, France, Spain, Italy, Poland, and the Netherlands. Although it's not as easy to sell on as the US marketplace because of taxation and language barriers, it is convenient for EU-based sellers.

If you are a seller living anywhere else in the world, sell in the US marketplace

(even if you have another marketplace in your country). The other global marketplaces do not have nearly the traffic as the US marketplace, therefore, it's better to forego those marketplaces for the larger, simpler US marketplace when starting.
Step 2 – Select your business model
Amazon lends itself well to various business models that fit all different budgets, time investments, and seller personalities. But, the business model you select depends largely on whether you know what you want to sell on Amazon or not.
Jungle Scout can help you identify a high-demand, low-competition product to sell or validate a market opportunity for something you already have or make yourself.
Here are the most popular business models for Amazon sellers:
There are also methods of selling on Amazon that are for digital products or are a little more niche, such as Kindle Direct Publishing or Amazon Merch.
Step 3 – Select your fulfillment method
There are two methods for fulfilling products on Amazon: FBA and FBM.
Fulfillment by Amazon (FBA): A method of selling on Amazon in which a seller (or a seller's supplier) sends their products directly to Amazon's warehouses. Amazon then stores the inventory and ships it directly to the customer (often through 2-day Prime shipping) and manages customer support.
Fulfillment by Merchant (FBM): A method of selling on Amazon in which a seller lists their products on Amazon, but manages all storage, shipping, and customer support themselves (or through another third party). This is also referred to as a Merchant Fulfilled Network or MFN.
89% of Amazon sellers use FBA

68% of Amazon sellers use

only

FBA

21% of Amazon sellers use

both

FBA and FBM

32% of Amazon sellers use FBM

11% of Amazon sellers use

only

FBM
Step 4 – Create an Amazon seller account
After deciding what you'll sell and how you plan to get your products to your customers, you'll need to get your business set up — it's easier than you might think.
Creating your business
You will need to have a named business at this point. The name of your business can be anything you like, but we recommend you keep it relatively generic in case you want to pivot your focus in the future (say, from Smith Spatulas Co. to Smith Home Goods if you expand/change your product focus).
However, you don't need to file your business as a corporation or LLC when you're starting out. You can sell on Amazon as a sole proprietorship, meaning that you use your personal tax ID. Although, depending on the state or country that you live in, you may still need to file a Do-Business-As (DBA) form for the name of your business.
Once you have your business information, you can create an account in Amazon Seller Central.
Prepare all of the information you will need:

Business information (your business name, address, and contact information)

Email address

Credit card

Phone number

Tax ID

(Federal and State)

Go to Amazon Seller Central (

sellercentral.amazon.com

) and click the box that says 'Register now'

Decide if you want to be a

professional or individual seller

Enter your information into Amazon
Step 5 – List a product
As soon as Amazon approves you for selling on the platform, you can start listing products.
There are two ways to do this.
1. Sell on an existing product listing
First, if you are selling a product that already exists in Amazon's catalog, all you need to do is go to the existing listing and click the 'Sell on Amazon' button.
From there, add the information for your offer:
Your price

Condition (new or used)

Quantity (if you have more than one)

Fulfillment channel (FBA or FBM)
2. Create a new product listing
If the product has never existed in Amazon's catalog, you will need to create a new listing. To do this, you must:
Log into Seller Central

Click Inventory > Add a product

Click 'I'm adding a product not sold on Amazon'

Enter in the details for the product
After you have created your listing, it will take between a few minutes to an hour for your listing to appear in Amazon's catalog.
Step 6 – Fulfill your orders
When you make a sale on Amazon, you will need to fulfill the order.
If your products are sold via Amazon FBA, then Amazon will handle fulfillment for you and make sure your customers receive your products. However, if you are selling your product via Amazon FBM you will have to handle and ship your own order.
Each Amazon fulfillment method has its pros and cons.
The pros and cons of FBM
Before we cover the details of how to ship products using Amazon's Merchant Fulfilled Network, here are a few pros and cons to shipping via Amazon FBM. (Data from Jungle Scout's 2022 State of the Amazon Seller Report.)
Pros of Amazon FBM:
FBM sellers earn more revenue
33% of FBM sellers earn more than $25,000 per month in revenue compared to 26% of FBA sellers.

53% of FBM sellers have total lifetime sales over $100,000, versus 46% of FBA sellers who say the same.
FBM sellers spend less money to start their business
37% of FBM sellers started with less than $1,000 versus 27% of FBA sellers.

35% of FBA sellers started with more than $5,000 versus 27% of FBM sellers.
FBM sellers start their businesses faster
51% of FBM sellers took less than six weeks to get started on Amazon versus 34% of FBA sellers.

47% of FBM sellers realized a profit in fewer than three months versus 38% of FBA sellers.
FBM sellers
have a back-up plan in place
During the holidays, when unloading times for inventory replenishment may slow down an FBA seller's business, FBM sellers can continue to receive orders and ship goods.

When emergencies (such as the COVID-19 pandemic) occur and Amazon stops shipping certain products, FBM sellers can continue to receive orders and ship goods.
Cons of Amazon FBM:
FBM sellers spend more time on their business
20% of FBM sellers spend more than 40 hours per week on their Amazon business versus 16% of FBA sellers.
FBM sellers are more concerned about competition.
72% of FBM sellers are concerned about increased competition driving down prices versus 70% of FBA sellers.

57% of FBM sellers are concerned that Amazon sells products that compete directly with their own versus 51% of FBA sellers.
For Amazon beginners, FBM costs can be higher than FBA costs
While it might seem like sellers who pick, pack, and ship their own goods have lower costs than those who use Amazon FBA and must pay FBA fees, when the total costs are compared, FBM sellers often spend more to ship products.
Use Amazon's FBA calculator to compare the costs and profits to ship the product yourself versus Amazon doing it for you.
FBM sellers must handle their own customer service
Amazon handles the majority of the customer service needs for Amazon FBA sellers. On the other hand, FBM sellers not only have to handle their own customer service claims, but they also have to accept and receive returns and manage their seller feedback.
When should I sell Amazon FBM instead of FBA?
Here are a few scenarios where fulfilling your own products, instead of relying on Amazon to fulfill them for you, is the better option.
You sell products that aren't easy to ship via FBA
Certain products such as oversized products, products that require special handling, and products with slow turnover are sometimes better to ship on your own versus having Amazon do it through FBA. If you sell slow moving items, you will accrue monthly and aged-inventory storage fees by using FBA.
Plus, shipping your own large/atypical products could save you money, as well as ensure that the product is presented to your customer the way you want it presented.
And, as noted above, if you're unsure of which method of fulfillment will cost less, you can use Amazon's FBA calculator to compare the two methods.
You can do it cheaper than Amazon
On the same note, you might already have an existing merchant-fulfilled network in place or a third-party fulfillment service (other than Amazon) to do it for you.
In this instance, using your own network may be the better solution.
You do dropshipping
By virtue of the business model, dropshippers can only ship their products via FBM since their products are being shipped directly from the manufacturer/supplier.
You sell handmade products
Although handmade products can be stored in Amazon's fulfillment centers and shipped via Amazon FBA, many Handmade sellers fulfill their own products to ensure that the product arrives the way the seller intended.
How do I list a product on Amazon FBM?
Listing an FBM product is largely the same as creating any other product offer.
Using the steps outlined above, once you reach the part of the offer that reads 'Fulfillment Channel', select the radial that states 'I will ship the item myself (Merchant Fulfillment).'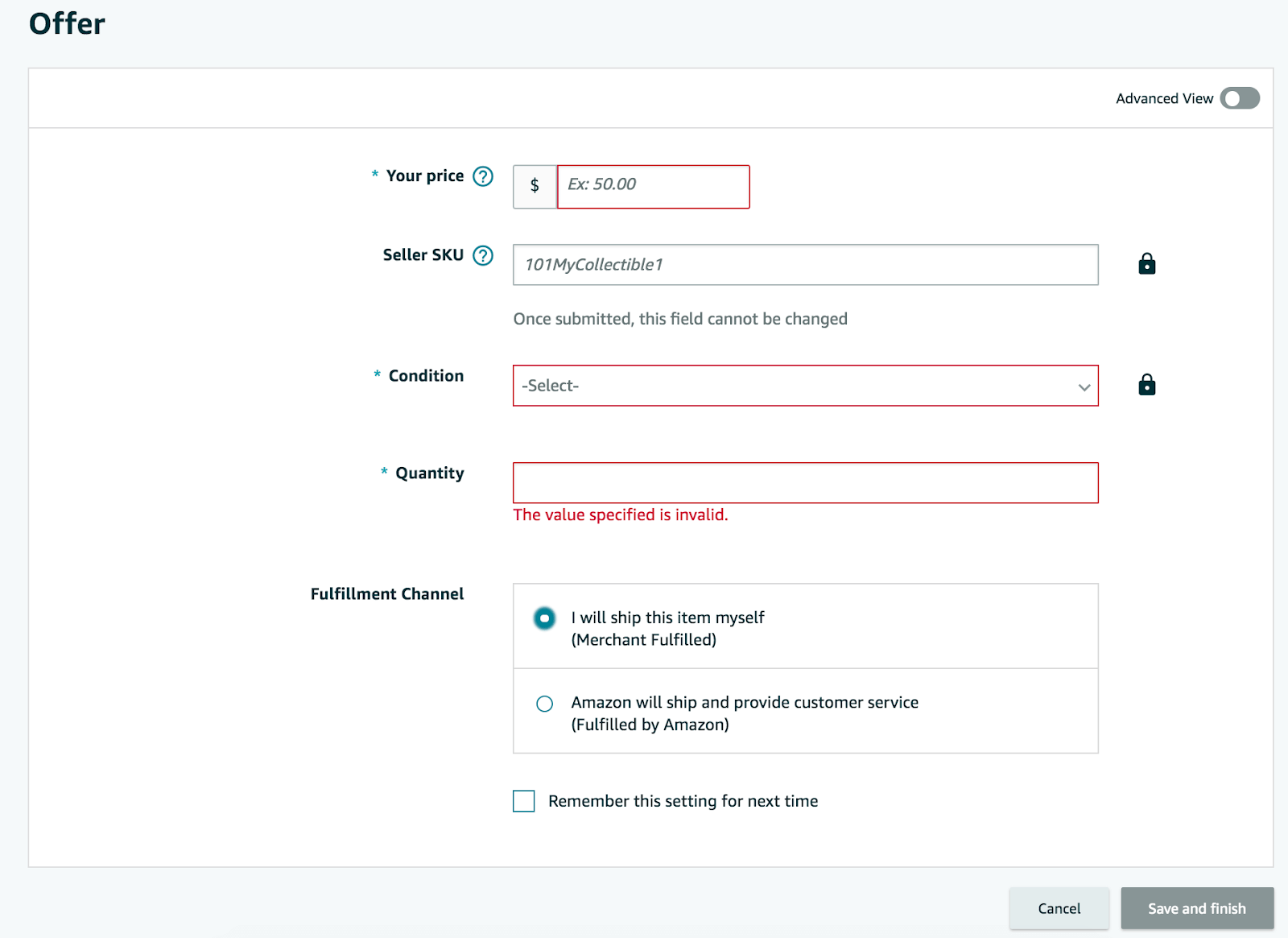 After the product appears in Amazon's catalog, you will find your Merchant Fulfilled products under Inventory > Manage Inventory. Make sure you check 'Active' for 'Status' and 'Merchant' for 'Fulfilled by.'

How do you know when a product sells?
As an FBA seller, once a product sells it is quietly confirmed, packed, and shipped by Amazon without so much as a notification. However, as an FBM seller, you will need to know when you have an order so you can confirm and ship it to your customer.
There are two ways to do this.
1. Amazon Seller Central Order Widget
First, on Amazon Seller Central, you have an order widget as pictured below.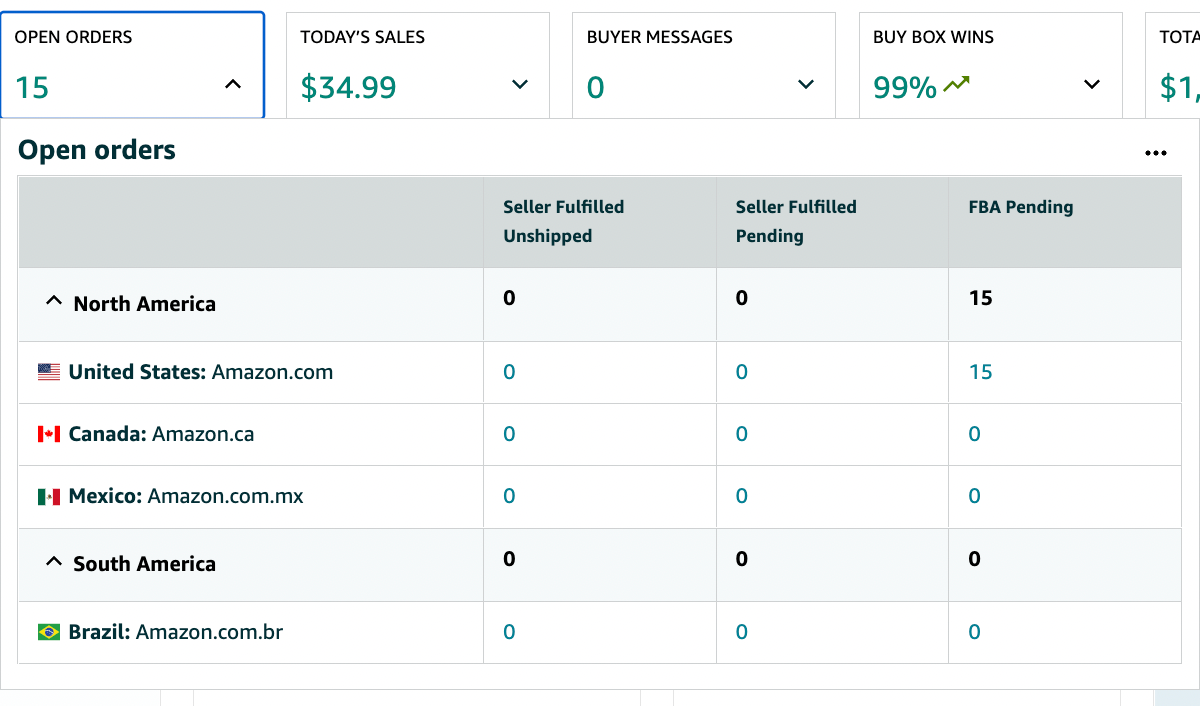 When an order comes through, you will get a number listed under 'Pending.' After the order is confirmed by Amazon and the sale goes through, the pending order moves to 'Seller-fulfilled unshipped.'
2. Amazon Seller Mobile App
If you have the Amazon app, you will receive a notification when an order is ready to ship.
How to ship a product
After Amazon notifies you that an order is ready to ship, you have 24 hours to confirm that the order went out.
If you aren't sure how to ship your order, first, choose a carrier. In the US you have multiple options, including:
In addition, larger products such as furniture or mattresses may require using a transport truck for shipment.
You can compare the rates of various shippers using websites such as:
Can I still ship Prime?
One of the biggest benefits of selling Amazon FBA is that your products, more often than not, are automatically available for Prime benefits. That means that Amazon shoppers who are Prime members can order and receive products fulfilled by Amazon within 2-3 days.
This benefit does not apply to FBM sellers unless they are qualified for Seller Fulfilled Prime.
Seller Fulfilled Prime is a program that allows FBM sellers to sell products with the Prime badge from their own warehouse/fulfillment center. Sellers who sell Prime reach more customers, have a better chance of winning the Buy Box, and offer guaranteed delivery date messaging to their customers.
To join Seller Fulfilled Prime, a seller must apply for the position. However, Amazon is not accepting any further applications for Seller Fulfilled Prime currently, so FBM sellers interested in the program will have to add their names to a waiting list.
What shipping supplies do FBM sellers need?
The carrier and method in which you ship also helps determine the shipping supplies you will need to ship your goods.
Some methods of shipping — such as USPS Flat Rate — use specific boxes that you can get for free from the nearest post office. Or, you can have them delivered directly to your door.
Other methods require you to supply your own shipping supplies. We recommend:
Boxes, envelopes. etc.

Packing material (air bags, brown paper, etc.)

Peel & stick mailing labels

Printer

Packing tape and Scotch tape
Where can I purchase shipping supplies?
While there are a myriad of shipping supply businesses where you can purchase bulk shipping goods, here are a few that we recommend:
Uline

Fastpack.net

Amazon.com
5 FBM best practices from Amazon itself
According to Amazon's best practices document, here are a few considerations for selling your products via FBM.
1 – Use Amazon's 'Buy Shipping' feature
One of the easiest ways to ensure that your orders are on time and have tracking numbers is to purchase your shipping directly through Amazon using Amazon's 'Buy Shipping' feature.
When an order is placed for one of your products, Amazon gives you the option to purchase shipping directly from them.
To access Amazon's 'Buy Shipping', go to Orders > Manage Orders. Then, click on the 'Buy Shipping' button next to the order you want to ship. Next, verify the information and confirm. Finally, from there, print the label.
Once you buy shipping through Amazon, it automatically confirms the orders and sends the customer the tracking number (see #2).
2 – Always provide tracking numbers
Amazon requires all orders to have a tracking number. If you purchase shipping through Amazon, then the tracking number will auto-generate and be sent to the customer.
3 – Manage delivery times
Amazon wants to ensure that all of its customers receive their goods on time, so it's important to confirm, pack, and ship your products in a timely manner. And if you're selling a product with Premium or Prime shipping, it needs to arrive by the guaranteed date.
4 – Incorporate a good return policy
Make sure you have clear return instructions included in your packaging, as well as a valid return address.
Remember: as an FBM seller, you will need to process and handle your own returns. Plus, returns are not optional with Amazon. If a customer requests a return, you must accept it.
5 – Comply with Amazon's dropshipping policy
Note: these policies only apply if you are a dropshipper.
Be the seller of record of your products.

Identify yourself as the seller of your products on all packing slips, invoices, external packaging, and other information included or provided in connection with them.

Remove any packing slips, invoices, external packaging, or other information identifying a third-party drop shipper prior to shipping the order.

Be responsible for accepting and processing customer returns of your products</span.
Get started with Amazon FBM now
Amazon is an incredible marketplace to sell your products, no matter how you choose to fulfill your orders. Even if you decide to stick with FBA full time, having FBM as a backup plan won't hurt.
And as the data shows, sellers who add FBM into their repertoire find more success in the long run!
Want to learn more about how you can use Jungle Scout to launch, grow, and run your Amazon business? Click the "Learn More" button below!