At Jungle Scout, we often talk about how to research, launch, and sell products on the US Amazon marketplace, but what about doing the same across the pond?
Selling on Amazon UK is an excellent opportunity to reach another massive audience with its 261 million unique visitors per month!
Existing Amazon US sellers looking to expand and grow their businesses should consider venturing into the European market to reach millions of new potential customers.

According to Jungle Scout's State of the Seller Report, Amazon UK is in the top 3 most popular international marketplaces amongst third-party sellers; furthermore, 32% of sellers operate their business in more than one Amazon marketplace.
Whether you are a European resident looking to sell products on Amazon or an existing Amazon US seller looking to expand your current Amazon business, you are in the right place!
In this article, we will go over:
How to create an Amazon UK seller account

The differences between each selling plan

What it costs to sell on Amazon UK

VAT compliance

Differences between selling on Amazon US and Amazon UK

How to research products to sell on Amazon UK
How to create an Amazon UK seller account
This section will cover everything you need to know about creating an Amazon seller account in the UK.
To get started, visit the Become an Amazon seller page of Amazon.co.uk.
As with other Amazon marketplaces, Amazon UK has two selling plans to choose from: Individual and Professional.
Individual:
The individual plan is suitable for beginner sellers who are unsure what to sell or don't plan to sell much each month. This plan has no monthly fee, but you will pay an extra £0.75 per item sold.
Choose the individual plan if:
You sell fewer than 35 items a month (if you sell more than 35 items per month, the per-sale fees will exceed the monthly fee for the professional selling plan)

You're still deciding what to sell or don't have much inventory

You don't plan to advertise or to use advanced selling tools that Amazon offers professional sellers
Professional:
The professional plan is perfect for anyone serious about selling on Amazon and plans to sell more than 35 items per month on the platform. With this plan, you will pay a flat fee of £25/month.
Choose the professional plan if you:
Plan to sell more than 35 items per month

Want to use Amazon Advertising

Want access to advanced selling tools and reports

Want access to the Buy Box

Want to sell products in restricted categories
After you decide which plan is best for you and your business, let's begin the registration process.
What you need to sign up for an Amazon UK account
To complete registration with Amazon UK, you will need:
A business mail address or Amazon customer account

A chargeable credit card (international cards are also accepted)

A valid passport or ID. Identity verification protects sellers and customers

Company registration details, including VAT number (we'll go over VAT in a later section)
On the "Sell on Amazon" page, click "Sign up."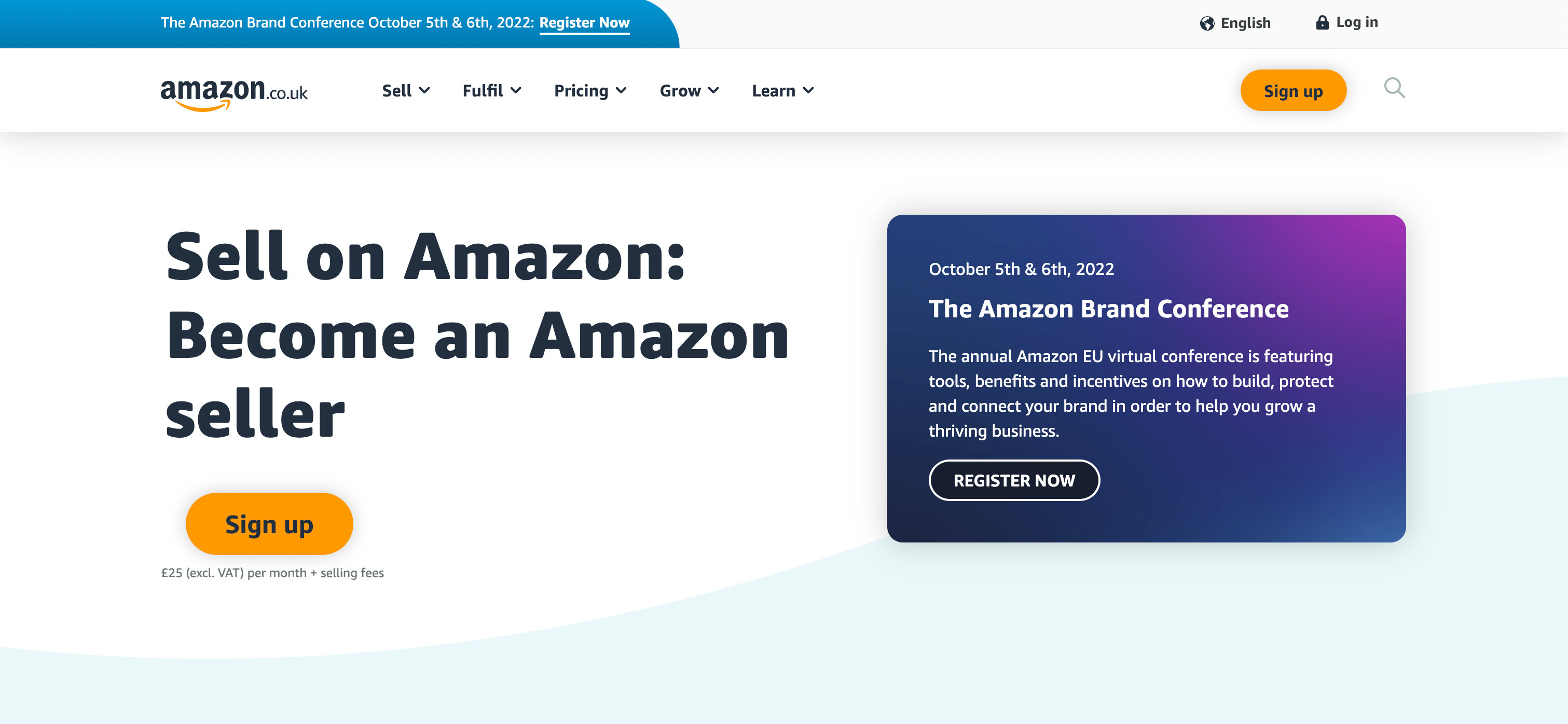 Enter the login or your customer account, or create a new account with a new email.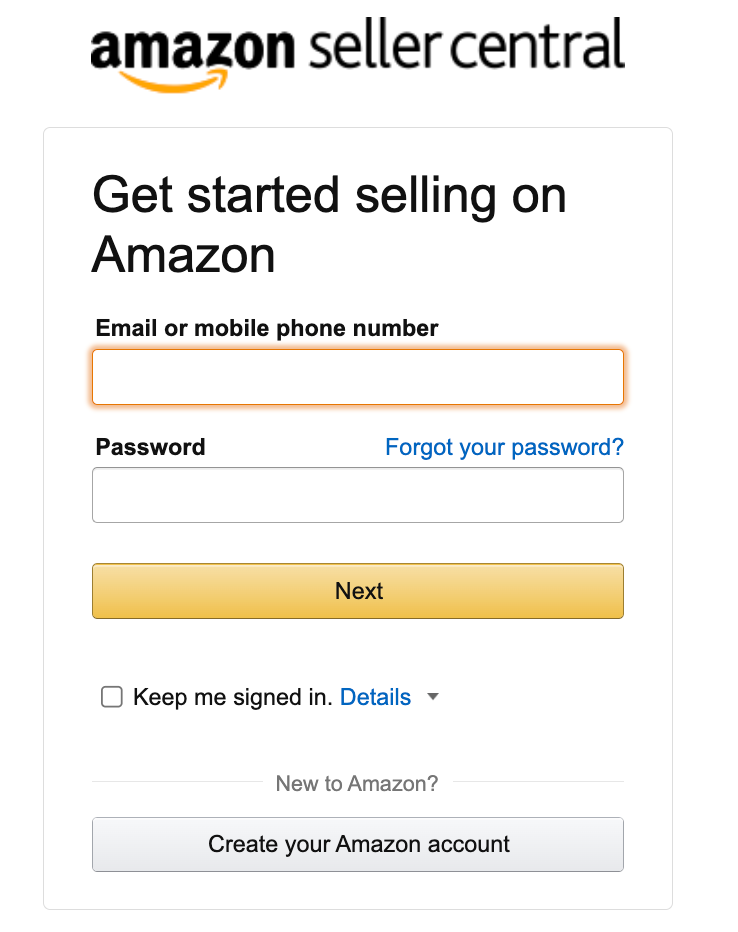 Next, choose where your business is located, what type of business it is, and your name or business name.
If you don't have a registered business, choose "None, I am an individual." Otherwise, click the option that best describes your business, then click "Agree and continue."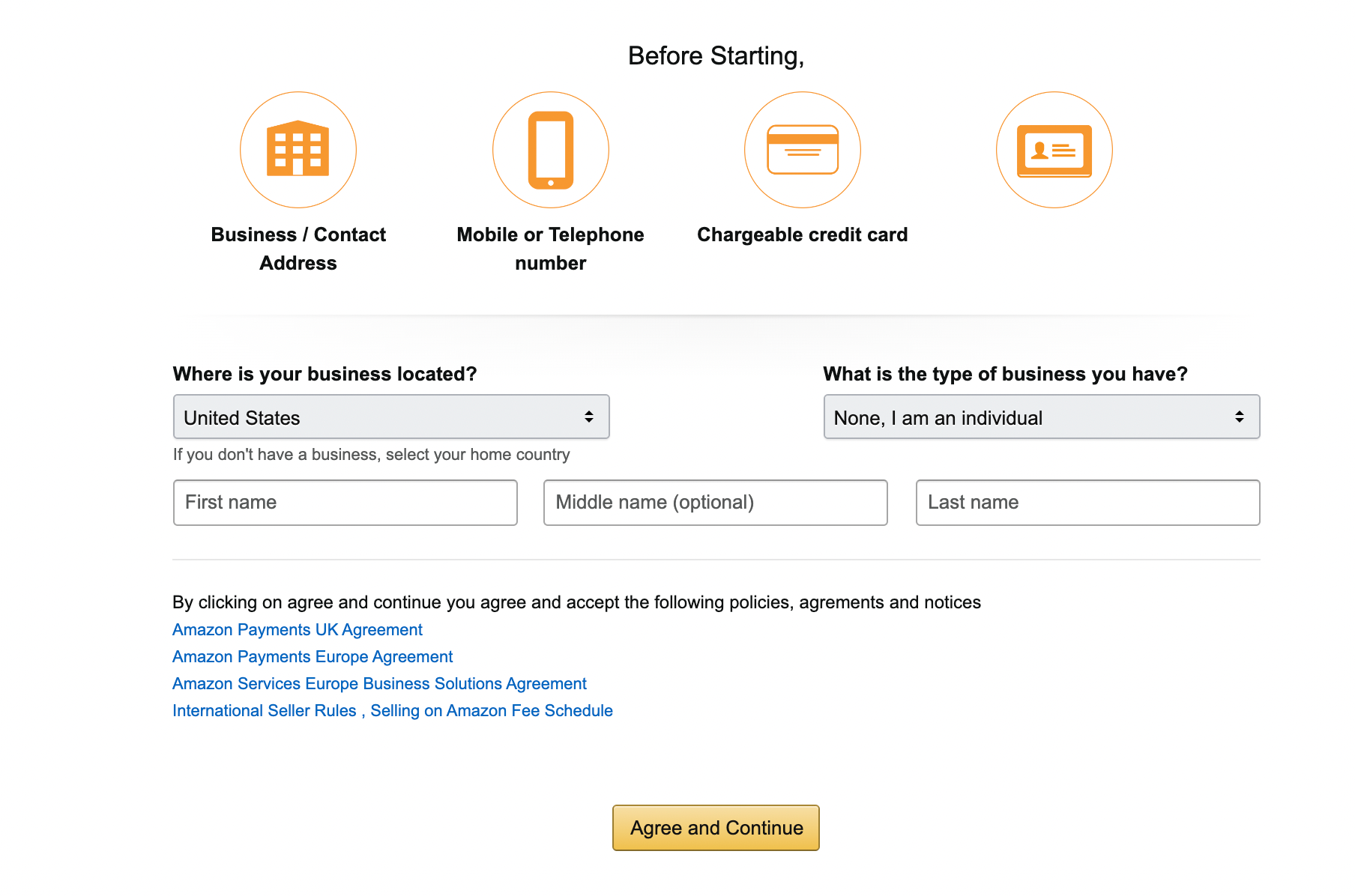 The following steps include entering personal information, including:
Country of citizenship

Your physical address

Phone number

DOB

Billing and bank account information

Store name and selling plan
Once you enter in all of this required information, Amazon will need to verify your account before they approve your account to sell. Once you are approved, you can start listing items for sale!
Fulfillment methods for Amazon UK
Sellers in the European marketplaces can leverage Fulfillment by Amazon (FBA), or they can handle packing and shipping themselves with Fulfillment by Merchant (FBM).
Fulfillment by Amazon
FBA is what most sellers use because it saves time and adds convenience. With FBA, you ship your items to an Amazon fulfillment centre, and Amazon staff will pick, pack, and ship the orders for you once a customer makes a purchase. Amazon will also handle customer service on your behalf for any order shipped through FBA.
Another major advantage of using FBA over FBM is that all of your products will be eligible for Prime shipping. Prime members are more likely to purchase Prime-eligible products, as they'll get their package in just 1-2 days.
You can also use your FBA inventory to fulfill orders across all of the European marketplaces.
Fulfillment by Merchant
FBM means that the seller will manage their own storage, fulfillment, and customer service. Some sellers prefer to use FBM because they can save money by avoiding FBA fees and inbound shipping costs. Many FBM sellers use a third-party fulfillment service provider to store and ship their products instead of using Amazon.
For a more in-depth comparison of these fulfillment methods, please check out our Amazon FBA vs FBM Comparison Guide.
If you are an international seller from the US, you will likely use the FBA method.
What does it cost to sell on Amazon UK?
You know what it costs for each selling plan, but let's go over all of the other fees you will encounter as an Amazon UK seller.
Referral fees
The referral fee is the "commission" you will pay to Amazon after each item you sell. The referral fee will be based on the category you are sell in and typically ranges from 8% to 15%.
This fee will be paid by all Amazon sellers no matter your fulfillment method.
Amazon automatically collects its referral fees after each sale is made on the marketplace. You'll earn the item's sale price, minus their 15% commission (and any shipping costs if selling via FBM or fulfillment fees via FBA).
Here is the current referral fee structure for Amazon UK: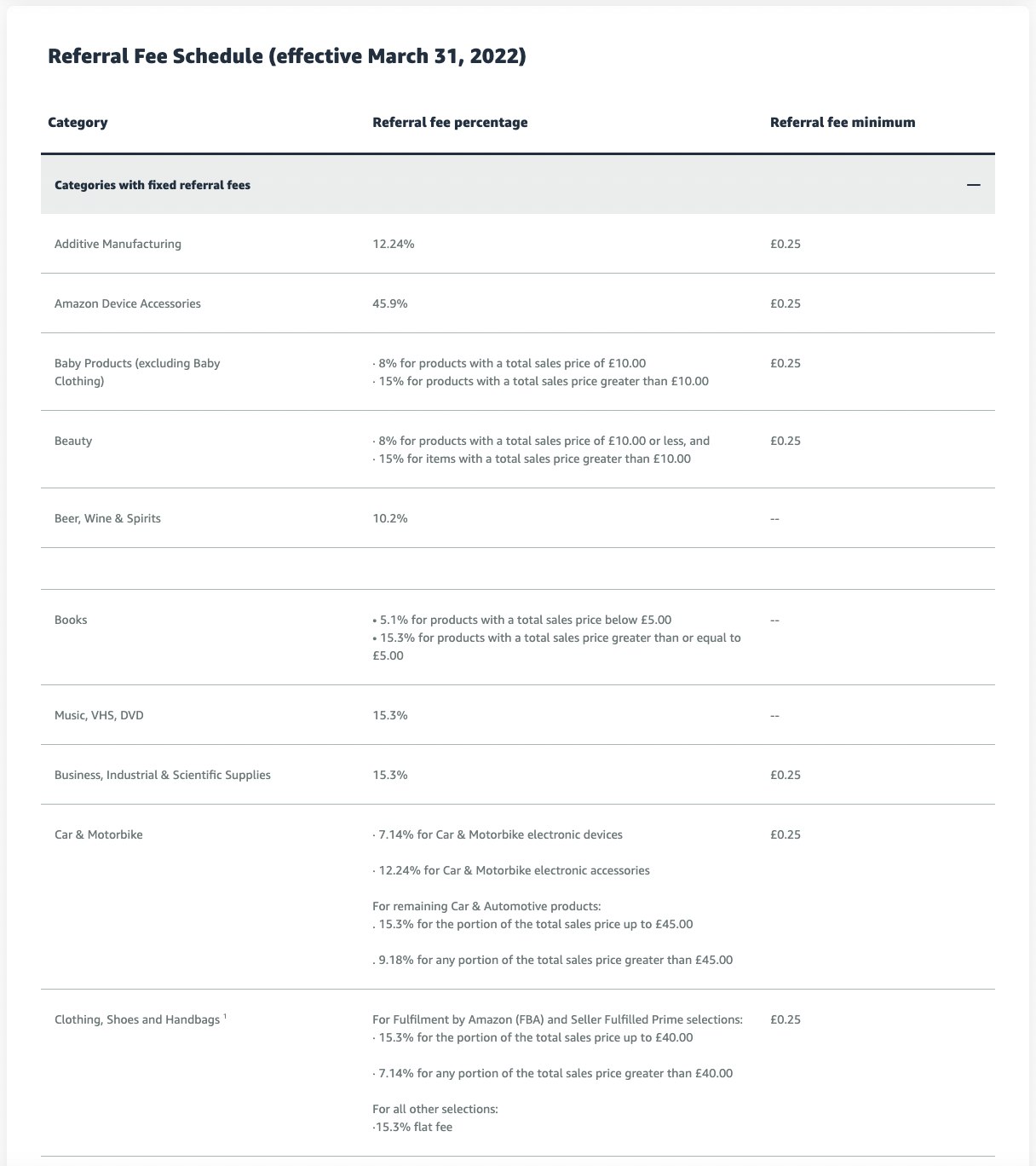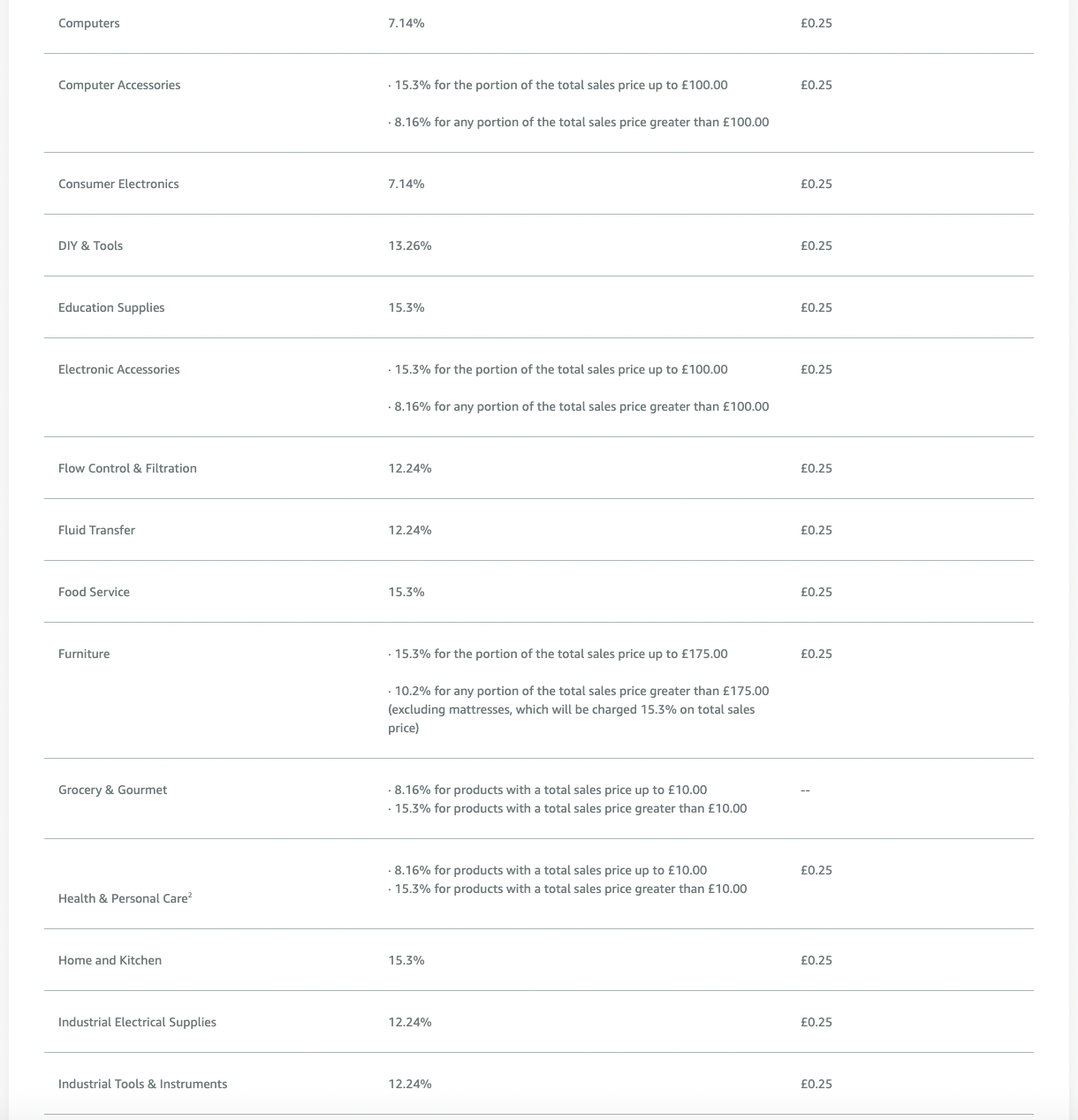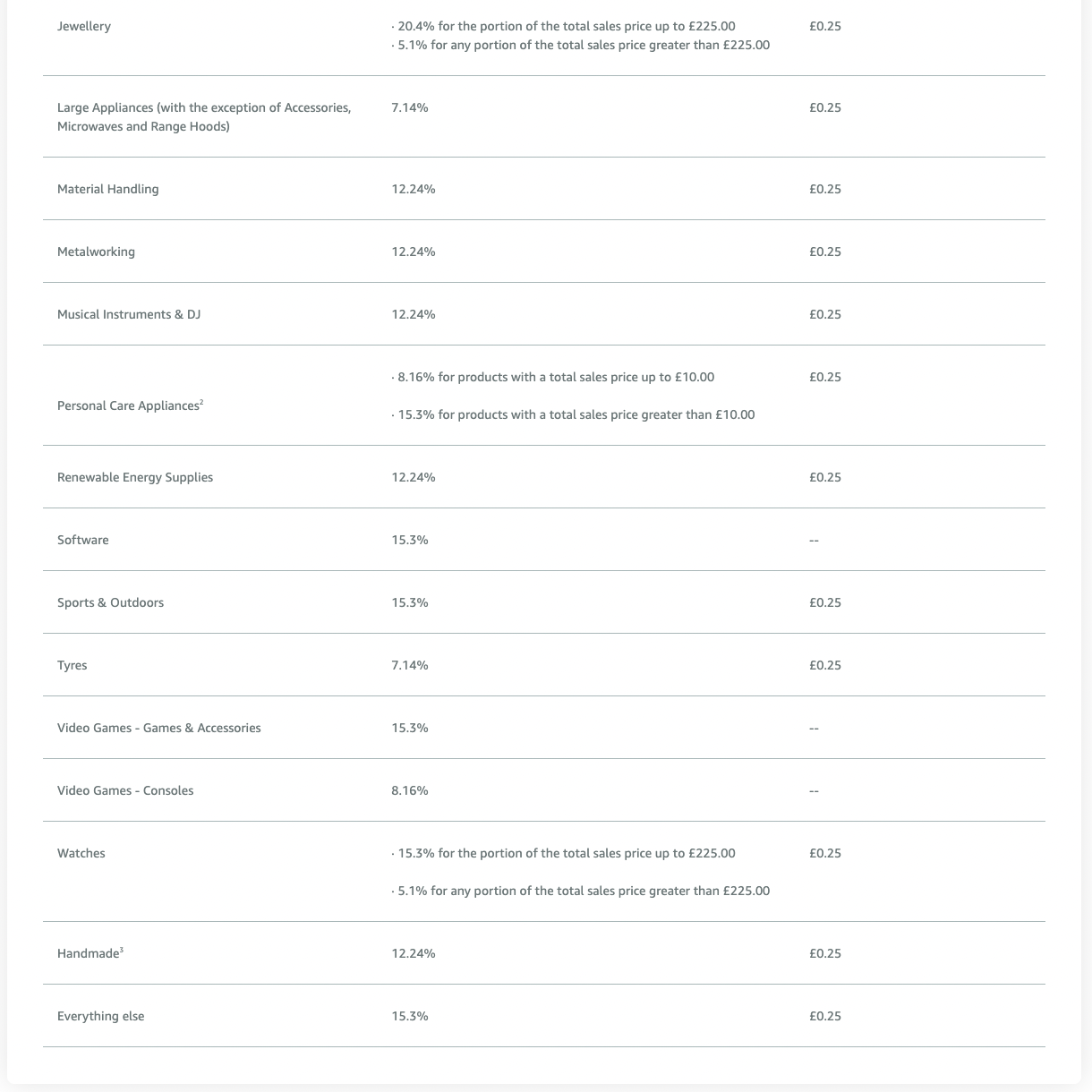 FBA Fulfillment Fees
If you decide to use FBA to fulfill your Amazon orders, you will be charged additional fees to cover to storage, picking, packing, and shipping costs. This is a flat fee based off the size and weight of the products sold.
To figure out what the FBA fees would be for your particular product, please visit Amazon Europe's fee rate card.
To determine your potential FBA fees, you can also use Amazon's free Revenue Calculator.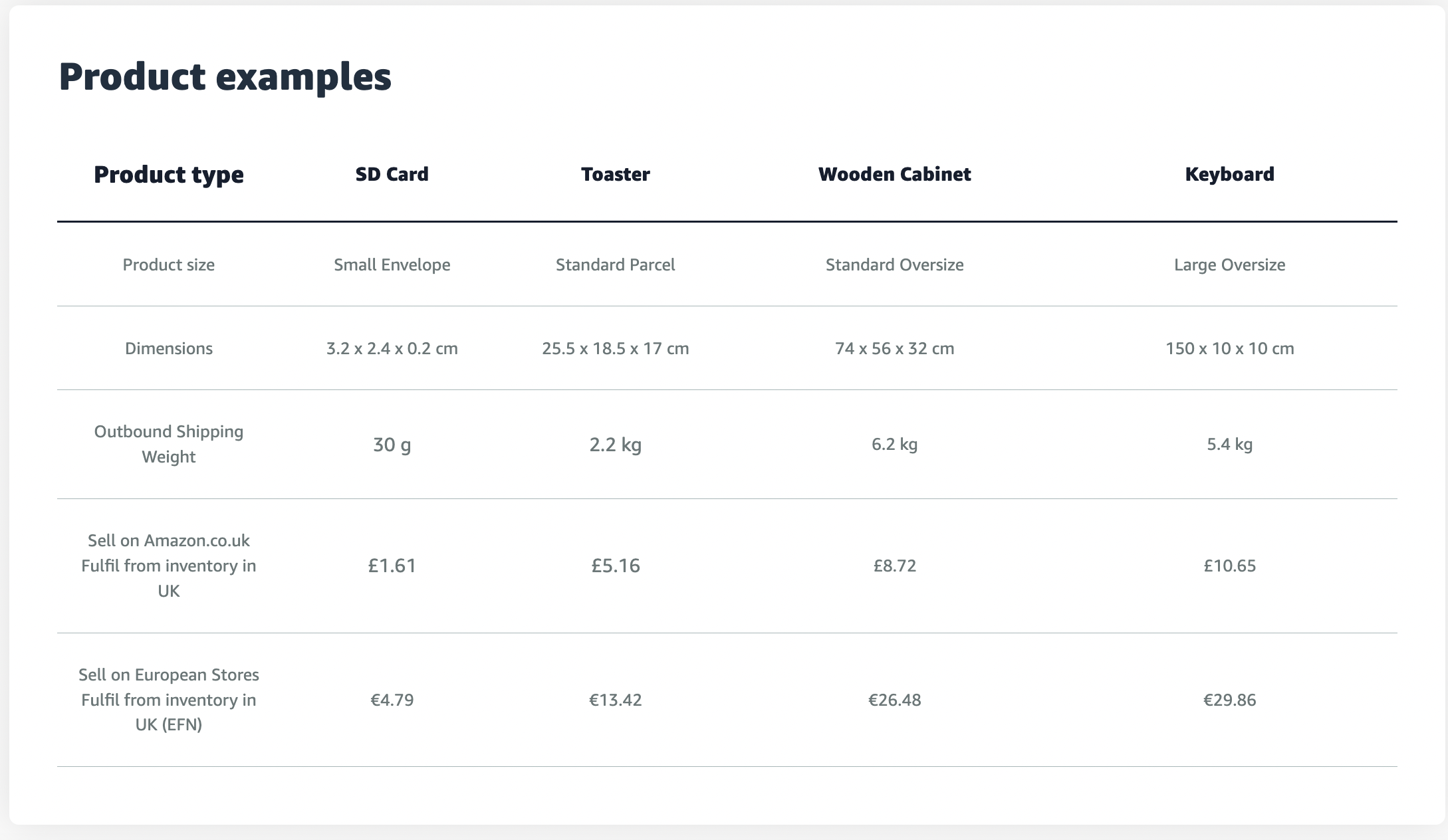 Storage fees
On top of fulfillment fees, FBA sellers will also need to cover monthly storage fees based on the daily average volume (measured in cubic feet) for the space your inventory occupies in Amazon fulfillment centers.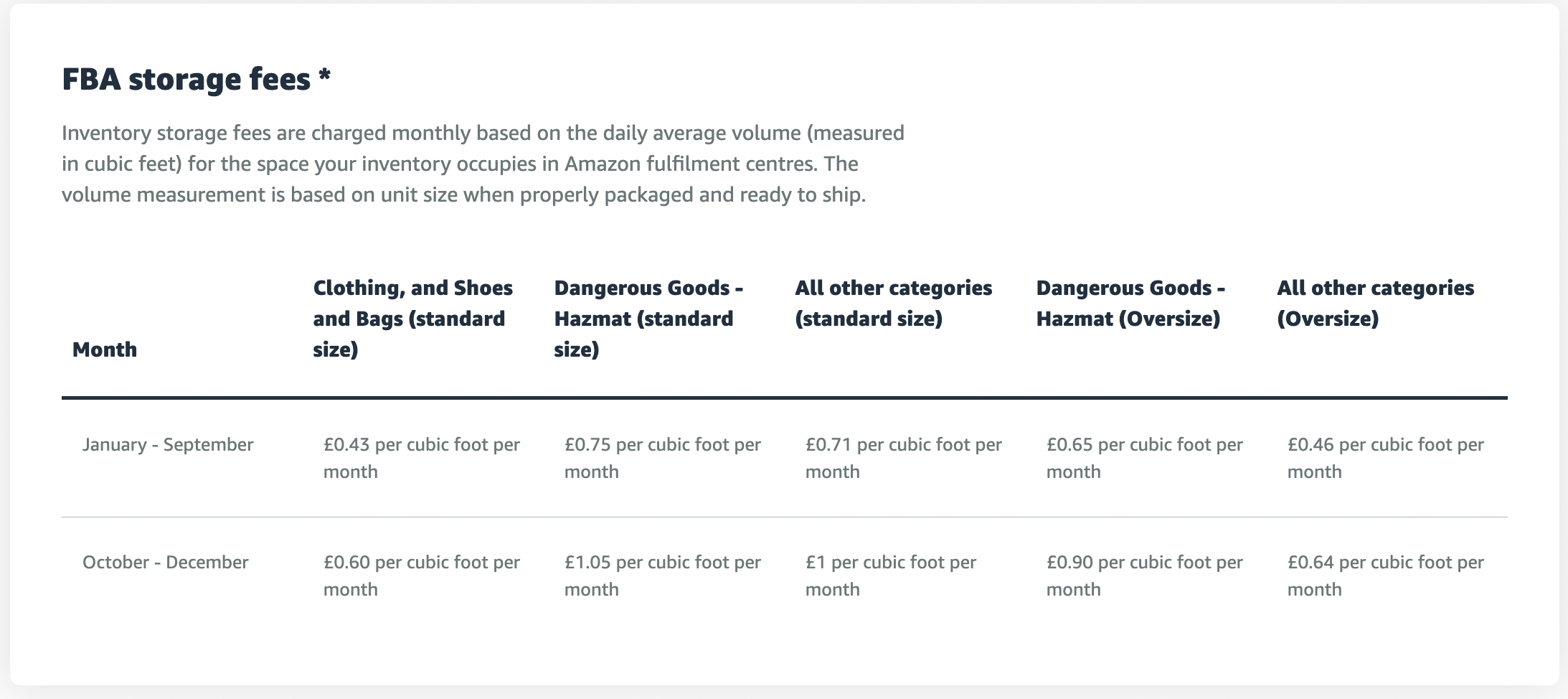 VAT Compliance as an Amazon UK seller
If you sell on Amazon UK, or on any other European marketplace, you will be required to register for a VAT number in each European country you sell in.
VAT stands for value-added tax and is a tax that sellers add to the price of their products and pass on to national tax authorities.
Amazon states it is the seller's responsibility to ensure they're VAT-compliant in each European country where products are sold.
What are the VAT rates for each country?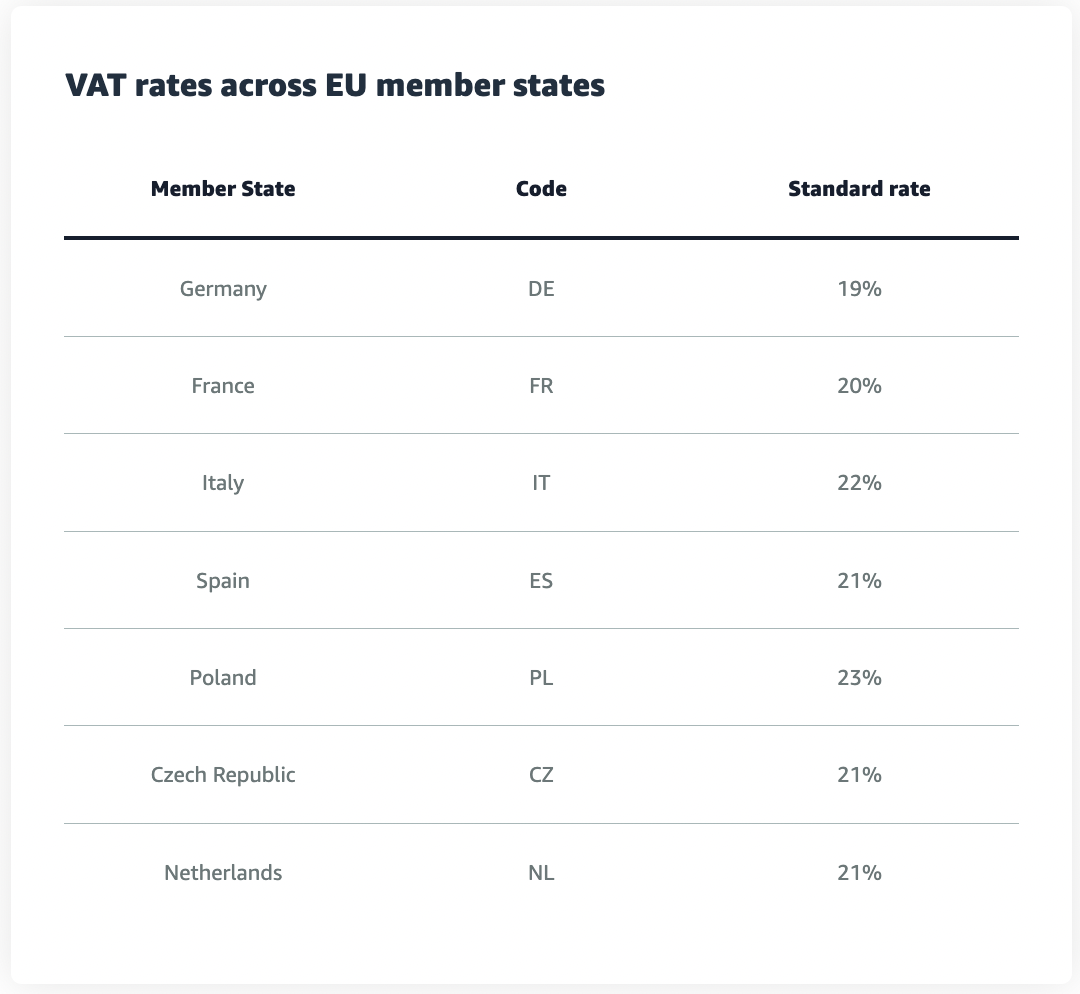 If you are a non-EU based seller, you may be required to appoint a Tax Representation to register for VAT in certain European countries.
If you are unsure of the VAT registration process, you can use Amazon VAT Services to register in each country needed.
Visit Amazon's helpful VAT resource page to learn more about VAT compliance.
Use one seller account for all European marketplaces
Once you sign up to become a seller on Amazon UK, Amazon makes it very easy for you to list your products in all five European marketplaces. With a unified Europe account, you can sell on Amazon.co.uk, Amazon.fr, Amazon.de, Amazon.it, and Amazon.es.
The best part is, you can fulfill orders for all five marketplaces from just one country. If your home country is the UK, any FBA orders you receive on another marketplace will be fulfilled with that inventory.
Amazon also has free listing translation tools available to ensure your listings are in the correct language depending on the country.
For more information about listing all across Europe, visit Amazon's Sell Across Europe resource page.
How to research products to sell on Amazon UK
Now that you are ready to sell on Amazon UK, how do you figure out what to sell? Well, if you are an existing brand owner expanding your business, you've covered that. For the new sellers, you can use Jungle Scout to do extensive keyword and product research to find the perfect product to launch.
That's right! Jungle Scout works on Amazon UK, Amazon Germany, Amazon Italy, Amazon Spain, and Amazon France.
Our powerful and accurate research tools will help you find that needle in the haystack: Extension, Product Database, Opportunity Finder, Keyword Scout, Category Trends, and Rank Tracker.
We have an incredible product research video series where we go through different categories and show you step by step how to find a profitable product to sell on Amazon – no matter the marketplace.
Check out the first episode!
Need some product inspiration? Check out our list of 1,000 Top-Selling Amazon UK Products.
Are you ready to sell on Amazon UK?
We hope this article answers all your questions about launching your business on Amazon UK. Anyone can easily get their Amazon business going in Europe, whether you are a local resident or an international seller from the US.
Do you have any more questions, let us know in the comments!
Want to learn more about how you can use Jungle Scout to launch, grow, and run your Amazon business? Click the "Learn More" button below!