You've found a fantastic high-demand, low-competition product, and a reliable supplier. But how do you get your product from the factory to an Amazon fulfillment center?
International shipping is one of the most complicated aspects of selling on Amazon. With many moving parts and legal requirements, it's best to hire professionals to get your products safely from overseas to Amazon FBA.
In this article, we'll go over what freight forwarders are, the benefits of hiring one, and how to find a reliable company to handle your shipment.
What is a freight forwarder?
A freight forwarding company helps businesses get their goods from their overseas manufacturer to an Amazon fulfillment center, a third-party fulfillment center, or a designated warehouse.
They coordinate the entire shipment process for you and as professional experts, know all the technical requirements needed to get your products through customs clearance and into Amazon.
Without a freight forwarder, it would be nearly impossible for the average person to arrange the shipment process independently. There are many laws and regulations involved when shipping internationally, so it's best to let a freight forwarder manage the logistics on your behalf.
What is a customs broker?
A customs broker ensures that your goods clear customs during the shipment process by being the intermediary between you and customs. They inform the shipper of the necessary documentation to have the goods cleared and prepare and submit it to get clearance from customs.
A customs broker is essential because an issue at customs can delay your shipment.
Most freight forwarders offer brokerage services, so they can act as your customs broker. This saves you from having to hire a separate company.
Why hire a freight forwarder?
As private label sellers on Amazon, we all wish the international shipment process was much easier, but that is not the case.
A lot can go wrong for large, heavy shipments that require transport by sea or air, such as customs clearance delays or damaged cargo.
If you want to ensure that your products arrive from the factory to an Amazon fulfillment center safely and on time, it is best to hire a freight forwarder to manage every step of the process.
1) They arrange the entire shipment for you
When hiring a freight forwarder, you don't have to do much about your shipment besides filling out some paperwork and paying for the shipment. An experienced forwarder will make sure your shipment gets to the final destination legally, safely, and efficiently.
Forwarders know what to expect throughout the process of each shipment. If you try to do this on your own, you may miss a critical step, potentially causing your product to be lost, confiscated, or delayed.
2) Forwarders are knowledgeable with all things shipping
Once you've done the hard part of finding a profitable product and a reliable supplier, the last thing you want is to deal with shipping companies, government agencies, and logistical issues. Freight forwarders have expert knowledge, experience, and best practices in the end-to-end shipping process.
3) They can insure your shipment
When shipping internationally, especially by sea, a lot can go wrong — even with a freight forwarder. Ensure the forwarding company you choose offers cargo insurance to give you additional protection if something happens to your products during shipping.
4) Customs clearance
Customs clearance is probably the most crucial benefit in hiring a freight forwarder. If your products get caught up in customs, this can delay your shipment delivery by weeks or even months.
When should you use a freight forwarder?
Now that you know what a freight forwarder is and what they can do for you, here's our rule of thumb for when you need one:
If your shipment is less than 200kg
Don't use a freight forwarder for shipments less than 200kg (440lbs). Have your supplier organize the shipment using a courier service such as DHL, FedEx, or UPS. Using a courier will be the most cost-effective and fastest way to receive your small shipment.
In this situation, the courier used to ship your products will act as the customs broker and deliver the goods to your final destination. FedEx/DHL may send you a bill for the customs/duty fees.
If your shipment is more than 200kg
Whether shipping by air or sea freight, use a freight forwarder if the shipment weighs over 200kg. It will be more cost-effective and save you many headaches.
If shipping by sea, you should always use a freight forwarder.
What does it cost to use a freight forwarder?
Since there are so many variables involved with the shipping process, such as types of products, weight, volume, and distance, it is difficult to estimate the cost accurately.
Generally, you can expect to pay around $1 per kilogram for a sea shipment, though the final cost will vary, depending on the total volume of your goods.
Shipping costs and times have also risen during the pandemic, so make sure you ask for the latest estimates and costs when doing your research.
To receive product shipping quotes from multiple freight forwarding companies, use a company like Freightos.com. We'll go over this later in the article.
Shipping terms you should know
Here are a few shipping terms that you'll likely encounter when working with a freight forwarder.
FOB (Free on board): This means your supplier is responsible for getting your goods from their factory to the shipping port. The supplier will ensure the goods are safely delivered to the departure port, where your freight forwarder will take ownership of the goods.
EXW (Ex-works): You/your freight forwarder is responsible for getting your goods from your supplier's warehouse to the shipping port. You pay to have the goods picked up from your supplier and delivered to the port. You and your supplier will discuss these terms and decide if FOB or EXW is the right way to go.
FCL (Full container load): Your goods will take up an entire container. Your supplier will tell you that your products will ship in a container alone.
LCL (Less than container load): This means that your goods will ship inside a container with other companies' products besides your own. If you don't have enough products to take up a container, you'll choose LCL.
Bill of lading: The master document for your shipment proving that you are the owner of the goods. This document is a shipment contract that your freight forwarder will issue. You will receive the bill of lading after the goods have been delivered.
Commercial invoice: The invoice given to you by your supplier that outlines your goods. The invoice will display what you ordered, the cost per unit, the supplier's information, the buyer's information, the HS code, as well as the shipping terms agreed upon.
HS code: This number can be found on your commercial invoice and is used to classify your product. This code will determine the duties you will need to pay.
Customs bond: The customs bond ensures payment of duties and money owed to customs officials. Your freight forwarder will have a customs bond and pay the duties owed on your behalf.
Questions to ask about freight forwarders
Use this list of questions when screening for a freight forwarding company for your business:
Do they have Amazon FBA shipping experience?

Can they work with smaller sellers?

Do they offer cargo insurance?

Can they handle every aspect of the shipping process?

Will they provide a customs bond?

Can they provide customs clearance?

Can they get your goods from the destination port to an Amazon warehouse?

Can they help label products according to Amazon's requirements if needed?

Do they communicate well?

Do they charge a reasonable rate?
The shipping process
To help give you a better understanding of how the shipment process works, let's go over the steps involved. Keep in mind that if you are using a freight forwarder, they will handle every step of this process — it's just good to know how it works!
Step 1: Goods travel from the factory to the international port
You'll have two options to work out with your supplier during this step. FOB (free on board) or EXW (ex-works). Your supplier may offer other shipping terms, so make sure you negotiate that with them.
The terms determine who is responsible for getting the goods from the factory to the shipping port. FOB is the easiest option in most cases as your supplier will make sure your goods reach the port. From there, your freight forwarder can handle the rest.
Step 2: Goods travel from international port to the destination port
Once your goods reach the port (let's say, in China), they'll begin the trip to your home port (let's say, in the US). For this, you can choose air or sea freight, though we recommend shipping by sea as it will be much cheaper.
Sea shipment will cost you roughly $1 per kilogram and takes around 3-5 weeks to arrive.
Air shipment will cost you roughly $5 per kilogram and takes around 5-10 days to arrive.
Step 3: Goods arrive at the domestic port of entry and begin the customs clearing process
Once your products arrive at the port, customs begin the clearance process. This is where the help of a customs broker comes in, something you want your freight forwarder to take care of for you.
Before customs can clear your goods, you must pay the duties owed. Your broker/freight forwarder will handle this. Your freight forwarder will take care of any other documents that customs requires.
If all goes well, this process will take about a week.
Step 4: Goods need to be prepped for Amazon using a 3PL
Before your items can ship to Amazon's fulfillment centers, your products need to be appropriately labeled and palletized according to Amazon's requirements.
Once your product cases are palletized, you must label them with a shipment ID label. The label tells Amazon how many products are delivered and that the products belong to your seller account. You will get these labels after creating your shipment in Seller Central.
This is why it is crucial to work with a freight forwarder with Amazon FBA experience and one that can also serve as your 3PL to help streamline this process.
Note: If your products are exclusively sold on Amazon, have your supplier label each item with your product's FNSKU code (Amazon barcode.) This will make the preparation process much more manageable.
Once your goods are prepped, they're ready to be sent to Amazon. A decision that you need to make here is how your products will be shipped.
You can ship via SPD (small parcel delivery) with a local carrier such as UPS or by truckload shipping.
If your total shipment weighs less than 150 pounds, it will typically be cheaper to ship with SPD. Just know that there is a 200-case limit when creating a shipment via SPD.
If your shipment weighs more than 150 pounds, use LTL (less than truckload). Remember that Amazon has particular pallet requirements when shipping via truckload, so make sure your freight forwarder knows that.
Step 5: Get your goods to Amazon
Once your items are labeled and prepped, it is now time to get them to Amazon's fulfillment centers!
This step, you'll need to do on your own. Don't worry — you can get any information you need regarding your shipment from your supplier or freight forwarder.
If shipping via SPD, you can use UPS and purchase the shipping labels right from Seller Central.
If shipping via LTL, you can use one of Amazon's partners to arrange a truck to pick up your goods from the 3PL and deliver them to Amazon. Again, this is set up in your Seller Central account.
To learn how to set up a shipment in your Seller Central account properly, check out Episode 8 of our latest Million Dollar Case Study series:
Million Dollar Case Study S05: Episode 8 | On the Move… | Shipping Products to Amazon FBA
How to find a freight forwarder for Amazon FBA
Many freight forwarding companies can help you with your shipment, but how do you find them? At Jungle Scout, we recommend using Freightos.com.
Freightos provides you with quotes from multiple freight forwarders based on your product information and what you need so you can be sure you get the best price and service possible.
To begin, simply go to Freightos.com and click "Compare Rates Now."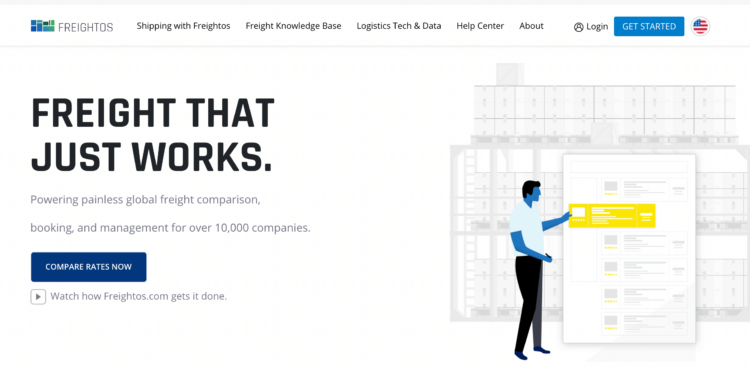 Enter the origin, destination, load, and type of goods on this page. For origin, this is where you enter your factory's address. Simply ask them if you do not know it.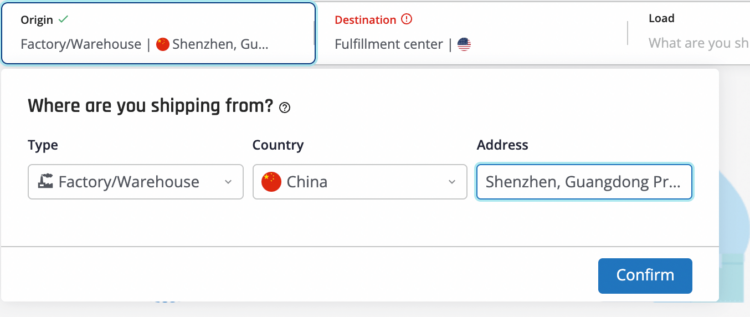 Next is the destination. You'll have a few options here but if you want your products to be shipped directly to an Amazon fulfillment center, choose "Fulfillment center" in the dropdown menu.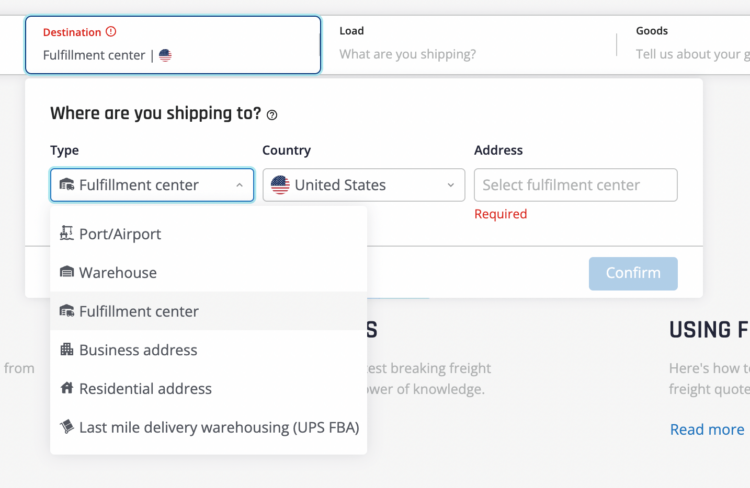 You also need to enter the fulfillment center address. At this point, you won't have the address of your fulfillment center; simply pick one from the dropdown menu close to the port where your goods are shipped.
For example, if you're having your goods delivered to the port in LA, choose a fulfillment center in California.
Once you find a freight forwarder to work with, let them know you will be changing that fulfillment center address once you have created a shipment in Seller Central.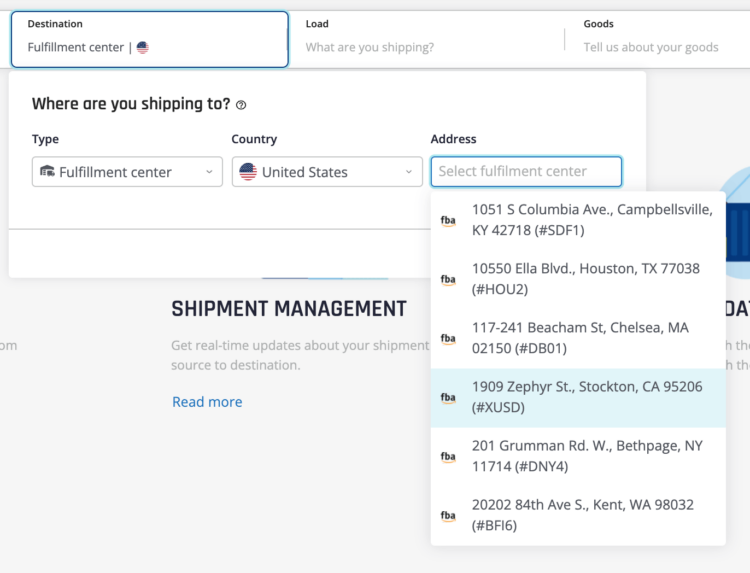 Next, enter what you're shipping, such as pallets, boxes, or containers.
If you don't have this information, make sure to contact your supplier to be sure everything is 100% accurate.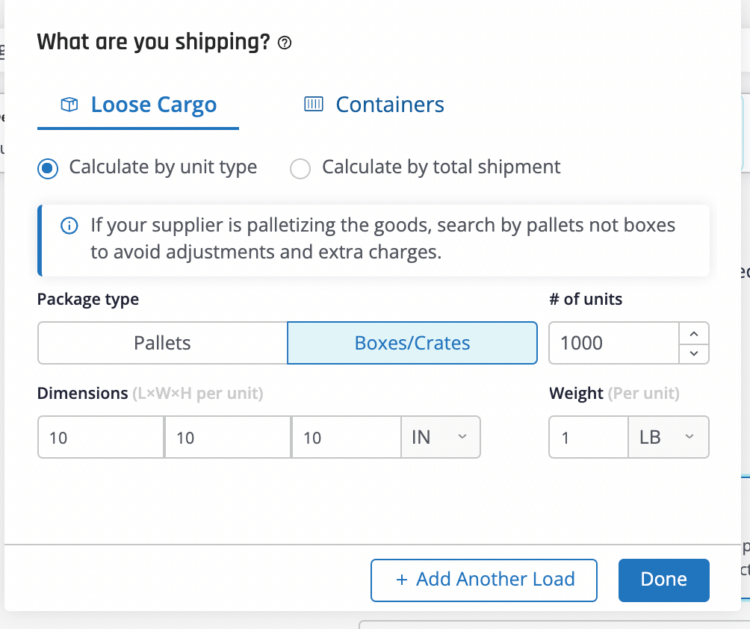 Lastly, enter the value of your goods and when they'll be ready to ship. If you don't know the total value, again, ask your supplier or look at your invoice.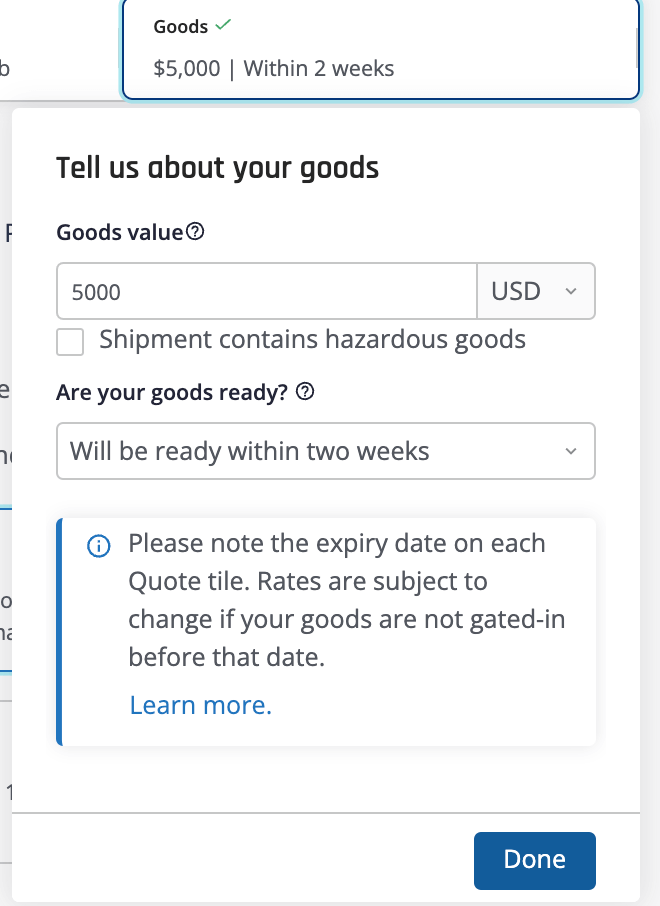 Before you get your results, Freightos will ask you if you need any services such as Amazon services and customs brokerage.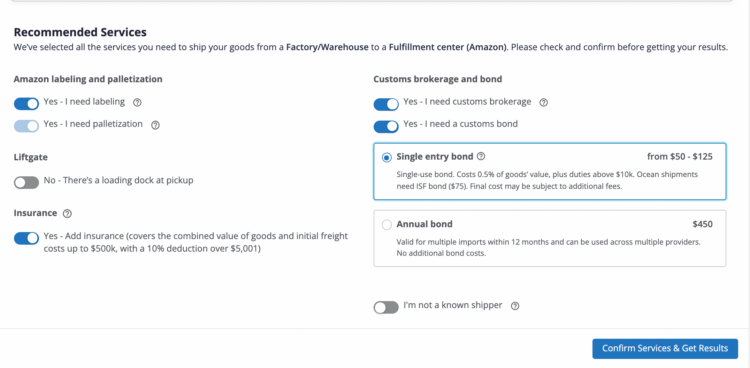 Unless your supplier will be labeling for you, I suggest choosing Yes for labeling and palletization. This way, you can be 100% sure your products are compliant with Amazon's requirements.
For customs brokerage and bond, choose Yes for both options. You will need to have a bond when your goods reach the destination port.
After entering all this information, you will be presented with multiple freight forwarders to choose from.
Once you find a good freight forwarding company to work with, it's time to set up your shipment in Seller Central!
To learn how to do it correctly, watch the video we added above or check out our latest How to Sell on Amazon FBA for Beginners video and watch the "Create a Shipping Plan" section.
How to Sell on Amazon FBA for Beginners | Complete Step-by-Step Guide by Jungle Scout (2022)
Now you're ready to deliver the goods
When shipping your products from overseas into an Amazon fulfillment center, trust the professionals, and don't ship alone. There are so many moving parts involved in this process that working with a freight forwarding company is worth the investment.
Finding a trusted partner in the shipping industry will make your life as an ecommerce seller that much easier.
If you have any more questions about freight forwarders or shipping your products, let us know in the comments below.
You can also check out our free Amazon FBA Competitive Edge Facebook group, where you can ask our experts and other Amazon sellers questions about freight forwarders and your FBA business.