Are you looking for a new way to monetize your social media skills? The Amazon Influencer Program may be a great option for you!
Using your influence, you can get paid to promote products you think your audience will love — all without investing in inventory, creating product listings, or incurring upfront costs.
The Influencer Program is an extension of Amazon's Associate's program where anyone with a qualifying website can promote products and earn commissions on any sales they bring to Amazon. Depending on the type of product you promote, you can earn anywhere from 1-10% of each sale.
The difference between these two programs is that the "Influencers" must meet certain requirements set by Amazon and be approved into the program.
How does the Amazon Influencer Program work?
While the Amazon Associates program is geared towards people with their own niche websites or blogs, the Amazon Influencer Program is intended for people with large, loyal followings on their social media accounts. Amazon is tapping into the growing influencer marketing space, which has become a popular and effective way for brands to reach specific audiences.
Similar to the Amazon Associates Program, the Influencer Program allows users to promote various products and receive commissions on the sales they bring to Amazon.
The major difference is how program members direct their audience traffic toward the products they endorse.
Associates Program. Users can only share affiliate links for individual products on their own websites or social media accounts.
Influencer Program. Members create their own custom storefronts on Amazon.
That way, followers can view all of an influencer's product recommendations together with just one link. Influencers can even categorize different types of products within their store for easy navigation.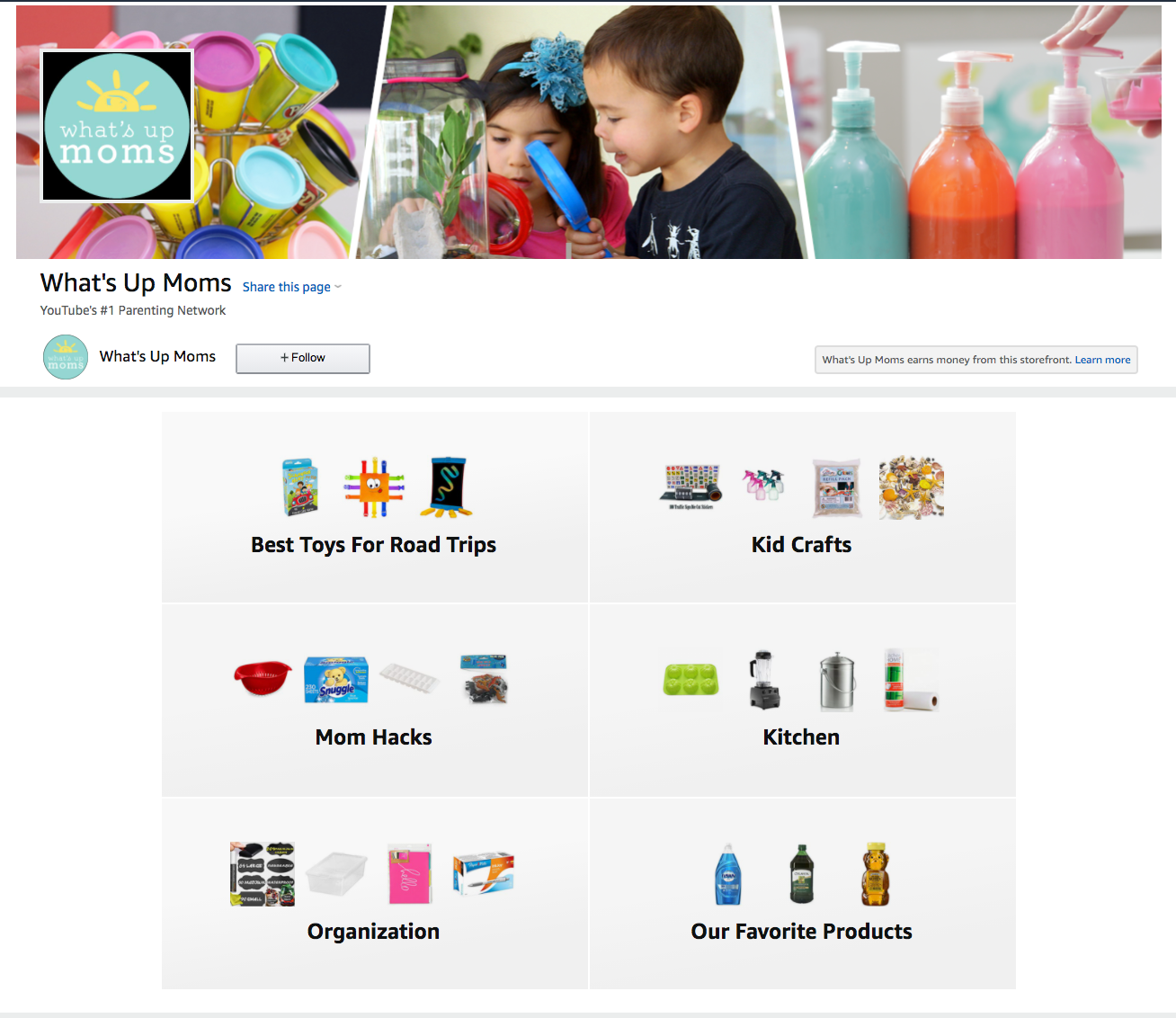 Influencer storefronts come with custom vanity URLs (i.e. amazon.com/shop/yoursocialmediahandle), so it's easy for followers to remember how to find them.
Share your Amazon storefront link across different social media platforms such as TikTok, Instagram, Youtube, Facebook, Twitter, or your own website.
Amazon Influencer Program requirements
Let's go over what you need in order to qualify for the Amazon Influencer Program.
For the Associates Program, all you need is your own website or blog.
The qualifications are a bit more rigorous for Amazon Influencers — Amazon will analyze your social media accounts to determine if you're a good fit for the program.
Here are the primary Amazon Influencer qualifications:
Platform. When you apply, Amazon will ask you to review the public social media account where you have the most influence. Currently, your options include Instagram, Youtube, TikTok, and Facebook.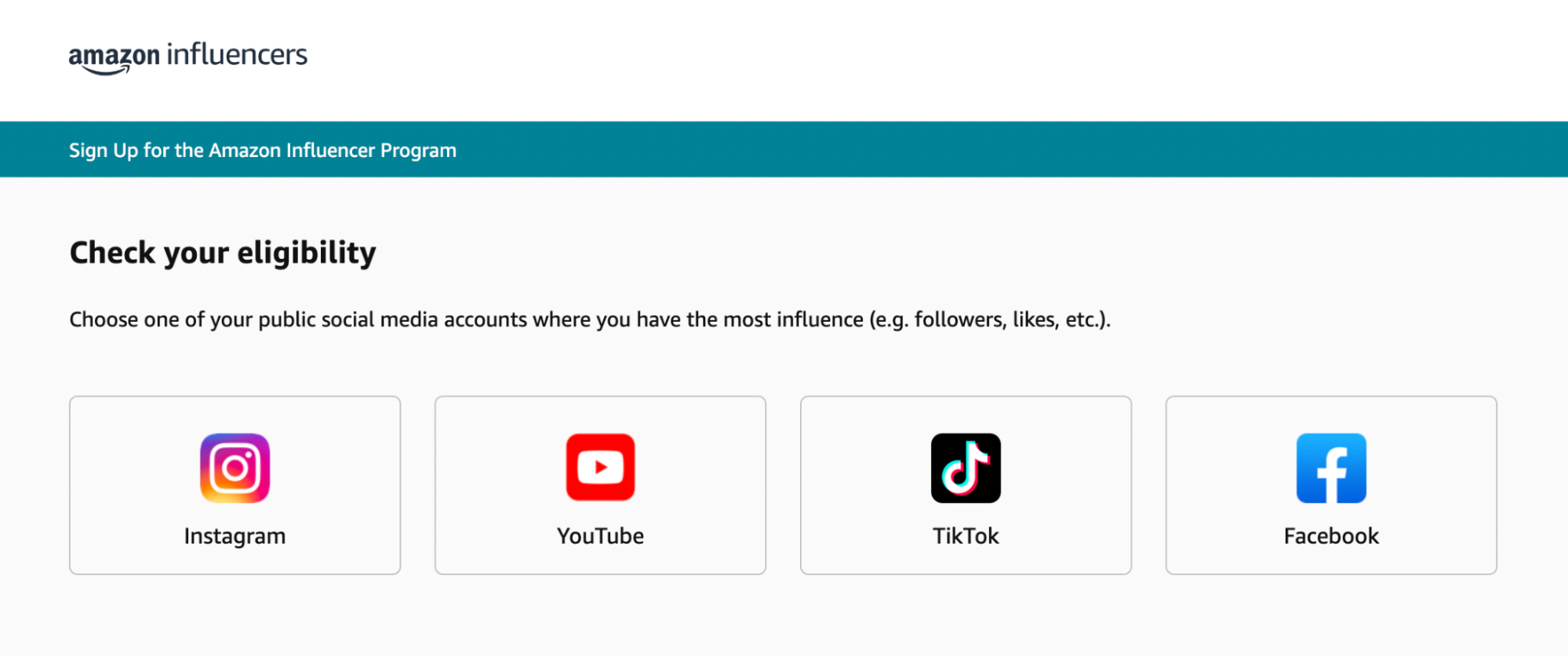 Number of followers. While Amazon does not specify a minimum number of followers required to become one of its influencers, your follower count will be taken into consideration. Don't panic — while having hundreds of thousands of followers may help your eligibility, it's not a necessity.
Engagement. As an influencer, there's more value in having legitimate, loyal followers who actually interact with your content than having a large but disengaged following. Amazon will also look at your post count, post consistency, and follower engagement metrics — which is what really counts toward your eligibility.
For example, let's say you have a decent Instagram following — about 10,000 strong. In today's terms, that's a fairly modest number of followers for an influencer. However receiving a consistently high amount of likes, comments, and shares on your social channels indicates that your audience is highly responsive to your content and likely to respond well to product recommendations. In that case, Amazon will most likely accept you into the program.
How to boost your social media engagement
Focus on improving your engagement rate by posting consistent, high-quality content that your audience enjoys, and you should have no problem getting into the program.
A good tip for improving engagement is to focus your content on your desired niche, rather than posting about various unrelated topics.
For instance, if you're outdoorsy and would like to promote products for hiking or other outdoor activities, build your social media posts around that rather than posting generally "relatable" content or random memes. Your audience will come to recognize you as an authority on outdoor experiences and will be more likely to engage with you based on that perceived expertise.
How to apply to the Amazon Influencer Program
If you have a strong, engaged following on social media, now would be a good time to apply to join the Amazon Influencer Program and start earning money on product recommendations.
The market for influencers is growing: 12% of third-party Amazon sellers are hiring influencers to promote their products, and over a third (41%) plan to grow their business through social media, influencer marketing, and other off-Amazon marketing efforts.
To apply, go to the Amazon Influencer Program homepage and click "Sign up."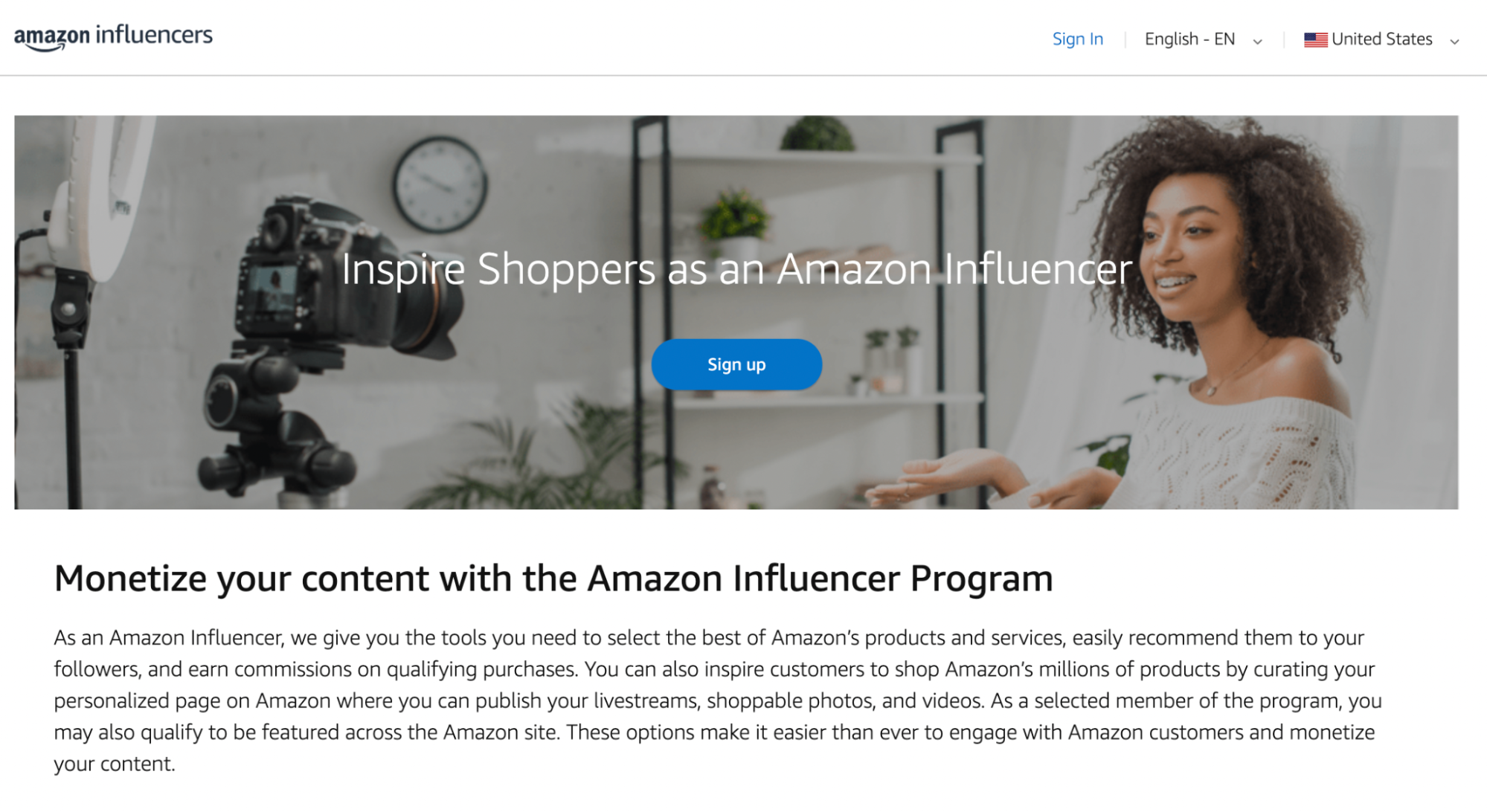 If you have a current Amazon customer account or Amazon Associates account, you can apply through that login. If not, click "Create new account."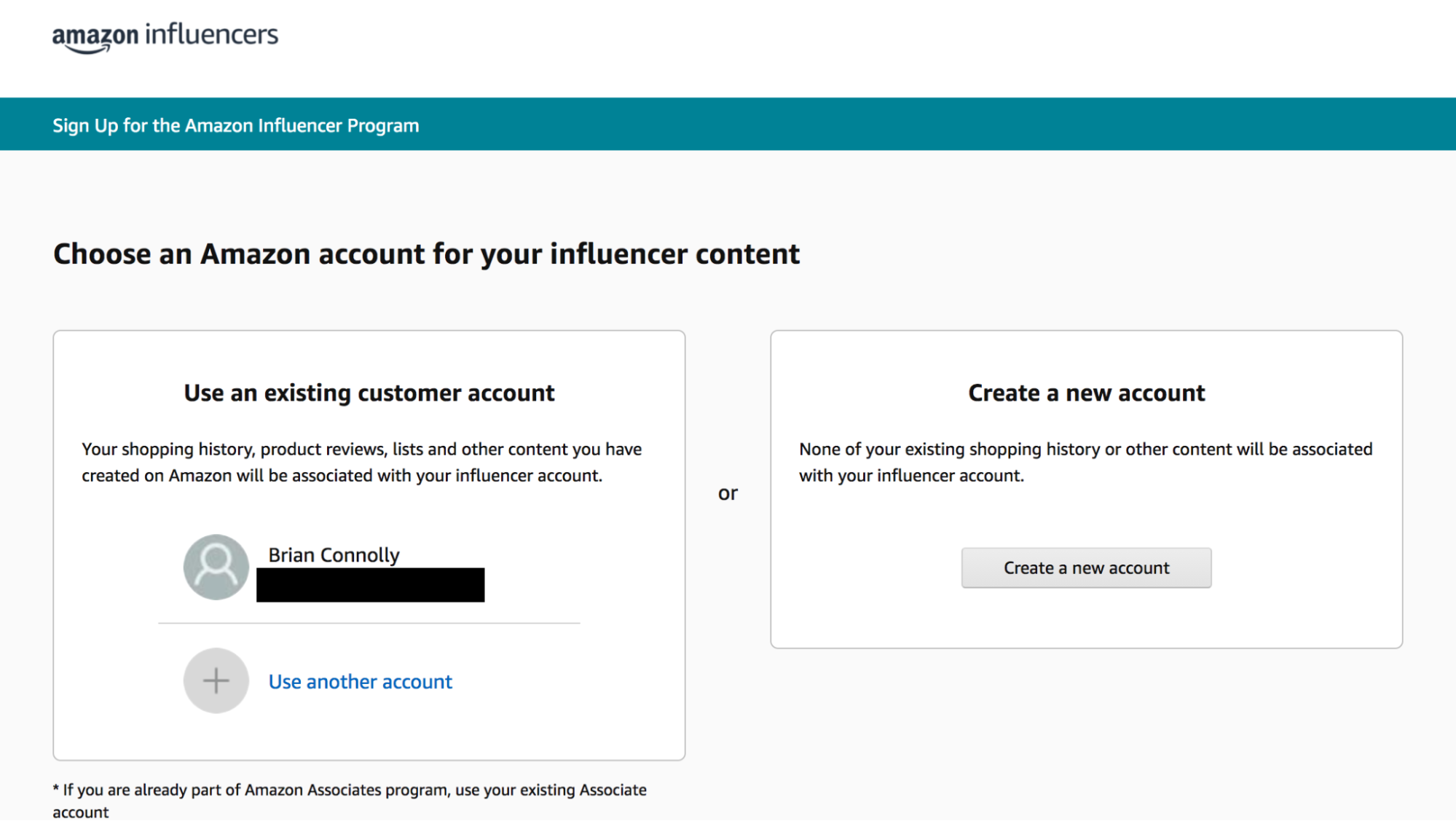 You will need to connect one of your social media accounts to your application so Amazon can determine your eligibility.
As mentioned above, you can choose to connect to Instagram, YouTube, TikTok, or Facebook.
If you apply with YouTube or Facebook, you will know instantly whether you're approved or not. If you continue with Instagram or TikTok, it may take up to 5 days for Amazon to make a decision. You should apply with whichever account has the most followers and engagement.
For this example, I decided to connect our Instagram account. Amazon will ask for your Instagram handle, follower count, and post count. They will use those numbers to decide if you can move forward with registration.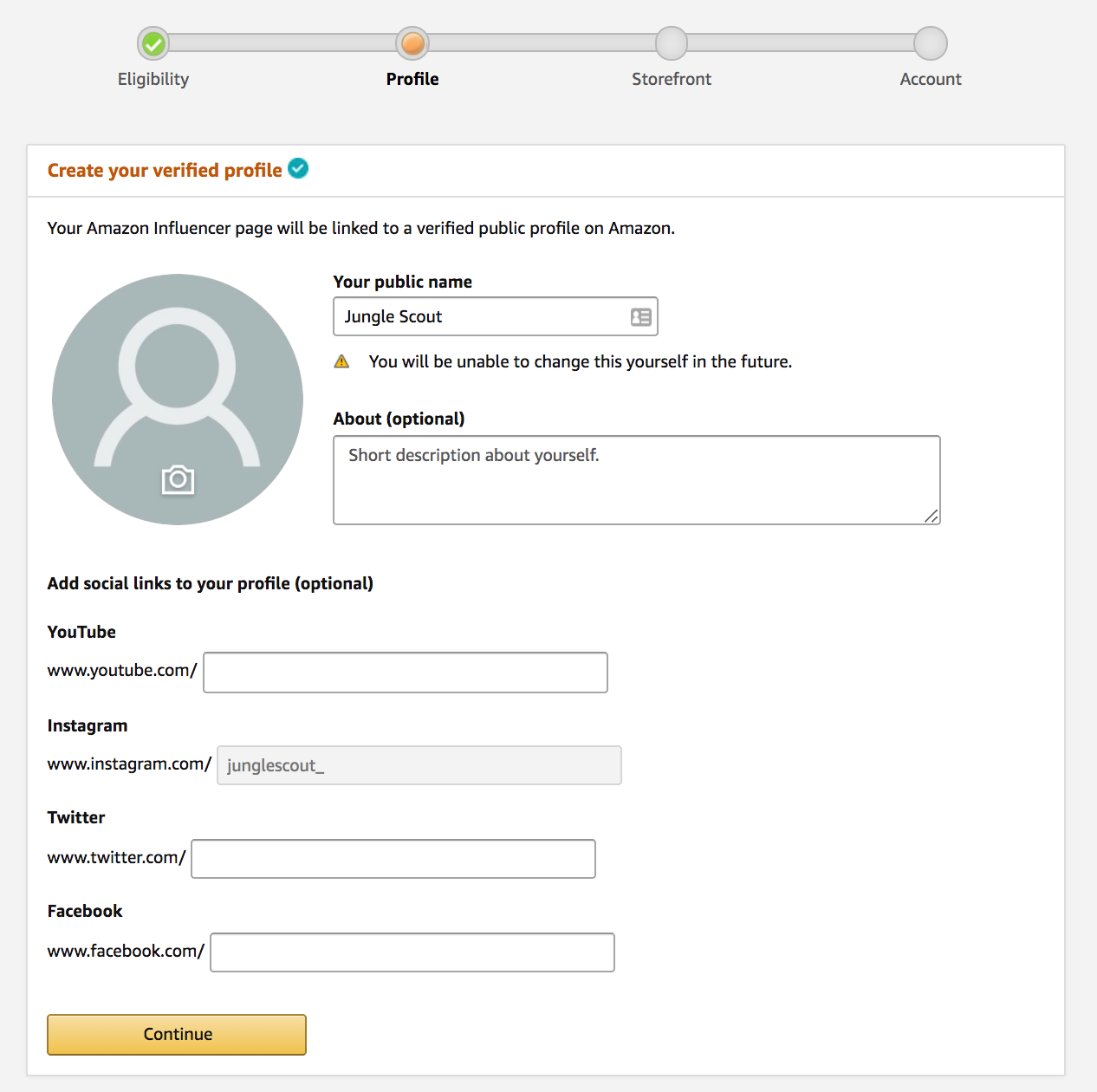 Next, you will complete your profile and enter your other social media account links.
In the next section, you will enter your Storefront name and tagline.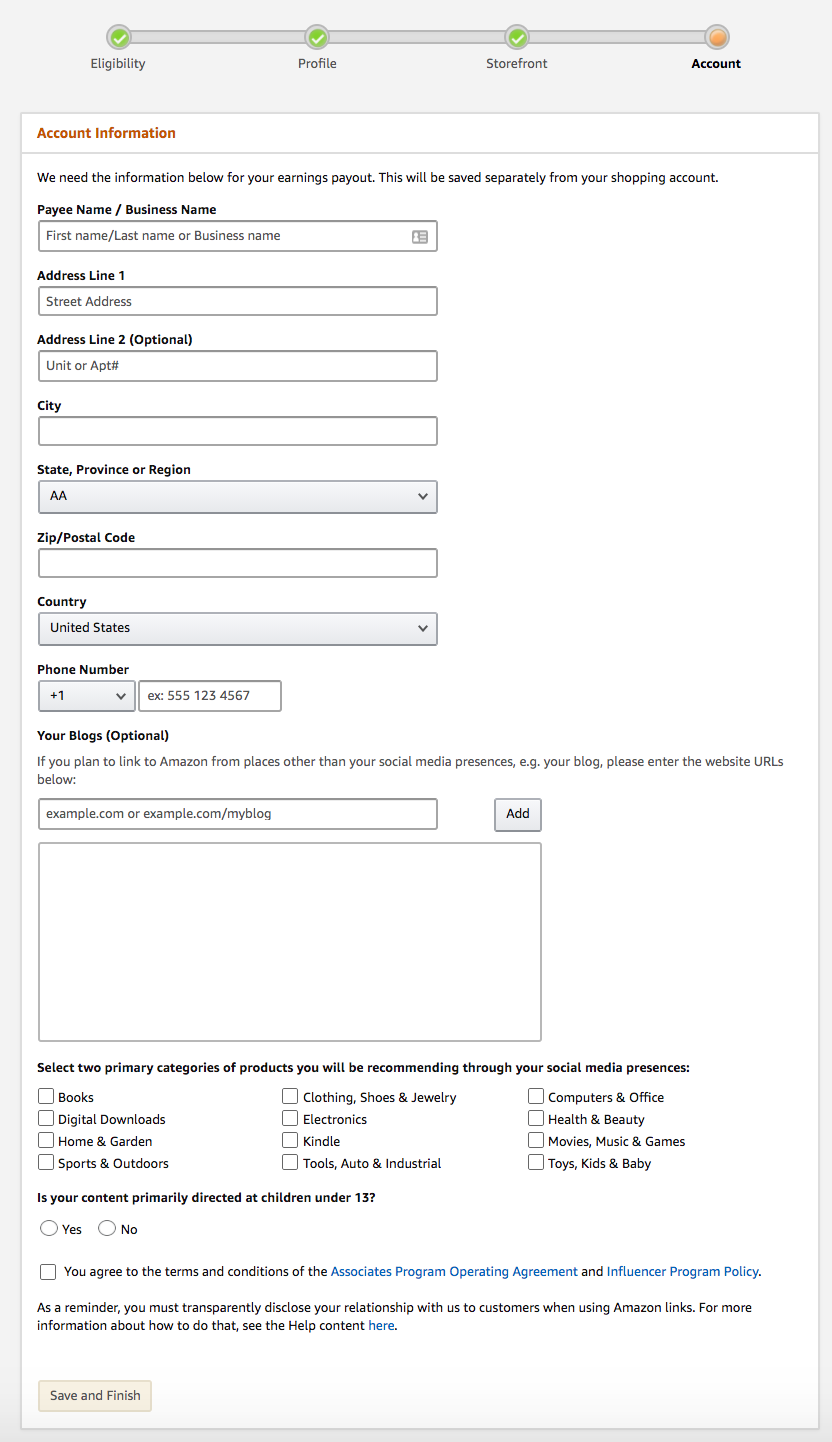 Lastly, enter your account information. Once complete, click on "Save and Finish" and you'll be brought to your Amazon Associates dashboard.

Once you're in the dashboard, you will need to follow the Amazon Influencer Program on Instagram with the account used to sign up for the program. Your application will not be approved until you do so.
Even while your application is in pending status, you can start building out your store!
How much do Amazon Influencers get paid?
This is a common question among aspiring influencers. As mentioned above, the Influencer Program uses the same payment structure as the Amazon Associates program.
Each category on Amazon has its own fixed commission rate for influencers.
For example, the Luxury Beauty and Luxury Stores Beauty categories will earn you a 10% commission, while the Video Game Consoles, Grocery, Health & Personal Care categories will only earn you a 1% commission.
Make sure you review Amazon's Commission Income Statement before deciding which category to promote.
While the commissions may seem low for some categories, the payments will really add up over time! And the best part is, it costs nothing to throw your storefront link in your Instagram bio or YouTube description — so it's completely worth it.
Let's say you promote this popular pet product — which will earn you a 3% commission — to your 10,000 followers. It's listed for $109.99 on Amazon.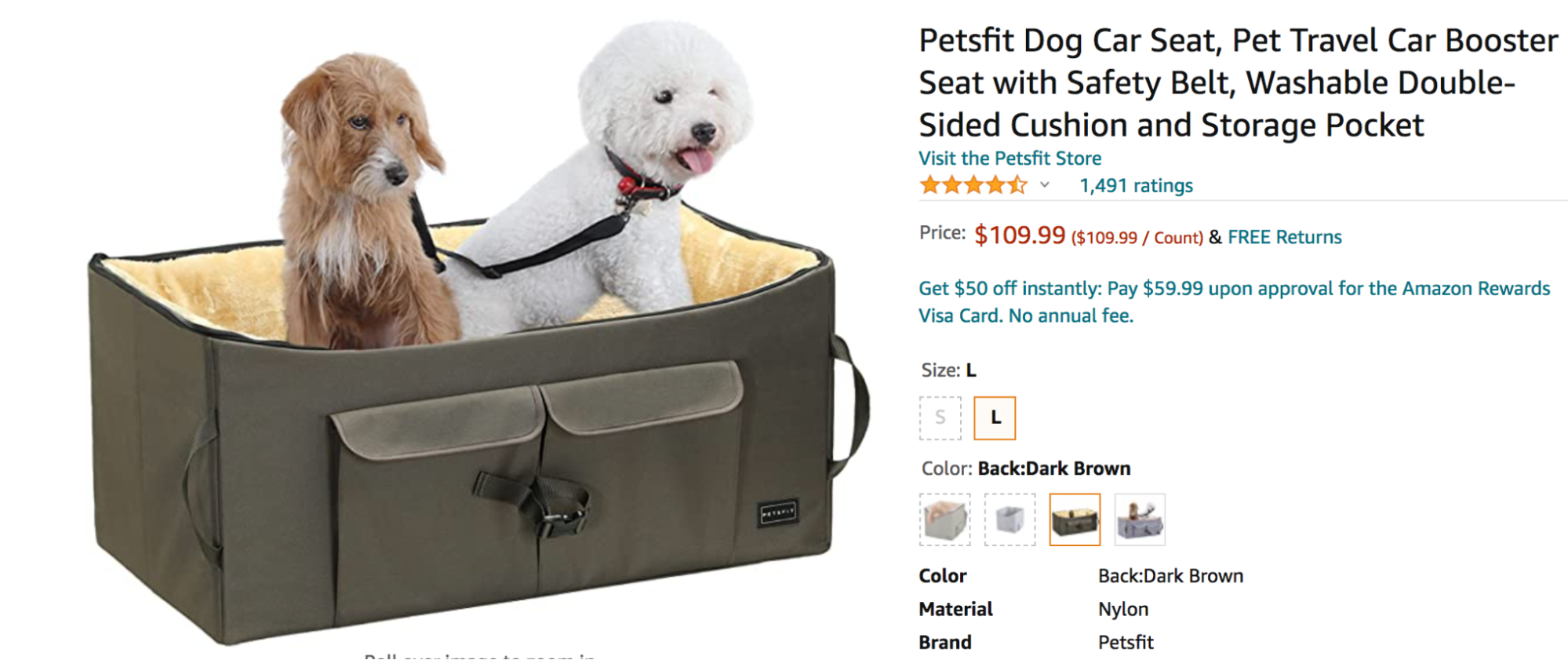 Even if just 1% of your followers decided to buy that product, you'd make $329 just by linking to it in your Instagram bio! Imagine what you could make with a highly engaged audience.
Earn from Onsite Commissions
Besides earning by directly promoting products to your audience, Amazon influencers can also earn money from "onsite commissions." Affiliates can earn onsite commissions from "shoppable content" that is posted to an Amazon product detail page.
If approved, your product videos or images will be shared to an Amazon listing and when a customer views your video, image, or idea list, then makes a purchase, you will earn a commission.
This way of earning is exciting to influencers because you don't need to promote any products to an audience to make money. You simply create content, upload it to your Amazon influencer profile, choose a product, and that's it! You can add as many videos or photos as you would like, so your earning potential is practically unlimited.
The catch is that you need to be approved for onsite commissions, even if you got your Amazon Influencer account approved. To start uploading videos and get approved for onsite commissions, go to the "Manage Content" section in your dashboard, then click on "Get started uploading videos."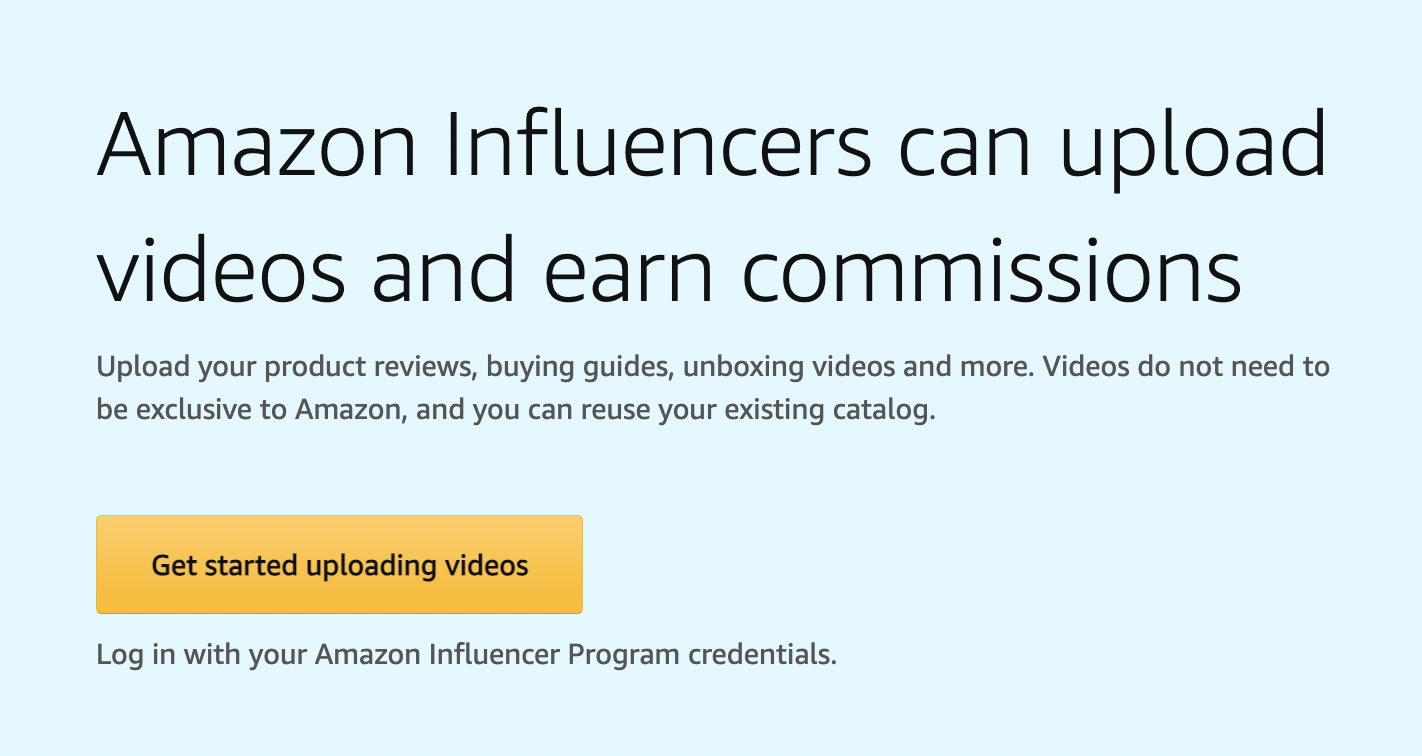 Start creating your Influencer Store
Similar to a seller's Amazon Storefront, Influencers can add their custom logo and banner image to personalize their landing page. Once your followers reach your store, they'll instantly know it's your page.
As noted earlier, you can organize the different products you recommend into different categories or themes. Once a visitor clicks on a category, the page will be populated with all the products it contains.
You can also add shoppable posts to your store like you would on any other social media platform.
To start adding products to your storefront, click on the link provided in your dashboard.

Next, click on "Create Content."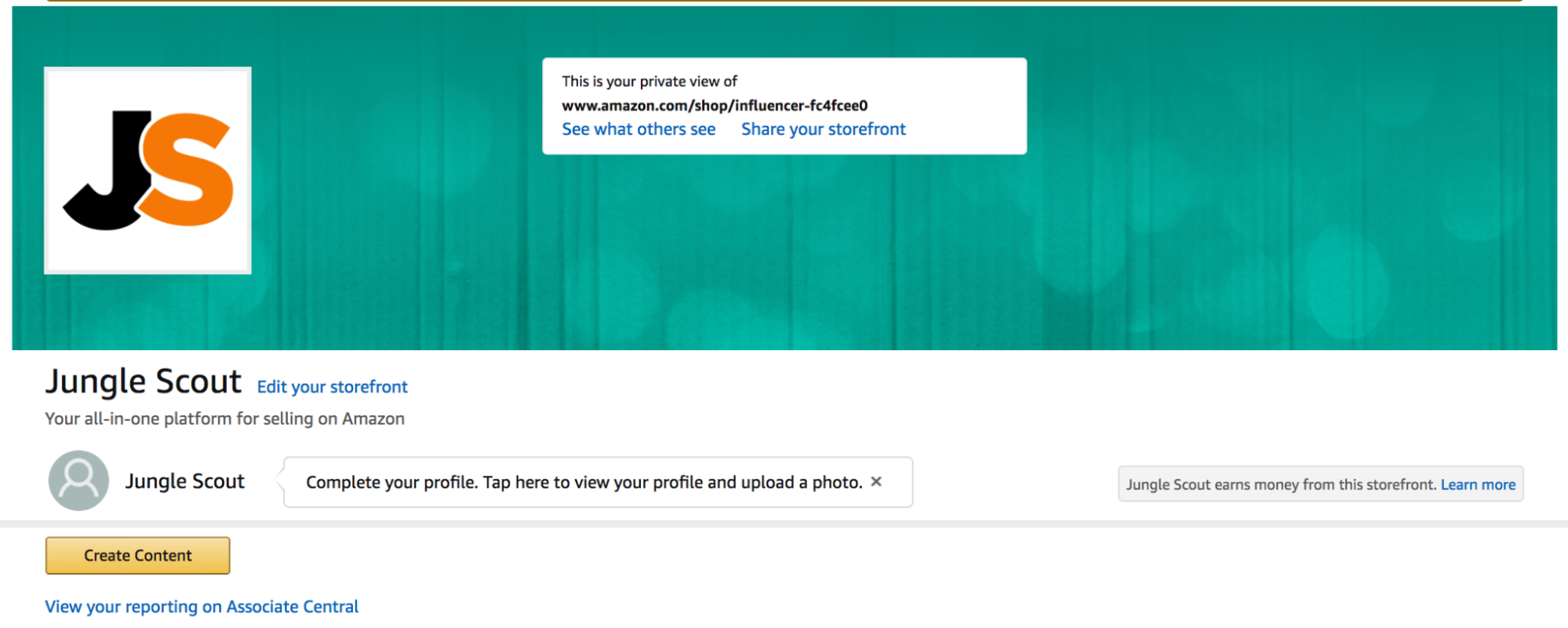 For this example, I am going to choose "Idea List." Enter in your idea list name and a description for it.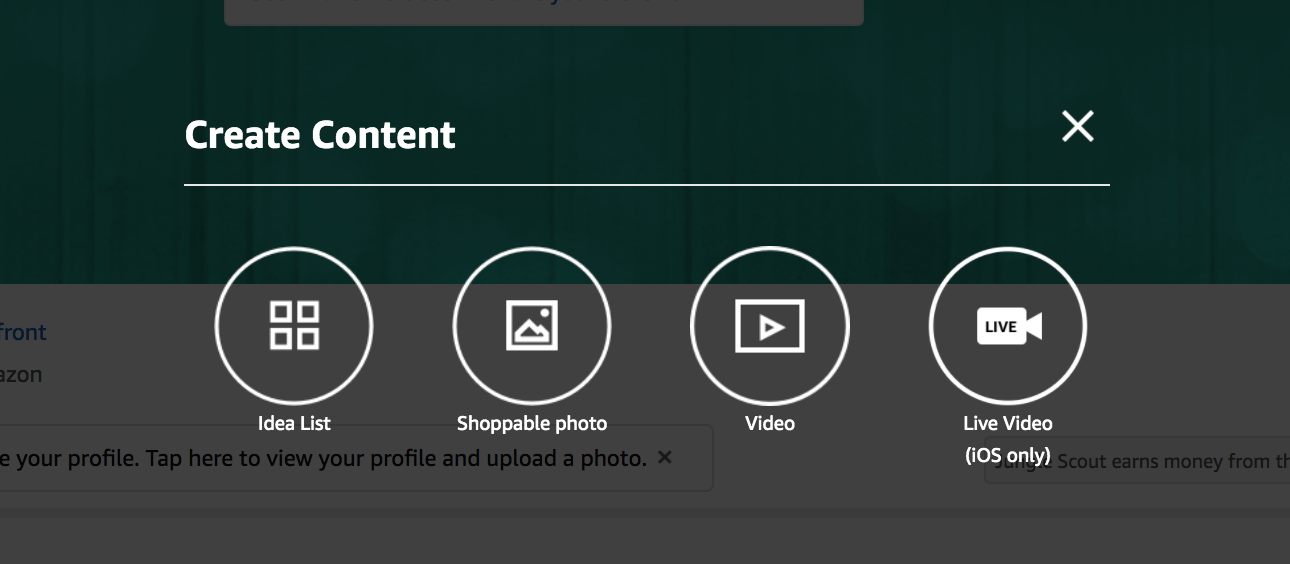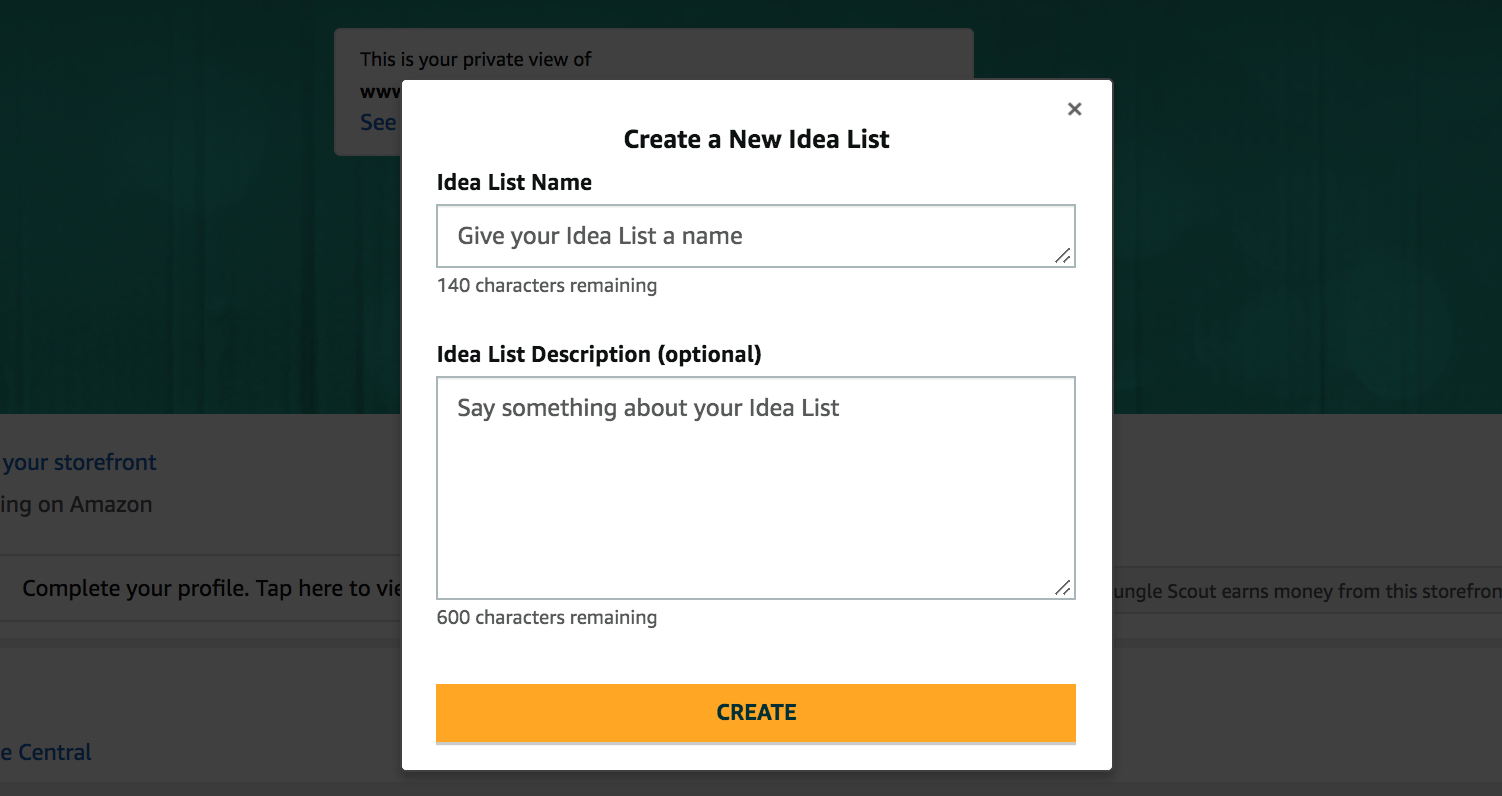 Now, you can start adding in as many products as you'd like.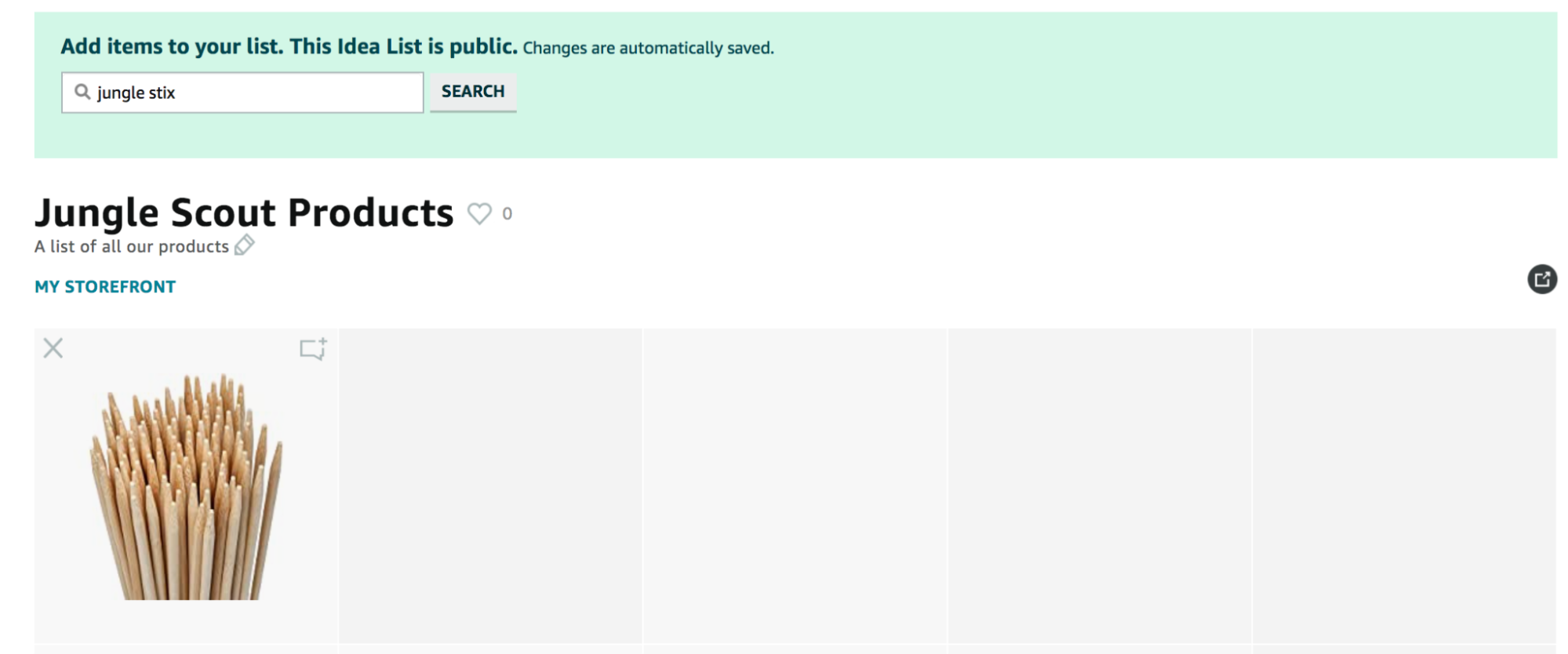 Here are some examples of Influencer Storefronts to give you some ideas for yours.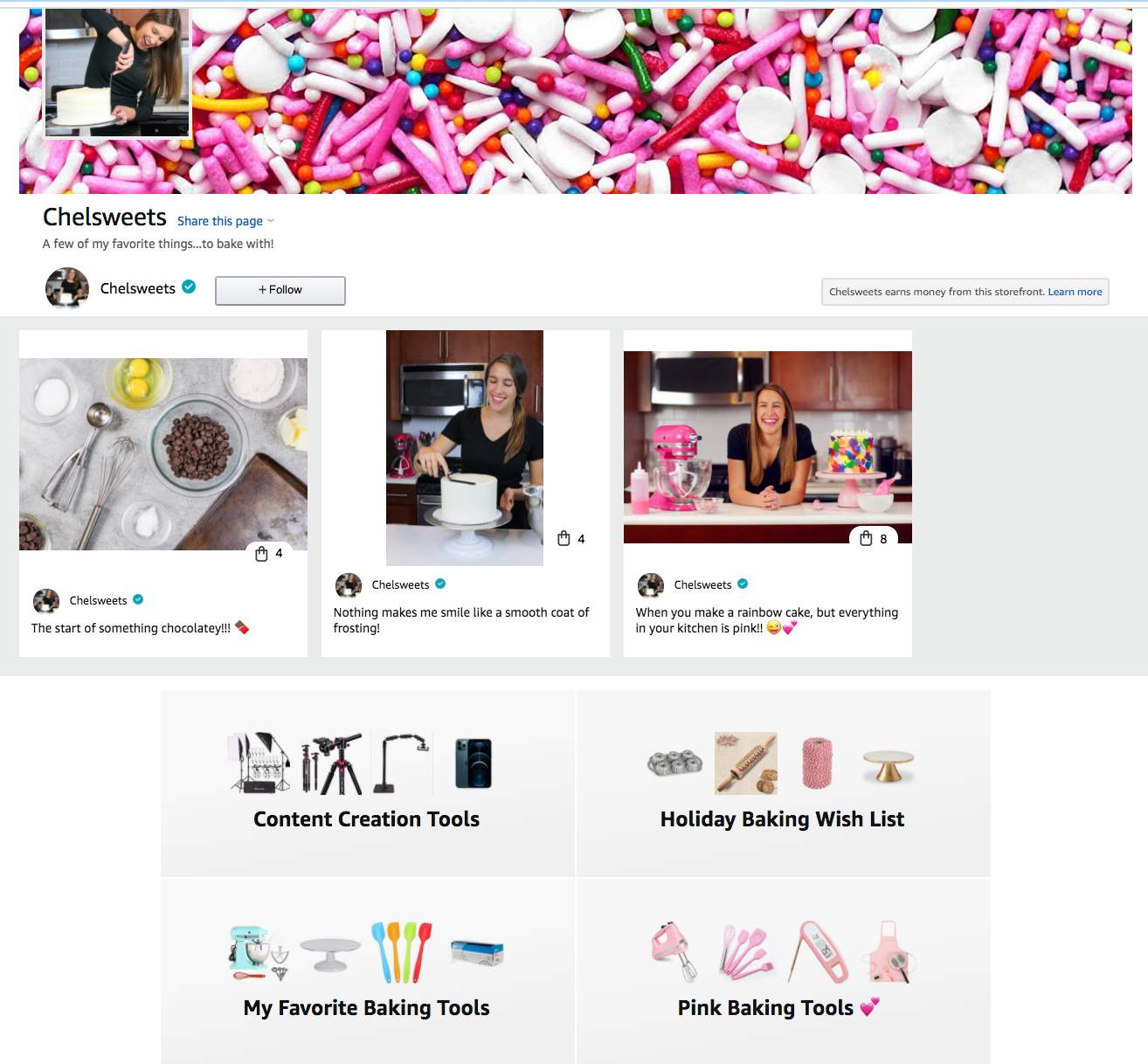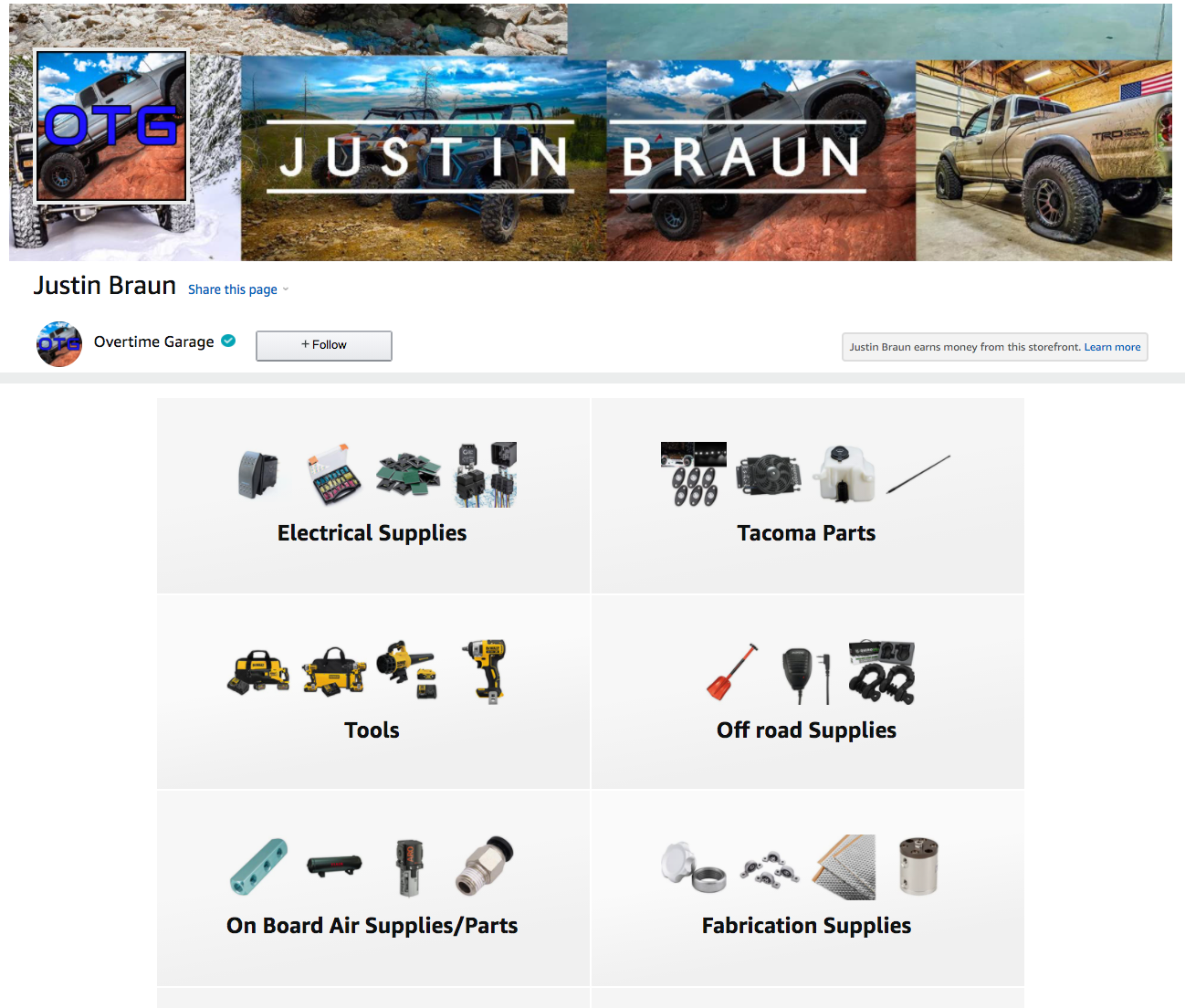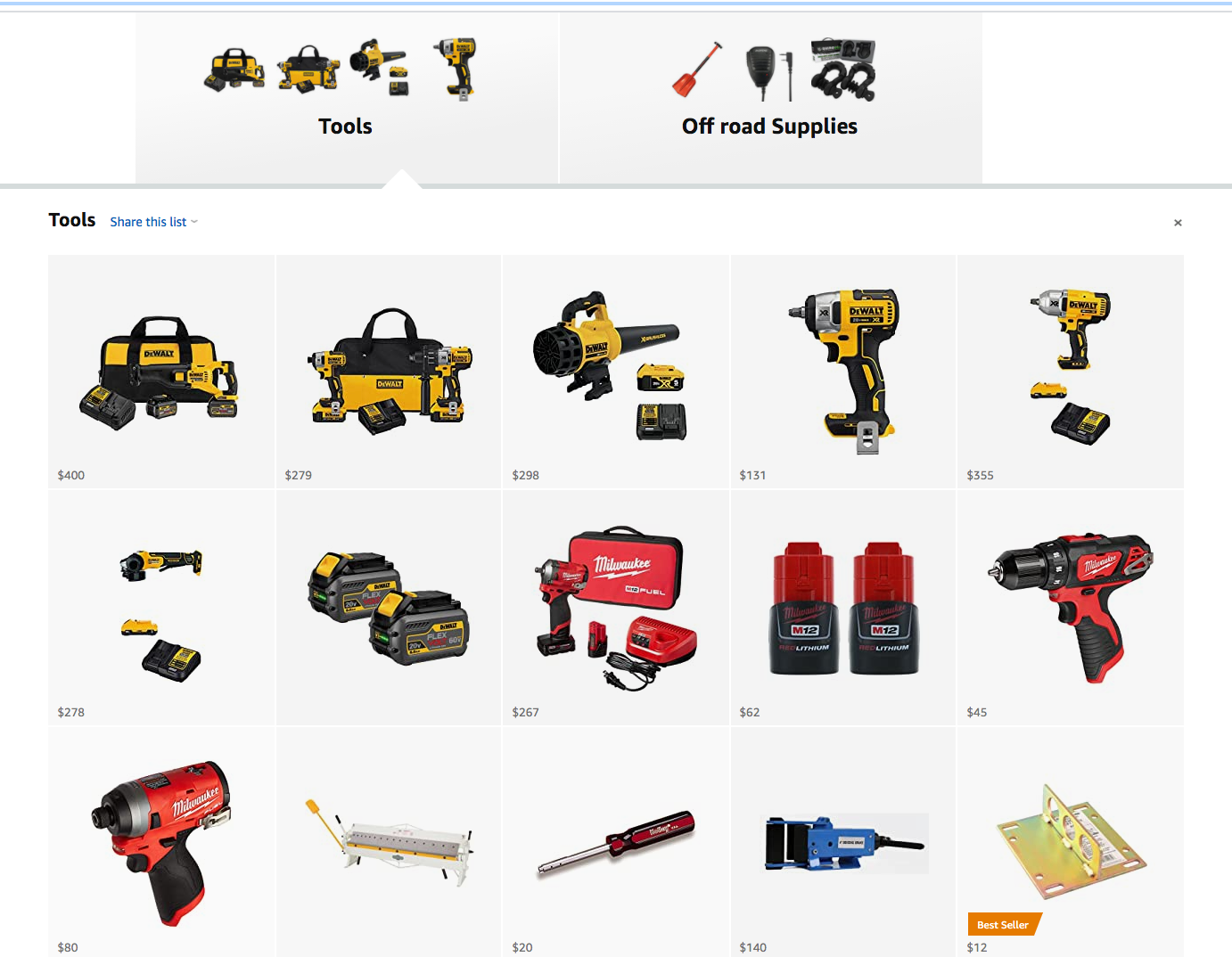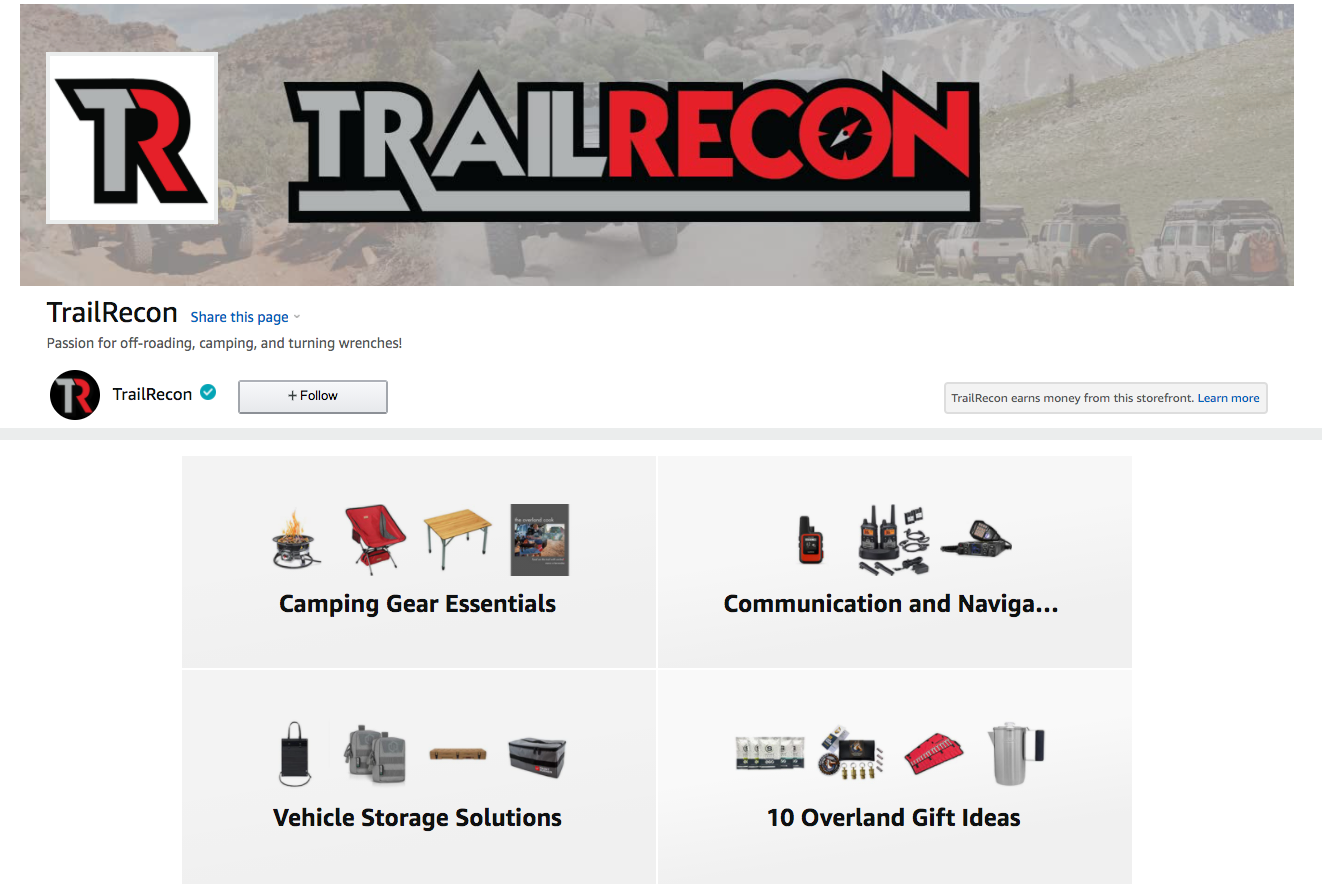 Once a customer clicks through to one of the products you're promoting and makes a purchase, you will earn a commission on that sale. You can easily track all of your sales and earnings within your Amazon Associates account.
How to promote your Amazon Influencer Store
Getting approved and creating your store is only half the battle—now you have to promote it! Since you need a large following to be approved, you can start by promoting your store on your social media accounts.
Let your audience know that you've compiled a list of products that you love and recommend for your specific niche. If you have an engaged audience that responds to your content, many will trust your product recommendations.
Amazon provides some great tips on how you can promote your store to increase your commissions. Try them out and see what works with your followers.
Instagram
• Add a link to your influencer page in your bio. In post captions, point your followers to your influencer link so they know where to find your recommendations
• Encourage your followers to shop the products in your posts by clicking the link in your bio
• Use Instagram Stories to showcase your personality, engage with your followers authentically, and broaden your audience. You can use 24-hour stories to highlight products, or pin high-performing stories to your profile so new followers can view them
Facebook
• Add the link to your influencer page to your "About" section
• Promote recommended products in your Facebook Stories (similar to Instagram Stories)
• Add a "Shop Now" button to your Facebook profile and link it to your Amazon influencer page
• In every product-related post, include a link to both your influencer page and the corresponding product detail page
YouTube
• Link to your influencer page in your channel's "About" section
• Include your link in video descriptions, along with links to any products mentioned in the video. Tell viewers they can "shop" your video by clicking the link in the description or in your "About" section
Twitter
• Link to your influencer page in your Twitter bio section
• Tweet about product recommendations frequently, and include your influencer link when possible or point followers to your bio
Website & Blog
• Consider the kinds of products and content your audience is interested in, and create blog posts to support it
• Write new content on a consistent basis to keep your readers engaged. Include links to recommended products when relevant, and point readers to your Influencer page to view all your recommended products at once
Snapchat
• Use Snapchat Stories to give followers a sneak peek at your Influencer page and recommended products
Podcasts
• If you have a podcast or other audio medium you use to connect and engage with fans, you can use that as an opportunity to tell them about your shop on Amazon.
Promoting Services
On top of recommending products that are for sale on Amazon, you can also promote Amazon services — also known as "Bounties" in the Affiliate program. Amazon services include:
Prime Video Channels Free Trial
Amazon Baby Registry
Amazon Business
Amazon Home Services
Amazon Music Unlimited Free Trial
___
The Amazon Bounty Program offers fixed commissions — or bounties — for each specific service promoted by an affiliate or influencer. For example, if you get a visitor to your Influencer page to create a Baby Registry with Amazon, you will receive $3 from Amazon.

A cool idea would be to promote complementary products and services. For instance, if you promote baby products to your followers, there's a good chance that some of them will also be interested in Amazon's Baby Registry service, so you could promote both for additional earning potential. Or if you promote clothing, you can also promote Amazon's Prime Wardrobe service.
Become an Amazon Influencer
As an Amazon Influencer, you could make money promoting your favorite products through your own custom Amazon storefront.
Do you have a large following on Instagram, Facebook, or YouTube? Then what are you waiting for? Apply for the Amazon Influencer Program and start getting paid for product recommendations. When it comes to monetizing your social media skills, joining this program is a no-brainer.
Are you an Amazon Influencer? Let us know about your experience in the comments below.
Brian Connolly is an Amazon seller, ecommerce expert, and writer for Jungle Scout. He lives in the New Jersey Shore area with his wife and cat. When he isn't writing advice online for aspiring and experienced Amazon sellers for Jungle Scout, he spends his free time boating, fishing, and selling boating-themed items on his Amazon business.