If you've been an Amazon seller or even just an Amazon customer, you're likely familiar with Amazon's own private label brands, most notably Amazon Basics. As a customer, shopping from an Amazon private label brand can help you save money on your favorite products, which are typically priced much lower than the leading brand.
But for sellers, an Amazon Basic brand in your niche, selling similar or identical products, can definitely be a cause for concern.
Should you be worried as a seller about Amazon selling a similar product as yours? Keep on reading to learn more about Amazon Basics and their other private label brands and how to navigate this as a seller.
What is Amazon Basics?
Amazon Basics (often stylized as AmazonBasics) is Amazon's original private label brand that was launched in 2009. The brand offers many products, including home goods, electronics, travel, office supplies, and much more.
Amazon Basics products are typically sold at a lower price than name-brand products, but they are still known to be of high quality.
On top of Amazon Basics, Amazon has over 100 other private label brands with tens of thousands of different product offerings.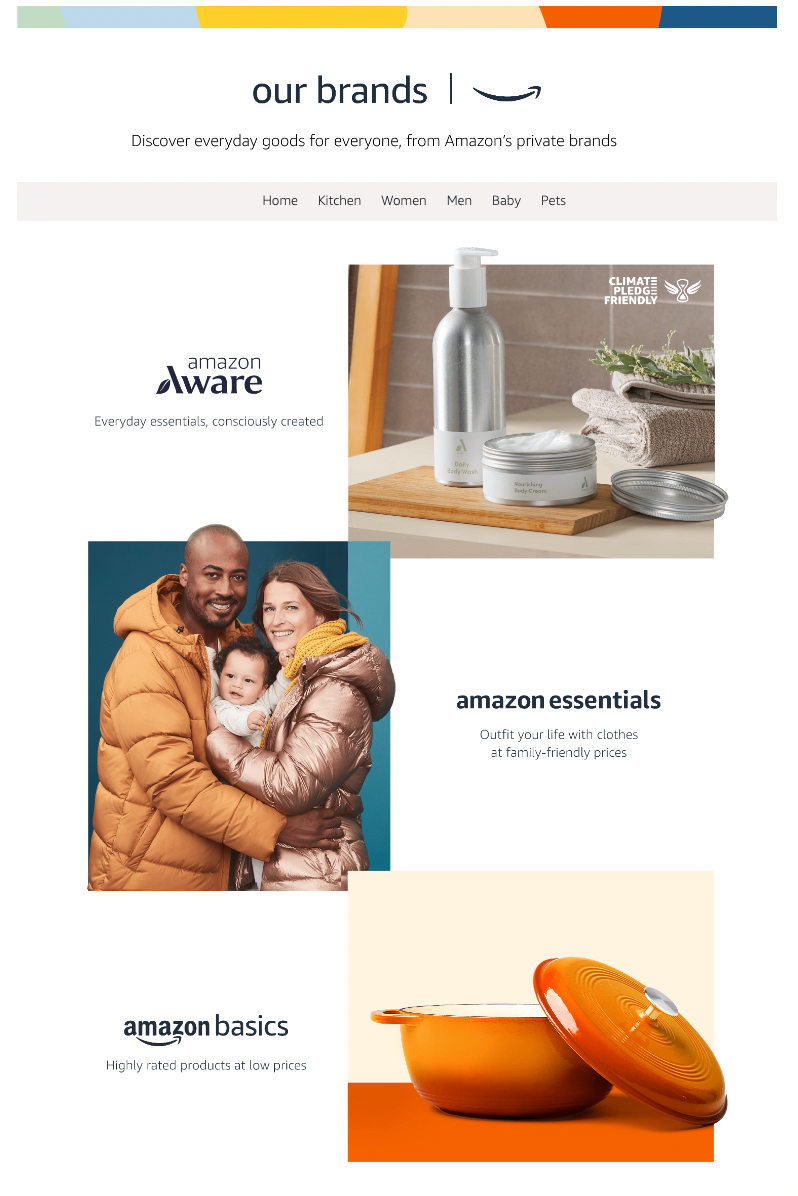 How Amazon's private label brands impact Amazon sellers
Seeing how many different brands and products Amazon offers under its own brands is definitely concerning. Especially considering how affordable its products are compared to those of notable brands.
As you can see from the example above, a 20-pack of Amazon Basics batteries is half the price of Duracell's 24-pack!
Here are some ways Amazon's private label brands can impact a seller's business:
Increased competition.

The fact is, no matter where you are selling your products, you will experience competition, even if it is from Amazon itself. As an entrepreneur, you need to get used to other brands fighting to take sales from you. Focus on ways to improve your brand and products.



Reduced visibility.

Amazon's private label brands often appear higher in search results than other third-party brands. This can make it difficult for Amazon sellers to get their products seen by potential customers.



Lower prices.

Amazon's products are priced notoriously lower than other brands' it is competing with (as you can see in the screenshot above). Amazon is a massive company that can order large quantities with the lowest possible COGS for its products, which not every seller, especially small sellers, can achieve.
READ MORE | Amazon Seller Pricing Strategy – How to Price a Product
How to compete against Amazon Basics and other Amazon brands
Now just because Amazon may be your competitor does not mean their product will automatically be the best seller or the best quality. Sellers need to stay focused on their business and ensure they're offering the best products possible.
Let's review how Amazon sellers can compete with an Amazon private label brand.
Focus on niche products.

Amazon's private label brands don't offer every product that's available on Amazon. There are still opportunities for Amazon sellers to sell unique products that Amazon doesn't offer.

Create beautiful listings.

Sure, Amazon may be in your niche, but it doesn't mean their listings are better than yours. Show your potential customers why they should purchase from your brand by creating high-quality

images

,

infographics

, unique product

videos

, and eye-catching

A+ Content

. Check out our

2023 listing optimization guide

for more tips.

Unique branding.

Even if you're selling a product that's also available from Amazon's private label brand, you can still differentiate your product by branding your product in a unique, memorable way versus offering a generic product. This will help customers remember your product and choose it over Amazon's private label brand.

Amazon Advertising.

Amazon offers many effective ways to

advertise your products

, especially if your brand is enrolled in

Brand Registry

. Take advantage of these tools as ways to get your products in front of your potential customers.

Market your products.

Don't just rely on

Amazon PPC

or for Amazon to show your products to customers, you need to market your products to customers outside of Amazon. This can be done through

social media

, email marketing, or paid advertising through

Facebook

or Google.
Does your brand compete with Amazon Basics?
If you find that Amazon is a competing brand for one of your products, do not fear! Follow the advice we laid out in this article to ensure your brand and listings are the best they can be.
In ecommerce, there will always be competition, you just need to learn how to adapt and overcome any obstacles you encounter.
Do you have any more questions about Amazon Basics or about selling on Amazon? Let us know in the comments.
Explore new product opportunities with Jungle Scout and start making money on Amazon!