As of June 1, 2020, this post will only be updated if there are major changes and/or notifications that will affect Amazon sellers.
Coronavirus is changing our lives and impacting our livelihoods on a daily basis — if not faster. To keep up, the team at Jungle Scout has collected the need-to-know updates about coronavirus and its impact on Amazon consumers and Amazon sellers.
How this works:
We plan to update this article

every weekday

for the duration of the pandemic, and we commit to keeping you informed with details about the changing consumer behavior and news about Amazon to help sellers navigate this uncertain time. See bolded date below to confirm last update to this page.

Bookmark this page to return for daily updates.

Check out our seller resources and FAQs below. We'll take all your questions in the comments and post answers in the FAQ section.
***All below updated as of June 1***
The Latest COVID Updates from Amazon
May 19: Amazon is reopening its warehouses in France after reaching an agreement with labor unions, and providing "health and security guarantees". The fulfillment centers were shut down for a month after Amazon lost their appeal of a French court's original ruling to improve safety measures for workers on April 16.
May 13: Originally set to end on May 15th, Amazon has decided to extend its deferral of account suspensions until May 31st. This decision was made after receiving feedback from sellers saying that they are still having issues with supply-chain interruptions. However, Amazon will begin tracking those performance metrics — order defect, late shipment, and cancellation rates — on June 1, 2020. But, any "order performance defects showing in your Account Health page from prior to June 1 will not be used to evaluate your account health."
May 12: According to a Marketplace Pulse article, all quantity restrictions on shipment plans — originally implemented on April 18 — have been removed. However, though the limitations have been lifted, it appears that not every fulfillment center is back up to speed. One of Jungle Scout's Amazon sellers reported that while Indiana is now processing their deliveries, California is not. But, with this positive change, it's likely that order fulfillment across Amazon's entire distribution chain will return to normal in the near future.
May 7: Sellers taking part in Amazon's FBA Small and Light program are in luck; their products can now be fulfilled using Amazon's Multi-Channel Fulfillment (MCF). This allows sellers to fulfill their inventory "to any sales channel outside of Amazon", which includes their own website. Fees for MCF for those FBA Small and Light items will be based on current fulfillment fees.
May 6: Amazon's seller news reported that, "Due to widespread transportation cancellations and restrictions, the United States Postal Service has temporarily suspended international mail service to certain destinations. Before you ship your orders, you can check the USPS website for an update on conditions."
May 4: While Amazon had waived long-term storage fees until May 15th, they've decided to extend it. Rather than having sellers start paying long-term storage on May 15th as originally planned, fees for the 15th will also be waived due to continued delays with their removal operations. Sellers will still be able to create removal orders, though delays are to be expected. Auto-removals will also be held up.
April 30: In a Seller Central notification, Amazon announced temporary changes to its refund policies. For FBM orders (Prime and non-Prime), sellers now have 7 days to process returns and issue a refund. However, after May 31, 2020, the processing time for those returns/refunds will be rolled back to two days. For prepaid label returns (Prime and non-Prime), sellers now have 90 days to file for reimbursement. But, on June 1, 2020, the filing period for reimbursements will revert back to 60 days. In addition, during this one-month extension period, reimbursement claims will remain open to give sellers more time to deliver any additional information Amazon may need to complete the claim.
April 23: In a newsletter sent to sellers, Amazon stated that they have "stopped suspension of selling accounts for high order defect, high cancellation, and high late shipment rates". The pause is in effect until May 15, though Amazon also said that it will be extended if need be.
April 20: Though Amazon stopped operations in France on April 16, and planned to reopen April 20, they are now saying that they hope to resume business on Wednesday, April 22.
April 18: Amazon announced that more products are now "eligible for shipment creation." However, some of the products that are being reintroduced are being limited regarding the number of units that can be shipped. To see which products are eligible, Amazon is directing sellers to their Restock Inventory page, or their Restock report. As for items that are limited, they will be identifiable by a 'Limited restock' tag.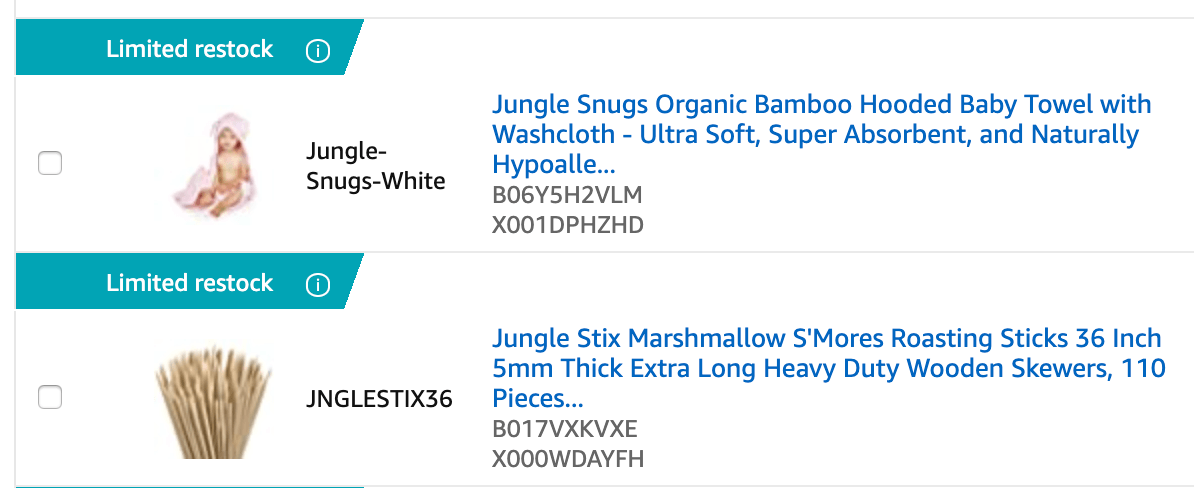 April 16: After being told by a French court to limit deliveries to essentials and improve safety measures for workers, Amazon has stopped operations in France temporarily. They plan to reopen in five days, after strengthening their current Covid-19 safety procedures.
April 15: Amazon affiliate commissions are being significantly reduced, starting April 21, 2020.
April 14: A French court ruled that Amazon's deliveries be limited to essential goods during the Covid-19 crisis. They were given 24 hours to restrict inbound shipments of non-essentials to their French fulfillment centers, or face a €1 million per-day fine.
April 14: Amazon confirmed to CNBC that they will be accepting some non-essential shipments from third-party sellers starting at the end of the week.
April 13: Amazon plans to hire 75,000 more workers "to help meet customer demand and assist existing employees fulfilling orders for essential products."
April 9:

Amazon announced

it would temporarily pause account suspensions related to supply chain and fulfillment difficulties. Since March 20, Amazon has not been suspending sellers who have had high late shipment rates, and Amazon says these changes will remain in effect until May 15.
April 6:

Amazon is giving shoppers until May 31 to return any

purchases made between March 1 and April 30

. This is to account for delays in shipping, both on Amazon's end and US carriers'.

April 6: Though there has not yet been an official announcement, Amazon is still not accepting inbound shipments of non-essential items. (The freeze was supposed to end on April 5.)
April 3: Amazon is reportedly delaying Prime Day until at least August 2020. (It's typically been in mid-July.)
March 31: Amazon is

starting to show "Buy Box" preference

to

FBM sellers

, who may be able to fulfill orders faster than Amazon.

March 24:

Amazon announced that

Amazon India would only ship essential goods to consumers

.

March 21:

Amazon announced that the

Italian and French marketplaces would only ship essential goods to consumers

.

March 17: Amazon announced it would

freeze non-essential FBA shipments

from its sellers.
Top Products on Amazon Today
As of June 1, top product sales on Amazon include:
Pepper spray keychain
Inflatable 4-in-1 pool float
Tie-dye kit
Portable ice maker
Windshield sun shade
Face masks
Loungewear shorts with pockets
AA batteries
Toilet bowl cleaner
Insulated can cooler
Amazon Seller Resources and FAQs about Coronavirus
First, join Jungle Scout CEO Greg Mercer for the final installment of our four-part webinar series covering strategies for making money from home.
Second, watch the replay of our April 3 webinar, with Greg, on how to navigate the coronavirus.
Resources
Click for more information on:
For those new to the world of selling on Amazon, learn:
And read more about Amazon and the impacts of coronavirus:
FAQs
How has private label product research changed during COVID?
Naturally, best-selling ranks have been affected by the change in demands on Amazon. Essential products such as grocery, pet supplies, and medical supplies lead the way, but other items, such as those needed for homeschooling and work-from-home offices have also shown a noticeable spike.
How is coronavirus impacting delivery times?
Amazon is prioritizing essential goods over non-essential items. Amazon considers essential items to be in the following categories:
Baby

Health & Household

Beauty & Personal Care (including personal care appliances)

Grocery

Industrial & Scientific

Pet Supplies
In addition, sellers who use Amazon's fulfillment program, Fulfillment by Amazon (FBA) have a temporary block on shipping non-essential items into Amazon's warehouses. Instead, sellers have to ship their own products or rely on the inventory that they already have in stock.
What are the best product categories or markets to sell in during COVID?
As of this writing, the most popular goods on Amazon are essential goods that fall into one of the six categories mentioned above.
In addition to those, we've noticed spikes in other categories and subcategories such as:
Work-from-home tools/furniture

Home gym accessories

Board games/puzzles

Homeschooling resources

Patio, Lawn, & Garden products

Home organization/cleaning products
Should a new seller start selling on Amazon during Coronavirus?
Actually, we think now is the best time to start selling on Amazon; all sorts of opportunities are starting to open up for new sellers. And while the COVID-19 outbreak certainly presents challenges for new and experienced sellers alike, the process remains the same.
Make sure to do plenty of research using your Jungle Scout tools to find high demand/low competition products. Look for reputable suppliers through the Supplier Database. Then focus on building the perfect product listing before launching your product.