As of June 1, 2020, this post will only be updated if there are major changes and/or notifications that will affect Amazon sellers.

For more coronavirus news:

– Amazon + Coronavirus: Daily Updates
– The Coronavirus on Amazon: 44M Medical Masks & 20K Hazmat Suits Sold, Plus Counterfeit Products & More
– How Coronavirus is Impacting Amazon's Supply Chain (and Its Sellers)
In the era of coronavirus, we're seeing drastic changes to both supply and demand for products on Amazon, and we're seeing Amazon respond to both. These changes are affecting both consumers AND Amazon's third-party sellers in unprecedented ways.
People around the world are self-isolating and working from home, a "quarantine economy" has emerged, and businesses big and small will have to pivot in order to survive the coming year.
What do all these changes mean for Amazon's third-party sellers?
This article explains the changes Amazon sellers will likely face in the coming months and the critical steps they'll need to take to adapt.
4 Ways coronavirus is affecting Amazon sellers
1. Amazon is prioritizing essential goods over non-essentials for deliveries
Since the outbreak of coronavirus, or COVID-19, the demand for essential products has skyrocketed, leaving store shelves empty of basic necessities such as food, medical supplies, and household goods like toilet paper and paper towels.
Meanwhile, a disruption in the global supply chain has led to shortages in supply. Amazon responded by shifting gears from its role as an "Everything Store" to becoming an invaluable supply chain to help get America through this time of crisis.
March 17, 2020
Amazon announced it would freeze non-essential FBA shipments from its third-party sellers. In addition, it has started to prioritize essential goods over non-essentials.
Amazon considers the following product categories essential:
Baby

Health & Household

Beauty & Personal Care (including personal care appliances)

Grocery

Industrial & Scientific

Pet Supplies
If a seller's products are outside of those categories, they will not be able to send shipments to Amazon's fulfillment centers nor create an inventory replenishment order.
However, these changes are temporary.
Amazon stated that the freeze on receiving non-essential goods would only last until April 5. And sellers whose products are already in Amazon's fulfillment centers — or are on the way to the fulfillment centers — will still have their products enter the supply chain.
However, while Amazon has not yet made an official announcement, the freeze is still in effect. I tried to create a shipping order for one of my products on April 6 and received a message saying Amazon's fulfillment centers aren't accepting inbound shipments of non-essential items.

Currently, there are no restrictions for merchants who fulfill their own products (FBM). Therefore, it is still possible for sellers who currently sell via FBA to make sales and ship their goods to customers themselves.
March 21, 2020
Amazon announced that the Italian and French marketplaces would only ship essential goods to consumers. However, as of this writing, there is no word when this restriction will lift. (Not only could this move affect the seller's business, but may leave them without a stream of income during these trying times; 22% of active sellers in the French marketplace and 23% of active sellers in the Italian have no other income than their Amazon business.)
March 24, 2020
Amazon further announced that Amazon India (amazon.in) would only ship essential goods to consumers following Prime Minister Narendra Modi's announcement that India would enter a 21-day lockdown.
In addition, TameBay reports that non-essential goods in the Amazon UK (amazon.co.uk) marketplace are taking as long as 3-4 weeks to ship. And in the US marketplace, the sellers' ability to create coupons is temporarily suspended until April 5.

March 31, 2020
we received word that Amazon would offer the following benefits to help sellers during the COVID-19 outbreak:
It states that "In light of the evolving COVID-19 crisis, we will waive two weeks of your inventory storage fees for products stored in the United States, Canada, United Kingdom, Germany, France, Italy, Spain, Poland, and the Czech Republic."
This is in addition to the previously announced updates including:
Waiving the April 15 long-term storage fees for inventory stored in the U.S. and Europe.

Pausing repayments and interest until April 30 for sellers with direct loans from Amazon Lending.

Waiving April fees for those using Seller Account Management or the Launchpad program."
Furthermore, Amazon said it would be taking measures to mitigate the impact of the crisis on sellers' account health.
We've also heard through some of our contacts in China that Amazon is already prepping sellers for the 2020 Prime Day season which should happen may happen in August.
Finally, some sellers have noticed that Amazon has changed their Buy Box algorithm to award the Buy Box to FBM sellers. However, Amazon has not offered an official statement regarding this change.
April 1, 2020
Amazon informed sellers that it would be prioritizing the supply of key medical supplies to hospitals and government organizations.
In a message to sellers on their forums, Amazon had this to say:
"You may have offers on one or more products (ASINs) that will now be available exclusively to hospitals and government organizations, which are in urgent need of high-demand medical products like N95 masks, surgical masks, facial shields, surgical gowns, surgical gloves, and large-volume sanitizers. Select ASINs of these product types will no longer be available to the broader public on Amazon.com and AmazonBusiness.com.

"For ASINs subject to this change, we have eliminated our standard referral fees through June 30, 2020, to encourage our selling partners to make additional inventory of these products available at competitive prices to these customers with the greatest need.

"For more information about these changes, including a list of impacted ASINs, visit COVID-19 Supplies 28. To request approval to sell these products, visit: http://www.amazon.com/COVID-19-Supplies"
April 13, 2020
Amazon announced plans to hire an additional 75,000 employees, on top of the 100,000 previously announced, to continue supporting demand during the coronavirus pandemic.
April 14, 2020
While Amazon confirmed to CNBC that they will be accepting some non-essential shipments from third-party sellers starting at the end of the week, a French court ruled that Amazon's deliveries be limited to essential goods during the Covid-19 crisis.
They were given 24 hours to restrict inbound shipments of non-essentials to their French fulfillment centers, or face a €1 million per-day fine.
April 16, 2020
To avoid being fined €1 million by the French courts, Amazon has stopped operations in France temporarily. They plan to reopen in five days, after strengthening their current Covid-19 safety measures.
April 18, 2020
Amazon announced that more products are now "eligible for shipment creation." However, some of the products being reintroduced are limited regarding the number of units that can be shipped.
To see which products are eligible, Amazon is directing sellers to their Restock Inventory page, or their Restock report. As for items that are limited, they will be identifiable by a 'Limited restock' tag.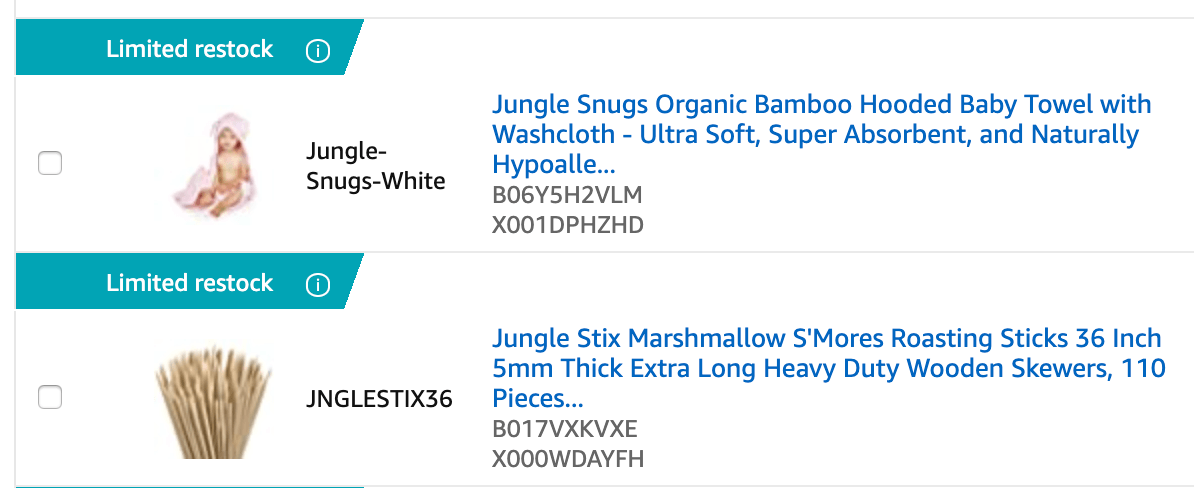 April 20, 2020
Though Amazon stopped operations in France on April 16, and planned to reopen April 20, they are now saying that they hope to resume business on Wednesday, April 22.
May 5, 2020
While Amazon had waived long-term storage fees until May 15th, they've decided to extend it. Rather than having sellers start paying long-term storage on May 15th as originally planned, fees for the 15th will also be waived due to continued delays with their removal operations. Sellers will still be able to create removal orders, though delays are to be expected. Auto-removals will also be held up.
May 7, 2020
Sellers taking part in Amazon's FBA Small and Light program are in luck; their products can now be fulfilled using Amazon's Multi-Channel Fulfillment (MCF). This allows sellers to fulfill their inventory "to any sales channel outside of Amazon", which includes their own website.
Fees for MCF for those FBA Small and Light items will be based on current fulfillment fees.
May 12, 2020
According to a Marketplace Pulse article, all quantity restrictions on shipment plans — originally implemented on April 18 — have been removed. However, though the limitations have been lifted, it appears that not every fulfillment center is back up to speed.
One of our sellers reported that while Amazon's fulfillment center in Indiana is now processing their deliveries, California's is not. But, with this positive change, it's likely that order fulfillment across Amazon's entire distribution chain will return to normal in the near future.
May 19, 2020
After shutting down their fulfillment centers in France due to losing their appeal of a French court's original ruling to improve safety measures for workers on April 16, .Amazon is reopening its warehouses. They have reached an agreement with labor unions, and have provided "health and security guarantees" for their warehouse employees.
2. The global supply chain has been disrupted
China, the primary supplier for many Amazon sellers' goods, was ground zero for the coronavirus outbreak. And China's normally thriving import industry has felt the strain of COVID-19 already.
Even before the crisis hit the U.S., a recent Jungle Scout survey of 681 of Amazon sellers who sourced their products from China revealed:
36% sellers seeing declining sales

11% sellers raising prices on products

50% sellers looking to source products outside of China
Some sellers are looking to the U.S., India, Vietnam, and Mexico, among other countries, to source their products, though it's unclear how suppliers will be able to respond as coronavirus continues to spread throughout those countries, too.
Analyst Edward J. Kelly of Wells Fargo Securities explained that many popular items will sell out as early as mid-April. Big-box retailers like Walmart and Target who turn inventory faster will be the "first to experience out-of-stock issues." (LA Times)
Likely, private label and wholesale Amazon sellers will face similar issues.
In fact, Amazon has extended its window for returns. Normally, Amazon's shoppers have only 30 days to return purchases. However, due to delays in shipping both on their end and US carriers', Amazon is giving shoppers until May 31 to return any purchases made between March 1 and April 30.
And now, on April 23 and in a newsletter sent to sellers, Amazon stated that they have "stopped suspension of selling accounts for high order defect, high cancellation, and high late shipment rates".
The pause is in effect until May 15, though Amazon also said that it will be extended if necessary.
April 30, 2020
Yesterday, in a Seller Central notification, Amazon announced temporary changes to its refund policies.
For FBM orders (Prime and non-Prime), sellers now have 7 days to process returns and issue a refund. However, after May 31, 2020, the processing time for those returns/refunds will be rolled back to two days.
And for prepaid label returns (Prime and non-Prime), sellers now have 90 days to file for reimbursement. But, on June 1, 2020, the filing period for reimbursements will revert back to 60 days.
In addition, during this one-month extension period, reimbursement claims will remain open to give sellers more time to deliver any additional information Amazon may need to complete the claim. After April 30, 2020, claims will once again close after one week.
May 6, 2020
Amazon's Seller Central News reported that, "Due to widespread transportation cancellations and restrictions, the United States Postal Service has temporarily suspended international mail service to certain destinations."
If you sell FBM, Amazon recommends checking the USPS website for condition updates before fulfilling any of your orders.
May 13, 2020
Originally set to end on May 15th, Amazon has decided to extend its deferral of account suspensions until May 31st. This decision was made after receiving feedback from sellers saying that they are still having issues with supply-chain interruptions.
However, Amazon will begin tracking those performance metrics — order defect, late shipment, and cancellation rates — on June 1, 2020, though they also stated that any "order performance defects showing in your Account Health page from prior to June 1 will not be used to evaluate your account health."
3. Consumer spending is declining
According to a survey by Moody's Analytics, nearly 80 million U.S. jobs could be lost during the coronavirus outbreak, primarily in the travel, tourism, leisure and hospitality sectors.
With reduced consumer spending, dollars will be put towards more essential goods such as food, medical supplies, and childcare, and away from luxury items.
Already, we've noticed an uptick in searches for essential items, including:
Rice: 1181%

Bottled water: 238%

Toilet paper: 75%
Meanwhile, non-essential goods are down.
Office supplies: -28%

Party: -10%

Furniture: -8%
April 3, 2020
In addition, though Amazon did not confirm, Reuters reported that Prime Day 2020 is being postponed.
Despite the fact that Prime Day is often the biggest sales day for most sellers, this year's deal day will likely happen sometime in August (though it could be pushed again), rather than the usual July.
4. Working from home is becoming the norm
Fortunately, many employees have the option of working from home. That means, in addition to essential items, certain work-from-home products and keywords have increased searches on Amazon.
Work from home: 85%

Webcam: 32%

Computer monitor: 14%
Other items such as comfortable chairs, home gym equipment, home entertainment, and learning resources for children who are out of school, have also shown an increase in searches and sales on Amazon.
5 ways to pivot your Amazon business for the quarantine economy
There is no telling how long the U.S. will face this crisis, but some estimates peg self-isolation and lockdowns lasting several months — or perhaps as long as 18 months or more.
In the meantime, to ensure the survival of their businesses, Amazon sellers will need to make some drastic changes.
1. Temporarily reduce or pause advertising spending on Amazon
Following the FBA freeze on March 17, one of our customers informed us that Amazon's sales agents are currently contacting Amazon sellers and encouraging them to reduce advertising spending during the crisis.
If you have experienced a reduction in sales during the crisis, especially if you are selling non-essential goods, we recommend reducing or suspending your ads until further notice.
2. Consider Fulfillment by Merchant
If you have inventory available that isn't currently in an Amazon fulfillment center and you're unable to create a shipment, you can fulfill the products yourself.
Fulfillment by Merchant (FBM) works a little differently than Amazon FBA.
When a sale is made, you are notified in Seller Central as well as on your Amazon Seller mobile app.

You have 24 hours to mark the order as 'Shipped.' Failure to ship orders within 24 hours may affect your seller account health.

Amazon offers shipping carrier services from which you can purchase directly through Amazon and print.

You will need to pick, pack, and ship the goods and ensure that the product arrives in a timely manner without any damage or issue.
There are, however, a few more risks involved with FBM shipping:
Unless you already have a large fulfillment operation in place, the costs for FBM orders can be higher than those for FBA orders.

Shoppers can leave negative seller feedback based on the speed and quality of your shipment.

You must handle your own customer service issues.
Read more about FBA vs. FBM fulfillment methods here.
3. Switch business models
Because of the difficulties you may have securing products from China or other overseas providers, business models such as private label, wholesale, and dropshipping will become difficult during the outbreak.
Furthermore, retail arbitrage may also suffer due to self-isolation and lockdown practices. Many retail stores will close.
However, there are other business models you can introduce to your Amazon selling business during the outbreak:
Handmade

: With

handmade

, you can create your own products such as seasonal gifts (Easter, Mother's Day), clothing & accessories, and toys & games and ship them to the consumer. You can apply for

Handmade on Amazon's website

.

Online arbitrage:

While retail arbitrage may not be possible during the outbreak, online arbitrage might be a viable alternative. Similar to retail arbitrage, online arbitrage involves purchasing a product from one retail site such as Ebay.com or Walmart.com and listing it on Amazon at a higher price.

Kindle Direct Publishing

: If you have a knack for writing and creating content, you might consider writing books and publishing them on Amazon.

Kindle Direct Publishing (KDP

) allows authors to create both digital and print formats on Amazon. Like dropshipping or Amazon Merch, there is no cost to get started; you simply need to create the material.
Manufacture your own products

:

3D printers

are becoming less and less expensive. And there are some sellers on Amazon who design, print, and sell their own 3D-printed goods.
Read more about the pros and cons of different Amazon sales models here.
4. Focus on your brand
We all hope and believe commerce will return to normal eventually. So, while your sales may drop for a few months, this is a good time to focus on your brand and your overall message.
Take advantage of the free resources and product trials available on the internet to anyone interested in selling on Amazon.
Learn how to optimize your listing. Master the ins and outs of pay-per-click. Become an expert in all-things Amazon so that you and your product are ready when things return to normal.
And make sure to communicate frequently with your customers, both on and off Amazon. Take to social media to assuage fears or even offer levity. Create promotions to get your brand's name out there.
5. Stay informed
Over the next few months, there will be lots of changes, both on and off Amazon. The best thing to do is to stay on top of those changes and act accordingly.
Make sure to read news from reputable sources and stay involved with those close to Amazon, like Jungle Scout. You can also join our Facebook group, Amazon Competitive Edge.
Frequently Asked Questions
Many of the questions below are related to Amazon's freeze on non-essential inventory entering their fulfillment centers.
What products are being accepted?
Currently, Amazon is only accepting products from the following categories:
Baby

Health & Household

Beauty & Personal Care (including personal care appliances)

Grocery

Industrial & Scientific

Pet Supplies
What if I already had a shipment on the way?
If you created a shipment before March 17, Amazon will still accept your inventory and put it into its supply chain as normal.
What happens to inventory still at port?
As long as any inventory that is currently in transit to Amazon has an inventory replenishment order placed before March 17, Amazon will accept the inventory into its fulfillment network.
Will Amazon freeze/suspend fees and loan payments, too?
As of April 9, Amazon announced it would temporarily pause account suspensions related to supply chain and fulfillment difficulties. Since March 20, Amazon has not been suspending sellers who have had high late shipment rates, and Amazon says these changes will remain in effect until May 15.
As of this writing, there is no word on whether or not Amazon seller fees will be frozen.
However, Amazon had made mention that it may temporarily disable its Inventory Performance Index (IPI).
The IPI is part of the seller's account health metrics. It is the score that Amazon uses to determine the amount of inventory sellers are allowed to send Amazon.
In addition, Amazon sent out a notification that they are going to waive April's long-term storage fee for sellers in the US, the UK, France, Italy, Germany, Spain, Poland, and the Czech Republic. The email did not mention whether or not that waiver will be extended past April.
Most recently, on March 25, multiple sellers received a notification from Amazon Lending. It said that — effective March 26 through April 30th — Amazon Lending would be pausing repayments on outstanding loans, and that loans would not accrue interest during that period.
The notification also stated that payments will resume on May 1st, 2020, with sellers retaining their previous monthly payment date and the same number of payments as before.
Can I get my inventory out of Amazon's fulfillment centers?
The short answer is yes — but it may take a while.
FBA sellers who hoped to have inventory stored at Amazon's fulfillment centers returned to them right away (in order to sell it FBM) are — for the time being — out of luck. Amazon recently sent out an email stating that removal operations are being paused temporarily in some of their fulfillment centers.
But, that doesn't mean sellers can't still submit removal orders. It just means that fulfilling those requests will take longer than usual.
Auto-removals are also going to be held up due to this interim stoppage.
What types of products should I sell on Amazon during the crisis?
If you have the ability, sell essentials. Focus, too, on products for people who are self-isolating during the crisis.
Consider that not only will people have to work from home, but children will have to stay home from school as well.
Can the virus be transmitted through packages?
The New England Journal of Medicine published a report stating that the SAR-CoV-2 coronavirus can survive on cardboard for up to 24 hours and plastic and stainless steel for up to 72 hours.
Having said that, U.S. carriers are taking extra precautions:
*Disclaimer: This article was updated on May 19, 2020 to reflect Amazon's latest announcement.
Have other questions? Ask us in the comments section.