With the competition as fierce as ever, Amazon sellers need all the help they can get. Luckily, there are many helpful Chrome extensions that Amazon sellers can use to their advantage.
Whether you need a tool for product research, price tracking, deal hunting, or keyword research, there's a Chrome extension that will help get the job done.
In this article, we will review a few Chrome extensions that we think are the best tools for your Amazon business:
The best Chrome Extensions for Amazon sellers
We've compiled a small list of Chrome extensions that we think work best for Amazon sellers. We'll go over what the extension is, what it does for you, and the benefits of using it.
1. Jungle Scout Extension
The Jungle Scout Extension is designed to make Amazon product research easier by providing key product insights such as product demand, sales history, Best Sellers Rank, competitive data, profit projections, and more.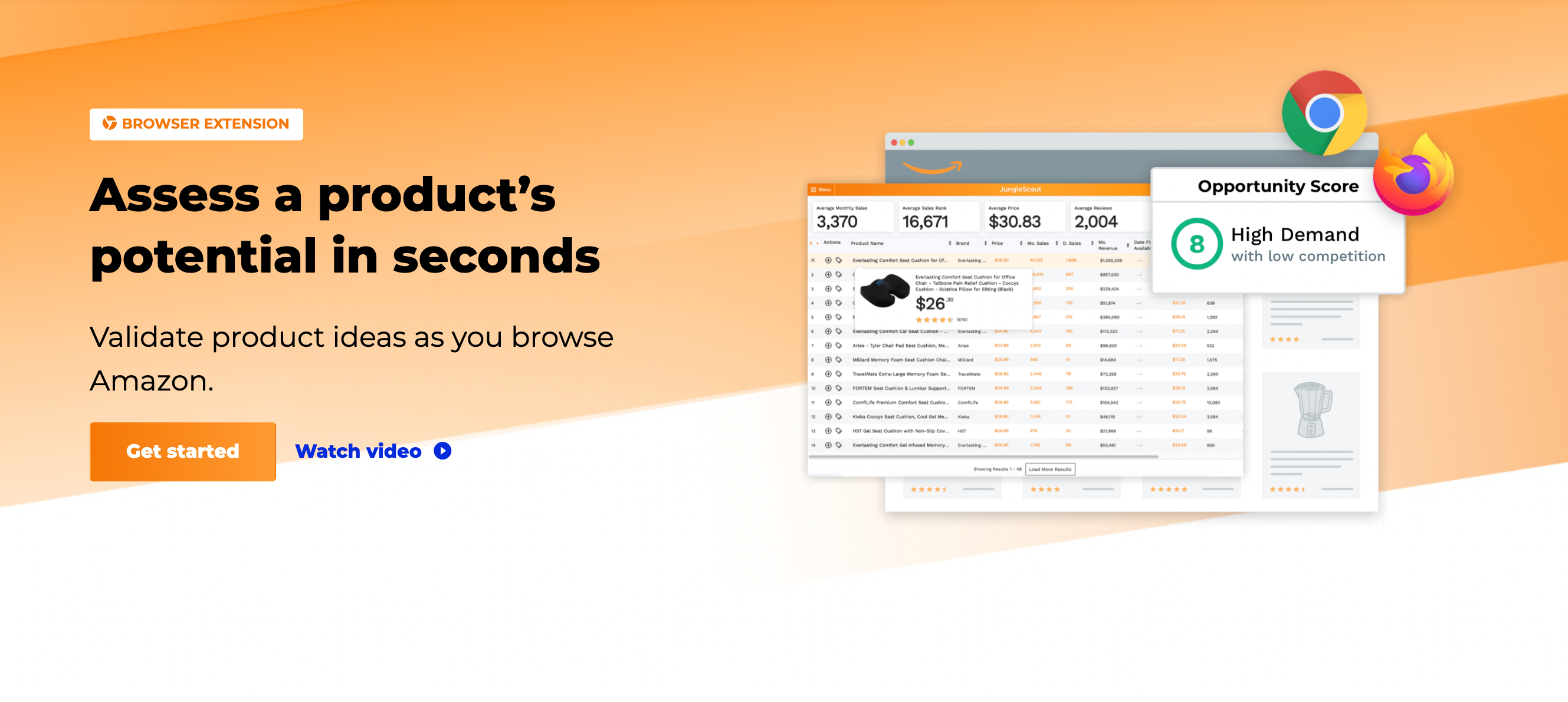 Using our extension, Amazon sellers can determine if a product is worth the investment by viewing historical sales, historical pricing, profit potential, monthly sales estimates, monthly revenue, and more.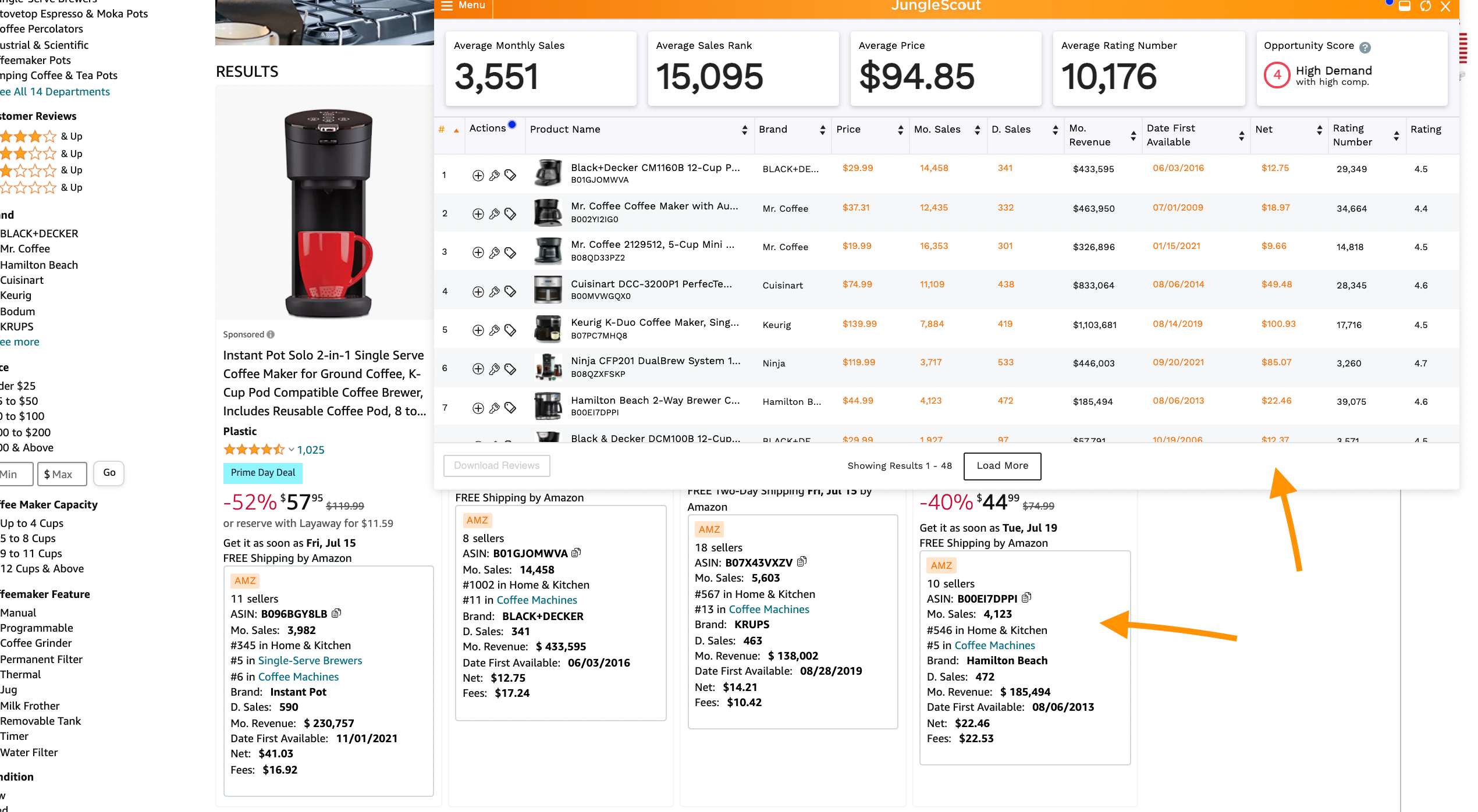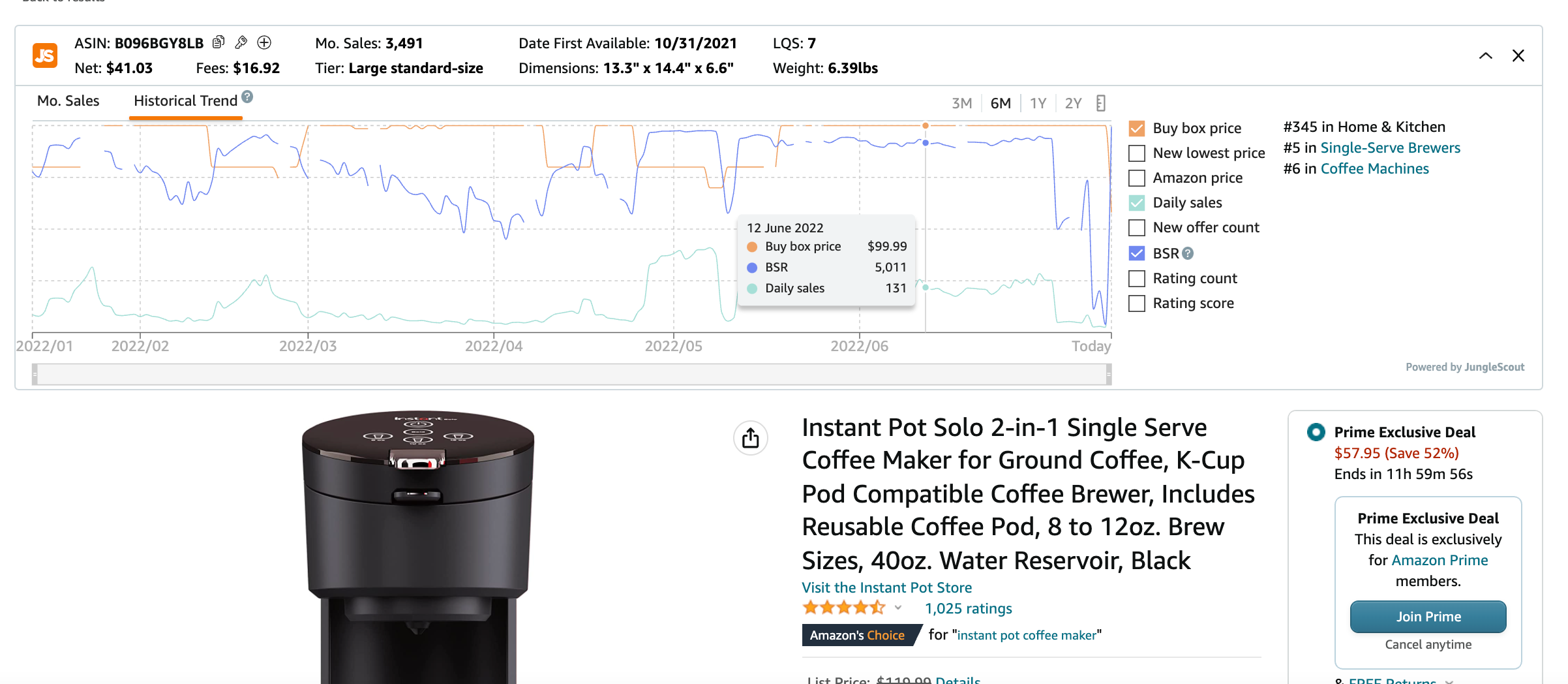 The Extension works on an Amazon product detail page and in the Amazon search results. The Extension will also display a historical sales graph on each detail page above the product images.
Check out our YouTube video on How to Use the Jungle Scout Extension to see the tool in action!
Or, click the button below to learn more about how the Jungle Scout Extension can help grow your Amazon business.
2. Keepa
Keepa is a tool that tracks the price and sales history of nearly every product on Amazon. This extension is helpful for sellers doing product research for private label, wholesale, or arbitrage, as it will show you past sales and price history.
READ MORE | Amazon Business Models Guide
If you want just price tracking abilities, Keepa is free to use. But if you want to view sales history, track products, and access their premium data points, you need to pay for a monthly subscription.
Keepa's graph is similar to the Jungle Scout Extension historical graph as it provides price history, sales rank history, the number of sellers, Buy Box price, and more.

3. RevSeller
RevSeller is a unique tool that adds a revenue calculator to every Amazon listing. This extension allows online arbitrage sellers to calculate profit potential and to view a product's BSR (Best Sellers Rank).
To calculate your potential profit on a product, enter the selling price and your buy cost, and RevSeller will calculate the profit potential after Amazon fees, and takes into account whether you sell via FBA or FBM.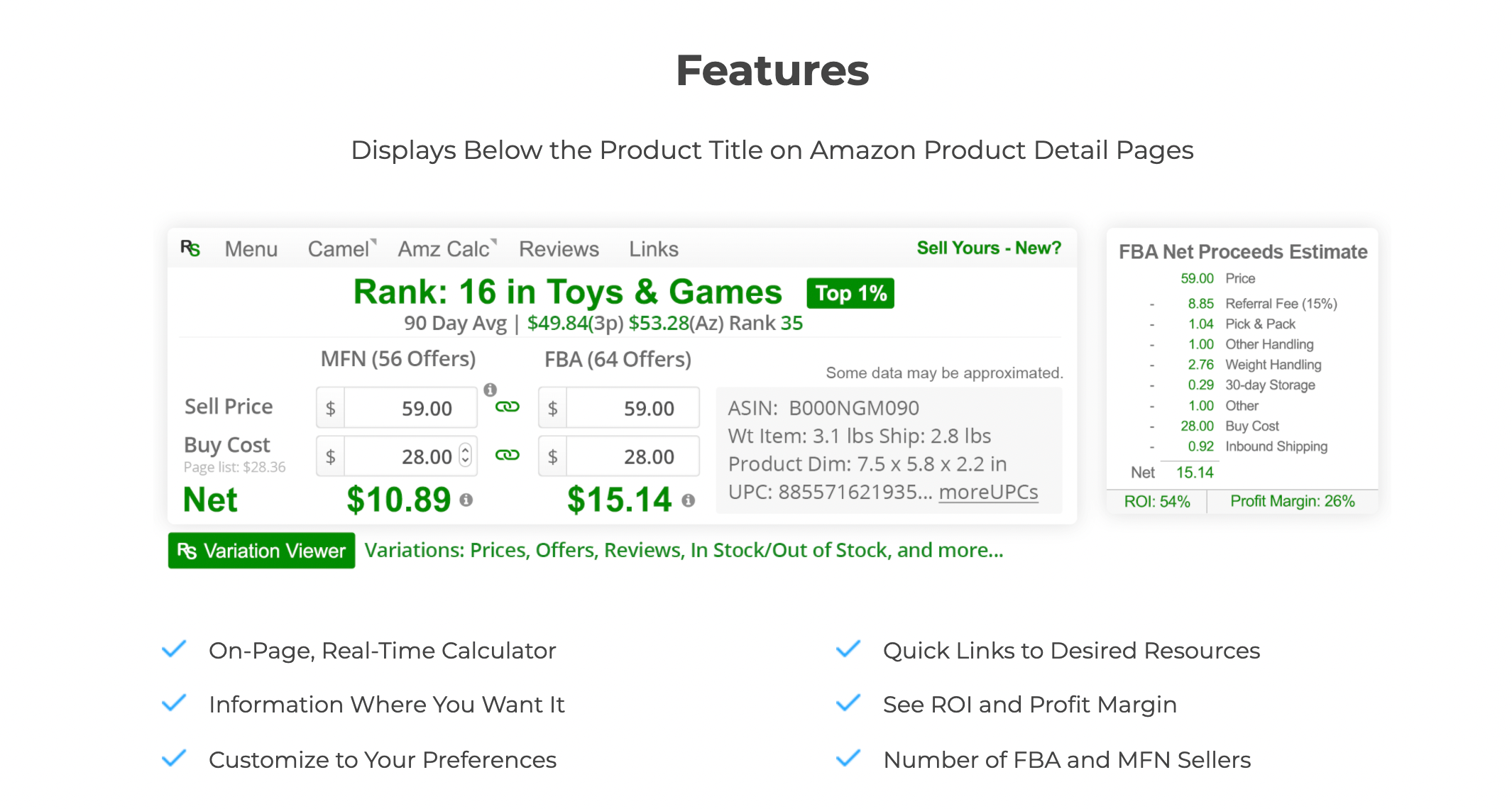 4. Price Blink
Price Blink is a great Chrome extension for online arbitrage sellers as it works in the background to find you better deals on the internet. For example, if you are looking at a product on Walmart.com that you want to resell on Amazon, Price Blink will search for a lower price elsewhere.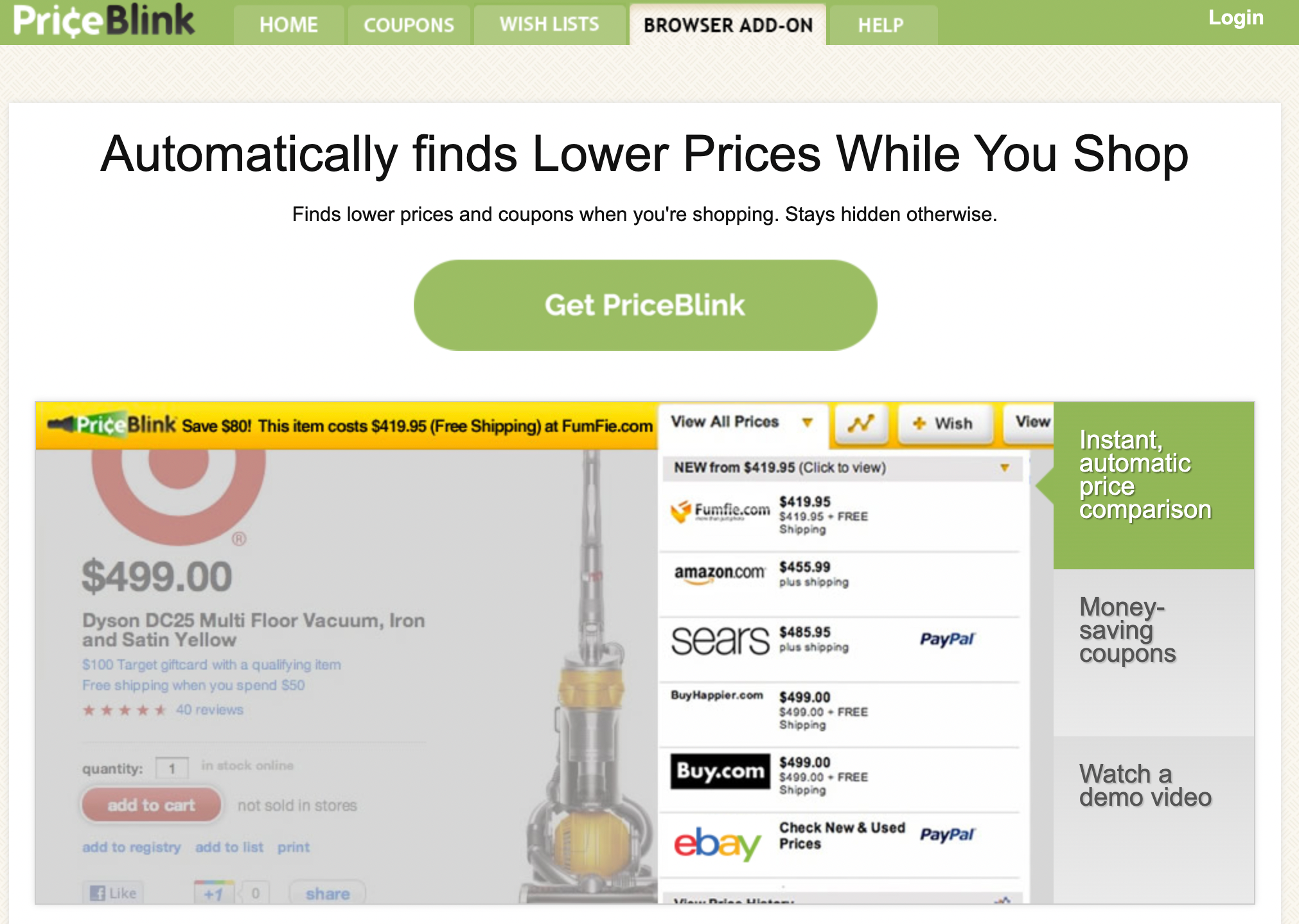 5. Huge Amazon Search Suggestion Expander
The Huge Amazon Search Suggestion Expander Chrome extension does exactly that — expand your Amazon suggested search results. When you start to type a keyword on Amazon, the search bar will recommend a few keywords that may match your search query.
The Amazon search bar is a great way to do keyword research for your product, as you can see exactly which keyword phrases Amazon recommends.
This extension makes that suggestion box much bigger, adding to your keyword research efforts.
The Huge Amazon Search Suggestion Expander tool is useful for private label sellers looking to add additional keywords to their listings and KDP booksellers looking for niche topics to create a book about.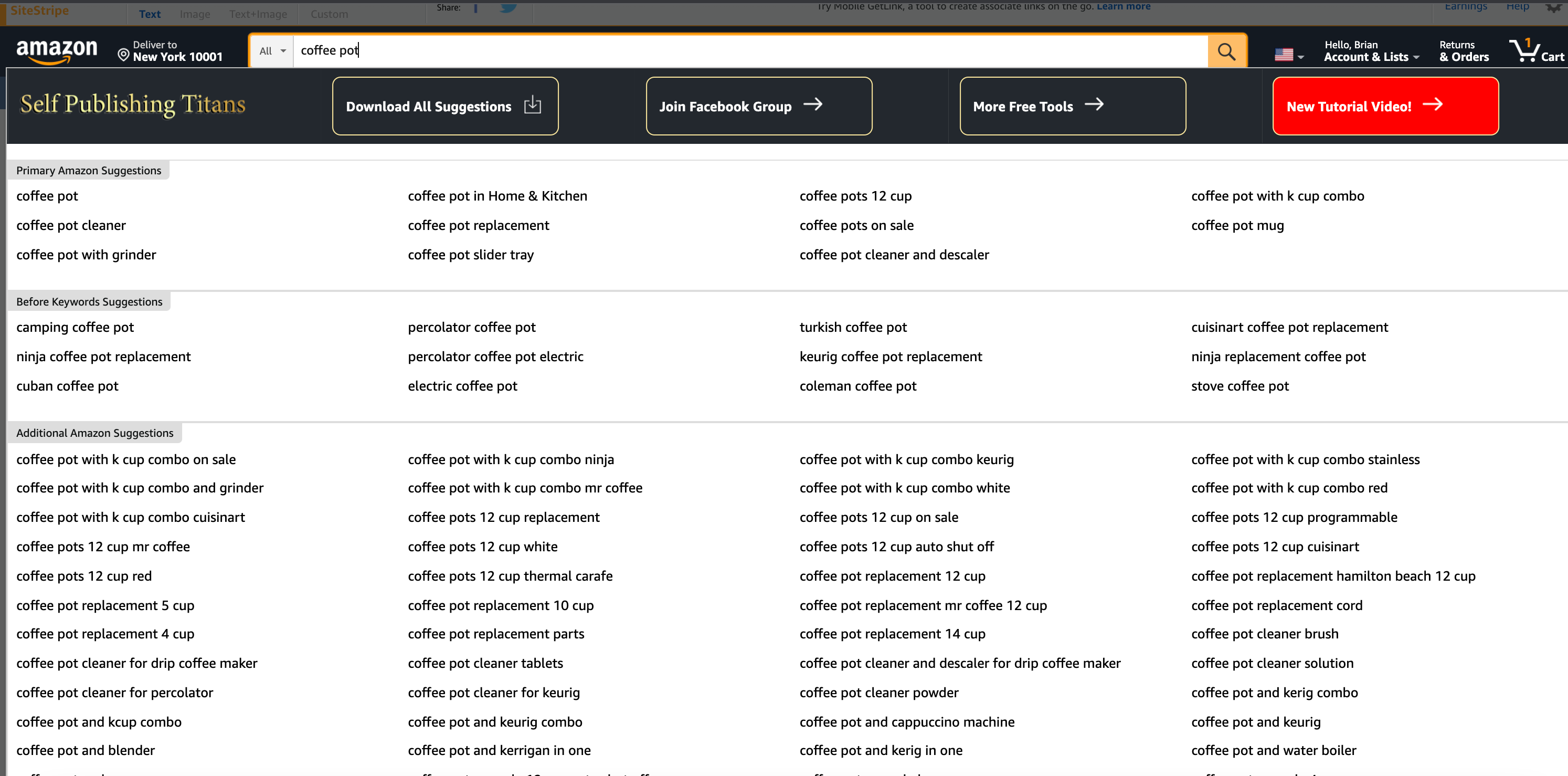 Why Jungle Scout is the best tool for Amazon sellers
When you subscribe to Jungle Scout, you not only get our powerful browser extension but you also get many other tools to help your Amazon business grow and thrive.
One other tool that is included in all pricing plans and is incredibly useful for Amazon sellers is Review Automation. Review Automation helps sellers earn more reviews on Amazon by sending out automated review requests to customers who purchased your product.
Want to learn more about how you can use Jungle Scout to launch, grow, and run your Amazon business? Click the "Learn More" button below!